Seaside Eats and Treats - Where to Dine in Coronado
Seaside Eats and Treats - Where to Dine in Coronado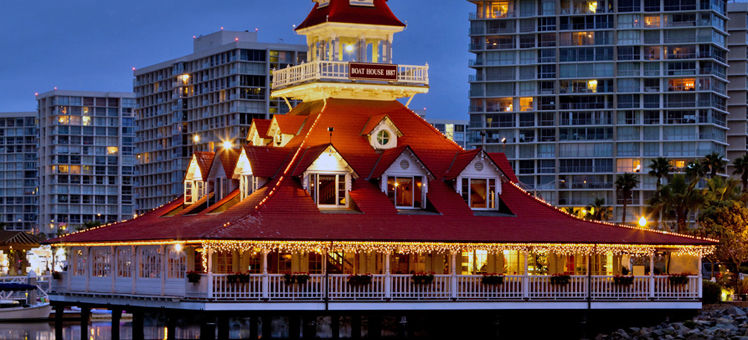 Coronado's dining scene is an engaging mix of upscale and casual venues. The restaurants near either of its shores tend to provide diners with dramatic coastal views and an elegant yet approachable ambience. But you'll also find plenty of casual joints that are perfectly suited for a low-key nosh after a day on the beach.
Typical dishes
Coronado loves its fresh seafood, which is often incorporated into tasty California and Pacific Rim specialties. There's also a large selection of Italian eateries scattered about town.
Downtown Coronado
A stroll down Orange Avenue as it cuts through the heart of town will put you in the midst of fine dining and simple fare. When you're ready for an evening of culinary refinement, you can indulge in a cocktail at 1500 OCEAN's seafront cocktail bar before sitting down to contemporary surf and turf options. If you're up for Mexican cuisine, lively Miguel's Cocina whips up casual south-of-the-border favorites like shrimp enchiladas and chile relleno.
1500 OCEAN, 1500 Ocean Ave, Coronado 92118; Tel: +1 619 522 8490; Website: 1500 OCEAN

Miguel's Cocina, 1351 Orange Ave, Coronado 92118; Tel: +1 619 437 4237; Website: Miguel's Cocina
Coronado Ferry Landing
Although this section of Coronado is a little more subdued than downtown, its waterfront eateries and refined neighbourhood venues make it an attractive dining alternative when you need a break from the beach scene. The Euro-inspired Tartine operates as a cozy breakfast and lunch café during the day and as a bistro with a nightly changing menu for dinner. If you head into Ferry Landing Marketplace, you can check out the French-infused Mexican cuisine at Candelas on the Bay.
Tartine, 1106 First St, Coronado 92118; Tel: +1 619 435 4323; Website: Tartine

Candelas on the Bay, 1201 First St, #115, Coronado 92118; Tel: +1 619 435 4900; Website: Candelas on the Bay
Gaslamp Quarter
If you take the ferry into San Diego, exploring this lively 16-block neighbourhood is a must. You'll be surrounded by plenty of intriguing eateries that thrive on innovation and feed off the neighbourhood vibe. At Searsucker, you can pair a San Diego craft beer with New American fare like Pork Roast with Whiskey Apples and Bacon Emulsion. Or hang with the hipsters at the gastropub Barleymash and check out contemporary dishes incorporating beer and bourbon.
Searsucker, 611 5th Ave, San Diego 92101; Tel: +1 619 233 7327; Website: Searsucker

Barleymash, 600 5th Ave, San Diego 92101; Tel: +1 619 255 7373; Website: Barleymash