Nightlife and Entertainment in Newport - Bars, Beats, and Bit Players
Nightlife and Entertainment in Newport - Bars, Beats, and Bit Players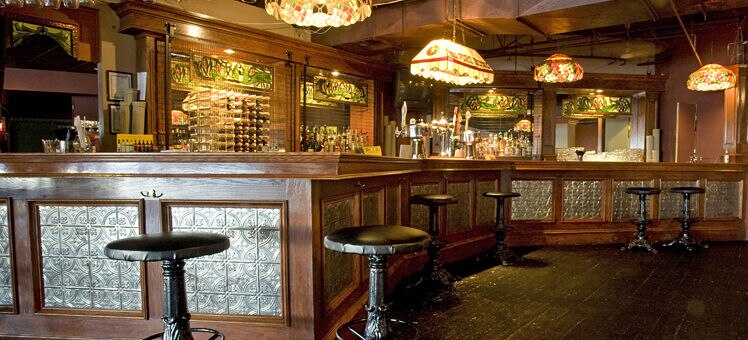 Newport is a popular vacation spot, and in the high season, downtown stays vibrant long after dark. Whether you want to spend your nights enjoying quiet drinks in cozy bars or dancing till the wee hours to the sounds of New England's freshest acts, there'll be a place that has exactly what you're looking for.
Bustling bars
Newport's thriving bar scene is refreshingly diverse. You'll find everything from chic hideaways serving premium cocktails to hip hangouts frequented by the city's youthful population. Many of Newport's bars are set in fascinating historic buildings, and the compact nature of the downtown area makes bar-hopping a breeze. And whether you want to splurge on an unforgettable night or enjoy a wallet-friendly tipple, there's a bar for every budget.
Norey's Bar & Grille
This easygoing bar serves up an impressive selection of more than 160 local and international craft beers, both bottled and on tap. The warm, wood-paneled barroom is the perfect place to enjoy a relaxing evening.
156 Broadway, Newport 02840Tel: +1 401 847 4971
Norey's Bar & Grille website
The Vanderbilt Grace Bar
Set in a sumptuous 1909 mansion, this elegant bar offers a range of bespoke drinks. Why not enjoy the signature Grace cocktail while watching the sun set over the harbor from the rooftop terrace?
41 Mary St., Newport 02840. Tel: +1 401 846 6200
The Vanderbilt Grace Bar website
Live music
Back in 1965, Bob Dylan stunned fans by going electric in Newport, but there's much more to the city's musical scene than its annual folk festival. The large and diverse student population means there's always a show going on, so whether you're into blues, rock, or pop, you're bound to find a beat that gets your foot tapping.
One Pelham East
This buzzing venue offers live music every night, and plays host to some of the biggest bands in the Northeast. On weekends, a resident DJ plays chart hits, and there are dueling pianos every Friday during the summer.
276 Thames St., Newport 02840. Tel: +1 401 847 9460
One Pelham East website
Newport Blues Cafe
Set in former bank that retains its tellers' grilles and original vault, this spot plays host to local and international blues performers. When the music stops, you can sip cocktails in the bar and enjoy expansive harbor views.
286 Thames St., Newport 02840. Tel: +1 401 841 5510
Newport Blues Cafe website
Laugh-out-loud fun
What better way to round off a day's exploration than with a comedy show? Newport is home to the Bit Players, a raucous improvisational comedy troupe whose fast-paced performances are a hit with locals and visitors alike. Keep an eye on local listings for one-off visits from big-name comedians, too.
Firehouse theatre
Set in a former firehouse, this theatre offers twice-weekly comedy shows from the Bit Players. travellers on a budget will appreciate the bring-your-own-bottle policy. The theatre also runs occasional workshops for budding comedians to hone their skills.
4 Equality Park Place, Newport 02840. Tel: +1 401 849 3473
Firehouse theatre website
Pubs and taverns
Newport takes pub culture seriously, and there's no shortage of authentic spots offering everything from warming English-style ales to ice-cold pints of Irish Guinness. Many pubs have outdoor seating areas, so you can enjoy a cool sea breeze along with your beer. There's usually food on offer, too, ranging from hearty burgers and seafood to upscale gastropub fare.
Mudville Pub
Offering patio seating overlooking the baseball field where the Newport Gulls play in the summer, this pub serves pitchers of beer and a hearty traditional-style menu. Take a seat inside to watch live sports on the big screen.
8 W Marlborough St., Newport 02840. Tel: +1 401 619 4680
Mudville Pub website
Buskers Pub
This classic Irish pub is decorated with fascinating Celtic memorabilia and offers a range of traditional Irish beers and whiskeys. Drinks are complemented by a fresh and simple fine-dining menu.
178 Thames St., Newport 02840. Tel: +1 401 846 5856
Buskers Pub website
Discover
Find your perfect holiday in Newport
From 100 hotels.