Where to eat in Galicia – a food and dining guide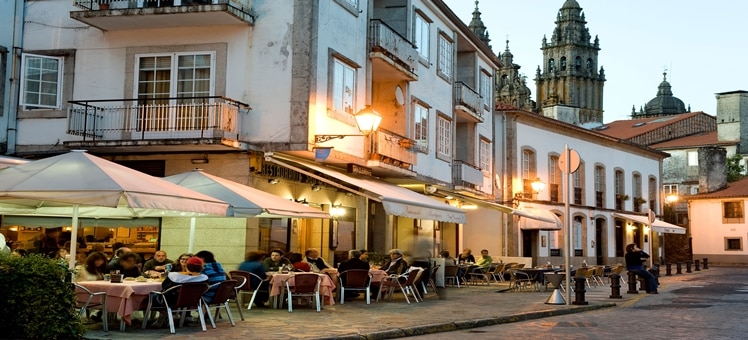 With a rugged coastline and wet climate suitable for crop-growing, Galicia makes the most of its fertile land. From hearty bean and vegetable stews to freshly caught seafood and shellfish, Galicia is rich in authentic Spanish cuisine. Complemented by locally-produced wines, including the famed Albariño grape, drinking and dining in Galicia is a cultural experience.
Lacón con grelos is often considered the national dish of Galicia. A warming meal of turnip greens, slow-cooked potato, chorizo sausage and lightly salted pork shoulder, this sweet and spicy dish is a local favorite.
Lugo
The gastronomic capital of Galicia, the province of Lugo is famed for its delectable cuisine. Nestled within Roman city walls - one of the very few places where these historical foundations remain intact - countless restaurants jostle with life. Local favorites include España, with its famed wine cellar and rural pantry, and Mesón de Alberto located in a traditional stone house in the historical heart of Lugo.
•
España
, Rua do Teatro 10, 27001 Lugo. Tel: +34 982 242 717•
Mesón de Alberto
, Rúa Cruz, 4, 27001 Lugo. Tel: +34 982 22 83 10
A Coruña
With a high concentration of tapas bars and small al fresco restaurants, A Coruña is another culinary hub in Galicia. Home to a rugged coastline, deserted beaches, and the wild landscape of the Rías Altas, this charismatic city is full to the brim with places to satisfy your stomach. Stop by the Avenida da Marina, a tiny piazza facing a harbor promenade, to sample some local seafood while facing the lapping Atlantic Ocean. Alternatively, head to La Bombilla to sink your teeth into some indulgent tapas including their famed dish of succulent fillet steak served with red pimento pepper and fried potatoes.
•
La Bombilla
, Calle de la Galera 7, A Coruña. Tel: +34 981 22 46 91
Santiago de Compostela
A labyrinth of flag-stoned streets and picturesque plazas, Santiago de Compostela houses a sizable collection of taverns, tapas bars and al fresco restaurants. The historic core and capital of Galicia, here you'll find an eclectic mix of culinary styles and flavors. Head to Rua do Franco, in Galicia's old district, to discover a popular parade of restaurants. Alternatively, visit the new town to sample some of the more upmarket choices and tempting wine bars. For a local favorite, stop by Café Literarios situated right in the heart of the city. Here you can people-watch from the al fresco terrace and then finish your night strolling along to the nearby cathedral.
•
Café Literarios
, 1 Quintana de Vivos. Tel: +34 981 565 6630
Vigo
Known as the 'gateway to the Atlantic' and the largest city in Galicia, Vigo has plenty of gastronomic potential. Famed for its fishing heritage, fresh seafood and mussels are served in abundance here. Visit the oyster sellers in the city centre or wander along to the O Calvario Municipal Market before midday to take home a tempting selection of scallops, octopus, monkfish and grouper.
Rias Baixas
Perched on the coast of the Pontevedra province and forming part of the Costa do Mariscos (the Shellfish Coast), the Rias Baixas are famed for their production of Albariño wines. Introduced into the area in the 12th century by a group of Cistercian monks, this popular wine can be found within all towns and provinces dotted along the Rias Baixas region.
Discover
Find your perfect holiday in Santiago de Compostela
From 180 hotels.