Where to eat in Antalya – a food and dining guide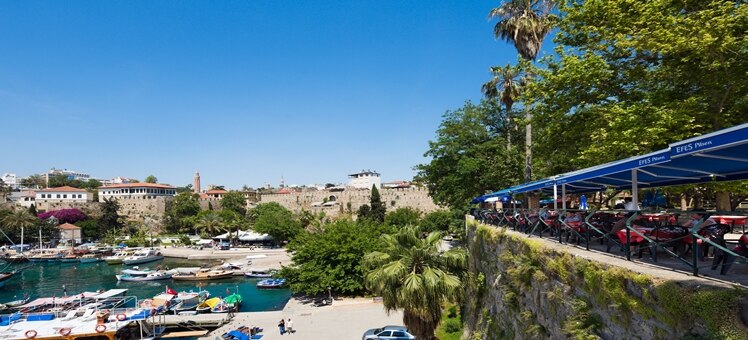 Dining in Antalya is no ordinary experience. The surrounding environment plays as much as an important role as the delicious local cuisine. In Antalya, you can enjoy a meal either along the relaxing beachside or amongst nature in the mountains. Whether it's in a renowned five star resort or a traditional homely local restaurant, Antalya's food scene won't disappoint.
Although Turkish cuisine varies depending on the region, typical ingredients used in the south-western regions include olive oil, rice, eggplant, fish and light usage of spices such as cumin, sumac and paprika. Antalya's signature cuisine includes Kulakli Soup (made with chickpeas and diced meat), Tahinli Piyaz (a dried-bean salad seasoned with crushed sesame seeds), Tandir Kebap and Kabak Tatlisi (a pumpkin desert sweetened by crushed sesame seeds and grape syrup and bergamot jam). Grida, also known as Lagos or Mediterranean white grouper, is the common fish used in many local dishes.
Old Town
With its narrow lanes and cobbled streets, Old Town has a vast collection of quaint traditional restaurants and cafes that serve authentic, local cuisine. For a true taste of the Mediterranean, there's no better place than Seraser. Housed in what is essentially an Ottoman villa, dinner in its beautiful courtyard makes a perfect meal during the hot summer nights. Your plate will be artistically presented to match the soothing tranquil ambience of the surrounding environment. Soothing jazz will gently be whispering in the background with candles lit to set that romantic mood. Attention to detail is evident everywhere from the quality and presentation of the food to the decor and the attentiveness of the staff. Remember to treat yourself with the house special dessert - Turkish Coffee Crème Brule.
•
Tuzcular mah
. Karanlik sok. No: 18 Kaleici, Antalya 07100, Turkey. Tel: +90 (0) 242 247 6015
Harbour area
For an enchanting view of the Mediterranean coastline, dinning at the harbor area is highly recommended. Seafood is the speciality in this part of town with many restaurants in this area serving the freshest and finest. With an enchanting view of the Marina and enticing fresh seafood prepared with such skill and passion, Club Arma is one of Antalya's most exclusive places to dine. Experience your meal against the backdrop of a gorgeous panoramic view of the Old City and the Mediterranean Sea. Locals constantly rave about this restaurant's specialism in seafood cuisine - the seafood being so fresh that it feels like your dinner was caught only minutes before you ordered!
•
Selcuk Mahallesi
, Kaleici Yat Limani, iskele Caddesi No 75, Antalya 07050, Turkey. Tel: +90(0242)2449710
The mountains
A meal at Sibel's Four Seasons is Turkish food at its finest. Located away from the heavily tourist-infested beachside, this hidden gem is a family run restaurant located deep in the mountainside. This restaurant places an emphasis on fresh, organic and traditional home cooking with most of the ingredients grown nearby. A meal here is literally from garden to table! The restaurant's mountainous location can prove to be a refreshing change of scenery with the surrounding green trees providing cool fresh air and much needed relief from the blazing sun.
•
Beycik No:3
| Beycik, Antalya 07980, Turkey Tel: +90 (0) 533 375 72 97
City area
The hustle and bustle of the city area is an abundance of roadside eateries, cafes and restaurants. Serving a wide variety of different cuisines, it would be very difficult not to find a place to dine when visiting the city. For a taste of the Italian influence mixed in with local Turkish flair head to Pepenero Restaurant. They pride themselves on coming up with new flavors and combined with the unique interior and attentive service it makes for a memorable meal. The cocktail menu is also pretty inviting.
•
Pepenero Restaurant
, Bahcelievler Mh. Konyaalti Cd., Murat Ap. No:44/2-3-4 (Ataturk Parki Karsisi), Antalya Town Center.
Discover
Find your perfect holiday in Antalya
From 520 hotels.