Where to eat in Seoul – a food and dining guide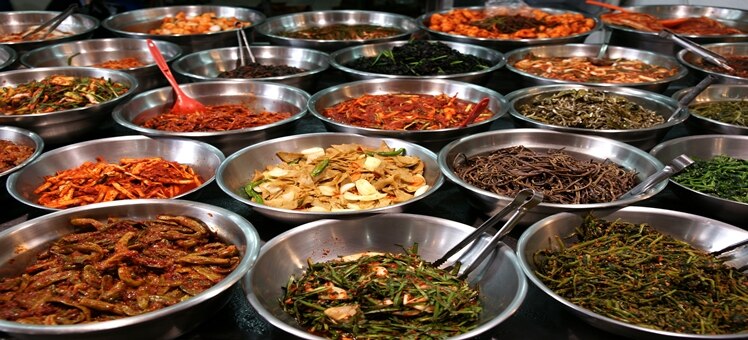 Korean cuisine has adapted over many centuries and is now largely based on vegetables, rice, meats and seafood accompanied by a number of side plates. The popular dishes are spread out amongst 'towns', these are streets of restaurants each serving their interpretation of that dish. Every restaurant is in competition with next so prices are good and the food is outstanding. However, delicious food can be found all over the city, from the western delights found in Itaewon to high end sumptuousness in Apgujeong. Dining out is very popular and you may often see crowds gathering to get a seat at their favorite restaurants.
South Korea is known best for its national dishes, Kimchi, a deliciously tangy side dish of fermented vegetables, and Bibimbap, a hot bowl of rice topped with sautéed vegetables and sometimes with a raw egg or meat on top. But amongst the teeming food markets and the inner back streets, you'll find a whole host of delicious new dishes that will re-excite your taste buds.
Noryangjin neighborhood
Noryangjin is most famous for the Noryangjin Fish Market, which is open 24 hours a day, seven days a week. Early risers might catch the morning fish auctions but it's there for browsing throughout the day, with people coming to the market to eat at around 7pm. There are many restaurants lining the market. Unsurprisingly, the food on the menu is fish - raw fish, known as hoe. Similar to the Japanese 'sashimi', hoe is thinly sliced raw seafood (usually fish), which is enjoyed with soy sauce, wasabi, red chilli paste and vinegar (known as chogochujang) and a sesame oil, garlic and soybean paste (ssamjang).
•
13-8 Noryangjin
, Dongjak-gu, Seoul, South Korea. Tel: +82 2-814-2211.
Eungam neighborhood
If you're visiting Seoul in the winter, you'll probably want hot, delicious dishes to keep you going through out the harsh days. For times like this, look no further than gamjatang, a popular Korean dish that spans the centuries. Originally favored amongst labourers, this hot savoury broth is now a favorite of all and throughout Korea and is now sometimes eaten as a cure for a hangover! For those of you seeking a taste of this potato and pork broth, take a trip to Daerim Market Gamjaguk Street situated in Eungam-dong. Here, the dish is referred to using the less formal 'guk' instead of 'tang', hence the name of the alley. However, either is applicable!
•
Daerim Market
, Gamjaguk Street, Eungam-dong. To get there: Take the subway to Saejeol Station (line #6), leave through exit 2 go straight then turn left over the bridge. Make an immediate right into the alley and turn into the first alley on your left Daerim Market gamjaguk street is by the first crossroad - you won't miss it!
Jongno neighborhood
This is one of Seoul's oldest neighborhoods and is where you need to head if you want to explore Gwangjang Market. Here, amongst the stalls selling clothes, jewelry and knick-knacks you'll find an array of food stands offering up anything from spicy rice cakes, sushi, noodles, dumplings and numerous local delicacies like the popular Bibimbap. Ideal if you want to shop for clothes and fill your stomach with tasty treats. One for the more adventurous foodie, Gwangjang Market won't disappoint.
•
Gwangjang Market
, 6-1 Yeji-dong, Jongno-gu, Seoul. Getting there: Subway line 1 to Jogno 5-ga Station. Take exit 8.
Namdaemun market
The Namdaemun market is a haven for shoppers and equally exciting for those looking to eat some locally produced food, given it's the biggest traditional market in Korea. Here you can explore a whole range of 'food alleys' that are dedicated to anything from cuttlefish and noodle soup to meat, chicken's feet and pancakes. 'Restaurant Alley' is a good place if your Korean is rusty since dishes are on display for you to simply point at.
•
Namdaemun Market
, Namchang-dong, Jung-gu, Seoul. Getting there: subway line 4 to Hoehyeon station. Take exit 5.