Where to eat in Chiang Mai – a food and dining guide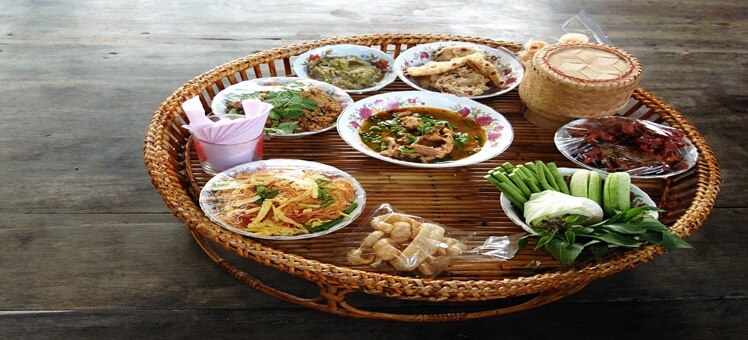 The food scene in Chiang Mai more varied than you'd expect. Japanese sushi bars are popular along with Burmese curries. Its northern location means the cuisine is influenced by other countries, but still upholds the home cuisine of Thai such as Pad Thai, which is as popular as ever. Diverse flavors of ginger and exotic vegetables are partnered with noodles and subtle spices in the different colored curries. Chiang Mai has a lot to offer from eating on river-sides to mountain retreats.
Typical Food
Khantoke dinner is a Lanna Thai tradition whereby a pedestal tray is used to keep the food higher off the ground. The array of food is usually served at weddings, funerals, parties and other celebrations, or it is held at religious celebrations at temples or Thai New Year.
Riverside
Kantoke dinner cruise is where there is a set menu full of northern Thai delicacies for you to try. Lots of restaurants specializing in this are fans of entertainment such as live music and traditional dancing to playing Thai instruments. The Gallery is a popular restaurant along the banks of the River Ping. As one of Chiang Mai's oldest structures, it's still booming with culture housing art galleries full of Thailand's and China's finest art work. Asian fusion food is served here with the hor mok curry being a popular dish.
•
The Gallery
, 25-27-29 Charoen Raj Road, 50000. Tel: +66 53 248 601
The Old City
Otherwise known as the Tha Phae Gate, the historical part of Chiang Mai is not restricted to only traditional food. It has branched out in many directions experimenting with different ideas. As one of the most popular areas with tourists, vegetarian restaurants are popular here. One of the best is Anchan Vegetarian, try the banana leaf salad.
•
Anchan Vegetarian
, Nimmanhaeminds Road, Soi Hillside, 50200. Tel: +66 83 581 1689
Anusan Market
At the opposite end of the Night Bazaar to Chang Klan market is the Ansuan Market which specialises in locally sourced seafood in Thai and Chinese food. Sit in the large square of tables and chairs and choose your food from the variety of restaurant stalls sitting around the edge of the square. Close by are the stand-alone restaurants. Lena Seafood Restaurant is a great seafood place for a special occasion dinner; try the grilled prawns which come in a kilo.
•
Lena Seafood Restauran
t, Thanon Anusan Sunthon, Chiang Mai.
Night Bazaar
In the area of the famous night Bazaar is Kalare Centre. When bargaining in the huge market has gotten the better of you, refuel in one of the many restaurants and food courts here, which serve an array of dishes. It is also a food market, so if you're feeling ambitious, try a few unknown items here too.
•
Kalare Centre
, 89/2, Chang Klan Road, Muang Chiang Mai, 5000. Tel: +66 5382 0320
Chang Klan Plaza
In this small up-market shopping area, part of the Night Bazaar there are plenty of cool cafes and stylish restaurants for you to satisfy your taste buds. Visit Mei Jiang for genuine Hong Kong and Shanghai style food. It is located to the side of Shangri-La hotel. Try the Singapore style fried rice or Chicken Yunnan, which is chicken in black bean sauce.
•
Mei Jian
, 17-18 Chang Klan Plaza, Chang Klan Road, Chiang Mai.
Discover
Find your perfect holiday in Chiang Mai
From 1700 hotels.