A Chiang Mai city guide – temples, palaces, night markets and mountain adventures
A Chiang Mai city guide – temples, palaces, night markets and mountain adventures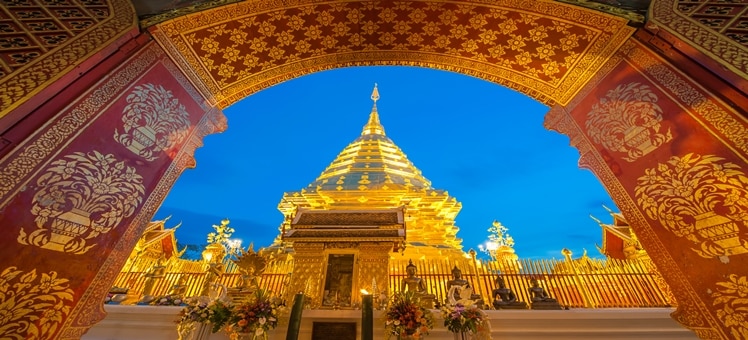 As the second largest province in Thailand, Chiang Mai in the north of the county, is known as the Lanna Kingdom and dates back to the mid-13th Century. Not only was it the cultural capital of Lanna, it was the centre of Buddhism with King Meng Rai building countless temples. Away from the madness and modernity of Bangkok, Chiang Mai is the real Thailand, plus it's extremely laid back and down to earth with an attractive Buddhist religion and culture.
Old Town
In the southeast of Chiang Mai, inside the water moat is the area of Old Town. The area sits inside walls which are over 800 years old and mainly consists of ancient ruins. Take a tuk tuk to this rural area and explore the previous life of Chiang Mai thanks to the many temples and statues where you can soak up the Lanna history. Choose to roam around the sites by horse-back, cycling or walking. There are plaques written in English for extra information.
The Old City
The area known as Old City is otherwise known as Tha Phae Gate and the most historical part of Chiang Mai. Sundays are its most vibrant day where there is a street festival where welcoming markets and all kinds of street entertainers are found. On a normal day to day basis, the area is known on one hand for its high end handicrafts and on the other for its antique shops and second hand bookshops.
Riverside
Aptly named for running along the side of two rivers, is the part of the city known as Riverside. This is the main area of Chiang Mai with lots of 5 star restaurants and plenty of great places to eat. The Ping River starts at Doi Chiang Dao and flows down to Chiang Mai. Riverside is slightly away from the buzz of the city, so couples and those wanting to relax often stay in this area, yet it is still easy enough to get to the main attractions.
Night Bazaar
The area of the Night Bazaar is literally a tourists and shoppers haven, located between the Old City and the Ping River. Complete with everything a tourist needs from internet cafes to bars, markets and shops it is a hub of excitement. What's more the transport links are great, making it easy to explore the rest of the city from here. Come night time, the famous night markets come out showing a different side of life in the area.
Mountainside
Home to the most famous national park in Thailand, Doi Inthanon, is the area of Chiang Mai called Mountainside, sitting on the outskirts of the city. Although near the mountains, this area still has quick and easy access to the city. Doi Inthanon National Park is home to the highest mountain in Thailand (reachable by a two day trek), waterfalls, exciting wildlife and flora and fauna.
Discover
Find your perfect holiday in Chiang Mai
From 1710 hotels.