Athens shopping guide – where and what to shop and buy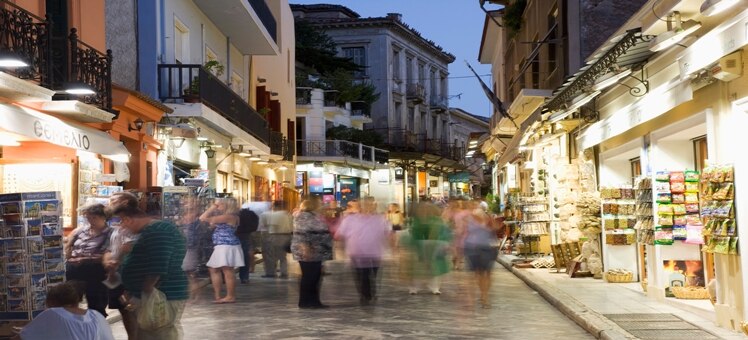 Athens provides a unique shopping experience. From markets and souvenir shops to boutiques and department stores, the Greek capital offers the complete cross-section of the shopping sphere. Much of the shopping excitement is in the center but there are plenty of charming and authentically Greek little stores that reach out into the suburbs.
Kolonaki
As the most upscale area in Athens, shoppers here can expect hefty price tags. The small area of Kolonaki is full of hip and artistic galleries and boutiques, which makes this an ideal part of Greece for shoppers looking to simply walk around and see what grabs their attention. A good place to start is Plateia Kolonaki (Kolonaki Square).
Plaka
Plaka is the most popular spot for tourists, owing mainly to the Acropolis. The large crowds of tourists have attracted a high number of souvenir shops, which sell a lot of cheap knick-knacks and t-shirts and are a good place for general memorabilia. Martinos stands out as a genuine antique shop that offers top items from around the East Mediterranean. Vrettos Distillery sells bottles of its own Ouzo and could make for a great gift.
Kifisia
Kifisia is a northern suburb famous for its shopping centers. Shops here sell items that range from books, electronics, and, above all, fashion. This is certainly the place to come if you're willing to spend big money, as the best designer brands are all on sale here, including Louis Vuitton, Valentino, and Ralph Lauren.
Omonia
Just north of the Acropolis is Omonia, home to To Pantopoleion. This excellent food store offers traditional Greek produce from all around the country. Olive oils are a specialty here and there is a wide selection of wines and spirits. Their deli is certainly not to be missed; serving fresh food that you won't want to wait to go home for to eat.
Flea Markets
There are various flea markets around Athens and two of the most popular are in Monastiriki and at the end of Ernou Street, going towards Gazi in the west. The market in Monastiriki displays a whole host of different items, from rare vinyl records and antiques to collectables and simple jewelry. Sunday Flea Market is the liveliest market in the city and is buzzing with locals and tourists. Virtually all items are up for negotiation so this will test your haggling skills. Stores are open from the early morning through to around 2pm.
Syntagma
Syntagma is at the heart of Athens and has various types of shopping. Your taste buds will not be disappointed at Mesogaia, where you'll find traditional Greeks foods like cheeses, yoghurts, jars of thyme honey, and olive oil. Fine Wine, as the name suggests, sells wines and spirits and what really sets this place apart is its friendly and knowledgeable owners, who will guide you through the different grape selections in Greece. Fashion stores are found in abundance at Attica Department store, while Bettina is a chic boutique that includes creations by Greece's leading light of the fashion world, Sophia Kokosolaki.