Where to eat in Alicante – a food and dining guide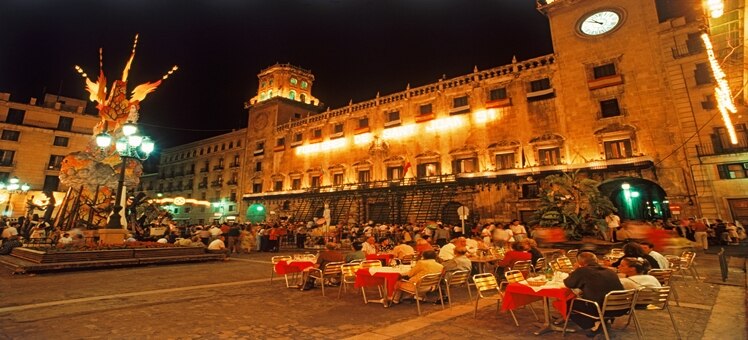 Vibrant yellow rice and deep red prawns; the colors of Alicante's food pay homage to the Spanish flag. Freshly caught fish and shellfish are favorite local dishes at affordable prices. Alicante cuisine makes the most of local produce from the sea and land, washed down with intense ruby red wines or cava produced from nearby vineyards. Sweet garlic, rich-red paprika and golden saffron are widely used.
Spanish people love to eat together and it's a noisy, fun affair. Dinner starts late – at 9 or 10pm – and can go on past midnight. The Alicante rice dish of paella is traditionally eaten at lunchtime, which is usually about 3pm. Each weekday the fishing boats bring in a huge range of fish and shellfish to be cooked that evening, such as sea urchins, squid, mussels, red Denia prawns, tuna, bass and bream. The nearby town of Jijona makes delicious turrón, a type of nougat, while the local tiger nuts are turned into a delicious sweet drink called horchata.
Colored with golden saffron, scented with garlic and cooked in a rich stock, rice is a staple of Alicante with paella being its signature dish. The best ones are made with the local Bomba rice.
Alicante Old Town
Dining in Alicante is an international affair with restaurants offering a wide variety of cuisine including Chinese, Indian, Japanese, French and Italian. The old town is a favorite place for dining out, particularly if looking for traditional tapas bars or restaurants with a Spanish flavor. Choosing several small tapas dishes with a cool beer or wine is a lovely way of sharing food with friends or trying something new. Try classy hotel restaurant Monastrell or El Buen Comer, a typical Spanish eatery with a tapas bar serving fine meats and seafood.
•
Monastrell
, Calle Rafael Altamira 7. Tel: +34 965 146 575 •
El Buen Comer
, Calle Mayor 8. Tel: +34 965 213 103
Alicante Marina
Listening to the gentle lapping of the Mediterranean while enjoying the view of spectacular, shiny white yachts bobbing in the harbour, the exclusive marina is a popular choice for dining out. The marina is a chic and stylish part of town where diners can enjoy traditional Alicante cooking or trendy fusion cuisine with a Spanish twist. Darsena boasts an impressive menu of more than 150 rice dishes, while Casa Juan is a local favorite, serving some of the best paella in the city.
•
Darsena
, Muelle de Levante 6. Tel: +34 965 20 73 99•
Casa Juan
, Avda de Granada 8. Tel: +34 966 693 495
Beachside restaurants
Alicante's beachfront promenades are lined with restaurants and bars offering tasty, fresh fish and paella dishes. Many offer a set menu of three or four courses which are great value for money. Ideal for families, many restaurants also offer a large variety of main courses such as shellfish, grilled fish and meats, pasta and pizzas. Dining al fresco as the sun goes down remains a popular pastime – tourists and locals love Estella – a family-run eatery serving Spanish delicacies – and Casa Julio, an upmarket seafood restaurant right on the beach.
•
Estella
, Avenida Costa Blanca 125. Tel: +34 965 160 407•
Casa Julio
, Avenida de Niza S/N. Tel: +34 965 651 070