Hangzhou Entertainment Guide - For fun, recreation, and relaxation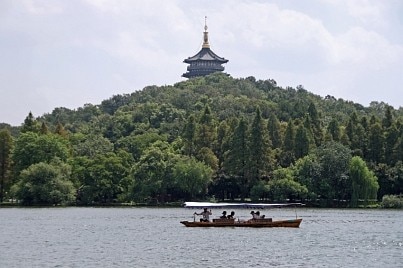 There is plenty to keep visitors occupied in Hangzhou, from outdoor daytime activities like cycling and boating to more cosmopolitan pursuits after hours. The city has a well-established night scene with a mix of clubs, bars and restaurants that cater for a diverse crowd.
Hangzhou has developed a reputation in China for its live music scene. Bars and clubs from the university district to the expatriate enclave feature house bands along with well-known regional musicians.

West Lake is an ideal setting for outdoor activities, whether it's golfing on a fairway designed by Jack Nicklaus or strolling along a waterfront path. Hangzhou also has a brand-new wetlands park where experts are striving to maintain balance with the ecosystem as the city continues to develop.


Bars and pubs
There are two major bar districts: Shuguang and Nanshan roads. Nanshan Road is well established and has several live music and jazz clubs, while the scene on Shuguang is trendier and caters for younger partiers.


Clubbing
Hangzhou has several prominent nightclubs in its downtown district. A couple of these cater specifically for tourists and expatriates with international DJs who are more likely to be known in the West. The clubs around Huanglong soccer stadium are also good for late-night dancing.


Golfing
Westlake International Golf and Country Club was designed by Jack Nicklaus and opened in 1997. It's the foremost course in the province, with 36 holes and a challenging terrain. The entire course enjoys stunning views of West Lake, and there are many water features on the fairway as well.


Hangzhou Zoo
The local zoo is a solid family attraction, with an emphasis on production. Giant and red pandas are the central attraction, and the chance to see these animals is enough for some younger visitors. The zoo also puts on a daily show featuring lions, bears and tigers on parade.
Wildlife viewing
The best place for wildlife spotting (mainly birds) in Hangzhou is in Xixi National Wetlands Park. It sits west of the lake outside of the city limits and plays host to unique plant and animal species.


Cycling
Riding a bicycle around West Lake is a great way to take in the local atmosphere, especially if you head out early in the morning as farmers are heading into their tea plantations. The route around the lake is relatively short, and some visitors even set aside half a day to walk its perimeter (5 hours).


Boating
Hiring a boat is another fun pastime, with two excellent venues. The first is West Lake, with the option of visiting Solitary Hill and other islets along the way. Lakeside shops on the eastern shore have boats for rent. The other option is to take a longer ride along the Hangzhou-Beijing Canal. Boats can be rented by the hour, or chartered for longer excursions.

Find more information about Hangzhou and hotels in the area:
Hangzhou hotels | China hotels