Chengdu Food and Dining Guide - Restaurants, where to eat, and more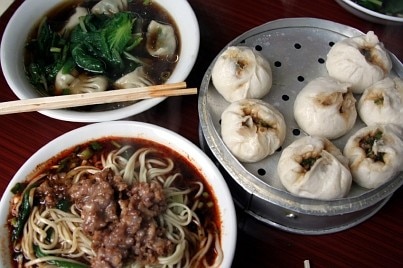 Being the capital city of Szechuan province, of course the main cuisine in Chengdu is Sichuan. Sichuan dishes are famous for being hot and spicy but they also offer sophisticated, many-layered tastes. Famous dishes include ma po tofu (bean curd with minced pork and chilli oil) and gong bao ji ding (a spicy chicken dish with peanuts).
Chengdu is also known throughout China for its Chengdu hotpot dishes and its xiao ci, snacks or 'small eats'. Chengdu cuisine can be enjoyed local-style, at street stalls, in indoors restaurants, or in upscale eateries. Of course, those seeking to satisfy a Western palate have recourse to various Western restaurants and pubs, as well as the restaurants in top hotels.

Finally, there are streets in Chengdu where huge numbers of small restaurants all gather to provide a variety of regional cuisine from around China, be it Cantonese cooking, northeastern foods or Korean eats.


Chengdu restaurants
Grandma Chen's Ma Po Doufu
19 Qinghua Lu
Phone: +86 28 85233655
Chen Ma Po Doufu ('Grandma Chen's Bean Curd Restaurant') was established in 1842. The restaurant is a must-visit if you are going to sample ma po tofu anywhere in Chengdu.

Huang Cheng Lao Ma
20 Nan San Duan, Erhuan Lu
Phone: +86 28 85139999
Huang Cheng Loa Ma is the place in Chengdu for hotpot. It offers traditional spicy hotpot as well as a range of other interesting choices.

Long Chao Shou
Chunxi Lu and Songxin Qiao, Huaihua, Bei Lu 9
Phone: +86 28 8666 6947 and +86 28 8732 6868
Established in the 1940s, Long Chao Shou offers a straightforward way to sample Chengdu's famous 'simple eats'.

Find more information about Chengdu and hotels in the area:
Chengdu hotels | China hotels