Langkawi Entertainment Guide - For fun, recreation, and relaxation
Langkawi Entertainment Guide - For fun, recreation, and relaxation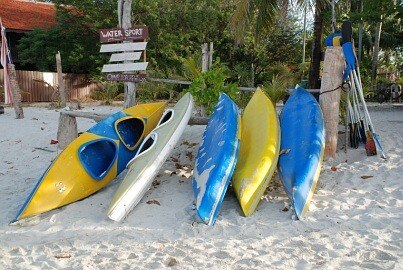 The main entertainment options on Langkawi are activity based, and most of them capitalize on the region's natural beauty. The resorts offer full facilities and will happily book any activity you like, but there are just as many outlets for independent travelers.
Langkawi's main draw is its beautiful beaches, from central resort areas to remote gems in the hinterland. Pantai Cenang is the busiest beach, with a staggering selection of water sport facilities and an excellent after-hours scene.

But there are many other options on the island, including three full golf courses, each with their own take on golfing in the tropics. Other popular activities include island-hopping, scuba diving, yachting and hiking.


Beaches
Behind it all, white-sand beaches are the number-one attraction on Langkawi, and this is where tourists pass most of their time. Pentai Cenang is the most popular, followed by its neighbor, Pantai Tengah. These beaches boast all of the facilities and water sports expected, while quieter beaches on the north coast are remote and laid-back.


Diving
Snorkeling is popular around the resorts and outlying islands, but the best opportunities await scuba divers. Diving tours regularly connect to Payar Island where an excellent deep-water environment is found. Vibrant coral gardens are also found around Payar Island in an area conducive to both snorkeling and diving.


Boating
Another popular pastime for vacationers is boating, whether it's joining an island-hopping tour or chartering your own yacht. There are more than a hundred islands in the vicinity, giving mariners more to do and see than time permits. There are four marinas around the island, the biggest of which is the Royal Langkawi Yacht Club.
Hiking
The interior mountains are ideal for hikers, and they offer fantastic lookouts. The best trekking is from Seven Wells Waterfalls, with a tour agency onsite ready to lead the way. For highflying views without all the exercise, take the cable car to the top of Gunung Mat and take a stroll across the Sky Bridge, which is at nearly 2,300 feet elevation.


Golf
Several golf courses are found on the island. Langkawi Golf Club was the first, with its 18 holes and outstanding view. Gunung Raya Golf Resort sits at the base of Mt Raya and features a hillier, more challenging fairway. Golf Club Datai Bay is the third island course. It also faces the sea and enjoys an especially serene atmosphere.


Nightlife
The island supports a diverse night scene, from swanky lounges within the resorts to beach bars and booming clubs. Pentai Cenang is the best place to party, with a long stretch of open-air bars on the waterfront. The hippest place to dance, Chime Nightclub, is part of the Sheraton Langkawi complex.