Chiang Mai Travel Guide - Your destination overview of Chiang Mai, Thailand
Chiang Mai Travel Guide - Your destination overview of Chiang Mai, Thailand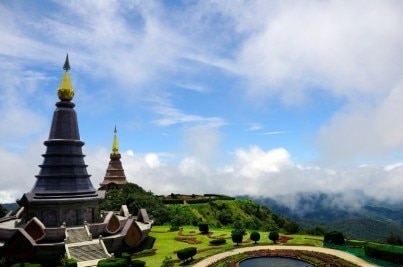 The metropolis of Chiang Mai, in the northern part of Thailand, is the region's most important city and a thriving tourist hub. Apart from the historic town itself, visitors have the added benefit of being surrounded by lush countryside and stunning mountains.
Chiang Mai is home to a particularly large expat community and is on the main tourist route, and many come here to indulge in the vast amount of trekking and outdoor activities available in the surrounding province. Foreigners are, therefore, a very common sight in town.

Founded as early as 1296, Chiang Mai was once the capital of the early Lanna Kingdom and much of its current charm derives from this period. The historical center of the city sits inside a crumbling but handsome wall and its picturesque encircling moat. The four huge gates to the old city remain and give access to this part of town.

The modern part of the city expands in all directions from the moat, but is especially thriving toward the Ping River in the east. This is where tourists will find the bulk of Chiang Mai's hotels and the famous Night Bazaar.


Old town
Inside the city's ancient walls is the historic center of Chiang Mai and more than 30 temples of various styles, such as Lanna, Sri Lankan and Burmese. Intricate woodcarvings, golden pagodas and gilded umbrellas adorn these ancient places of worship, many of which are still in use today.
Modern city
Outside of the moat you will find the best part of modern Chiang Mai. Large shopping malls are dotted around the city and restaurants here are plentiful. Some of the best bars and nightlife can be found around Nimmanhemin Road in the northwest of the city.


Night Bazaar
The Night Bazaar is located between the moat and the Mae Ping River in the east of the city. Although this area has developed almost solely to squeeze money out of the pockets of tourists, local handicrafts of varying prices can be sourced here and the restaurants and street food are excellent.


Outside Chiang Mai
Various areas of outstanding natural beauty sit just outside of the main city. By far the most impressive temple here, Doi Suthep, is located just 15km from town. It overlooks the city from its majestic mountainside vantage point and is a must-see attraction here. There are also waterfalls, national parks, hot springs, elephant camps and botanical gardens.


Rural Chiang Mai
Many hillside villages can be visited on trekking tours from Chiang Mai. Doi Inthanon, the site of two chedis dedicated to the king and queen, is just one of the locations you can visit. Mae Sa Valley, a 30-minute drive from the city, has a host of orchid farms, adventure activities and beauty spots.
Discover
Find your perfect holiday in Chiang Mai
From 1640 hotels.