Top 10 boat trips in the world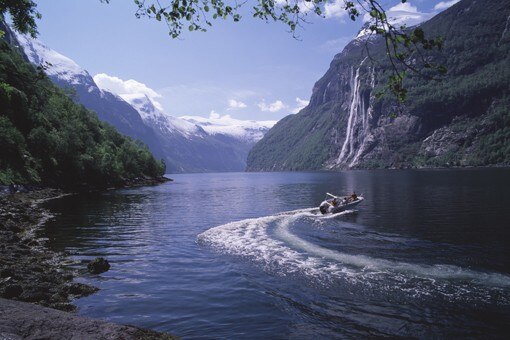 Whether you want to glide through ancient Egypt on the Nile or embark on a jungle adventure in the Amazon, this guide to the top 10 boat trips in the world will help you choose a cruise and book the right hotel.
Norwegian fjords
Waterfalls streaming down cliff faces, snow-capped mountains and the occasional whale tail slide into view on a cruise of the dramatic Norwegian fjords. Set off from the brightly painted fishing town of Bergen or, for a better chance of glimpsing the Northern Lights, Tromsø north of the Arctic Circle.

See all hotels in Bergen See all hotels in Tromsø


Mississippi River
Slip into a Mark Twain novel aboard a paddle-wheel steamer on the Mississippi River. Big bands and glitzy vaudeville shows recall a more glamorous era as you leave New Orleans and cruise north to St Louis's Gateway Arch and music lovin' Memphis and Nashville.

See all hotels in New Orleans See all hotels in St Louis See all hotels in Memphis


River Rhine
Turreted castles perched high on sloping vineyards give the River Rhine fairy-tale appeal. A cruise from Cologne takes in Ehrenbreitstein Fortress rising above Koblenz and Rüdesheimm's half-timbered houses and taverns in the steep Rhine Gorge.
See all hotels in Cologne See all hotels in Koblenz


Amazon Explorer
Swap the comfort of your Iquitos hotel for a few nights for a jungle adventure on an Amazon riverboat in Peru. Floating villages and thatched huts dot the steamy rainforest that teems with wildlife. Have your binoculars handy to spot pink dolphins and giant otters.

See all hotels in Iquitos


Norfolk Broads
Charter a boat to navigate the Norfolk Broads' serene waterways in South-east England. Lined with rustling reeds and twitching with birdlife, the marshy broads have an almost soothing beauty. Chug past market towns, oak forests and windmills, pausing for a pint in a waterside pub.

See all hotels in Norfolk


Yangtze River
Take a slow boat along China's meandering Yangtze River from Chongqing to Shanghai. You'll cruise languidly past Wushan's lush mountains and the world's largest hydropower project Three Gorges Dam. A detour takes in the Yellow Mountains' granite pillars, rising above cloud-enshrouded pine forests.

See all hotels in Chongqing See all hotels in Shanghai


Danube River
One of the world's top 10 boat trips is the grand cruise along the Danube River from Passau to Budapest, snaking past abbeys and medieval castles, woodlands and vineyards. Gaze up to imperious Hapsburg palaces in Vienna, elegant rococo architecture in Bratislava and Budapest's UNESCO-listed Castle District.

See all hotels in Passau See all hotels in Vienna See all hotels in Budapest
Mekong River
Towering limestone formations, waterfalls and green mountains unfold on a Mekong River boat trip. The Golden Triangle is the departure point for cruises to Luang Prabang's ornate Buddhist temples and beyond to Laos's laid-back capital Vientiane, famous for its French colonial architecture.

See all hotels in Prabang See all hotels in Vientiane


River Nile
Luxor is the starting point for round trips of the mighty Nile, the world's longest river. The Valley of the Kings' enigmatic Pharaoh tombs, the 3,400-year-old Colossi of Memnon statues and the Greco-Roman Temple of Horus are highlights on this cruise through ancient Egyptian civilisation.

See all hotels in Luxor


Kerala Backwaters
Emerald coconut palms fringe the Kerala Backwaters' 900km web of waterways at India's southern tip, easily accessed from Alappuzha, Kumarakom and Kolam. Watch village life and bathing elephants as you wind through these lakes, lagoons and canals aboard a traditional kettuvallam houseboat.

See all hotels in Alappuzha See all hotels in Kumarakom See all hotels in Kolam
Discover
Find your perfect holiday in Bergen
From 90 hotels.