A Costa Blanca travel guide – Moorish castles, miles of sandy beaches and succulent fresh seafood
A Costa Blanca travel guide – Moorish castles, miles of sandy beaches and succulent fresh seafood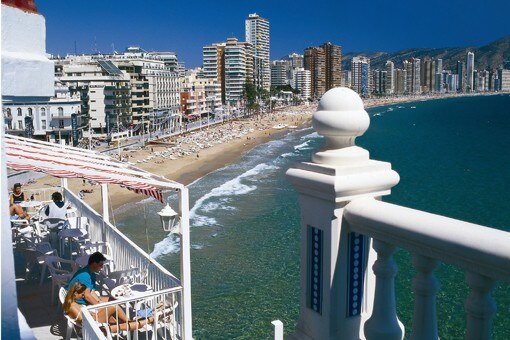 Costa Blanca holidays combine family beach resorts, theme parks and historic old towns. Wherever you book your Costa Blanca hotel, there are watersports and golf courses nearby, alongside alfresco dining and beachfront bars.
Get your bearings
The Costa Blanca runs along the Mediterranean Sea in Spain's south-eastern Alicante province. Long sandy beaches, marinas and rocky coves characterise the coast from Dénia around the Cape Nao to the high-rise resort of Benidorm. Capital Alicante is located further south-west along with more sandy stretches, the fishing town of Santa Pola and the salt lagoons around touristy Torrevieja. Inland are the cities of Orihuela, surrounded by fields of oranges, almonds and olives, and Elch with its footwear factories. To the north are mountains and vineyards.


Lazy beach days
Costa Blanca hotels cluster in the major resort towns of Benidorm and Alicante, favoured for golden sands and family facilities. Calpe is another popular resort for Costa Blanca holidays with miles of fine white sands and gentle waves. Take a boat trip to tranquil Isla de Tabarca, where you can wander through its fortifications and relax on its small beach. Return to Santa Pola where you might spy pink flamingos gathered on the Salt Flats Nature Reserve.


Watersports and golf
Climbers head for Calpe to climb the towering Rock of Ifach beside the beach, while scuba divers opt for the crystal clear waters around Portixol Island off Cape Nao. The coast around Dénia is a prime spot for windsurfing as well as playing beach volleyball. Kids love Benidorm's Terra Mítica Park with exciting roller-coaster rides and Roman battle re-enactments. Golfers can tee off at the Oliva Nova Golf Course near Gandia or Alicante Golf, both designed by Seve Ballesteros.


Romans and Moors
Throughout the Costa Blanca are signs of past civilisations like Calpe's Roman baths and Alicante's Moorish Santa Barbara Castle. In Alicante you'll see a museum dedicated to its celebrated St John's Day fires, while Santa Pola's Museum of the Sea explores its maritime heritage. The narrow streets of Elche's historic quarter are a testament to its first Arab occupants, but perhaps more impressive is the Palmeral de Elche , planted by the Carthaginians in the fifth century.


Seafood paella
Paella is the most traditional dish of the Valencia region, but here it is prepared with beans and turnips. Enjoy black, baked or fish rice, fresh red prawns with garlic mayonnaise, alioli, and fishy caldero stew. Sweet treats include almonds, made into nougat-like turrón , and there are sweet mistela wines and horchata , made from tigernuts. Resort towns from Calpe to Benidorm and Alicante have beachfront bars that cater for late-night crowds.