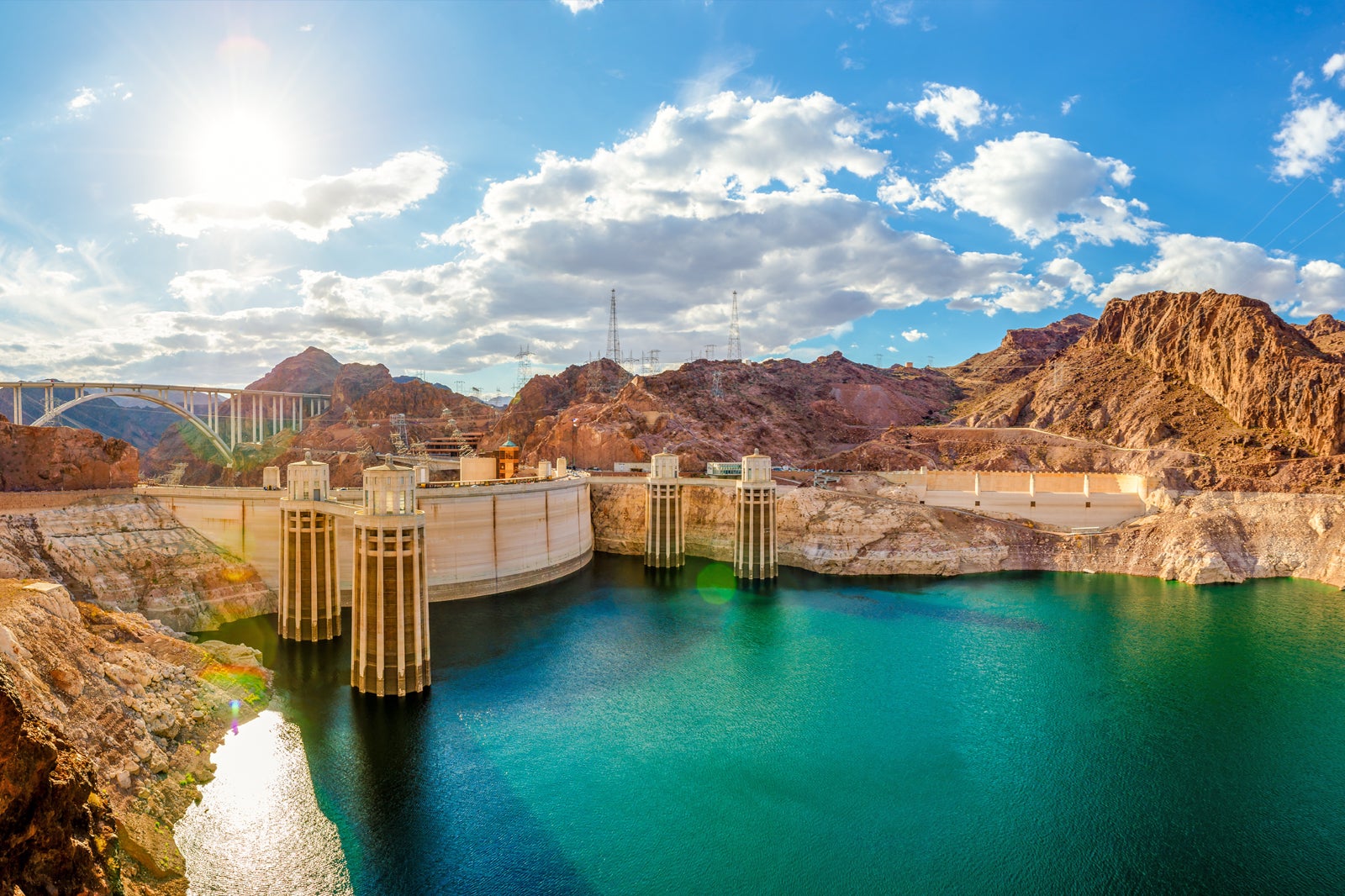 Hoover Dam is a massive structure in Black Canyon on the Colorado River, just 37 miles southeast of Las Vegas. At 736 ft tall, it's an impressive sight. Since it was built in the 1930s, the dam has drawn in tens of millions of visitors to gaze at its sheer size and explore its inner workings. The dam also created Lake Mead, the largest manmade reservoir in the US. It's a popular destination for boating and water sports.
Built using 6.6 million tons of concrete and the labour of several thousand workers, Hoover Dam is considered one of the 7 engineering wonders of the world. Its design is also a notable example of Art Deco architecture that was popular at the time. Guided tours through the dam and power plant are available several times daily. An on-site visitor's centre has informative exhibits and an observation deck overlooking the dam.
Las Vegas Hoover Dam - one of the highlights of 10 Best Things to Do in Nevada and 13 Best Road Trips near Las Vegas (Read all about Las Vegas here)
What are the highlights of Hoover Dam?
There are several ways to explore Hoover Dam, so it's easy to plan a visit that suits your budget and time. Take a tour of the dam for an in-depth look into the engineering feats and history of this huge structure. You could just stop your car and take it all in from a distance from the Mike O'Callaghan-Pat Tillman Memorial Bridge or other vantage points in the area.
Visitors to Hoover Dam can choose to do a self-guided tour through narrated exhibits at the visitor centre and enjoy panoramic views from the observation deck. You could also book a 30-minute guided tour of the power plant, which takes you through the original construction tunnels. Those with more time could take the full 1-hour guided dam tour – this includes a tour of the power plant, inspection tunnels and ventilation shaft. Note that children under 8 years old aren't allowed on the dam tour, and it's not accessible for those with limited mobility.
A brief history of Hoover Dam
Hoover Dam was first conceived in the early 20th century as a way to control the Colorado River's notorious flooding and help boost farming with irrigation. The dam also produces 4 billion kilowatt-hours of hydroelectric power per year, enough to supply 1.3 million people across Nevada, Arizona and Southern California.
The dam's construction was a massive undertaking, involving 6 years of negotiations between 6 states and Congress before the project was even approved in 1928. The work in a remote desert location was dangerous and difficult, but with the Great Depression well underway, it attracted thousands of workers who flocked to the fast-growing towns of Boulder City and Las Vegas. Despite all these challenges, the dam was finished 2 years ahead of schedule in 1935.
Even before the dam was built, its engineers had the foresight to think that it could become a visitor attraction and an architect was brought in to give the dam a more aesthetically pleasing look. The resulting design is a fine example of Art Deco style, with fascinating features such as bronze angel sculptures called Winged Figures of the Republic.
Good to know about Hoover Dam
It's an easy 40-minute drive from Las Vegas to Hoover Dam. There's a paid parking garage available at the visitor centre. More parking spots, both paid and free, are on the Arizona side of the dam. The free parking areas are at least half a mile away, but you can walk across the dam to reach the Visitor Center. No shuttle services are available. To avoid the crowds and daytime heat, try to visit early in the morning. The dam is accessible from 5 am to 9 pm.
Power plant tours start at 9 am while Hoover Dam tours run every half hour from 9.30 am to 4 pm. Tickets for the dam tour are only available on-site, on a first-come, first-served basis.
For an activity-packed day out, you could visit Hoover Dam in the morning then go to nearby Lake Mead for some beach and boating fun. Just a 15-minute drive from Hoover Dam is Boulder City, with a lively downtown area and the Boulder City-Hoover Dam Museum to explore.
Las Vegas Hoover Dam
Location: Hoover Dam, Nevada 89005, USA
Open: Daily from 9 am to 5 pm
Phone: +1 702-494-2517
Back to top