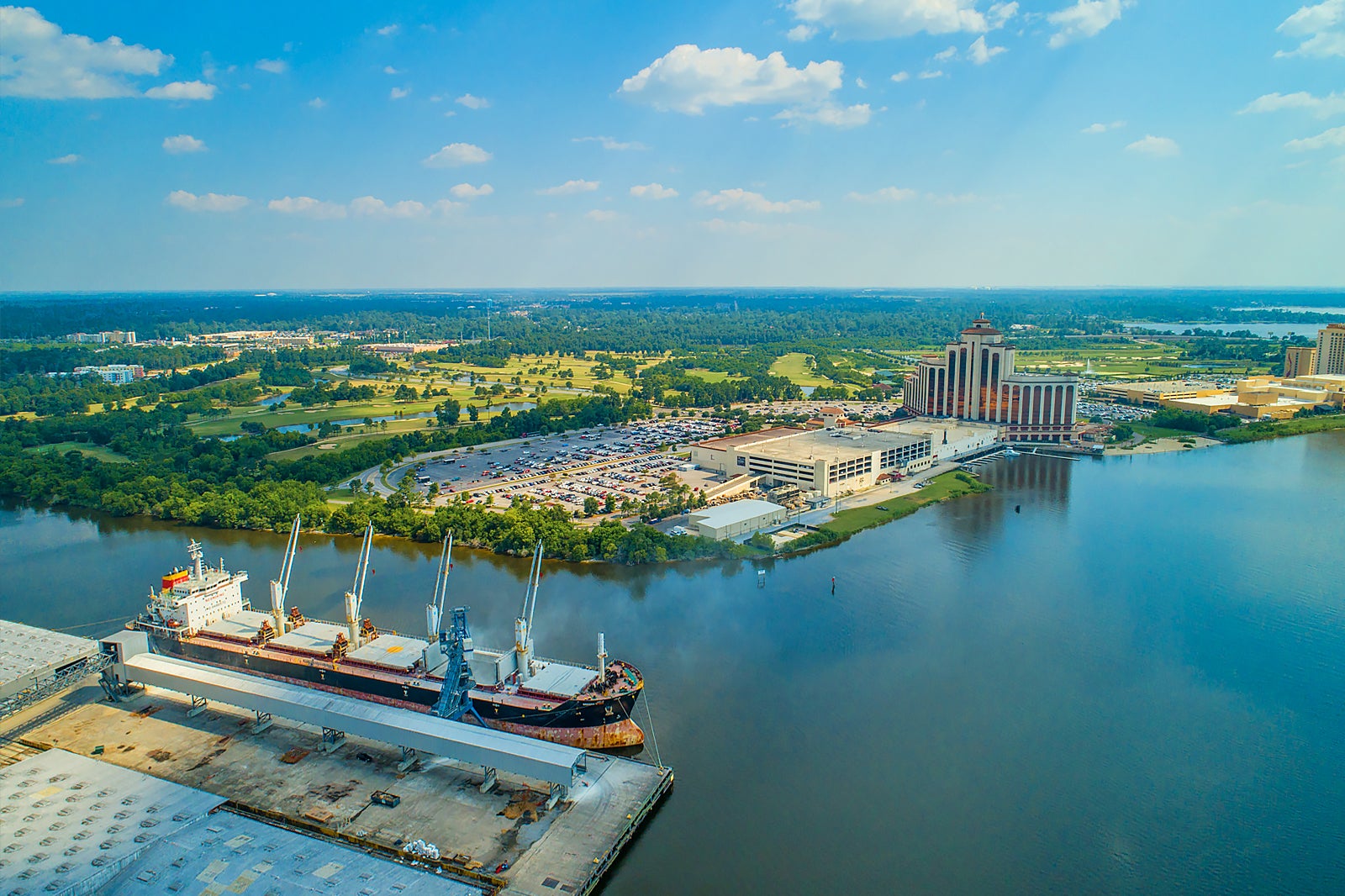 Lake Charles
What you need to know before you go
Lake Charles is a southwestern Louisiana city offering unique local history museums, iconic landmarks, casinos, arts and cultural institutions. The Mardi Gras Museum in the heart of downtown explores the history of what is arguably Louisiana's most famous festival by displaying colourful costumes and artefacts. At the 1911 Historic City Hall Arts and Cultural Center, you can view local art in a variety of media as well as travelling exhibits. On the grounds of the Imperial Calcasieu Museum visual arts centre, visitors will find the towering Sallier Oak Tree, which is centuries old.<
For gaming and entertainment, the Golden Nugget Lake Charles Hotel & Casino offers a lavish resort experience with championship-level golf, live entertainment and all the slots and table games you can handle. At North Beach, you will find a long expanse of powder-soft white sand to build sand castles and play in the surf and a freshwater lake to swim in. Creole Nature Trail Adventure Point is a visitor centre with exhibits and displays designed to immerse you in local culture.
What to see & do in Lake Charles
Featured stories & fun stuff
10 Best Things to Do in Lake Charles

Lake Charles is packed full of adventure for you and the whole family. Whether you're curious about history, looking for outdoor fun, or want to test your luck, Lake Charles has it all. The family-friendly opportunities include well-kept parks, playgrounds, splash parks, and a comprehensive children's museum. If you're looking for a more adult-oriented experience, you'll find...
Where to shop & what to buy in Lake Charles
10 Best Places to Go Shopping in Lake Charles

Lake Charles has a variety of shopping plazas and malls to pick up groceries, browse speciality and department stores, catch a film, or grab a bite to eat. You can make a trip to the supermarket to stock your hotel kitchenette or pick up snacks and sandwiches for a picnic at a local park. Department and speciality retailers offer clothing...
Where to go & what to do at night in Lake Charles
10 Best Things to Do After Dinner in Lake Charles

Lake Charles has a vibrant nightlife filled with live music, elegant casinos, theatres, and a variety of bars. As you walk down the streets, the sounds of live music will catch your ear and lure you into bars featuring exciting cocktails and local beers. The late-night food options are robust and highlight local Cajun flavours. Lake Charles' resorts offer...
Back to top