10 Best Things to Do in Koh Chang
What is Koh Chang Most Famous For?
This guide to the best things to do in Koh Chang offers a variety of activities and attractions to do and see on the island. Located in Trat Province in the Gulf of Thailand, the large island has dense jungles, pristine waters, coral reefs, stunning waterfalls, and local villages.
Whether you prefer to relax on pristine beaches or embark on an excursion to see shipwrecks and coral reefs, Koh Chang offers activities for all sorts of travellers. There are also opportunities to appreciate the local culture, with a nightly food market and traditional villages to explore.
What are the best things to do in Koh Chang?
1
White Sand Beach
A skinny stretch of white sand and palm trees
Families
Couples
Photo
Budget
White Sand Beach is on the northwest coast of Koh Chang, just outside of Mu Koh Chang National Park. Featuring a long, skinny strip of pure white sand lined with palm trees, it's widely regarded as one of the most beautiful beaches on the island.
White Sand Beach is popular for those looking for a long stroll or sunbaking spot by the ocean. It's also the location of many popular beachfront resorts and open-air bars, where you can enjoy excellent food and drinks until late.
2
HTMS Chang Wreck
A shipwreck and popular diving spot
The HTMS Chang Wreck is one of the biggest wrecks in Thailand. It's located southwest of Koh Chang, around a 30-minute boat ride away. The LST-542-class tank landing ship was originally built in 1944 by the US Navy and served in the Second World War and Korean War as USS LST-898. She was renamed USS Lincoln County in 1955 before being sold to the Royal Thai Navy in 1962, taking the name HTMS Chang. She was retired from service and sunk in November 2012.
Since then, the Chang has turned into a great artificial reef with vibrant marine life thriving in the surrounding water. The bottom of the ship sits at 30 metres deep, with the mast almost reaching the surface. It's a popular dive spot off the coast of Koh Chang, but best explored by advanced open-water and deep divers.
3
Khlong Prao Beach
One of the most popular beaches on the island
Families
Couples
Photo
Budget
Khlong Prao Beach is one of the longest beaches on Koh Chang. Stretching down the west coast of the island, it's a popular beach due to its convenient location. It's at the centre of the main hub of activity on the island, with plenty of restaurants, hotels and shops within close proximity.
The long beach is split into northern and southern parts, due to the river estuary. It has very calm water, making it safe for kids to swim in. At sunset, beachfront bars and restaurants offer outdoor seating and happy hour deals.
4
Bang Bao Pier
Long historic pier with a boat terminal and souvenir shops
Families
Shoppers
Couples
Photo
Bang Bao Pier is a traditional fishing village centred around a historic narrow wooden pier on the south-western edge of Koh Chang. It's characterised by stilt houses and boats moored at the pier. You'll also find an old lighthouse, which offers nice views of the ocean.
Today, many buildings on the pier function as restaurants and souvenir shops. This vibrant place is one of the best places to do some shopping on the island. It's also the starting point for many boat tours, including snorkelling and diving trips off the coast of Koh Chang.
Location: Bang Bao Pier, Ko Chang District, Trat 23170, Thailand
5
Khlong Phlu Waterfall
A popular waterfall and swimming spot in the jungle
Families
Couples
Photo
Adventure
The Khlong Phlu Waterfall is one of the biggest waterfalls in the Mu Koh Chang National Park. Located 3.3 km inland from Klong Prao Beach, the stunning paradise is a popular place for visitors to enjoy on a hot day. It's easily reached via a 500-metre walking trail from the park entrance.
It's a very picturesque place to admire lush jungles in the central part of the island. The waterfall's base is an excellent swimming hole. The best time to visit is after the wet season or heavy rain. There is an entrance ticket for foreigners.
Location: Sao. Alley, Ko Chang, Ko Chang District, Trat 23170, Thailand
Open: Daily from 8 am to 5 pm
6
Snorkelling tours
Enjoy a day of observing coral reefs around Koh Chang
Snorkelling tours are a popular day trip for visitors to Koh Chang. There are many half-day and full-day adventures to various reefs and spots around the island. Most tours leave from Bang Bao Pier, while bookings are available at tour company offices around the pier and Klong Prao Beach.
Koh Chang snorkelling tours typically include a stop at 4 or 5 smaller islets, with plenty of opportunities to admire marine life. Most of the full-day tours are inclusive of an onboard lunch, drinks, and snorkelling equipment.
7
Salakkok Village
A peaceful fishing village on the east coast
Families
Couples
Photo
Budget
The Salakkok Fishing Village is a traditional community on the east coast of Koh Chang. Located on a secluded bay, it's a great alternative to the bustle of the island's more popular beaches and villages on the west side. The locals are incredibly friendly and welcoming to visitors, with a few restaurants offering affordable yet authentic Thai cuisine.
You can wander through the mangrove forest surrounding the Salakkok Fishing Village. There is a boardwalk with viewing platforms among the unique coastal vegetation.
8
Ko Mun Nai
Kayak out to this small island
Ko Mun Nai is a small island not far off the west coast of Koh Chang. It's easily reachable via kayaking from either Lonely Beach or Kai Bae Beach. Equipment is available for rent at reasonable prices on the mainland, and you can explore the water for the whole day.
Ko Mun Nai is around 20 to 30 minutes by kayak. You can spend some time exploring the little island on foot. Along with deserted beaches and beautiful palm trees, it offers stunning views back toward Koh Chang.
9
Kai Bae Viewpoint
An incredible sunset vantage point with wild monkeys
The Kai Bae Viewpoint is a vantage point on a hillside between Kai Bae Beach and Lonely Beach. Its viewing platform overlooks the ocean and small islands off the coast, including Ko Mun Nai.
It's one of the best places to go if you want to enjoy Thailand's impressive sunsets. You'll have to be careful of your belongings though, as monkeys often loiter around the area. There is a small coffee shop next door, if you feel peckish during your visit.
10
White Sand Beach Night Market
A nightly street food market along the beautiful beach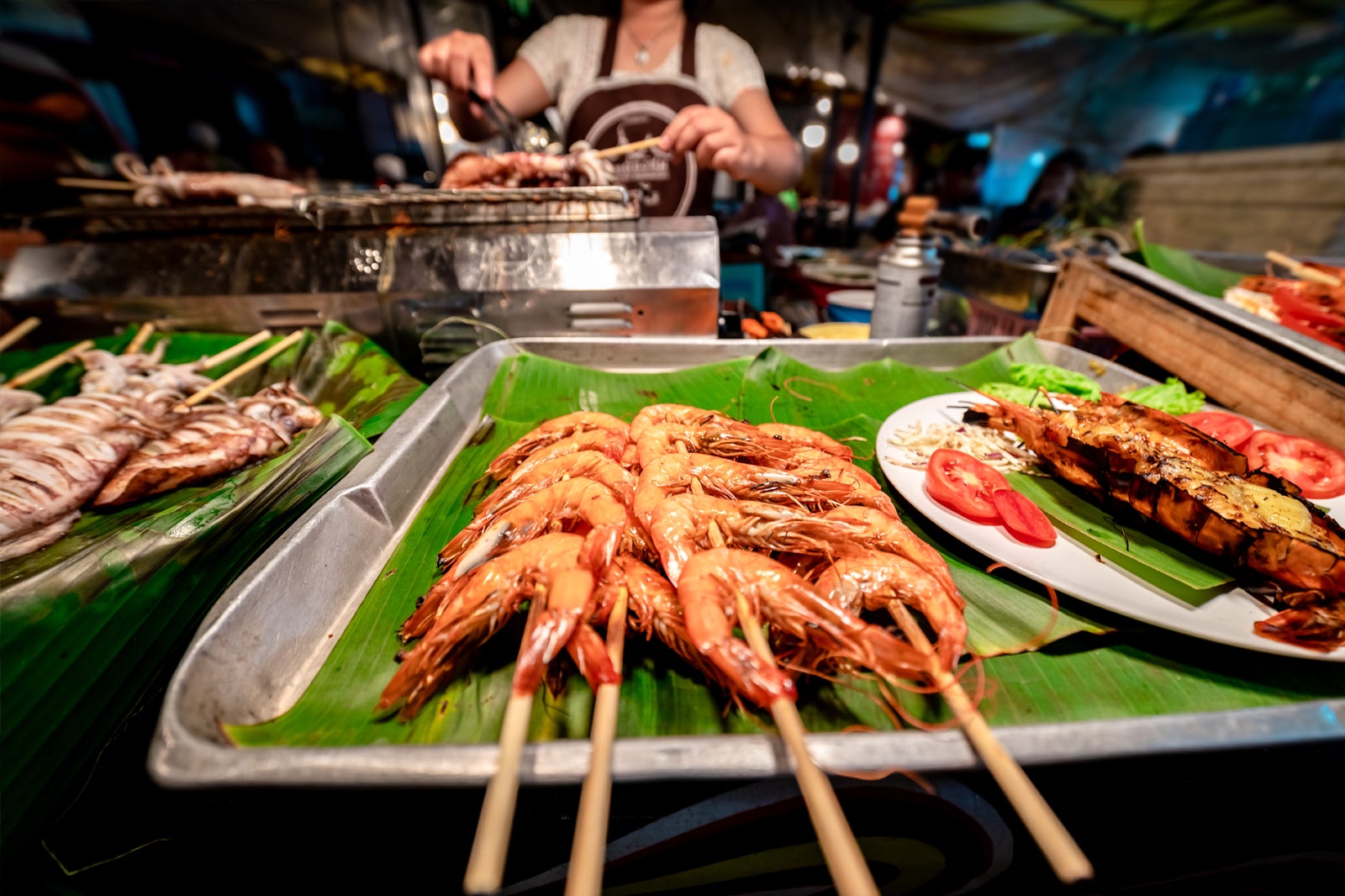 The White Sand Beach Night Market is arguably the most popular street food market on Koh Chang. The open-air venue stretches along the main road parallel to White Sand Beach, attracting hungry patrons from sunset until late. It's a fun place to try local cuisine and enjoy the lively atmosphere.
You'll find a mix of food stalls and popular bars at the White Sand Beach Night Market. From snacks like sticky rice and corn to grilled seafood and curries, there's plenty of variety to suit everyone.
Location: Rural Road, Ko Chang, Ko Chang District, Trat 23170, Thailand
Open: Daily from 5 pm to 11 pm
Back to top