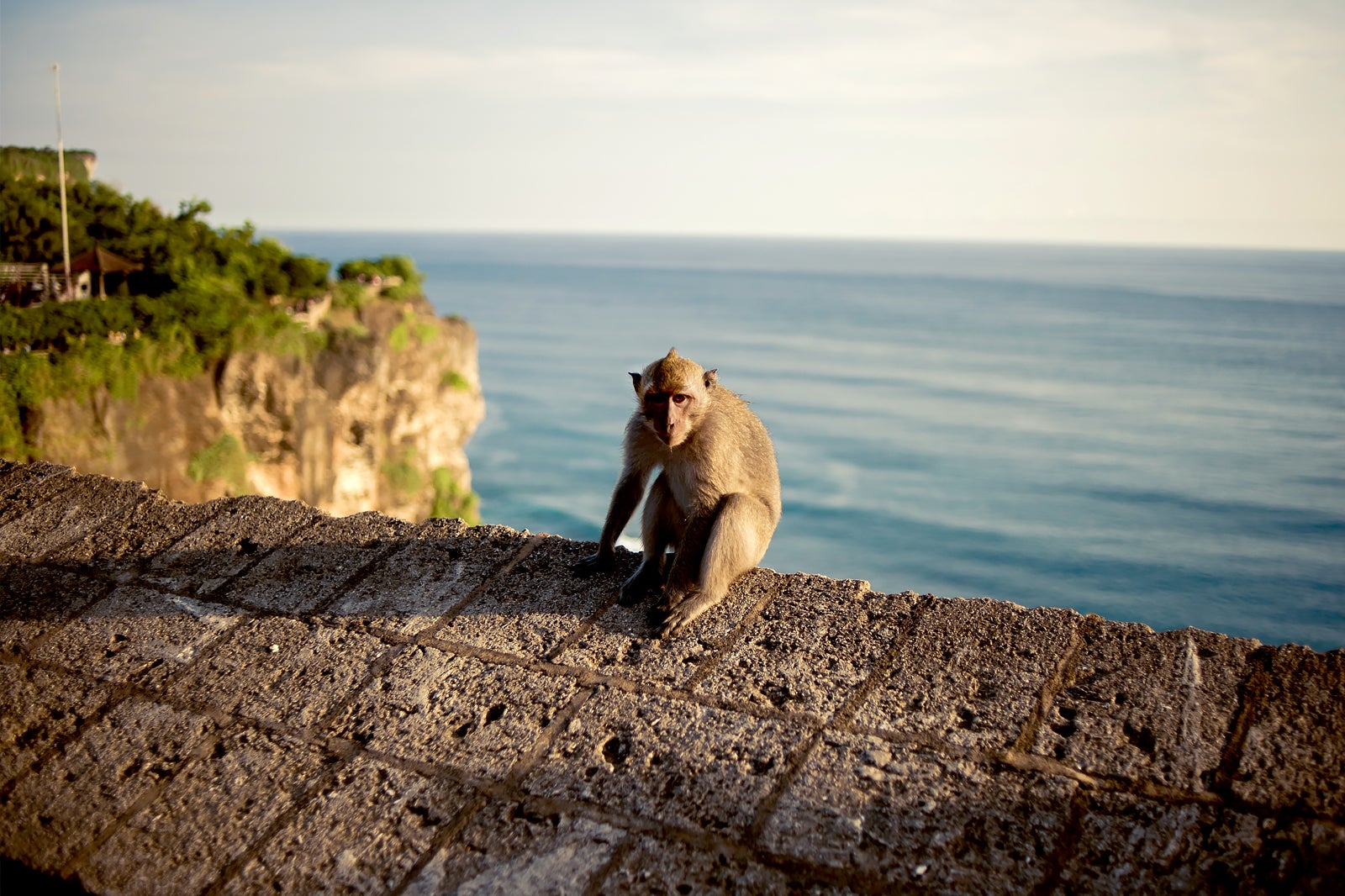 Uluwatu Monkey Forest surrounds the cliff edges near the namesake temple, where hordes of grey long-tailed macaques thrive. The monkeys add an exotic and animate feature to the splendid landmark, together with its stunning sea and sunset backdrop.
Regular pilgrims face all sorts of mild mishaps, be it a man's traditional headdress being seized and taken high up into the trees to never return to its rightful owner, or a playful pair snatching at fruit offerings that haven't even properly been 'presented' to the gods of the temple beforehand. Thick hedges of green shrubs and plants dot the white cliff face, with frangipani trees and these simians dominating most of the Bukit area.
Uluwatu Monkey Forest in Bali - one of the highlights of 9 Best Bali Animal Parks and 8 Great Forests and Parks in Bali (Read all about Bali here)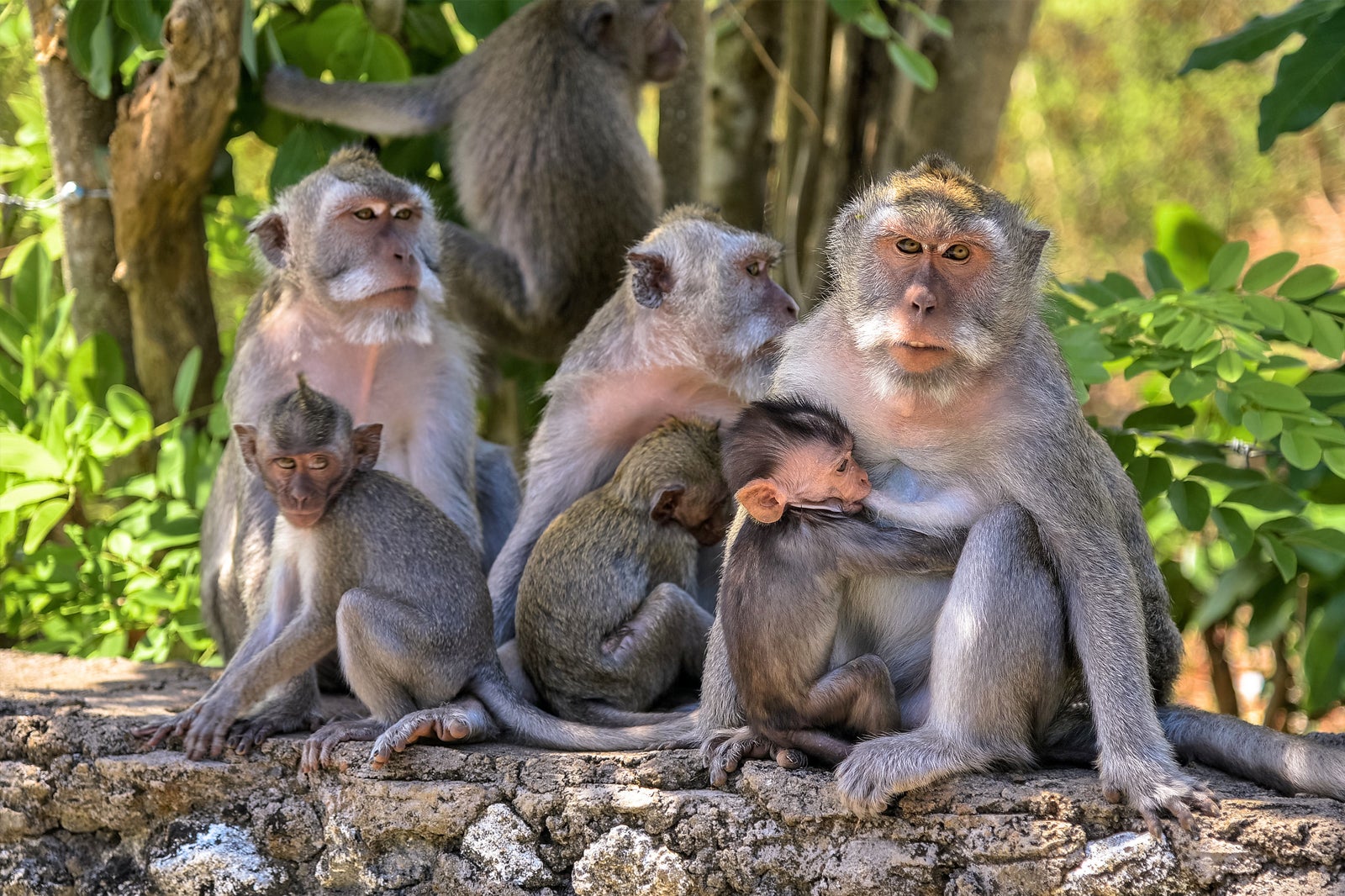 These furry little dwellers of the Uluwatu Monkey Forest – and most of the Bukit forests – share the common playful characteristics of those in Bali's other notable monkey forests, such as Sangeh and Ubud. In fact, the whole Bukit coastline can be considered as 'monkey forests'. Patches along the cliffs from the southernmost tip at the Bulgari Resort all the way up to Pecatu in the western parts have monkeys in residence.
While virtually all of the temple grounds, being accessible to the monkeys, act as an open stage to their playful exploits once in a while, the surrounding hilly forests outside the temple complex are where they are truly at home. The monkeys are known to come out of their forest dwellings and linger around the pathways in the afternoon and down to sunset.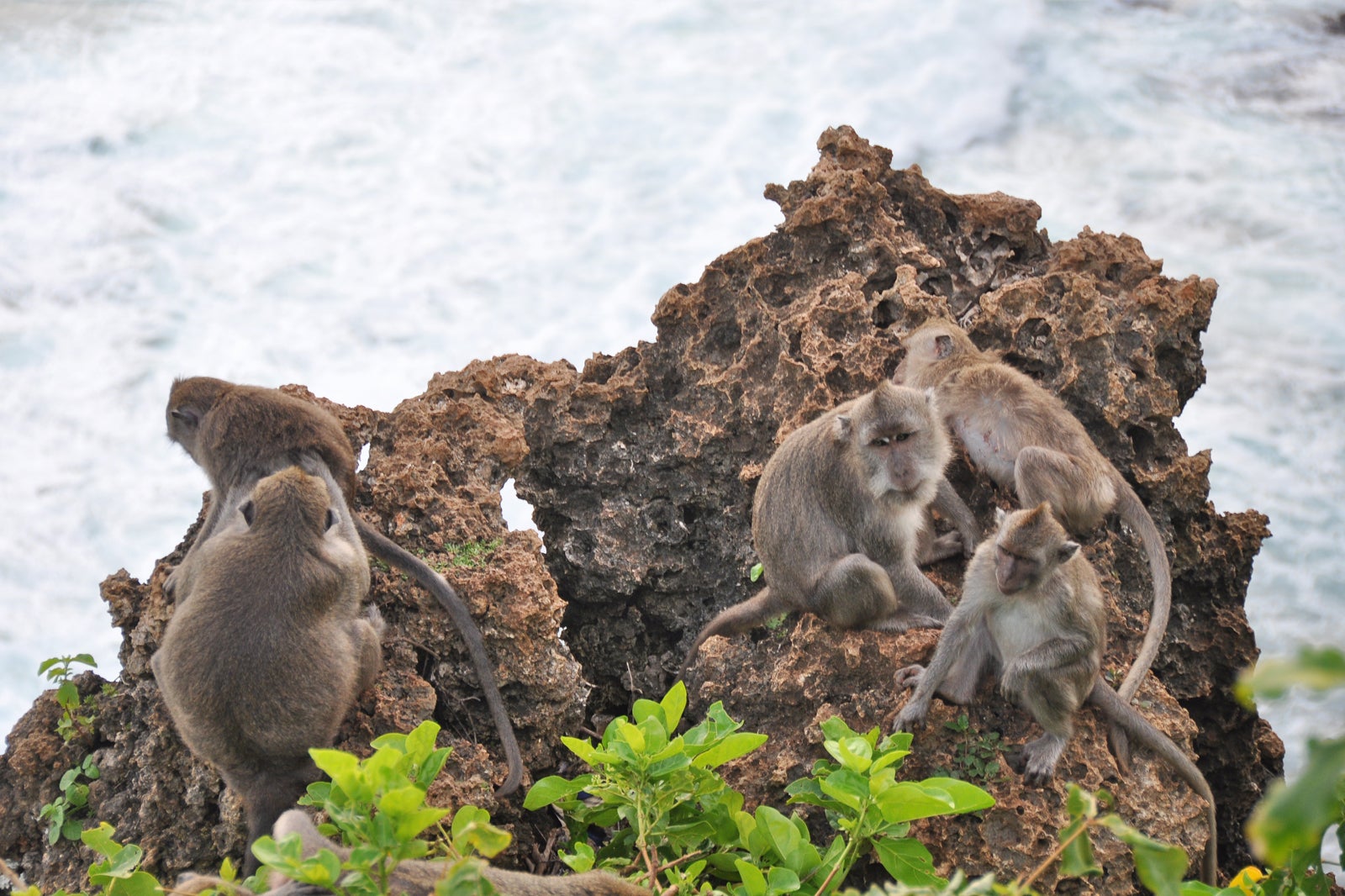 Good to know about Uluwatu Monkey Forest
It's a good idea to visit the Uluwatu Monkey Forest and the temple grounds with an accompanying local guide who knows their way with the unpredictable monkeys, such as 'bribing' them back when they manage to steal your hat or sunglasses. Good advice is to take along a stick for walks through the 'forests' just to bluff the monkeys away. Do not tempt or feed the monkeys as the locals and temple authorities have already provided them with regular snacks, such as slices of cassava.
It's common that the monkeys like to stalk and snatch for curious items – either from below at ground level or from up above in the trees. So, it's advisable not to wear anything you're not prepared to lose.
Hyperactive members of the pack have been known to go a bit further, such as stripping the rubber liners off car windows and bending license plates in the past. Even so, the main parking area today – where restaurants and shops are lined up – provides a safe spot to park and start off your tour as not many of the macaques frequent these busier areas.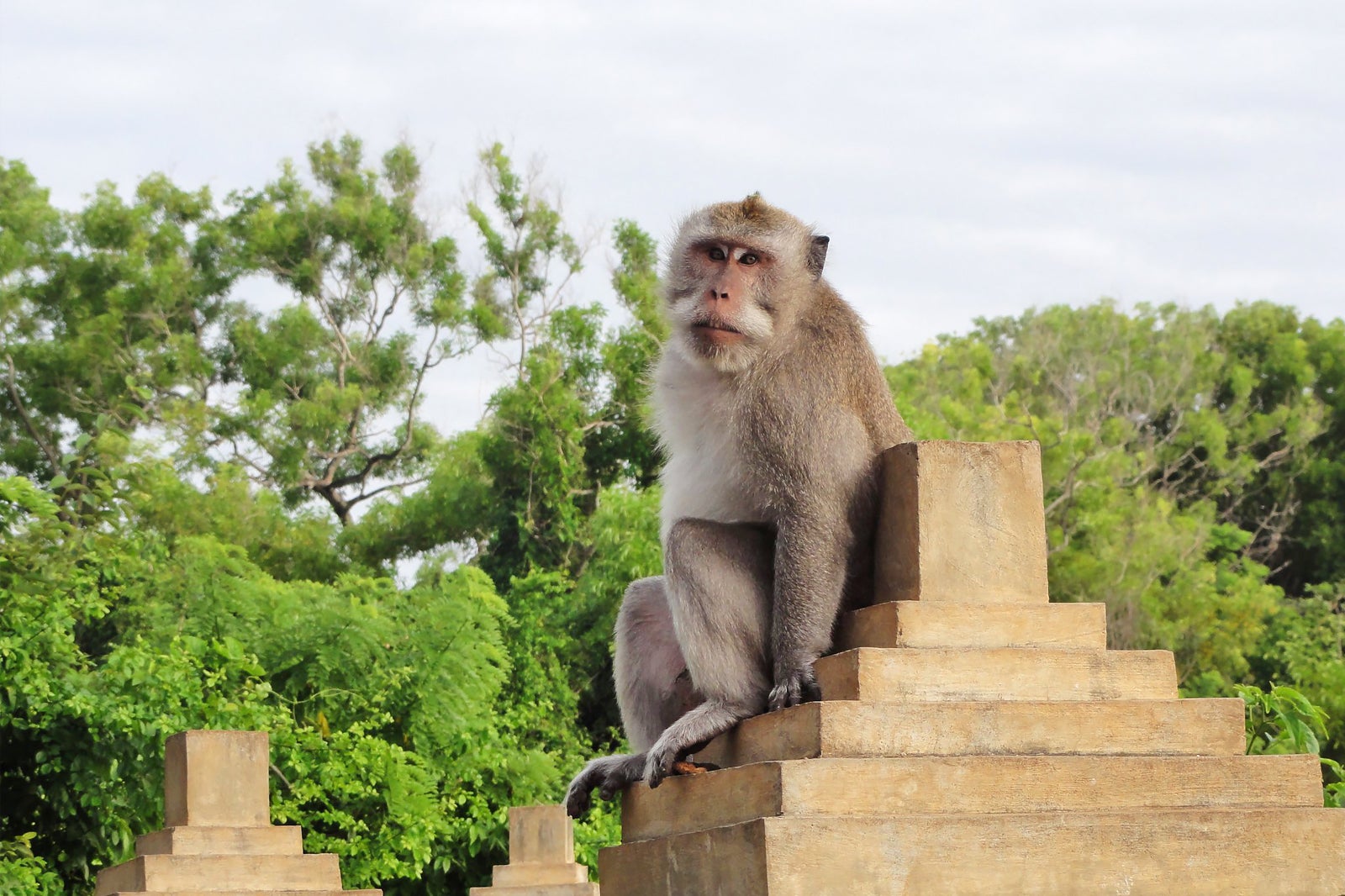 Uluwatu Monkey Forest in Bali
Location: Jalan Pura Uluwatu, Pecatu, Badung, Bali 80362, Indonesia
Back to top