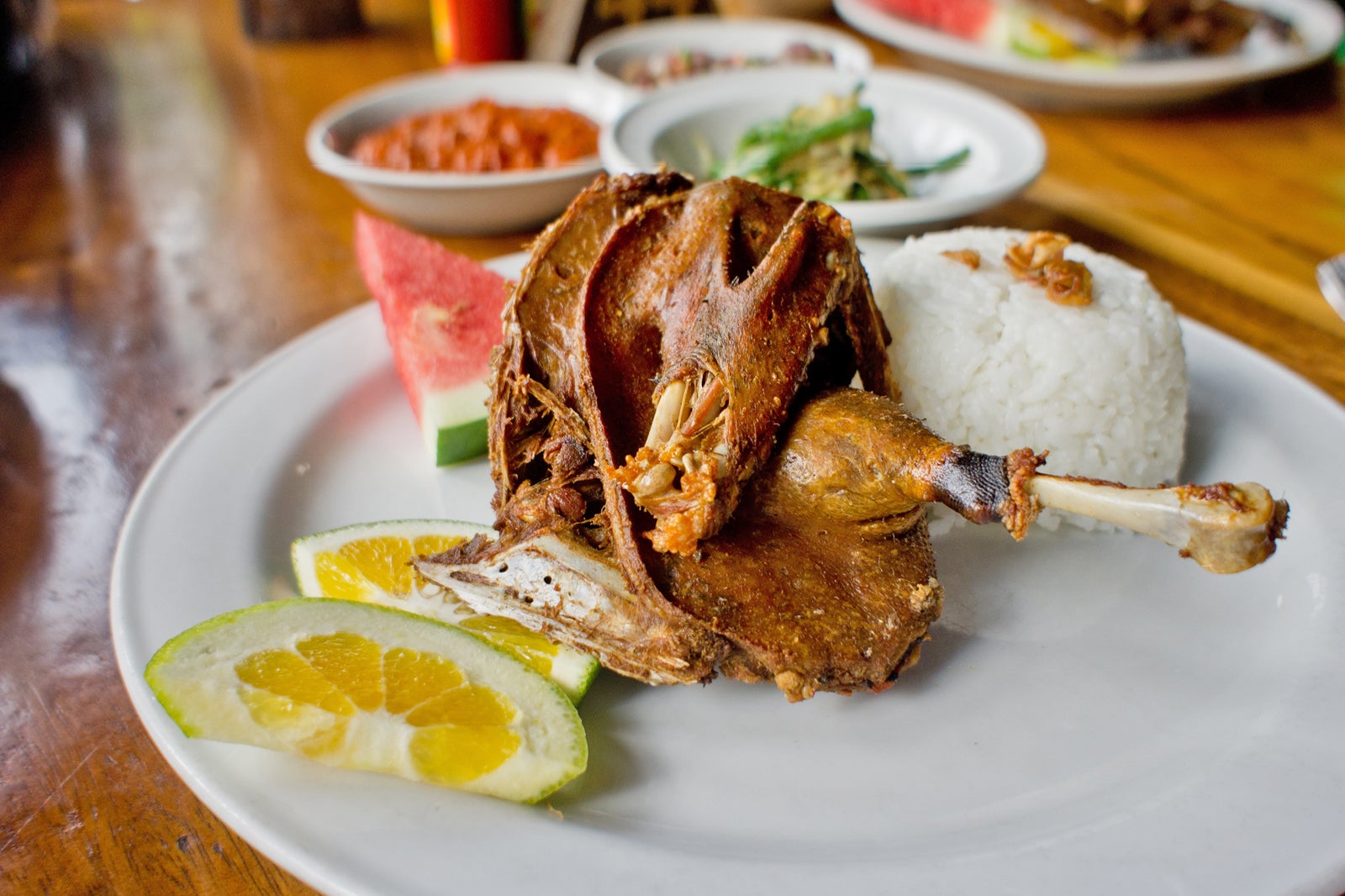 Bebek Bengil presents a speciality menu offering Bali's 'original crispy duck since 1990', as well as duck satays and smoked duck (which has to be ordered a day in advance). The menu here also includes a host of other international and Indonesian selections. The restaurant is part of the Agung Raka group that is behind the Agung Raka Bungalows and the Agung Raka Fine Art Gallery.
The first restaurant is located midway along Jalan Hanoman, in the village of Padang Tegal in Ubud. It's just before the turn that leads to the famous Ubud Monkey Forest Sanctuary. You can find another branch just up Jalan Monkey Forest Road.
Bebek Bengil in Bali - one of the highlights of 14 Best Local Restaurants in Bali (Read all about Bali here)
Bebek Bengil 1 (the first, original restaurant) offers spacious dining settings with good daytime views over lush crafted gardens and landscaping inspired by its natural rice field surroundings. The restaurant features wooden décor with raised platforms and optional dining spaces on 2 levels, as well as outdoor seating in the gardens.
Innovative à la carte dishes include satays, fish and chips, finger foods and the most popular crispy duck in Bali, which is steamed with a blend of Balinese spices and then quickly deep-fried at a high temperature for a very crispy result and delicious taste.
Also found on the menu at Bebek Bengil is a range of western snacks and appetisers such as guacamole served with melinjo (paddy oat) crackers, roasted tomato salad, organic green salad tossed with avocado and tomatoes, Ginger Rogers chicken salad with pineapple and cashews, fish and chips, French fries, grilled chicken sandwich with focaccia bread, and the classic club sandwich.
The Bebek Bengil crispy duck main course highlight comes with a choice of sautéed potatoes and a side salad or steamed white or yellow (turmeric-infused) rice and Indonesian vegetables. Chicken options come in the choice of ginger chicken, chicken Kiev and chicken teriyaki.
Good to know about Bebek Bengil
The inspiration behind the restaurant's name came when one tropical monsoon morning as its construction was nearing completion, a flock of ducks from the adjacent rice field ran quacking into the establishment and across the floor and tables, leaving muddy footprints all over the place.
Just up Jalan Monkey Forest, Bebek Bengil 2 is an addition to the restaurant brand's line-up – there have been various branch openings all over the island since, including one at The Bay Bali Nusa Dua, basically serving as a beachfront location in an upmarket tourism destination.
The original Ubud restaurant still often gets packed on any given day, although regular diners are simply used to just walking in and finding their own favourite and available corner. Reservations are recommended, though, especially if you're coming as a large group.
Bebek Bengil in Bali
Location: Jalan Hanoman, Padang Tegal, Ubud, Gianyar, Bali 80571, Indonesia
Open: Daily from 10am to 10pm
Phone: +62 (0)361 975489
Back to top