14 Best Shopping in Myrtle Beach
Where to Shop in Myrtle Beach
Myrtle Beach is a fast-growing metro area where those with a knack for shopping can find many options for a good dose of retail therapy in the coastal city. From legendary gift shops and brand name retailers to boutique shops and flea markets, Myrtle Beach offers a myriad of shopping venues. Searching for chic fashion or authentic collectables? Myrtle Beach has it.
Catering to shoppers of all budgets, Myrtle Beach is the ideal place for high-end shopping or bargain hunting. Purchase gifts for your family, treat yourself to something nice or find a reduced price you couldn't get at home. Let's look at our favourite places for a shopping adventure in Myrtle Beach, below.
1
Barefoot Landing
Go for a stroll around a lakeside retail village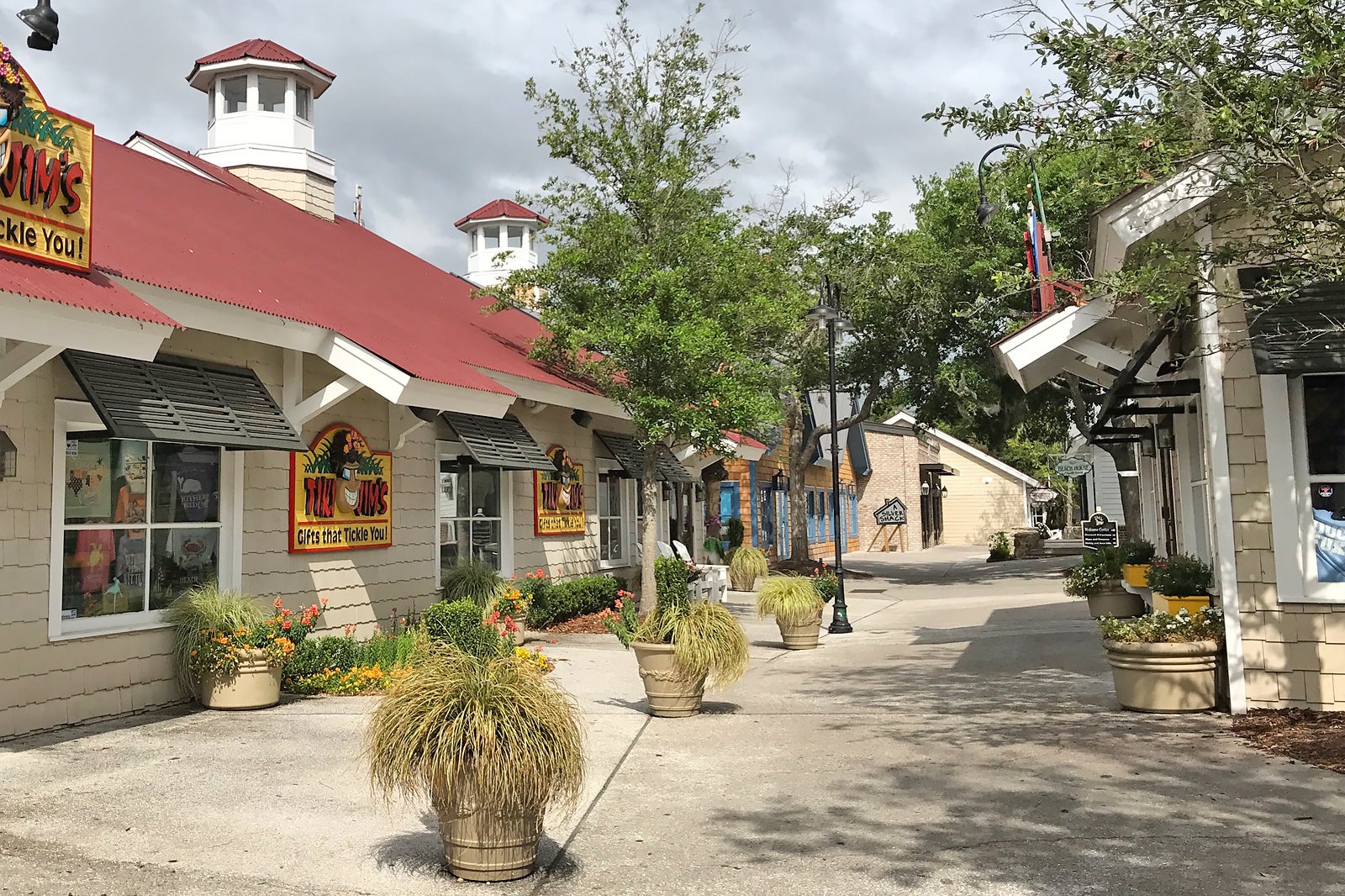 Barefoot Landing, where Prices Swamp Run meets the Intracoastal Waterway, is a village that provides one of Myrtle Beach's most atmospheric shopping venues. Enjoy the sunshine while visiting brand name retail shops and local boutiques beside the lake. Dozens of stores line the waterfront where you'll find stylish apparel, wine, sunglasses, jewellery, beachwear, spices, and much more. The lakeside setting offers a relaxing change of pace from the beach.
The scenic pathways and bridges make this one of the most delightful areas of Myrtle Beach and live music often fills the airwaves while you shop. If you get hungry, there's a multitude of restaurants serving Mexican, Australian, Cajun, and other culinary offerings.
Location: 4898 Hwy 17 S, North Myrtle Beach, SC 29582, USA
Open: Daily at 10 am, closing time varies between 5 pm and 11 pm
Phone: +1 843-272-8349
photo by Forsaken Fotos (CC BY 2.0) modified
2
Gay Dolphin Gift Cove
Pick out a souvenir at "the nation's largest gift shop"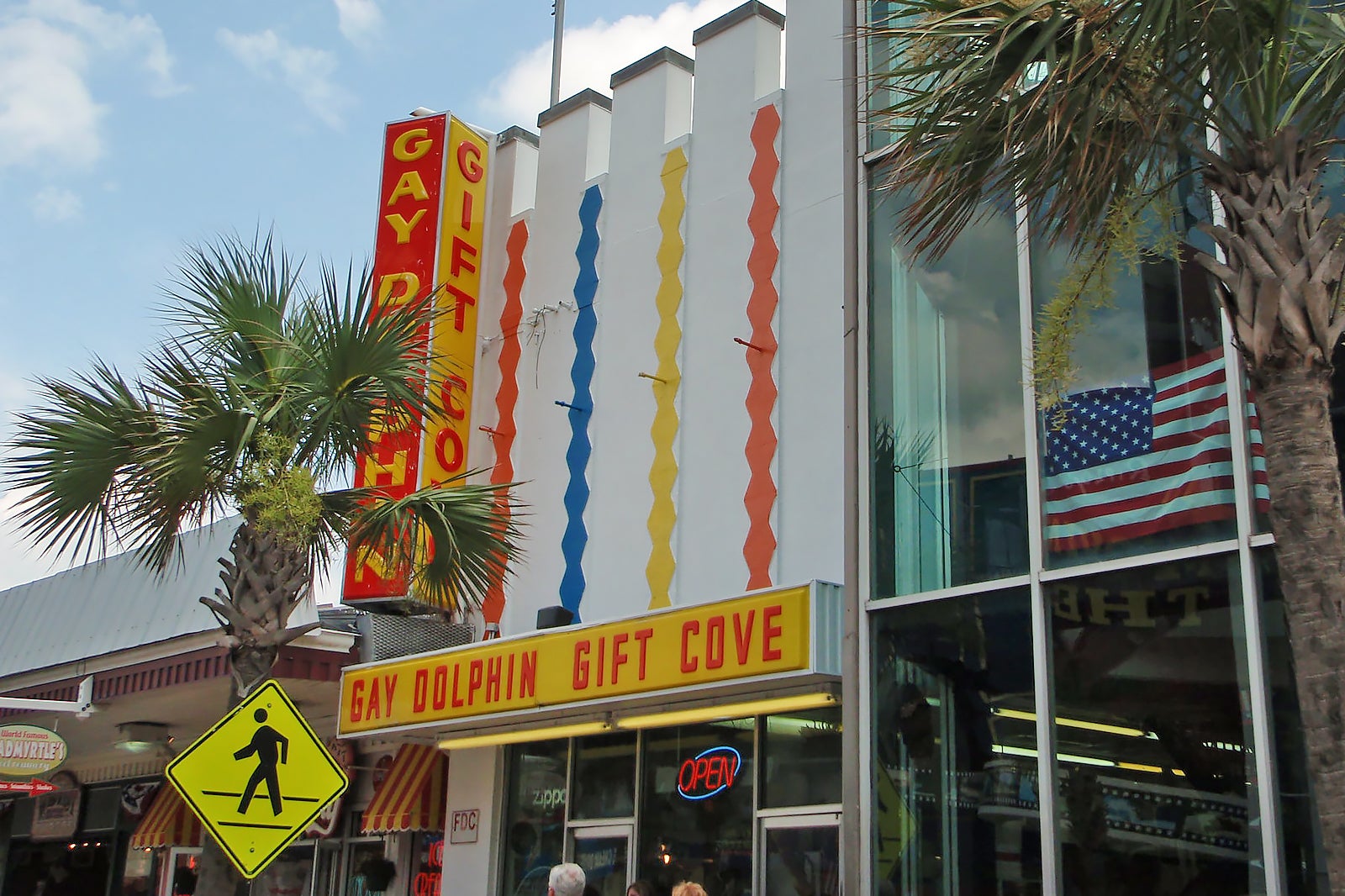 Gay Dolphin Gift Cove is a shopping icon on the Myrtle Beach oceanfront which has greeted customers since 1946. The store has expanded to become Myrtle Beach's largest gift shop, and you'll see items you cannot find elsewhere. You could spend hours browsing through whimsical items, like a life-size Yeti or shark teeth.
The massive store takes up 35,000 sq ft and contains 10 levels of unique souvenirs. Find timeless collectables, clothing, seashells, jewellery, and all sorts of unusual items. You'll find something new with each visit and there's a souvenir for every budget. Even if you don't buy anything, wandering the maze of nostalgic items is one of Myrtle Beach's best experiences.
Location: 916 Ocean Blvd, Myrtle Beach, SC 29577, USA
Open: Daily at 9.30 am, closing time varies between 6.30 pm and midnight
Phone: +1 843-448-6550
photo by Jelene Morris (CC BY 2.0) modified
3
Broadway at the Beach
Go shopping and be entertained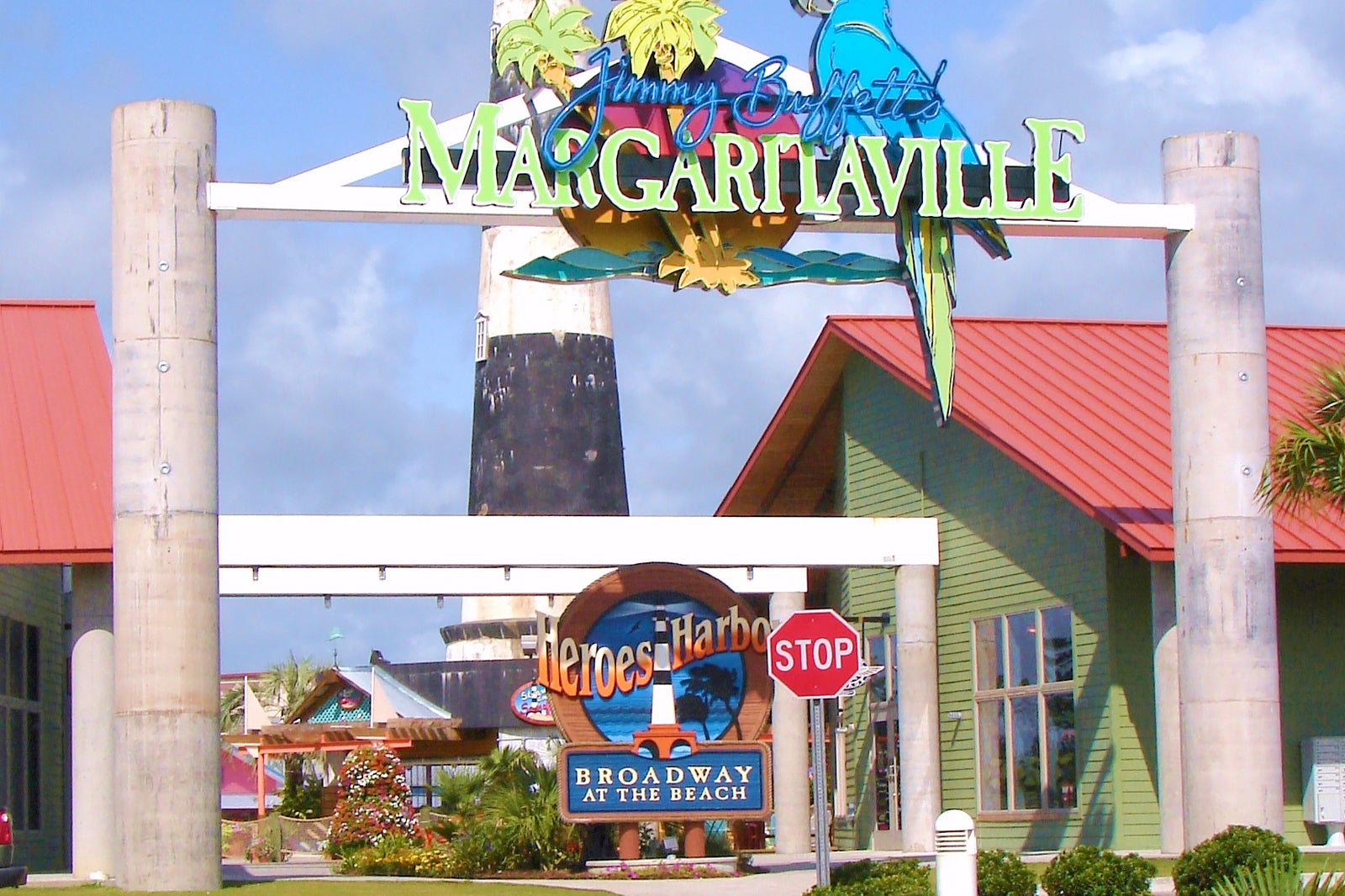 Discover the family-themed Broadway at the Beach, an entertainment and shopping complex situated by a glistening lake. You can find it just east of 21st Avenue and south of the highway. Kids can explore the toy shops and parents can amble around the brand-name clothing stores before the whole family experiences the maritime magic of Ripley's Aquarium.
Central Myrtle Beach is simply where you want to take a break from the bouncing beachside energy. Enjoy the laid-back vibe and friendly atmosphere, and visit the scattered grocery stores, independent delicatessens, and bars dotting the central streets.
Location: 1325 Celebrity Cir, Myrtle Beach, SC 29577, USA
Open: Daily from 10 am to 6 pm
Phone: +1 843-444-3200
photo by Hlecroy (CC BY-SA 3.0) modified
4
Coastal Grand Mall
A contemporary shopping destination in North Myrtle Beach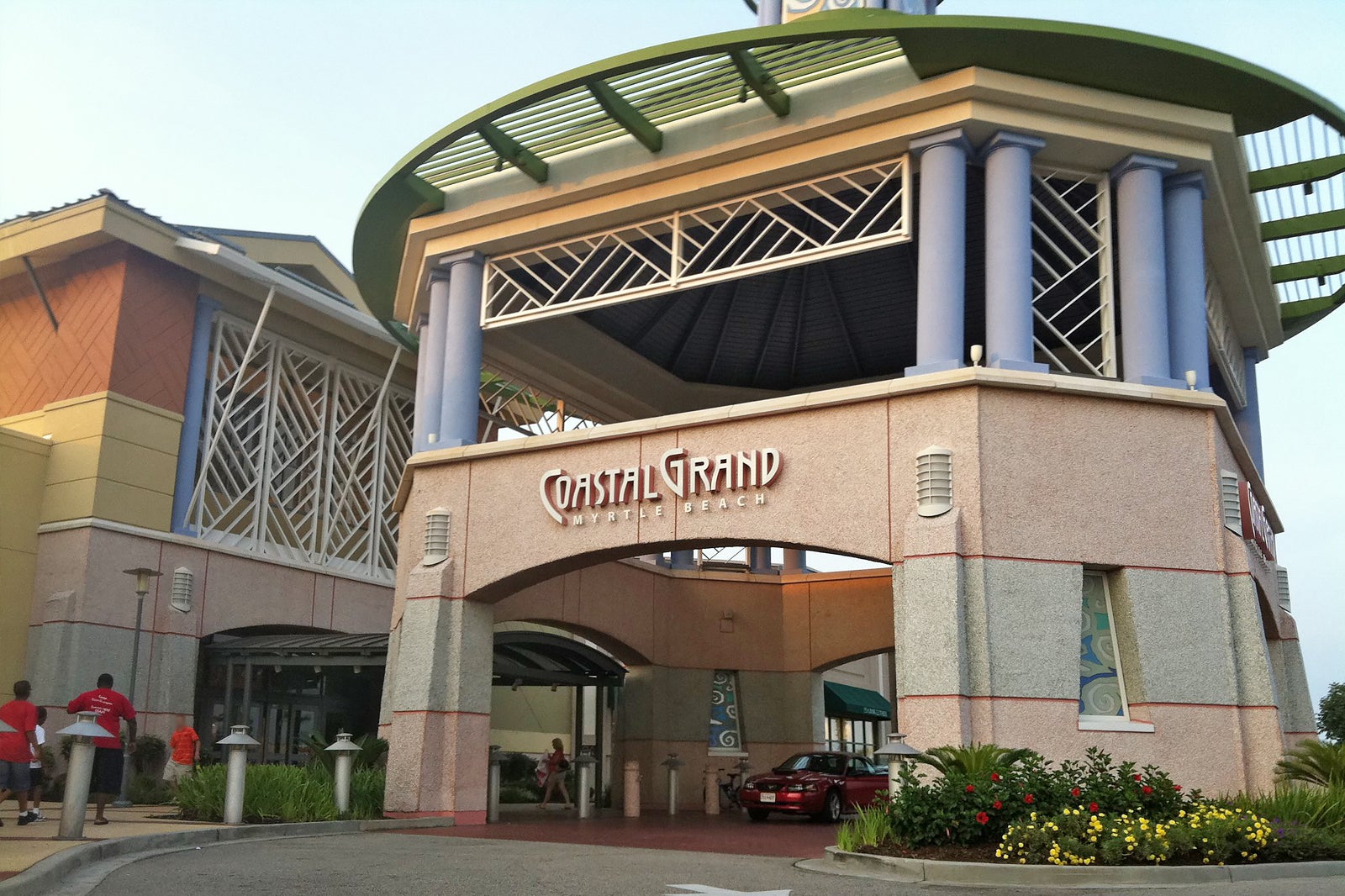 The Coastal Grand Mall in North Myrtle Beach promises a stellar shopping experience away from the hustle and bustle of the city's buzzing centre. The mall features popular brand retailers as well as a collection of restaurants and a movie theatre.
Nestled in the quieter suburbs, between the shimmering Intracoastal waterway and the deep green woods surrounding the Long Pond, you'll also discover Myrtle Beach Mall, the older and smaller sister-mall of the Coastal Grand. You'll find many similar stores here, but with a stronger focus on flashy fishing outlets for those hoping to cast a few lines into the ocean from the South Carolina coast.
Location: 2000 Coastal Grand Cir, Myrtle Beach, SC 29577, USA
Open: Monday–Saturday from 11 am to 7 pm, Sunday from midday to 6 pm
Phone: +1 843-839-9110
photo by Mike Kalasnik (CC BY-SA 2.0) modified
5
Hudson's Surfside Flea Market
Incredible deals at an open-air flea market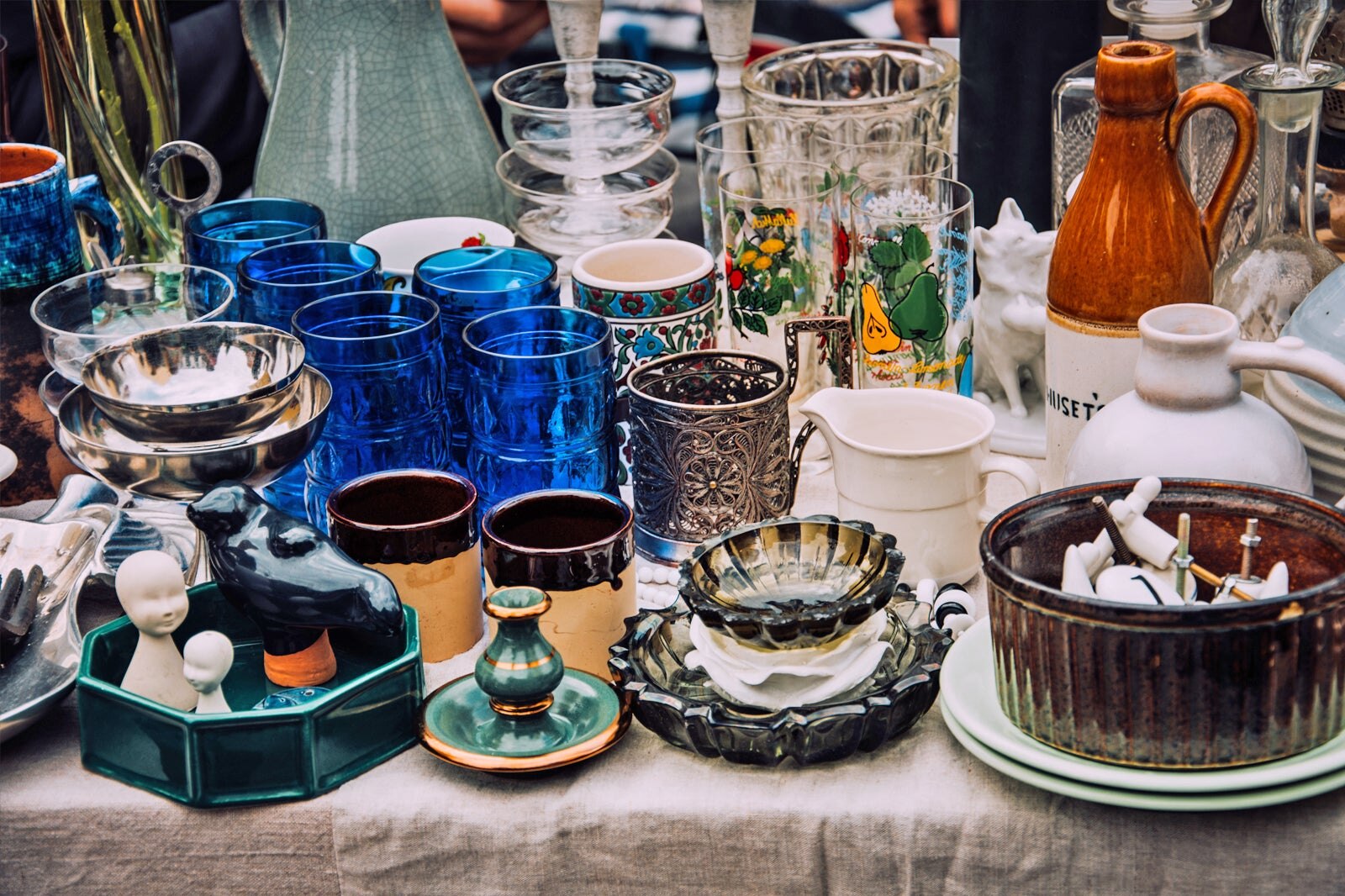 Hudson's Flea Market is the Grand Strand's largest open-air flea market. Located beside the Wild Water & Wheels waterpark, the facility is covered allowing you to find respite from the scorching South Carolina sun. Dozens of vendors are neatly organized at the antique store selling a variety of items. Find homemade T-shirts, unique crafts, and tons of accessories.
The local vendors help explain each of the products available and you'll discover one of Myrtle Beach's largest antique collections. There are interesting items for all ages, and you can even find a gift for your four-legged friends. If you're shopping on an empty stomach, there are several nearby food shops to ease your hunger.
Location: 1040 US-17 BUS, Surfside Beach, SC 29575, USA
Open: Tuesday–Sunday from 9 am to 4 pm (closed on Mondays)
Phone: +1 843-238-4901
6
Hammock Shops Village
Handmade items, trendy clothing, and more at a local favourite
Located near the pristine coastline of Pawleys Island, Hammock Shops Village has been a staple of the Myrtle Beach retail scene for over 80 years. Originally a simple hammock shop, the store first opened its doors in 1938 to showcase the fine art of hammock weaving. Today, the village has 25 unique shops and restaurants, but the weaving tradition remains alive.
In addition to hammock weaving demonstrations, the village offers shops selling handmade crafts, jewellery, apparel, footwear, kitchen supplies, and delicious candies. Join daily wine tastings and pick out a bottle in the wine shops that soothes your palate. The village is dog-friendly, and children can burn off energy at the playground.
Location: 10880 Ocean Hwy, Pawleys Island, SC 29585, USA
Open: Monday–Saturday from 10 am to 5 pm, Sunday from 12.30 pm to 5 pm
Phone: +1 843-350-2220
7
Myrtle Beach Boardwalk and Promenade
Go shopping by the sea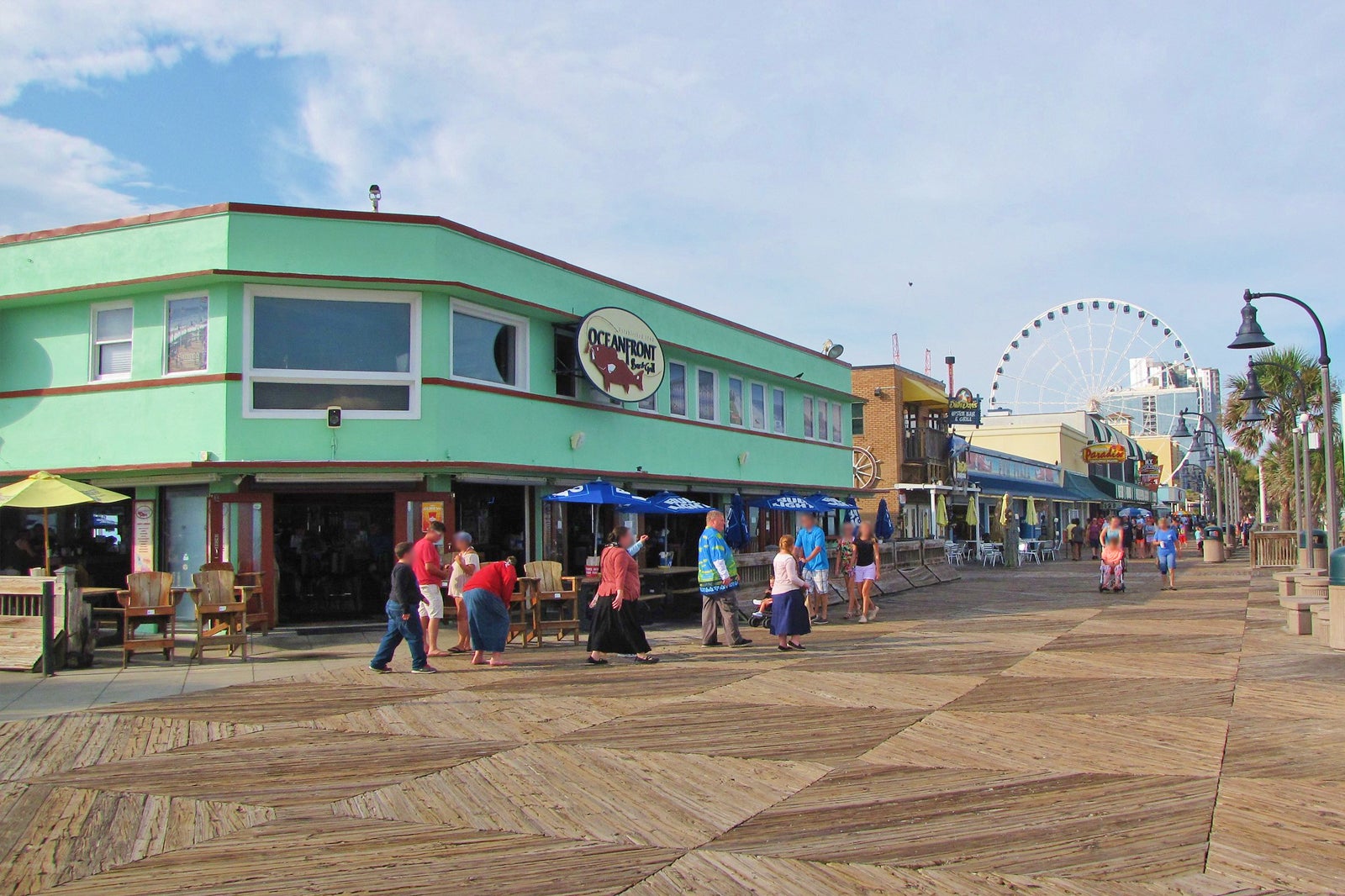 Myrtle Beach's Boardwalk and Promenade is one of the city's top attractions. The timber boardwalk stretches along the coast for over a mile, leading onto vast swathes of white-gold sands, and lined with shops, cafes, and amusements.
From the retro penny arcades to the towering Ferris wheel, there's no shortage of classic boardwalk fun. Pick up stylish swimwear and quirky beach-jewellery in the many surf-themed clothing shops and rediscover your inner child at the old school candy stores.
Location: Myrtle Beach Boardwalk and Promenade, Myrtle Beach, SC 29577, USA
Open: 24/7
Phone: +1 843-918-1000
photo by Gerry Dincher (CC BY-SA 2.0) modified
8
Tanger Outlets
Find dozens of retailers at multiple locations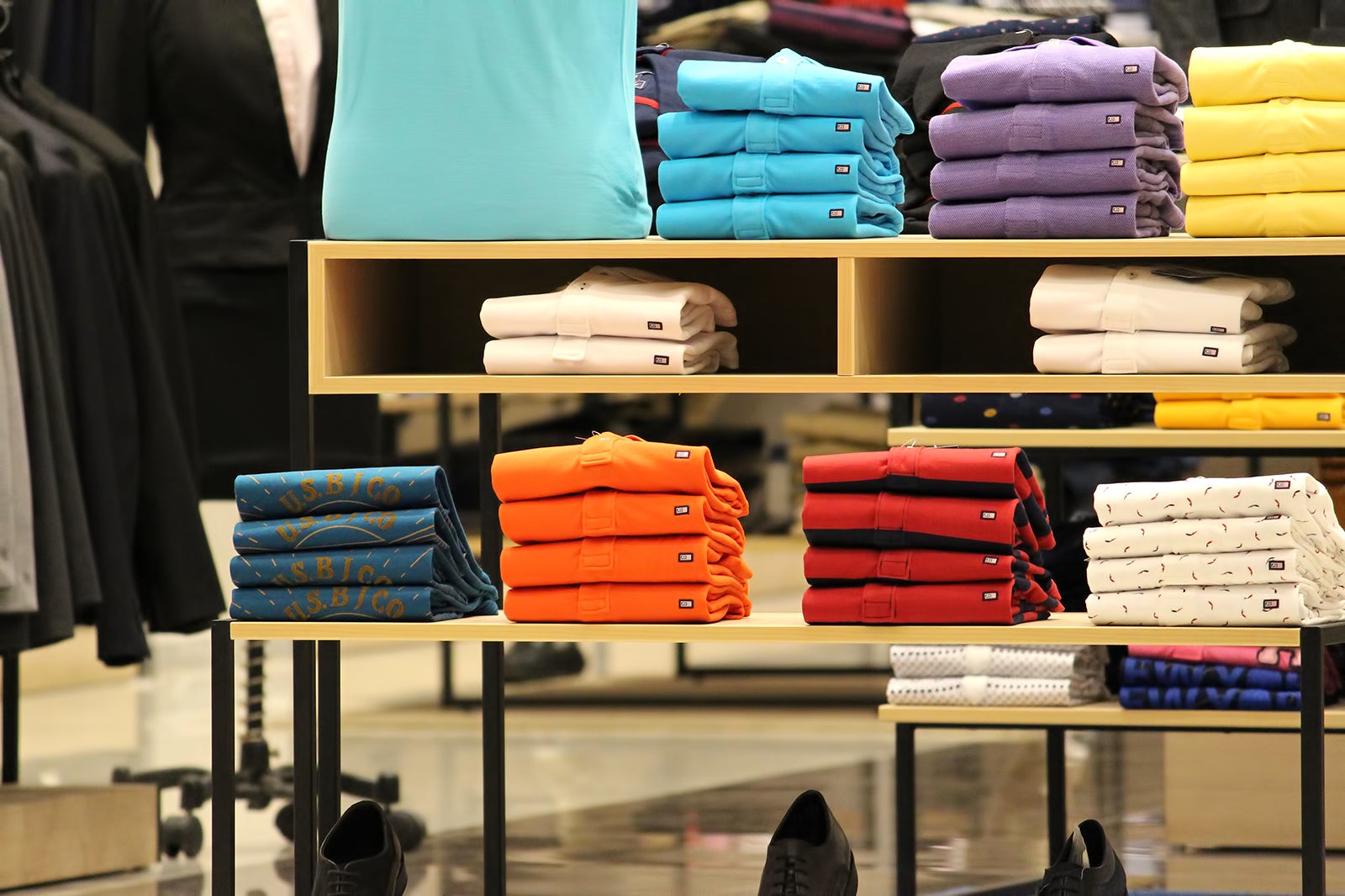 Tanger Outlets has 2 locations serving the Myrtle Beach area, and it lets you go on a shopping spree at your favourite retailers. One of the outlet malls is located on Hwy 501 right beside Myrtle Beach Speedway, while the other can be found on Hwy 17 near Arcadian Shores. In total, you'll have access to over 170 brand name stores to shop for apparel, shoes, accessories and speciality items.
Classic shops like Calvin Klein, Under Armour, Old Navy, Disney, and Bath & Body Works have storefronts, and there are numerous eateries that you can swing by for a snack. Before visiting retailers, make sure to grab a Little Red Book to possibly earn huge savings only offered by Tanger Outlets.
Location: 4635 Factory Stores Blvd, Myrtle Beach, SC 29579, USA
Open: Daily from 11 am to 7 pm
Phone: +1 843-236-5100
9
Lazy Gator Gifts
A beloved gift shop with coastal-themed products and local snacks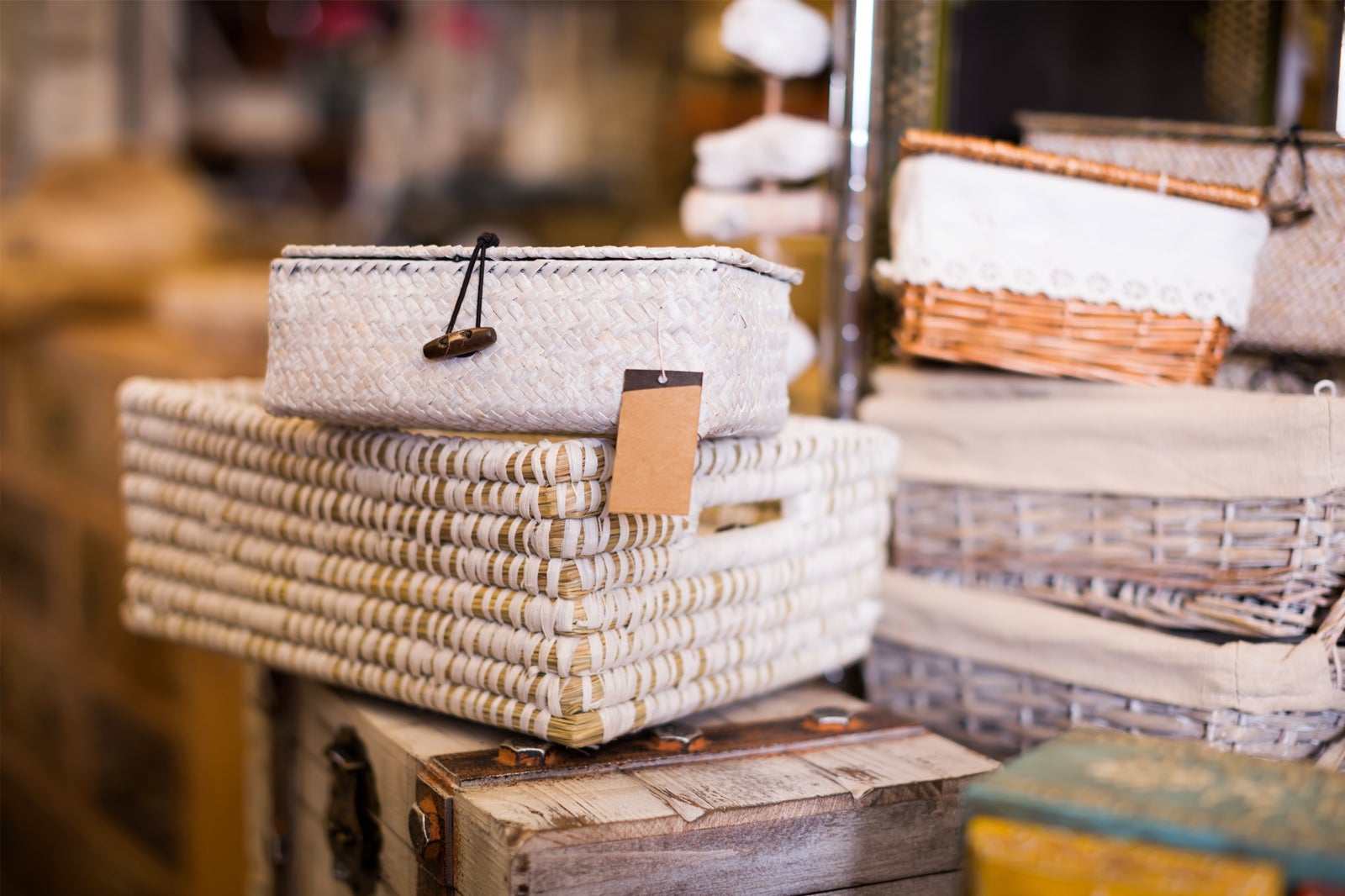 Lazy Gator Gifts boasts a coastal vibe and welcomes customers with Southern hospitality and cosy shopping experience. Hang out on the shop's spacious porches, relaxing in comfy rocking chairs, and sitting beneath shaded oak trees. Located in the seafood mecca of Murrells Inlet, the store supports dozens of local brands operating in the Carolinas.
Shop for home décor, kitchen supplies, and handmade crafts inspired by the town's laid-back atmosphere. Find hats, jewellery, sunglasses, and a vast collection of locally designed T-shirts. Stop by the kitchen section and browse through the store's jams, jellies, and sauces to include in your culinary recipes. And don't leave without trying their delicious homemade fudge.
Location: 3986 US-17 BUS, Murrells Inlet, SC 29576, USA
Open: Monday–Saturday from 10 am to 7 pm, Sunday from 11 am to 7 pm
Phone: +1 843-651-4244
10
Eagles Beachwear
Stylish swimwear from top brands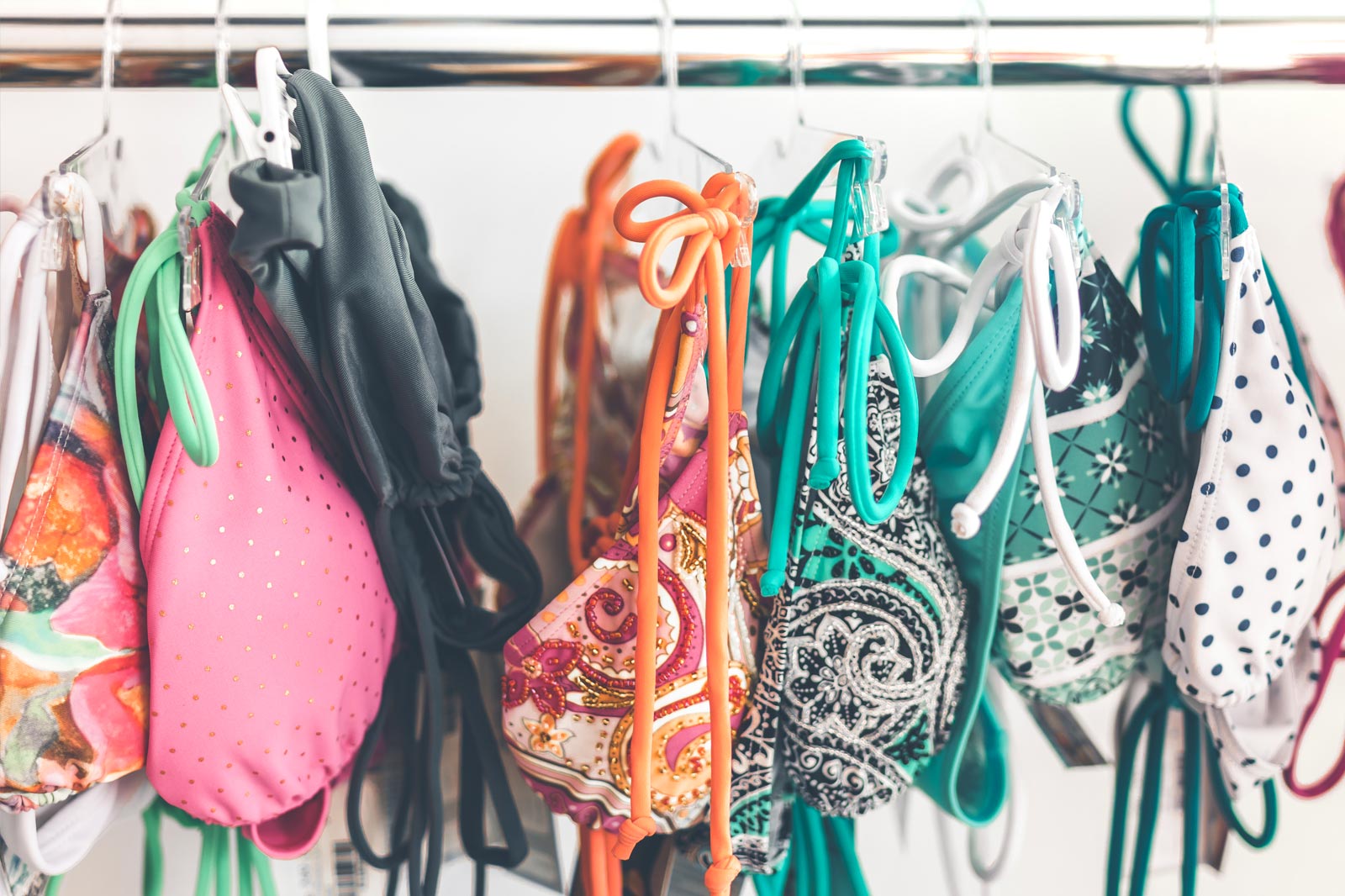 Eagles Beachwear is your go-to shop in Myrtle Beach for swimwear for everyone in the family. With several locations throughout the Myrtle Beach metro area, the store offers T-shirts, tie-dye shirts, and swim shorts for men, while ladies have a selection of tank tops, T-shirts, and fashionable beach bags. Grab a beach-themed T-shirt for the youngsters or pick out a quirky onesie for toddlers.
There is lots of beach gear to ensure you have a fun-filled trip to the sandy shores of Myrtle Beach. You'll find towels of various themes, drawstring bags, floaties, and beach games for an exciting day by the water. Complete your shopping with oddball souvenir items that are sure to inspire some laughs.
Location: 1000 S Kings Hwy, Myrtle Beach, SC 29577, USA
Open: Daily from 8.30 am to 11.30 pm
Phone: +1 843-448-0416
11
Studio 77
For the most unique gifts and accessories in town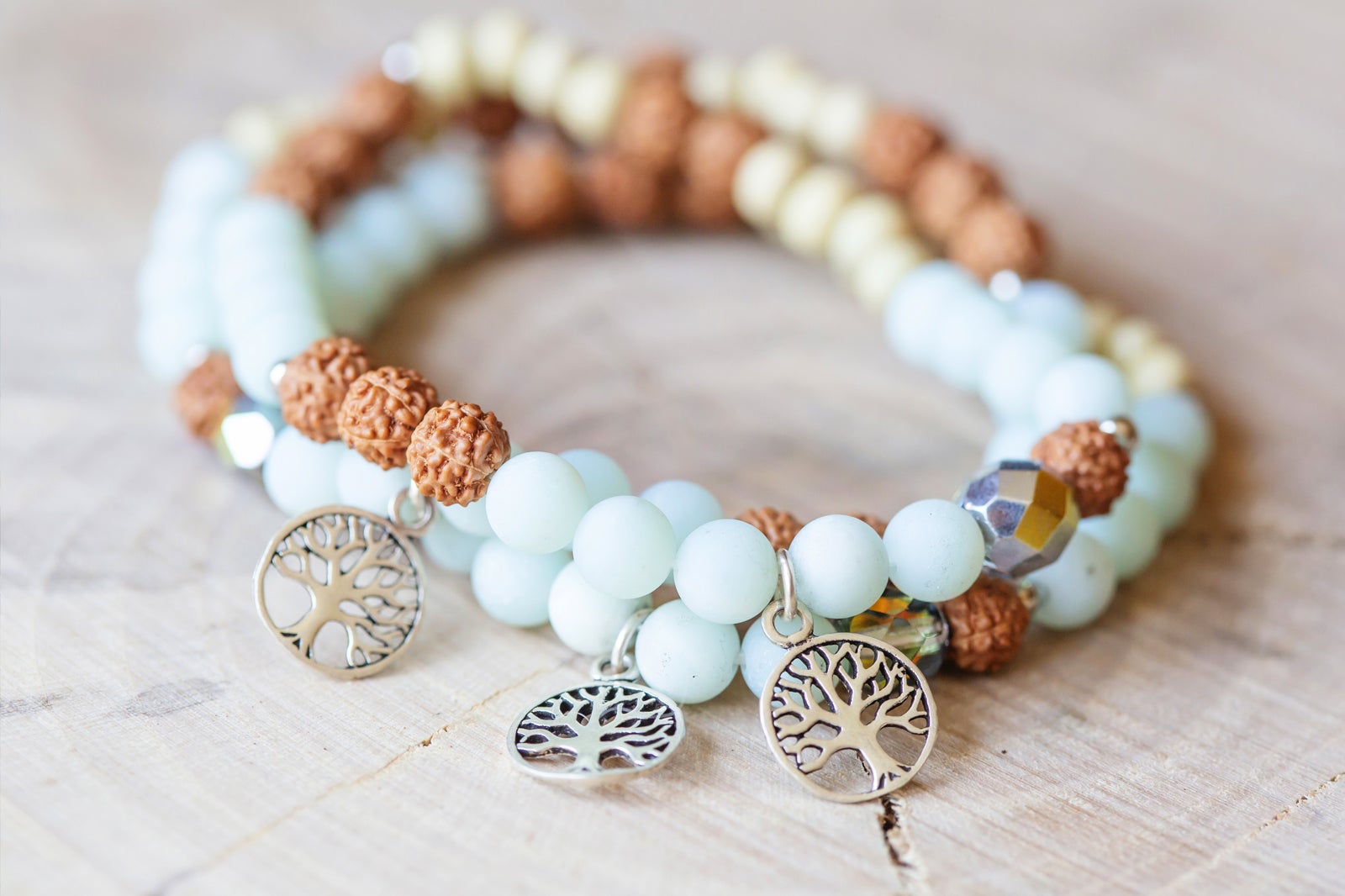 Studio 77 is among the best places to purchase Myrtle Beach souvenirs you won't find elsewhere. Shop for the ladies in your life by looking through jewellery, bamboo shirts and pants, hand lotions, body washes, and handbags. The store partners with numerous brands to give you lots of interesting styles to choose from.
Have a baby on the way? Buy your bundle of joy a stuffed animal or soft blanket to have in their crib. Browse through the accessories to find puzzles, sunglasses, and tool kits. The store can wrap your gift in gorgeous wrapping paper when you take it home to your loved one.
Location: 5001 N Kings Hwy # 102, Myrtle Beach, SC 29577, USA
Open: Monday–Saturday from 10 am to 6 pm (closed on Sundays)
Phone: +1 843-497-5931
12
Europa Market
Shop for speciality foods from all over Europe
Shop at Europa Market for all sorts of foods and treats from Europe and Russia, instead of skipping across the pond to get a taste of Europe. Located on N Kings Hwy only 1 mile from Walmart, the grocery store has cheeses, olives, meats, pastries, chocolates and more speciality items you can rarely find in America. The prices for the imports are tough to beat and the knowledgeable staff helps you make excellent choices to fill your pantry.
Stocking up on groceries at Europa Market takes your taste buds around the continent to sample culinary items from Greece, Ukraine, Sweden, Turkey, and many other countries. Don't forget to have a cup of coffee that is freshly brewed inside the store.
Location: 5105 N Kings Hwy, Myrtle Beach, SC 29577, USA
Open: Monday–Saturday from 10 am to 8 pm, Sunday from 11 am to 8 pm
Phone: +1 843-449-2530
13
Everything Under the Sun Flea Market
Find anything you can imagine for a fantastic price
Everything Under the Sun Flea Market boasts the largest indoor flea markets in the Myrtle Beach area. With locations in Myrtle Beach and North Myrtle Beach, this is the place to shop when trying to find a bargain. The 2 storefronts offer more than 100 combined vendors who sell off-the-wall items that are impossible to find elsewhere in town.
Find valuable antiques, sports memorabilia, apparel, electronics, handmade crafts, jewellery, and thousands of other items for a favourable price. You never know what kind of treasure you'll find since the vendors routinely change throughout the year. The markets provide a food court in case you need a break off your feet from bargain hunting.
Location: 3826 S Kings Hwy, Myrtle Beach, SC 29577, USA
Open: Wednesday–Sunday from 9 am to 5 pm (closed on Mondays and Tuesdays)
Phone: +1 843-477-1550
14
The Market Common
Browse the storefront shops
The Market Common is a lifestyle centre in Myrtle Beach that's home to upscale clothing, beauty and jewellery stores, as well as some top-rated restaurants. To get there, simply head north from Myrtle Beach State Park, a wide wooded green space speckled with campgrounds that leads down to a quiet stretch of sandy beach.
Many prefer The Market Common to the 'touristy' ambiences of Myrtle Beach's coastal area and there's more than just numerous shops and restaurants to explore. Entertainment options include a cinema, park-like settings that families with kids can enjoy, as well as a live theatre company.
Location: 4017 Deville St, Myrtle Beach, SC 29577, USA
Open: Monday–Thursday from 10 am to 7 pm, Friday–Saturday from 10 am to 8 pm, Sunday from midday to 6 pm
Phone: +1 843-839-3500