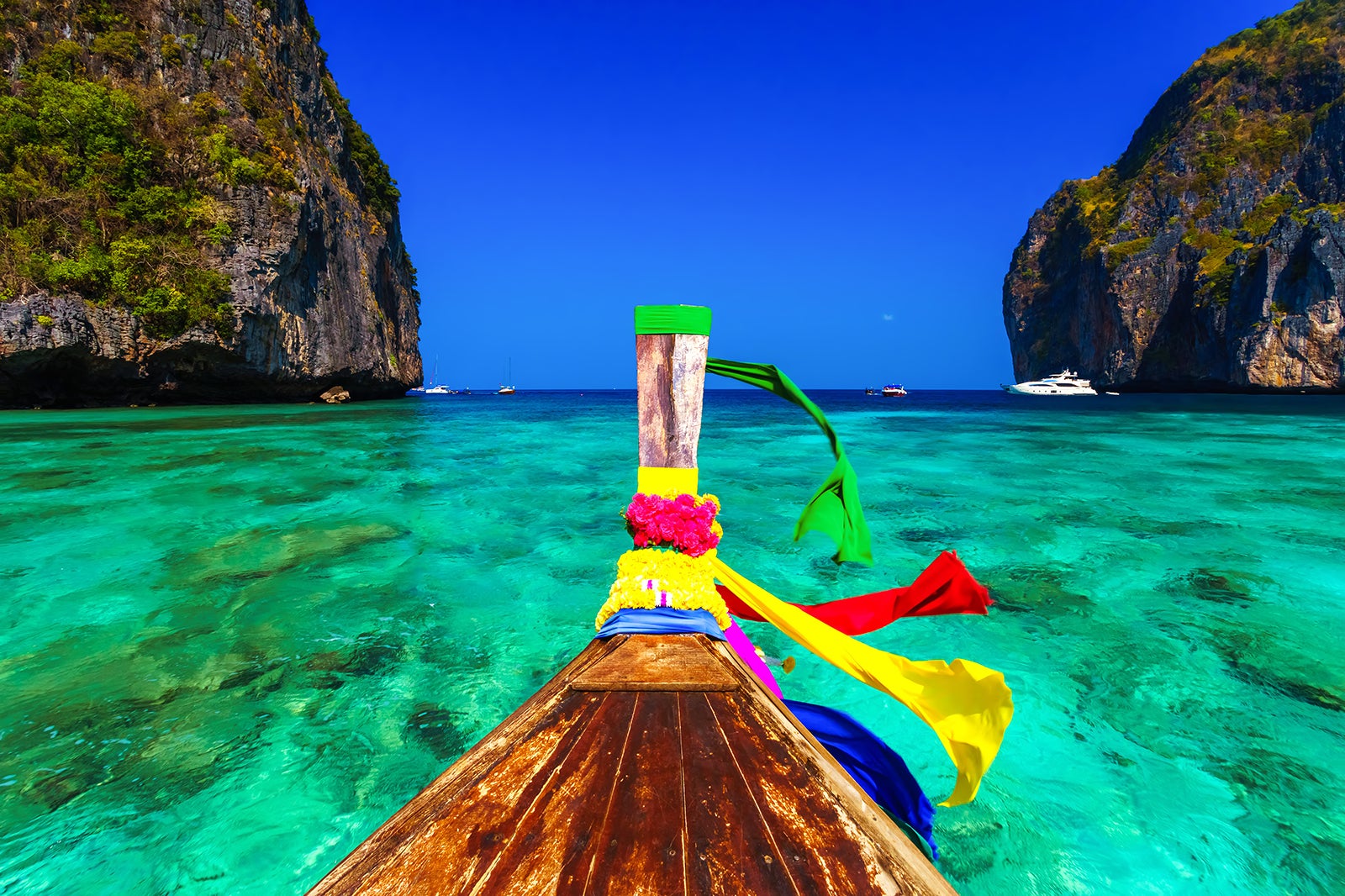 Ko Phi Phi
What you need to know before you go
The Phi Phi islands are an archipelago of 6 islands, with the 2 main islands being Phi Phi Don and Phi Phi Leh. Just a 45-minute speedboat trip or a 90-minute ferryboat ride from either Phuket or Krabi, these picture postcard islands are excellent tropical getaways in Southeast Asia.
Phi Phi has pristine beaches, stunning rock formations, and vivid turquoise waters teeming with colourful marine life. The larger and inhabited Phi Phi Don attracts hundreds of travellers to its lovely shores, while the smaller uninhabited Phi Phi Leh has beautiful bays and beaches, including the iconic Maya Bay.
What to see & do in Ko Phi Phi
Featured stories & fun stuff
There's quite a selection of things to do in Phi Phi, even on the archipelago's tiniest islands. The larger of the Phi Phi islands are ringed by beautiful beaches and private bays. Above the azure seas, you have striking limestone cliffs, white sands and nodding palms. Below, there's colourful coral reefs and vibrant sea life. There are very few manmade attractions on Phi Phi. It's mostly all about the natural... Read more
Where & what to eat in Ko Phi Phi
When it comes to dining in Phi Phi, seafood is the island's star attraction, with many restaurants displaying the day's catch as an effective way to attract customers. You can also find plenty of Thai and Western options, from grab-and-go snacks to candlelit meals, Tonsai Village is the centre of the Phi Phi dining scene. Whether indoors, outdoors, or places that blur the line between the 2, there... Read more
Where to shop & what to buy in Ko Phi Phi
9 Best Places to Go Shopping in Phi Phi Island

Phi Phi Islands' best shopping opportunities are fairly limited compared to other destinations in Thailand. Most travellers come to this tropical island to enjoy a wide range of outdoor activities, rather than shopping for branded items. As a result, most of the interesting goods you can find here are the usual, basic holiday items. Despite this, a few stores stand...
Where to go & what to do at night in Ko Phi Phi
14 Best Bars in Phi Phi Island

The best bars in Phi Phi Island are spread equally over Koh Phi Phi Don's 3 main areas: Tonsai Village (the main urban centre), Tonsai East, and Loh Dalum Bay. Most bars go for 1 of 2 contrasting approaches – a laidback vibe or a pumping party atmosphere. However, some bars, as you'll see below, succeed in wrapping both ambiences up...
Check out our collection of useful information about Phi Phi Island to help you get prepared for your trip to the Thai archipelago. Phi Phi comprises 6 small islands about 46 km south of Phuket. Fine sandy beaches give way to soaring limestone cliffs to form spectacular scenery. Add crystal-clear water, a refreshing lack of roads, plus a laidback lifestyle, and it's easy to see why Phi Phi is... Read more
Back to top