10 Best Local Restaurants in Gyeongju
Where to Find Gyeongju's Best Local Food
Gyeongju is a city with delicious snacks and dishes that are part of its charm beyond its beautiful scenic spots and relics and ruins from a thousand years ago. From early on, a wide range of menus was developed to meet the diverse tastes of travellers.
In recent years, many unique restaurants that appeal to young visitors have filled the streets making the city an even more attractive go-to place. Look around the coastal city and try any nearby restaurant when you're hungry. You're sure to enjoy a satisfying meal every time. Check out the list below for where to eat around Gyeongju.
1
Palujeong Pavilion Hangover Soup Street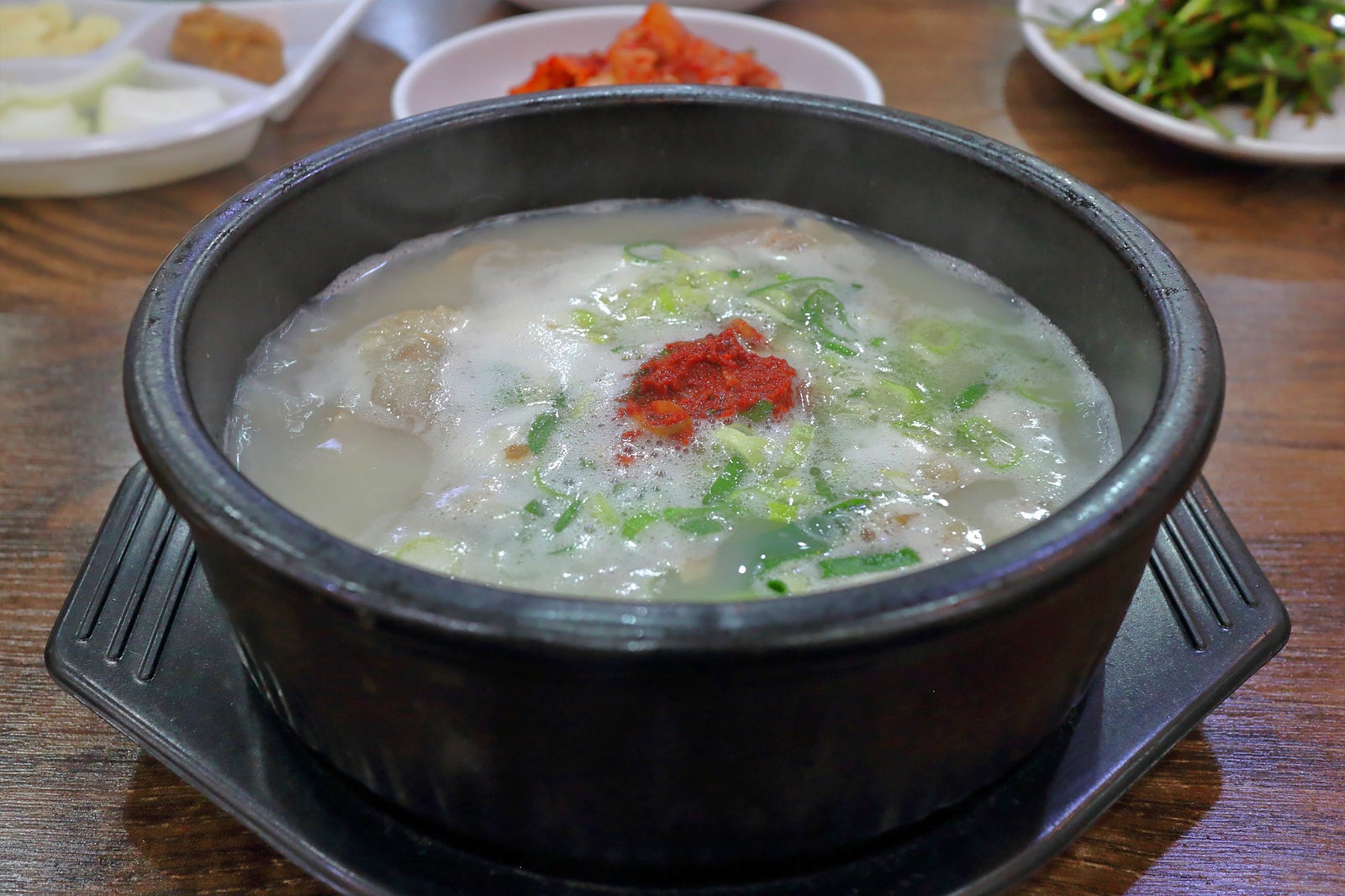 Hangover Soup Street is a 50-year-old food street located in the Palujeong Pavilion 3-way crossroads in Hwango-dong, Gyeongju-si. There used to about 30 restaurants on the street, but nowadays it's not the same. It's a place of memory for those who haven't forgotten the taste of 'grandmother's hangover soup' from a long time ago.
Hangover Soup (haejang-guk) is typically made with meat and bean sprouts, but here, it's prepared using buckwheat jelly and bean sprouts as main ingredients along with gulfweed (mojaban), sour kimchi, and seafood broth. You'll be amazed by the light yet savoury taste of the broth. Most restaurants specialised in hangover soup, but they also serve ox blood soup (seonjitguk) and loach soup (chueo-tang).
Location: Gyeongju-si, Gyeongsangbuk-do, South Korea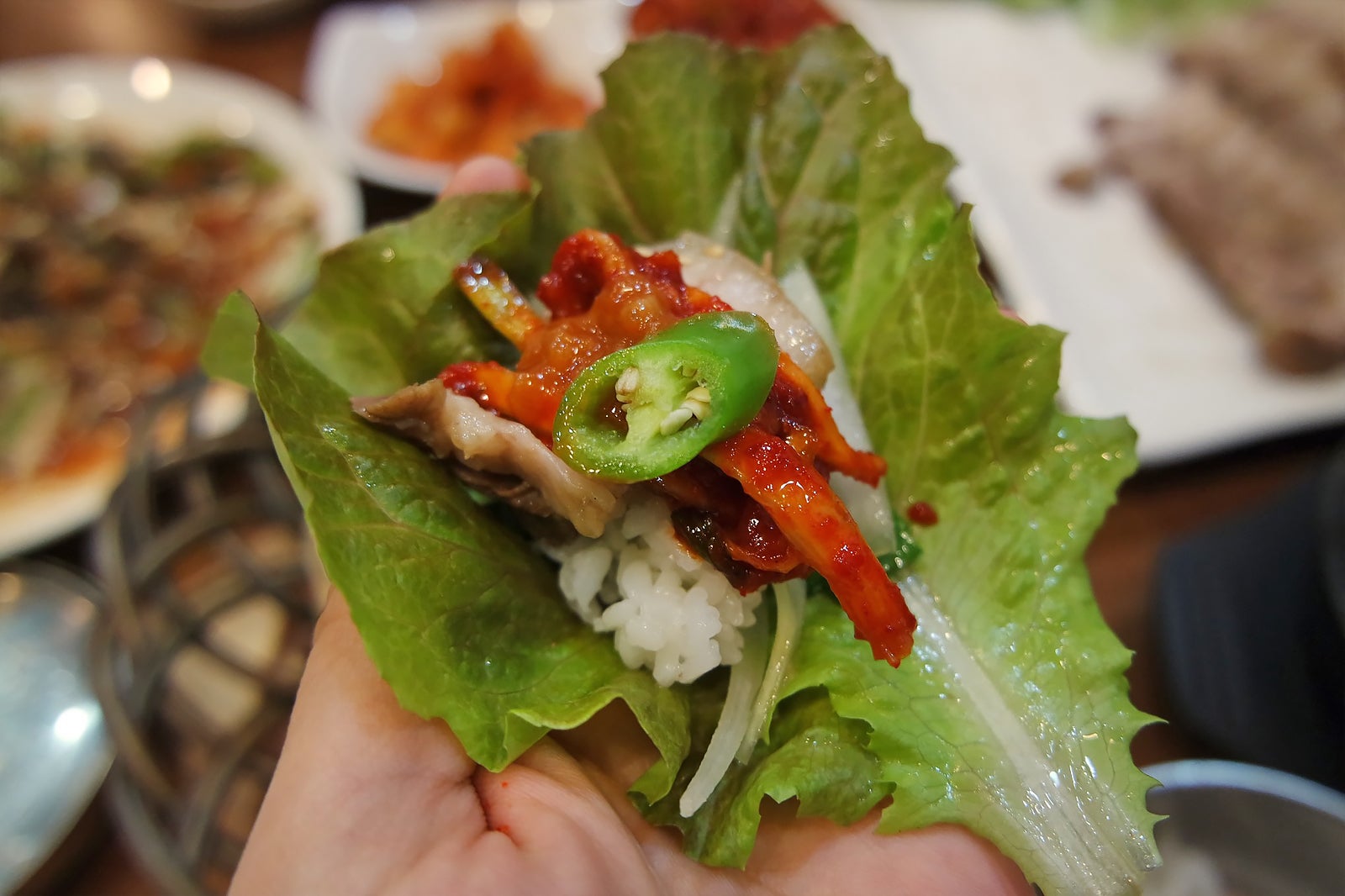 Ssambap Street near the Daereungwon Tomb Complex in Gyeongju is home to many restaurants specialising in leaf wraps and rice (ssambap). You'll love the scrumptious chewy Gyeongju rice wrapped with fresh organic vegetables, homemade red pepper paste, soybean paste, and salted fish. When you order a set menu with ssambap, you usually get 7 to 8 kinds of vegetables, ssamjang sauce, salted fish, meat and generous side dishes.
Each restaurant boasts their own soybean sauce with unique flavours, and leaf wraps and rice is served as different dishes by adding stir-fried pork (jeyuk), grilled short rib patties (tteok-galb), bulgogi, or rich soybean paste stew (cheonggukjang) to the rice. Besides exploring the local flavours, nearby attractions that you can visit include the tomb complex and Cheomseongdae Observatory.
Location: Gyeongju-si, Gyeongsangbuk-do, South Korea
3
Samreung Noodle Soup Village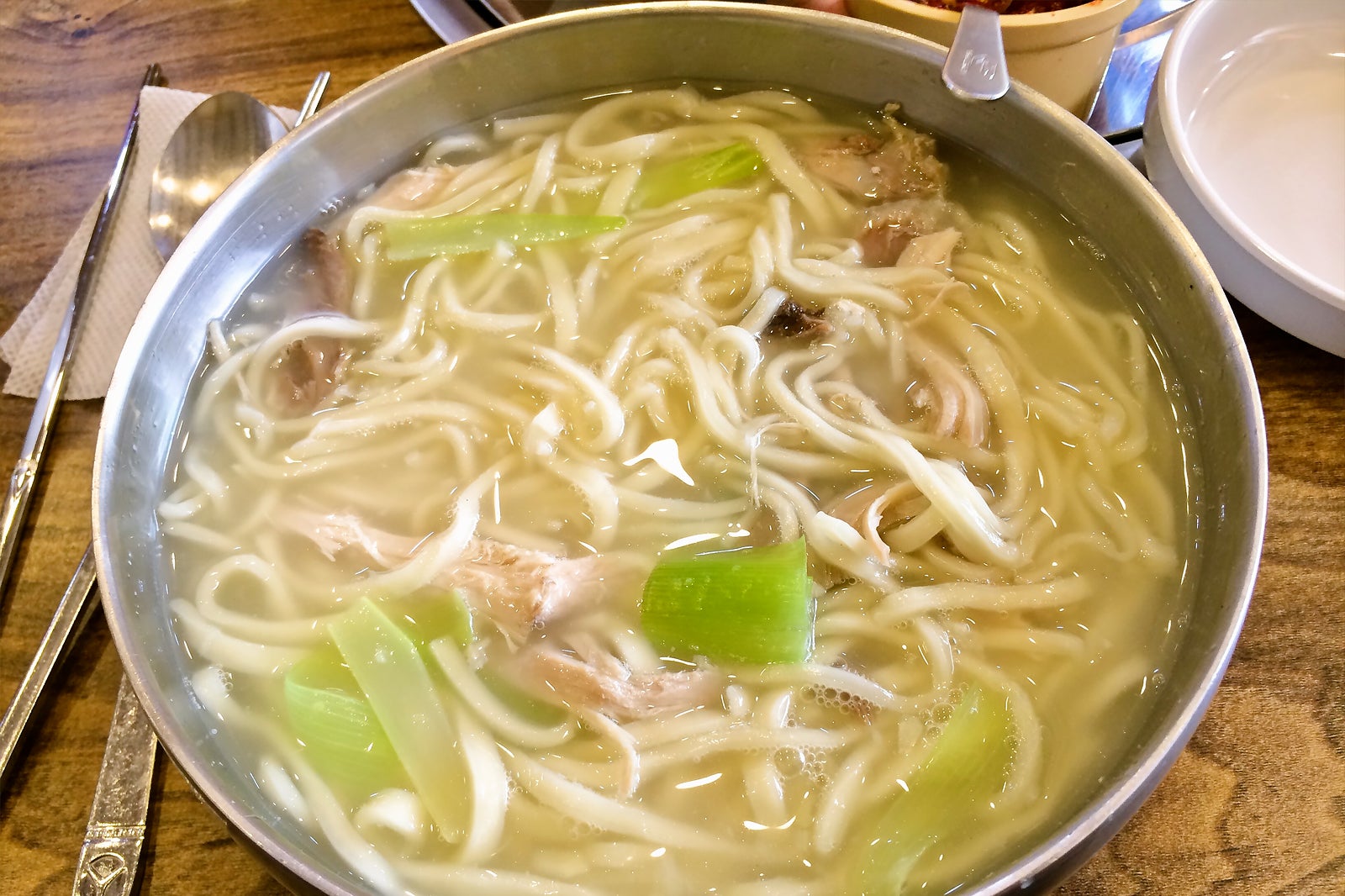 Samreung Noodle Soup Village is located near Samreung Tombs at the foot of Namsan in Gyeongju. A long time ago, as farmers grew wheat in this area, they started to sell noodle soup (kalguksu) made with the wheat they harvested. This place later has become a village of noodle soup restaurants. Each restaurant has its own recipe, but they all use domestic wheat and add perilla seed powder to the water boiled with anchovies, shrimp, kelp, and green onions to create a thick and savoury broth.
Menus also include boiled beef or pork slices (suyuk), green onion pancake (pajeon), and acorn jelly (dotori muk). It is popular among hikers walking down from the Samreung pine forest trails or the peak of Namsan.
Location: Gyeongju-si, Gyeongsangbuk-do, South Korea
photo by Tmannya (CC BY-SA 3.0) modified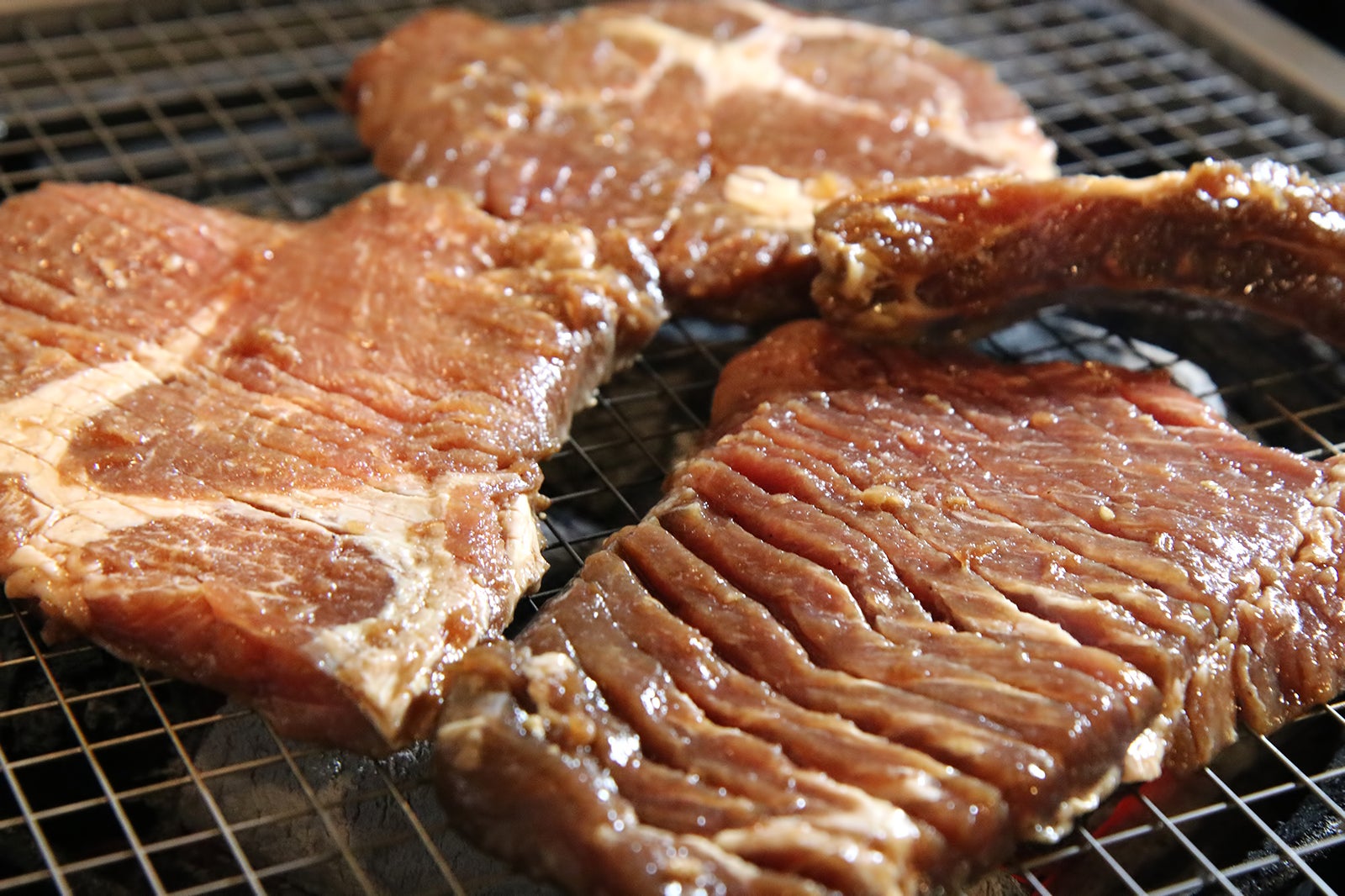 Hwasan Bulgogi Street in Cheonbuk has restaurants that sell only Korean beef. Cheonbuk is about 20 minutes' drive from Gyeongju Bomun Complex. Gyeongju has long been known as one of Korea's 5 largest cattle markets. Recently, it produces premium Korean beef under the name Gyeongju Millennium Hanwoo.
Hwasan Bulgogi Street goes back nearly 30 years and beef restaurants here have since been serving fresh and savoury beef with quality vegetables. Their charcoal-grilled beef ribs (sutbul galbi) are especially popular. Plenty of side dishes are also available.
Location: Gyeongju-si, Gyeongsangbuk-do, South Korea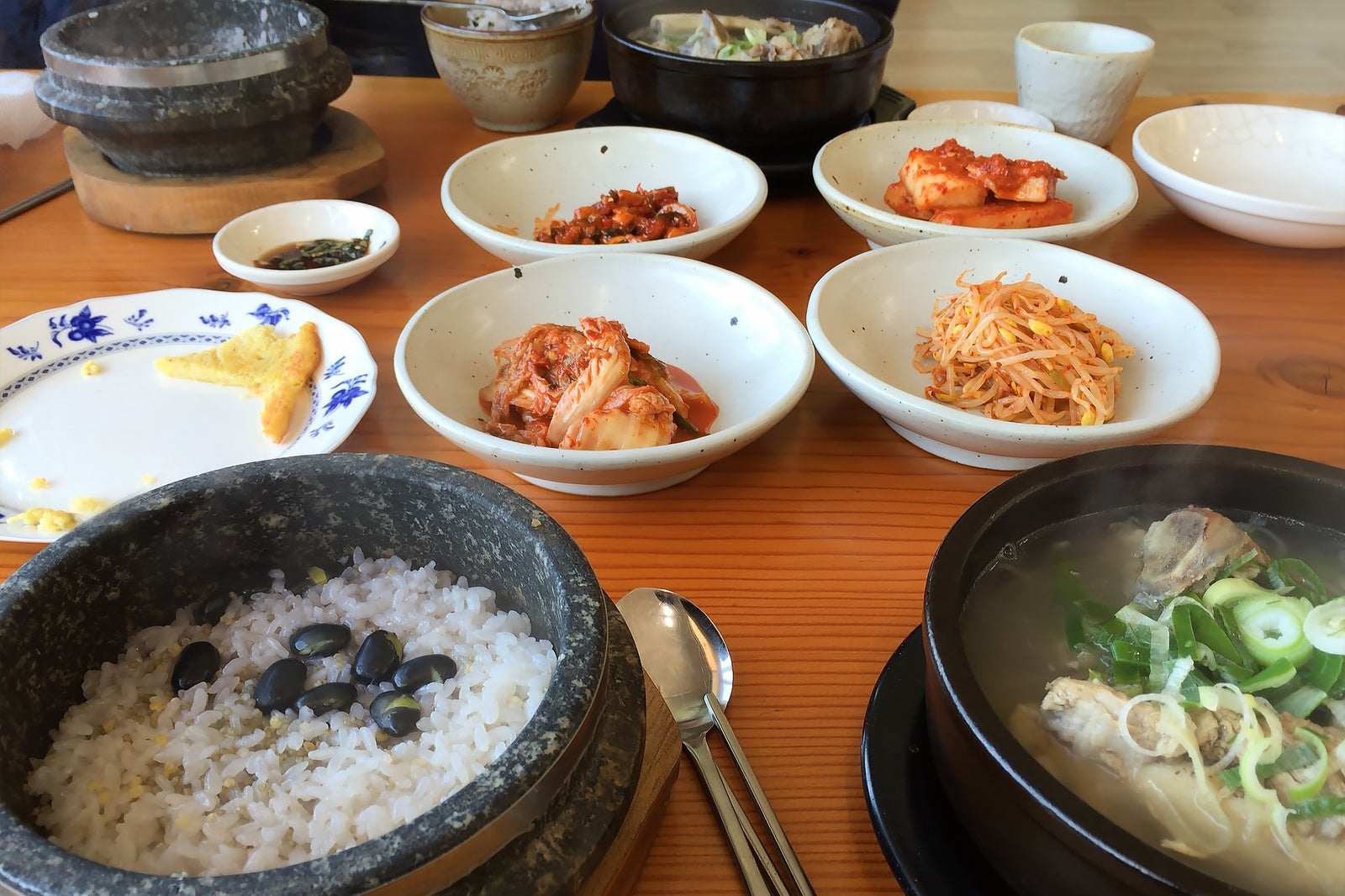 Supmeori is a village called at the entrance to Gyeongju Bomun Complex where many restaurants offer a variety of dishes for travellers visiting nearby attractions. Popular menus include Korean chicken, charcoal-grilled beef ribs (sutbul galbi), Korean table d'hote (han-jeongsik), spicy fish stew (maeun-tang), soft tofu (sundubu), and sliced raw sole (gajami hoe), which are all perfectly suited to the atmosphere of Gyeongju.
Dining in the relaxed atmosphere of a traditional hanok is one of Gyeongju's charms. Nearby attractions include Royal Tomb of King Jinpyeong. This place is not widely known to visitors but offers beautiful walking trails. Take a look around the royal tomb after enjoying your meal at the Supmeori Food Street.
Location: Gyeongju-si, Gyeongsangbuk-do, South Korea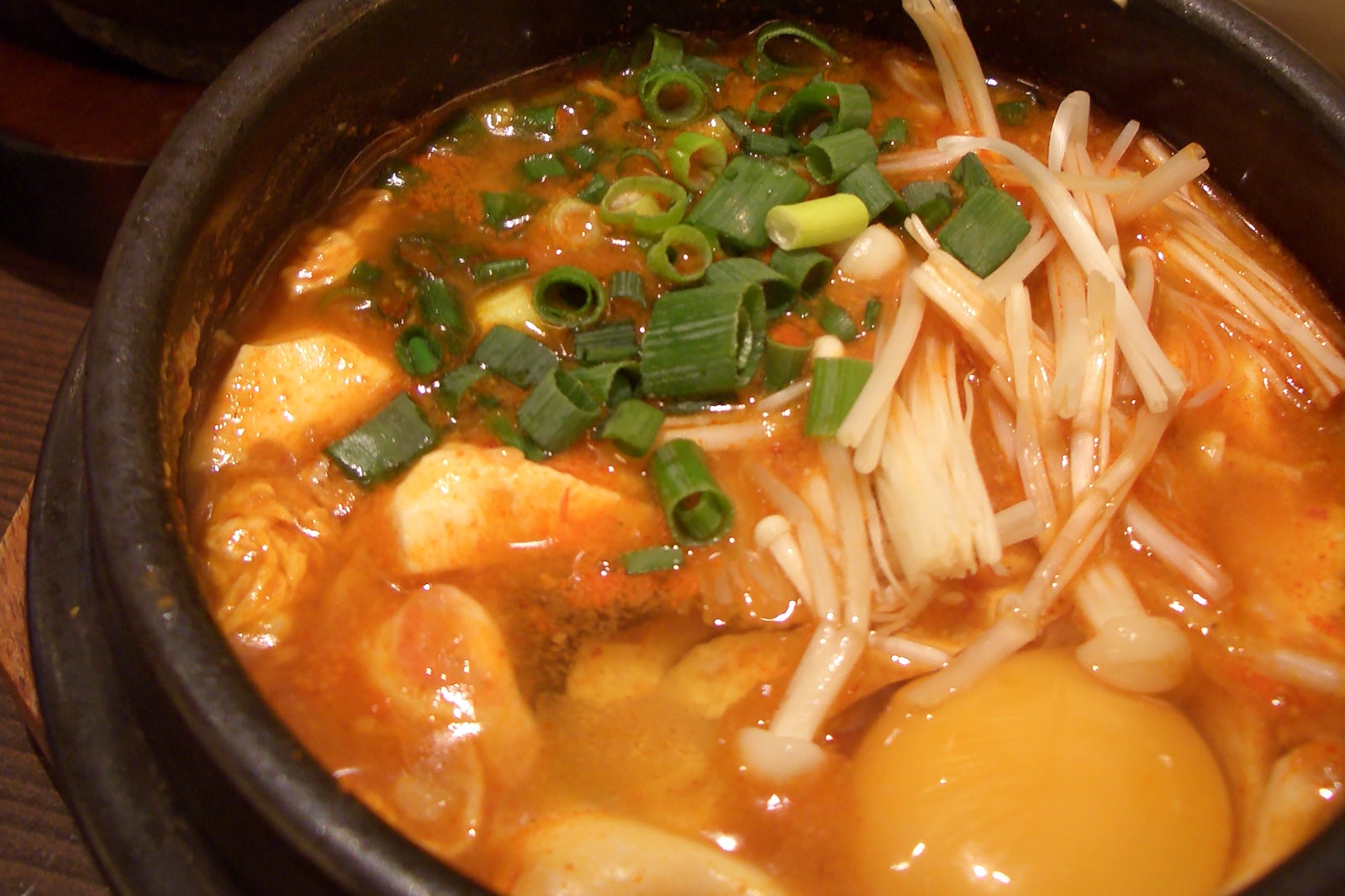 Bukgun-dong near the entrance of the Bomun Tourist Complex has many restaurants specialising in soft tofu (sundubu) dishes, a nourishing meal that all can enjoy. This place is also called Bomun Soft Tofu Street due to its close proximity to the Bomun Tourist Complex. Since beans have been cultivated for a long time by farmers in this area, various soybean dishes have been developed over the years.
Soft tofu stew (sundubu-jjigae) in earthenware pots taste spicy and rich since the recipe uses pure Korean beans. Adding raw eggs to the stew and eating them together is also a unique experience. Each restaurant has its own signature menu such as soft tofu stew with pine mushroom (songi sundubu) and soft tofu with marinated crabs (gejang sundubu).
Location: Gyeongju-si, Gyeongsangbuk-do, South Korea
photo by titanium22 (CC BY-SA 2.0) modified
7
Bomun Tourist Complex freshwater fish stew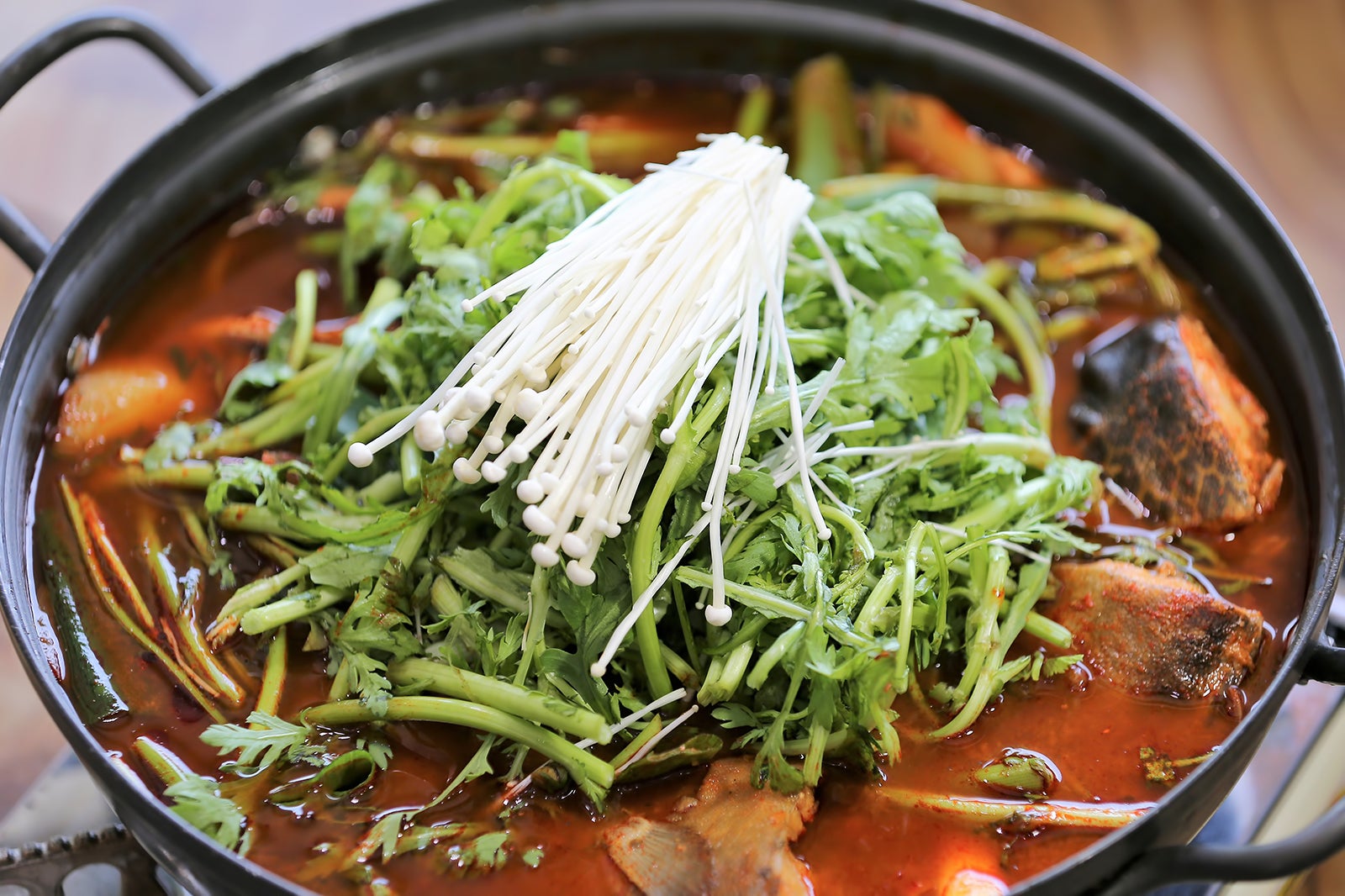 Gyeongju has long been famous for its freshwater fish stew (minmul maeuntang). The city has many freshwater fish stew restaurants, but not as many as in the past. You can still find them easily on the streets around the Bomun Tourist Complex. The main ingredient of freshwater fish stew (minmul maeuntang) can be catfish, king crab, mandarin fish, Chinese minnow, eel, crucian carp, or shrimp, and you can enjoy the spicy and savoury taste without the fishy odour.
Freshwater fish stew is made by boiling freshly caught fish with sesame leaves, leeks, water parsley, mushrooms, and taros into healthy seasonal food that will boost your energy levels. It also tastes great with homemade hand-pulled dough (sujebi)
Location: Gyeongju-si, Gyeongsangbuk-do, South Korea
8
Gyeongju Hwangridan-gil restaurants
Hwangridan-gil is a go-to if you're looking for restaurants and cafés with a refined atmosphere in Gyeongju. It's a hot place for young people and has a lot of beautiful restaurants and atmospheric cafés in renovated hanok houses. They offer a variety of menus, such as Korean table d'hote (han-jeongsik), Japanese fusion food, pizza, pasta, homemade beer, wheat noodles (milmyeon), Korean dumplings (mandu), rice bowls, sweet-and-sour chicken (dak gangjeong), and gimbap.
You can also enjoy coffee, desserts and ice cream in cafés and bakeries. Don't miss out exploring the many quaint alleys. They will take you to some of the best-hidden spots the city has to offer.
Location: Gyeongju-si, Gyeongsangbuk-do, South Korea
9
Gyeongju Eupseong Fortress Cafe Street
Gyeongju Eupseong Fortress, located in Bukbu-dong, Gyeongju, is said to have been built during the Goryeo period. The once-damaged fortress has been repaired to a good condition through the restoration projects. The alleys around the fortress are now filled with romantic cafés and restaurants, like Hwangridan-gil, to attract young couples looking for a cosy place to dine and hang out.
You can enjoy their signature dishes and drinks with the fortress in view. The evening scene is amazing from here. The street also has cool cafés if you're looking for trendy brunch spots. Nearby attractions include Seongdong Market and Jungang Market, and it's also close to Gyeongju Station.
Location: Gyeongju-si, Gyeongsangbuk-do, South Korea
Hwangnam bread is a must-try and can be a perfect gift from a trip to Gyeongju. You can see bakeries everywhere in Gyeongju, but there are especially many of them around Daereungwon Tomb Complex and Hwangridan-gil. Gyeongju bread was first baked in 1939 and was to be known as solely Hwangnam bread. Today, there are various types besides Hwangnam bread (hwangnam-ppang) such as Gyeongju bread (Gyeongju-ppang), glutinous barley bread (chalbori-ppang), and Juryeonggu bread (Juryeonggu-ppang), and they are sold at the stores each marketed with their master baker's name.
Hwangnam bread or Gyeongju bread is a round pastry with a filling of red bean paste, and glutinous barley bread consists of 2 pancakes made with glutinous barley flour wrapped around a filling of red bean paste. Juryeonggu bread is a pastry shaped as a Juryeonggu (a tetrakaidecahedron dice originating from Silla) with a filling of apples and red bean paste.
Location: Gyeongju-si, Gyeongsangbuk-do, South Korea