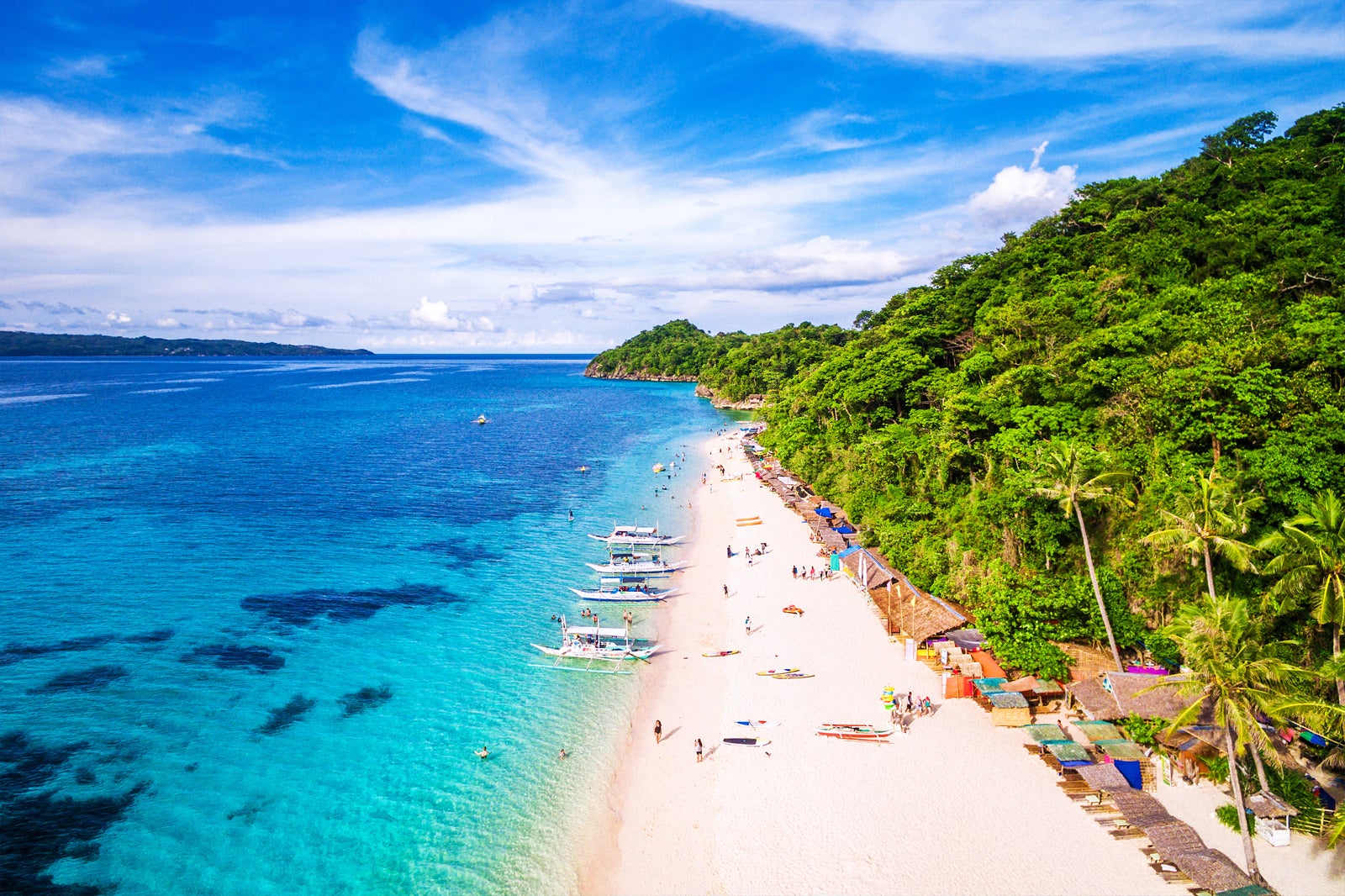 Boracay Island
What you need to know before you go
Boracay has an idyllic combination of sun, sand and sea for your holiday. Powdery white-sand beaches and tranquil turquoise water surround this paradise on earth. It also has a fantastic nightlife scene, so there's something to enjoy at any hour of the day or night.
Located in the West Visayas Region, Boracay is one of the islands of the province of Aklan, in the centre of the Philippines. Only about 7 km long and 1 km wide, the island has over 300 resorts and hotels ranging from budget to upscale. There's a massive variety of dining choices, bars, and surprising attractions for any budget. Getting around is also easy and affordable, making it a fantastic, self-contained spot for your next beach holiday.
What to see & do in Boracay Island
Featured stories & fun stuff
There's a wide range of things to do in Boracay. Sightseeing around the island can be compacted into one day or stretched out for several. A trip to Boracay is incomplete without visiting the famous volcanic formation, Willy's Rock on White Beach. Bulabog Beach has a small butterfly garden exhibiting an interesting collection of wild butterflies and flowers. To escape the crowded beaches, the pretty Puka Shell Beach in the... Read more
Where & what to eat in Boracay Island
Boracay's best restaurants include places to please plenty of tastes and budgets. You'll find an eclectic choice of dining venues here, serving all types of food, including the delicious and colourful Philippine cuisine. It combines sweet, sour, and salty tastes and has been influenced by both western and southeastern cuisines, making it a real must-try while you're here. As it's one of the Philippines' most popular destinations with international... Read more
Where to shop & what to buy in Boracay Island
3 Best Shopping Experiences in Boracay Island

Our listing for the best shopping experiences in Boracay Island will give you some hints about where to go to find and purchase souvenirs or specific items in one of the most popular holiday destinations of the Philippines. It has to be admitted that the choice is very limited – Boracay is far from being a shopper's paradise. Even so, you...
Where to go & what to do at night in Boracay Island
The nightlife on Boracay Island includes busy bars and bouncing nightclubs, helping to make it one of the most exciting holiday destinations in the Philippines. In fact, the nightlife is one of the island's major attractions, especially during the high season between November and February. The most popular Boracay bars and nightclubs are varied enough to ensure that you'll usually be able to find a venue for your taste for... Read more
Back to top