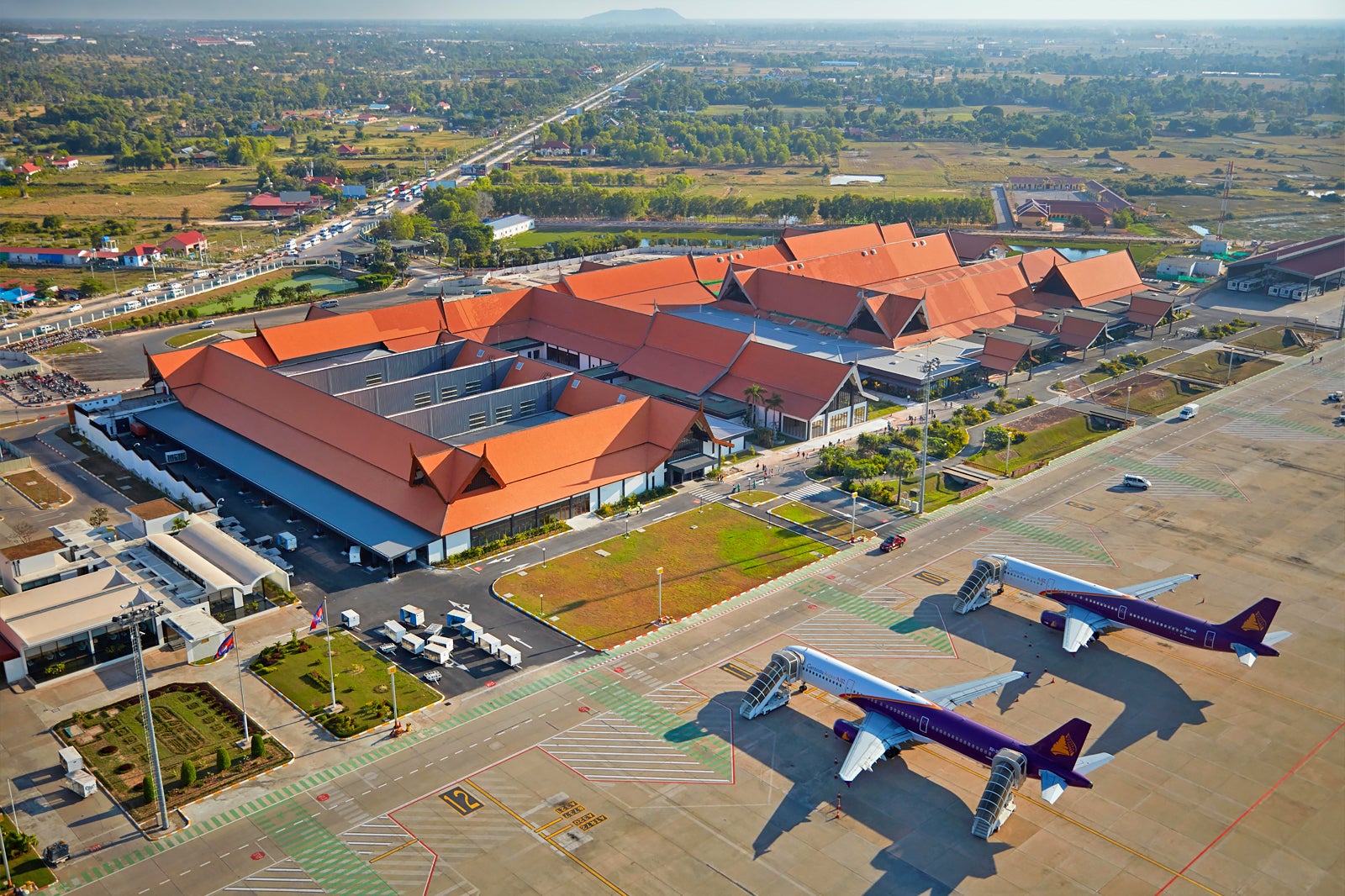 Siem Reap Airport is one of Cambodia's busiest hubs for both domestic and international flights, with over a million annual visitors touching down in the city. Its full name is Siem Reap-Angkor International Airport, after the famous ancient temple city of Angkor, which is the star attraction of Siem Reap. The new, modern terminal was inaugurated in 2006 and continues to grow to meet the increasing number of arrivals each year.
The airport receives a number of international carriers, including Malaysia Airlines, Singapore Airlines, AirAsia, Air Macau, Asiana Airlines, Jetstar Asia, Lao Airlines, Korean Air, PMTair, Royal Khmer Airlines, Bangkok Airways and Vietnam Airlines.
Arrivals at Siem Reap Airport
When you touch down at Siem Reap Airport, you will have to walk a short way outdoors from the plane to the terminal building – a distance of about 200 metres, at most. Once inside, you can apply for a Visa on Arrival at the desk just inside. A tourist visa costs US$30, or US$35 for a business visa. You need to complete the visa application form and submit it along with your passport, one photo and the fee. Your application and passport will be handed around to up eight different people, so don't worry if you see this happening. Your visa should be granted after around 10-15 minutes.
If you forgot the photo, the friendly officers behind the desk can help you out by photocopying your passport, but this slows the process down and we strongly recommend that you come fully prepared. There are also two ATMs nearby, in case you forgot the fee. Alternatively, you can skip all of this and save yourself the long queue and the wait by applying for your visa in advance at your local Cambodian embassy.
Once you have your visa, proceed to the immigration officer, who will give your passport the arrivals stamp. Baggage claim is just through to the next room and is closely followed by the customs area. If there is a customs officer present, give him the declaration form you filled in on the plane. Otherwise, just slip it into the bin provided and proceed to the arrivals hall.
The arrival hall at Siem Reap Airport contains a currency exchange booth, which deals in most major currencies. It is best to change your money into US dollars, which are widely accepted throughout Cambodia and are significantly easier to change back to your own currency when you get home. There is also a bakery here if you need something to eat before heading into Siem Reap.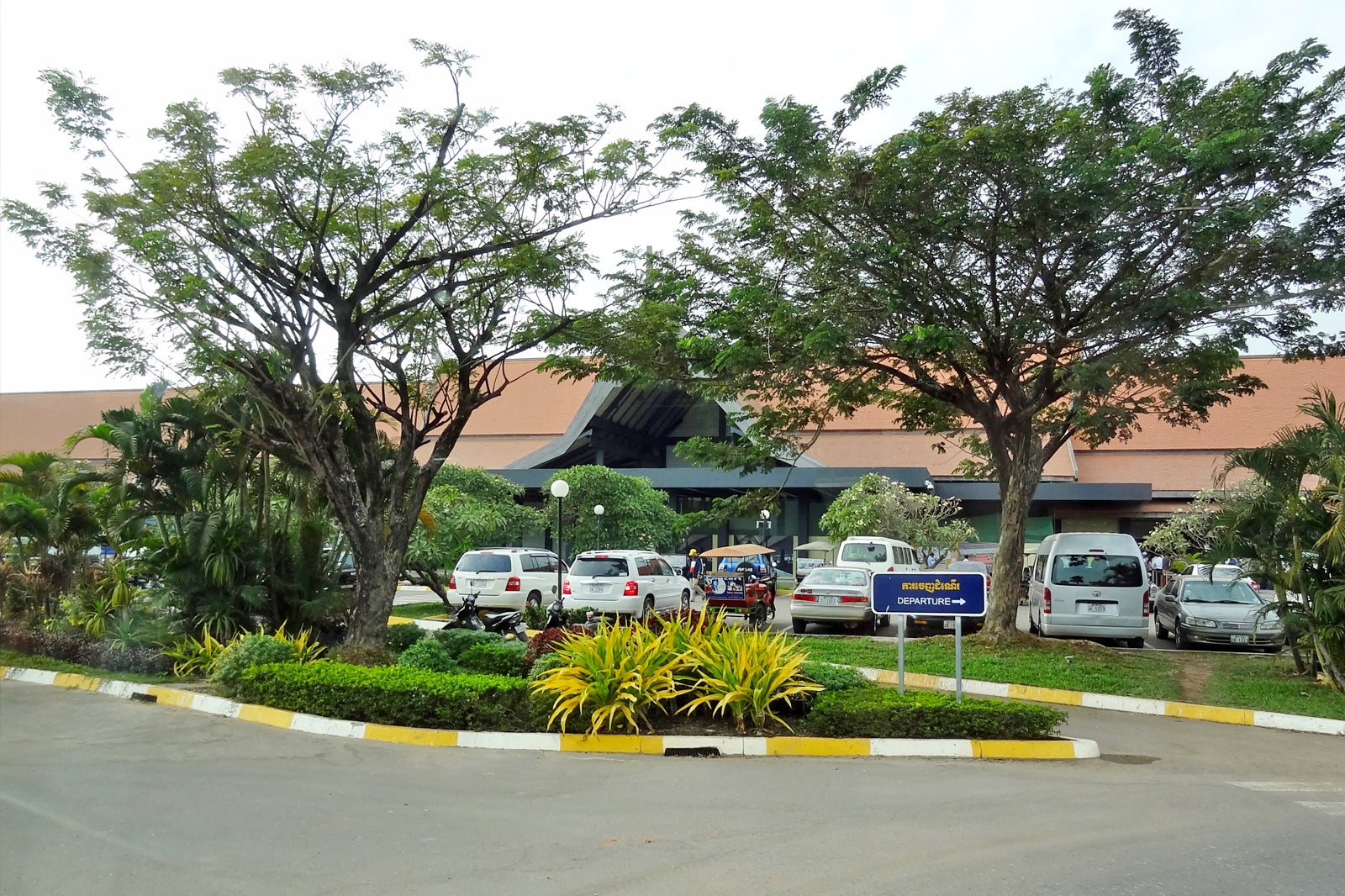 Getting to Your Hotel from Siem Reap Airport
When you enter the arrival hall, you'll be overwhelmed with tuk-tuk drivers and taxis vying for your attention. Look for your hotel pickup, if you arranged one, or pick a friendly driver to take you on the short ride into town.
The town is less than 15 minutes from the airport and taxis charge a flat rate of US$7 to all hotels in town. There are no buses or other public transport options available.
Departures from Siem Reap Airport
The departures hall at Siem Reap Airport contains a Dairy Queen, Starbucks, a Burger King, as well as several other restaurants serving Asian cuisines, so you can grab a bite before heading through immigration. The check-in area is small and you shouldn't have to wait too long. Once you've cleared immigration, you'll find the departures lounge is small but pleasant.
Facilities at Siem Reap Airport
Dining outlets available at Siem Reap Airport include international brands as well as some local brands like the FCC Bar. The departure lounge also has free Wi-Fi at the Free Internet Corners, as well as phone services through ONLINE and BBG services. There's also a post office, in case you want to send off a last-minute postcard.
For a small fee, passengers travelling on all airlines in any passenger class can enjoy the 300m2 Le Salon lounge. Facilities in the lounge include all-day food and beverage services, Wi-Fi and inbuilt desktop computers, music, comfortable seating and international newspapers, magazines and TV. Le Salon Lounge is located on the first floor of the international departures hall.
Smoking rooms and prayer rooms are available for use in the international departure hall.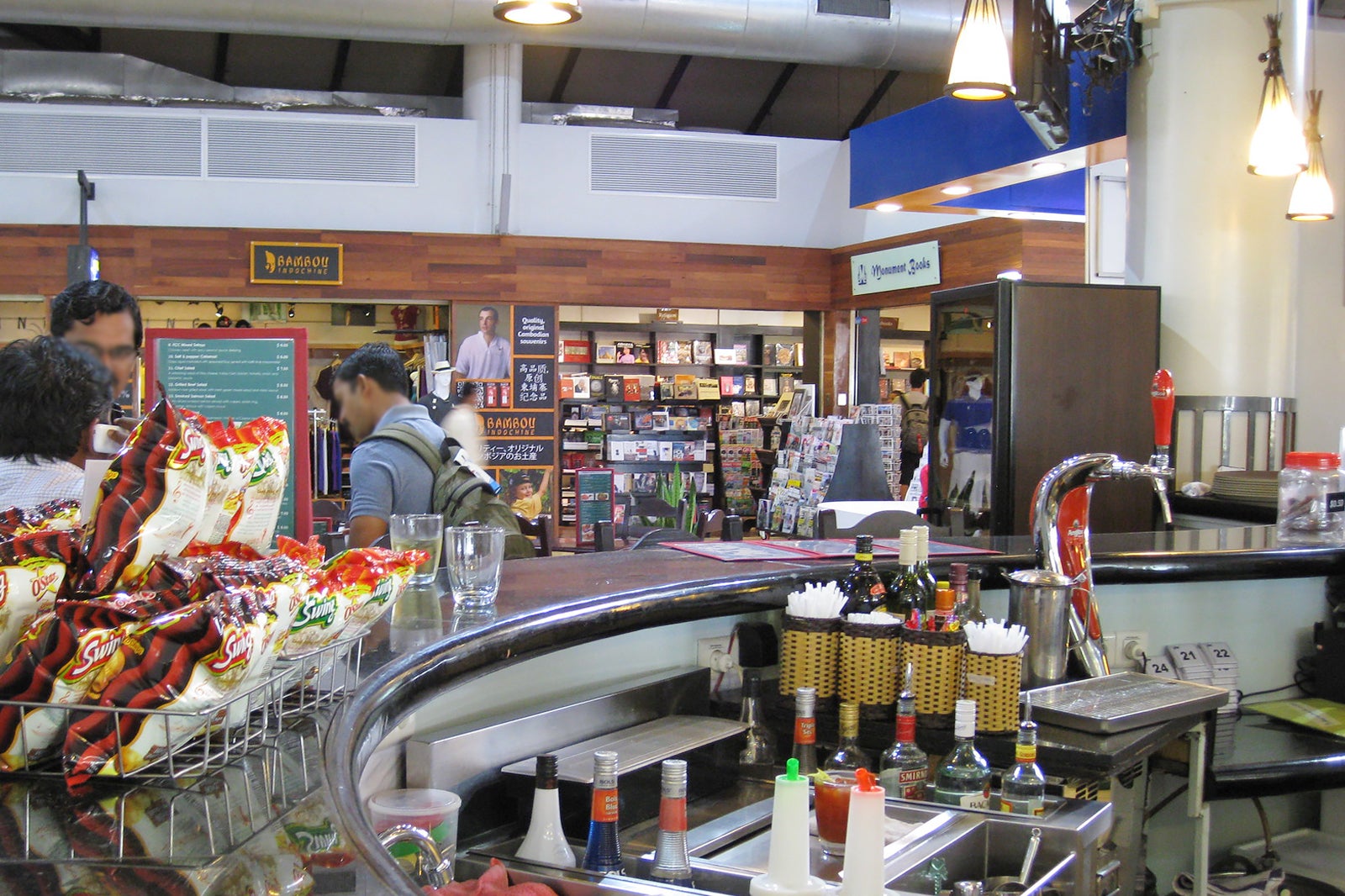 Shopping at Siem Reap Airport
Siem Reap Airport has an impressive selection of duty-free shops that sell cosmetics, perfumes, chocolates, tobacco and alcohol. There is also an outlet for Artisans d'Angkor, where you can find interesting artworks and souvenirs. Several stores offer a range of fashion-forward beachwear, lingerie and a selection of handy travel items such as bags, purses and neck pillows.
Siem Reap International Airport
Location: National Highway 6, Siem Reap, Cambodia
Phone: +855 63 761 261
Back to top