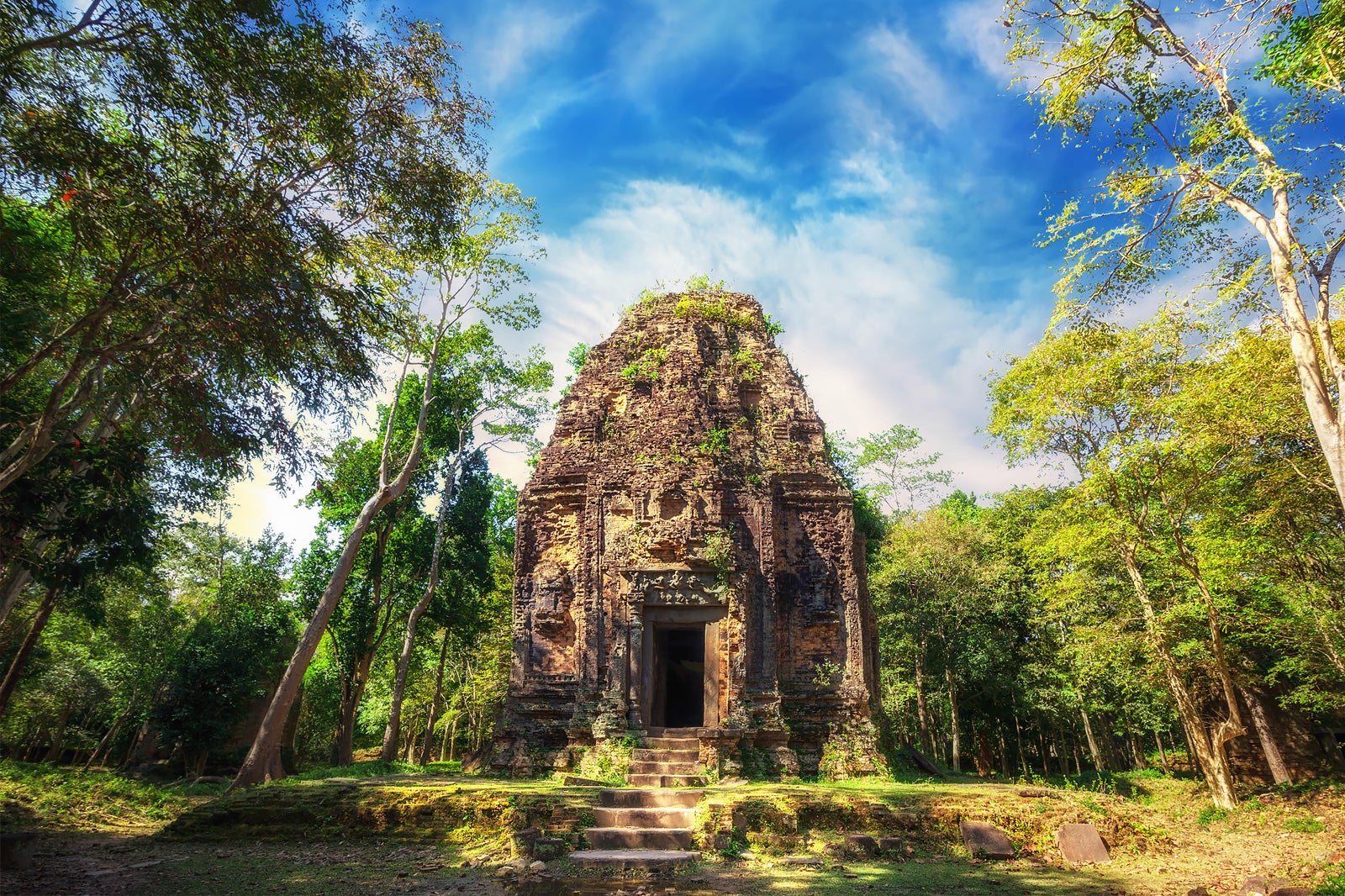 Sambor Prei Kuk is a 7th-century temple ruin in the Kampong Thom Province. It's among the remains of Isanapura, the pre-Angkorian capital city of the Chenla Kingdom. King Isanavarman I is credited with building the city when the Chenla Kingdom was at its zenith, more than 150 years before Angkor.
The ruins at Sambor Prei Kuk are groups of striking brick prasats, in varying states of decay. The 3 main complexes are Preah Sambor (North Group), Preah Tor (Central Group), and Preah Yeay Poun (South Group). Each is walled, and each contains a number of prasats or towers. The carvings on some of the lintels, columns and pillars of the prasats are in relatively good shape and are very good examples of pre-Angkorian art.
Sambor Prei Kuk - one of the highlights of 10 Hidden Temples in Siem Reap (Read all about Siem Reap here)
The brick prasats and compound walls are ornamented with large bas-reliefs and demonstrate an early application of this Khmer art form. Another unusual construction technique is the octagon shaped towers. But perhaps the most photographed is Prasat Chrey, a small temple that's almost completely overgrown by a large tree.
For those interested in Khmer history and art, and for the serious temple explorer, this pre-Angkorian complex is an important place to visit. It can be reached on a day trip from Siem Reap or Phnom Penh, or can be explored during an overnight stop at Kampong Thom. The dirt road from Kampong Thom is in fair condition.
You can reach Sambor Prei Kuk about 120 km southeast of Siem Reap, and about 35 km from Kampong Thom. As most of the temples face east, morning hours offer the best light for photos.
Sambor Prei Kuk
Location: Kampong Thom Province, Cambodia
Open: Daily from 7am to 5pm
Phone: +855 12 634 835
Back to top