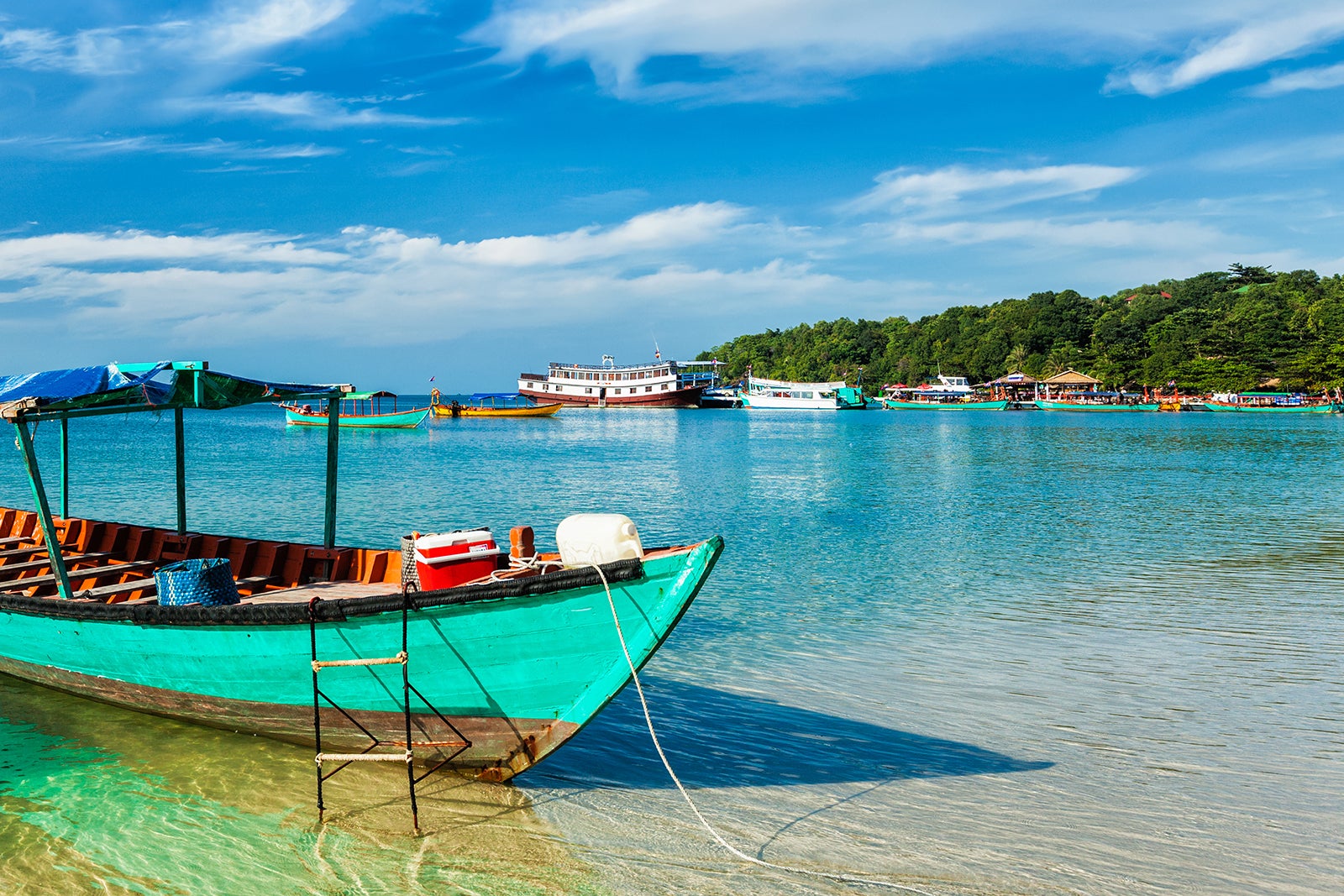 15 Best Things to Do in Sihanoukville
What is Sihanoukville Most Famous For?
There's quite a lot of variety among the things to do in Sihanoukville. The coastal town is famous for having some of the best beaches in Cambodia, making it the getaway destination of choice for the city dwellers of Phnom Pehn. The beaches are many and the nightlife is vibrant. These elements combine to make Sihanoukville a popular place for people visiting the country.
Sihanoukville's must-sees include manmade and natural sights, ranging from exciting places to spend time with the family to great spots to relax and unwind in peace and quiet. There's culture to admire and casinos to try your luck, waterfalls, markets and monuments and a lot more to enjoy in this vibrant city on Cambodia's southern coast.
What are the best things to do in Sihanoukville?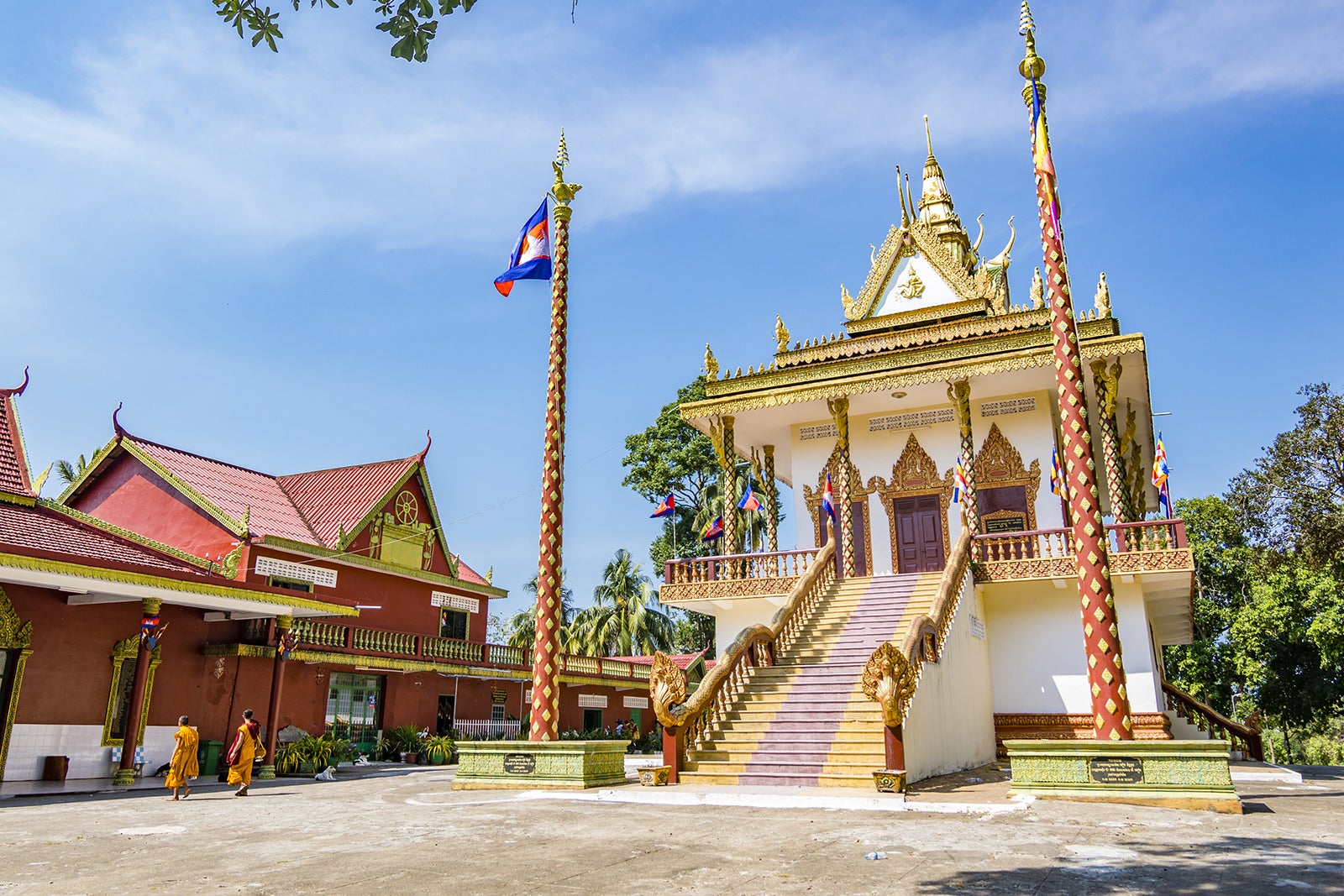 The Wat Leu Pagoda is situated on a hill about 1.5 km northwest of Sihanoukville. Wat Leu is perhaps not as dramatic a structure as Siem Reap's ancient temples but it is nonetheless worth a visit.
The striking, colourful main building resembles a pagoda in style and is surrounded by interesting artefacts, including a 3-headed carved white elephant and a huge black statue of the Buddha. The hilltop location is also quiet and peaceful, and offers spectacular views across the city – it's particularly impressive at sunset.
Location: Sihanoukville, Cambodia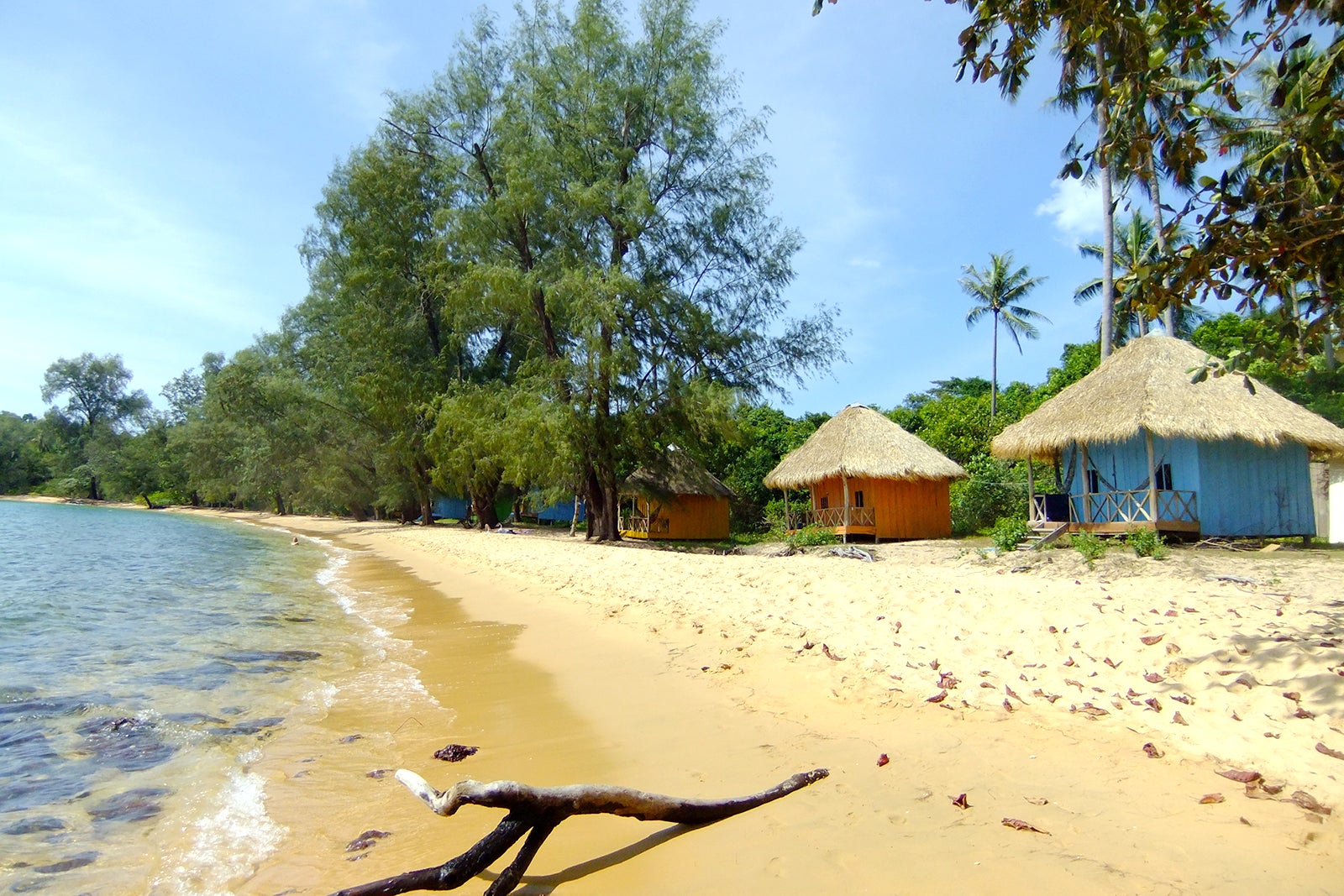 Spending a few days on Bamboo Island, off Sihanoukville's coast, is highly recommended especially if you're looking for a change of view. The boat ride takes about half an hour and once there, you'll find that only about 30 people live on the island.
On its north-facing crescent beach, Bamboo Island has about 3 bungalow resorts, 2 restaurants and 2 bars and is very, very laid back. This is serenity at its best. A ferry usually departs from Ochheuteal Beach at 10am and departs from the island at 4pm. The crossing takes roughly 45 minutes.
Read more
Location: Bamboo Island, Cambodia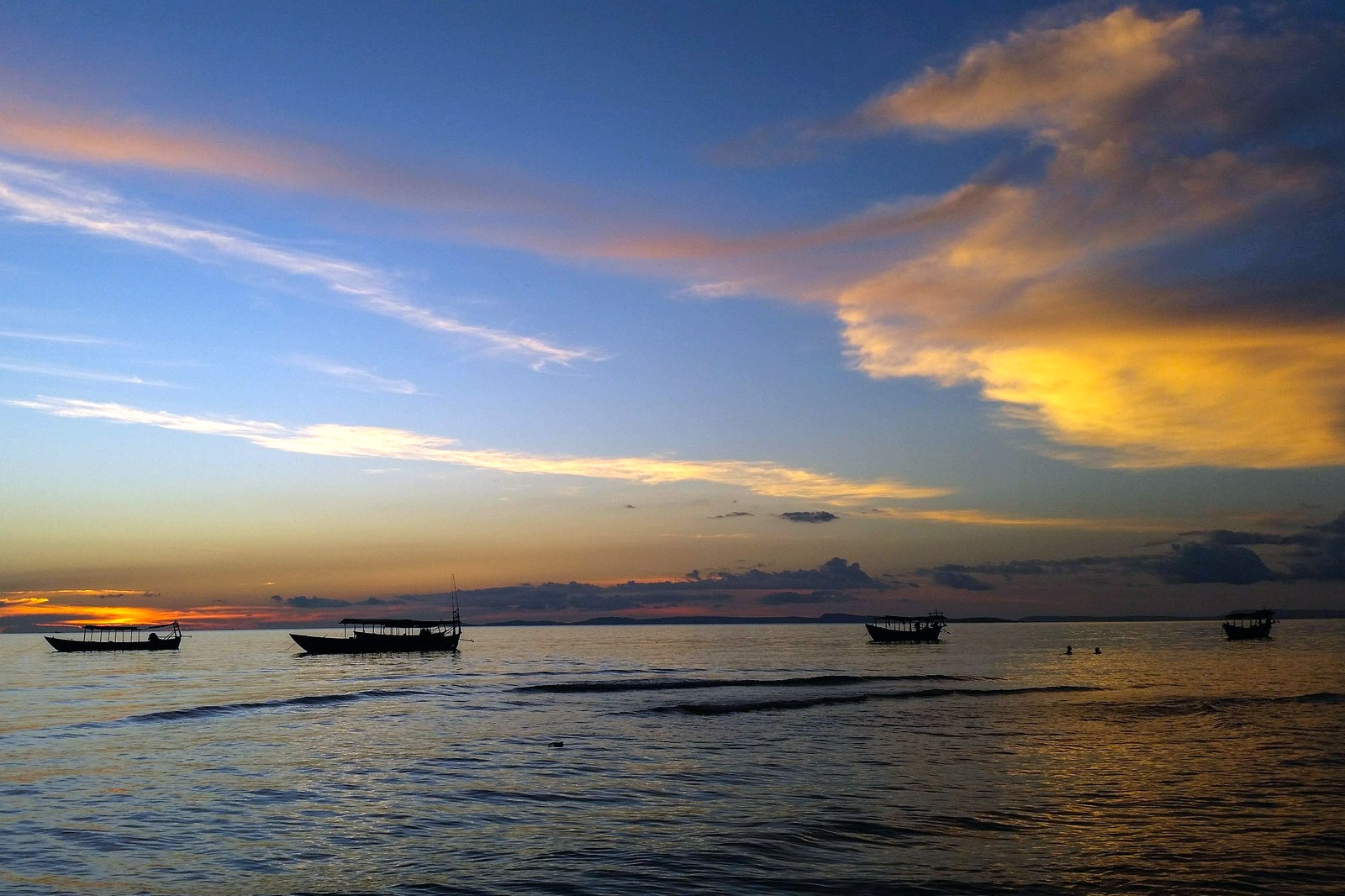 The Sihanoukville coastline is an almost uninterrupted line of soft white sand, though occasional rocky headlands split it into about 5 major beaches. As beautiful as any shoreline you'll find in Southeast Asia, they're great if you want to get away from it all as they are significantly quieter than the beaches of neighbouring Thailand.
Even so, the beaches in Sihanoukville do get a little busier during weekends and holidays as locals come to enjoy their day of sun, sea and sand. Many watersports are available in the warm waters of the Gulf of Thailand, including kitesurfing, snorkelling, scuba diving, kayaking, and windsurfing.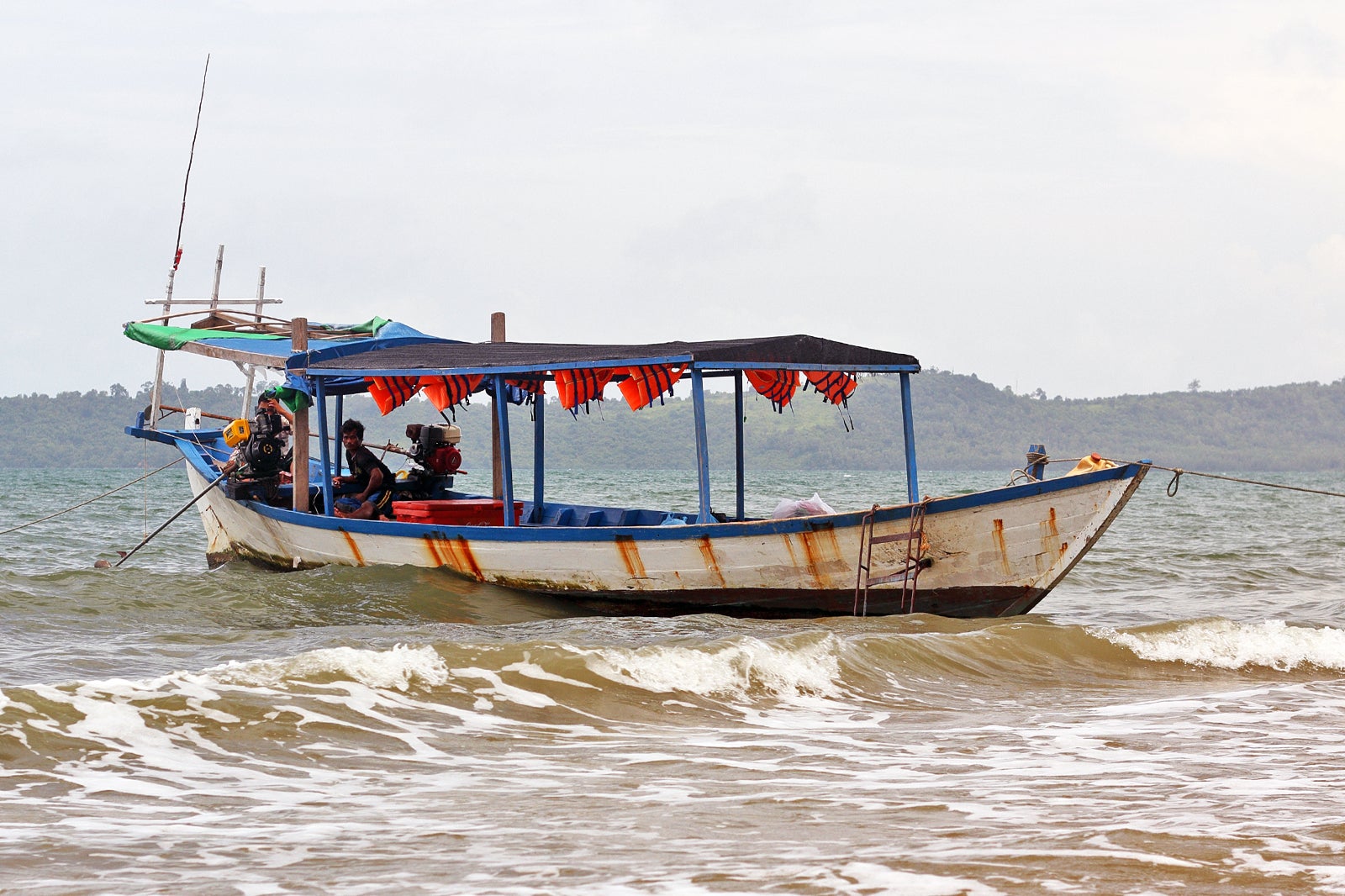 You can charter a private boat and try deep-sea fishing right off Otres Beach. The tour may also include island hopping and snorkelling, often with a lovely meal provided on a beach.
Some providers have 54-metre fishing boats with an experienced crew on board. Others offer dive trips as well as open-water dive courses, together with optional water sports like windsurfing and ocean kayaking.
photo by Dmitry Makeev (CC BY-SA 4.0) modified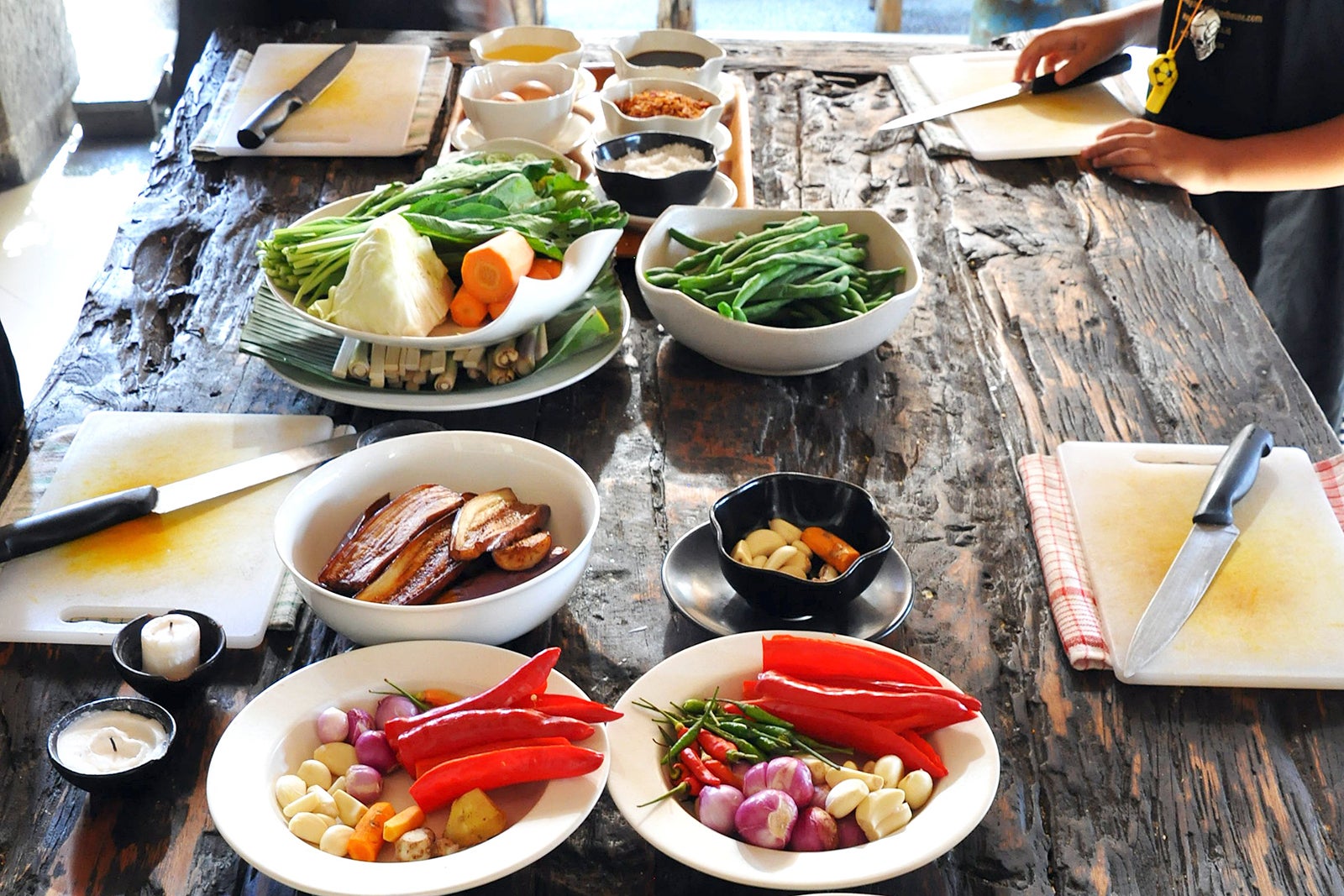 Take a cookery class at the few selections of cooking schools in Sihanoukville. They will introduce you to Khmer recipes, ingredients and cooking techniques. Among the selections are Tastes of Cambodia on Tola Street, Sinoun Khmer Cooking Class next to the Deluxx Boutique Hotel, and Don Bosco Hotel School that offers Khmer cooking classes with profits that go towards local impoverished youth – run by professional teachers and volunteers.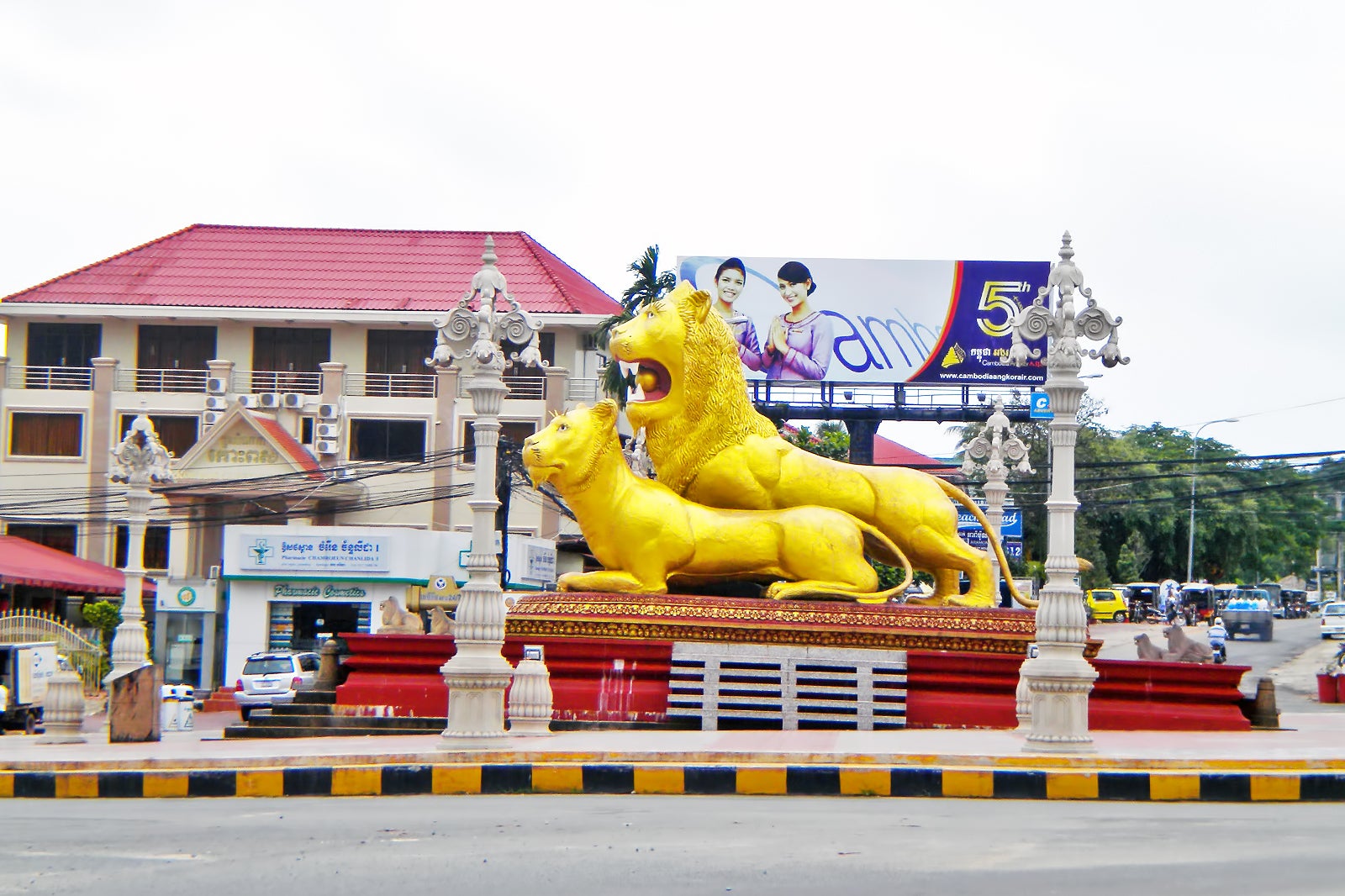 The Golden Lions Roundabout is pretty much one of those places you've got to see just for the laughs. Also, just to say you've seen it and so you can share the pics on Instagram.
The somewhat iconic statue of a lion and lioness standing side-by-side (though, with the lion standing and the lioness prone, it looks decidedly different from certain angles!) boasts scary faces, completely unrealistic proportions and a garishly yellow-gold paint job. Find it at the northern end of Serendipity Beach, near to the ferry terminal. It's impossible to miss and nearly impossible not to at least smile at.
Location: Golden Lion Traffic Circle, Sihanoukville, Cambodia
photo by Wikirictor (CC BY-SA 3.0) modified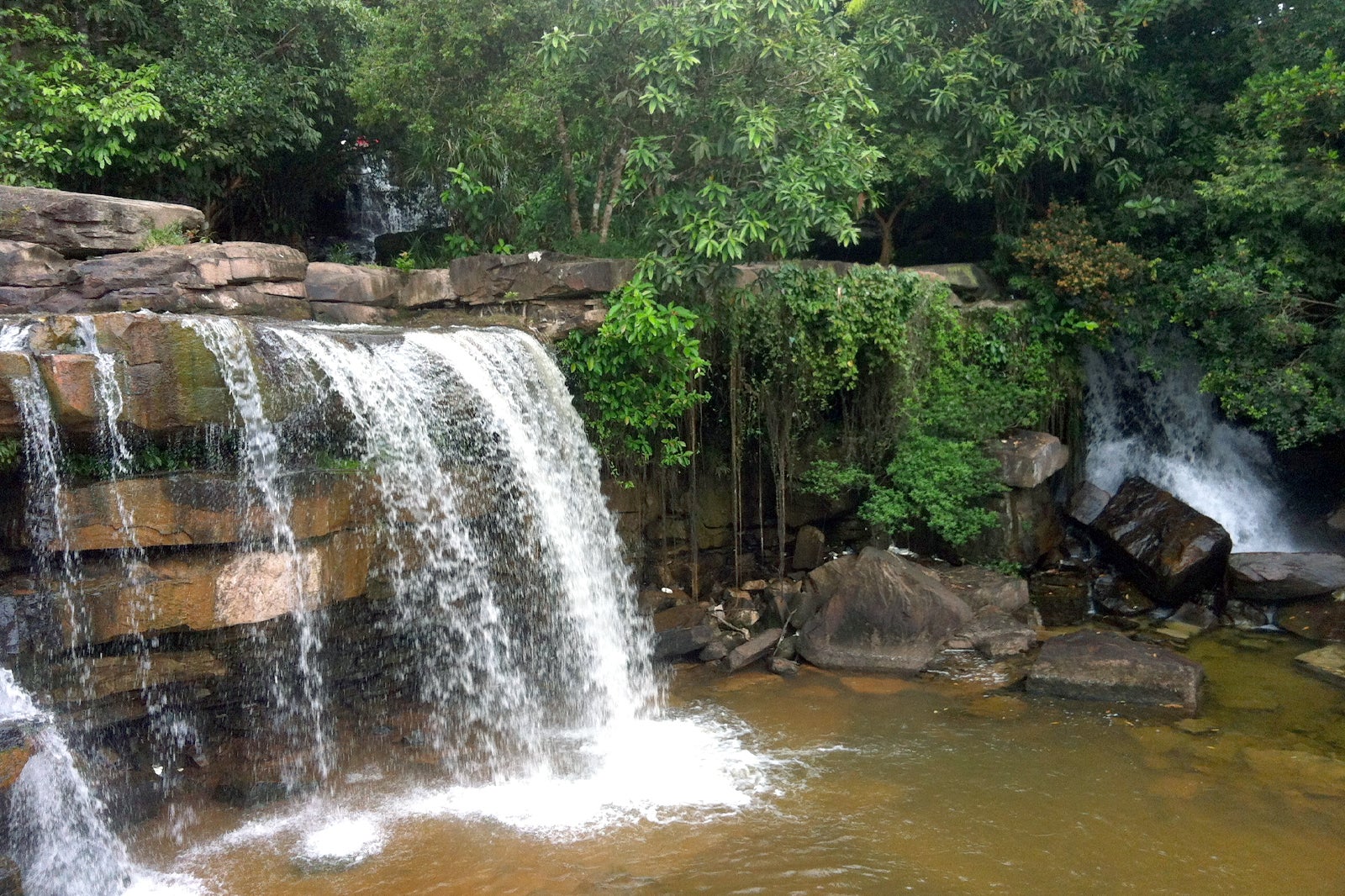 Kbal Chay is a tiered waterfall with a 14-metre drop that's actually one of the major sources of freshwater for the city of Sihanoukville, as evidenced by the large reservoir nearby. It's a picturesque spot and a popular place with locals taking a day out. You can enjoy a picnic next to local families before cooling off with a splash in the cool waters.
The waterfall is much more dramatic when visited in the rainy season as the waters slow down a lot during the dry season. Getting to the falls can be a little tricky as the tarmac roads stop about 7 km from Sihanoukville, leaving you with a 9-km drive along a dusty dirt track.
Location: 286 Ekareach Street, Sihanoukville, Cambodia
Open: Daily from 7.30am to 5pm
photo by Vladkras (CC BY-SA 3.0) modified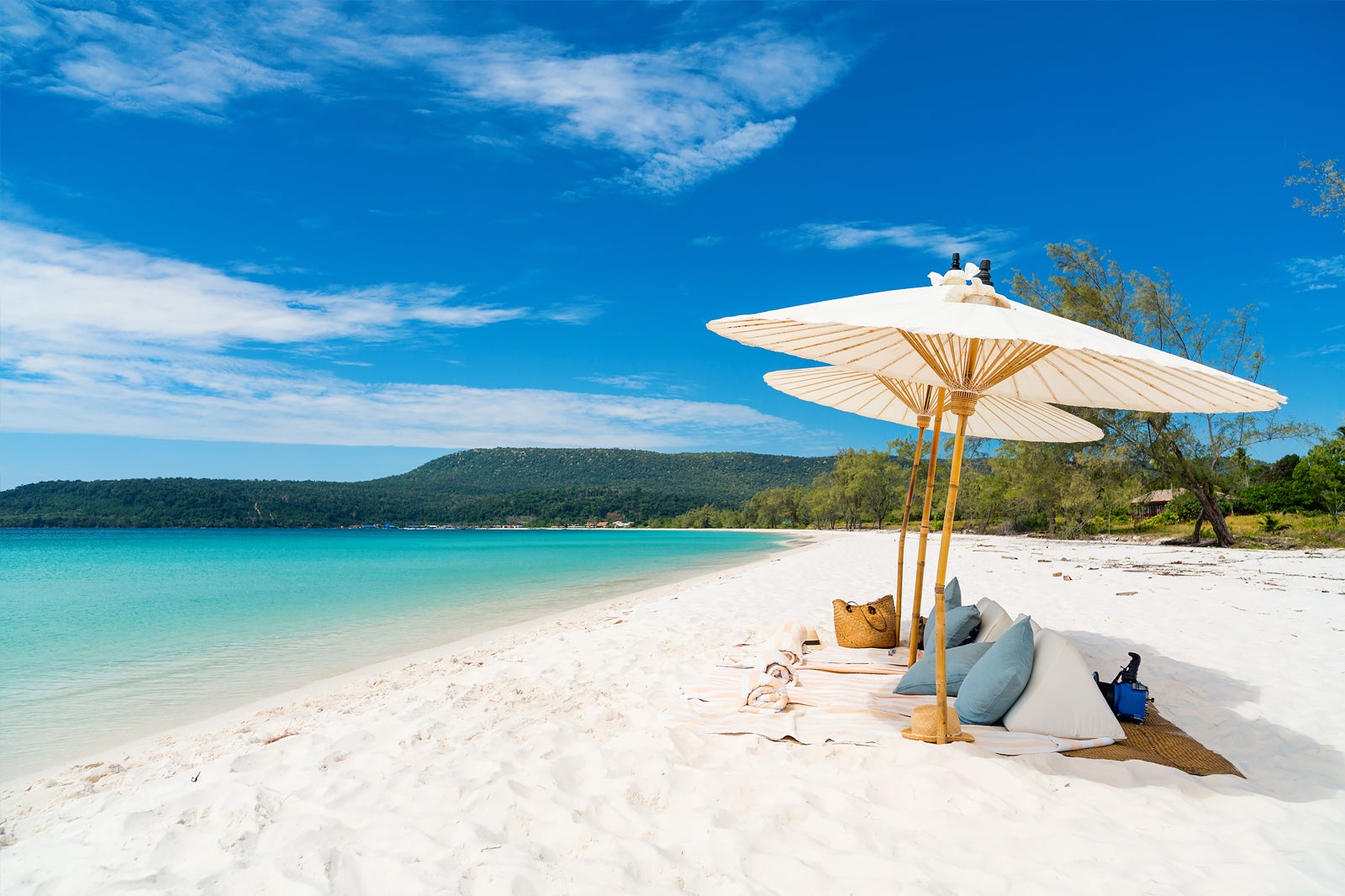 If you like the beaches of Sihanoukville, you'll love Koh Rong and the surrounding islands. Just 26 km west of the city, they are pretty much the archetype of the desert island idyll, with pristine beaches, clear blue seas, vibrant coral reefs, jungle-covered hills and very little else.
They are almost completely unspoilt, with none of the usual hallmarks of destinations some feel have been 'ruined' by mass tourism.
Location: Koh Rong, Cambodia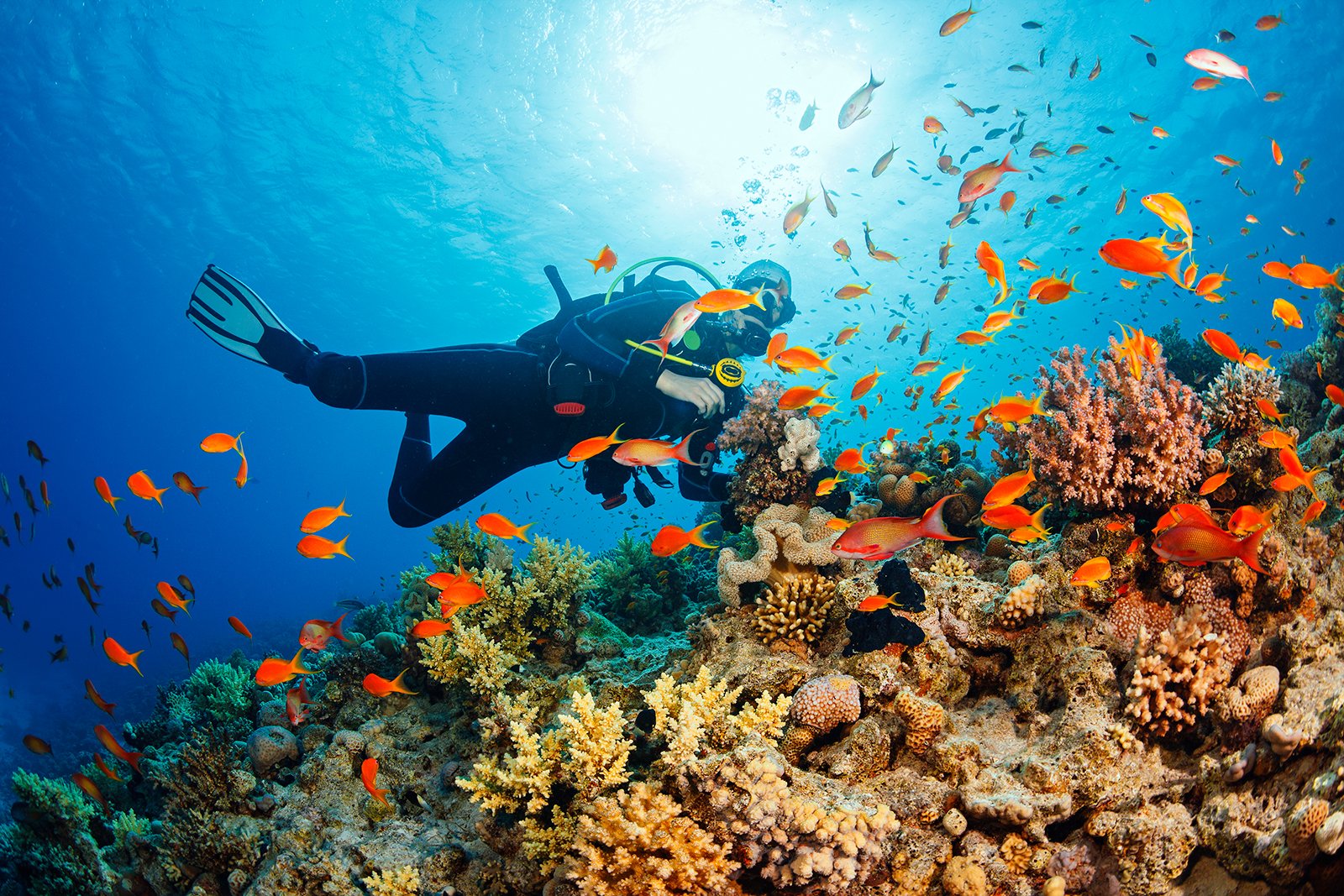 Snorkelling and scuba diving in Sihanoukville thrives because of the area's favourable topographical features. Offshore local waters are warm and the visibility is low but it is better to dive out by neighbouring islands and Condor Reef as visibility is superior there.
Snorkelling, also, can be impressive around the nearby islands which feature rocky reefs, shallow waters and coral, and colourful tropical fish. Diving and snorkelling from December to June are ideal because the water is clearer and cooler than the rest of the year. Famous dive sites include Koh Rung Samloem and Koh Kon which are close to Sihanoukville. Those who have more time should also dive at Koh Tang, Koh Prins, and Condor Reef, which are further out.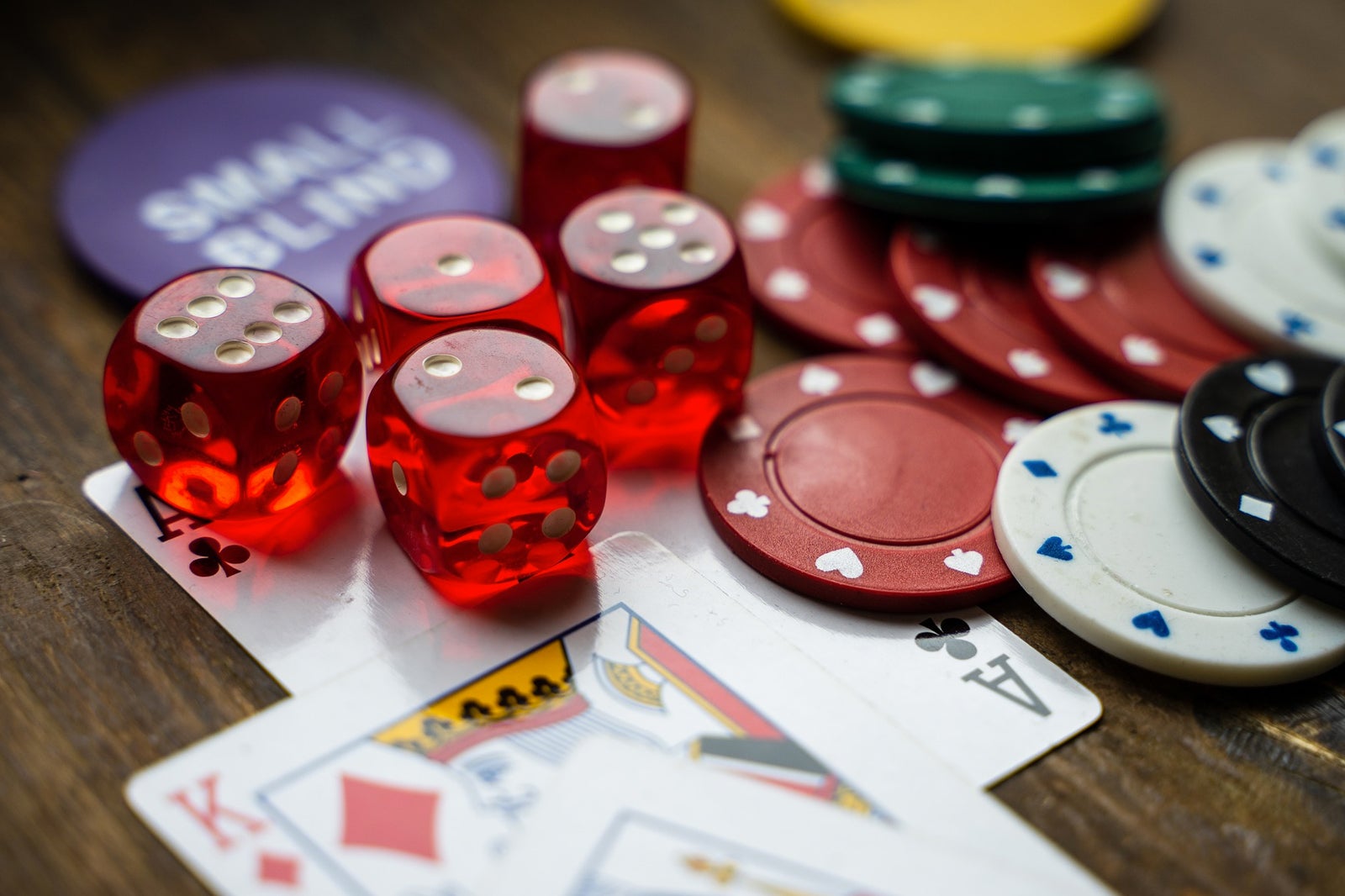 Sihanoukville is not exactly southeast Asia's answer to Las Vegas but it does offer a few venues for those who enjoy to throw the dice and play footsie with Lady Luck. There are several hotels offering gamblers their favourite games: blackjack, roulette, baccarat, gaming machines, and poker.
The number of casinos continues to climb with further development of the beach resort areas. They offer an impressive range of gaming options, ranging from slot machines and table games to live sports betting. Baccarat is the most popular table game in the city which has become effectively the Las Vegas of Cambodia. Open 24/7, the gambling scene is one of the major reasons why people come to Sihanoukville.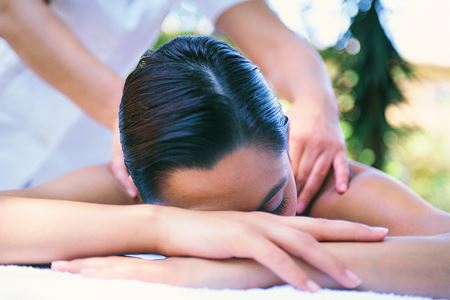 You can find a variety of spas and wellness centres that offer a wide range of spa treatments, including traditional Khmer massages, around Sihanoukville. There are also places that advertise 'massages' but whose service strays beyond what most people might regard as 'traditional'. If you don't want to find yourself in such a place, check with the front desk at your hotel.
Every provincial capital in Cambodia has a monument to celebrate the country's independence from France on 9th November 1953, as well as the defeat of the Khmer Rouge on 7th January 1979. While Sihanoukville's not as grand as the one in Phnom Penh, it is still an interesting and attractive place.
The modest and peaceful Independence Park also contains a statue of Harihara – a fused representation of the Hindu deities Vishnu and Shiva – as well as a miniature copy of Preah Vihear Temple, the historical and controversial temple on the Thai-Cambodian Border.
Location: Sihanoukville Independence Park, Ekareach Street, Sihanoukville
Phnom Meas is a popular getaway spot for weekending locals. The mountaintop setting is home to park-like restaurants, a small guesthouse, gardens and fantastic views across Sihanoukville.
It's a family-friendly place, with lots of opportunities to play and explore, with swings and seesaws in the park. Getting there often requires a short drive along dirt tracks, and you're often likely to be sharing the view only with the locals.
Location: Mittapheap Street, Sihanoukville, Cambodia
Psar Leu Market offers a colourful variety of stalls selling produce and local foods that make it an interesting place for experiencing local life.
The narrow aisles of the covered market can be quite busy, but there is no better place in Sihanoukville to sample local snacks. You can also generally find some cheap t-shirts and shoes, though you might struggle to find any in larger sizes.
Location: 7 Makara Street, Downtown Sihanoukville, Cambodia
Open: Daily from 7am to 5pm
The 1.9-km Koh Kong Bridge was officially opened on 4th April 2002 by Prime Minister Hun Sen. This magnificent 8 million-dollar technological masterpiece links Koh Kong with Thailand's south-west promoting tourism, investment and trade, as well as reducing travelling-time to Phnom Penh.
Even so, this new wide laterite highway built by the Thai Army requires 4 tricky ferry crossings and is not recommended during the rainy season.
Location: Koh Kong Bridge, Koh Kong, Cambodia
Back to top