10 Best Hualien Foods Everyone Should Try
A Guide to Local Specialities You Should Try in Hualien
The best Hualien foods everyone should try include both delicious seafood and fresh agricultural products. With local chefs and shopkeepers offering delicacies made from the finest local ingredients, Hualien has been called a food paradise on the east coast of Taiwan. The locals are hearty and generous, as are the delicious food they make.
Among the local favourites are bamboo rice (zhu tong fan), fried noodle gua bao (chao mian gua bao), and Hualien mochi (hualian ma shu), which all have unique flavours. Hualien's street food is also very affordable but no less tasty. Fried egg scallion pancakes (zha dan cong you bing), fried egg wheel pies (zha dan che lun bing), grilled scallops (shao gan bei), Cuban sandwiches (gu ba san ming zhi) and deep-fried crab (xiang zha pang xie) are highly popular. Check out these and other local specialities you should try in Hualien, below.
1
Fried egg scallion pancake (zha dan che lun bing)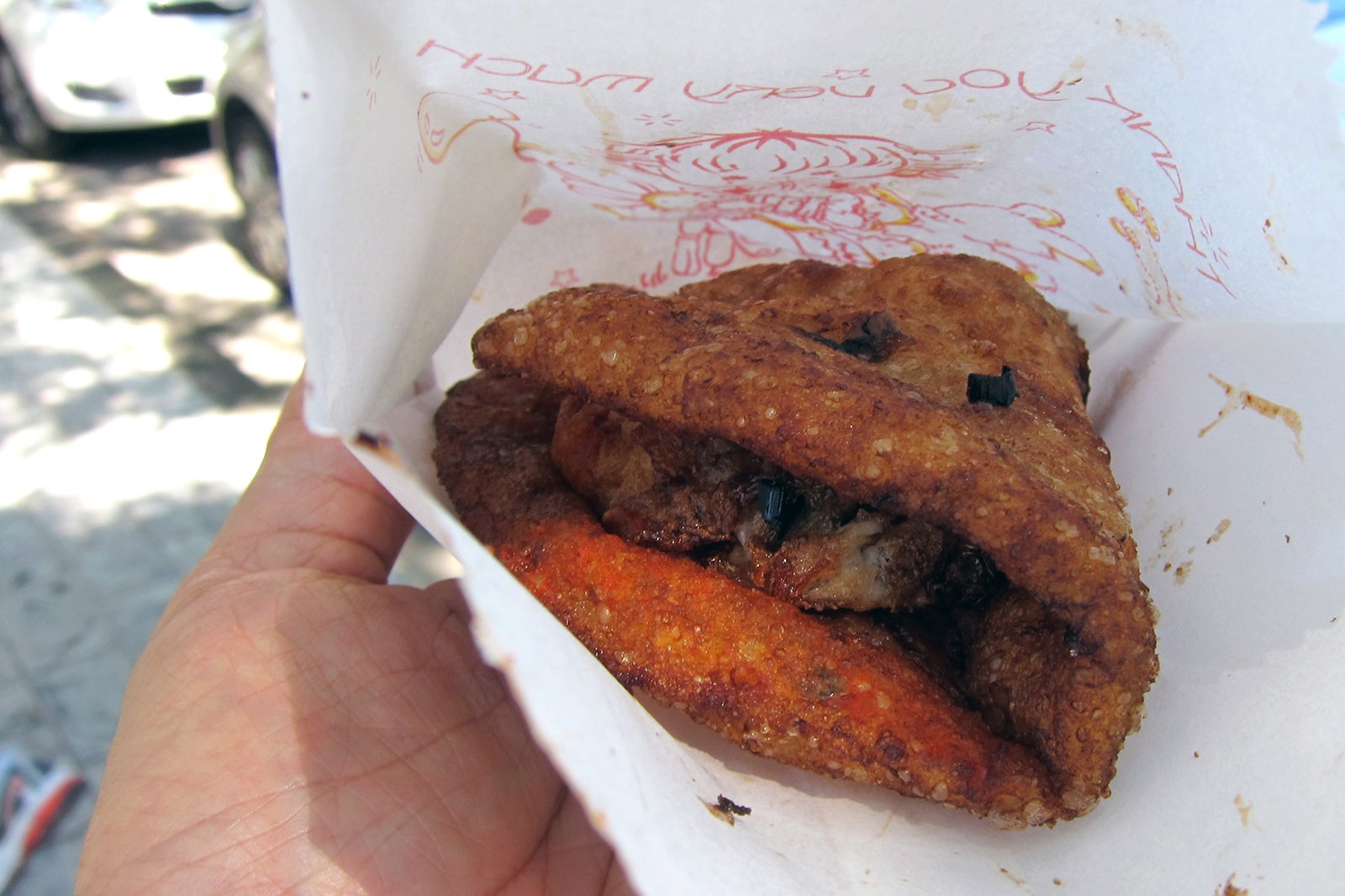 Fried egg scallion pancake is a street snack that's highly popular in Hualien. There are 2 dining cars selling this local speciality on the same urban street. They have a loyal following, often with long daily queues, whether it rains or shines. To make it, the dough with chopped scallion is fried in hot oil until golden, then fresh eggs are added and wrapped with dough. The fragrant pancake is then ready to be served.
The fried egg is the pancake's biggest feature, which is half-cooked in oil. The scallion's aroma bursts in your mouth with every bite, as does the oozing fresh yolk. It's a soft and crispy snack for many residents in Hualien to stave off their afternoon cravings. If you are not used to half-cooked eggs, you may ask yours to be well-cooked.
2
Bamboo rice (zhu tong fan)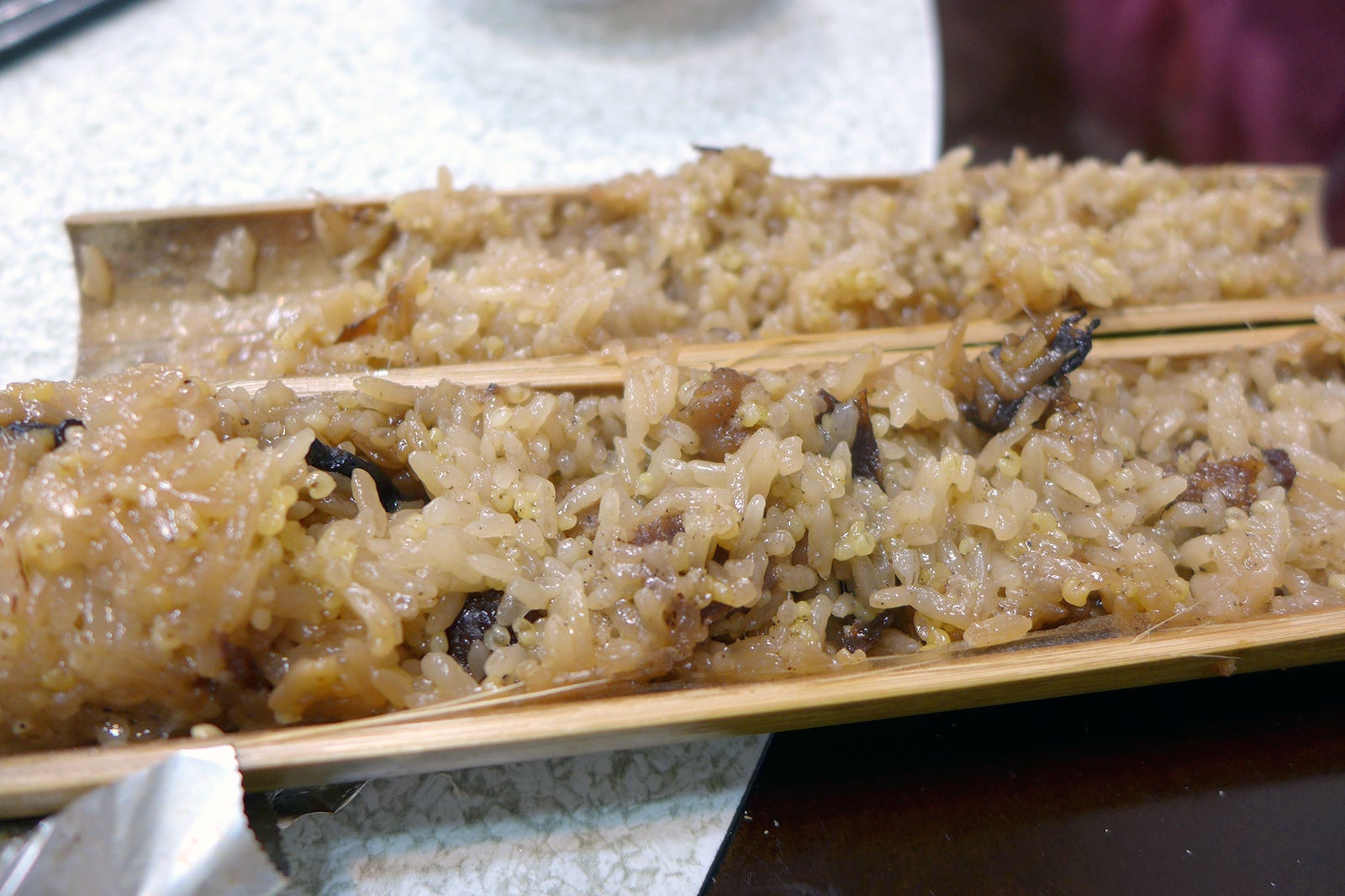 Bamboo rice is one of Hualien's most popular local rice dishes. The bamboo gives the treat its unmistakable natural aroma. Uncooked rice is placed inside a bamboo then baked over a fire. Enjoying the speciality can be a truly special dining experience. You can strike the bamboo against the stone yourself to crack it open and you can then peel off the bamboo to enjoy the delicious rice baked inside.
Hualien's bamboo rice is often served with salted pork. The rice mixes well with the moist and tasty pork. Many restaurants in Hualien feature bamboo rice on their menu, and you can easily find it served at popular stalls in the night market.
photo by Kenming Wang (CC BY-SA 2.0) modified
3
Pulled sweet potato and taro (ba si di gua/yu tou)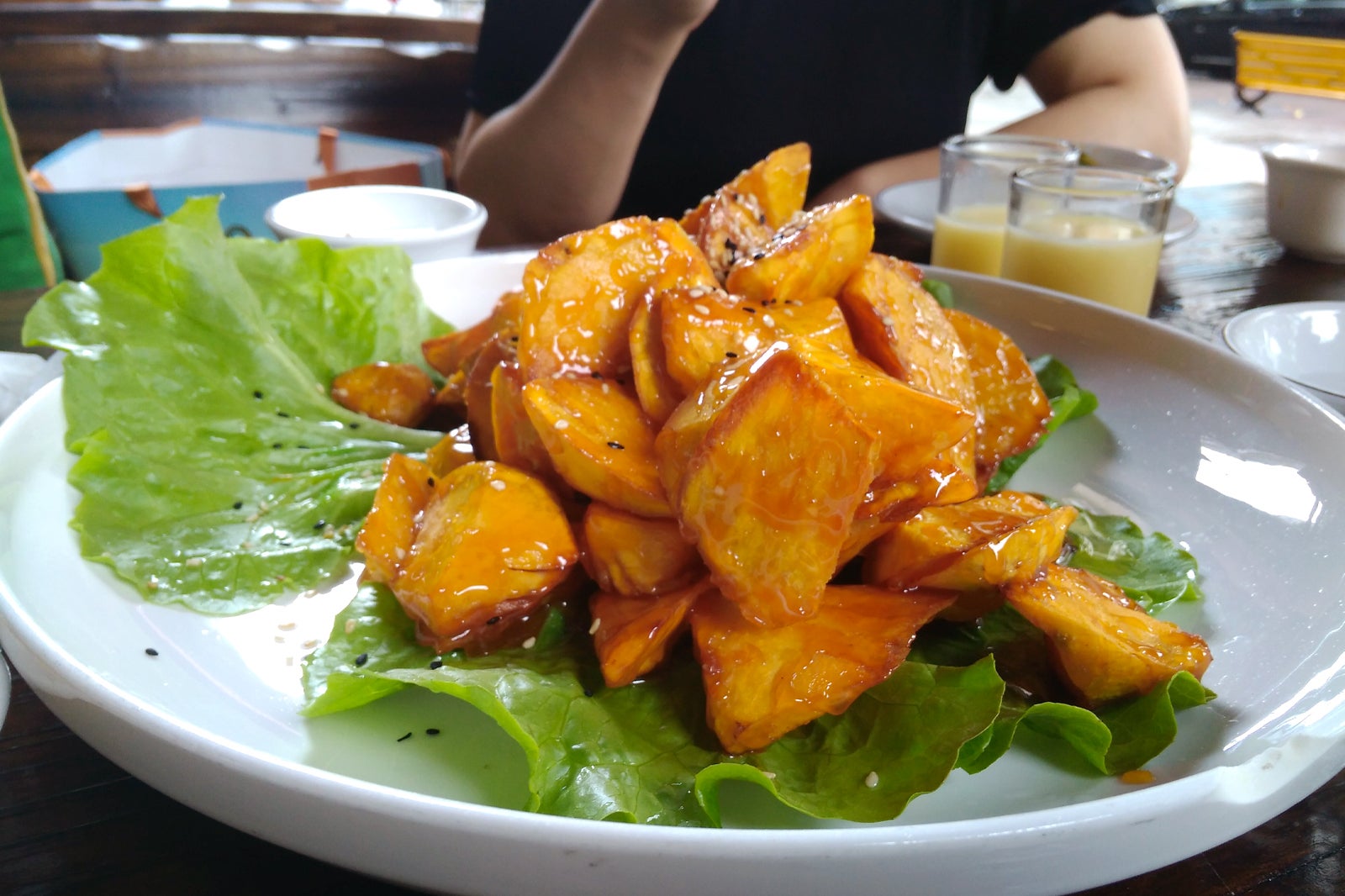 Pulled sweet potato and taro is a popular night market delicacy in Hualien. Sweet and refreshing, it's a popular dessert enjoyed by young and old, especially those on a vegetarian diet. If you've come to Hualien for a night market experience and had tried out plenty of the strong-tasting salty food, you might as well try pulled sweet potato and taro to relieve your taste buds.
The making of this dessert is quite simple. Vendors select the freshest ingredients, cut them into blocks or long strips, coat them in sugar. Fried or roasted, the sugar coating on the outer layer is very crisp, but the sweet potato and taro under the sugar coating itself are soft and flavoursome.
photo by Richard923888 (CC BY-SA 3.0) modified
4
Cuban sandwich (gu ba san ming zhi)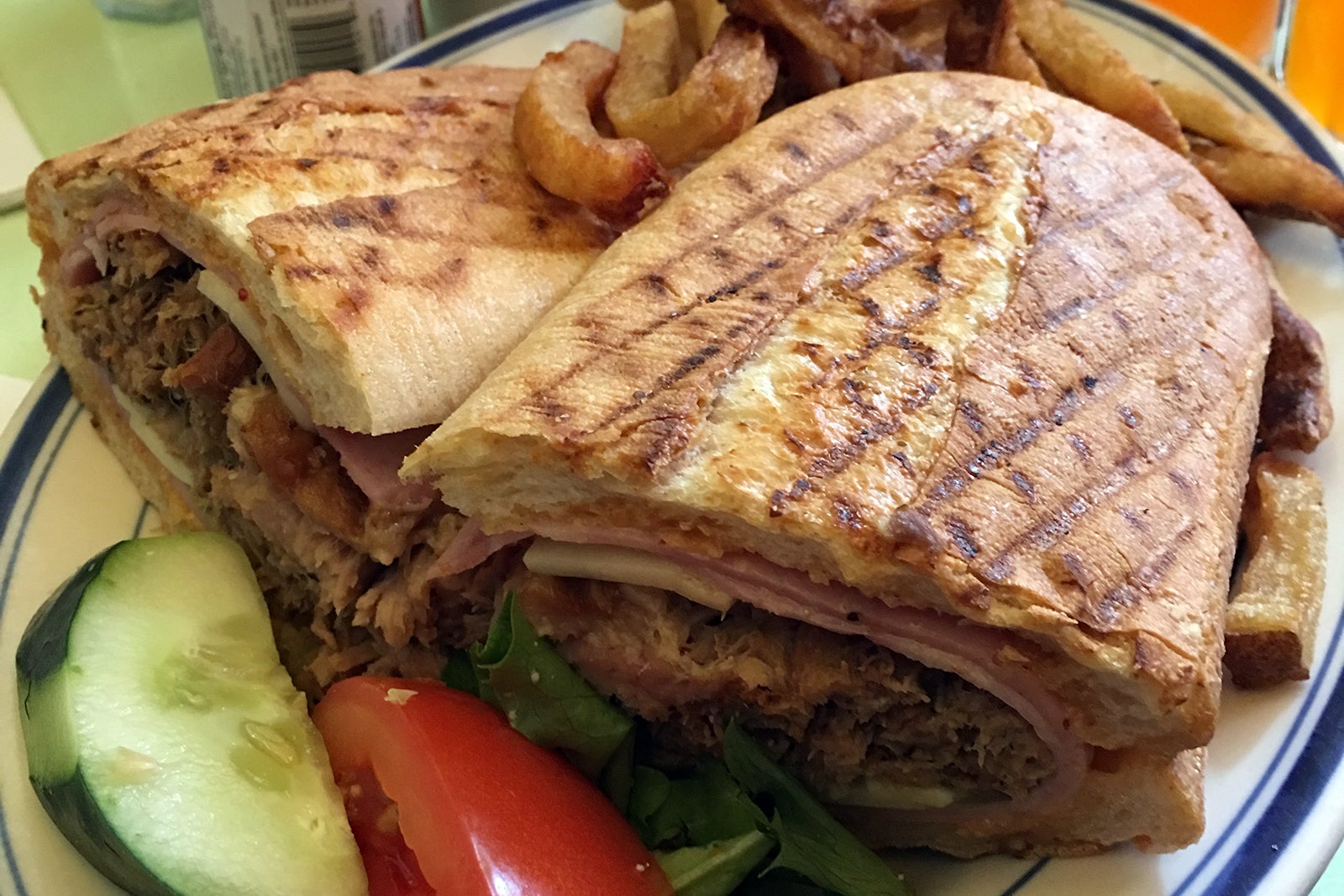 Cuban sandwiches are a special treat in Hualien. Hualien's Cuban sandwich is a delicious and inexpensive snack that costs you little. The sellers make a strict selection of pickles, cheeses, long-shape bread, mustard and yellow sauce. The fillings come in many different choices – tuna, pork and chicken being the most common.
Sellers would wrap the meat, cheese, sauce and pickles into the bread, and then cook the whole sandwich in a toaster. The preparation takes only about 5 minutes. The delightful sandwich is crispy on the outside and soft and fresh on the inside. The pickles enhance the flavour of the meat.
photo by bryan... (CC BY-SA 2.0) modified
5
Deep-fried crab (xiang zha pang xie)
Deep-fried crab goes very well with beer and a circle of friends. Crab is among the highly popular seafood selections offered by many restaurants and snack stands in Hualien. At night, well-known mobile snack stalls would sell a variety of fried ingredients, including the popular deep-fried crab. Fresh and fleshy crabs are selected to ensure delicious treat, allowing the soft and plump crab meat to be enjoyed after each bite of the hard shell.
Hualien's crab is superb in quality. It is fried quickly in hot oil and seasoned with garlic, basil, pepper, chopped scallion and chilli. It has a strong spicy taste and matches well with beer.
photo by Alpha (CC BY-SA 2.0) modified
6
Hualien mochi (Hualian ma shu)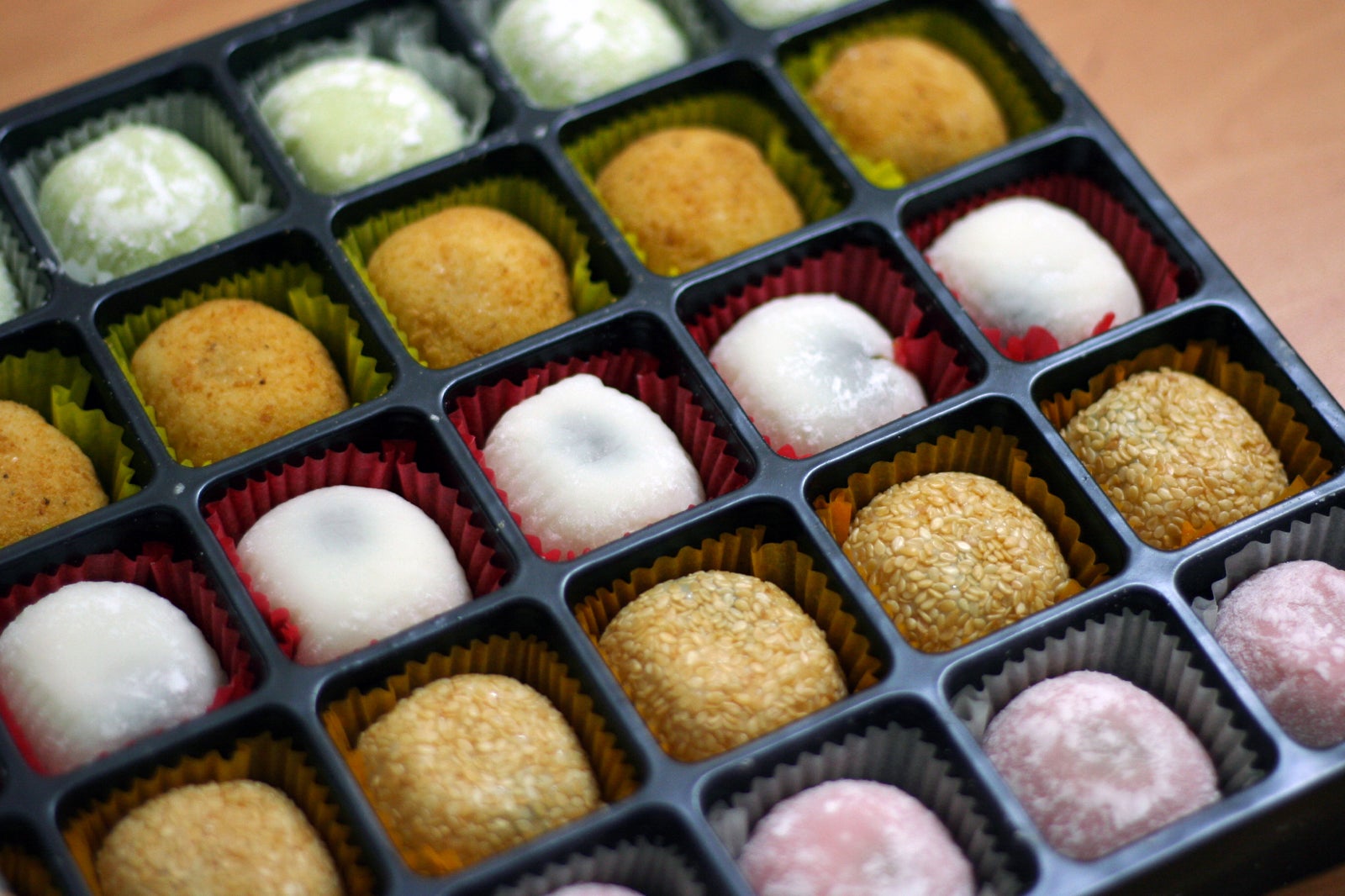 Mochi is widely sold in Hualien with each vendor offering different sets of flavours. Hualien mochi is a very popular souvenir, handmade and usually packed in a beautiful gift box. The steamed glutinous rice is pounded by hand and then filled with red beans, peanuts, sesame, and other ingredients. Hualien mochi is typically made on the day without any preservatives, so its shelf life is very short.
You may also want to try the mochi of the Amis people in Hualien, which has an amazingly chewy texture. They pound the steamed rice into mochi by hand and prepare their mochi in a traditional wooden steamer. Before serving, they add a sprinkle peanut powder on it.
7
Fried egg wheel pie (zha dan che lun bing)
Fried egg wheel pie is a popular treat that you can find at the night markets of Hualien. It's actually widely sold everywhere in Taiwan. The sweet taste often comes from red beans, taro and peanuts, while the salty taste comes from shredded radish. Even so, wheel pie sellers in Hualien have come up with new flavours by filling wheel pie with eggs and sausages and introduce a new creative food: fried egg wheel pie.
The fillings of fried egg wheel pie are mainly sausage, eggs and cheese. The sellers put eggs into the pastry to fully blend the mix. This creates an amazing 'bursty' texture. The salty taste of German sausages is perfectly matched with eggs but is not heavy at all.
8
Fried noodle gua bao (ghao mian gua bao)
Fried noodle and gua bao are very common Taiwanese snacks. The combination of both, seasoned with 'maqau', a very special spice from the lindera glauca shrub that's loved by locals, creates this unique snack of Hualien. The other main ingredients are cucumbers and onions. When ordering, you can choose roasted pork, pork belly or shredded chicken as added ingredients. The sellers fry these ingredients together with the fried noodles and put them into the steamed white bread.
You can also choose to season it with black pepper sauce, mushroom sauce or honey mustard sauce to enhance the flavour. The distinct aroma of the special shrub that's harvested from the mountains is very appealing.
9
Grilled scallop (shao gan bei)
Grilled scallop in Hualien is made from dried scallop, precious seafood that's known to be quite expensive. Even so, grilled scallop in Hualien is surprisingly an inexpensive snack. The chef would skewer a string of fully soaked scallops with wooden sticks then grill them on the stove until they're lightly charred and ready to be served. The unique taste of grilled scallop in Hualien comes from the seasoning.
You can choose these condiments on the spot, such as lemon pepper, sea salt, garlic and pepper. These seasonings are sprinkled on the scallops for grilling. With crisp skin and soft meat, it pairs perfectly with wine.
10
Peeled chili peppers (bo pi la jiao)
A few cans of peeled chilli peppers made in Hualien are great to bring back home if you want to try cooking up some soups and dishes. Chilli peppers are peeled and deseeded, fried and pickled together with wine and spices. You can enjoy it as is. They're hot and good for those who like it spicy. Snacking on them will often make you sweat, which to many is quite an experience.
People who are not used to taking chillies directly can boil them with chicken soup. Many also like to have a bowl of rice with their peeled chilli pepper.
Back to top