Getting around Palawan Province is fairly easy as there are plenty of transport options to choose from. Whether you want to base yourself in a single resort town or sample a variety of locations around Palawan, there's a mode of transport available to suit your needs.
If you stay in the centre of town, whether in Puerto Princesa City, downtown El Nido, Coron or any other village, the main way of getting from one place to the other is obviously on foot. Wherever you stay, walking around short distances, even at night, is usually safe in Palawan. However, when the distances get longer, you're going to need to resort to something with a bit more endurance, including the options listed below.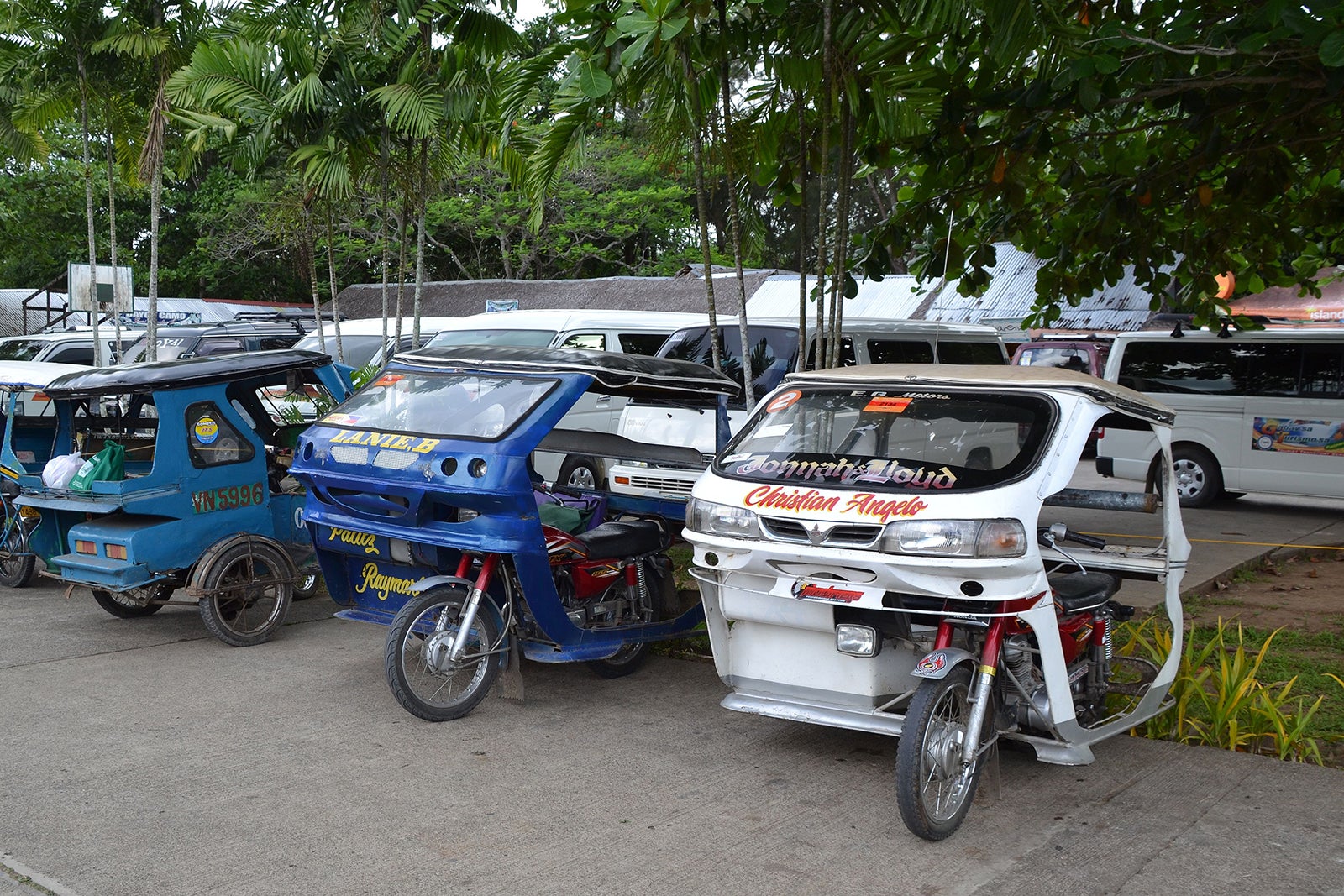 Tricycle
Extremely popular all around the Philippines and a very cheap way to cover short distances, tricycles are available throughout Palawan Province. These motorised tricycles were originally the custom-made combination of a motorbike with a sidecar, but they're now industrially manufactured due to their success, with some even now using electric motors to save the environment.
Tricycles offer the cheapest way to travel around your destination and one of the best ways to get to the remotest areas, especially in Palawan's countryside. They're usually able to transport up to 4 passengers comfortably. Note that even though fares are regulated by the authorities, it's always best to negotiate the price with the driver before you get on. On average, you can expect to pay 10 pesos per person for a 4-km ride.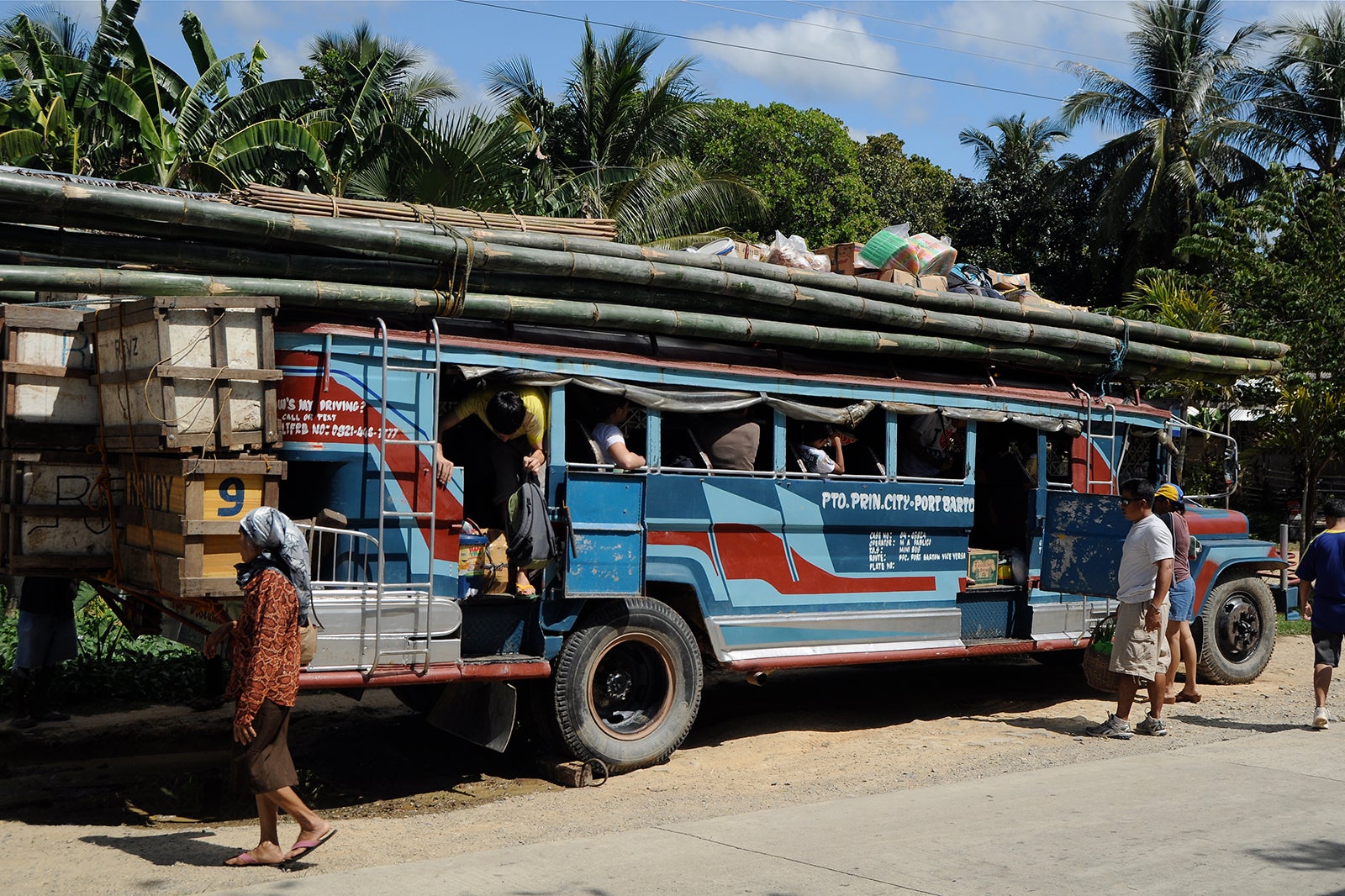 Jeepney
The jeepney is the most iconic mode of public transportation in the Philippines. These customised military jeeps can't be missed due to the vivid colours they are painted in and their reasonable fares have made them one of the most popular methods to get around the main cities, towns and villages in Palawan. They're priced similar to tricycles, so you can expect to pay 10 pesos per person for the first 4 km, then 0.50 pesos per km after that.
Jeepneys follow planned routes within municipalities and the information of exactly what that route is can be challenging to find. Also, they're not air-conditioned and they can be crowded at times. You can keep cool by sitting on the roof if it feels too hot and stuffy inside, but make sure you're wearing sunscreen!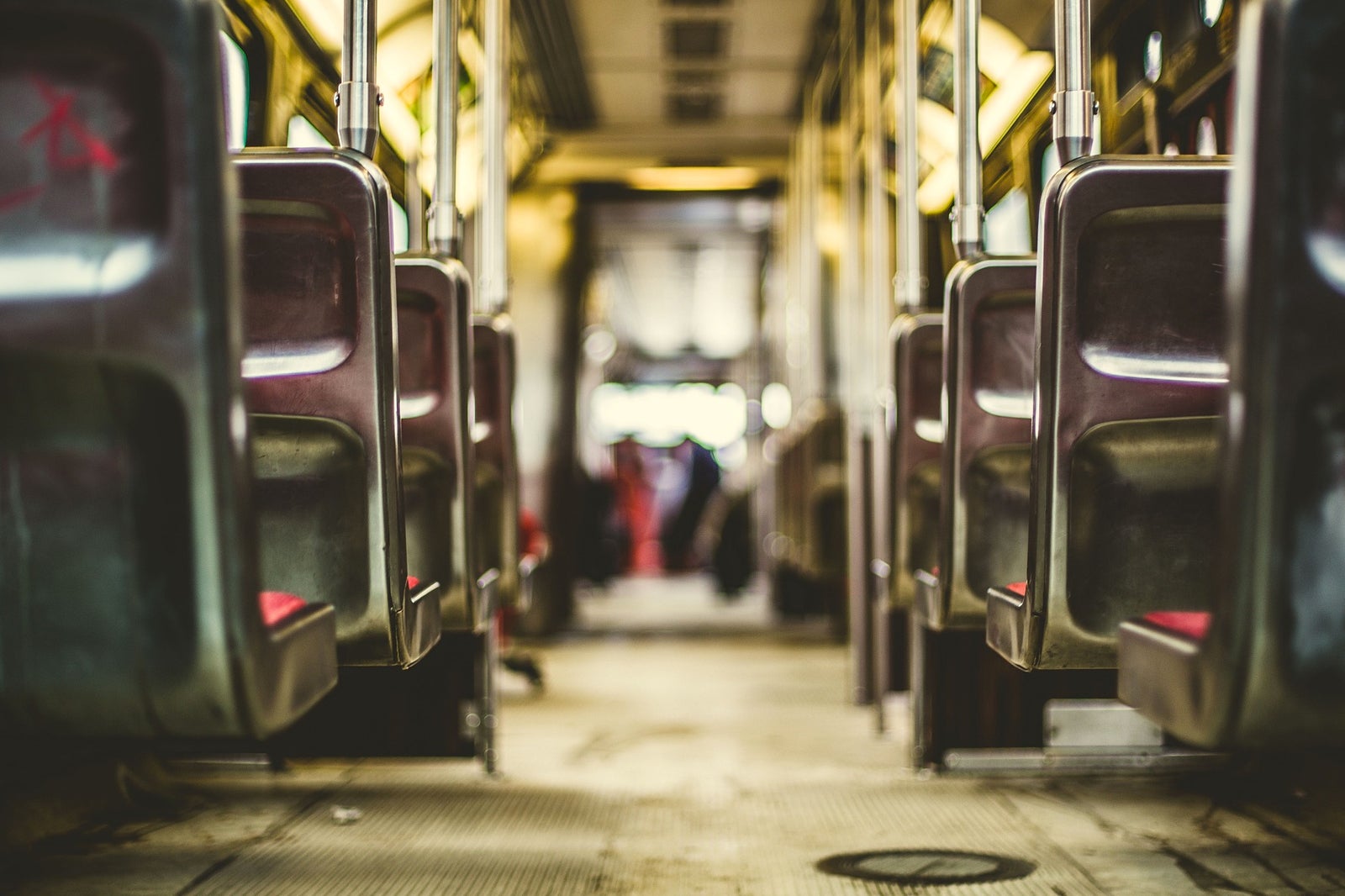 Bus and minivan
Buses and minivans offer pretty efficient transport over longer distances and are readily available across the island. They're also reasonably priced, but what you save in money, you lose in time, since the trip takes between 6 and 9 hours. Private minivans are also available to cover the 230 km that separate Puerto Princesa from El Nido.
Car and motorbike rental
Car and motorbike rentals are available in Palawan, but it's recommended to use packages which include a driver. Apart from around Puerto Princesa and along the coast, Palawan roads are not always in a good state. There's also little street lighting after dark and other drivers can be a little relaxed in their application of the rules of the road. If you want to rent a car, prices start around 2,500 pesos per day for a small car such as a Suzuki Swift or a Hyundai Eon.
As for motorbikes, you'll easily find them for rent in Puerto Princesa and El Nido, the 2 main tourist areas on Palawan Island. Options are more limited in other destinations. They are fine for short distances but are subject to the same risks already mentioned. Basic scooter rental is around 700 pesos per day.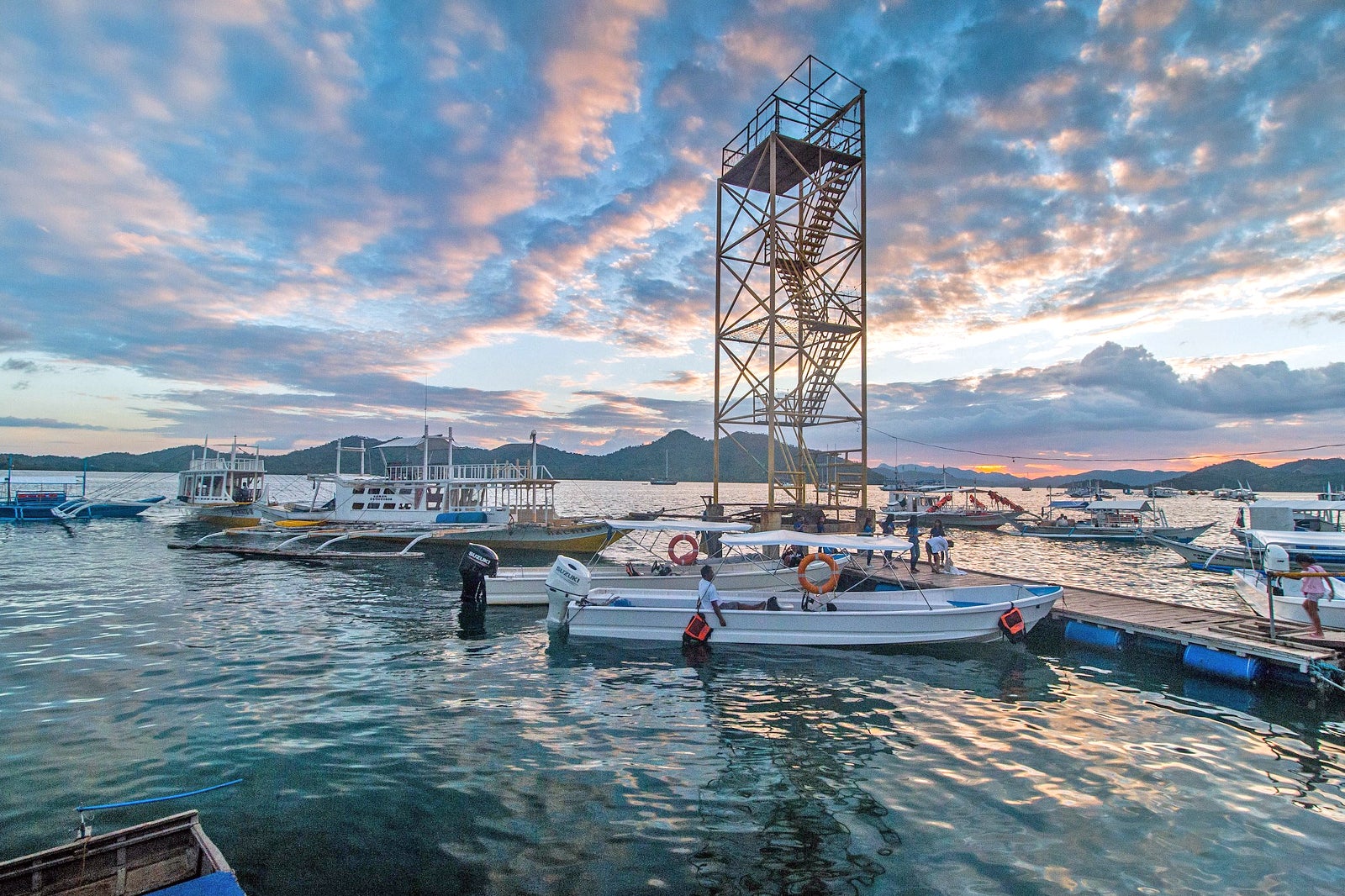 Ferries and boats
Comprising over 1,700 islands, Palawan naturally has a complex network of ferries and boats to connect destinations inside and outside the province. Puerto Princesa has the main ferry pier on Palawan Island – a ferry terminal from which you can get to destinations as far away as Cebu and Manila.
You can also travel from the capital city of the province to El Nido and Coron, the 2 major holiday resort towns toward the northern tip of Palawan. These destinations are themselves linked to each other by a daily ferry. The most economical way to get to Coron is to travel by bus from Puerto Princesa to El Nido, then to take the ferry from El Nido to Coron.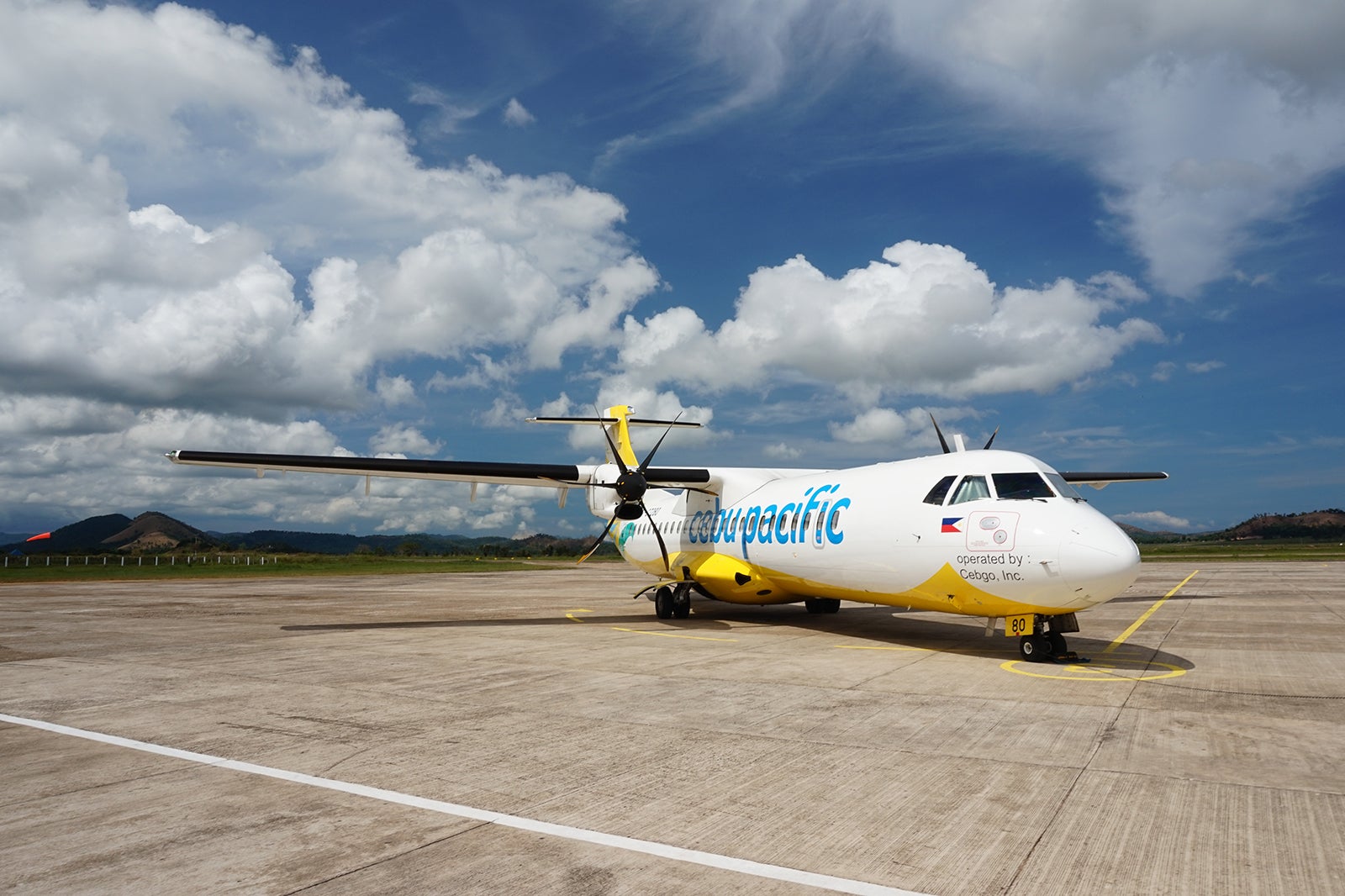 Planes
El Nido and Coron – the 2 most important holiday destinations in Palawan – have airports directly linked to Puerto Princesa International Airport. El Nido Airport (ENI) is also known as Lio Airport. It's located some 4 km out of town. Coron Airport's official name is Francisco B. Reyes Airport (USU). Both El Nido and Coron airports are Class 2 airports, used only for domestic flights. Travellers flying to these locations from overseas will need to take a connecting flight, usually through Manila.
Back to top