18 Best Shopping Experiences in Kowloon
Where to Shop and What to Buy in Kowloon
Shopping in Kowloon is the area's most popular activity as it boasts the finest markets and night markets, along with some of the best shopping malls and boutiques in Hong Kong. In fact, Kowloon can match Hong Kong Island for range and quality of brands, and definitely beats it when it comes to discount fashion and jewellery from the markets.
Visitors are often amazed at the seemingly endless amount of top-end designer stores in Hong Kong, and the harbourfront area around Tsim Sha Tsui MTR Station has them in abundance. But if you are looking to stretch your budget further, head up to Mong Kok and take a look around. Kowloon's shopping options prove you don't have to break the bank to pick up some cool new items when you're in Hong Kong.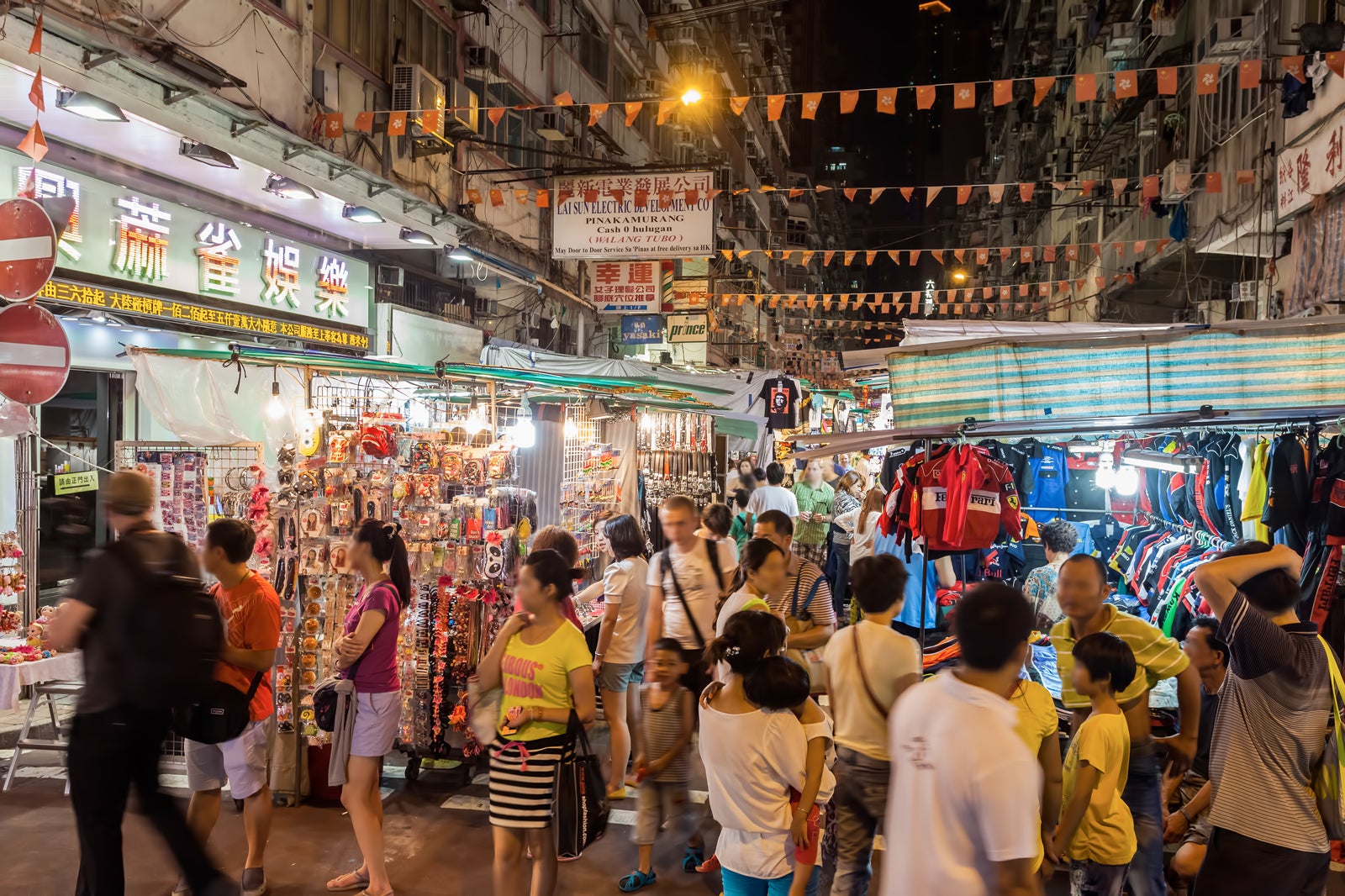 Temple Street Night Market
Temple Street Night Market is the largest market in Hong Kong so it's a firm fixture on the shopping itineraries of most visitors to Hong Kong. You'll find all sorts here: clothes, bags, shoes, watches, DVDs, home furnishings and plenty of souvenirs. It gets going around sunset and lasts until around 11pm. Never accept the first price as bargaining is all part of the fun at Temple Street Night Market.
Location: Temple St, Jordan, Hong Kong
Open: Daily from 5pm to 11pm
photo by Diego Delso (CC BY-SA 3.0) modified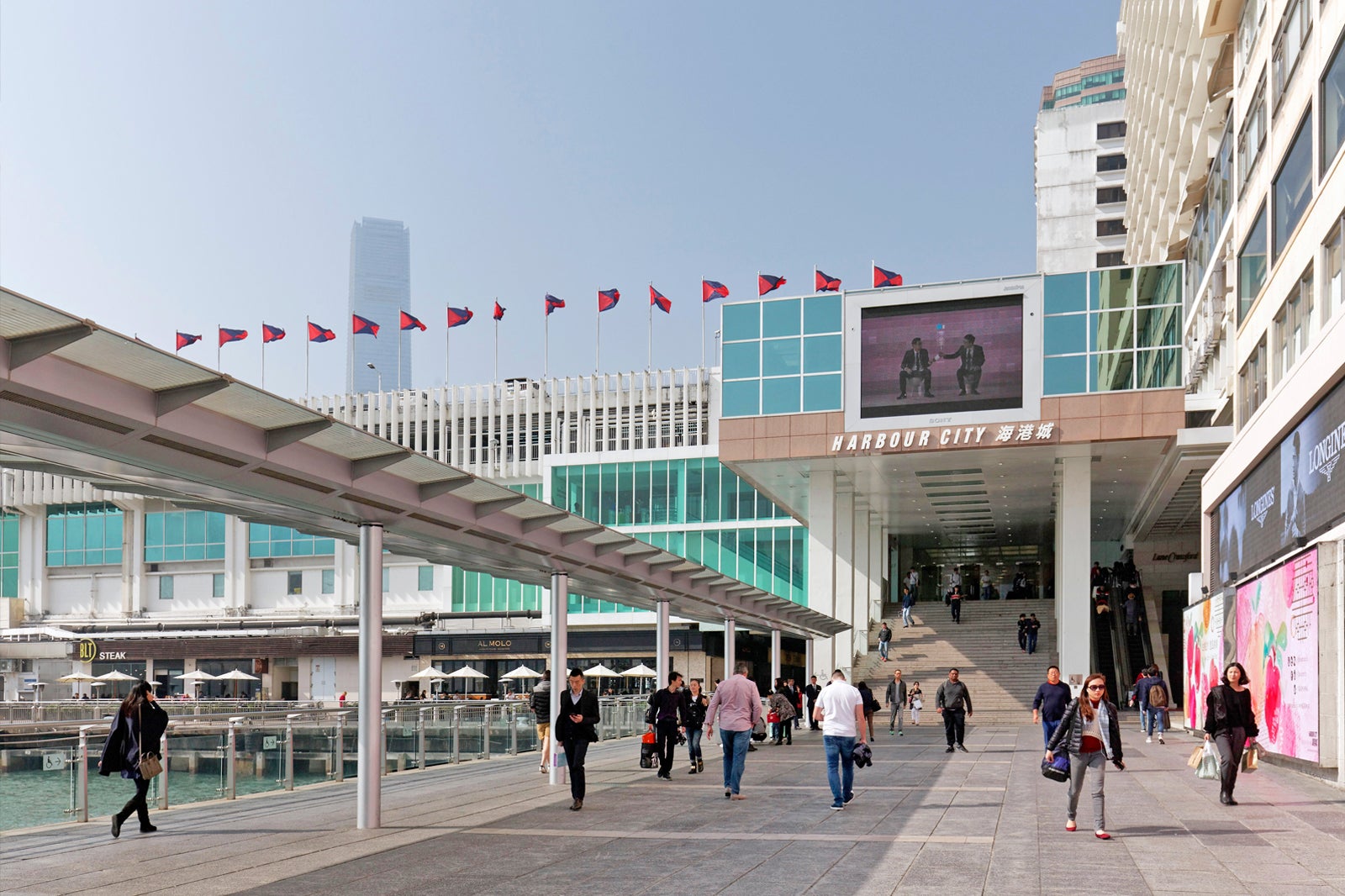 Located in a huge hangar-like complex running along the harbour in Tsim Sha Tsui, Harbour City is home to over 700 shops and pretty much any regional cuisine you might fancy. The mall is divided up into 5 different areas – Ocean Terminal, Marco Polo Hong Kong Hotel Arcade, Ocean Centre, Star Annex and Gateway Arcade – but owing to the sheer size of the shopping mall, finding individual shops can be tough.
We recommend picking up a map at the information counter at reception. Designer label stores such as Hermes and Chanel occupy the anchor stores facing Canton Road.
Location: 3–27 Canton Road, Tsim Sha Tsui, Kowloon, Hong Kong
Open: Daily from 10am to 10pm
Phone: +852 2118 8666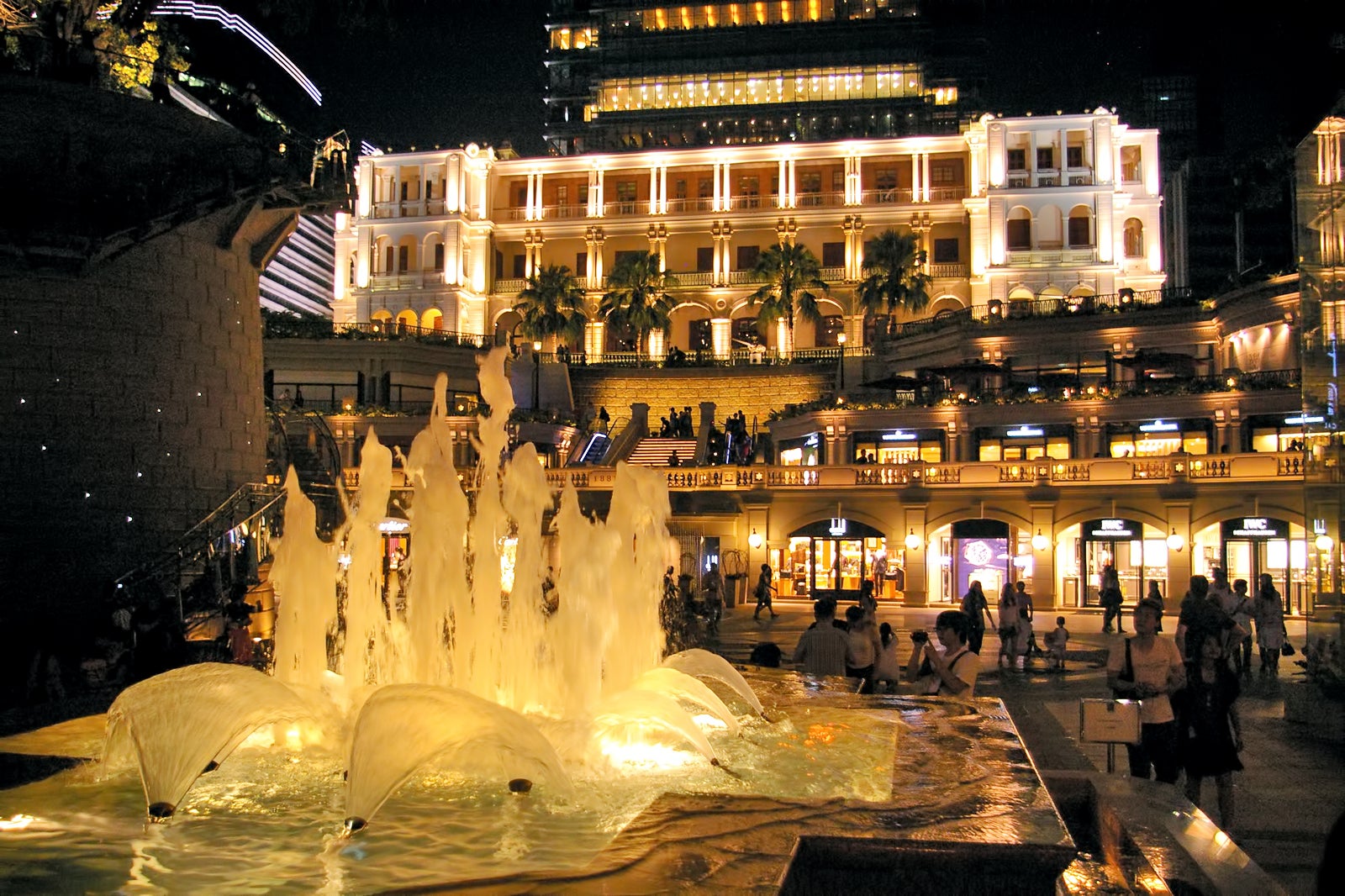 The palatial 1881 Heritage shopping complex is the place to pick up the latest collections from the world's premier fashion and jewellery houses. Boutique stores here that stock limited edition collections include Shanghai Tang, Jaeger Couture, Cartier, and Van Cleef & Arpels.
1881 Heritage is a Declared Monument, meaning it's protected for its cultural importance as the former headquarters of Hong Kong's Marine Police Force. The architecture is immediately indicative of Victorian Britain, with ornate bannisters and arched entryways. Part of Heritage 1881 is the exclusive hotel Hullet House.
Location: 2A Canton Road, Tsim Sha Tsui, Kowloon
Phone: +852 2926 8000
Shoppers
History
Photo
Food
Luxury
photo by Jakub Hałun (CC BY-SA 4.0) modified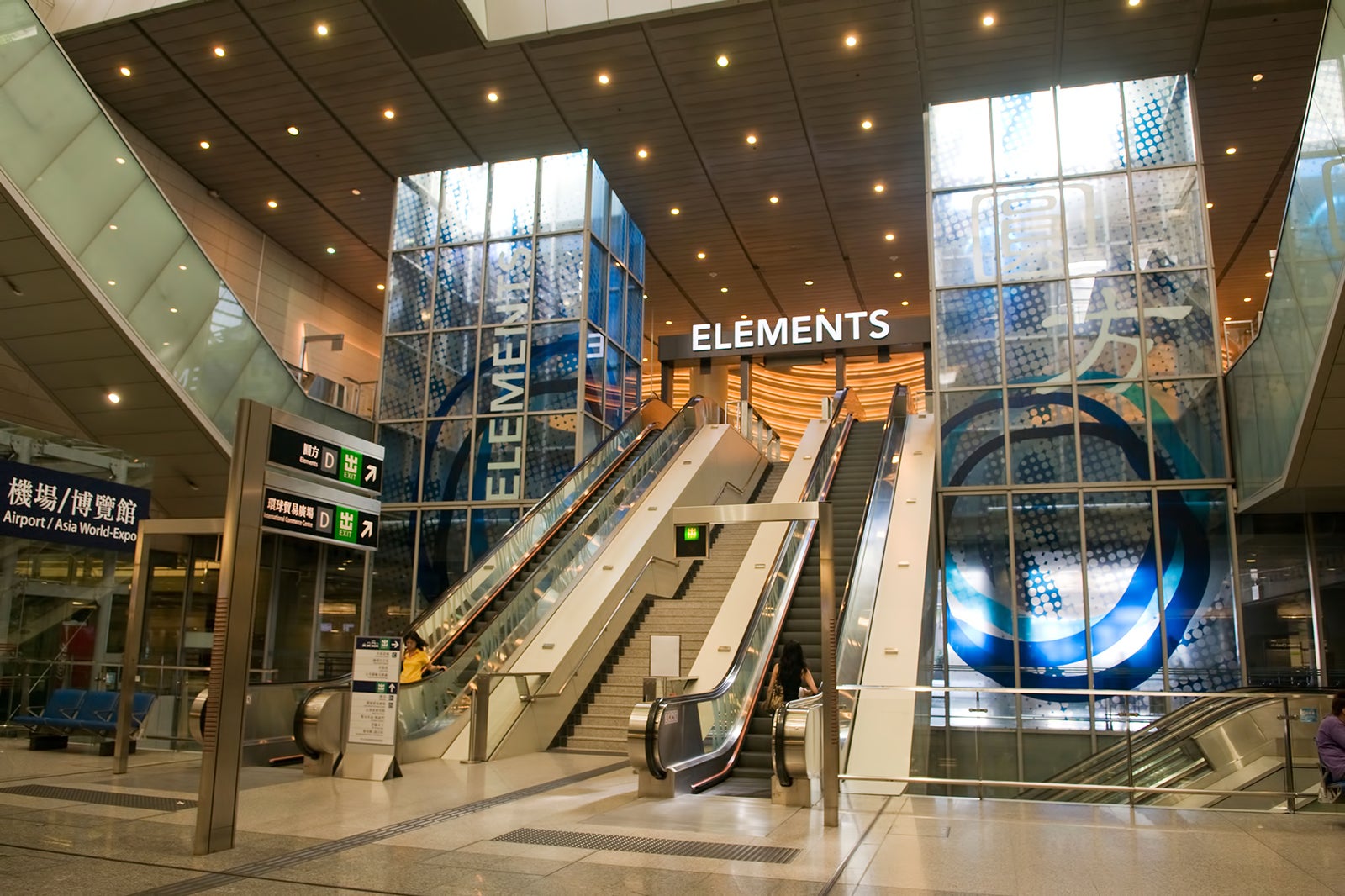 Elements is a shopping mall with a fantastic collection of top-end and mid-range fashion stores, as well as a whole host of entertainment options. It's got an ice rink, a multiplex cinema and many dining options.
Split up into different zones based around the 5 elements of metal, wood, water, fire and earth, Elements is very well laid out and particularly popular for families. Complimentary pushchairs and wheelchairs are available at reception. Located directly above Kowloon MTR Station, Elements also has direct access into The Ritz-Carlton Hong Kong.
Location: 1 Austin Rd W, Tsim Sha Tsui, Kowloon, Hong Kong
Open: Daily from 10am to 9pm
Phone: +852 2735 5234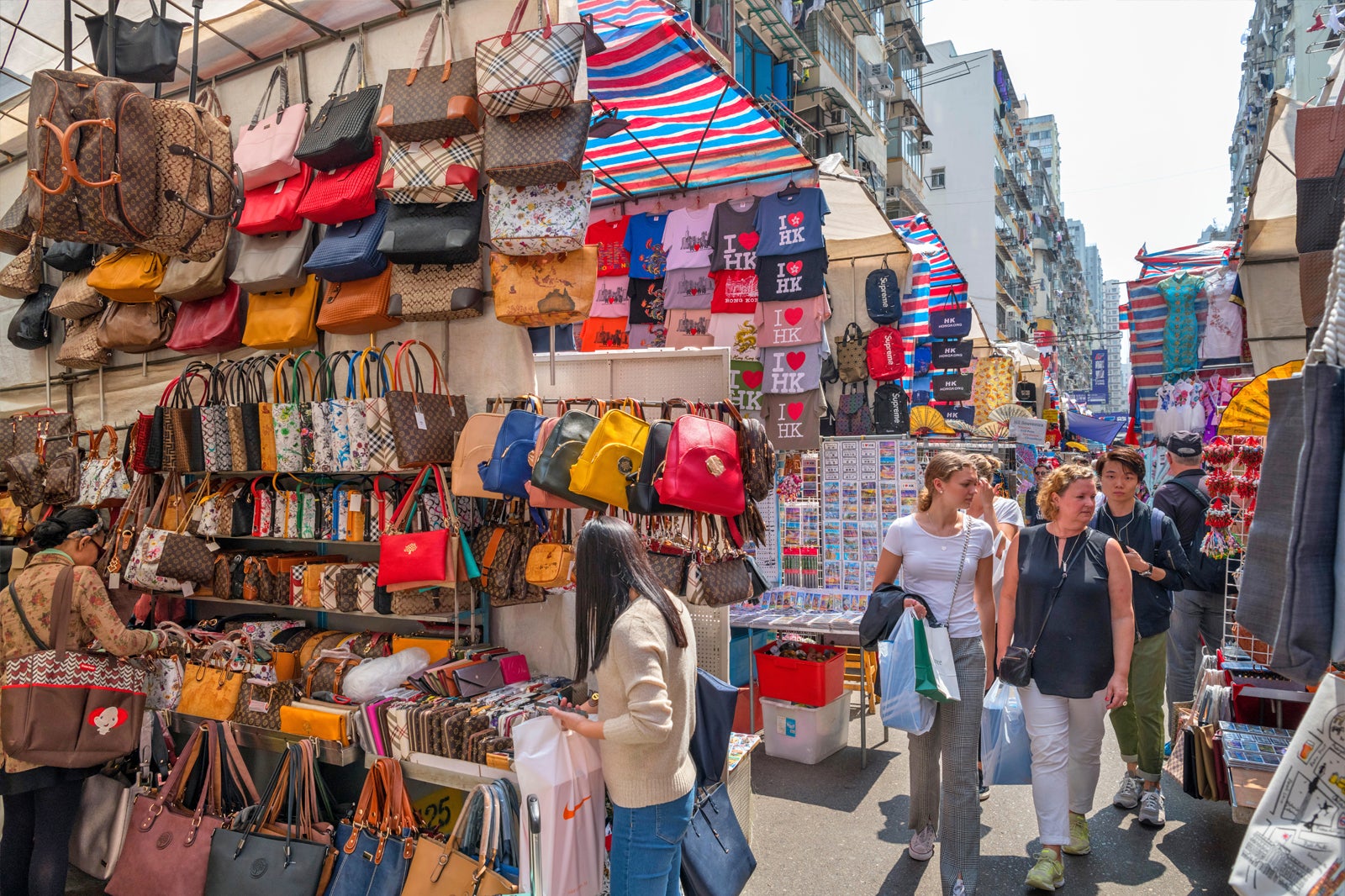 Ladies' Market is a bustling shopping street in Mong Kok with stall after stall of clothes, shoes, fashion jewellery and tourist souvenirs. From one side to the other it's about 1 km and it gets very crowded, especially on weekends. Expect the quality of items to vary massively, and be prepared to bargain hard because the aunties running the stalls will start with inflated prices every time, expecting you to haggle them down.
Ladies' Market is located in the Mongkok area of Kowloon, just off Nathan Road. Take the MTR to Mong Kok. The market opens at midday but really gets going in the mid-afternoon and stays open until 11pm every day.
Location: Tung Choi Street, Mong Kok, Hong Kong
Open: Daily from 11am to 11.30pm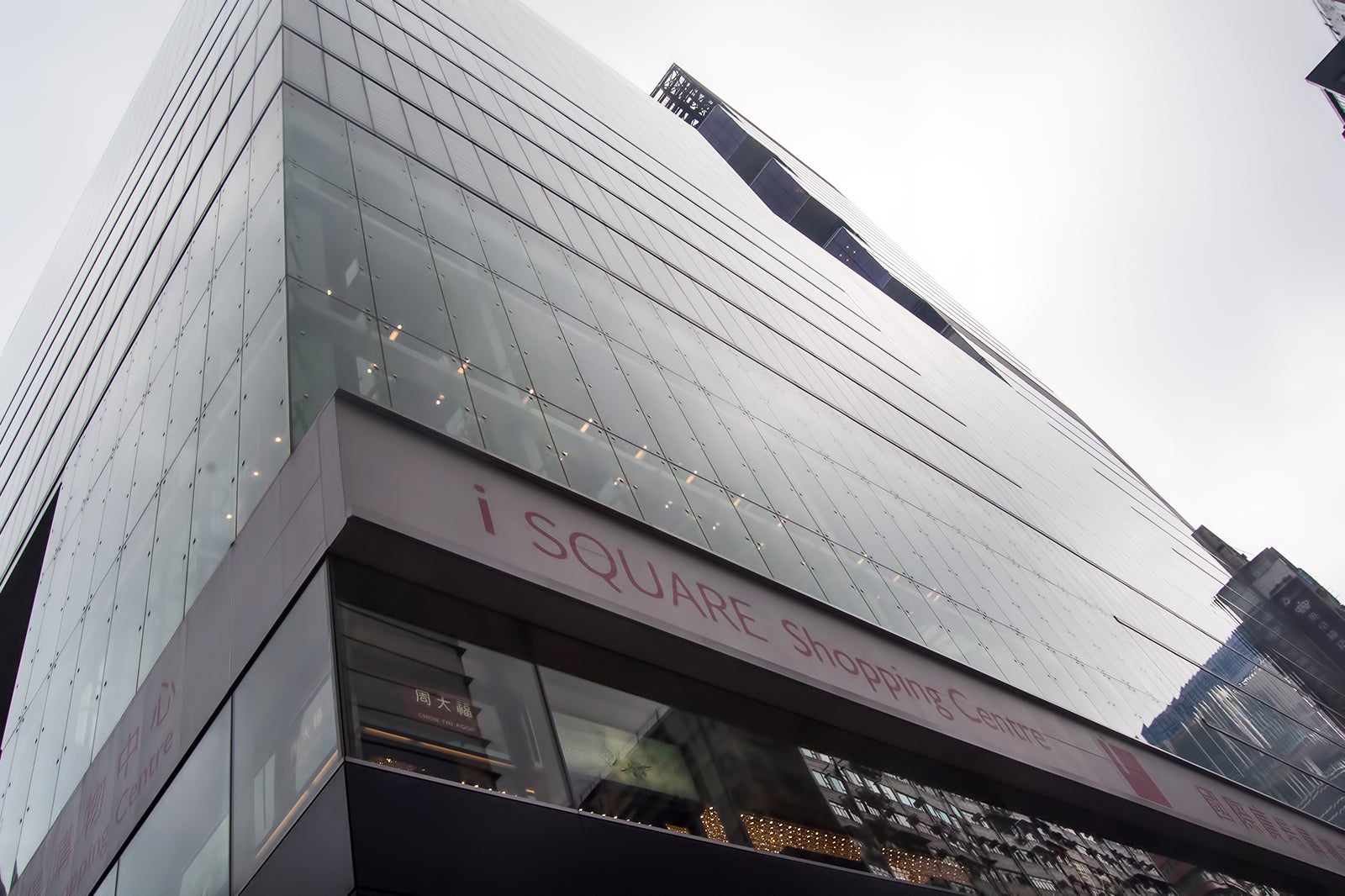 iSQUARE is a shopping and entertainment complex on Nathan Road. It consists of 12 floors of shopping and a further 12 floors of dining and entertainment. That sounds like a lot but bear in mind that each floor is quite compact. Some of the most high-profile brands on offer at iSQUARE include Marks & Spencer, BOSE, Elle, Crocs, HMV and Market Place by Jasons, a luxury supermarket.
With an IMAX cinema (the biggest in Hong Kong), Eyebar (a highly recommended rooftop bar), and lots of restaurants, there is plenty to occupy the whole family here.
Location: 63 Nathan Road, Tsim Sha Tsui, Kowloon
Phone: +852 3665 3333
photo by Meraj Chhaya (CC BY 2.0) modified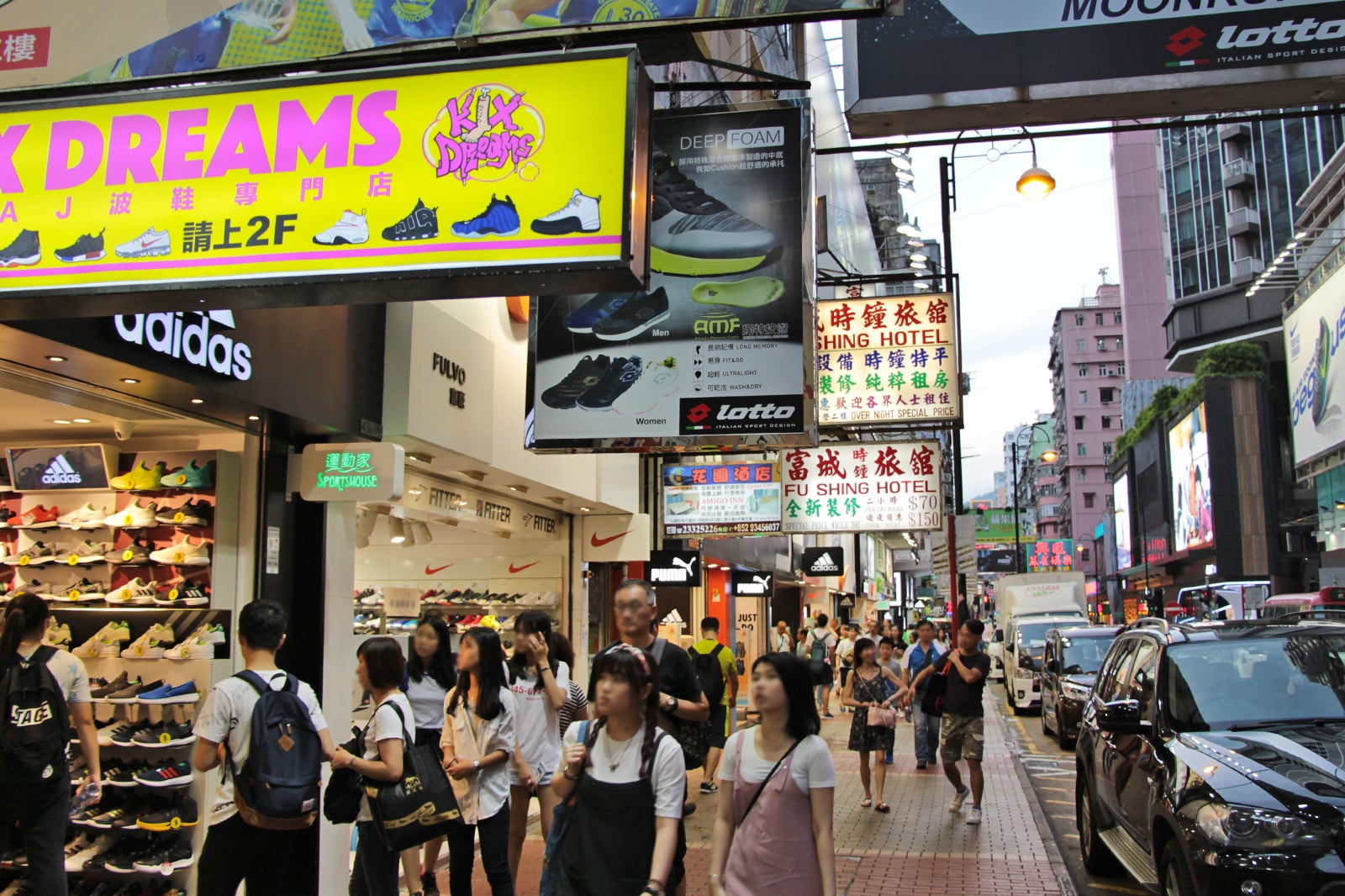 Fa Yuen Market is the local Hong Konger's equivalent of Temple Street Night Market. Both markets stock similar sorts of products (fashion and apparel, cheap jewellery, electronics, etc.), but this one has items catering more to locals. On Sundays, many housemaids from the Philippines and Indonesia come here to enjoy their day off.
Fa Yuen Street Market is particularly popular for shoes and trainers, giving it the nickname of Sneaker Street. It's located in between the Mong Kok and Prince Edward MTR stations.
Location: 75 Fa Yuen St, Mong Kok, Kowloon, Hong Kong
Open: Daily from 11am to 11pm
photo by ThomasMomas (CC BY-SA 4.0) modified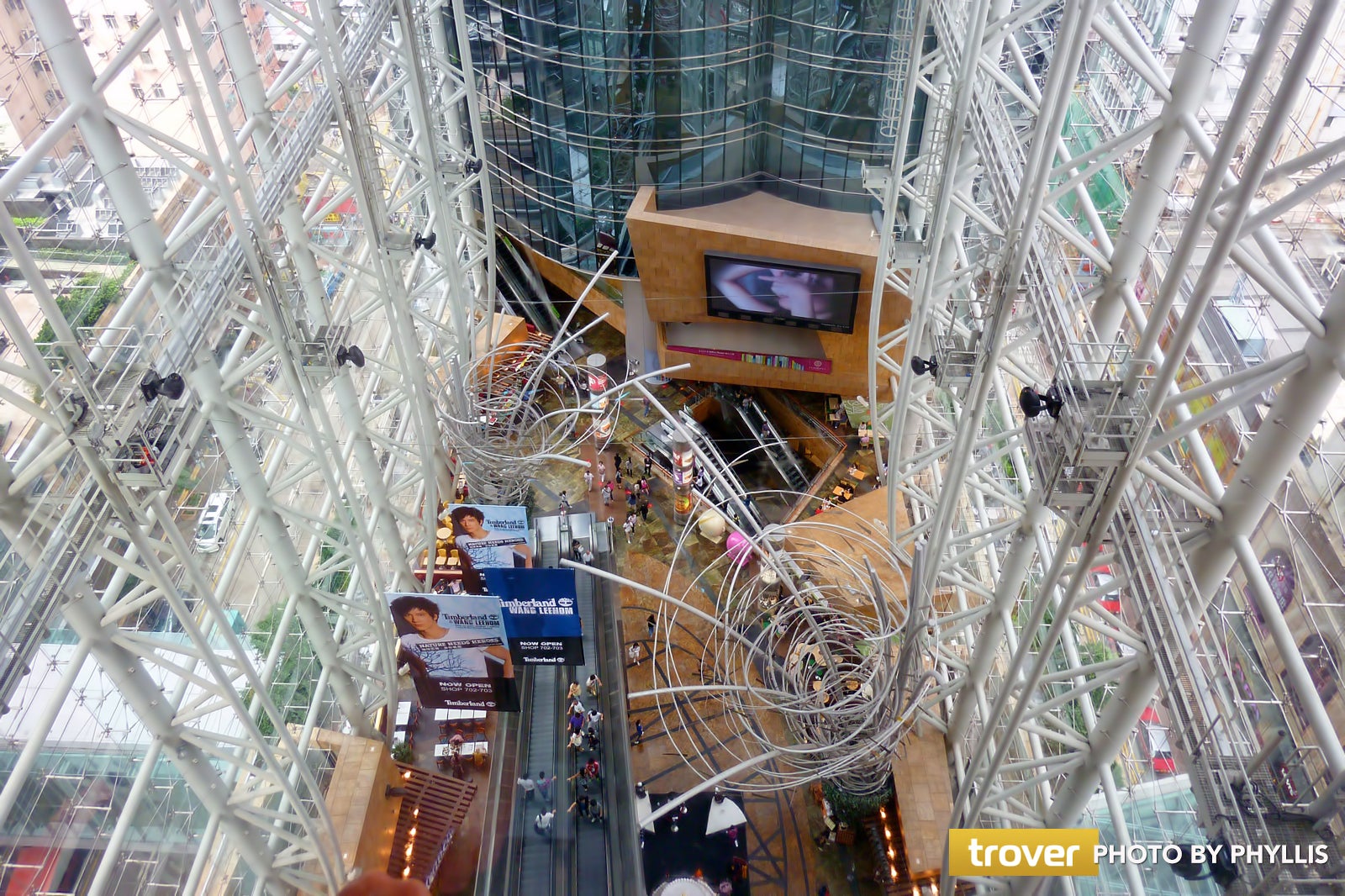 Langham Place Shopping Mall
Langham Place Shopping Mall and is one of the best places in Hong Kong to buy international beauty products from the world's top brands. It also stocks an excellent range of fashion jewellery and accessories from the likes of Pandora and Accessorize.
Another big draw at Langham Place is the Japanese luxury department store Seibu, which stocks plenty of Japanese brands which are hard to find elsewhere. Show your passport at the reception to receive the 'LP Card', which entitles you to instant discounts and exclusive offers.
Location: 8 Argyle Street, Mongkok, Kowloon, Hong Kong
Open: Daily from 11am to 11pm
Phone: +852 3520 2800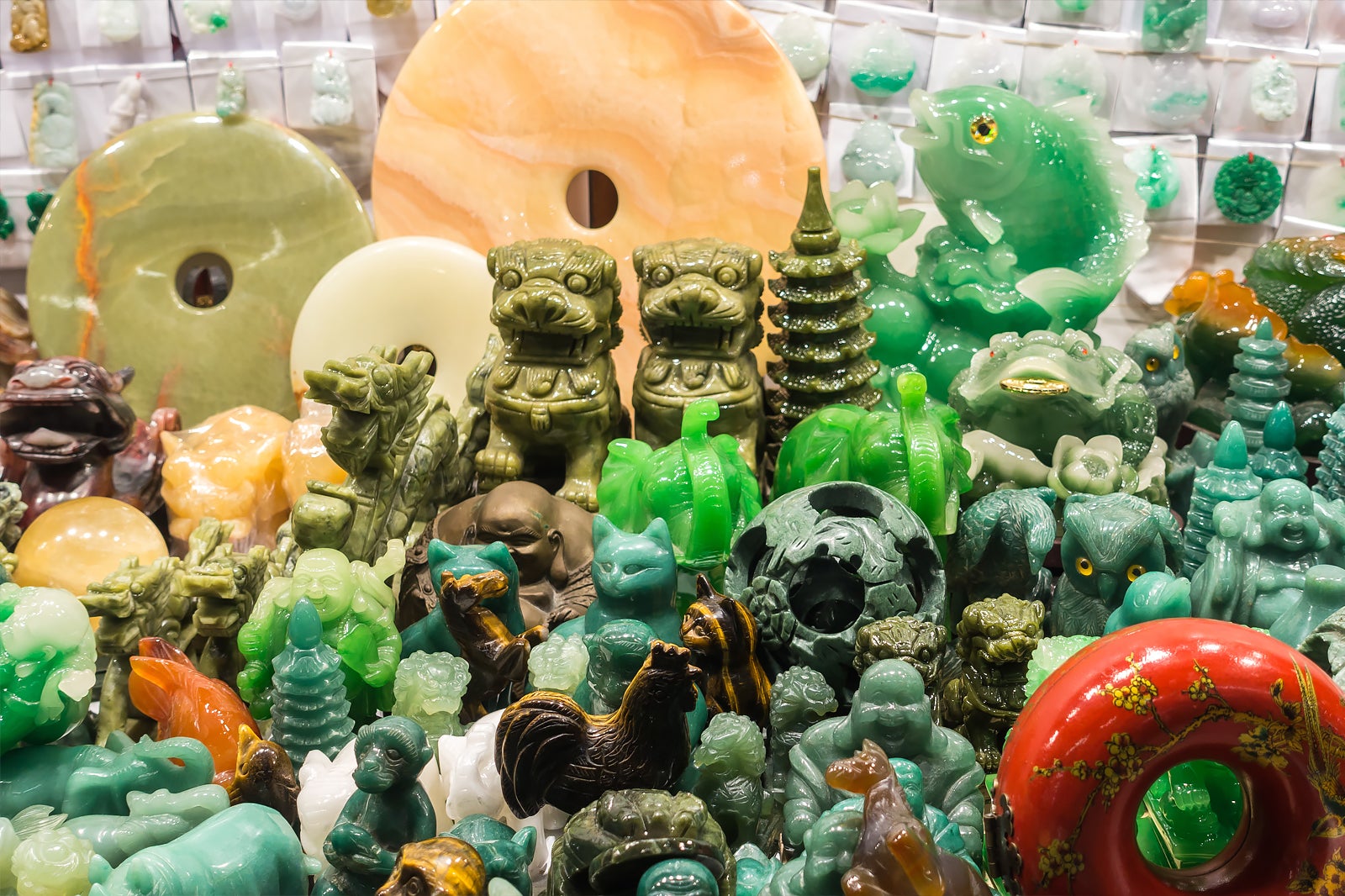 Jade Market is a collection of traders all dealing in fashion jewellery, ornaments, rings, pendants – anything made from the semi-precious stone jade, in fact. The street next to the undercover market houses a whole row of shops and traders dealing in jade and other precious stones.
The quality of the jade is usually reflected in the price, and although the purest green stones are very expensive, it's also possible to pick up some rather inexpensive items – typically yellow or brown jade. The closest MTR station to the market is Yau Ma Tei Station.
Location: Junction of Kansu Street and Battery Street, Yau Ma Tei, Kowloon, Hong Kong
Open: Monday–Saturday from 11am to 5.45pm (closed on Sundays)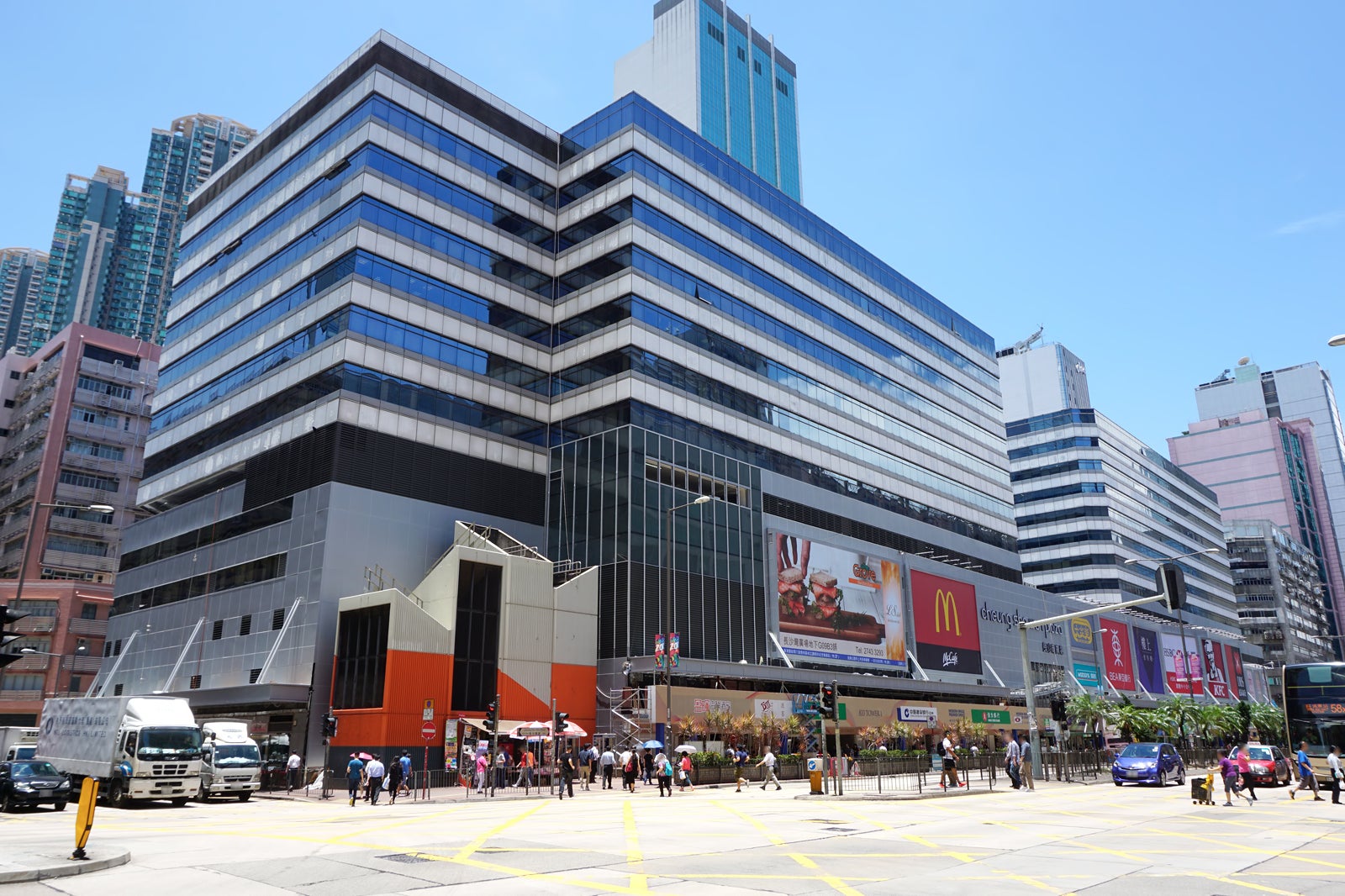 Cheung Sha Wan Road Fashion Street
Cheung Sha Wan Road Fashion Street is the best place in town to buy cool threads at wholesale prices. Most of the shops are located between Wong Chuk Street and Yen Chow Street.
The clothes are generally extras from clothes factories in and around Sham Shui Po, with a few rejects added for variety. A lot of the dealers running the shops are genuinely knowledgeable about what they're doing so you're in good hands and will be able to get some excellent deals and bargains.
Location: Cheung Sha Wan Road, Sham Shui Po, Kowloon, Hong Kong
photo by Exploringlife (CC BY-SA 4.0) modified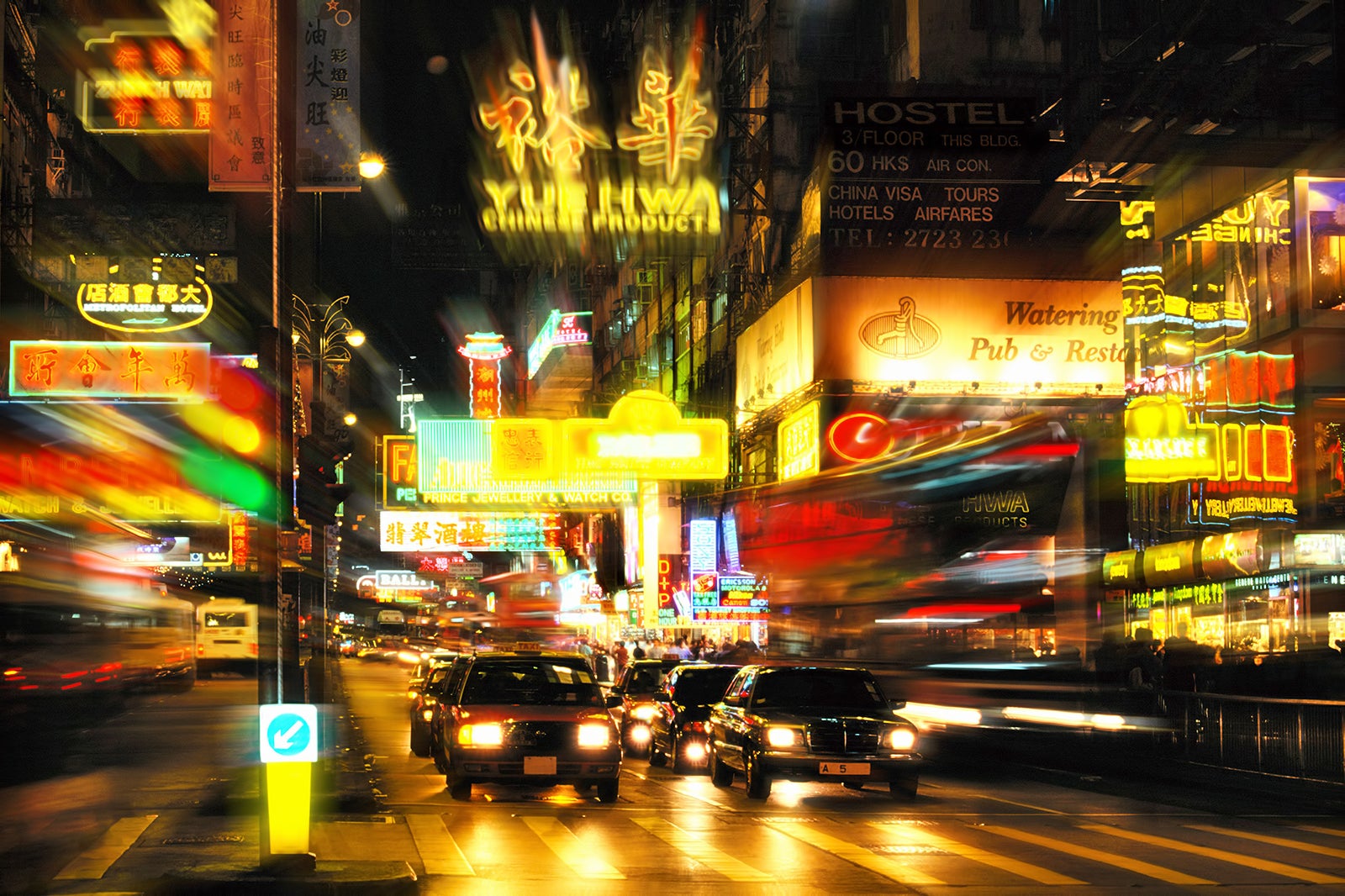 Nathan Road and Park Lane Shopper's Boulevard
Put simply, Nathan Road is the major shopping area of Kowloon. Starting from the Tsim Sha Tsui Promenade, Nathan Road runs the whole length of Kowloon. The lower part of the road, marked at one end by the Tsim Sha Tsui Promenade and the other end by the Jordan MTR Station, is the place to go if you are bargain hunting. Everything – from tacky stores aimed at tourists to high-class brand names – can be found in this district.
Halfway along, between the Tsim Sha Tsui and Jordan MTR Stations, along the Nathan Road side of Kowloon Park, is the Park Lane Shopper's Boulevard. It's here where you'll find a gaggle of stunning boutiques stocking both international and local brands.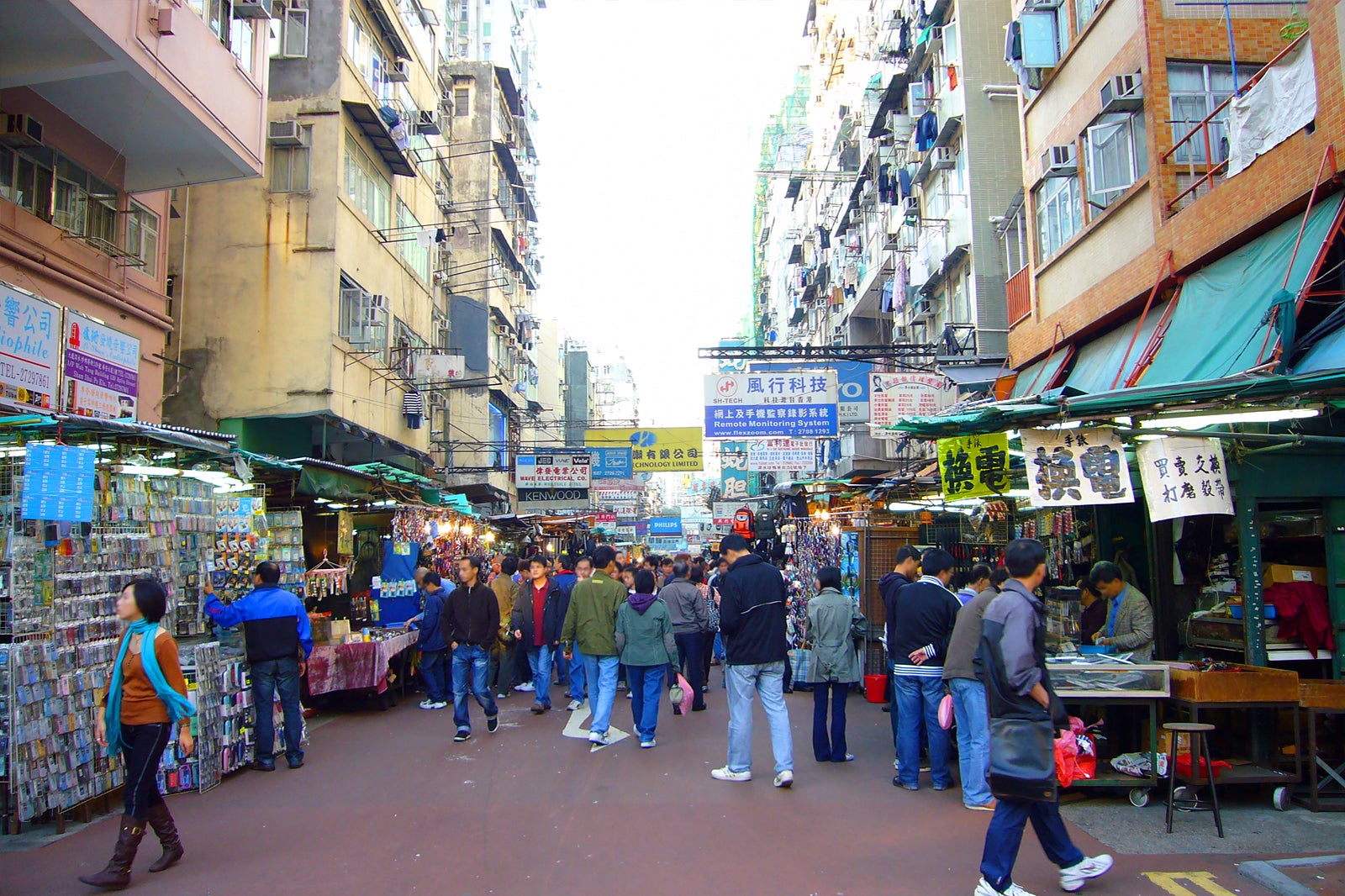 Apliu Street Flea Market really is the place to come for cheap, second-hand and new electronics in Hong Kong. Situated just north of the more popular Temple Street Market in Kowloon, many would argue that this more local-feeling market is a much better place to grab a bargain, even if there isn't as much on sale.
Those looking for cheap phones, TVs, computers, tablets, radios, stereos, DVDs and household electrical items will easily find what they're looking for. While the emphasis at Apliu Street is firmly on the gadgets, some stalls also sell cheap clothes, watches, accessories and antiques.
Location: Apliu Street Flea Market, Apliu Street, Kowloon, Hong Kong
Open: Daily from 9am to 5pm
photo by Pathogenhk (CC BY-SA 4.0) modified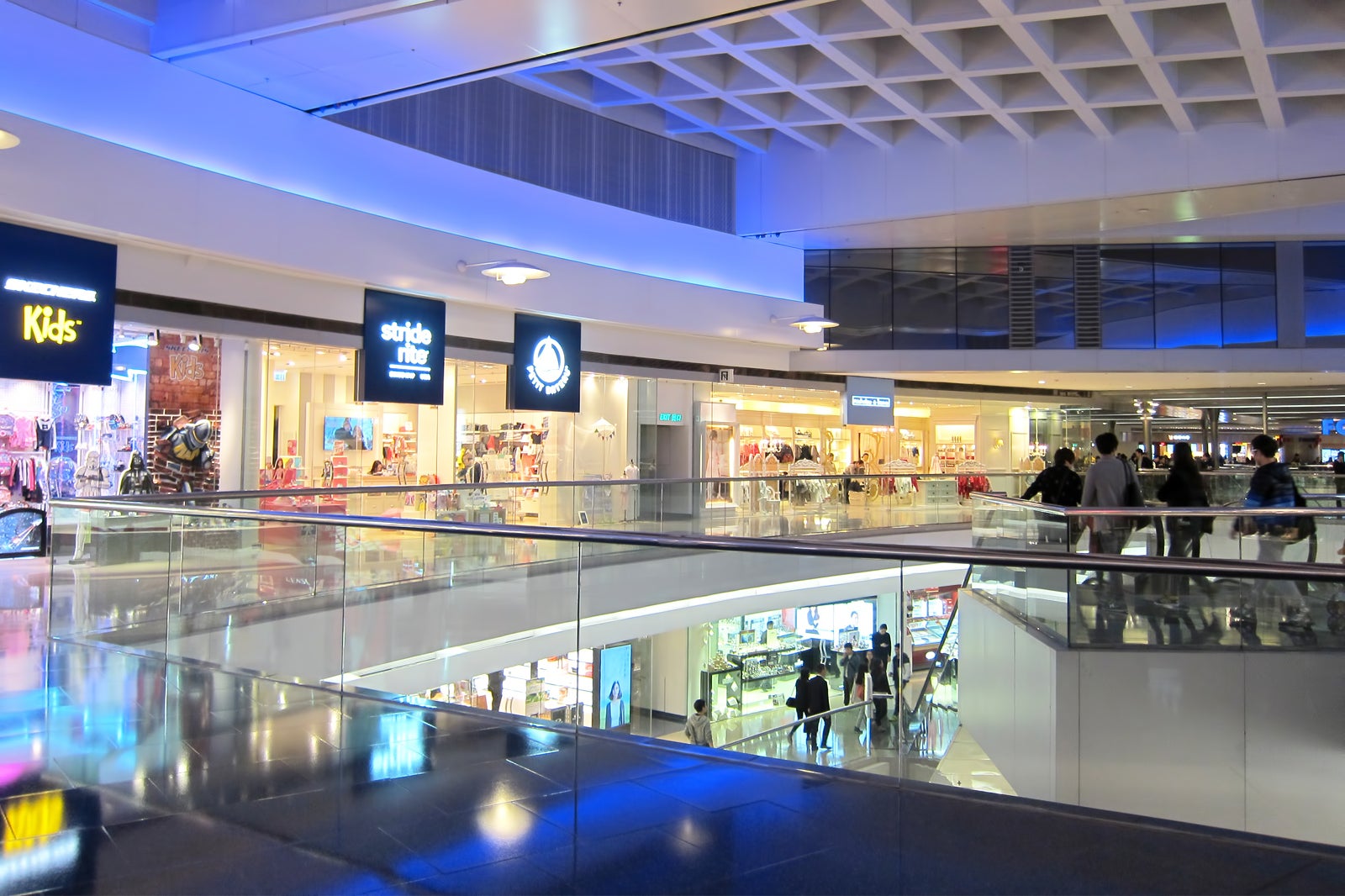 Festival Walk in Kowloon Tong is one of the most popular shopping malls in town. Bathed in natural light, there are countless retail outlets offering everything from home furnishings to fashion in this vast complex.
In addition to the fabulous shopping, you'll find many restaurants and bars, Hong Kong's largest ice-skating rink and a multiplex cinema. It's conveniently located right above the Kowloon Tong MTR Station.
Location: 80 Tat Chee Ave, Kowloon Tong, Hong Kong
Open: Daily from 7am to midnight (hours may vary)
Phone: +852 2844 2222
photo by WiNG (CC BY-SA 4.0) modified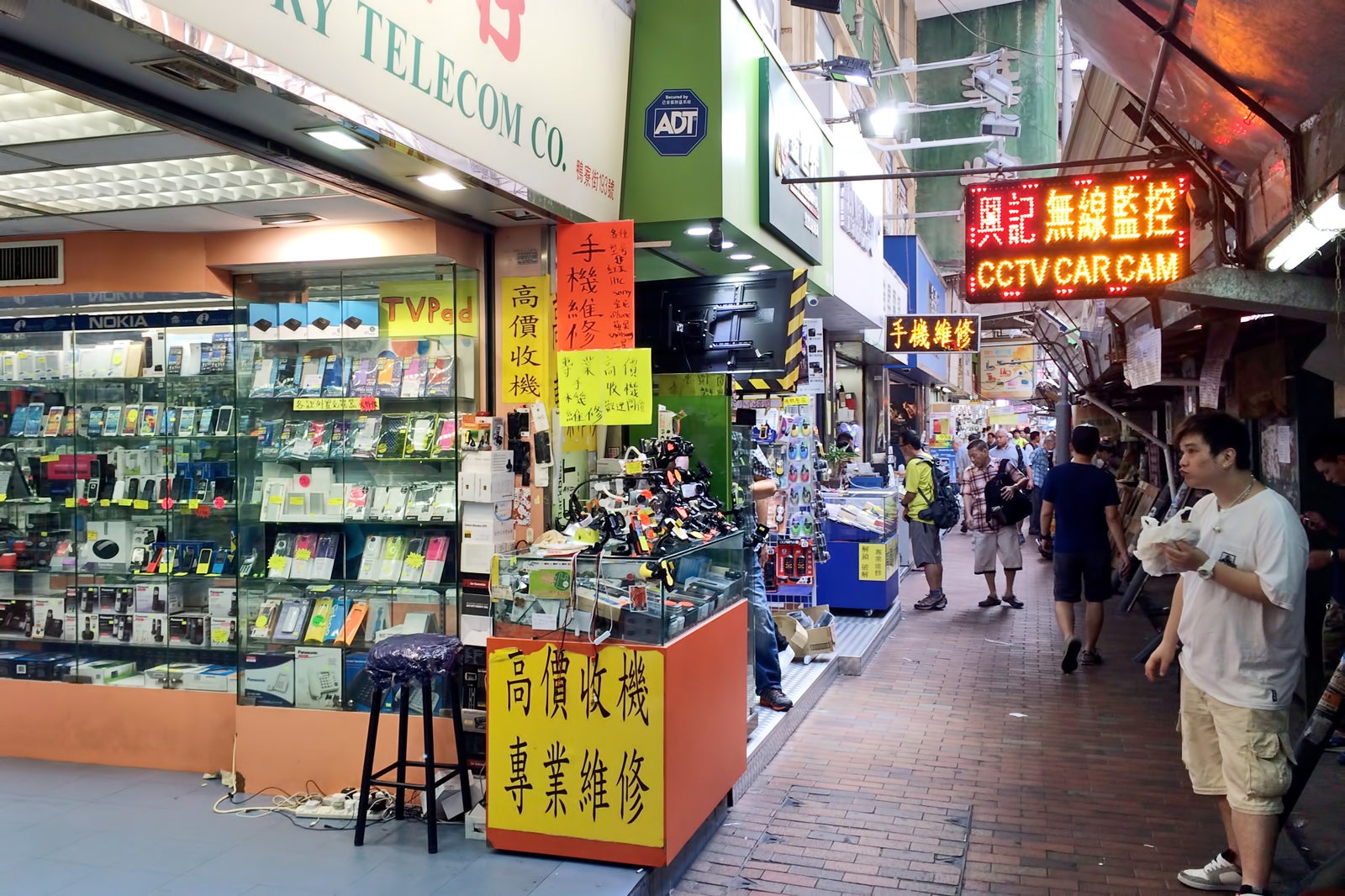 Sham Shui Po is well known for its electronic gadgets for sale on the street and indoors. Here, you'll be able to pick up virtually any computer product at a price that beats anywhere else in Hong Kong. Once infamous for pirated software but today considered one of the cheapest places in Hong Kong (if not the world) to get a personal computer, the Golden Shopping Centre is a prominent IT shopping centre.
Location: Sham Shui Po, Hong Kong
photo by Wing1990hk (CC BY 3.0) modified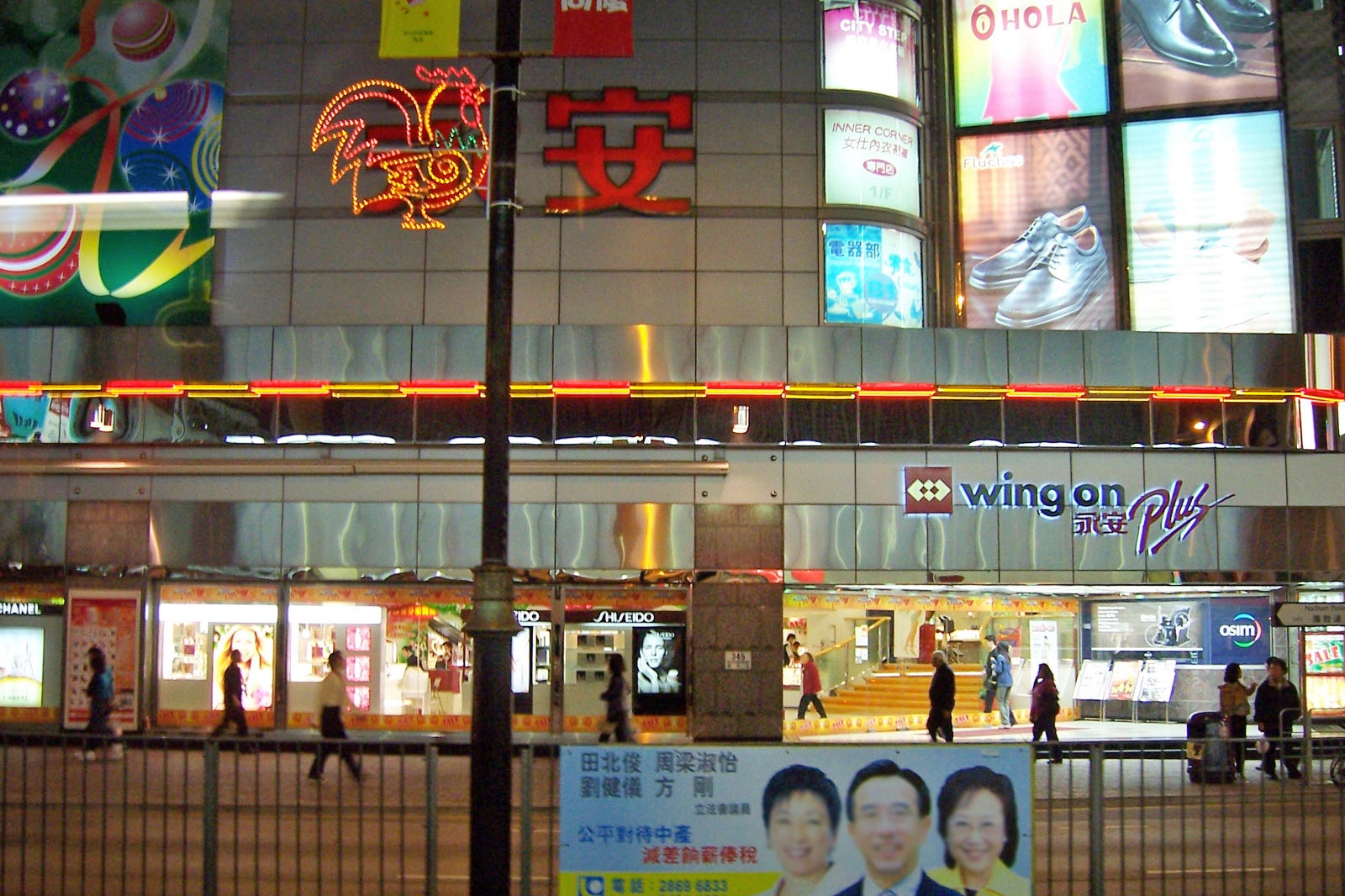 Wing On is a household name across Hong Kong, well-known as one of the most established department stores. The Wing On Plus, Yau Ma Tei branch at the Kowloon Centre on Nathan Road is a great place for frugal shoppers to buy household items, electrical appliances, kids' toys, clothing and accessories.
Although Wing On isn't the best place to go shopping for fashionable clothes or cutting-edge designer footwear, it's great for snapping up practical items and especially home basics including kitchen items from brands like Philips and Kenwood.
Location: Wing On Kowloon Centre, 345 Nathan Road, Kowloon, Hong Kong
Open: Daily from 10am to 10.30pm
Phone: +852 2710 6288
photo by Enochlau (CC BY-SA 3.0) modified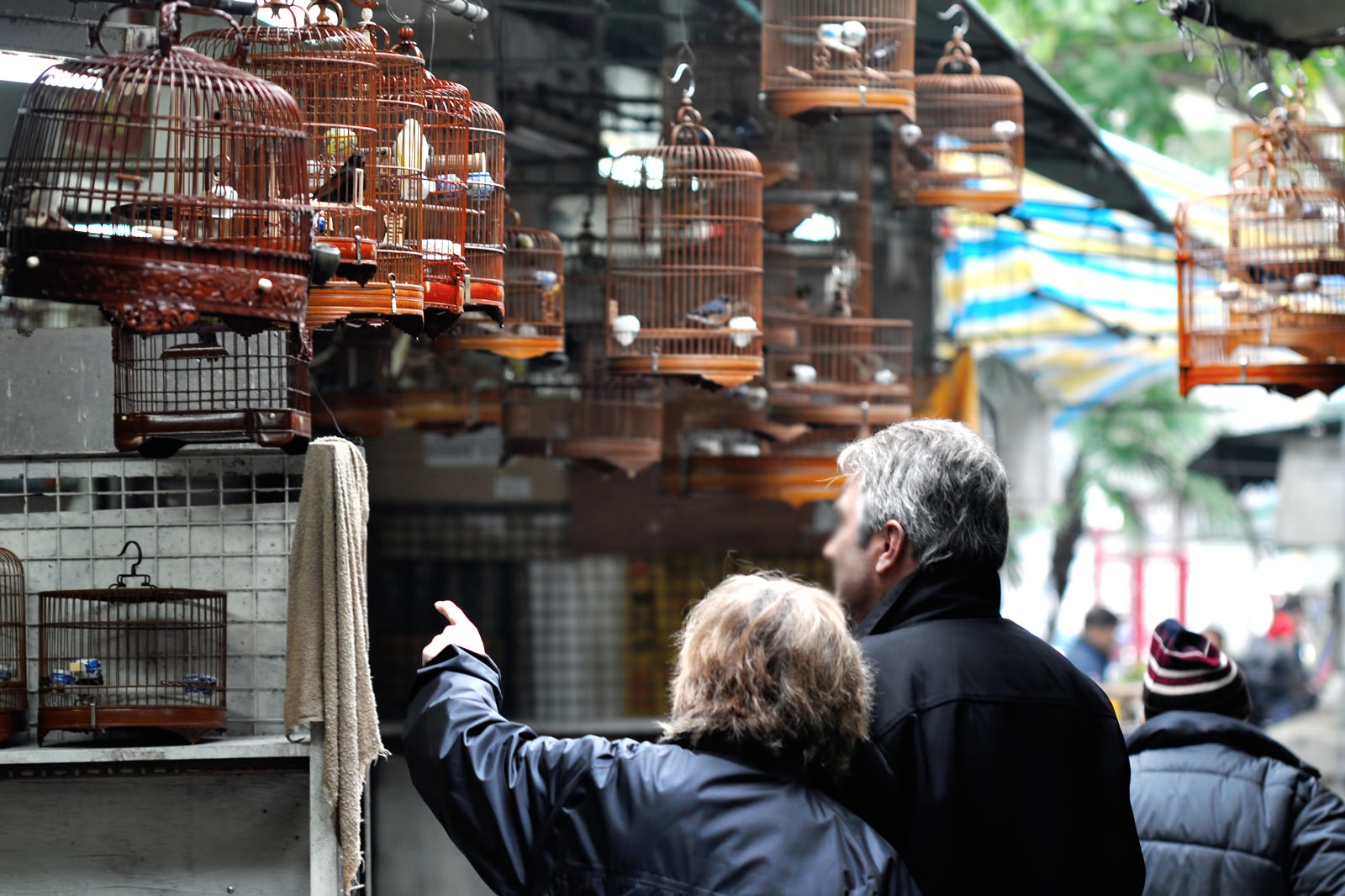 Many beautiful birds can be seen at the Hong Kong Bird Market. This Chinese-style market also has a selection of traditional bird-keeping paraphernalia. Located on Yuen Po Street, the market contains some 70 songbird stalls as well as interesting courtyards and moon gates.
Location: 37 Yuen Po St, Mong Kok, Kowloon, Hong Kong
Open: Daily from 5pm to 8pm
Couples
Families
Shoppers
Photo
photo by Michael Elleray (CC BY 2.0) modified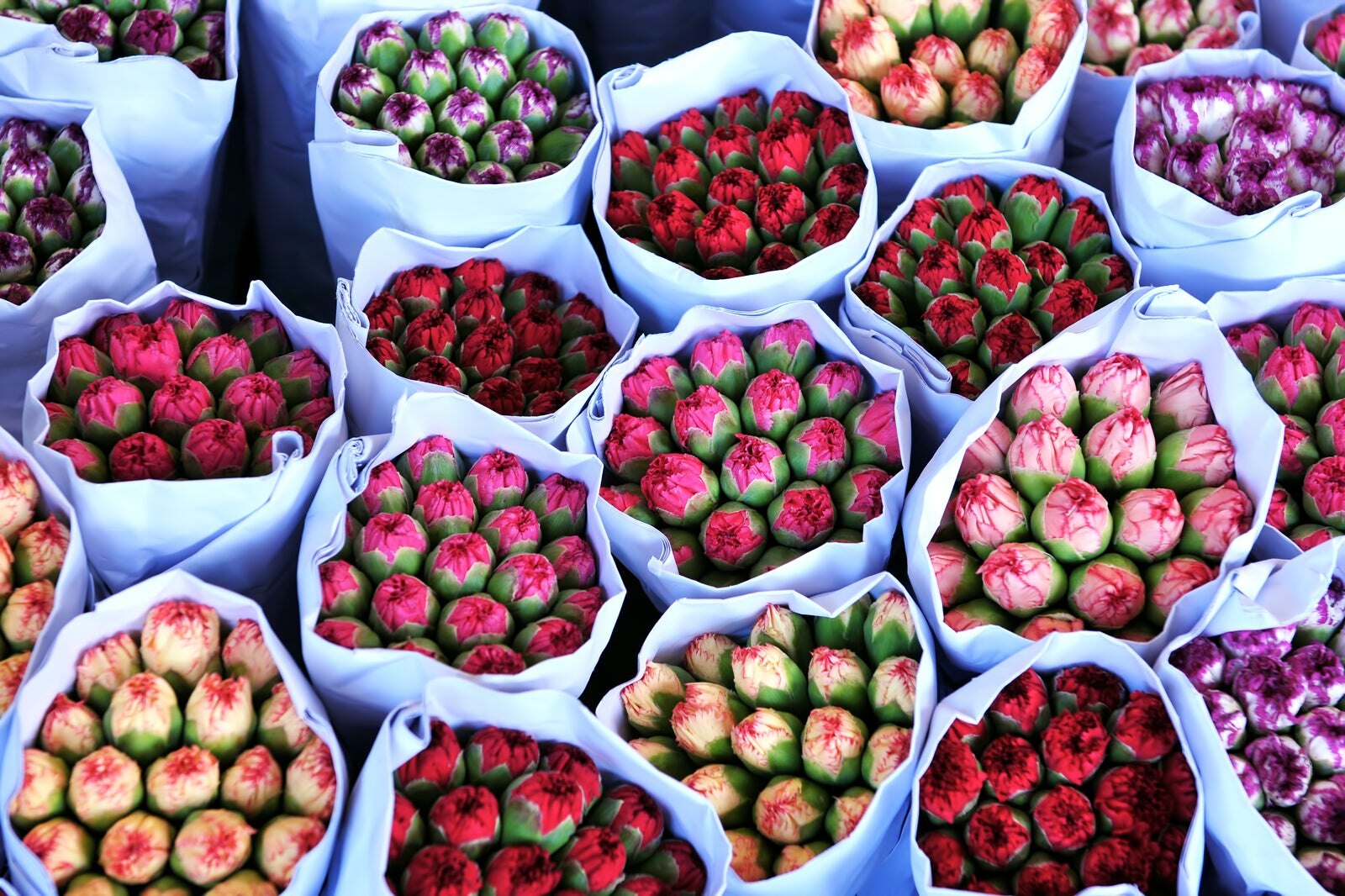 The Mong Kok Flower Market is a veritable jungle of exotic and colourful blossoms, lucky houseplants and sweet scents, all featured in more than 50 shops. Before Chinese New Year, families flock here to buy auspicious plants to celebrate the most important festival on the lunar calendar.
Location: Flower Market Rd, Prince Edward, Hong Kong
Open: Daily from 7am to 7pm
photo by Ralf Roletschek (CC BY 3.0) modified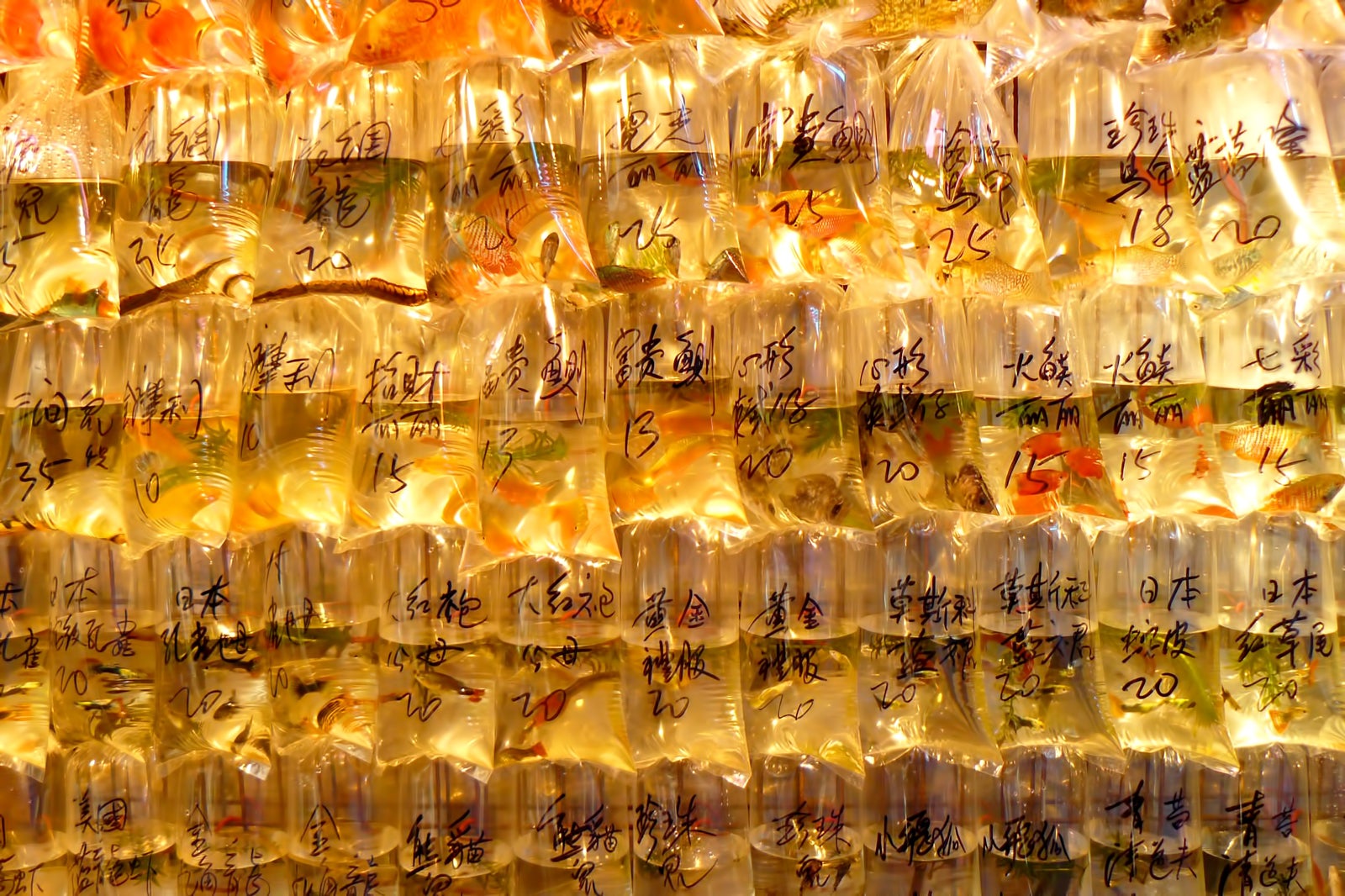 Hong Kong citizens believe that aquariums bring luck and natural beauty to their apartments, making the Goldfish Market a popular spot. This specialist market is the preferred source for goldfish (obviously) and other exotic fish of every shape, size and colour. You can also buy aquariums, corals and aquatic ornaments here.
Location: 43-49 Bute Street, Bute St, Prince Edward, Kowloon, Hong Kong
Open: Daily from 10am to 9.45pm