20 Best Things to Do on Hong Kong Island
What is Hong Kong Island Most Famous For?
With so many things to do on Hong Kong Island, it's worth doing a bit of research beforehand so that you can fully experience the essence of what Hong Kong is all about. There are a few cultural attractions that you might want to try, along with fun destinations for the family.
No trip to Hong Kong is complete without a stop at Victoria Peak, the highest point of Hong Kong Island. There are plenty more vantage points throughout the island, all of which boast panoramic views of the region and the South China Sea.
What are the best things to do in Hong Kong Island?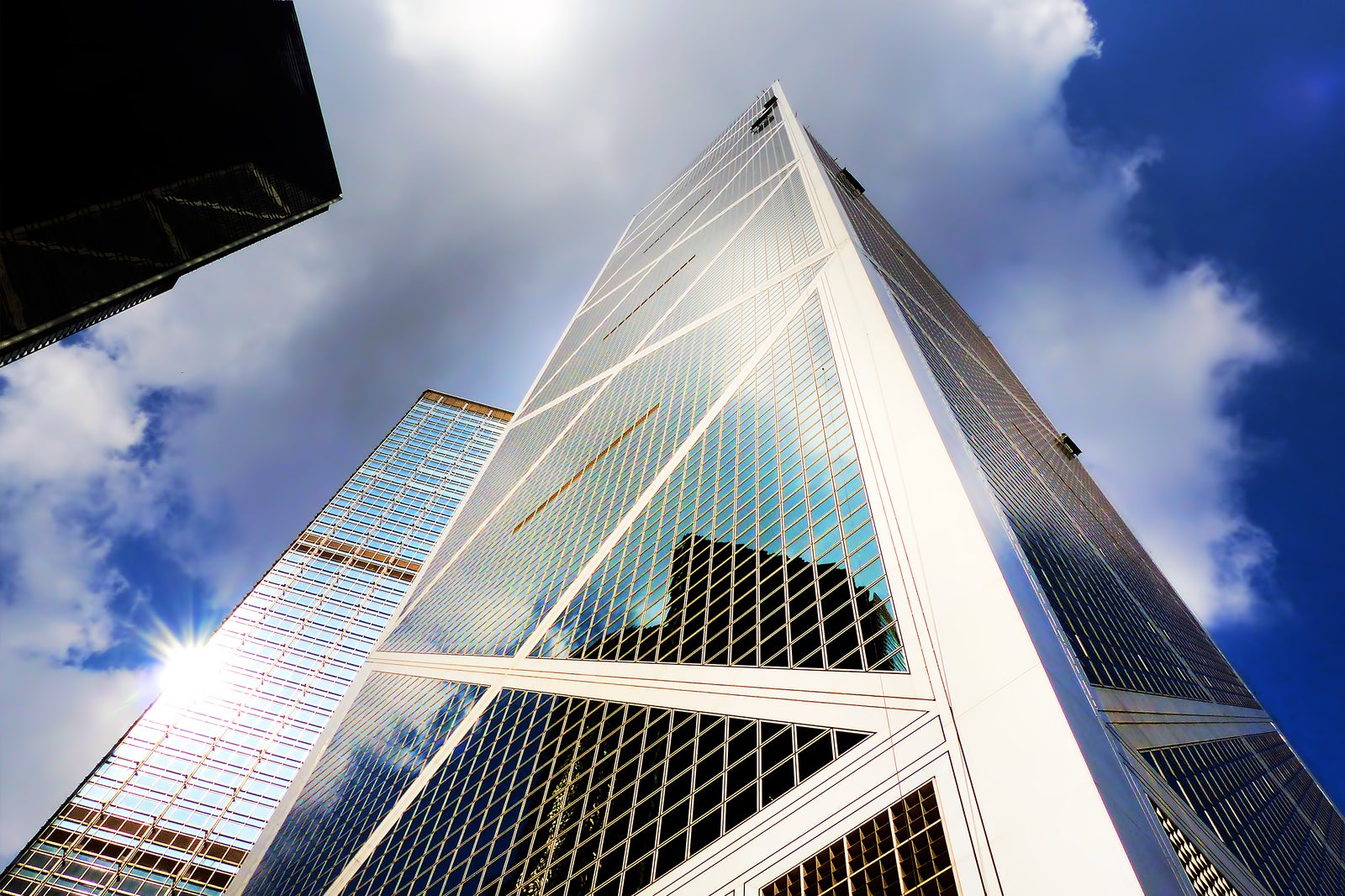 The Bank of China Tower is a modern architectural masterpiece by Chinese–American architect, I. M. Pei. Its asymmetrical structure has been featured in many international films, including Transformers and Star Trek. But what many people don't know is the public viewing deck on the 43rd floor is free of charge.
Despite its rather compact size, you can get some unique vantage points of the financial district from up here. Remember to bring your ID for registration and access to the building.
Location: 1 Garden Road, Central, Hong Kong Island, Hong Kong
Open: Monday–Friday from 9am to 5pm, Saturday from 9am to 1pm (closed on Sundays)
Phone: +852 2826 6888
photo by Bernard Spragg (CC0 1.0) modified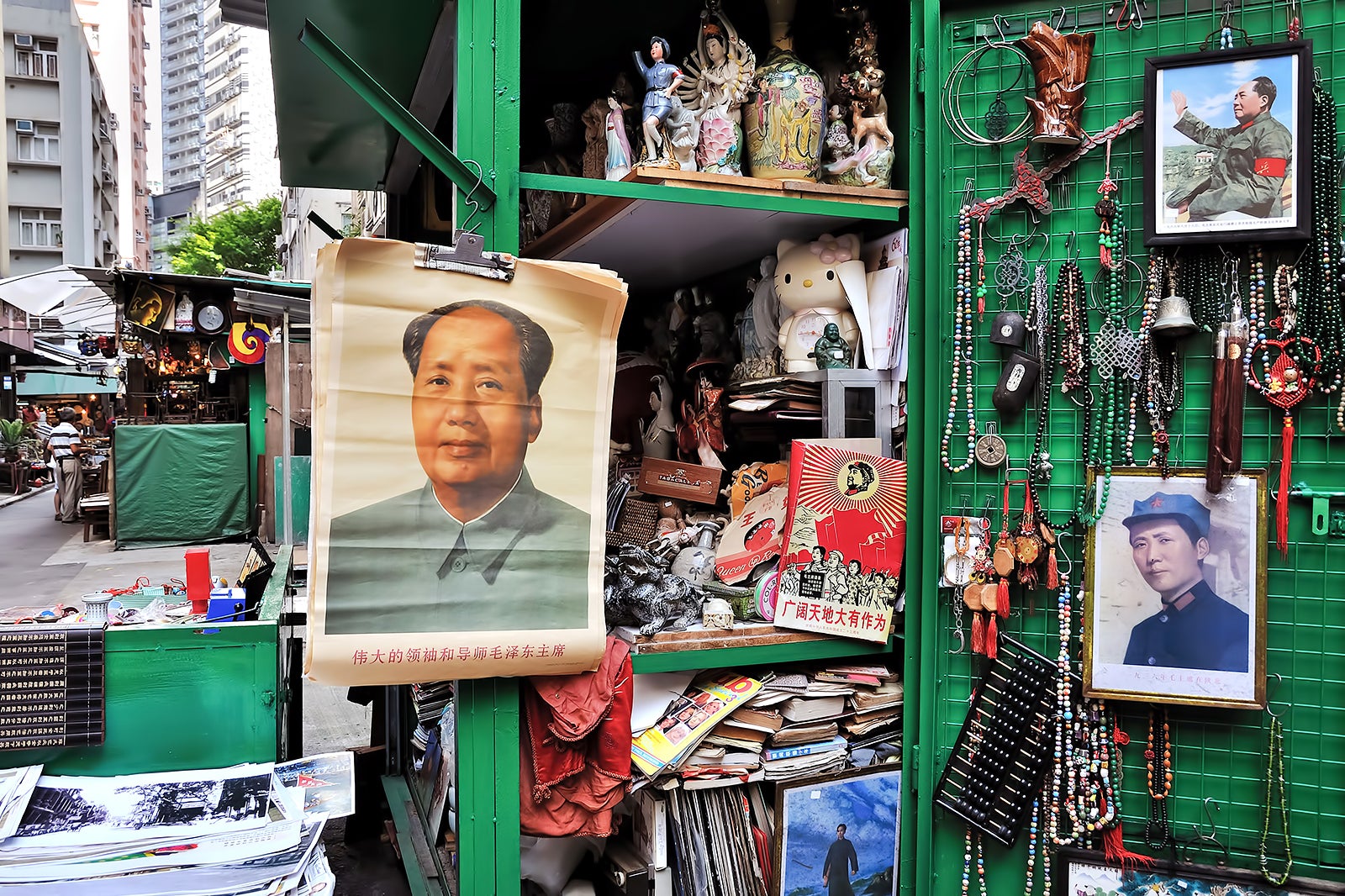 Cat Street is a row of intriguing antique shops on Causeway Bay's Upper Lascar Row. You never really know what you'll find, and that is part of the charm. This popular shopping area stretches from Man Mo Temple to the Central District Police Station.
Antique dealers here usually specialises in traditional homeware, from Chinese pottery and Buddhist images to silk and jade accessories. If you're not planning on buying anything, you can still spend a couple of hours at Cat Street's many art galleries.
Location: Upper Lascar Row, Sheung Wan, Hong Kong
Open: Daily from 11am to 5pm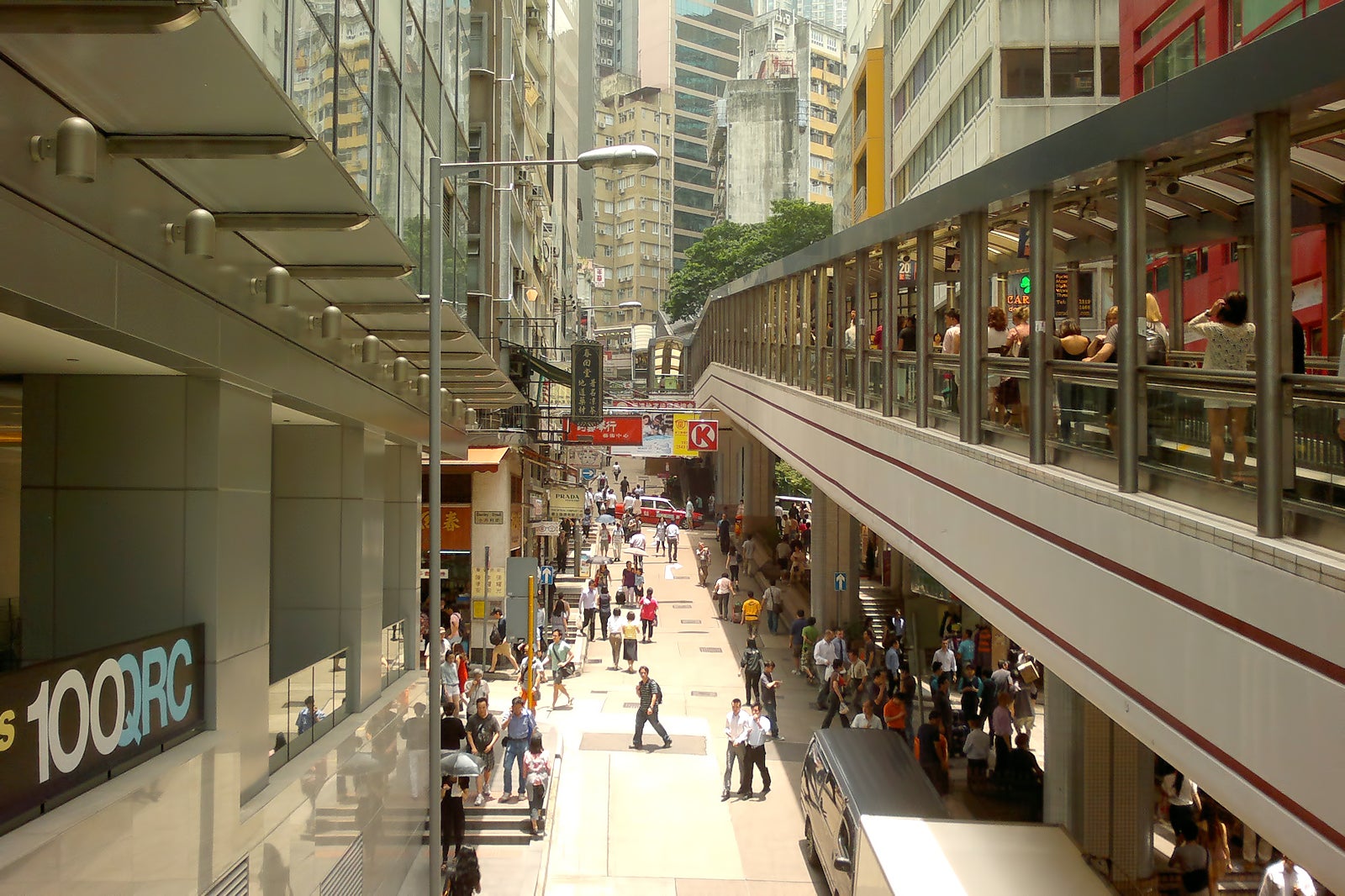 Central Mid-levels Escalators
An escalator seems a strange tourist attraction, but this energy saving set of moving steps is world-record holding for several reasons: it runs a total distance of 800 metres and elevates over 135 metres from Des Voux Road Central, south of Central MTR Station, right up to Conduit Road in an area called the Mid-Levels.
This interlinked escalator system is officially one of the world's longest outdoor (but covered) escalator systems. Surrounded by plenty of restaurants and bars, anyone intent on exploring this area will be thankful for this easy way to travel up and down Central's notoriously steep hills.
Location: Jubilee Street, Central, Hong Kong
photo by Ceeseven (CC BY-SA 3.0) modified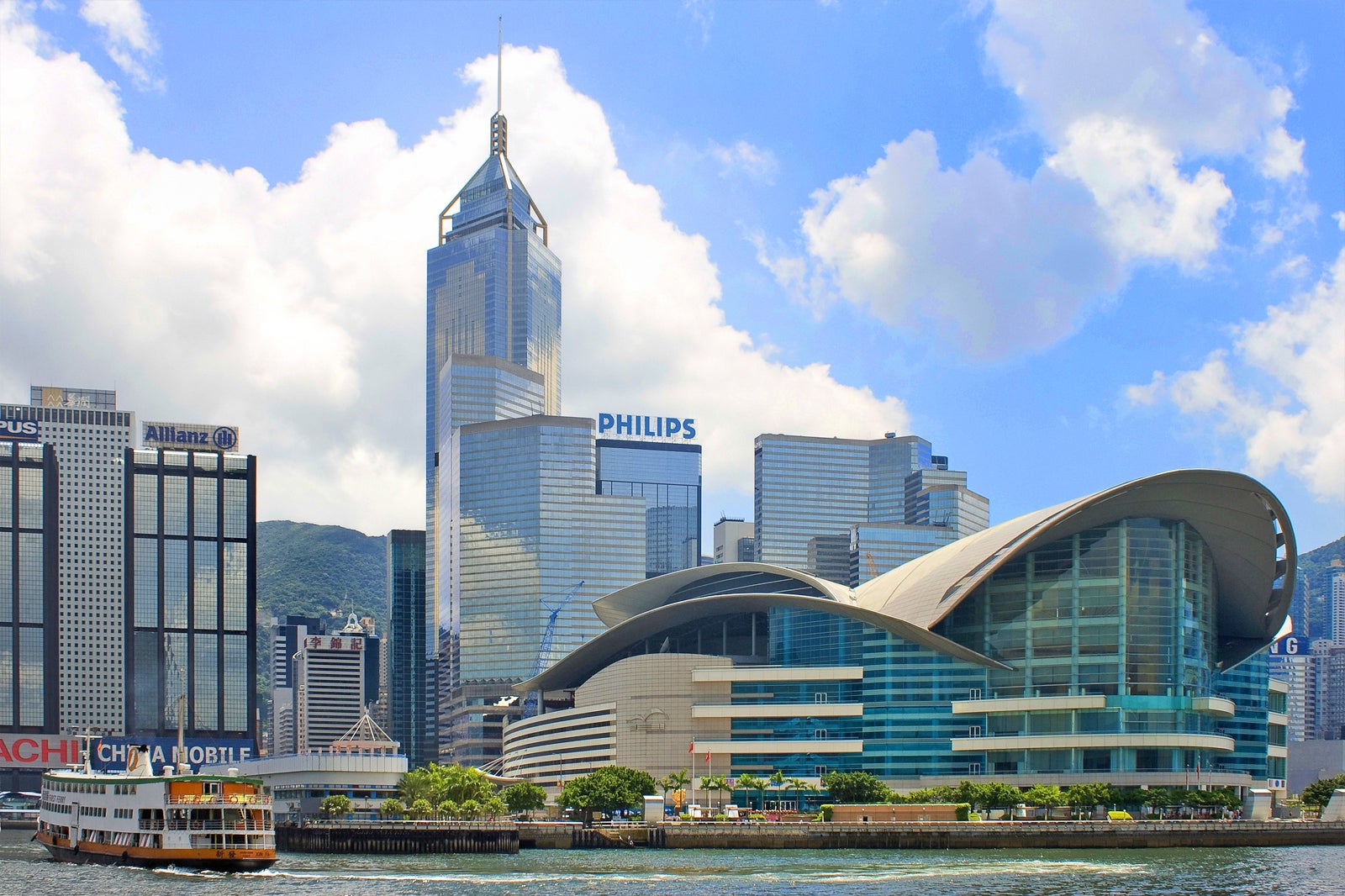 Central Plaza is a 78-storey skyscraper on Harbour Road, about 750 metres south of the Hong Kong Convention and Exhibition Centre. Enjoy free views of Hong Kong by taking the express elevator to the 46th floor. If you're in Hong Kong on a Sunday, you can head up to the 75th floor and attend mass at The Sky City Church. Mass is held at 11am and 6pm on Sundays.
Location: 18 Harbour Road, Wan Chai, Hong Kong
Open: Monday–Friday from 8am to 6.10pm (hours vary by business)
Phone: +852 2586 8111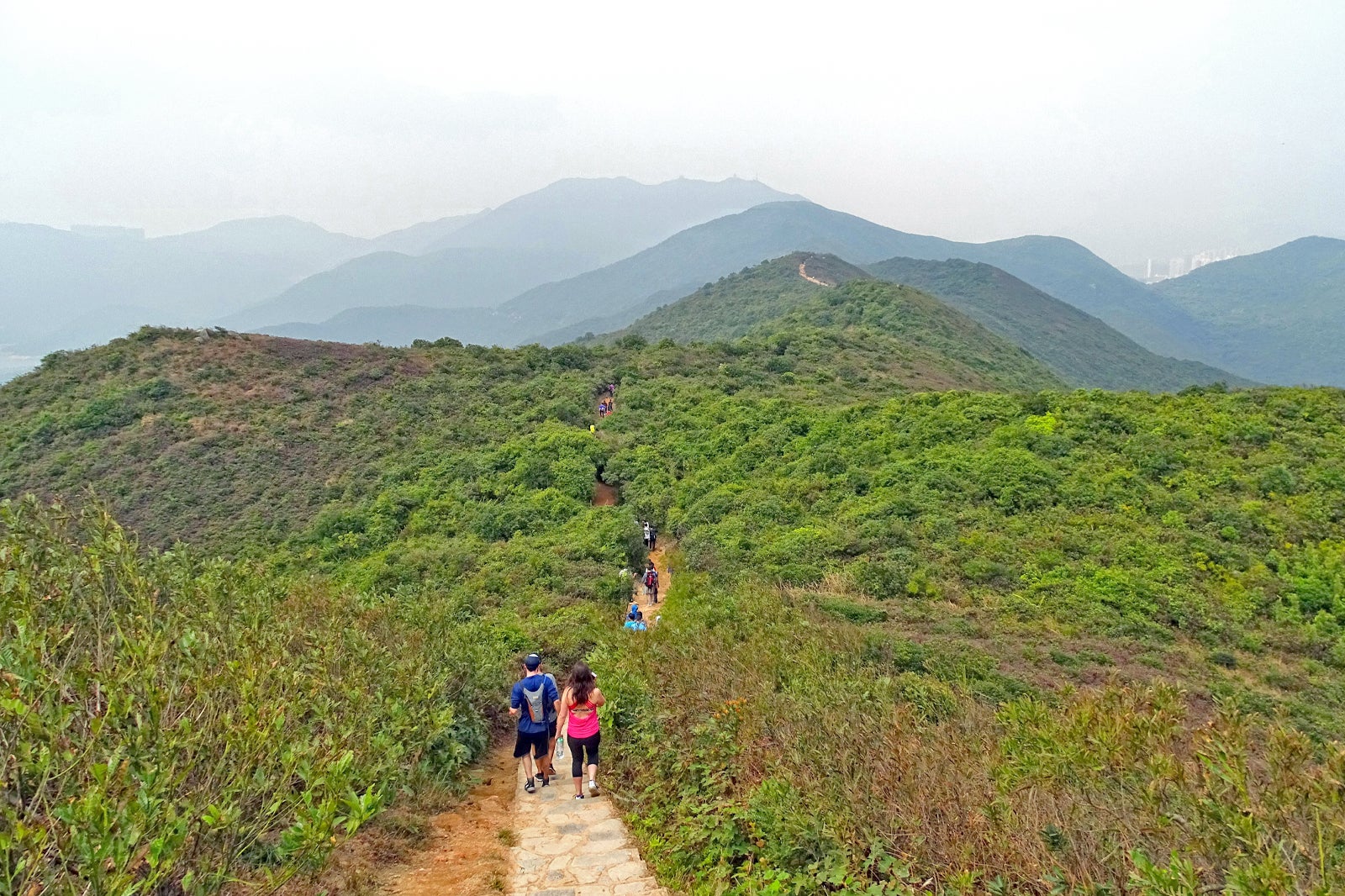 Dragon's Back Hike Hong Kong
The Dragon's Back Trail is one of the most popular natural vistas in Hong Kong. Located in Shek-O Country Park on the southern coast of Hong Kong Island, it's often visited by locals and tourists looking to hike and enjoy some stunning natural scenes.
You can get to Shek-O Country Park by taking the bus from the Chai Wan MTR station. The park is also a popular spot for paragliding, which you'll often see during your hike.
Location: Shek O Country Park, Hong Kong
photo by Bjørn Christian Tørrissen (CC BY-SA 4.0) modified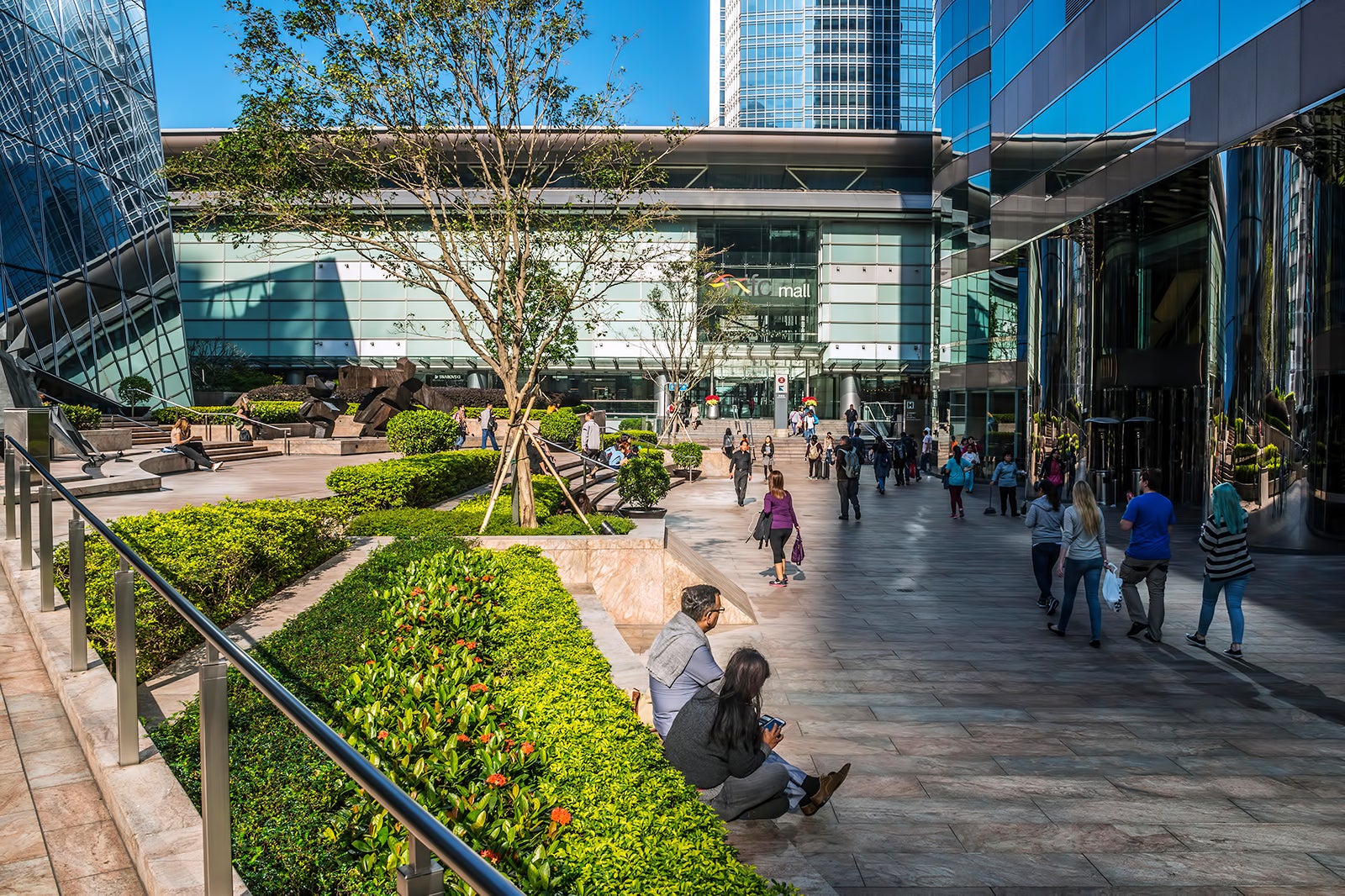 Exchange Square has 3 towers of rose-coloured granite and silver glass. Home to the Hong Kong Stock Exchange, it's where some of the most important financial transactions take place.
Exchange Square Hong Kong is connected to IFC Mall – and the Airport Express Line's Hong Kong Station directly underneath – by a network of walkways. The shopping mall features trendy restaurants, fashion, beauty, and jewellery shops, as well as a cinema.
Location: 8 Connaught Place, Central, Hong Kong Island, Hong Kong
Phone: +852 2500 0500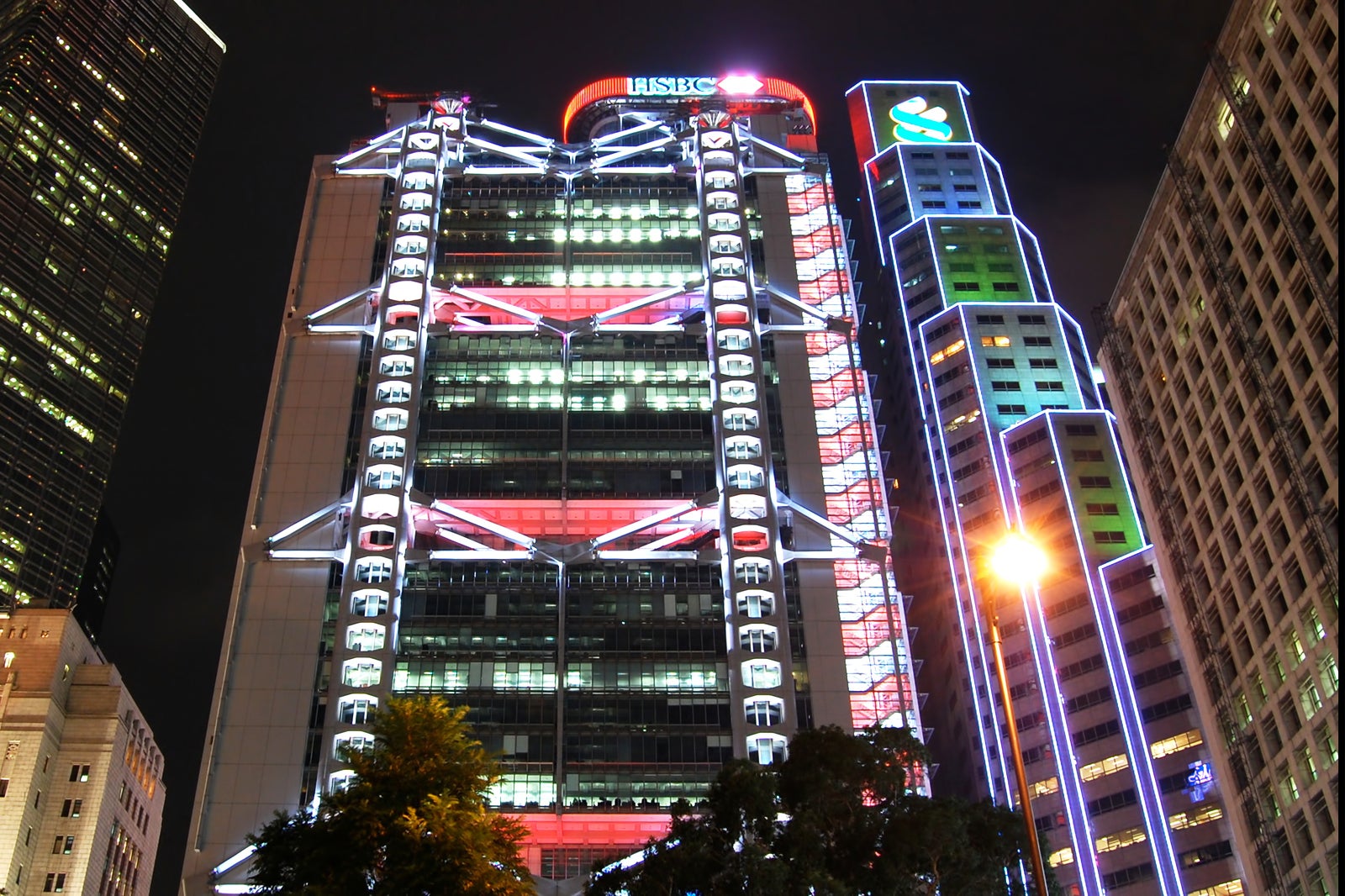 Hong Kong and Shanghai Bank (HSBC) Building
The Hong Kong and Shanghai Bank (HSBC) Building is a skyscraper designed on the art of feng shui. The harmony of elements, shapes, sizes and colours is considered to be essential for producing and maintaining the proper balance of energy to generate prosperity. The building stands at 179 metres above sea level – stand in public plaza to see right into the heart of the building via a 10-storey glass atrium.
Location: 1 Queen's Road Central, Central, Hong Kong
Open: Monday–Thursday from 9am to 4.30pm, Friday from 9am to 5pm, Saturday from 9am to 1pm (closed on Sundays)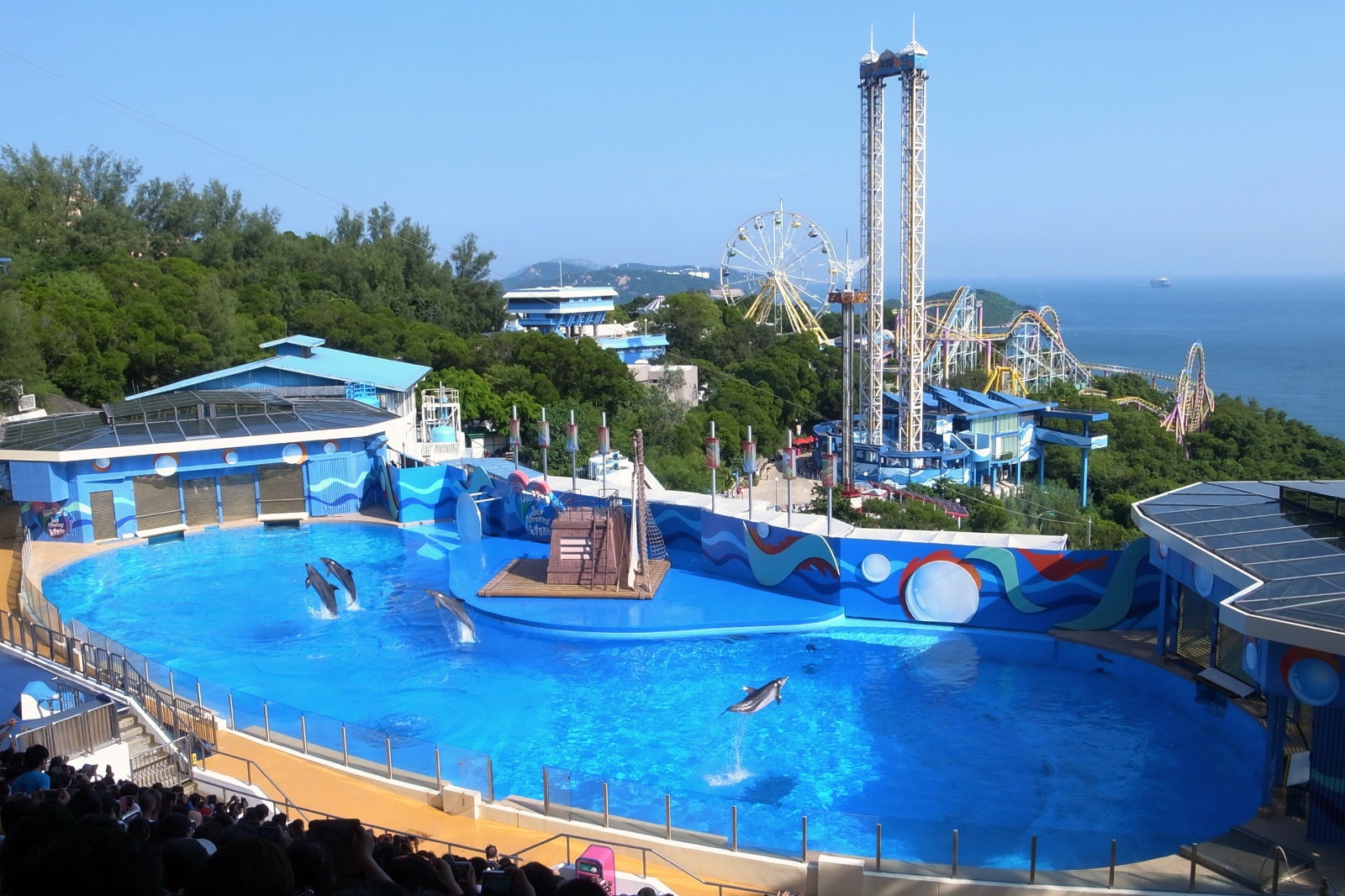 Ocean Park is one of the largest theme parks in Hong Kong, with over 50 attractions spread across an 870,000-sq-m space. A crowd favourite is the Hair Raiser rollercoaster, which whips and rolls passengers with 4G force. Animal lovers will enjoy the wildlife interaction zones, aquatic zone, and some fantastic live shows.
The vibe is fairly reminiscent of a county fair, with fairground games, a Ferris wheel and plenty of fast-paced rides for those looking for an adrenaline rush. Tickets cost around HK$480 per adult and HK$240 per child (3–11 years old).
Location: Ocean Park Hong Kong, 180 Wong Chuk Hang Road, Aberdeen, Hong Kong
Open: Daily from 10am to 6pm (hours vary by season)
Phone: +852 3923 2323
Couples
Families
Photo
Group
photo by gdczjkk (CC BY-SA 3.0) modified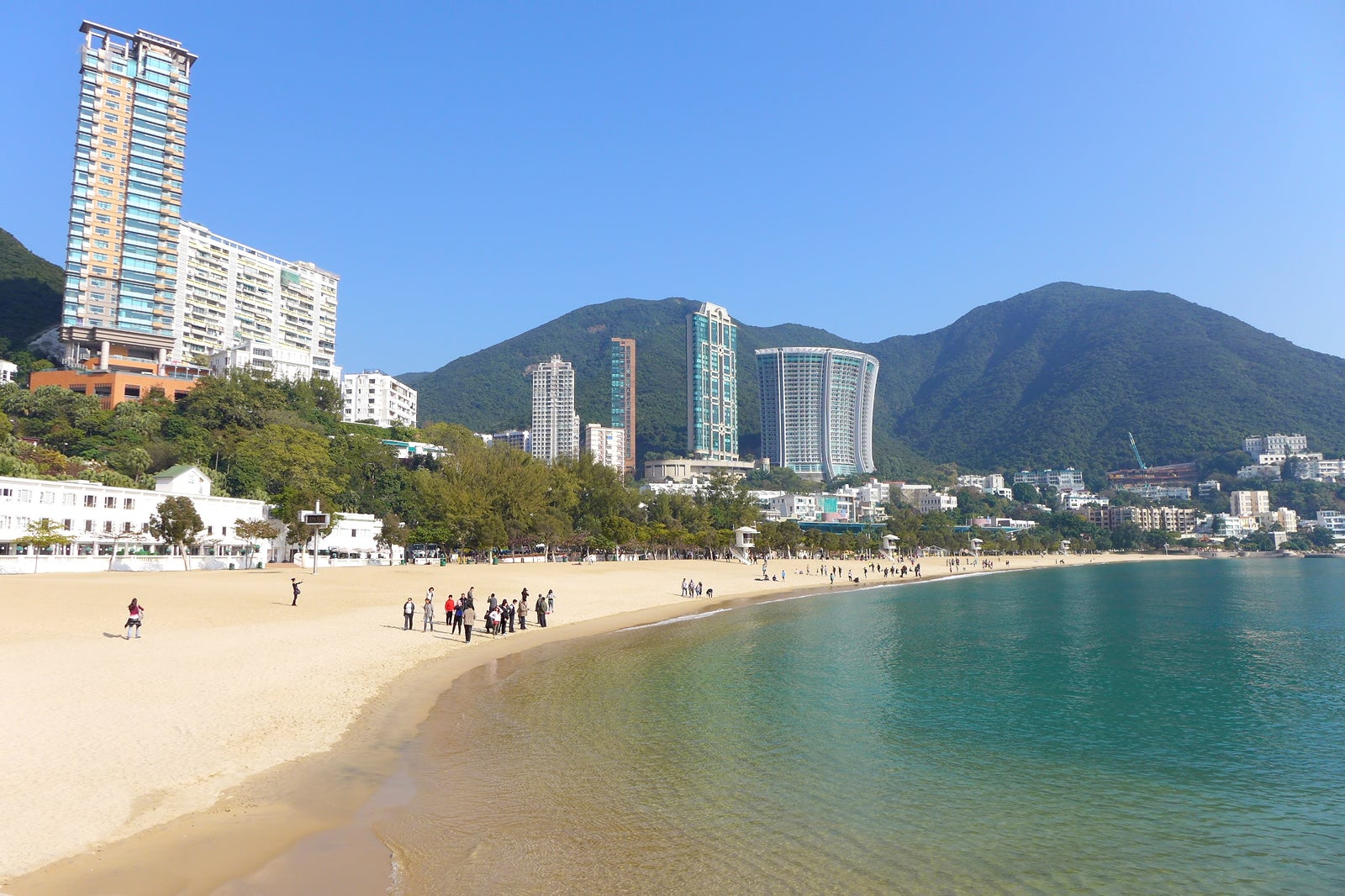 Repulse Bay is a public beach on Hong Kong Island's southern district, about 20 minutes away from Central Hong Kong. While the beach is home to an upmarket residential area, it's also one of the most popular areas in Hong Kong for dining, family picnics, sunbathing, and water sports.
This crescent-shaped beach is fronted by clear blue waters, with moderate temperatures year-round. The soft sands make for pleasant strolls in the early mornings and cooler days, while summertime sees crowds of sunbathers on the beach.
Location: Beach Road, Repulse Bay, Hong Kong Island
Couples
Families
Photo
Budget
photo by Wing1990hk (CC BY-SA 3.0) modified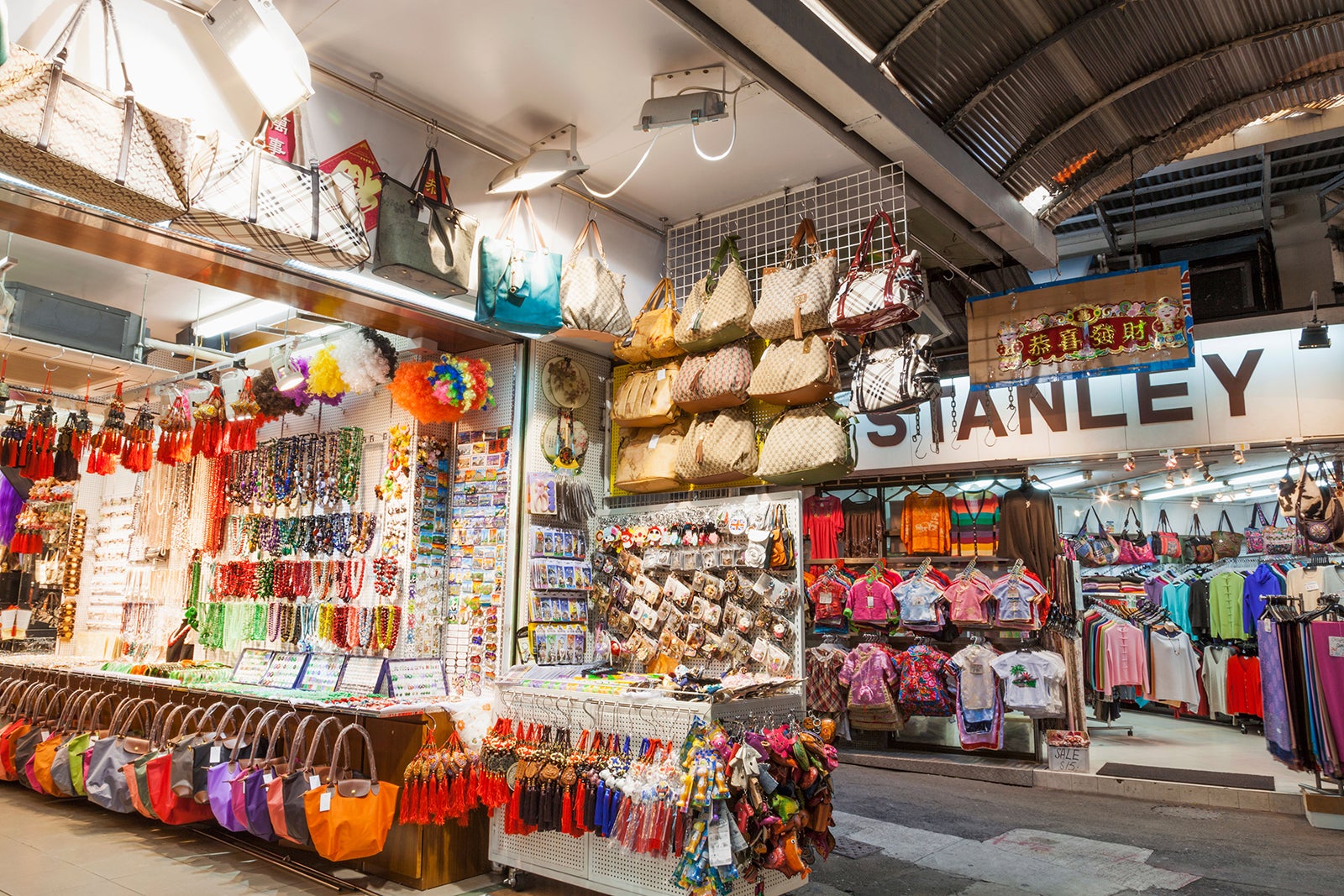 Stanley Market lies on Hong Kong's southern coast, which is known for its heritage charm. Stanley is a quaint fishing village that looks and feels the complete opposite of Hong Kong's northern shore. The local market is where you'll find art and crafts, faux-antiques, and calligraphy paintings. A collection of shops and restaurants can be found in Murray House, a Victorian-era building about 400 metres southwest of Stanley Market.
Location: Stanley Municipal Services Building, 6 Stanley Market Rd, Stanley, Hong Kong
Open: Daily from 10am to 7pm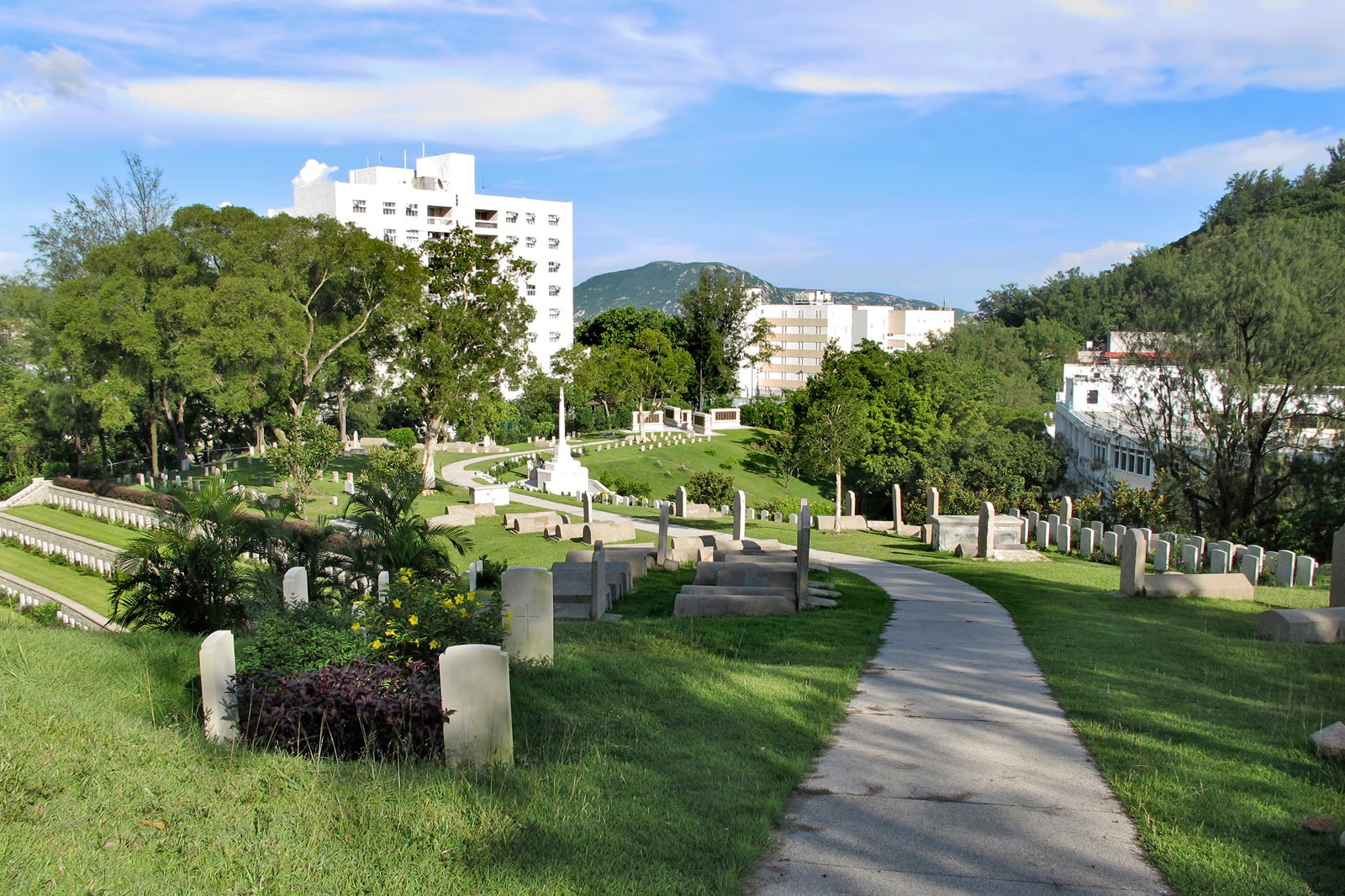 Stanley Military Cemetery
The Stanley Military Cemetery is a colonial-era site near St. Stephen's Beach in Stanley. Between 1841 and 1866, this plot of land was used to bury deceased British soldiers and their families, though the site also served as the final resting place for those who lost their lives during World War II.
Hundreds of white tombstones dot the green space, many of which don't contain the names of the deceased. You can explore the Stanley Military Cemetery for free – enjoy beautiful views of surrounding hills and trees, as well as the South China Sea.
Location: Wong Ma Kok Road, Stanley, Hong Kong
Open: Daily from 8am to 5pm
photo by WiNG (CC BY-SA 3.0) modified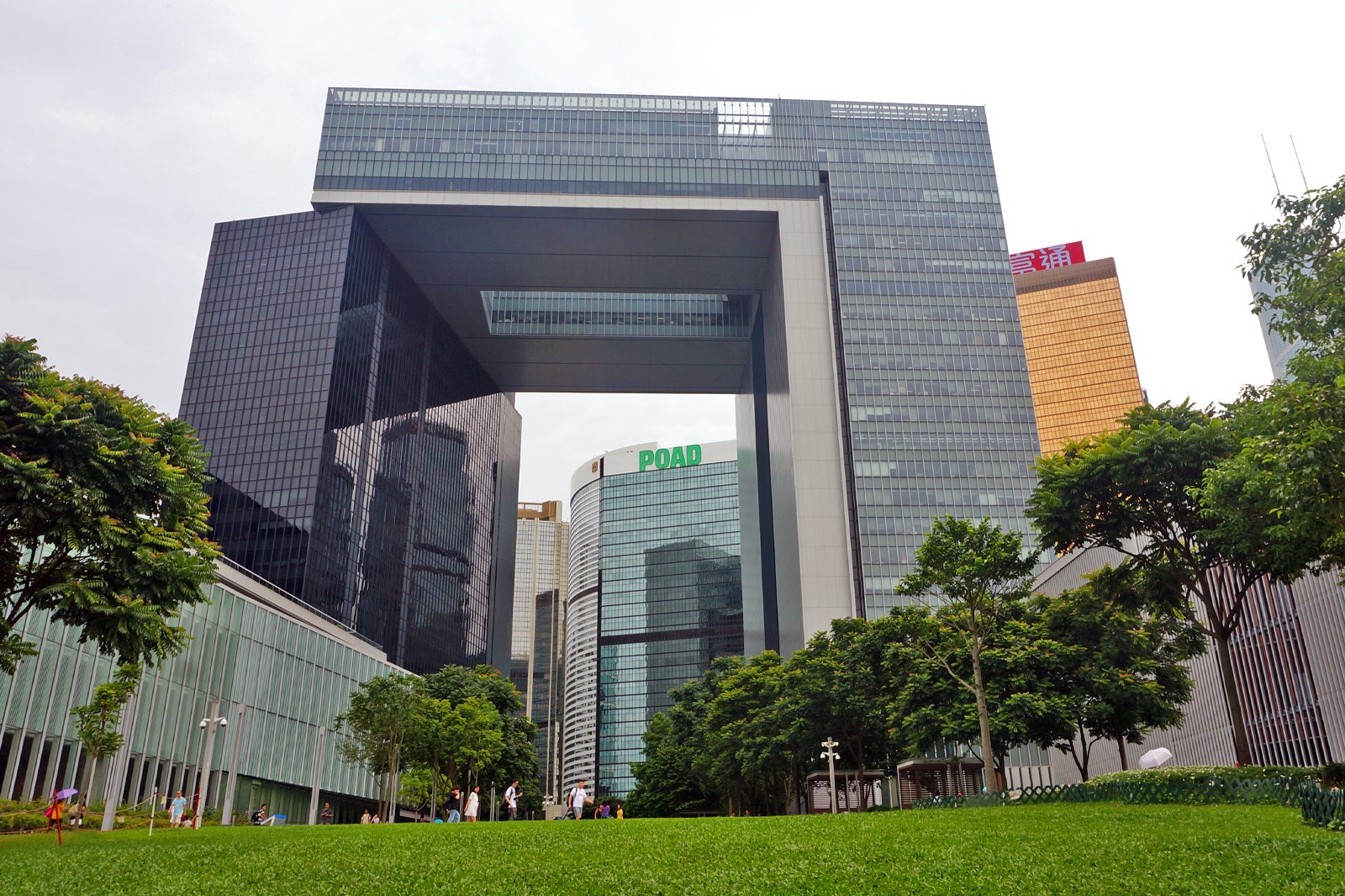 Tamar Park lies on the harbourfront beside Hong Kong's Central Government Complex. Located close to the Admiralty MTR station, this small park is where many locals enjoy picnics and relax under the shade of a tree.
It's also the only expanse of green space with clear views of Victoria Harbour and Kowloon. As you walk down to the park from Harcourt Road, you'll find several modern sculptures and a landscaped garden. There is also an open space within Tamar Park that regularly hosts music festivals and community workout classes.
Location: Tamar Park, Harcourt Road, Admiralty, Hong Kong
Open: Daily from 8am to 9pm
Couples
Families
Photo
Budget
photo by WiNG (CC BY-SA 4.0) modified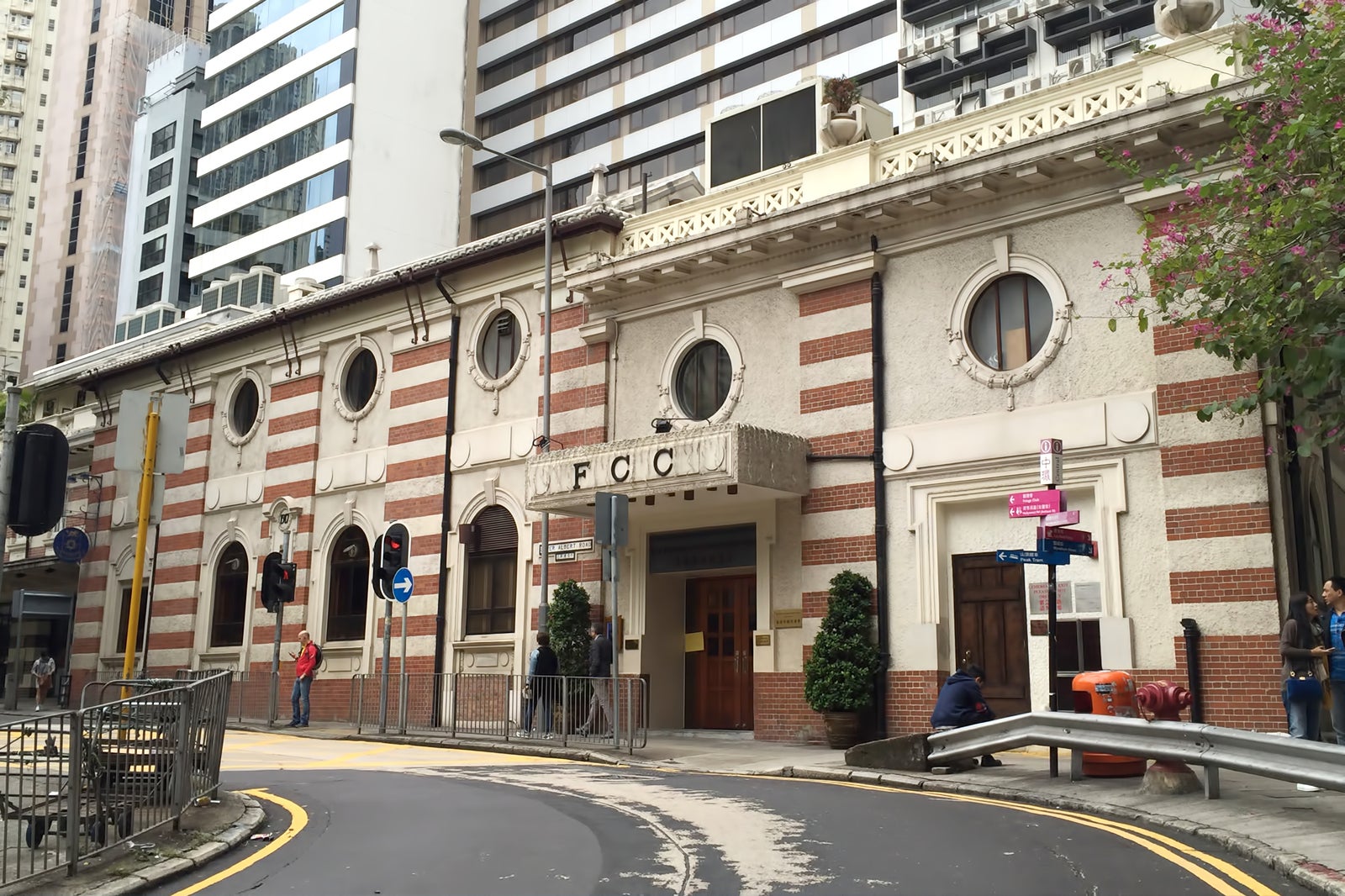 The Fringe Club & The Foreign Correspondents' Club
Fringe Club is a brick and stucco colonial-style structure dating back to 1913. It's one of Hong Kong's most sought-after venues for art and crafts exhibitions, live theatre and music. The building also features a rooftop beer garden and a cosy restaurant. Located next to Fringe Club is the Foreign Correspondents' Club (FCC), a popular social and intellectual space. Journalists, businessmen, bankers, authors, and artists often frequent this spot for drinks.
Location: Central, Hong Kong Island, Hong Kong
photo by Smuconlaw (CC BY-SA 4.0) modified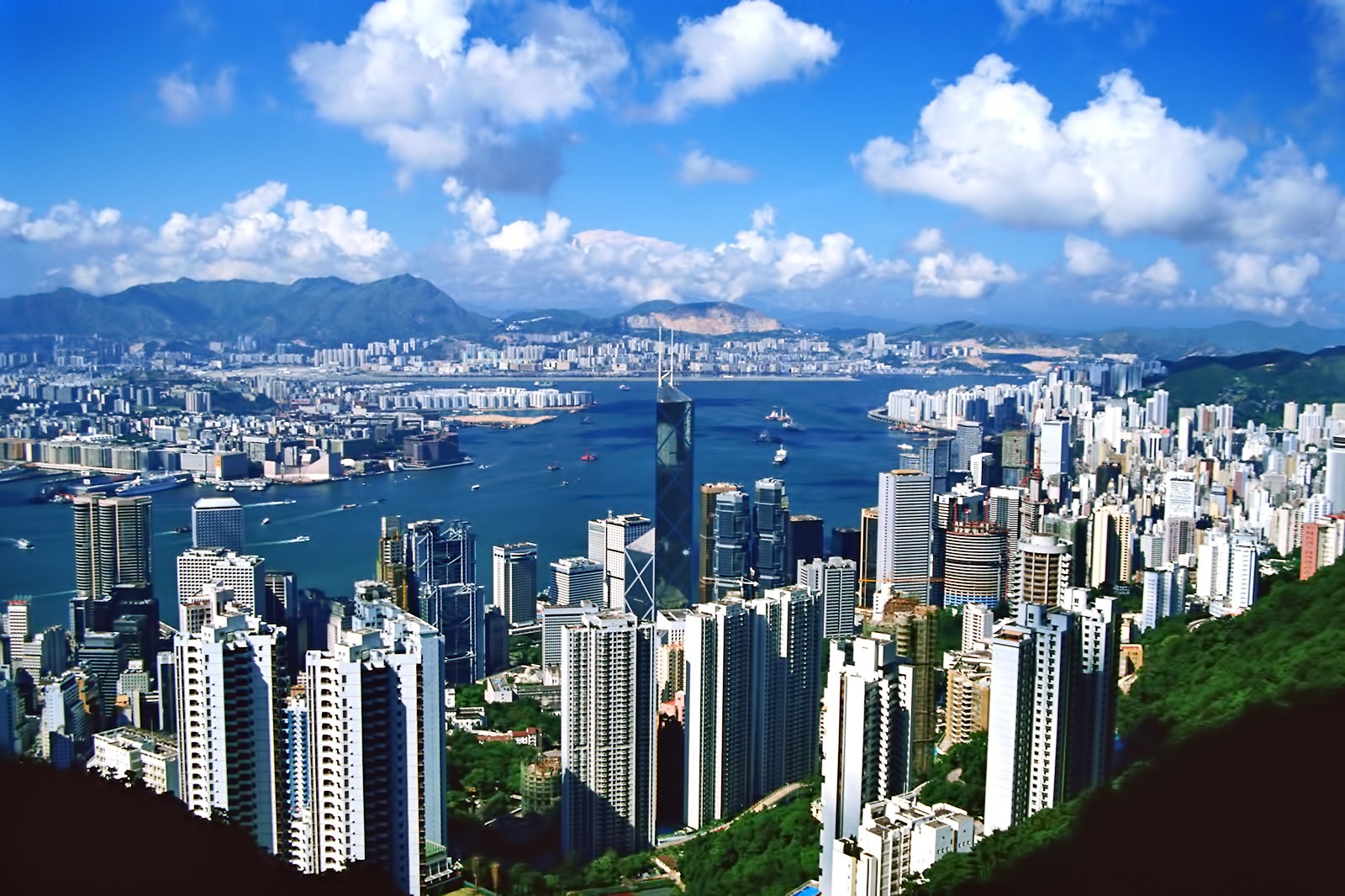 The Peak is the highest hill on Hong Kong Island, offering panoramic views of Hong Kong and the South China Sea. Standing at 552 metres above sea level, it has plenty of vantage points, restaurants and family-friendly attractions, along with a historical tram that takes you to the summit.
The Peak Tower stands on Victoria Peak at 396 metres above sea level – its avant-garde design is featured in many photographs and postcards of Hong Kong. You'll find a wide range of onsite restaurants and shops, as well as an entertainment venue.
Location: Hong Kong Island, Hong Kong
Open: Monday–Friday from 10am to 11pm, Saturday–Sunday from 8am to 11pm
Phone: +852 2849 0668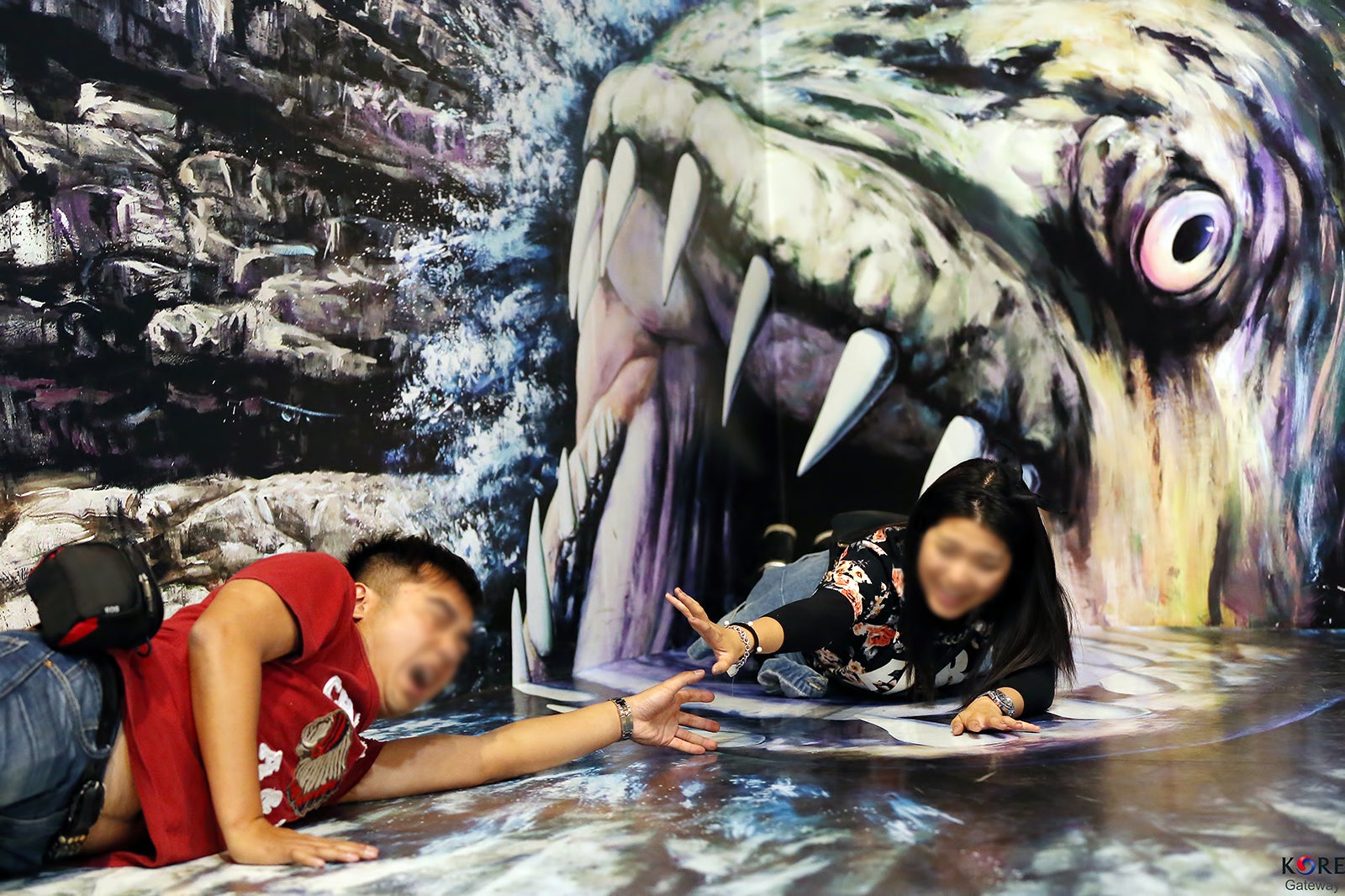 Trick Eye Museum Hong Kong, located on Level 2 of The Peak Galleria, lets you step into a wonderful world of optical illusions, artistic masterpieces, and miniature landmarks. Grab a prop, strike a pose and take hilarious, brain-boggling pictures with more than 50 3D settings, spread across 5 themed zones.
In each area, sculptures and Trompe-l'oeil paintings trick the eye – and the camera lens – into seeing flat objects in three dimensions, letting you integrate yourself into each installation to amazing effect.
Location: The Peak Galleria, Shop No.1 on Level 3, 118 Peak Rd, Central, Hong Kong
Open: Daily from 10am to 9pm
Phone: +852 2813 1686
photo by Republic of Korea (CC BY-SA 2.0) modified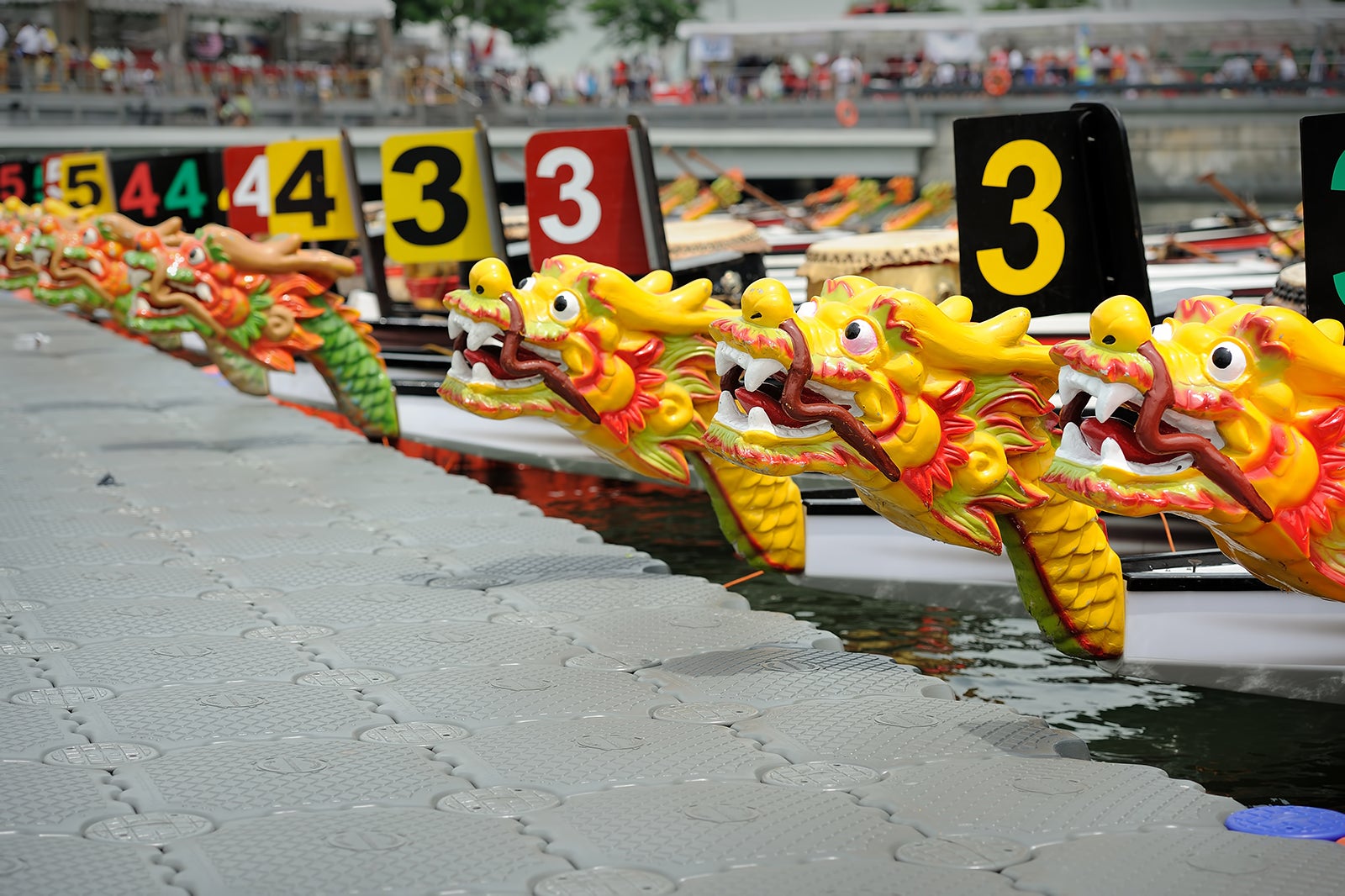 The Dragon Boat Festival hosts exciting boat races that take place near Hong Kong's Victoria Harbour. Colourful, dramatic, exciting and unforgettable, Dragon Boat Racing is celebrated annually on the 5th day of the 5th lunar month, usually in June.
The international race at Victoria Harbour is where the hottest dragon boat action takes place. Rewards for team costumes are also handed out, and the entire day is a riot of colour and noise. If you miss this main event, there are smaller but equally exciting dragon boat races taking place in the same month throughout Hong Kong.
Location: Hong Kong Island, Hong Kong
Open: 5th day of the 5th lunar month (usually mid-June)
Families
History
Photo
Budget
Hong Kong Rugby Sevens Tournament
Hong Kong Sevens is one of the biggest sporting events in Hong Kong. You can expect a weekend of rowdy celebrations, costumes, and beer-filled parties in this city-state, usually in March or April.
This international tournament sees 28 teams competing for 3 days. Much of the appeal of Hong Kong Sevens lies in what happens after the rugby. Lan Kwai Fong and SoHo are often packed with travelling fans looking to celebrate late into the night.
Location: Hong Kong Stadium, 55 Eastern Hospital Road So Kon Po, Hong Kong
Open: 3 days in March or April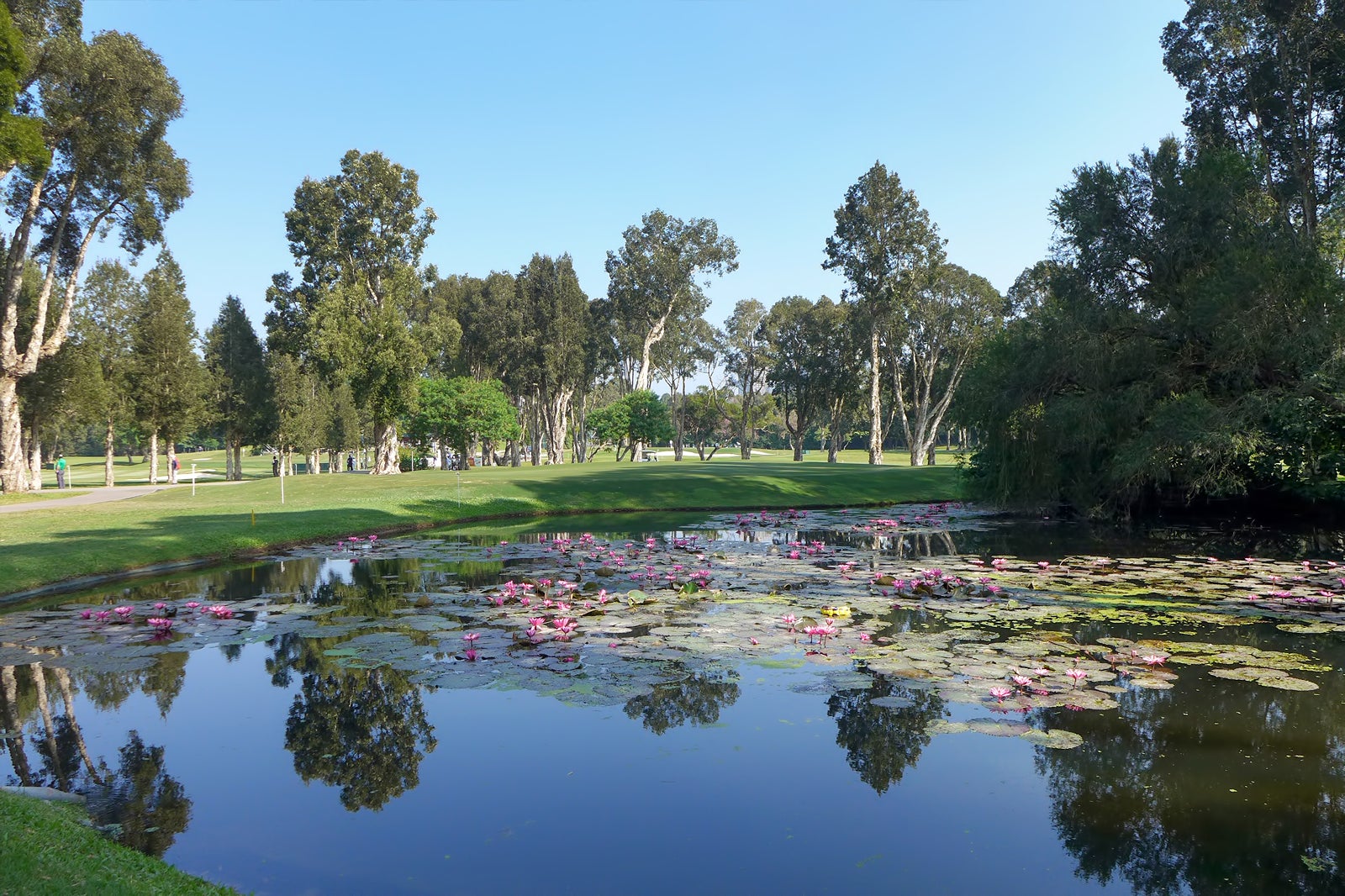 The Hong Kong Golf Club is a members-only club about 40 minutes away from Central Hong Kong. It has 3 18-hole golf courses that are open to the public on weekdays (the driving range is open after 7pm).
This exclusive club provides golf enthusiasts with a convenient location, five-star services, and spectacular views of Deep Water Bay. It does enforce a strict dress code, and mobile phones should be kept in silent mode if you're inside the clubhouse.
Location: 19 Island Road, Deep Water Bay, Hong Kong
Phone: +852 2812 7070
photo by Wpcpey (CC BY-SA 4.0) modified
There are live escape games dotted all over Hong Kong but LOST HK: Escape Room is one of the city's most popular centres thanks to its proximity to Times Square Shopping Mall.
The premise is simple: work out a series of puzzles to gain your freedom within the 45-minute time limit. Working in a group of between 2 to 6 players, you have to piece together the clues against the clock. Games are designed for anyone aged 7 and over.
Location: 1-3 Pak Sha Road, 1/F, Causeway Bay, Hong Kong
Open: Monday–Friday from 1pm to 11pm, Saturday–Sunday from 11am to 11pm
Phone: +852 2892 2393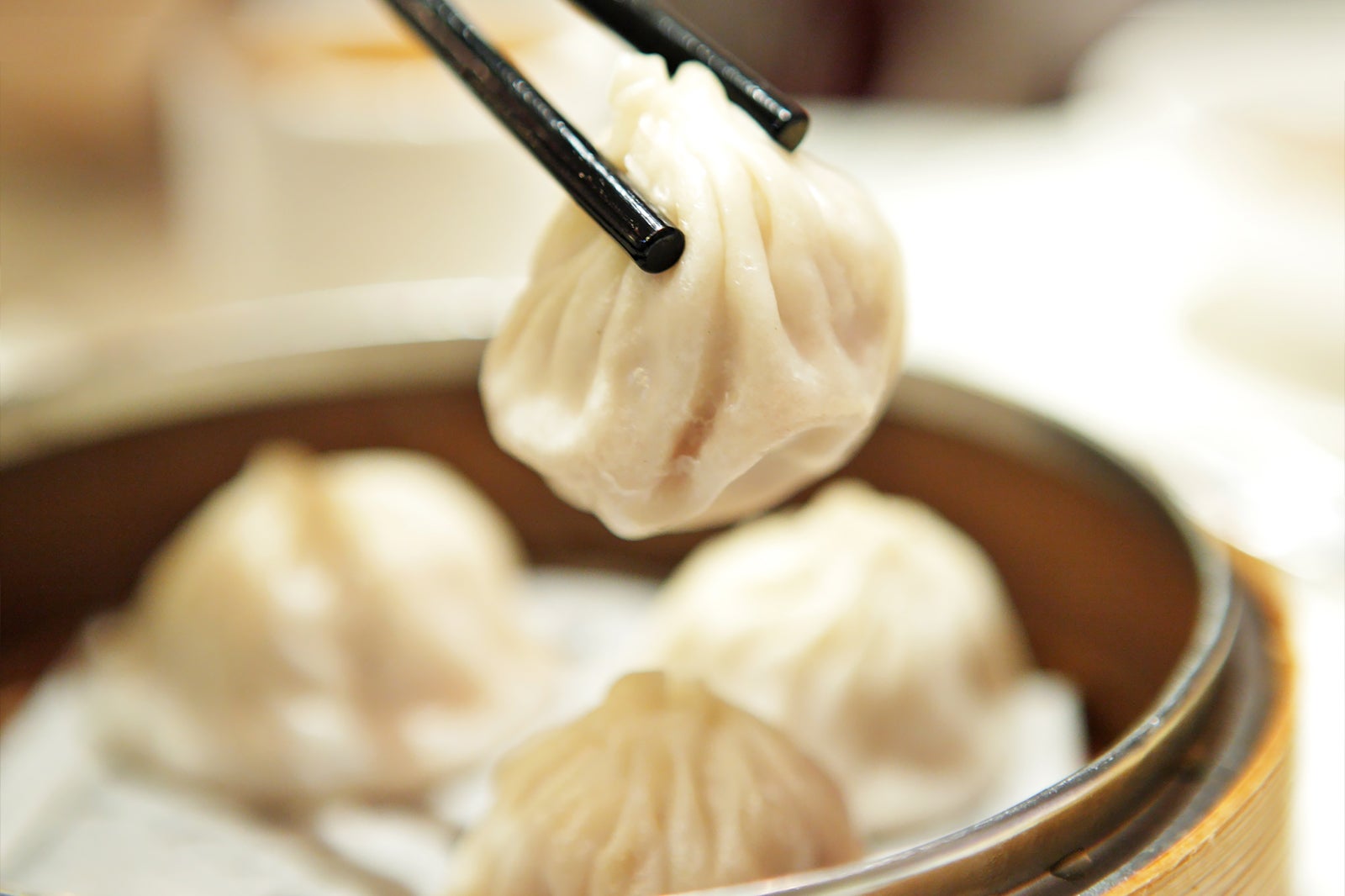 Towngas Cooking Centre in Causeway Bay is one of the best places to learn how to prepare Cantonese dishes like dim sum. While the centre offers a range of long-term courses, opt for the introductory class if you want to start with the basics.
Advanced classes at Towngas Cooking Centre focus on dim sum, vegetarian recipes, Cantonese roast duck, western cuisine, and desserts. Classes start from HK$400 for a 2.5-hour-long course.
Location: 9/F, Lee Theatre, Causeway Bay, Hong Kong
Open: Monday–Friday from 9am to 9pm, Saturday–Sunday from 9am to 6pm
Phone: +852 2576 1535