10 Best Beaches in Santorini
Which Santorini Beach is Right for You?
Santorini has some of the most remarkable beaches in the Aegean Sea, not least because of its iconic black sands. A result of the island's volcanic heritage, they make quite a surprising sight – though not as surprising as some of the even more colourful beaches along the south coast.
Despite being such a small island, the variety of beaches to choose from on Santorini is remarkable. Some are well-suited to families while others attract party animals. Some are known for their lively atmosphere while others are loved for their total isolation. To help you decide which Santorini beach is right for you, we've picked out some of the best of the many available.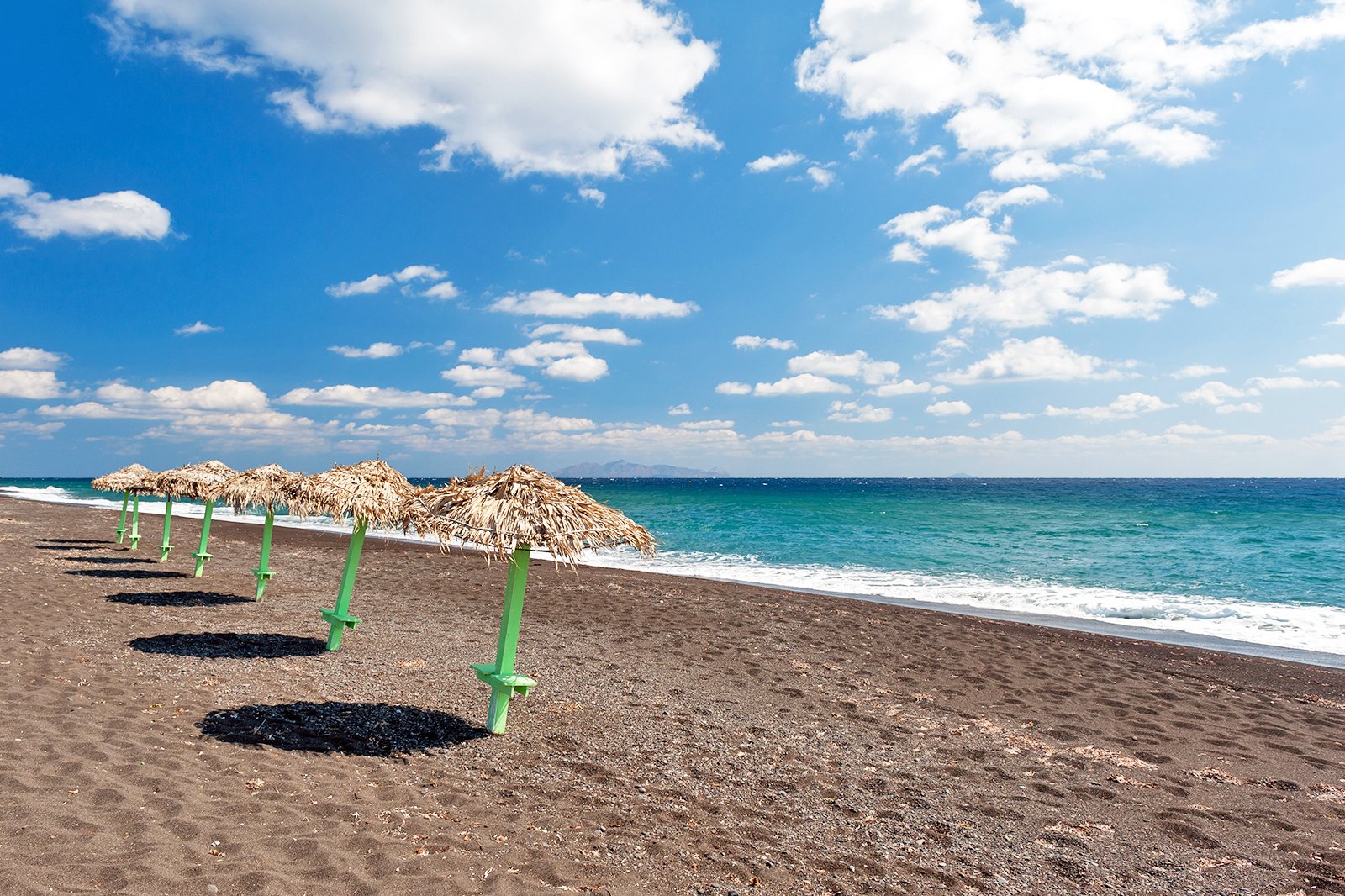 Perissa Beach
The best party beach
Perissa Beach is the most popular on Santorini among backpackers and those looking to party. The vibe is still fairly relaxed since nowhere on the island has the high-energy atmosphere that the likes of Ios or Mykonos are famous for. Instead, you can expect to find some cool beach clubs, as well as plenty of local restaurants, and budget hotels and villas. The black pebble beach and its beautiful, blue seas get very busy during the high season, but it creates a fantastic atmosphere. When people talk about Santorini's "Black Beach", this place on the southeast coast of the island is usually what they mean, despite the fact that most of the island's beaches are also black.
Location: Perissa 847 03, Greece
Couples
Families
Photo
Nightlife
Budget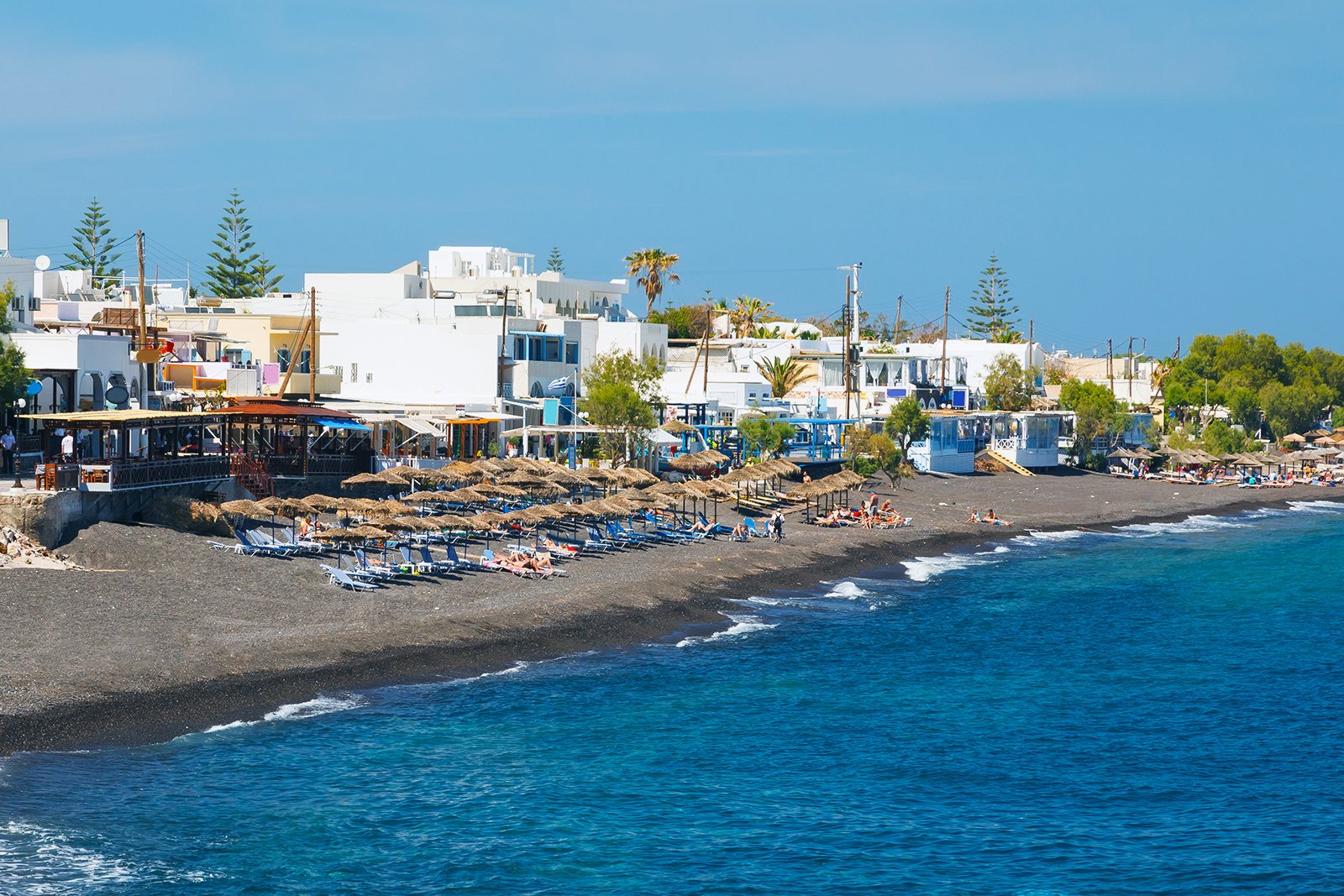 Kamari Beach
The most family-friendly beach
Kamari Beach is the closest beach to Santorini Airport and is a haven for families thanks to its friendly vibe and range of activities. The town behind the black beach is arguably the most developed on Santorini and, for want of a better word, 'touristy'. The result is that there are plenty of places to eat and drink and a great choice of comfortable hotels. There's a mini golf centre, playgrounds and Ancient Thera isn't far away.
The beach itself is quite pebbly, so be sure to bring a good pair of sandals if you're going to take a walk. Being just south of the airport, you'll occasionally see planes flying parallel with the shore as they make their final approach, but they're not noisy enough to cause a disturbance.
Location: Kamari 847 00, Greece
Couples
Families
Photo
Budget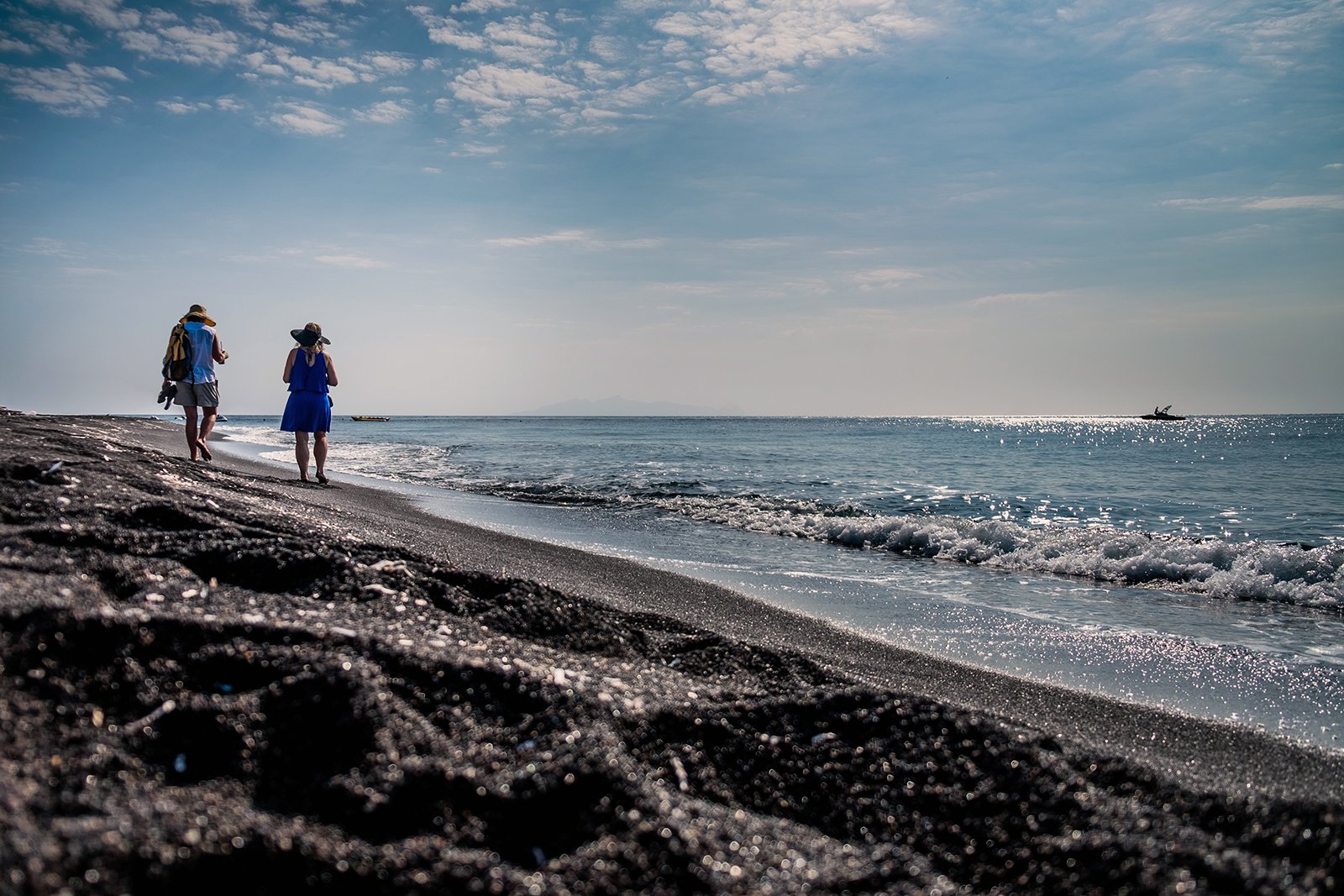 Perivolos Beach
The longest beach
Perivolos Beach is a good place for those who want to party, but who like a quieter, more relaxed atmosphere. It's effectively part of the popular Perissa Beach, and the 2 are often counted together since the dividing line between them is very vague.
Perivolos Beach stands out for having far more watersports available, including jet skis and banana boats. Being the longest beach on Santorini and having fewer hotels behind it than there are behind Perissa Beach, it's generally a lot easier to find a bit of peace and quiet here.
Location: Perivolos 847 03, Greece
Couples
Families
Photo
Budget
photo by Roberto Faccenda (CC BY-SA 2.0) modified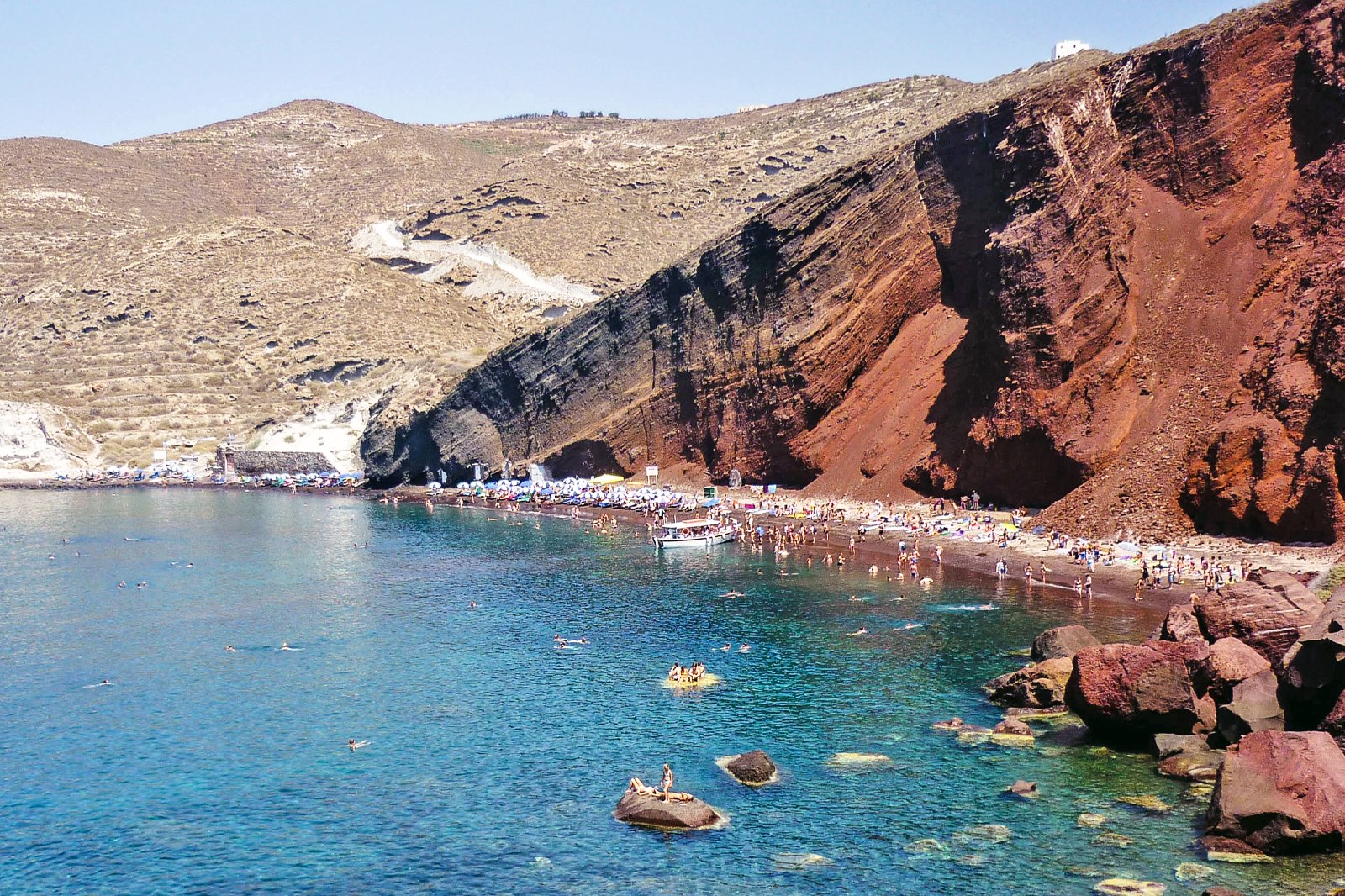 Red Beach
The most colourful beach
Red Beach is one of the most popular beaches on Santorini thanks to its towering cliffs of rust-red rocks, lapped by clear waters of a deep turquoise. Found on the south coast, it's the only beach on the whole island with this distinctive colour, which is enough to bring sun-worshippers and Instagrammers by the dozen.
With a lot of rocks and pebbles on the shore, it's important to bring a good pair of sandals or shoes with you. They're also helpful for the path down to the beach, which is short but very rocky.
Location: Akrotiri 847 00, Greece
Couples
Families
Photo
Budget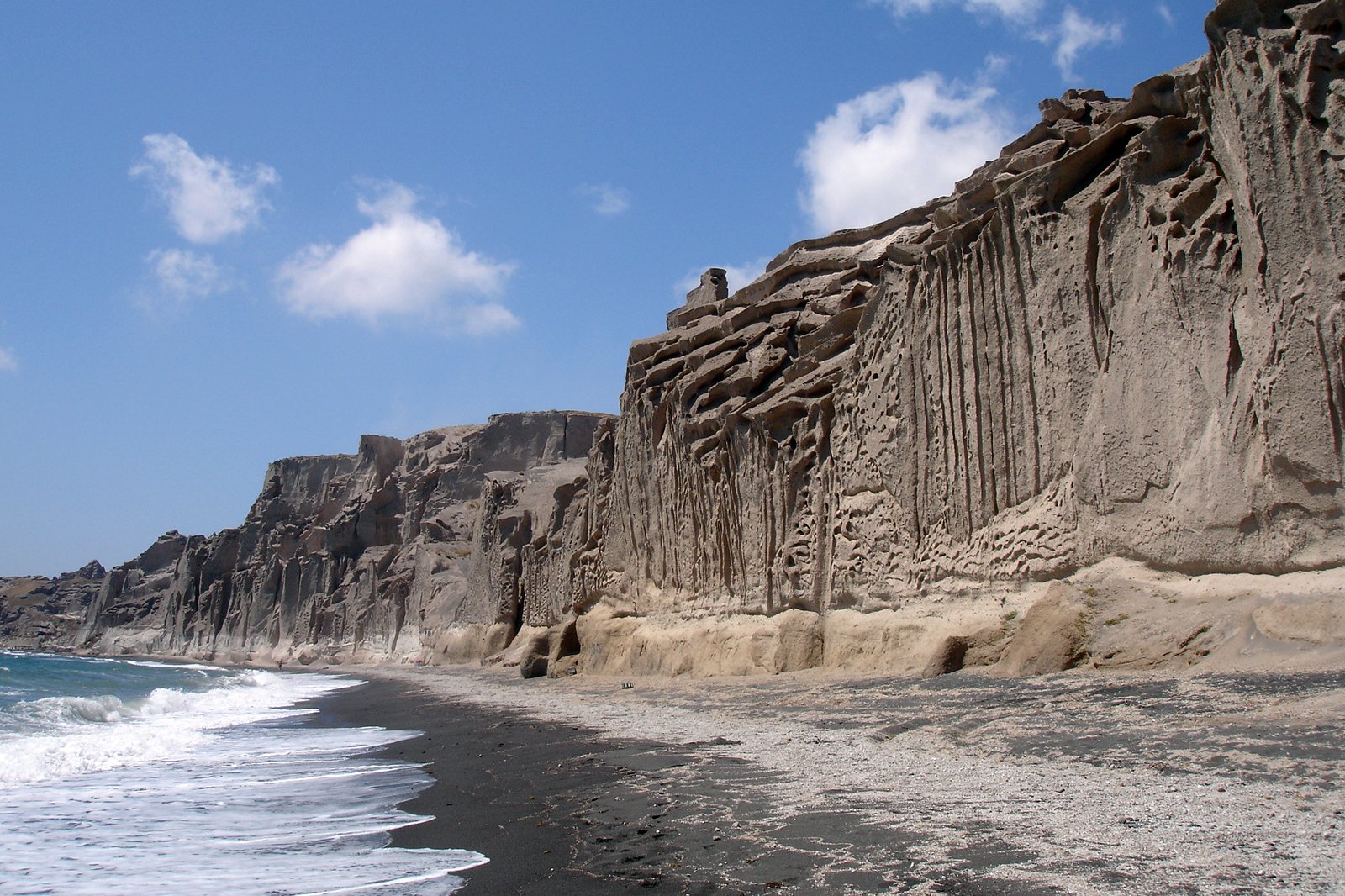 Vlychada Beach
The best local beach
Vlychada Beach is a cool, quiet spot on the south coast of Santorini, with while cliffs and small marina in the nearby town. The sand can't quite decide what colour it is as the white from the cliffs blends with the black from the shore, creating a kind of salt-and-pepper effect along the 750-metre shoreline.
The town of Vlychada, by the southern end of the beach, has an eclectic selection of attractions, including local restaurants, art galleries and a museum to the island's tomato industry. It's far from the crowds of Fira, with no public transport and only a few small hotels nearby, giving it a quiet atmosphere and a bit of local charm.
Location: Vlychada 847 03, Greece
Couples
Families
Photo
Budget
photo by Daniel Duce (CC BY 2.0) modified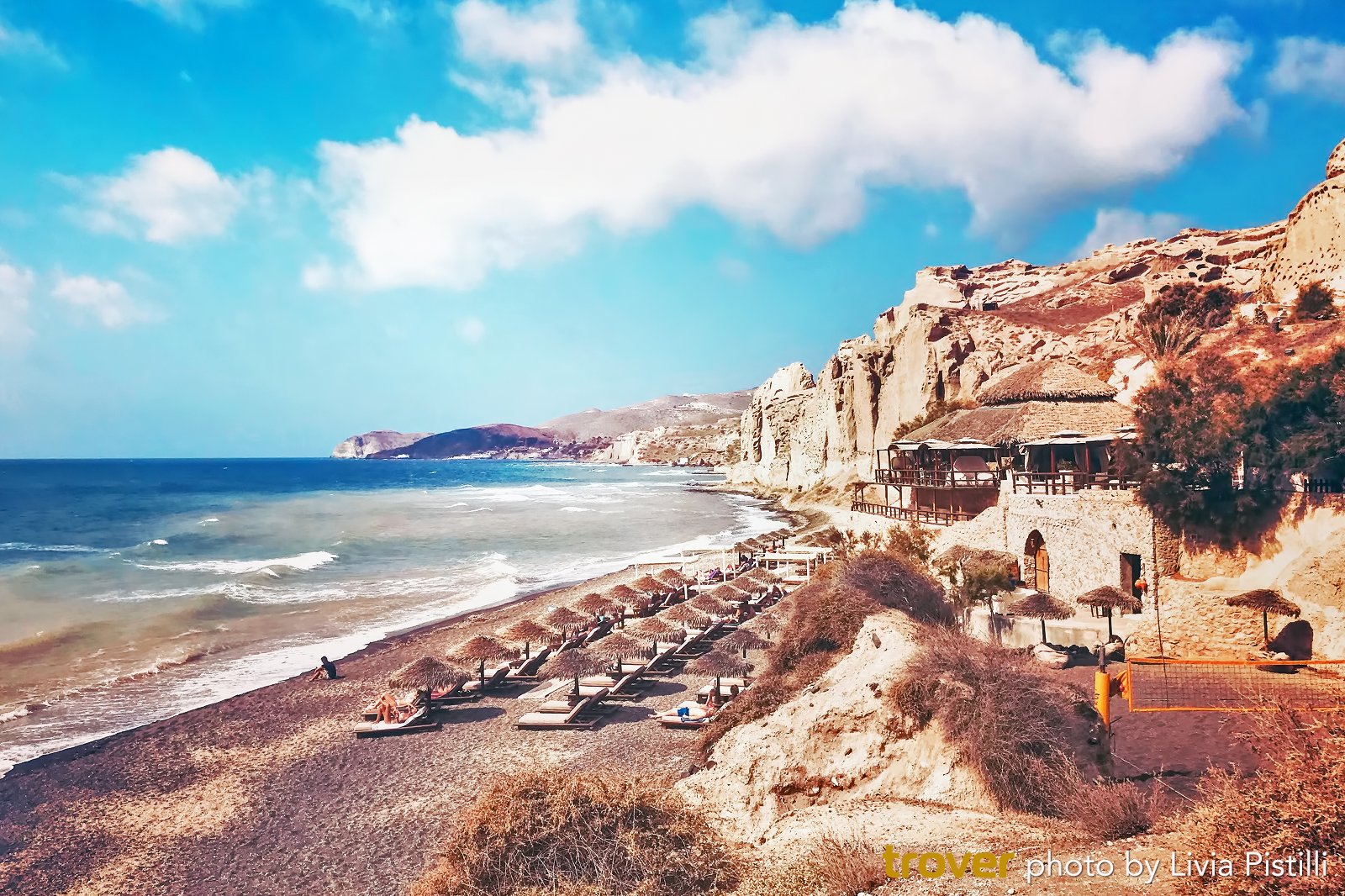 Eros Beach
The most romantic beach
Named after the Greek god of sensual love and desire, Eros Beach is naturally the most romantic on Santorini. It's on the south coast and is close enough to Vlychada Beach to be often bundled together as a single shore. You'll find the typical black, pebbly sand of Santorini, but it's backed by sheer white cliffs.
Being at the end of a dusty track, about 10 km from Fira and with no public transport routes there, it's a quiet and secluded spot. There's an upmarket beach club on Vlychada Beach, but Eros itself has nothing but sand and open space.
Location: Vlychada 847 00, Greece
Couples
Photo
Budget
Unusual
Monolithos Beach
The best sand
Located just to the east of Santorini Airport, Monolithos Beach is perhaps the sandiest shore on the island – or, at least, the fewest pebbles. Despite being only a short drive from Kamari, it's a relatively quiet place, mostly popular with local families. The seafloor slowly slopes away from the island and doesn't have the sudden drop-off which is a common feature of many other Santorini beaches.
There's a tiny fishing boat harbour by the southern end of the beach and a handful of tavernas and hotels behind it. If you like your extreme watersports, you'll find some of the best kite-surfing at Monolithos Beach.
Location: Monolithos 847 00, Greece
Couples
Families
Photo
Budget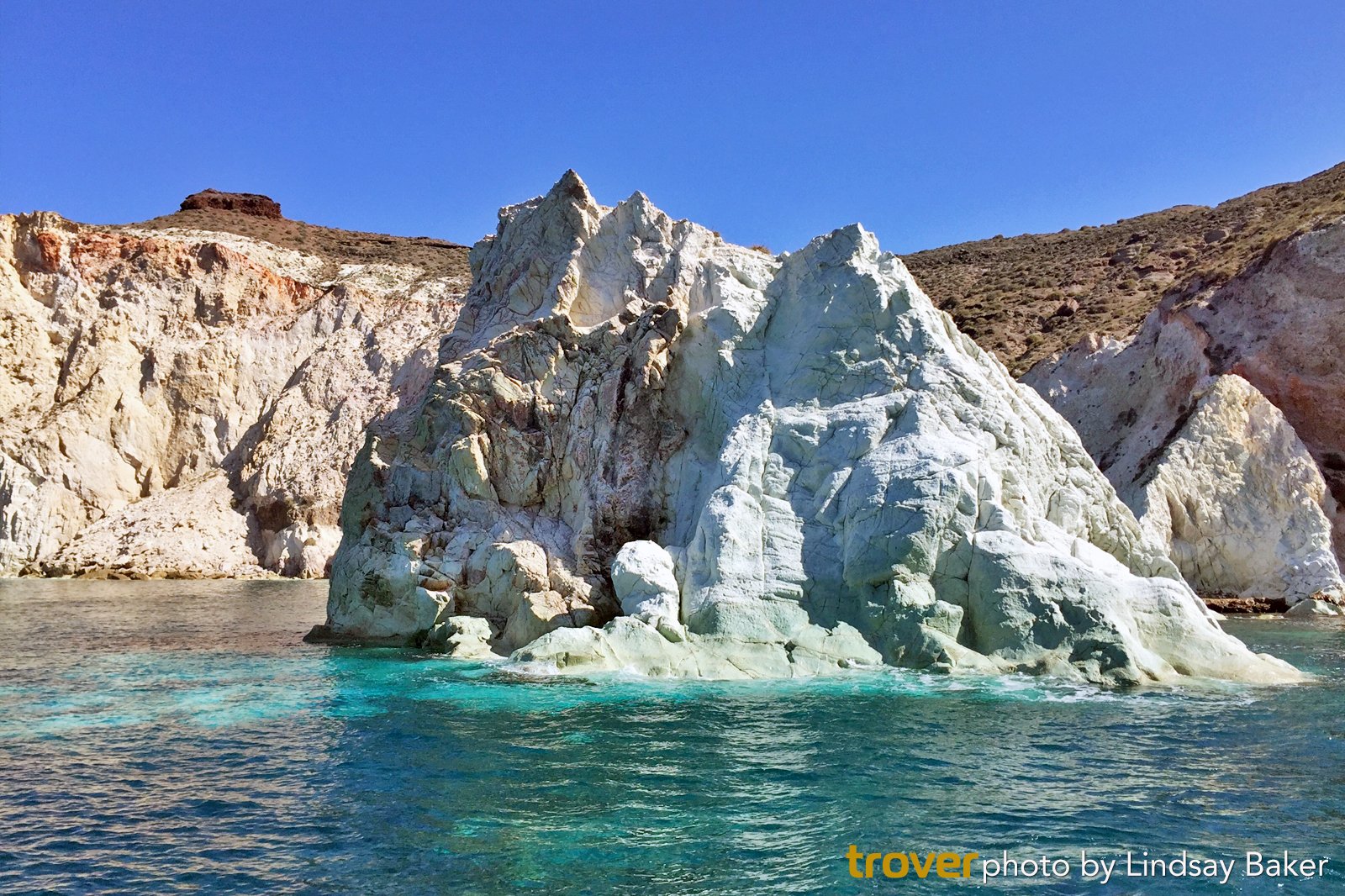 White Beach
The brightest beach
Just as Red Beach is famous for its red rocks, the nearby White Beach is famous for its white rocks. To be fair, it's a feature worth boasting about, as it's virtually the only beach on the island in this colour. It's a very small cove with a lot of rocks and large pebbles and the sand gets blacker as you get closer to the pristine seas. Even so, it's worth a visit for both the stark colour contrast and the many fish in the water. The only ways to get there are by boat or walking from Red Beach, but you can take a rest on the sun loungers once you arrive.
Location: Akrotiri 847 00, Greece
Couples
Families
Photo
Budget
Unusual
Caldera Beach
The best hidden beach
Caldera Beach is virtually the only beach worth visiting on the west side of Santorini, facing into the caldera, as the name suggests. Also known as Balos Beach, you can get to it by very carefully driving down a steep, dusty, winding road north of Akrotiri. It has dark, pebbly sand, a few quiet taverns and a very nice view of Santorini's famous cliffs. Being fairly remote and tricky to reach, it's not widely known about and is usually very peaceful and private.
Location: Akrotiri 847 00, Greece
Couples
Families
Photo
Budget
Unusual
Cape Columbo Beach
The best tanning beach
Cape Columbo Beach is found along Santorini's northern coast, far from the crowds of Fira and Perissa. Being so isolated, it's a popular spot for those looking to minimise their tan lines by sunbathing in the nude. Also known as Koloumpos Beach or Koloumbo Beach (among other variations), its biggest attraction is the lack of attractions, with very few tavernas, hotels or striking sights to draw people to it.
The sea here is usually too rough to swim in, even during high season. If you want to sunbathe in complete peace and isolation, this is definitely the place to do it.
Location: Koloumpos 847 02, Greece
Couples
Photo
Budget
Unusual