Phnom Penh Royal Palace and Silver Pagoda
Residence of the Cambodian Royalty in Phnom Penh
The Phnom Penh Royal Palace is a Khmer-style Throne Hall that was built in 1866 to serve as the residence of the King of Cambodia and his family. It also hosted foreign dignitaries and served as a venue for the performance of court ceremonies and rituals. Most importantly, the palace is a symbol of the Kingdom. South of the Throne Hall are the Royal Treasury and the Villa of Napoleon III, built in Egypt in 1866 for the opening of the Suez Canal and later presented to the Cambodian king as a gift.
The famous Silver Pagoda, originally constructed of wood in 1866, was expanded in 1962 by King Sihanouk, who had the floor inlaid with 5,329 solid silver tiles – hence its name. Inside the palace grounds, traffic noise is thankfully blocked off by the high walls and the various royal buildings sit in tranquillity amid the manicured tropical gardens.
Phnom Penh Royal Palace and Silver Pagoda - one of the highlights of 18 Best Things to Do in Phnom Penh and 10 Best Things to Do in Cambodia (Read all about Phnom Penh here)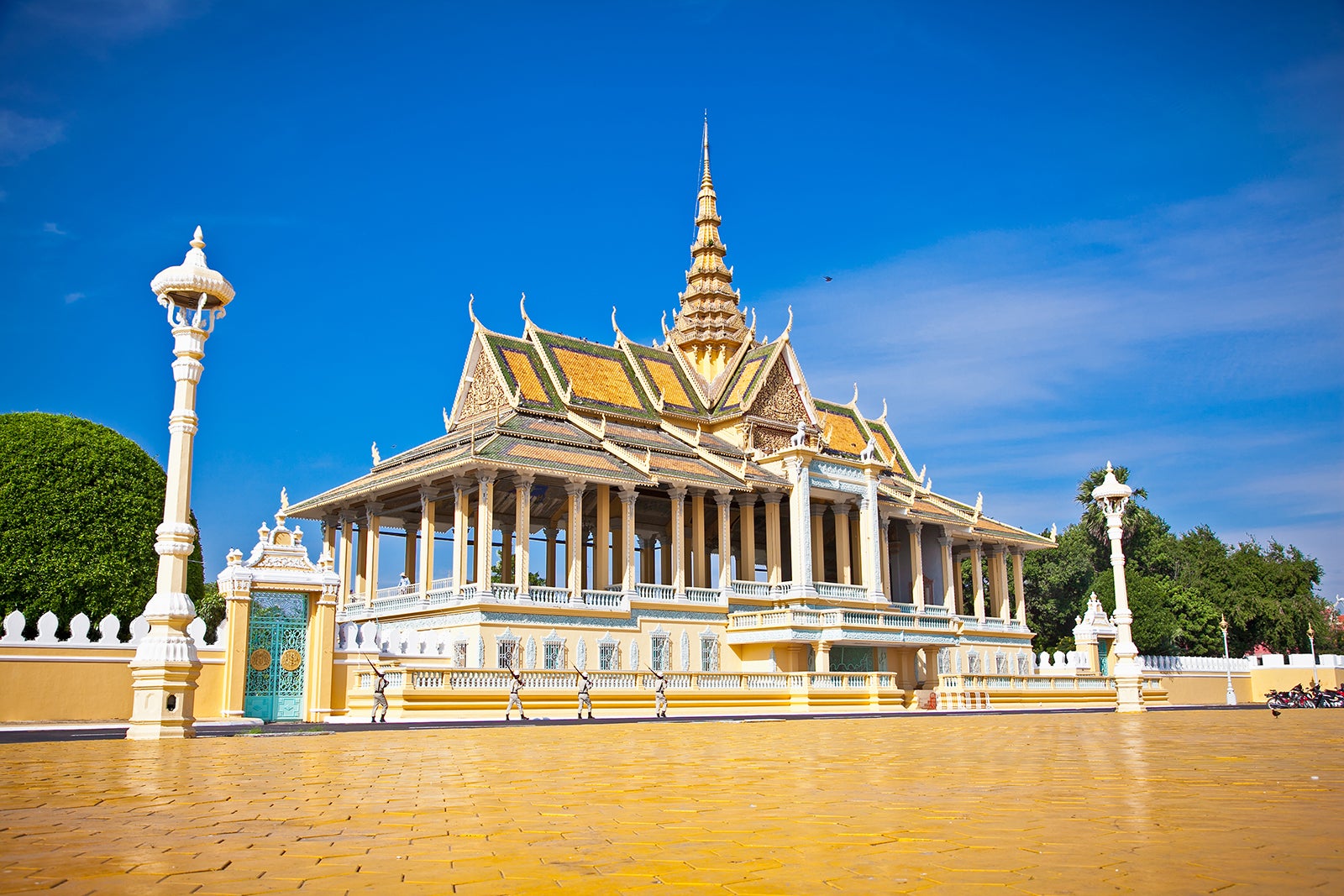 Phnom Penh Royal Palace
The most revered image at the Phnom Penh Royal Palace is the Emerald Buddha, made of Baccarat crystal and dating back to the 17th century. Behind it, another Buddha statue was cast in 1906, using 90 kg of gold and decorated with 9,584 diamonds. Cabinets along the perimeter contain gifts presented to royalty and dignitaries. Along the inside of the recently restored 600-metre external wall is a colourful mural depicting scenes from the Reamker, the Khmer version of the Ramayana.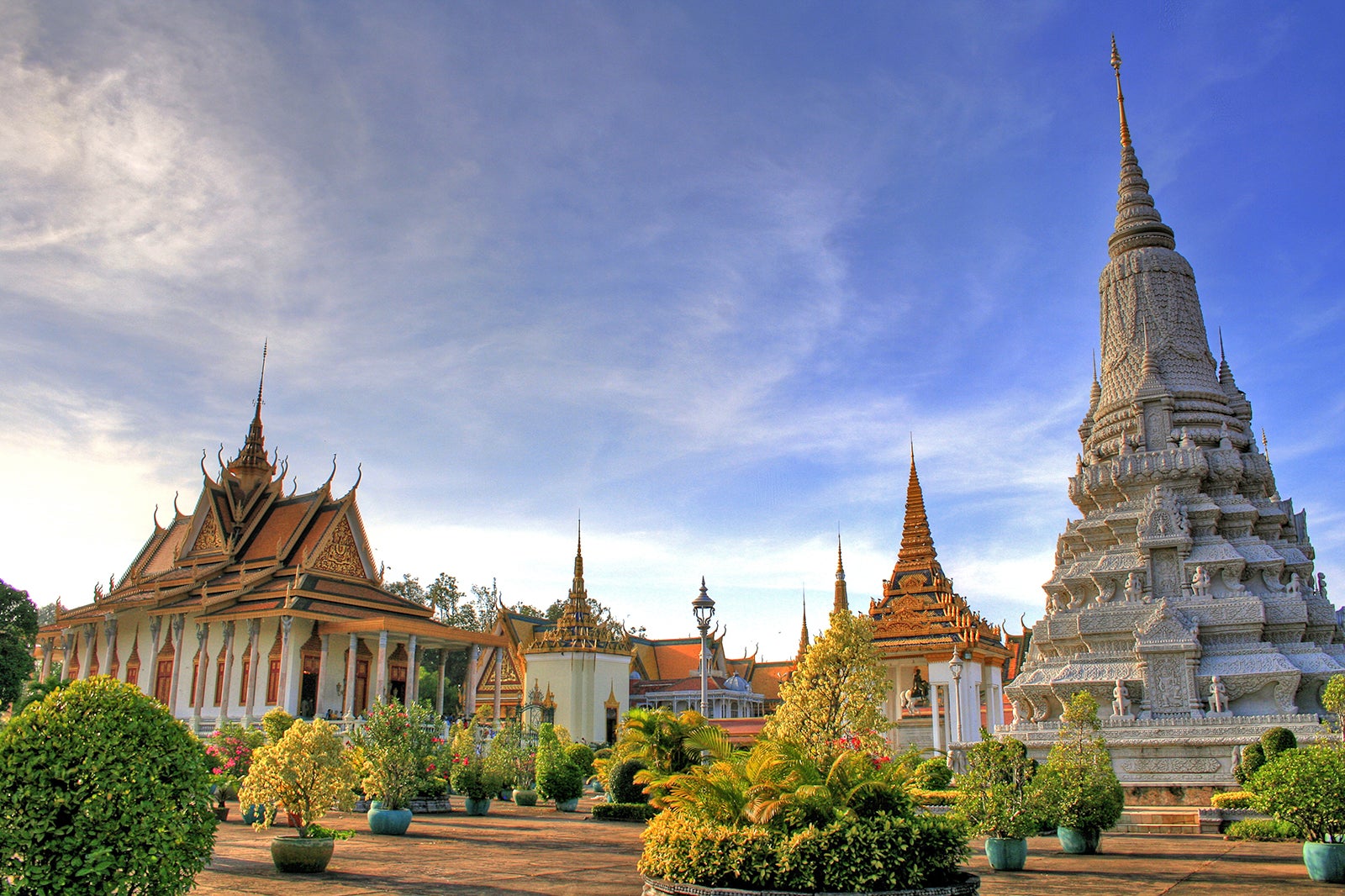 The settling of the Royal Palace at Phnom Penh was a comparatively recent event in the history of the Khmer and Cambodia. Historically speaking, the seat of Khmer power in the region was near Angkor, north of the Great Tonle Sap Lake from AD802 until the early 15th century. After the Khmer court moved from Angkor in the 15th century, it first settled in Phnom Penh in 1434 and stayed for several decades and by 1494 it had moved on to Basan, and later Lovek and then Oudong.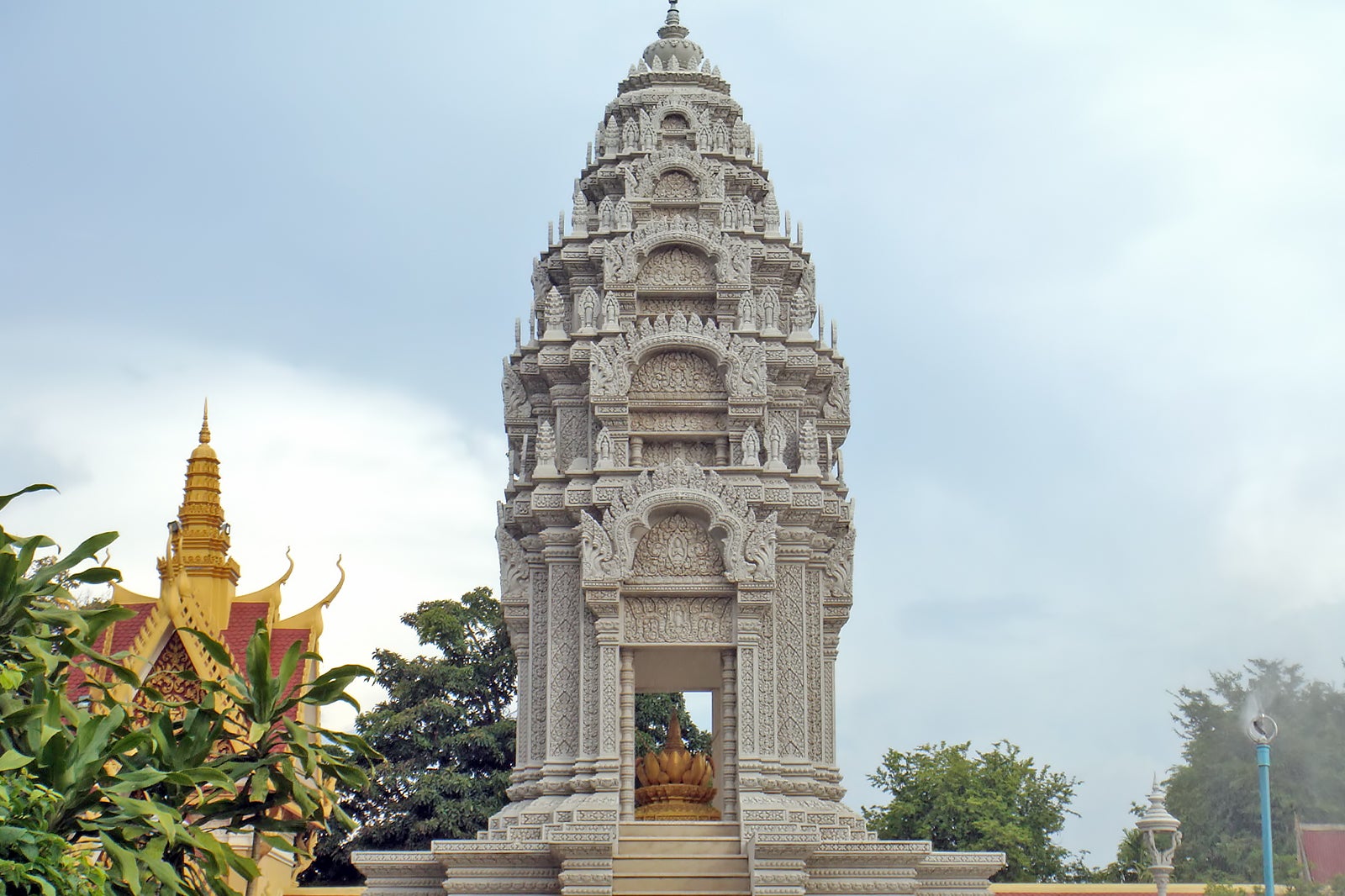 Phnom Penh Royal Palace and Silver Pagoda
Location: Samdech Sothearos Boulevard (between 184th Street and 240th Street), Phnom Penh, Cambodia
Open: Monday–Thursday and Saturday from 8am to 5pm, Fridays from 8am to 6pm, Sundays from 8am to 5.30pm
Back to top