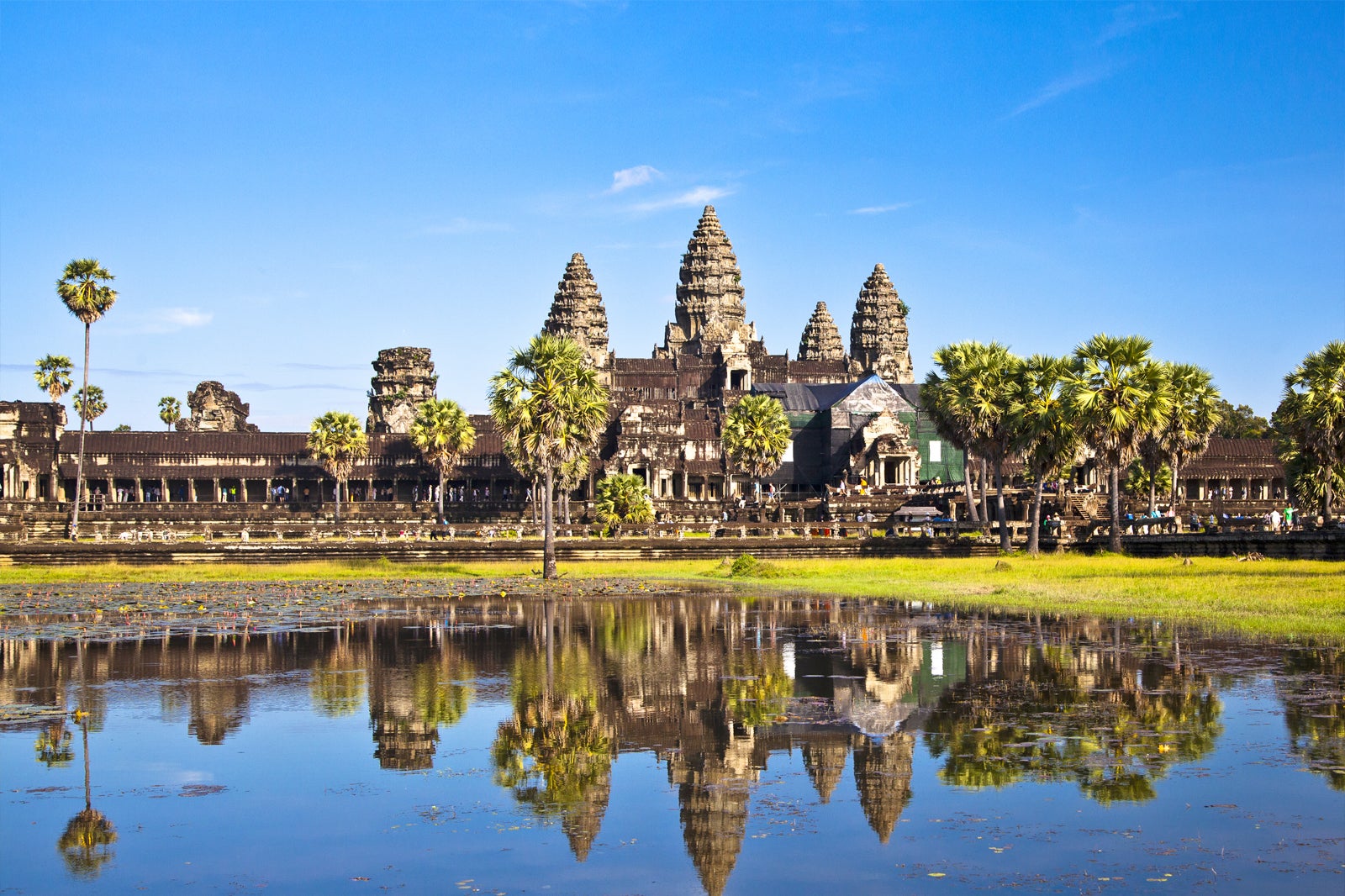 Angkor Wat is the most famous ancient temple site in Cambodia. With its 5 lotus-like towers rising 65 metres into the sky, it is an awe-inspiring sight. Located in Siem Reap, this UNESCO World Heritage site was once the largest pre-industrial city in the world. It remains one of the world's ancient wonders and is a must-see for any visitor to Cambodia.
The Angkor Wat ruins are at the centre of the vast Angkor Archaeological Park. It's best to arrange your tour of the park with a reputable agency and guide who'll be able to help buy the admission pass and arrange your transport. Some can also explain the history of the temples, but taking a guidebook is also helpful.
Angkor Wat - one of the highlights of 5 Great Angkor Temples in 3 Days and Siem Reap Area Guide (Read all about Siem Reap here)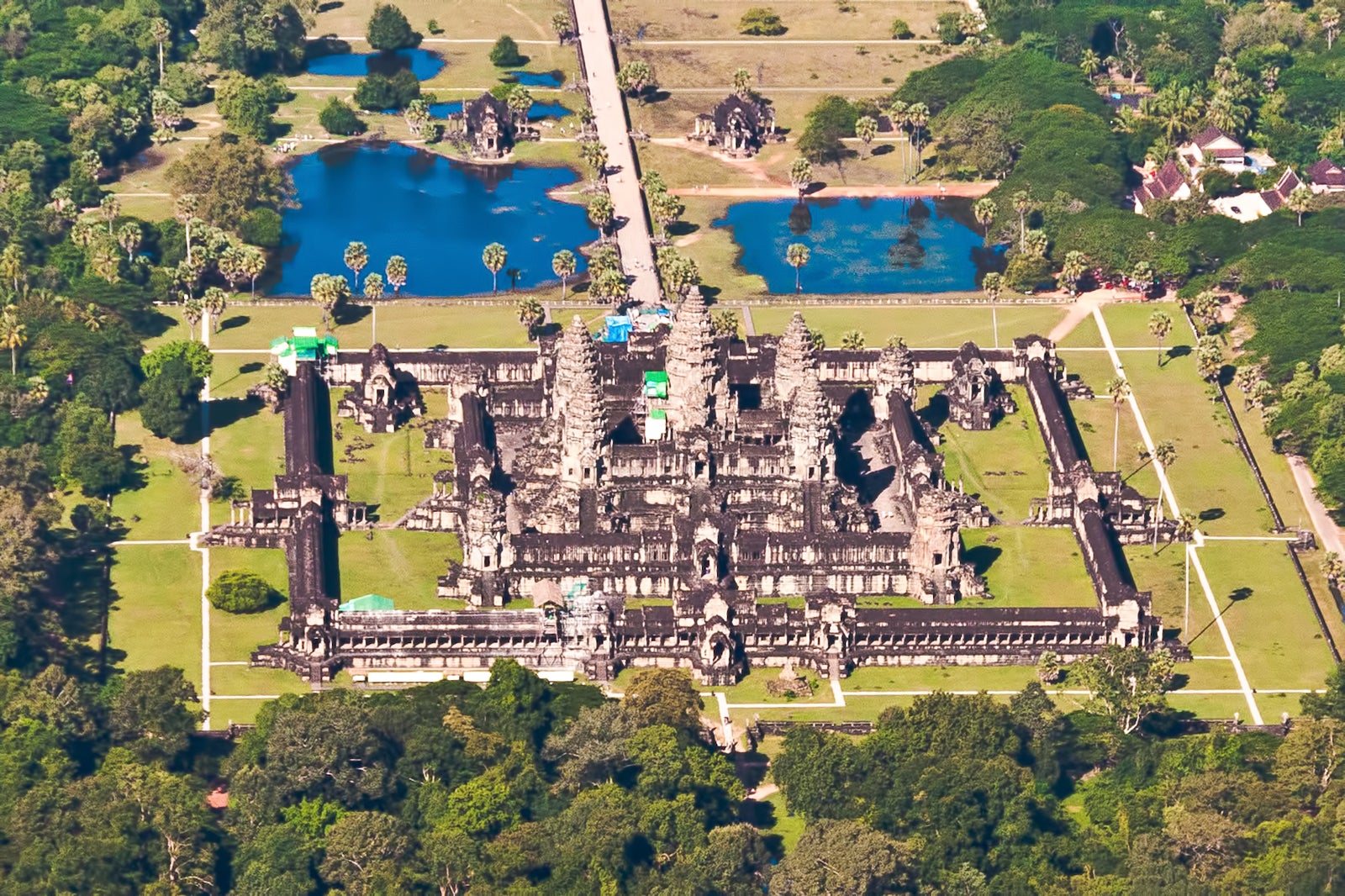 History of Angkor Wat
The temple ruins are what remains of the ancient Khmer Empire. The empire encompassed much of Southeast Asia from the 9th to the 13th century. It dominated the area of present-day Cambodia, as well as a lot of Thailand, southern Vietnam and Laos. At its zenith, more than a million people lived in the capital city at Angkor.
King Suryavarman II built Angkor Wat in the early 12th century, at the height of the Khmer Empire's power. Scholars disagree on whether it was meant as a state temple or a funerary one. The name translates as "City Temple" and it reportedly took some 50,000 artisans, workers and slaves to complete. It is still the world's largest religious building, covering 162.6 hectares. It was first dedicated to the Hindu god Vishnu, but became a Buddhist temple in the 14th century.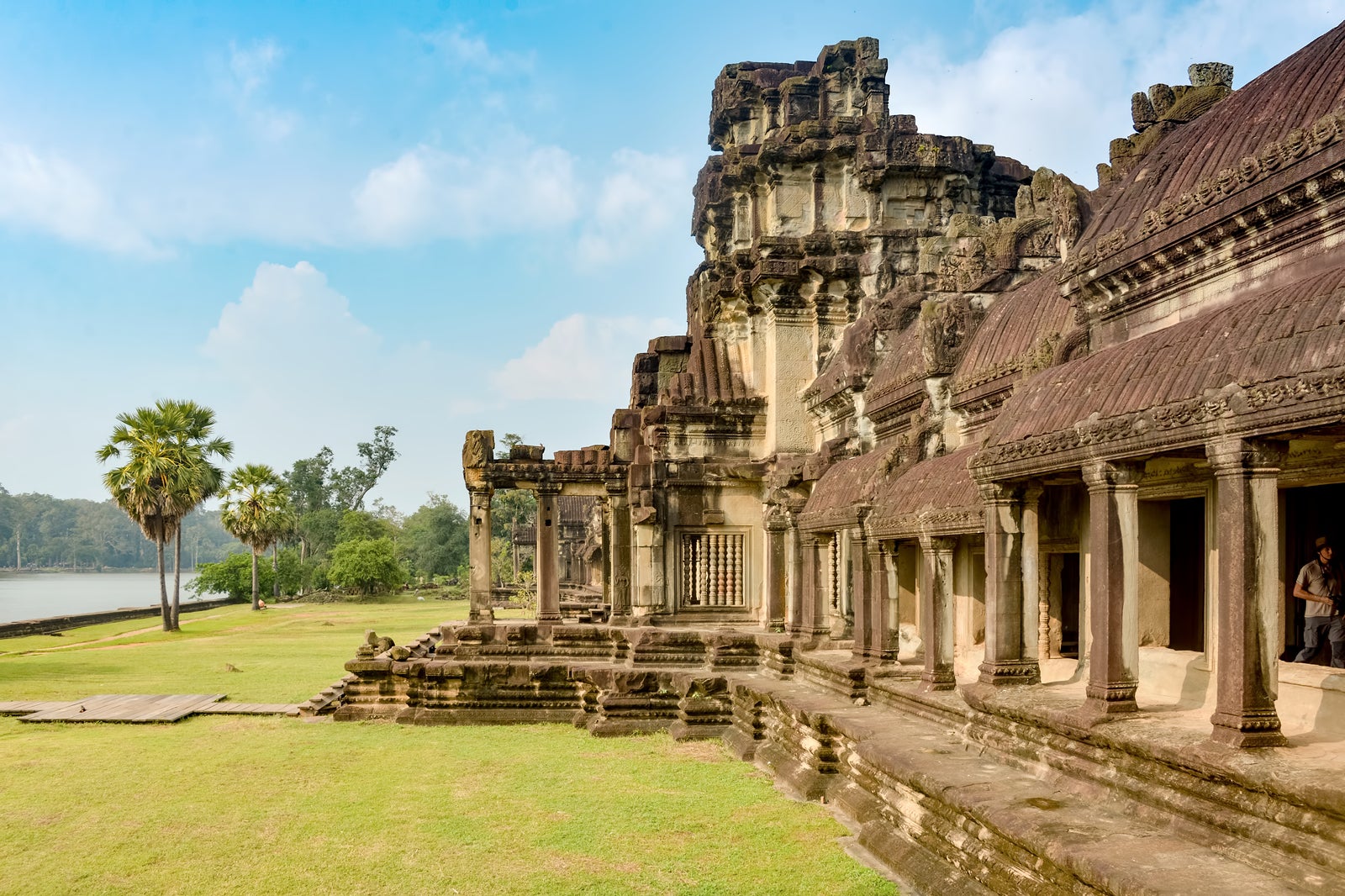 Getting to Angkor Wat
There are 2 main ways visitors get to Angkor Wat and the surrounding temples. You can join an organised trip or opt for a do-it-yourself tour. Depending on the size of your group, you can reach Angkor Wat by bus, minivan or tuk-tuk. If you're an adventurous type, you can visit the temples on a motorbike.
Cycling to and around the temples is an eco-friendly way of sightseeing. Be sure to carry plenty of water, though. It may not be as it looks on the map, but the temples are quite far apart to comfortably get to on foot.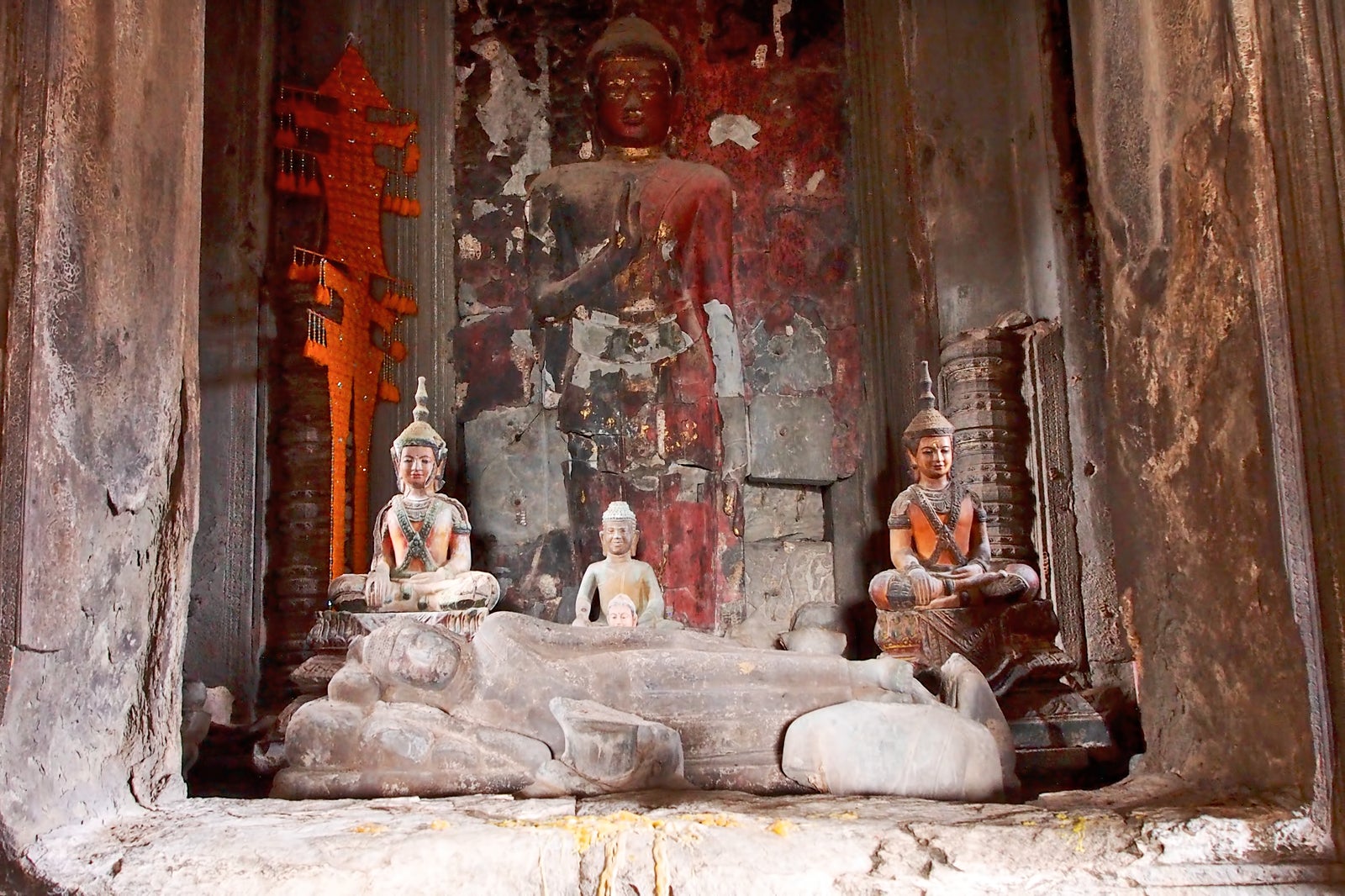 Highlights and features of Angkor Wat
The temple is about 2 sq km and consists of 3 levels.
The exterior wall surrounding Angkor Wat measures 1,300 metres x 1,500 metres.
Bas-reliefs and carvings cover almost every wall of the temple. Those on the exterior walls of the lower level are especially remarkable.
There are carvings of almost 2,000 apsaras (celestial dancers). These inspired the revival of the Apsara Dance in Cambodian culture.
Other carvings show scenes of wars, everyday life and Hindu legends.
The south wall shows scenes of heaven and hell.
Depictions of the Hindu 'Churning of the Ocean Milk' are on the east wall.
The main tower on the third level contains four Buddha statues. Each statue faces a different point on the compass. Paying respect to these statues is said to bring good luck.
The stone structures seen today are only part of what used to exist at Angkor. There was also an enormous city of wooden houses, markets, shops, palaces and public buildings.
Angkor was abandoned after being sacked by Siam (now Thailand) in 1431.
The French government established the Angkor Conservancy in 1908. They were first to restore the temples of Angkor Wat, Bayon and Ta Prohm.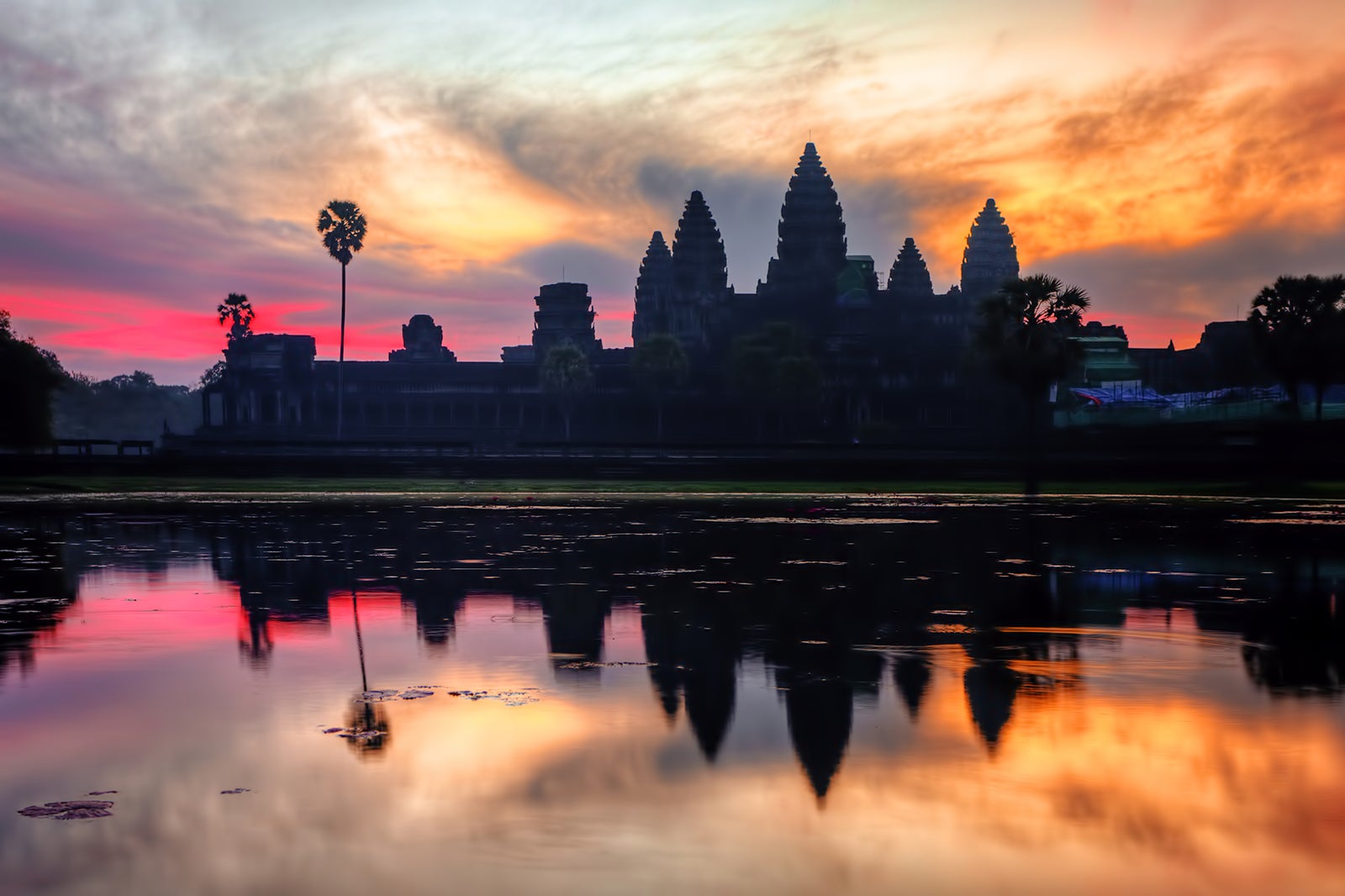 Photographing Angkor Wat
The amazing structure as a whole is best viewed and photographed in soft light. The best lighting conditions are after 2pm.
The light is worst in the morning, but a visit at sunrise can be magical.
A popular location for sunrise viewing is the northern reflecting pool. You should get there early, before sunrise starts. You see the most beautiful colours just before the sun breaks over the horizon.
When the sun comes up behind Angkor Wat, the temple's distinctive shape forms a silhouette against the colourful sky.
You get a good overview of the temple complex from the nearby Bakheng Hill. The view is at its best around sunset, but be sure to bring a zoom lens.
Guided tours of the temple usually start with the bas-reliefs that cover the first level exterior wall. These are perhaps the most beautifully done. You can then follow them around the temple in a counterclockwise direction.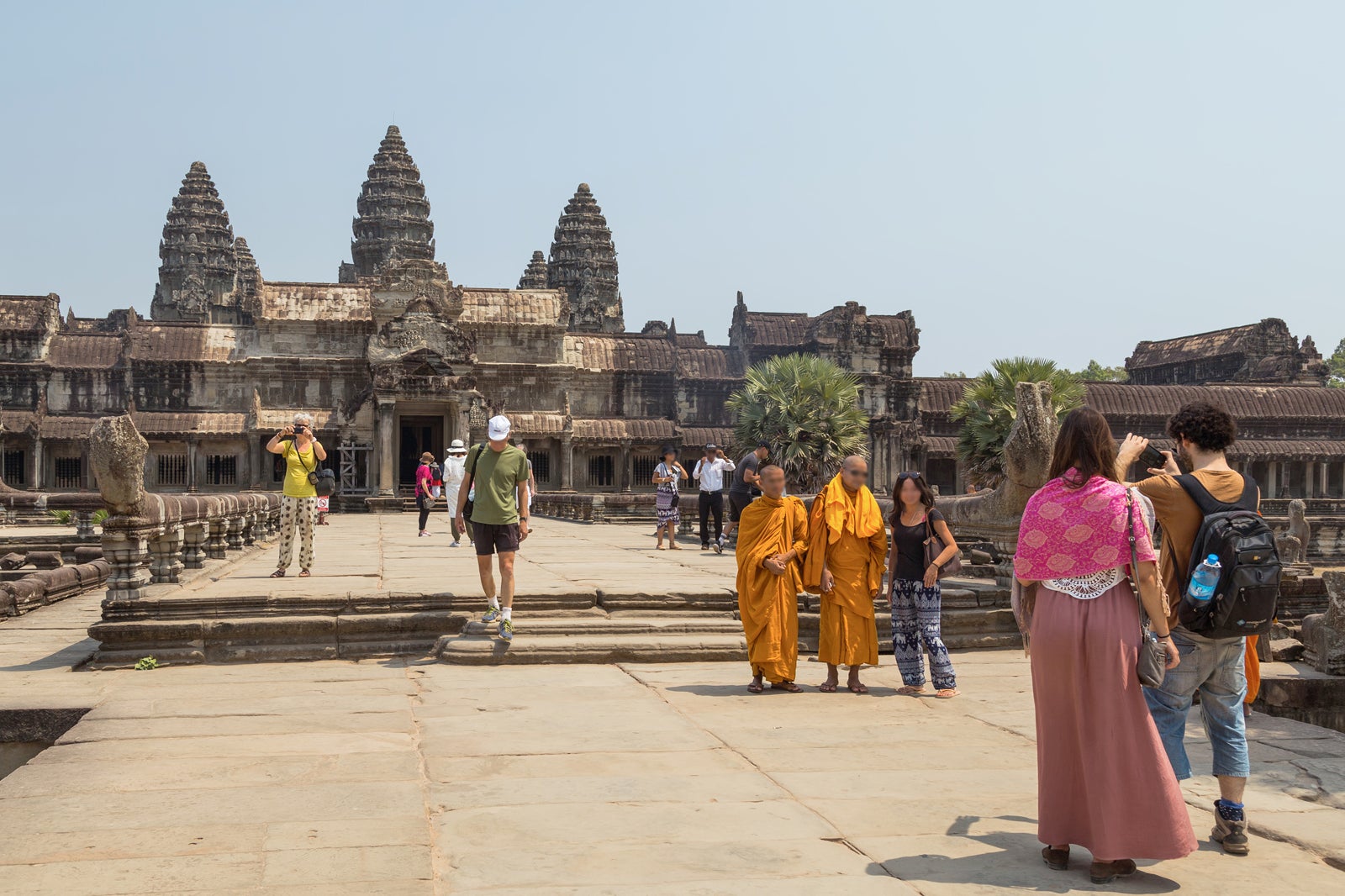 What to bring and how to dress
A visit to Angkor Wat involves a lot of walking around in Cambodia's tropical climate. Light and comfortable clothing are strongly recommended, as is sunscreen, a hat and sunglasses. In the rainy season, a raincoat and/or umbrella will be very helpful. You should bring mosquito repellent if you're there at sunrise or sunset.
As you'll be walking over rough terrain and climbing up and down steep steps, sturdy footwear is essential. Walking shoes are best, but open-toed sandals are acceptable if they are the type that fastens around the heel. Flip-flops and high heels will cause discomfort.
For the sake of cultural sensitivity, signs around the temples ask you to dress respectfully. This includes wearing clothes that cover your shoulders and knees. While this is mostly aimed at female travellers, it also applies to males.
There are many vendors, stalls and restaurants in the Angkor Archaeological Park, especially near temple entrances. They sell items such as guidebooks, snacks, souvenirs and postcards. Some of their prices are a little inflated, especially for drinks. We recommend bringing an ample supply of water with you.
Angkor Wat guides
While you can do a self-guided tour using a good guidebook, you can get much more out of your visit with a competent guide. They can point out and explain the most significant and interesting of the temple's many features.
Some guides are multilingual, many of whom can speak English, Spanish, Japanese, Chinese, German and French. They'll approach you by the entrance to Angkor Wat, but not that some aren't properly trained or registered. It is generally better to book a guide in advance.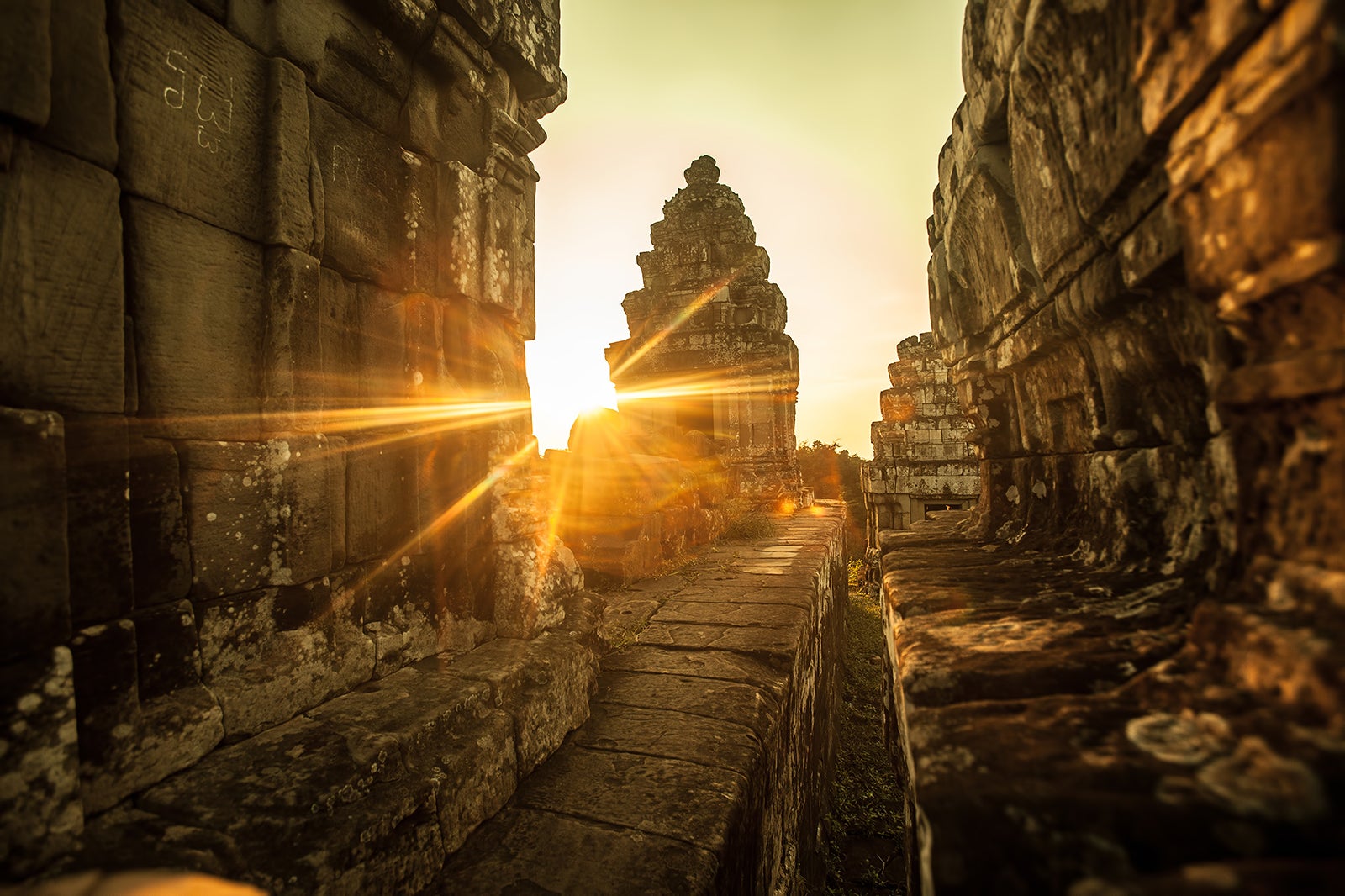 Entrance to Angkor Wat
You need a valid admission pass (called an 'Angkor Pass') to enter the Angkor Archaeological Park. You can choose between a 1-day pass or multi-day pass to visit Angkor Wat. With the multi-day passes (3 or 7 days), you don't have to visit temples on consecutive days.
Carry your temple pass with you at all times as you have to show it each time you enter the park and when entering major temples, including Angkor Wat. If you don't have a valid pass while inside the park, or when visiting a temple, you may get fined.
Angkor Wat
Location: Siem Reap, Cambodia
Open: Daily from 5am to 6pm
Back to top