What guests say
Close to public transport
Stylish hotel
Friendly atmosphere
Could be quieter
Narrow reviews:
297 verified guest reviews
Good value hotel, handy to the metro and in a vibrant area. Recommended
Verified Expedia guest review
Response by Yacine
Thank you for your words concerning our hotel Kind regards
The following English reviews were posted by hotel guests from other countries
The Hotel Port Doree is characterful, neat, scrupulously clean and staffed with friendly and helpful personnel. Our room was nicely equipped for a short stay with a lovely comfortable bed, crisp linen, tea/coffee making facilities, free WiFi, TV, iron and ironing board, fresh fluffy towels, shower gel and shampoo and body lotion and a lovely modern bathroom. Located next to the Bois de Vincennes with lovely restaurants and bakeries on its doorstep this is a hotel I will definitely return to. The metro, bus and tram links ensured I was easily able to visit everything I wanted to during my stay.
Verified Expedia guest review
Really beautiful hotel steps from the Metro entrance, lovely reception staff who were happy to look after luggage in the reception way before the 2pm check in time. Lovely decor throughout and really pretty rooms, I stayed on the top floor which was a long climb of steps but nothing too bad. They showed a good concern for the planet and were very eco conscious.
Verified Expedia guest review
Lovely hotel with nice and friendly staff, were happy to speak in English and very helpful. The room was very clean and well decorated.
Verified Hotels.com guest review
Very clean, comfortable bed, breakfast was Okey,........ All public transportation like Metro, tram, bus to see Paris and travel to airport is available just outside the hotel....
Verified Expedia guest review
Very convenient location for metro and dining. It is pretty clean and staff was nice.
Verified Expedia guest review
It was very convenient location to metro and shopping. We also liked their breakfast.
Verified Expedia guest review
We were not informed that the hotel was above the Metro and that it was felt in all the rooms. Also, that the hotel was under repairs so that the workmen started banging outside our window at 8:30 in the morning.
Verified Expedia guest review
Excellent location near the Metro line; staff spoke English and was very friendly; we loved our room it was were very cute and clean; great amenities and the breakfast was good.
Verified Orbitz guest review
It's good location near the shops and restaurants.
Verified Expedia guest review
Best Parisian Hotel
It was a beautiful hotel very quaint everything I didn't expect and more.. Reception was welcoming & accomdating, clean bathrooms and floors , heating towel rack was superb & crisp bedsheets with a freshly washed scent . Just wished it was mentioned that their would be some type of construction going on in the early morning. All in all would stay again definitely.
Verified Hotels.com guest review
Great hotel in a great spot
This is a wonderful hotel with so many nice amenities.
Verified Hotels.com guest review
Very chic spacious and cozy hotel. Check in was great! Good location with restaurants n shops within walking distance . Enjoyed the small added touches. Full amenities provided. Only -tve are the renovations directly outside my room so I didn't have a decent view this time round. Pleasant staff. Would book again.
Verified Expedia guest review
This hotel is outside the tourist areas of the city, so when you stay there you see more of a Parisian neighborhood. It is near an excellent zoo and park, whick also contains a museum of immigration. You can also walk from there to the Viaduc Des Arts, a relatively new attraction. The staff is friendly and English speaking ( the owners are an American/French couple). The breakfast is very adequate, including organic options. The hotel is managed with attention to the environment. Our room was small, but it contained everything we needed at an affordable price. It was clean and the large queen bed was very comfortable. We have stayed there several times, and will happily return.
Verified Orbitz guest review
Bed is surprisingly comfortable, even though it's small but has everything you will need. Very friendly staff.
Verified Expedia guest review
Wonderful hotel in a pleasant location.
This was an amazing hotel. The location was wonderful. Nice, friendly safe neighborhood. The breakfast that was offered - had a great variety of food choices. The staff was excellent & always friendly to help.
Verified Hotels.com guest review
The air conditioning only worked 1 day the last day Saturday so from Monday to Friday we had NO AIR CONDITIONING. I have MS multiple sclerosis and this was terrible for me. The staff were kind but it was Not fixed until Saturday 6am. Then was roof repair going on every morning! Frim 6am to 11am. The owner I contacted she apologized but it was never resolved. This hotel cost 250 Euros per night and a Waste of my money it was me and my husband's Anniversary trip and I will never return to that hotel again nor will I ever use Expedia.
Verified Expedia guest review
Absolute Treasure !
Excellent Hotel
Verified Hotels.com guest review
Everything was lovely! The room wasn't ready at 2 but they kept us informed and got us in as soon as possible.
Verified Expedia guest review
I loved the enviromental awareness promoted in the hotel. It is a cosy stay and has lovely character. Steps away from the metro. Will definately stay again
Verified Expedia guest review
This was a cute little hotel, the staff were very pleasant and so was the service. The hotel was clean and comfortable. The location is a bit far from the Eiffel Tower and other main attractions (40 min train ride). Overall we had a great stay and I would recommend it to friends.
Verified Travelocity guest review
Nice hotel. Very close to the metro. Staff was wonderful.
Verified Expedia guest review
Nice Hotel.
Amazing location just beside Metro station, helpful day time stuff receptionist English fluentl Smiley and supportive. But Nothing we could like from night shift receptionist , poor English communicator, moring during our check out at 6am was so rude while asking him some questions on our taxi he replied in French! And seems angry maybe been awakened!!!!!!!.
Verified Hotels.com guest review
Good value- however i had to leave one night before my actual booking although all was paid in full. i didnt ask for any refund or anything, so i told the guy at the receiption that you have an empty room paid for that you can even book again and benefit your business. he said OK but you have the pay me 1.65 euro as city tax before you depart!!!!!!!!!!! OMG i coudnt belive it! The girl though was perfect .. spot on!
Verified Expedia guest review
Staff are kind & helpful esp Jerome & Lucille.They go out of their way to make our stay stress free.The location is next to Metro station which is convenient.The manager of this property e-mail me prior to our arrival to make sure we have all our questions answered.The beds are comfortable.Proximity to restaurants & groceries are walking distance.Thank you!
Verified Expedia guest review
Very good location, Fast access to everything. Reliable staff.
Verified Expedia guest review
Hotel is very near train station which is at least 20-30 mins away from the attraction. Room is clean but small. Hotel is kind to email me before hand to ask if I need any advice on my trip.
Verified Expedia guest review
Lovely hotel. Friendly, helpful staff and easy access to metro.
Verified Expedia guest review
I liked that it was close to public transportation, restaurants, cafes, Monoprix, Sunday marché. It could use a bit of modern touch in term of the rooms. In general, it was a good place to stay.
Verified Expedia guest review
Had lots of charm, very boutique style. Pretty far away from main attractions but good for a nights stay before heading to the airport (20ish minute drive to Orly, 30 to CDG.)
Verified Expedia guest review
I thought nothing could ruin my Paris trip :(
Room size 3x2m minus toilet and shower. I am not massive person and had troubles to fit in the shower. Under the hotel runs tube line so no sleep for 2 nights. Everything just vibrates, sound similar to rocket launching. No tiny fridge in the room but I understand no space for it :)
Verified Hotels.com guest review
Good hotel, very well located. Helpful staff.
Verified Hotels.com guest review
Wonderful location, safe/family-friendly neighborhood with excellent food near by. Very close to public transportation (Metro, Tramway, Bus); 20 min to the centre of Paris by subway! Staff is very friendly, and the breakfast is simply amazing (fresh organic cheeses, fruit & yogurt, breads from the boulangerie across the street, coffee, etc). Overall, a great stay. Will definitely stay there again at the next available opportunity
Verified Expedia guest review
Great hotel service and location !!!
Great! Customer service amazing !! We loved the area perfect to get anywhere in Paris would definitely come back!! Was awesome !
Verified Hotels.com guest review
A gem away from the crowds
It was in one of the most beautiful areas of Paris...not overcrowded but charming. The hotel staff was available and friendly and the breakfast was excellent. This hotel checks all the boxes for a comfortable and pleasant stay in Paris. Wherever you wish to go is simply a walk or a metro ride away.
Verified Hotels.com guest review
Perfect Hotel in Paris
Warm welcome and lovely room. Easy access to city by metro. A short walk to good restaurants for lazy lunches or croissants and coffee for early breakfast. Would highly recommend Porte Doree Hotel.
Verified Expedia guest review
Overall, the stay was great. Staff was pretty helpful and nice. The hotel itself is quite pretty with a great mix of quaint charm and modern efficiency. Only thing to know is that the train rumbles underneath quite loudly each time it passes and everyone in the building is for sure to hear and feel it. The hotel provides free ear plugs, which is nice. I personally don't mind the rumble and didn't need to use the ear plugs (not that they would've helped if that kind of thing bothered me). But if that is not to your liking, just beware.
Verified Expedia guest review
Loved all parks and community aspects to the area. Bercy Park was great to see. I would stay here again. Easy metro to everywhere especially Sunday markets
Verified Expedia guest review
Staff was very helpful. Location was excellent for Paris. Easy access to metro and trains, good resteraunts close by. Good access to points of interest.
Verified Expedia guest review
The hotel has a very good, calm and friendly atmosphere. Staff was great! The rooms really nice and fittet with nice old bed frames.
Verified Hotels.com guest review
I believe it's fair to mention that the Metro is super close so you will hear the train from time to time. But you are in the city so you should be prepared for city sounds. If you're a city dweller those sounds won't be foreign to you. The Staff is incredible! So attentive, nice and very knowledgeable about their city. Don't speak French, no problem. The staff do speak English but please make an attempt to speak French. That's just courteous. The boutique hotel rooms are super comfy and that bed is like sleeping on a cloud. It's surrounded by great food and close to attractions. Their $12 euro breakfast is delicious and sets you up for the day. When I return to Paris I will definitely be staying at this amazing hotel.
Verified Expedia guest review
1 night stay
The check in supposed to be at 2 pm I was there on time but the room wasn't ready yet I had to wait 40 min. But except of that all the rest was perfect
Verified Hotels.com guest review
Location
Nice area,some good restaurants and patisserie close by.The subway and tram service are great connections to all the tourists centres in Paris and to the airport. Staff very helpful and coffee in the lobby is a bonus
Verified Hotels.com guest review
Great hotel, good area with subway right outside
Very nice stay. Hotel staff were lovely, very friendly and helpful. The beds were super comfortable, and the water pressure in the shower was excellent. There's a really great park two minutes walk from the hotel and also loads of supermarkets, bakeries and restaurants. We thoroughly enjoyed our stay there.
Verified Expedia guest review
Location was excellent. But I would not stay here again next time. Room was small and it was not clean.
Verified Expedia guest review
Paris
Very friendly staff, very clean. Only stayed for a night before going to the airport.
Verified Hotels.com guest review
Last night in Paris on first trip to France
Lovely old hotel in fine repair. Very capable, professional staff. But roll-away bed extremely uncomfortable, street noise very loud w/windows open, but needed them open for the air (too hot otherwise.) Great location for getting @ on the Metro.
Verified Hotels.com guest review
Awsome
Awsome place. Very nice, clean and super comfortable. Stuffs are over the ratings. Very friendly. Commute is really good. I love this place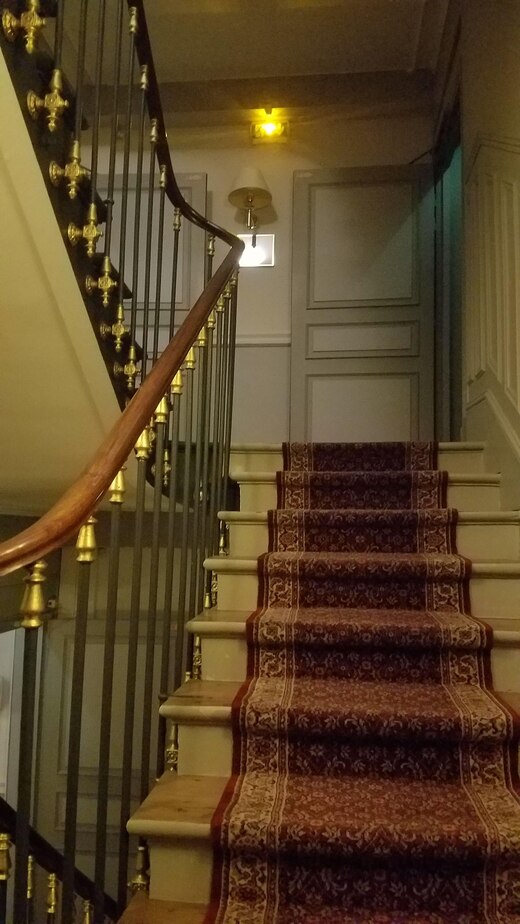 Verified Hotels.com guest review
Everything is good, just the location is a little bit far from main attractions! But we're glad that the subway station right next to the hotel. So it's v convenient to go anywhere. Consider the price & comfort of the hotel, it's not a bad choice!
Verified Hotels.com guest review
A good place to stay at Paris
Good experience.
Verified Hotels.com guest review
Reviews and ratings contained within this site are the subjective opinions of customers and suppliers; they do not represent or reflect Hotels.com's position. Neither Hotels.com nor the parties involved in providing review content shall be held liable for any damages of any sort resulting from use of these reviews