10 Best Places to Go Shopping in Williamsburg
Explore Retail Options in this Historic City
Williamsburg is a historic city where you'll find all sorts of varied shopping opportunities both within its historic district and on the outskirts of town. Even within Colonial Williamsburg and the 18th-century buildings, you'll find several distinct shops offering high-end items you can enjoy. Of course, upscale brands can be found all over the area along with more affordable alternatives. Variety is never in short supply, so it's easy to find the kind of shopping experience you're looking for specifically. Check out all the best places to go shopping in Williamsburg.
1
Williamsburg Premium Outlets
Shop premium brands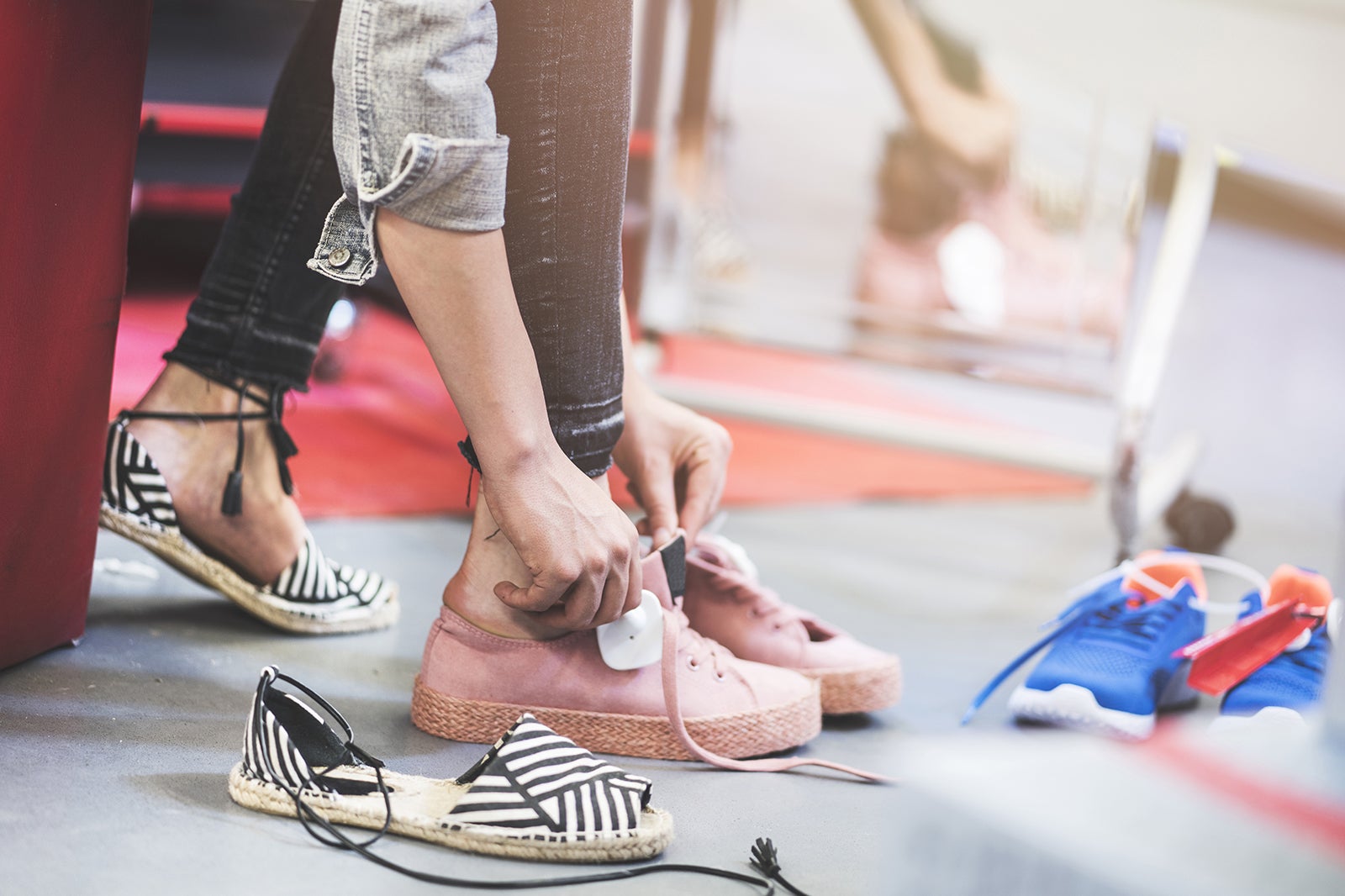 Williamsburg Premium Outlets is a collection of high-end stores where you'll find a variety of items including clothes, shoes, jewellery, and handbags amongst other items. This is an outlet mall, so you'll find these stores outside connected in several combined strip malls with car parks in between. One of the most notable aspects of this outlet mall is that it's pet friendly. While many of the stores don't allow dogs inside, the area itself is friendly to your furry companions. You'll find these outlets just a few minutes' drive northwest from city centre off of the highway.
Location: 5715 Richmond Rd, Williamsburg, VA 23188, USA
Open: Monday–Thursday 10 am to 9 pm, Friday from 6 am to 9 pm, Saturday from 10 am to 9 pm, Sunday from 11 am to 7 pm
Phone: +1 757-565-0702
2
Williamsburg Antique Mall
Shop for historical antiques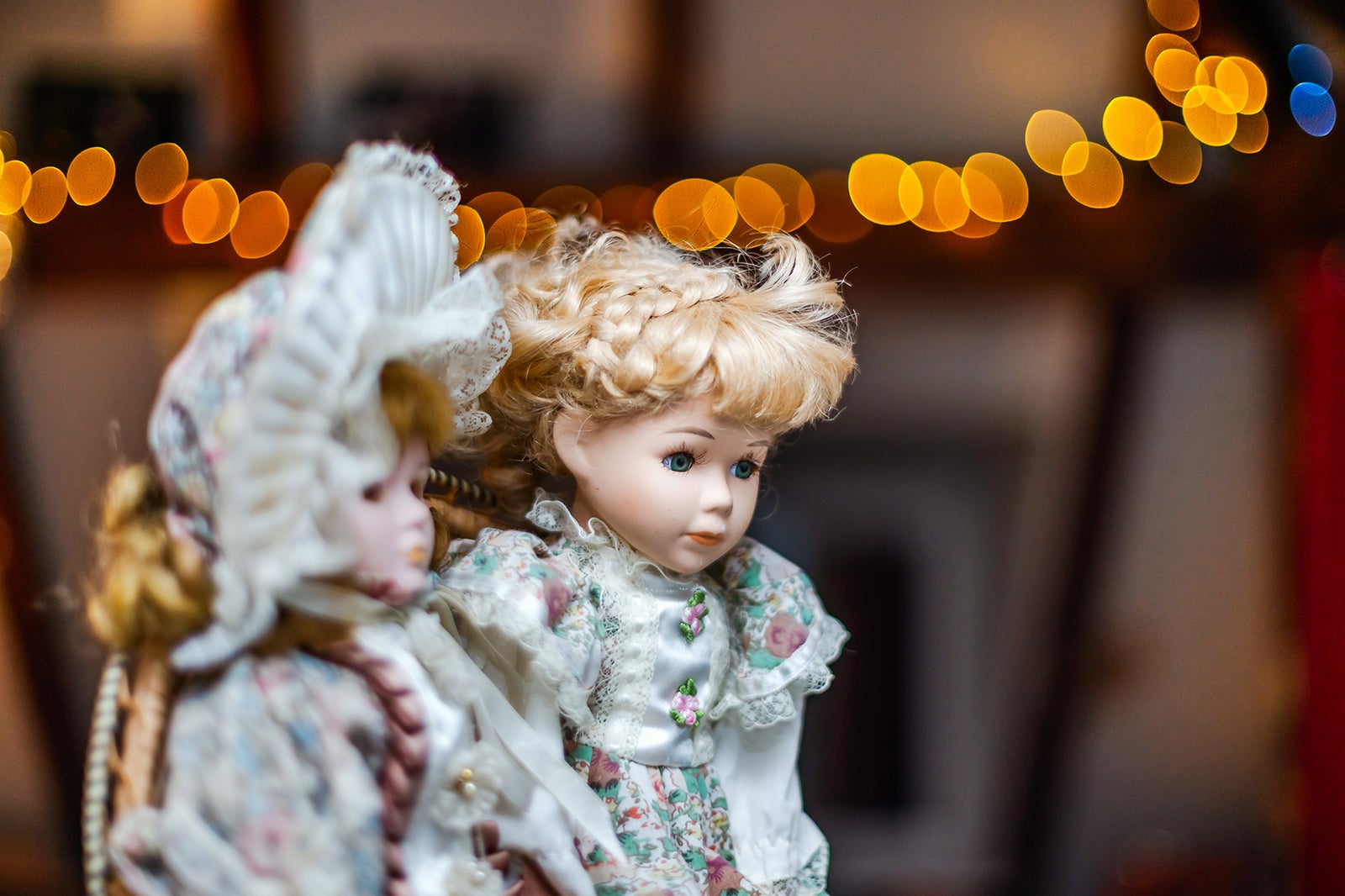 Williamsburg Antique Mall is a massive collection of antiques with more than 300 dealers offering a variety of items from old jewellery to furniture and even comic books. The antique mall consists of 45,000 square feet of retail space in total, and it's handicap accessible. The mall's staff can even help you find vendors that cater to your unique interests. Amongst the vendors and antiques, you'll find Cafe Antiquity, a cafe implemented inside the antique mall offering small treats and teas. You can see it all for yourself northwest of town a short distance past Ewell.
Location: 500 Lightfoot Rd, Williamsburg, VA 23188, USA
Open: Monday–Saturday from 10 am to 6 pm, Sunday from 11 am to 5 pm
Phone: +1 757-776-0094
3
Merchants Square
Shop by the historic area city centre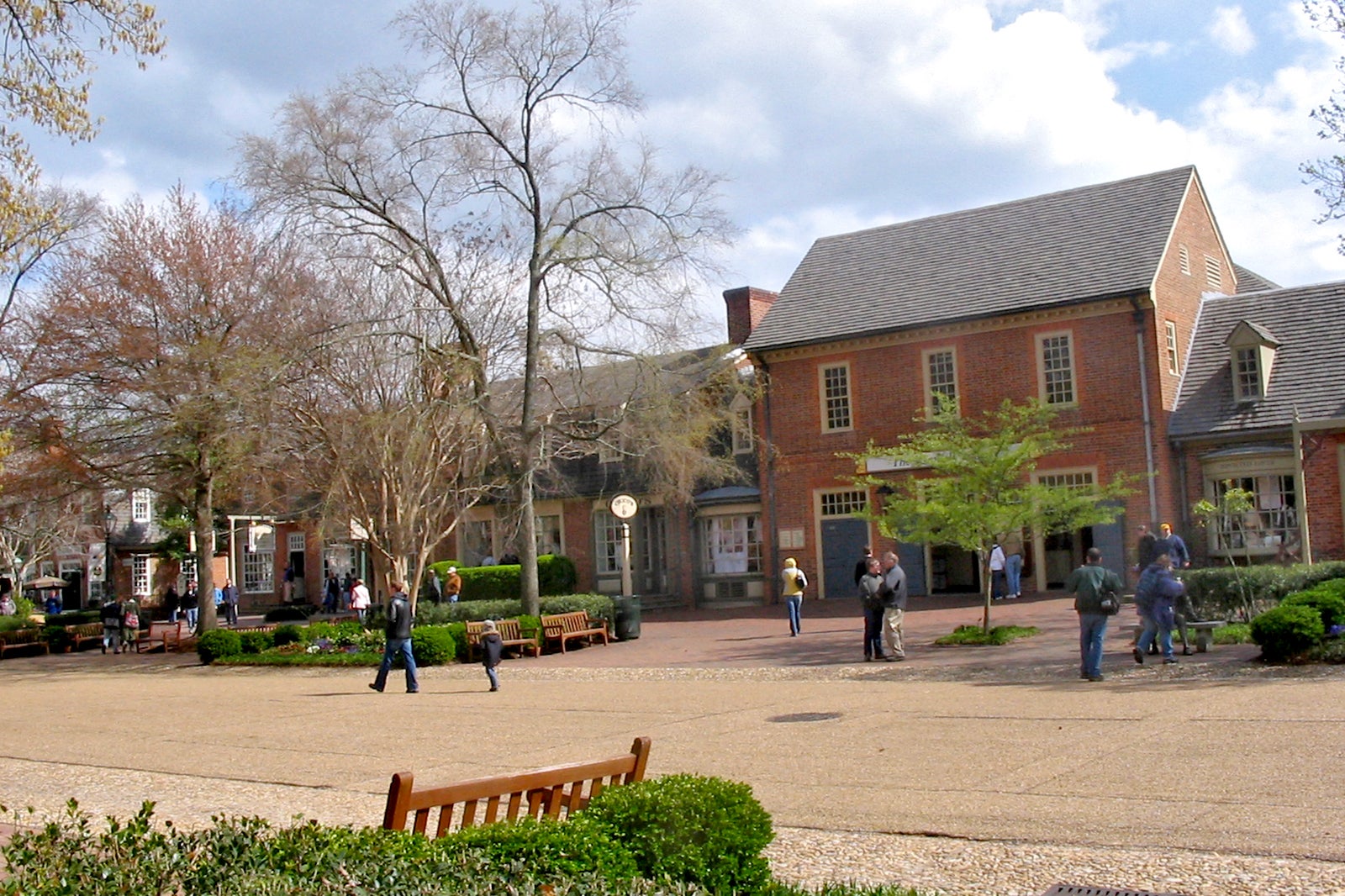 Merchants Square is a retail village styled as it would be in the 18th century, yet it offers all the latest and greatest shopping opportunities you expect. The historical setting makes the 42 shops and restaurants stand out, letting you explore local history alongside brilliant shopping opportunities. This shopping destination tends to be fairly popular in large part due to its proximity to Colonial Williamsburg. The buildings here tend to blend into the rest of the historic area, so you don't have to abandon the unique styling of the town to go shopping. You'll find the square right city centre a few blocks from the governor's palace.
Location: 134 North Henry Street Williamsburg, VA 23185, USA
photo by Ser Amantio di Nicolao (CC BY-SA 3.0) modified
4
Williamsburg Farmers Market
Visit the local farmers market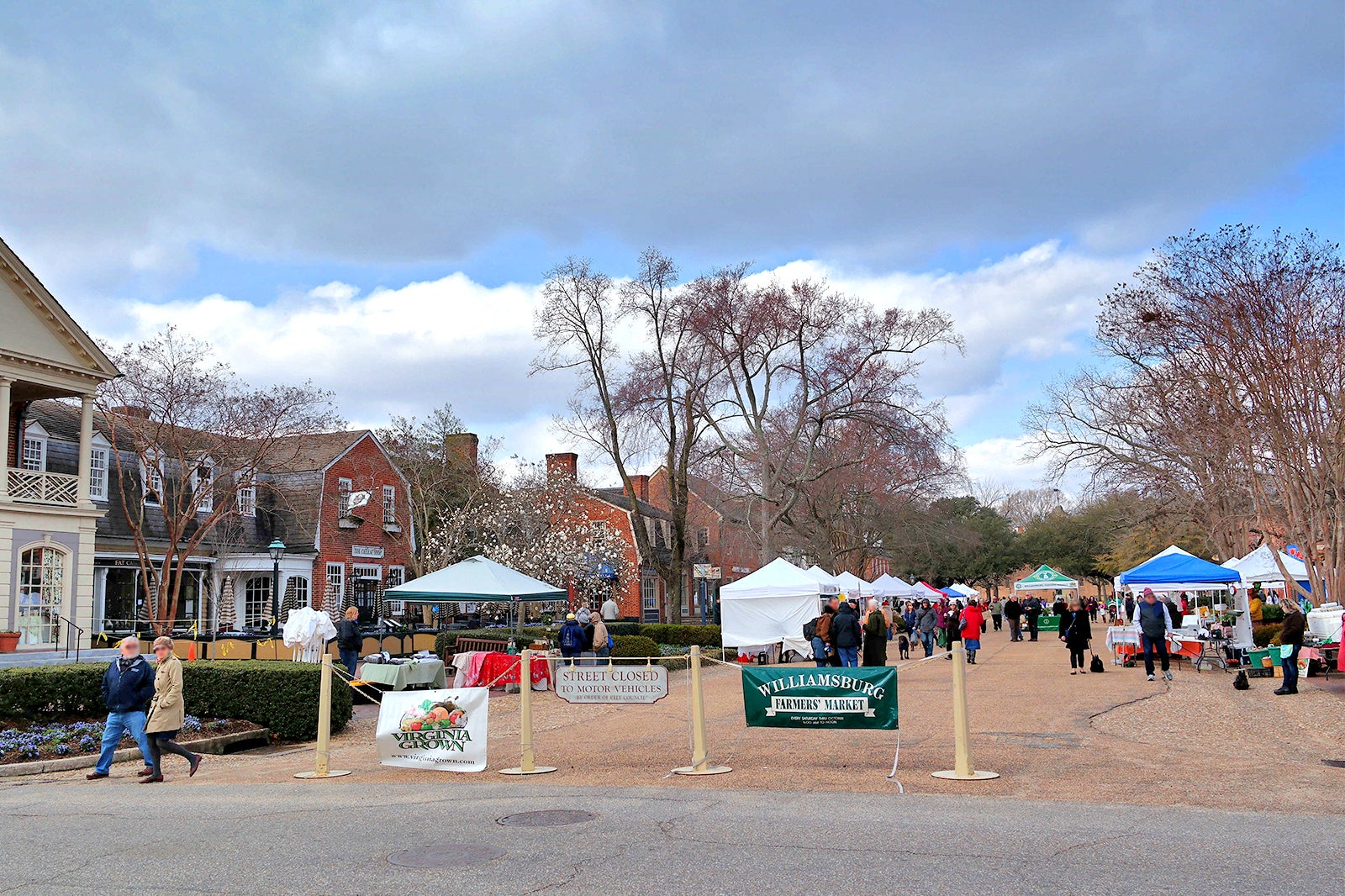 Williamsburg Farmers Market is a frequent gathering of more than 40 local vendors offering all sorts of items from produce to handmade crafts you can't get anywhere else. As the name would suggest, most of the vendors offer food and produce that they've grown themselves. Amongst the more interesting offerings, you'll find chocolate, cheese, and honey. In addition to the food, the farmers market also features vendors selling homemade crafts like jewellery and soaps. You can reach this market with a short walk south from Merchants Square city centre.
Location: 402 W Duke of Gloucester St, Williamsburg, VA 23185, USA
Open: Saturday from 8 am to noon (closed the rest of the week)
Phone: +1 757-259-3768
photo by Smash the Iron Cage (CC BY-SA 4.0) modified
5
Patriot Plaza Premium Outlets
Enjoy shops and services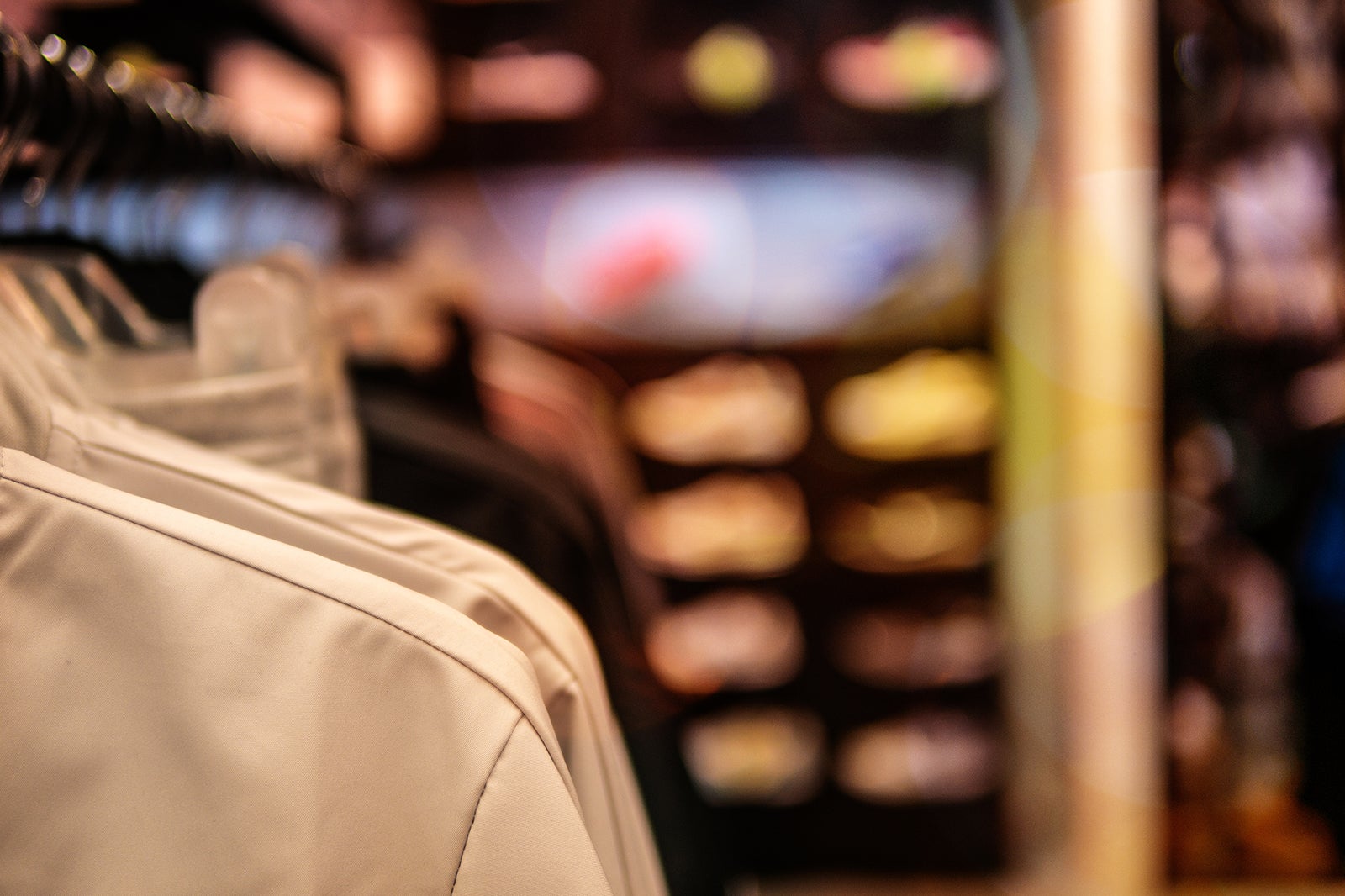 Patriot Plaza Premium Outlets offer several shops and services you can enjoy during your shopping excursion offering high-end items like golf equipment and services like salons. The salon is particularly popular as it's considered one of the best in town, especially for manicures and pedicures. You'll find a bit of family-friendly fun here as well as Patriot Plaza is also home to the Bounce House laser tag facility. You can enjoy it all conveniently off of Highway 60 to the northwest of Williamsburg's city centre area.
Location: 3032 Richmond Rd, Williamsburg, VA 23185, USA
Open: Monday–Saturday from 10 am to 7 pm, Sunday from 11 am to 5 pm
Phone: +1 757-565-2600
6
Colony Square Shopping Centre
Find homeware and help a good cause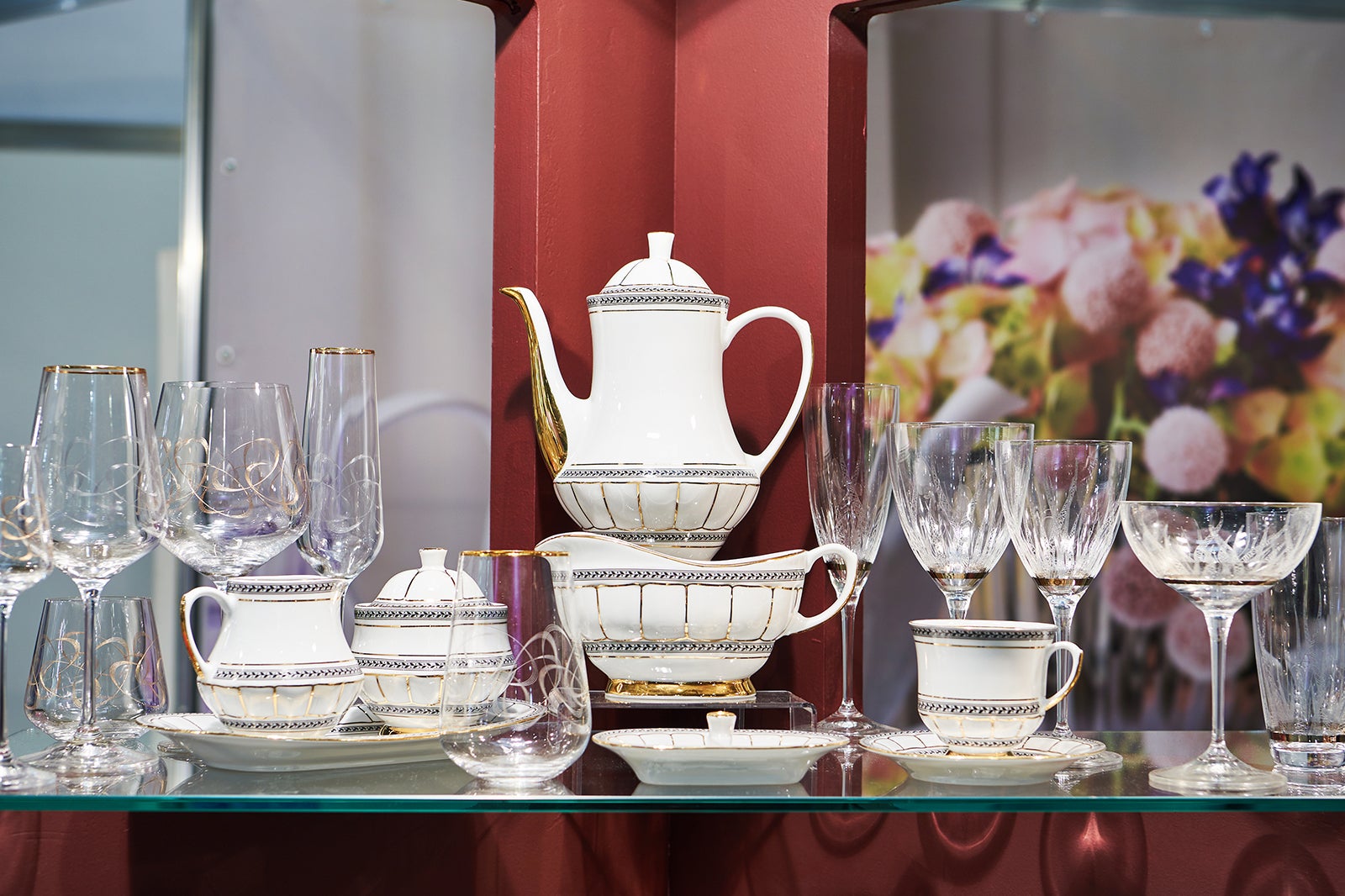 Colony Square Shopping Centre is primarily known for its Habitat for Humanity ReStore where you can find homeware and home improvement items for incredibly low prices. The selection within the store is surprisingly varied with all sorts of items on offer including dressers, tables, bed frames, and even retro items like radios and record players. Along the strip, you'll also find other stores and services including a sports retail shop and a salon. See it all for yourself by heading a few minutes southwest of city centre towards Winston Terrace.
Location: 1301 Jamestown Rd, Williamsburg, VA 23185, USA
Open: Daily from 8 am to 6 pm
7
Midtown Row
Shop in the heart of Williamsburg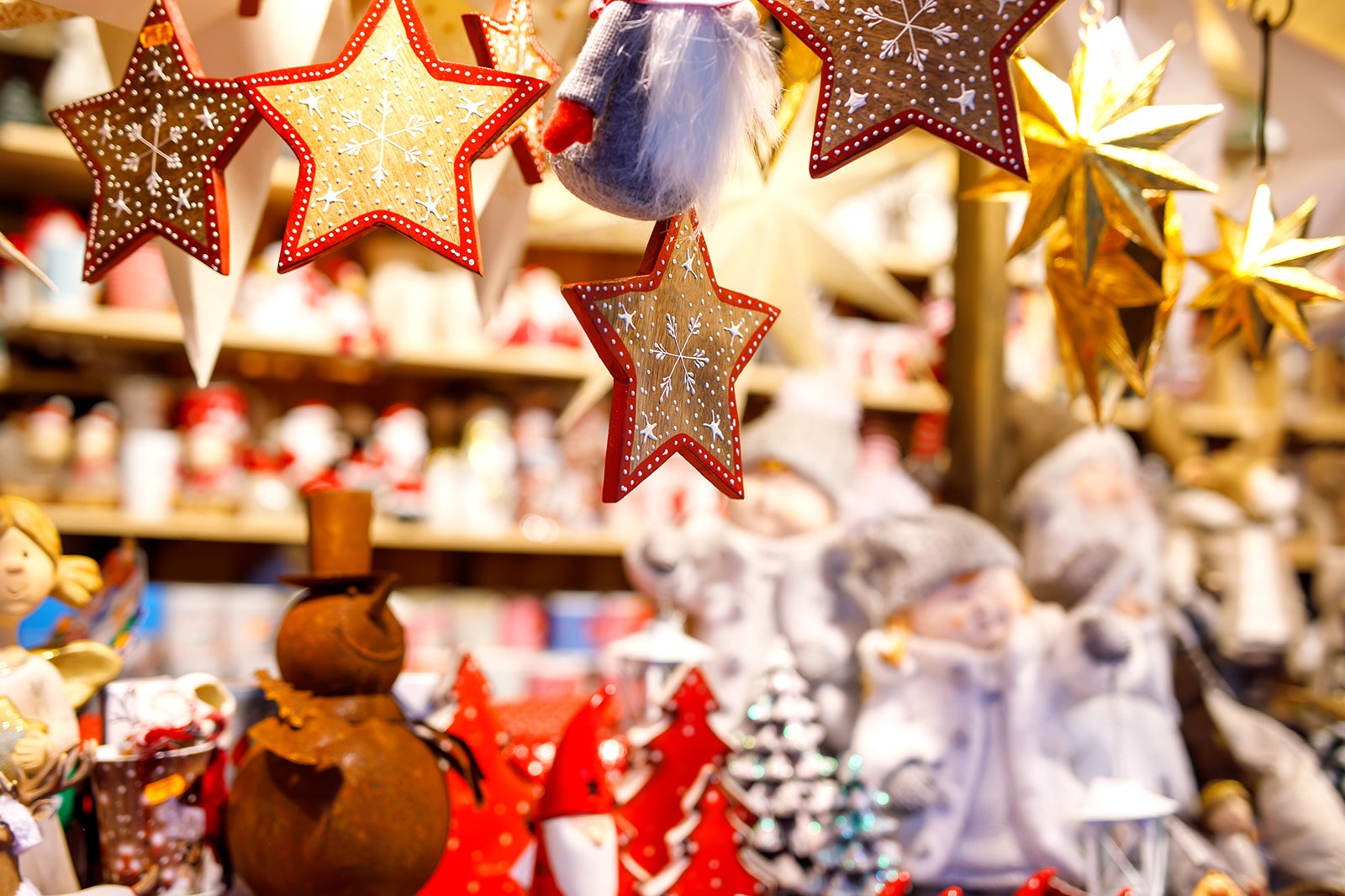 Midtown Row is a high end residential and retail centre in the heart of the city where you can find all the important items like food, hardware, clothes, and liquor. One of the most iconic spots in this shopping centre is Earth Fare where you'll find healthy food that doesn't come with the increased price tag. Additionally, this shopping centre features a Food Lion, Ace Hardware, and a Marshall's clothing store. Don't forget the ABC if you're looking for a drink when you check in for the night. Find it all about a mile northwest of Colonial Williamsburg.
Location: 1260 Richmond Rd, Williamsburg, VA 23185, USA
Open: Daily from 11 am to 10 pm
Phone: +1 703-365-9999
8
Williamsburg Crossing
Relax at this shopping centre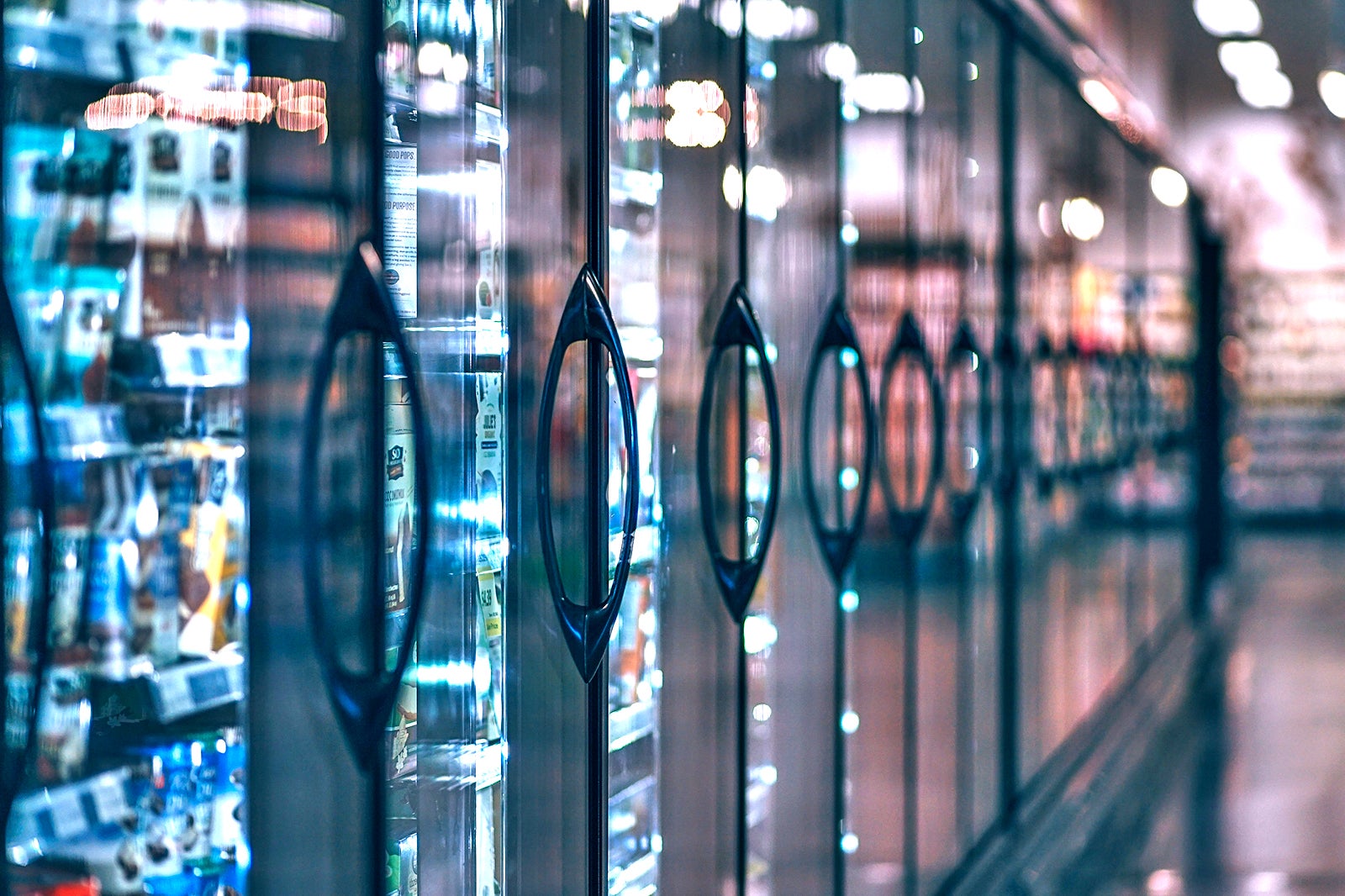 Williamsburg Crossing is one of the more relaxing shopping centers around thanks to its massage offerings and convenient variety of shops and restaurants available. The massage service here is state of the art, but you can also enjoy local shops like a houseware and antique store. While relaxation is easy, you can also get active here thanks to the multitude of fitness centers on site. Alternatively, you can simply enjoy a sandwich or pizza at the many restaurants. You'll find it all southwest of city centre on the northern end of Winston Terrace.
Location: 5235 John Tyler Hwy, Williamsburg, VA 23185, USA
Open: Daily from 7 am to 10 pm
9
The Shops at High Street
Find exclusive shopping on High Street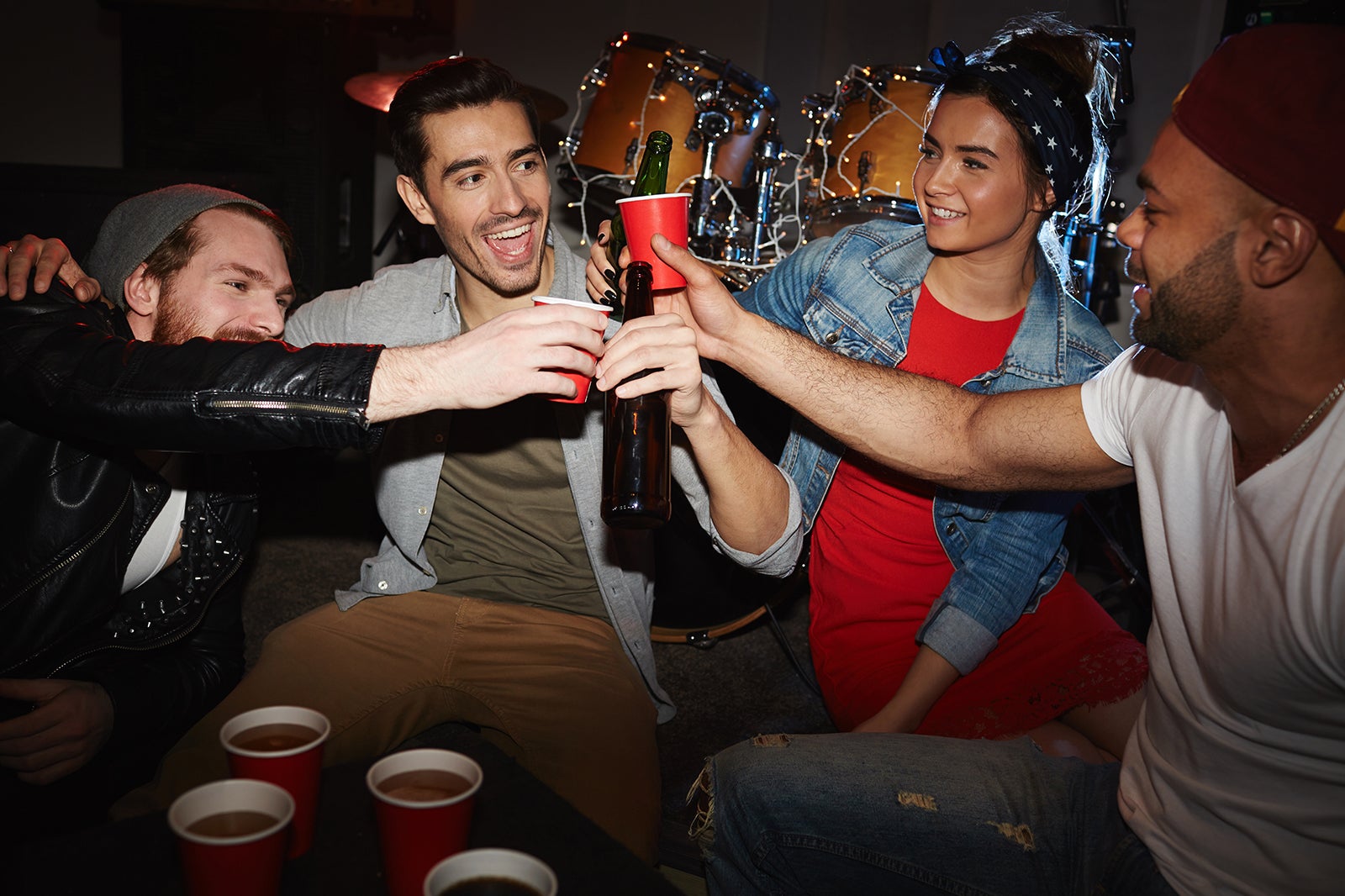 The Shops at High Street are known for their world-class offerings where you'll find entertainment right alongside the local retail offerings which can facilitate a whole day of fun. Clothing boutiques and outlet centers seem to be available in equal measure alongside delicious restaurants that are good for a proper meal and a quick lunch. In terms of entertainment, you'll find a Film Tavern that lets you enjoy dinner and a film at the same time with expert service and high-quality food and picture. Try it all out for yourself by heading a mile or so northwest from city centre off Highway 60.
Location: 1430 High St, Williamsburg, VA 23185, USA
Open: Monday–Friday from 9 am to 5 pm, (closed on Saturday and Sunday)
Phone: +1 973-218-2346
10
QuarterPath Crossing
Enjoy your walk while you shop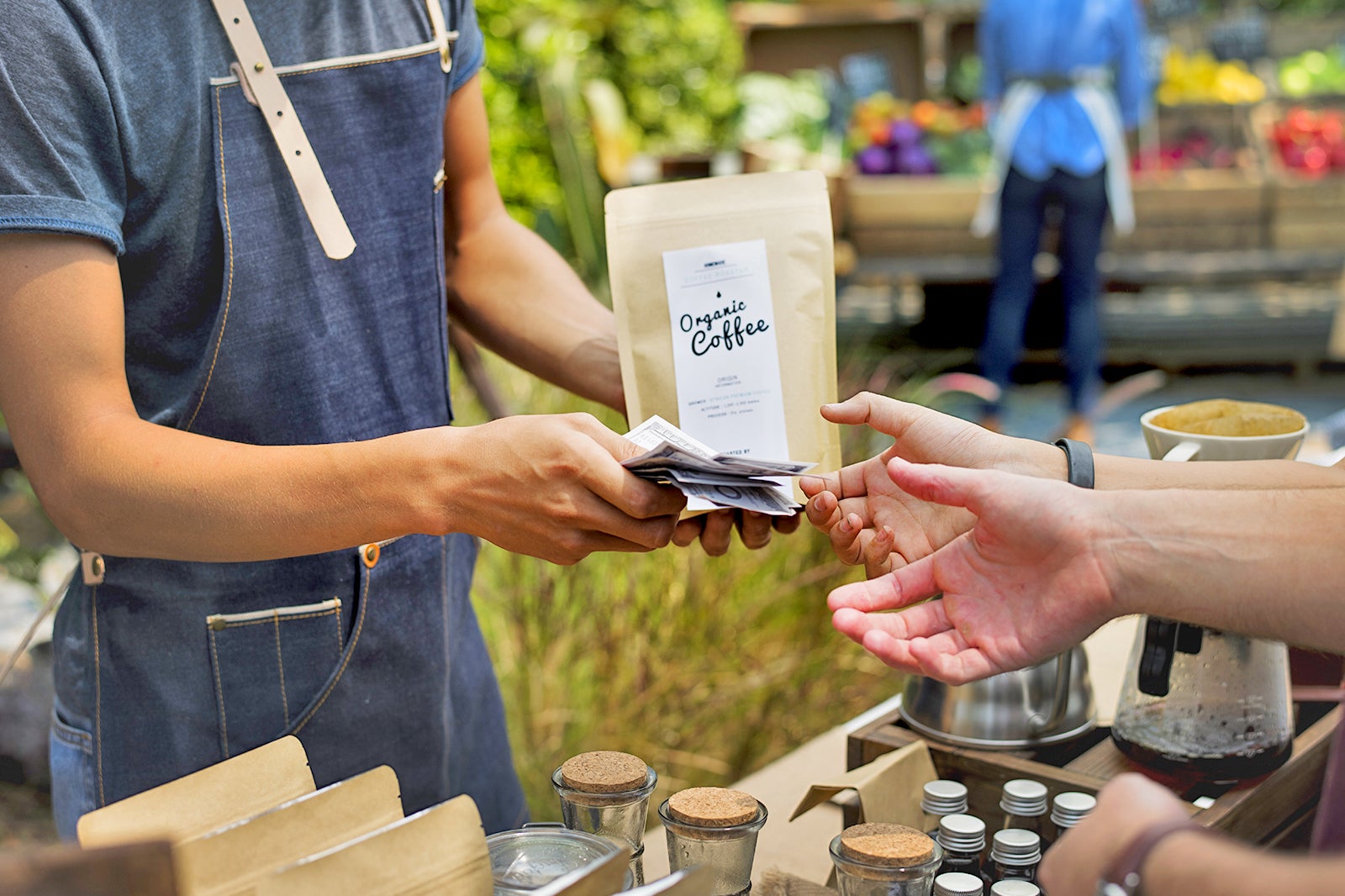 QuarterPath Crossing is known for its varied shops and multipurpose paved paths making it easy to get around to all the stores without having to drive. Walking and biking is an efficient way to explore everything this shopping centre has to offer, which includes home furnishings, groceries, and an extensive selection of wines. Wellness is one of the major concerns for this shopping centre as they're actively trying to draw in more retailers who share that same value. See how it's going with a visit by heading southeast from city centre where you'll find it by Tutters Neck Pond.
Location: 1470-1530 Quarter Path Rd, Williamsburg, VA 23185, USA
Back to top