10 Unforgettable Adventures in Honolulu
There's More to Honolulu Than Relaxing on The Beach
After a day or two relaxing on the cream-coloured beaches around Honolulu, you may feel the urge for adventure. Worry not because the island of Oahu has you covered with plenty of outstanding tours and activities. Snorkel with Hawaiian green sea turtles, hike through the rainforest to a majestic waterfall, or dive below the waves in a submarine to spot tropical fish around a sunken ship. Whether you're an athletic eco-tourist or a family travelling with kids, you'll find plenty of adventurous tours to make your Hawaiian holiday unforgettable.
1
West Oahu snorkel and dolphin watching
Tour duration: 3 hrs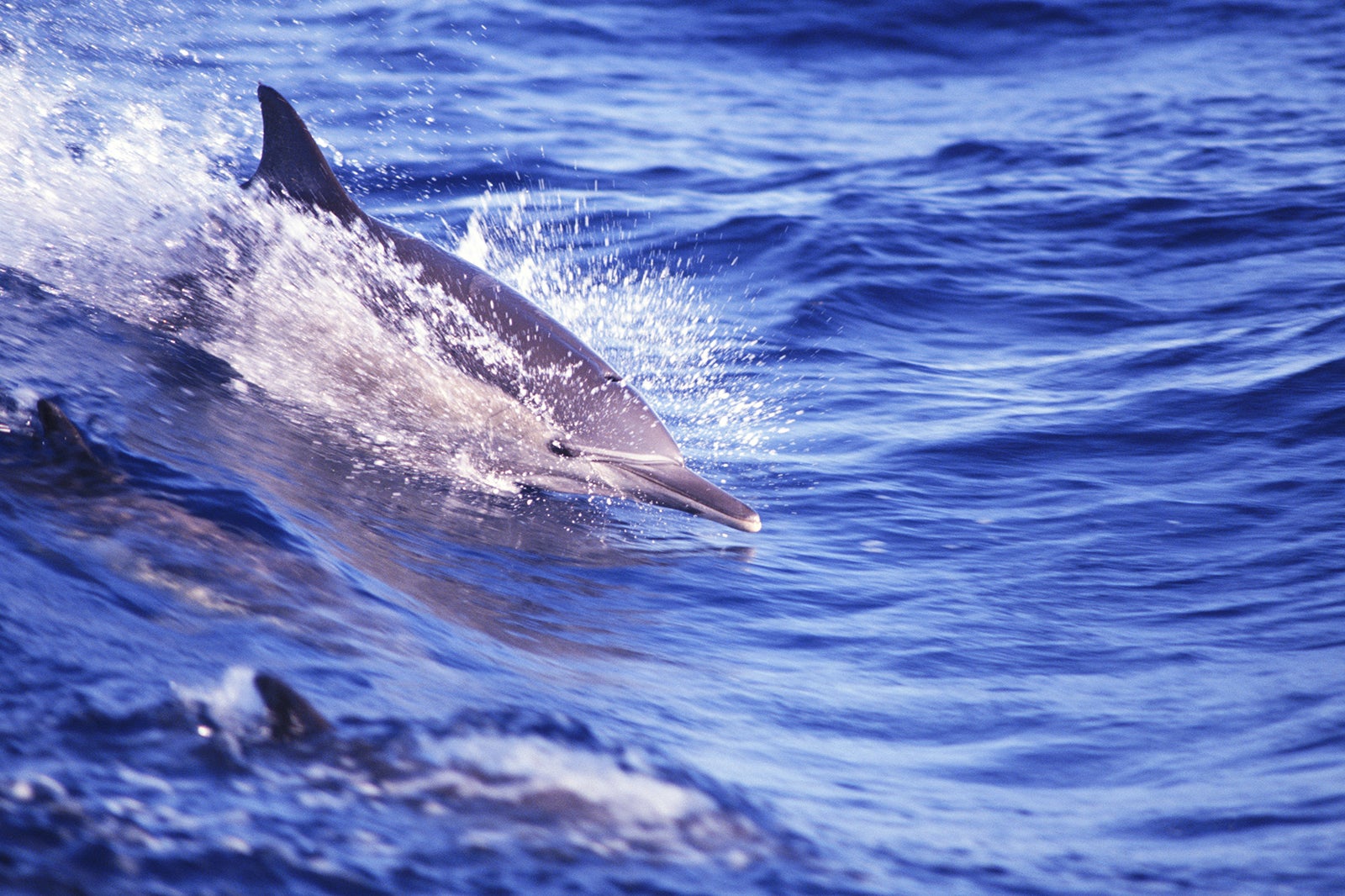 Wild spinner dolphins leap into the air, rotating their sleek grey bodies in an exhilarating display before splashing back into the water just off the bow of your boat. While cruising around the leeward side of Oahu, learn about these resident dolphins from your expert crew and look for whales from December to April. Then, take a dip in the warm Pacific Ocean and snorkel with tropical fish and sea turtles in a calm area that's perfect for beginners.
2
Scenic valley horseback ride
Tour duration: 2 hrs
Cows munch on grass and swish their tails as you pass by on horseback during a leisurely ride through the historic Kualoa Ranch. Enjoy the breath-taking views of the Ko'olau Mountains rising steeply from the emerald valley on this small-group ride. Learn about the area's film history, which stretches from Elvis in the 1950s to modern blockbusters like Jurassic World. Calm horses and expert guides make this picturesque horseback ride great for all skill levels.
3
Guided catamaran sailing adventure in Kaneohe Bay with barbecue lunch
Tour duration: 4 hrs
Protected by Oahu's only barrier reef, Kaneohe Bay ranks as one of the best sailing locations in the world, making it an ideal spot to launch your sailing adventure. Learn the basics of boat rigging and how to steer from your expert instructor. Relax and observe the tropical scenery as your 18-metre catamaran skims over cerulean waves or take to the helm and tug the lines to really feel the wind. Top off your day with a delicious Hawaiian barbecue lunch.
4
Manoa waterfall hiking
Tour duration: 4 hrs
Tropical birds trill in the canopy of flowering hau trees as you hike through luscious rainforest to reach the Manoa waterfall which cascades 30 metres into a small pool. If sections of the trail seem familiar, you've probably seen them in Jurassic Park or the show Lost. Your expert guide makes this moderate hike a fascinating journey with tales of the trail's local legends, film history, and resident flora and fauna.
photo by Edmund Garman (CC BY 2.0) modified
5
Keana Farms north shore zipline tour
Tour duration: 3 hrs
Feel a rush of adrenaline and screaming wind as you leap from a platform high above the forest floor and zoom through a 7-line zipline course at Keana Farms. Parallel lines let you race friends over the treetops or just enjoy the spectacular coastal scenery together. Along the way, test your courage as you climb and rappel through a rope course and learn about Hawaiian plants, animals, history, and culture from your engaging guide.
6
Kayak adventure to the Mokulua Islands
Tour duration: 5 hrs
Launch from Kailua Bay and paddle for an hour over the cyan waves in a seaworthy kayak to the remote Mokulua Islands. After you reach the white-sand beach, hike with your naturalist guide around this protected seabird sanctuary. Take a refreshing dip in the Queen's Bath tidepool, snorkel through a vibrant coral reef, and explore rocky coves. This remarkable 5-hour excursion is recommended for athletic adventurers and experienced kayakers.
7
Atlantis IV premium submarine adventure
Tour duration: 1hr 30 min
Dive 30 metres below the waves off the coast of Waikiki for an underwater adventure on a high-tech 64-seat passenger submarine. Through porthole windows, you can snap pictures of a shipwreck and airplane remnants while your knowledgeable captain provides enlightening commentary. Look for yellow tangs, angel fish, and moray eels darting around manmade reef structures on this undersea escapade the whole family can enjoy.
8
Downhill bicycle adventure
Tour duration: 3 hrs
Enjoy expansive views of Honolulu as a van takes you up Mount Tantalus to start your downhill bicycle adventure. Once at the top, strap on your helmet, mount your bicycle, and follow your guide along the paved road winding down the mountain. Passing through the Puu Ohia rainforest, catch the scent of tropical flowers and look for the vibrant birds among the banyan and kukui trees. Pause at various vantage points to admire Oahu's unique geological features on this leisurely family-friendly adventure.
9
Turtle eco-adventure tour
Tour duration: 9 hrs
Snorkel off a secluded beach where majestic Hawaiian green sea turtles love to hang out during this all-day island exploration. Start with fresh Kona coffee and macadamia nuts on a tropical farm as your enthusiastic guide takes you around the island to discover Oahu's major sights and hidden treasures. Scenic viewpoints like Diamond Head Lookout and Hālona Blowhole offer postcard-perfect photo opportunities before and after your turtle beach adventure.
10
Pearl Harbor tour & helicopter flight
Tour duration: 10 hrs
Families
Photo
History
Luxury
For a day of history and high-flying adventure, start by touring Pearl Harbor. Your knowledgeable guide brings World War II history to life at the USS Arizona Memorial and on the deck of the USS Missouri battleship. Next, get a new perspective as your helicopter pilot angles up to the sky. You'll have plenty of chances to snap photos while soaring above the bright beaches of Waikiki and hovering over the extinct volcano of Diamond Head Crater.
Back to top