10 Things We Love About Atlanta
Atlanta Fun Facts and Festivities
Atlanta locals and visitors almost never face a dull moment in the city, thanks to the great mix of activities that you can engage in. A rich variety of festivals take place in The Big Peach throughout the year, meaning you'll likely bump into a great celebration during your visit. It adds up to all the good reasons to love the city more.
Here, we've gathered some fun facts and festivities in Atlanta that will bring you closer to the bustling city's artistic and cultural vibes. From some amusing trivia and superlatives to a selection of highly anticipated events you can only experience here, let this small list of things we love about Atlanta help you discover the great facets of this cheerful state capital.
1
What's in a name? Or, a dozen nicknames?
The city was officially named after the governor's daughter (twice)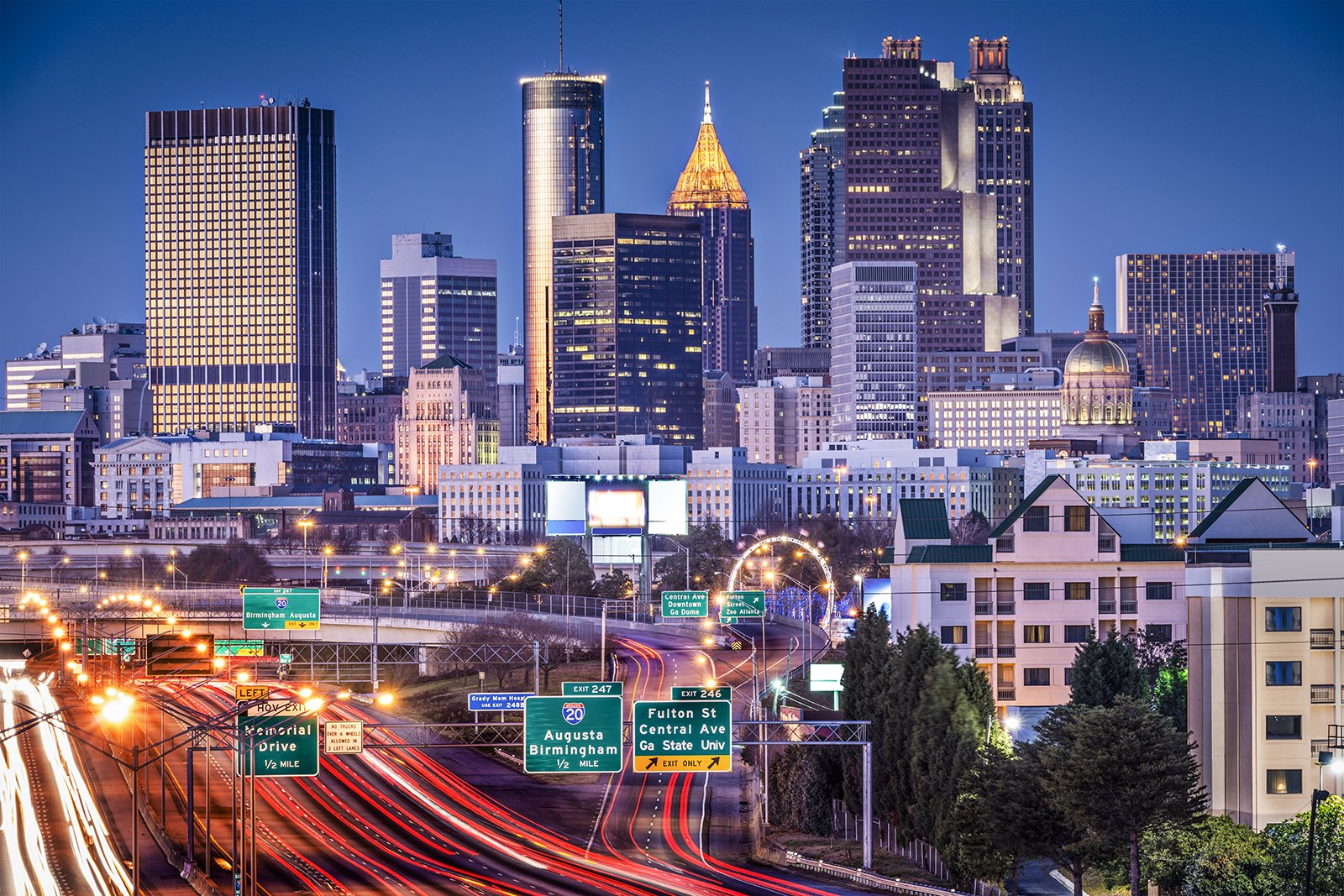 Call it The Big Peach, The Big A, A-Town, Dogwood City, or even New York of the South… Atlanta goes by plenty of nicknames. The capital of a US state that's known for its peaches, Atlanta is where you'll find almost all things peach, ranging from street names (we'll get to that further down the list), summer peach jam contests, to peach logos proudly shown on local license plates.
The city's official name however, took after Martha Atalanta Lumpkin, the daughter of Governor Wilson Lumpkin. Previously, it was called Marthasville, after her first name.
2
It's the birthplace of Coca-Cola
Home to the world's most famous soda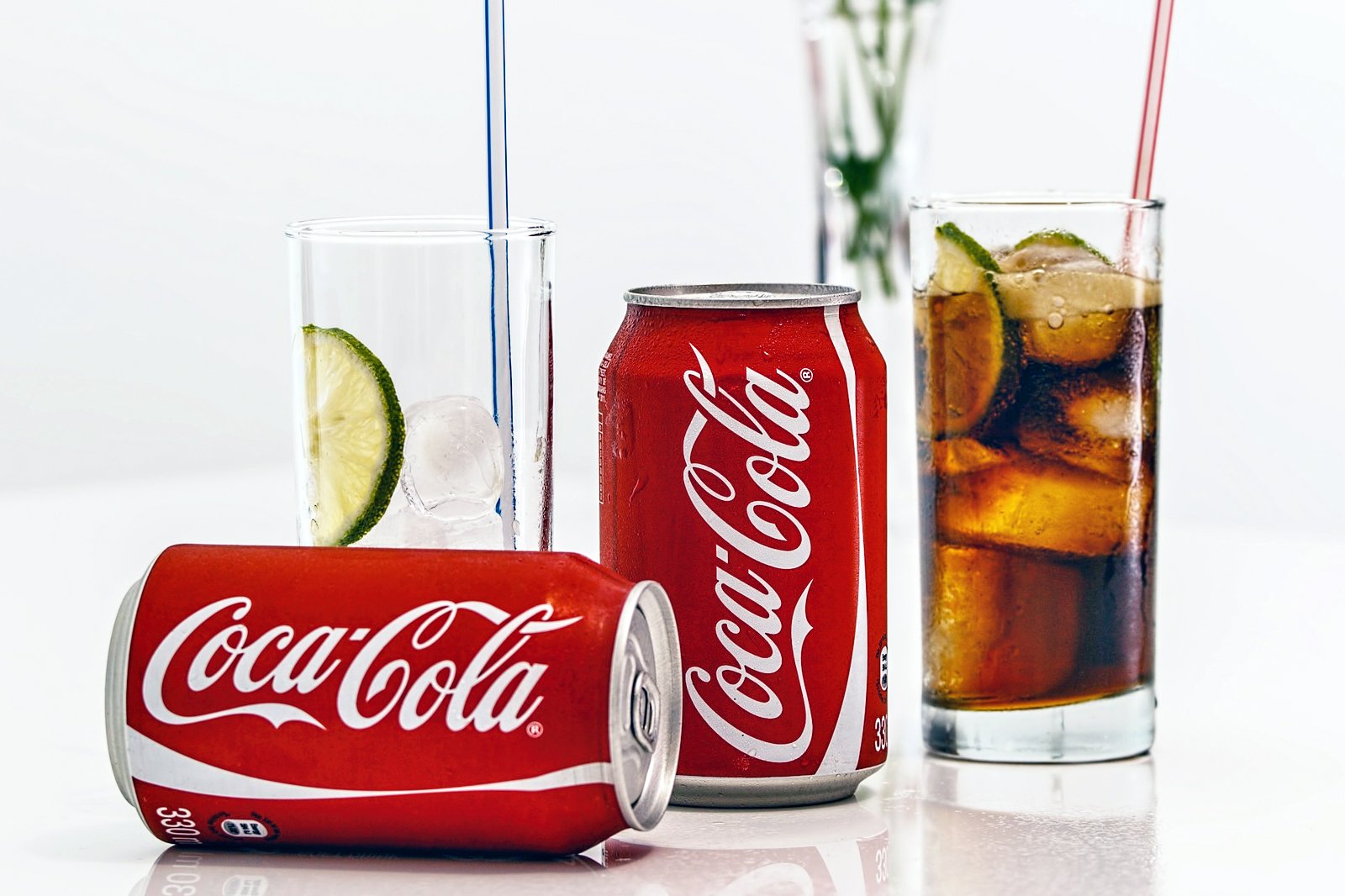 Atlanta is where the world-famous beverage brand all began. There's even the world's only World of Coca-Cola, a museum that's one of the city's main attractions where you can learn more about the history of the fizz and try out an interestingly diverse range of flavours – did you know there are varying coke flavours around the world?
This striking facility neighbouring the Georgia Aquarium might easily seem like a giant advertisement, but then again, the brand needs no further introduction.
3
You can dine at the world's largest drive-in restaurant
It's where to get a bite of Atlanta's famous chili dog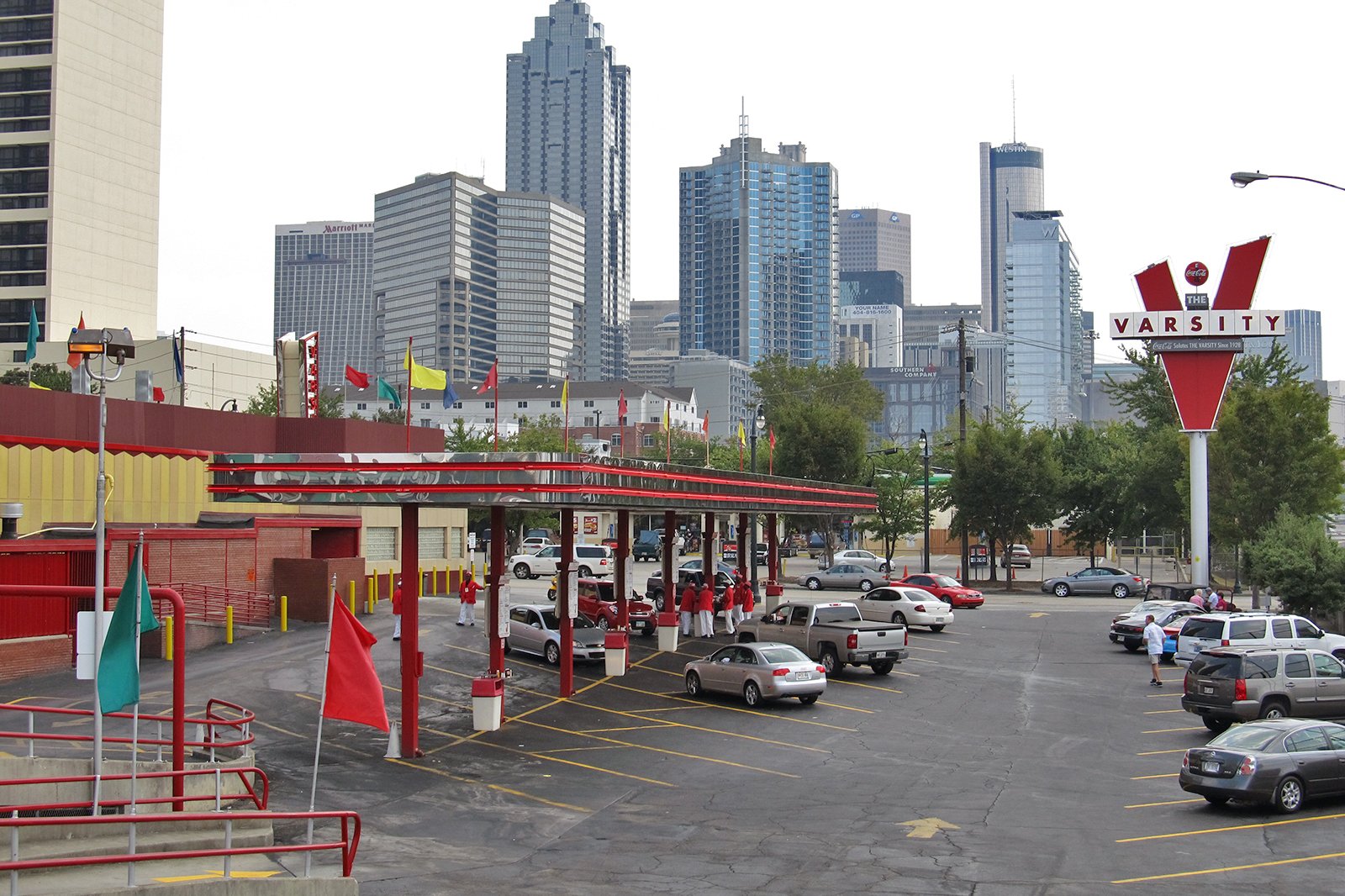 This is not your usual hotdog joint. The Varsity is a long-running dining institution in Atlanta, which has been offering meaty chilli dogs, burgers, and shakes since the 1920s.
The original diner at 61 North Avenue bears an eye-catching, big, red 'V' sign. It is enormous and covers almost 2 city blocks, seating about 800 diners. It's no surprise that it remains the proud holder of the 'world's largest drive-in restaurant' title.
photo by Ken Lund (CC BY-SA 2.0) modified
4
It has an impressive musical heritage
From Southern rock to hip-hop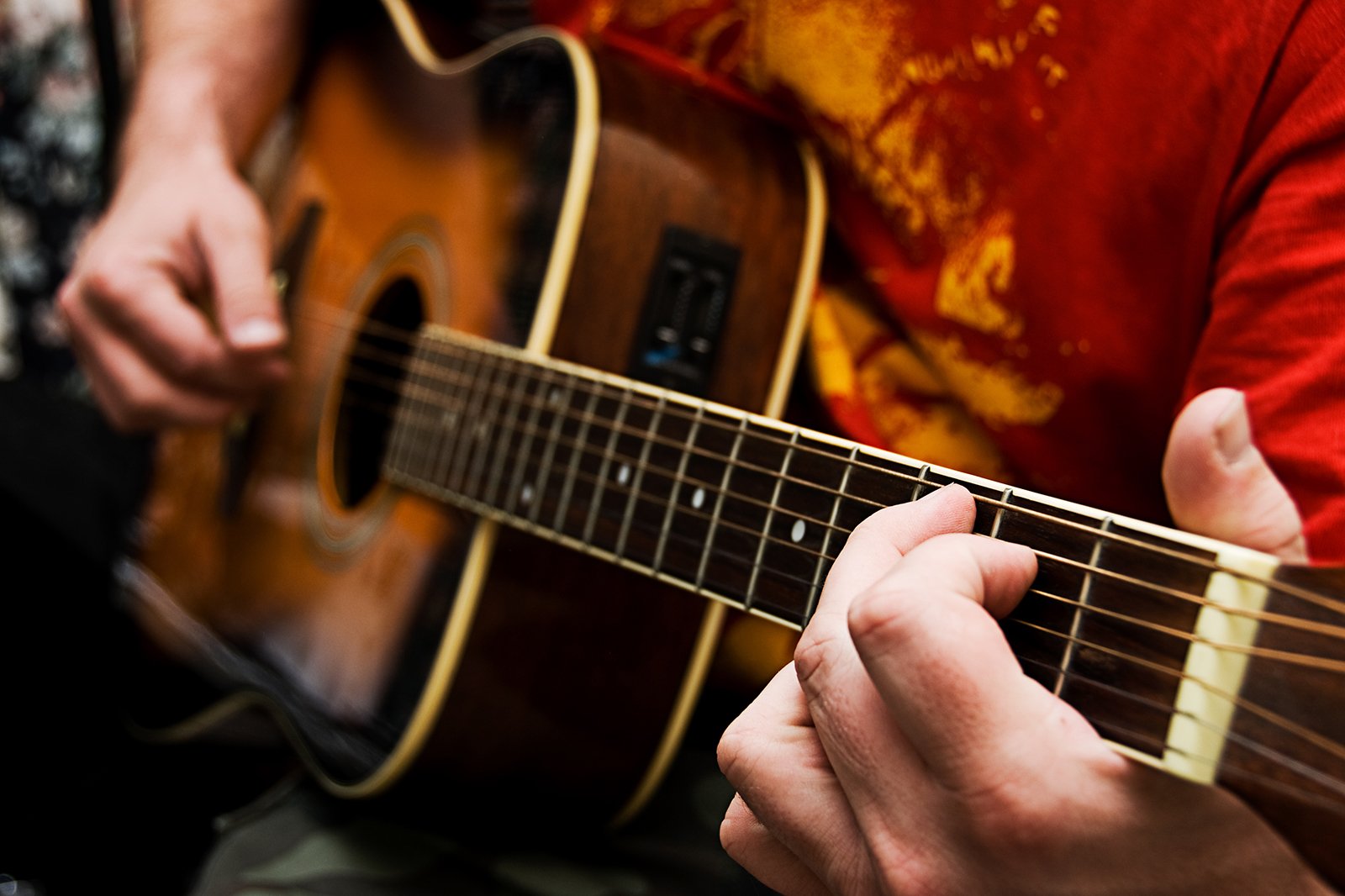 Soul prodigy Ray Charles recorded what eventually became Georgia's official state song – Georgia on My Mind – back in the '60s, and the state and its capital have flourished with a colourful musical heritage ever since. Its musical scene has made great cultural contributions, ranging from rhythm n' blues and soul to Southern rock and hip-hop.
Some of the country's most iconic musicians and bands of various genres hail from Atlanta. These include John Mayer, Usher, TLC, and Arrested Development. The city's colourful line-up of music festivals celebrating this heritage include SweetWater 420 Fest in April and Atlanta Jazz Festival in May.
5
You'll find over 70 streets named 'Peachtree' in Atlanta
A fun Atlanta fact to pleasantly get lost by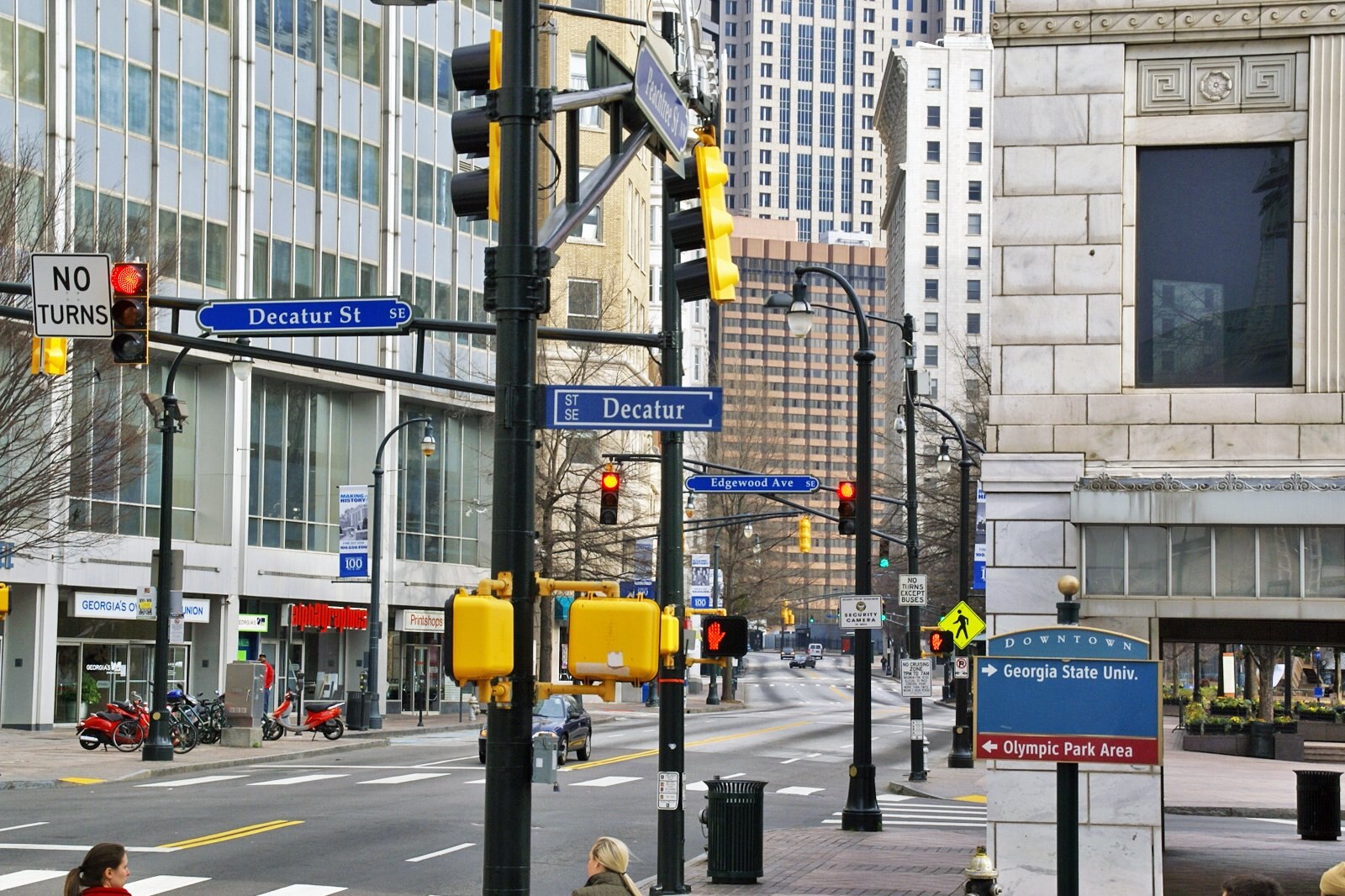 Amusingly, a great number of streets in Atlanta have 'Peachtree' or a variation of it in their name. The actual Peachtree Street serves as the main hub. It runs from the financial district of Five Points through Midtown and up to Buckhead. From here, it swerves hard to become Peachtree Road. Past Brookhaven, you'll end up choosing between heading down Peachtree-Dunwoody Road or Peachtree Industrial Boulevard.
Peachtree Battle Avenue was where the first attack in the 1864 Battle of Peachtree Creek took place during the American Civil War. Now, it's home to pretty mansions. Here's a fun catch: those Peachtree streets hardly bear any peach trees!
photo by Hermann Luyken (CC0 1.0) modified
6
A lush tree canopy makes Atlanta a tree haven
There's plenty of shade, despite the lack of peach trees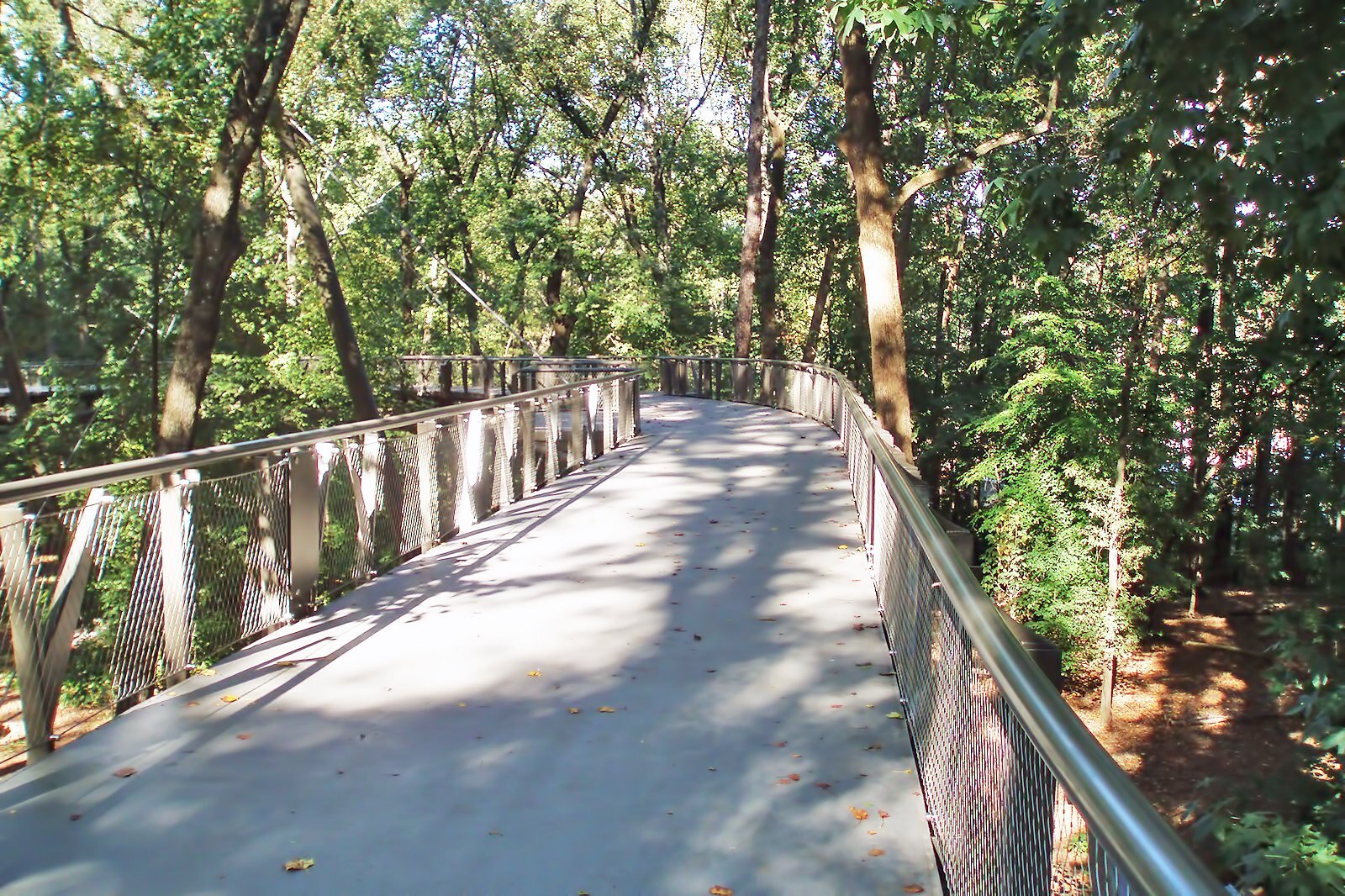 Another cool nickname of Atlanta is The City in a Forest. This is thanks to Atlanta's so-called urban tree canopy, which covers almost half of the city.
Beyond the downtown and business districts, Atlanta's landscape spreads out as a lush green cover of native dogwoods, maples, cedars, and birches. It's no wonder that one of Atlanta's great spring festivals is named after the native blooming dogwoods that thrive at its main venue, Piedmont Park.
photo by Chad Thiele (CC BY-SA 2.0) modified
7
Dragon Con
The time to live your fantasy in Atlanta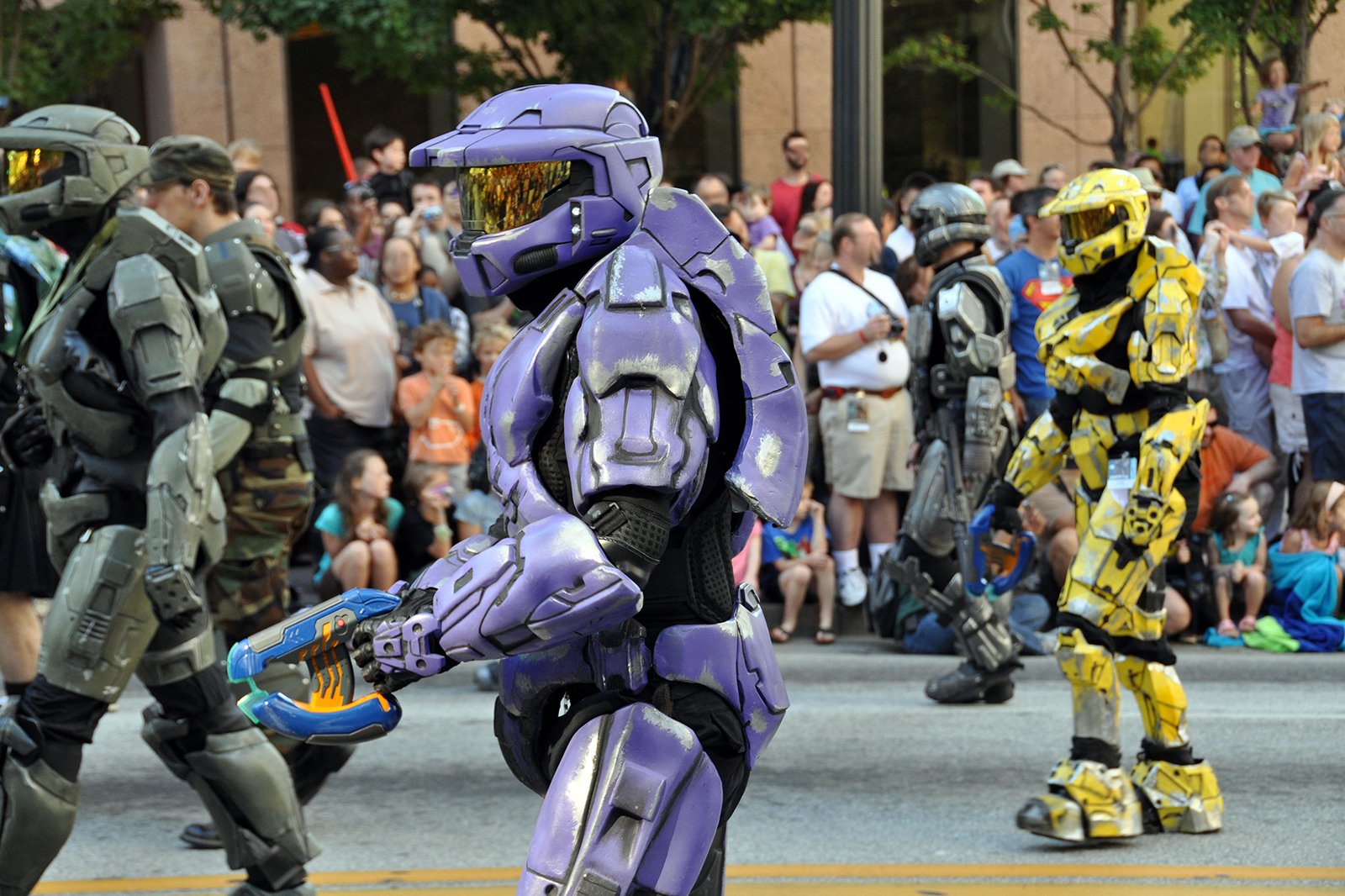 Ultimate fans of fantasy television series, sci-fi movies, video games, and comic books rejoice over each Labor Day weekend in Atlanta for this enormous pop culture convention. Dragon Con first kicked off back in 1987. Each year, it has gradually drawn in tens of thousands of cosplayers, movie stars, and fantasy writers of all ages to its fun and lively programmes.
The festival also often includes game fairs and conventions. There are even mock wrestling tournaments and live bands performing covers and themes of their beloved pop culture shows.
8
Atlanta Film Festival
Moviegoers, rejoice!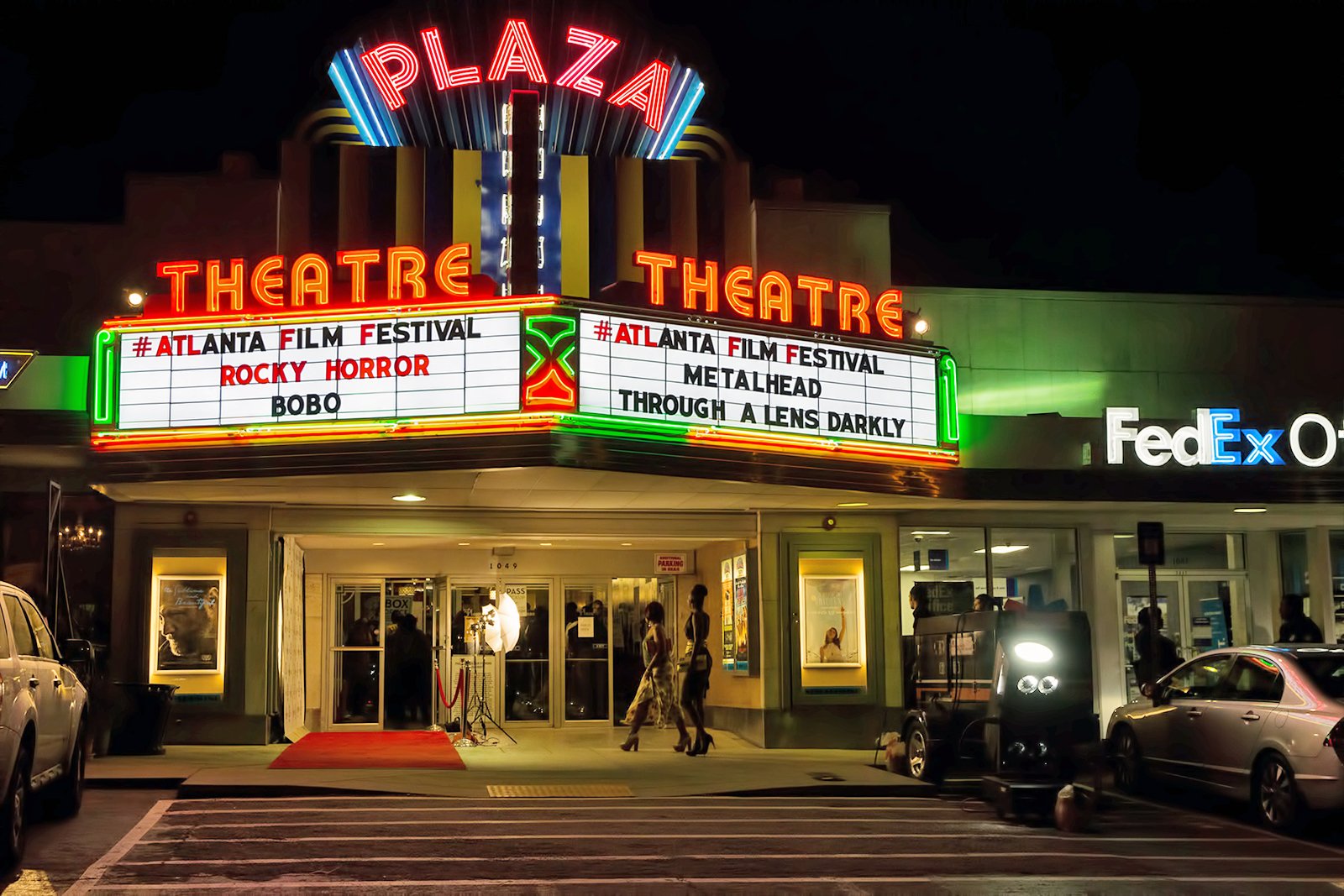 Every spring, around March or April, cinephiles celebrate international independent films and the art of cinema at the Atlanta Film Festival. The festival started in 1976 and has grown to present its own movie awards for feature and short films.
Some of the primary screening venues in town include movie theatres such as The Plaza Theatre, Landmark Midtown Art Cinema, and The Rialto Center for the Arts. Besides screenings, there are filmmaker panels and creative talks, which can be valuable for budding art students and eye-opening for the average moviegoer.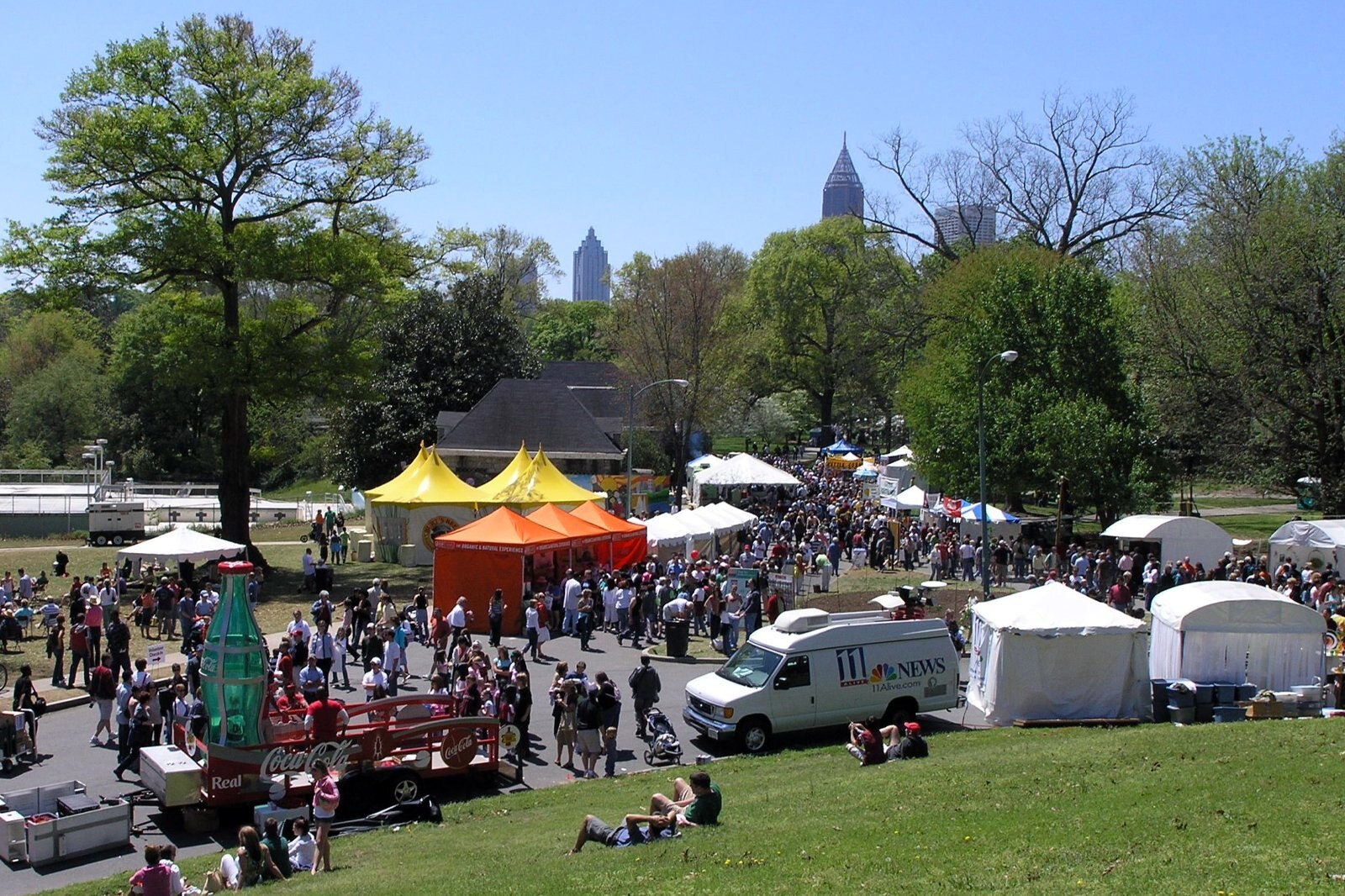 A springtime festival that you can't miss out on while in the city is the Atlanta Dogwood Festival at Piedmont Park. The park forms a great part of the so-called Atlanta tree canopy, and its lush native flowering dogwood trees burst with pink hues during this time of the year.
Besides celebrating the beautiful scenes, the festival presents a colourful mix of arts and crafts over an April weekend. Its Fine Artist Market is a great chance to see sculptures, paintings, pottery, jewellery designs, and photography.
Read more
photo by Daniel Mayer (CC BY-SA 3.0) modified
10
Music Midtown
Atlanta's anticipated outdoor music festival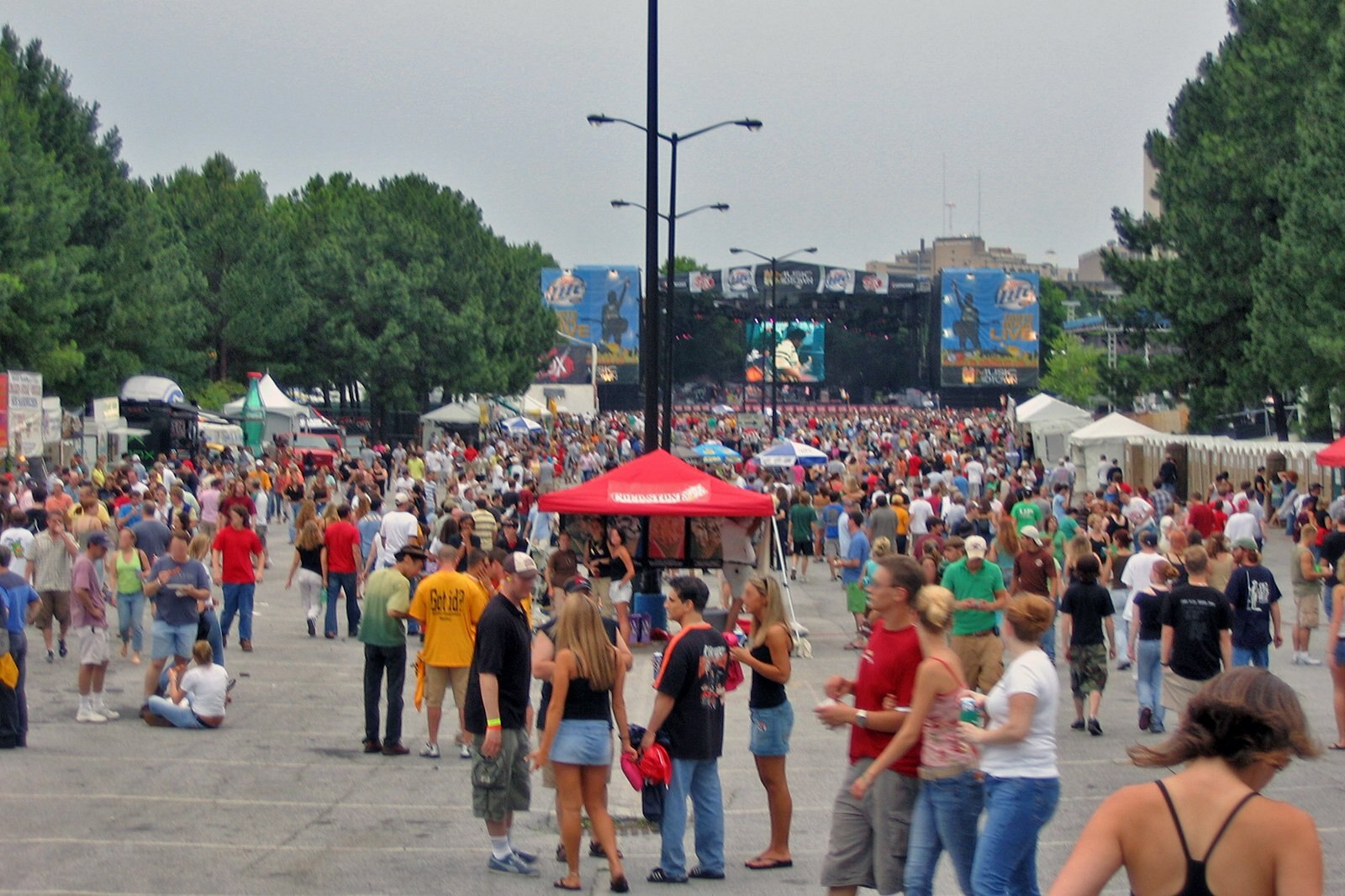 Another reason to gather at Piedmont Park in Atlanta is for one of the greatest outdoor music festivals in the South. It usually takes place over a weekend in September, featuring a diverse roster of over 30 internationally famous recording artists performing on 4 stages.
Whatever your taste in music, be it pop, rock, hip-hop, or techno, there's a good chance of your beloved chart-topping artist or band being listed among its line-ups.
photo by Andrew Guyton (CC BY-SA 2.0) modified
Back to top