10 Best Things to Do in Philadelphia
What is Philadelphia Most Famous For?
Philadelphia is a city steeped in history. It's where America's founding fathers gathered, and where the American ideals of freedom were brought to life. It's a place with dozens of historic sites, centuries-old neighbourhoods and some 90 museums to explore.
Within a day you could gorge on cheesesteaks at a rough-and-ready diner then twirl into the elegant Academy of Music for an opera performance. Wander along 18th century roads which leads into a search for some of the thousands of vibrant street murals splashed on walls across the city. An intriguing mix of grit and glamour awaits you in this City of Brotherly Love. Here are just a few ideas on what to see and do in Philadelphia on your first day.
1
Liberty Bell
Get inspired at this American icon of freedom
As one of the most enduring symbols of American independence, the Liberty Bell is truly a must-see in Philadelphia. You'll find it in Independence National Historical Park, along with exhibits and a video presentation describing the bell's history including how it got its famous crack.
Admission to Liberty Bell Center is free but a security check is required and it can get crowded – expect to wait in line before you're allowed entry. Enjoy a fascinating stroll through history with many other historic sites nearby in the park including Independence Hall, Free Quaker Meeting House and Franklin Court.
Location: Liberty Bell Center, 526 Market Street, Philadelphia, Pennsylvania, USA
Open: Daily from 9 am to 5 pm (Open till 7 pm in July and August)
Phone: +1 215 965 2305
2
Philadelphia Museum of Art
Treasures from around the world in 200 galleries
The thing you've got to do when arriving at the Philadelphia Museum of Art – race up the 72 steps, turn around to gaze across the Philly cityscape, and raise your fists triumphantly in the air. Rocky Balboa famously did this in the movie, and you can too (or at least imagine doing so). Then, once you catch your breath, step inside to discover an impressive collection of 240,000 works of art.
See works by local artists including Thomas Eakins and Alexander Calder, masterpieces by great European artists like Vincent Van Gogh and Claude Monet, "ready-mades" by Marcel Duchamp and much more. Tickets of about $20 include entry for 2 consecutive days to the Museum's main building, the Perelman Building and Rodin Museum.
Location: 2600 Benjamin Franklin Parkway, Philadelphia, Pennsylvania, USA
Open: Tuesday–Sunday from 10 am to 5 pm (Main building open till 8:45 pm on Wednesdays and Fridays)
Phone: +1 215 763 8100
3
Love Park
Find LOVE in the heart of the city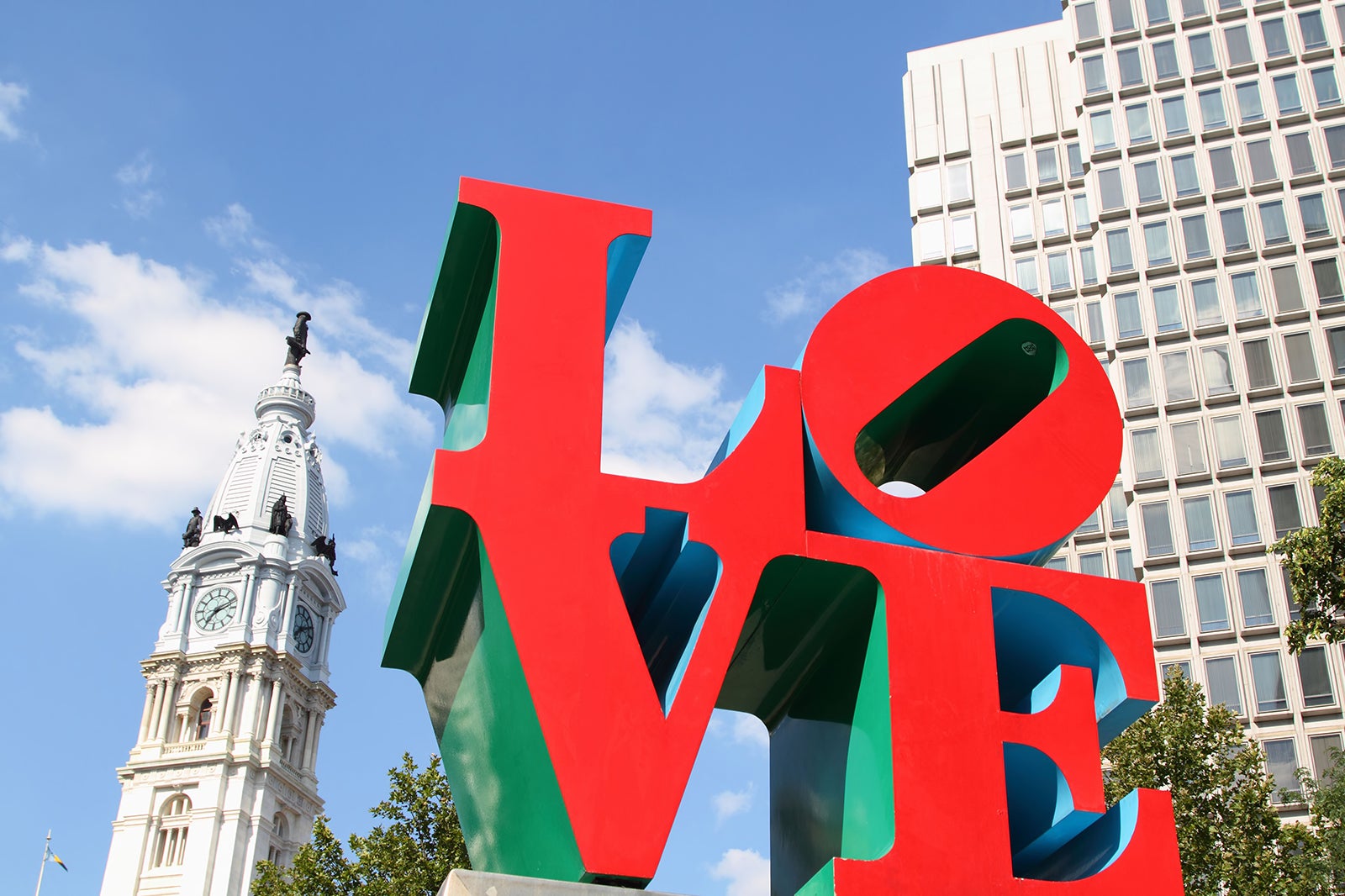 Couples
History
Budget
Photo
Set between the Philadelphia Museum of Art and City Hall, this small park is a welcoming place to stop for a rest when exploring the city sights. Originally named John F. Kennedy Plaza, it's now known as Love Park for its famous LOVE sculpture by Robert Indiana. The red sculpture's bold simplicity looks ready-made for Instagram, though it was installed in the park in 1976 to celebrate America's bicentennial … long before the invention of smartphones.
If you're visiting in late November or December, see Love Park transformed into a Christmas Village with lights and a lively market.
4
Elfreth's Alley
First built as a cart path for tradesmen in 1706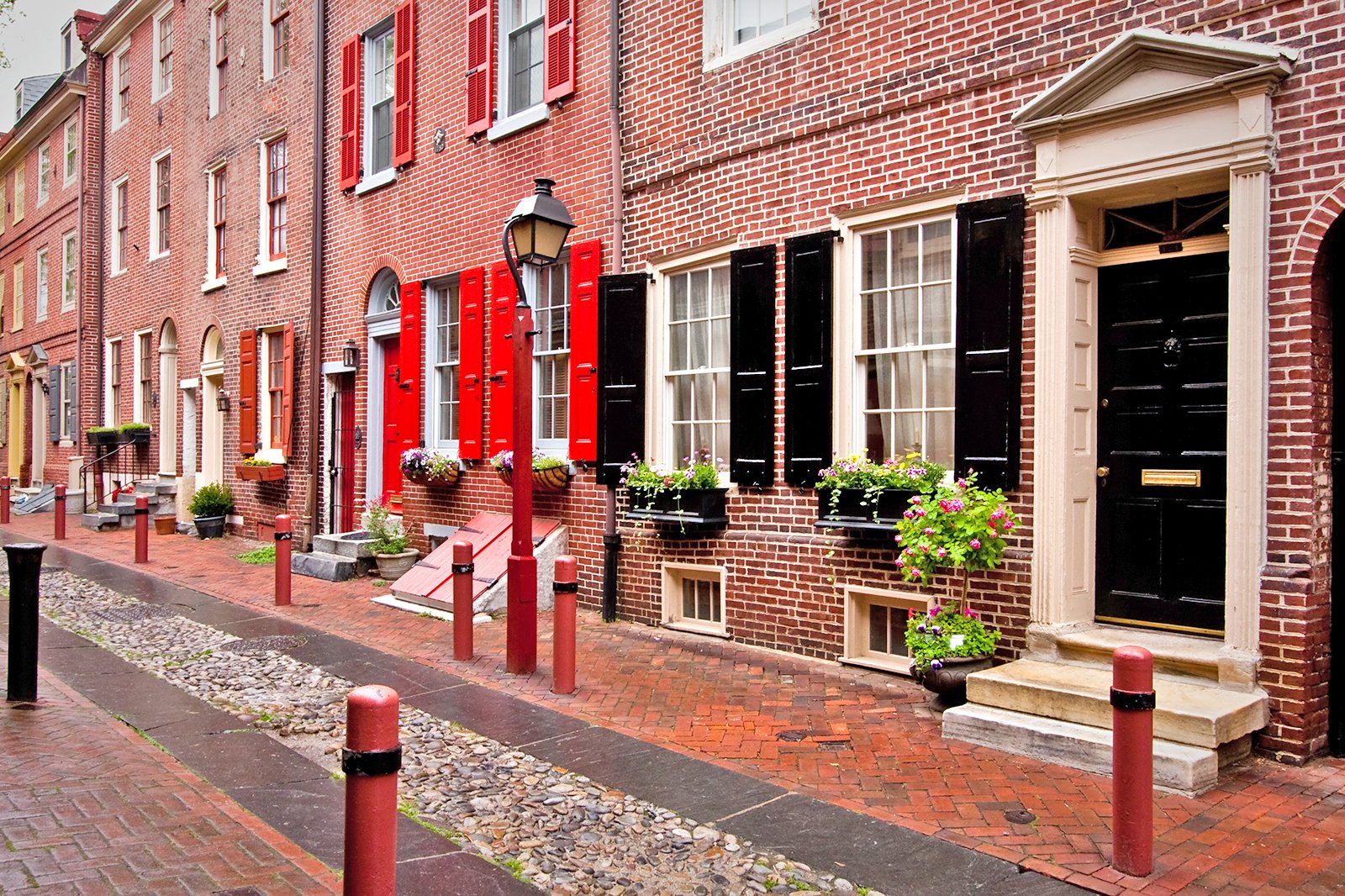 Take a trip back to colonial times along this cobblestone alley, which is the oldest continuously inhabited street in America. Built for the city's working-class residents, the 32 homes that remain here are well preserved examples of early American structures from the 18th and 19th centuries.
Most of the houses still serve as private homes, with the exception of Museum House at 124-126 Elfreth's Alley where you'll find more information about this historic neighbourhood. A great time to visit is on the first weekend of June, when all the houses are opened up to let curious visitors step inside.
Location: 124-126 Elfreth's Alley, Philadelphia, PA 19106, USA
5
Franklin Institute
An immersion into all things science and tech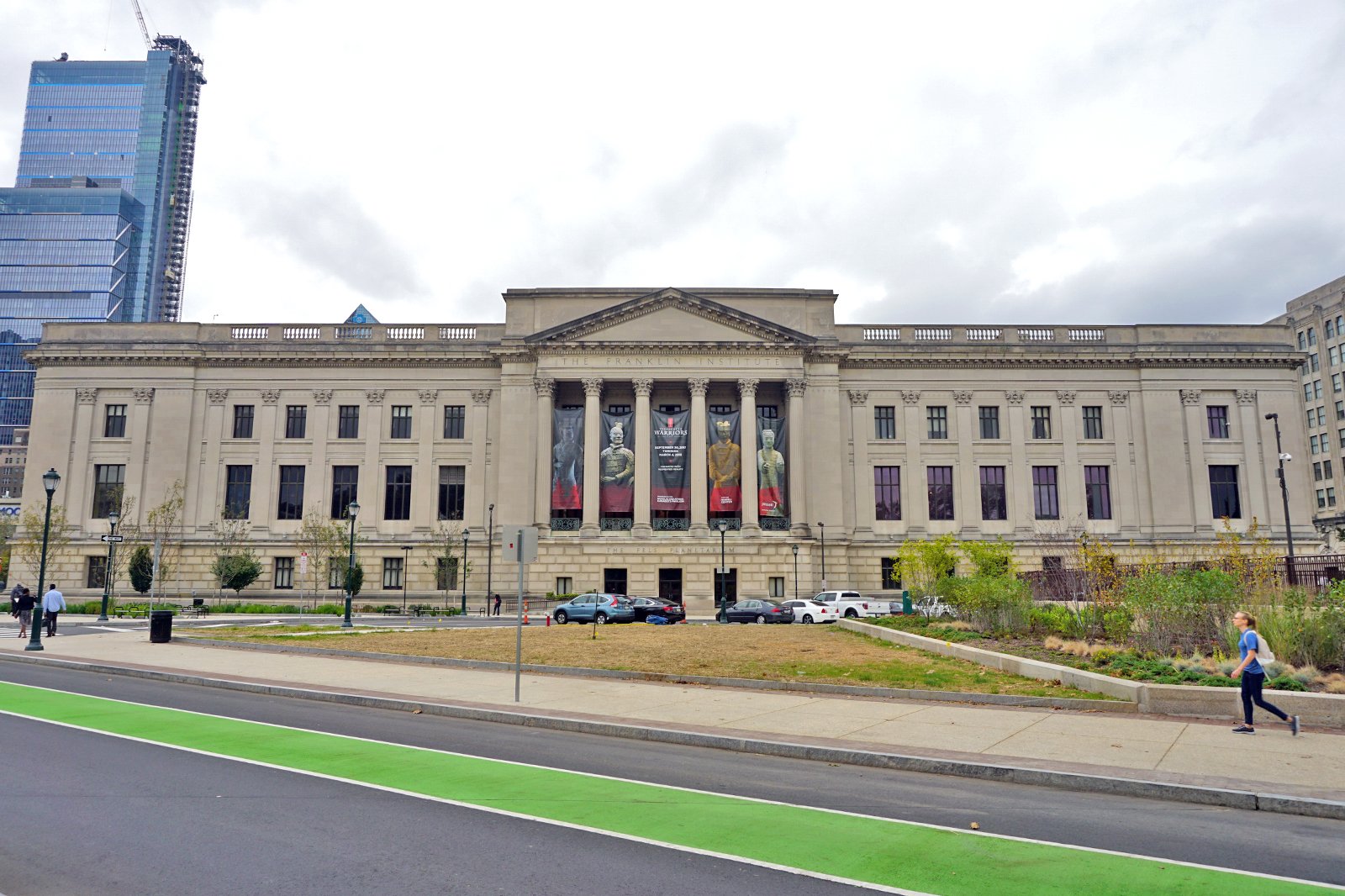 This long-running museum dedicated to science and innovation is as much fun as it is informative. Families and anyone with a curious mind will love all the wondrous things to see in the planetarium, the IMAX theatre, the aviation hall, the simulated train factory and many more exhibits.
The virtual reality experience and escape rooms transport you to another world, while the brain exhibit lets you explore a two-storey tall neural network climbing structure with light and sound effects activated by your footsteps. Entry tickets are about $23 and best bought online or by phone in advance to avoid the ticket counter line-ups.
Location: 222 N 20th Street, Philadelphia, Pennsylvania, USA
Open: Daily from 9:30 am to 5 pm
Phone: +1 215 448 1200
photo by Michael Barera (CC BY-SA 4.0) modified
6
One Liberty Observation Deck
With free guided tours to join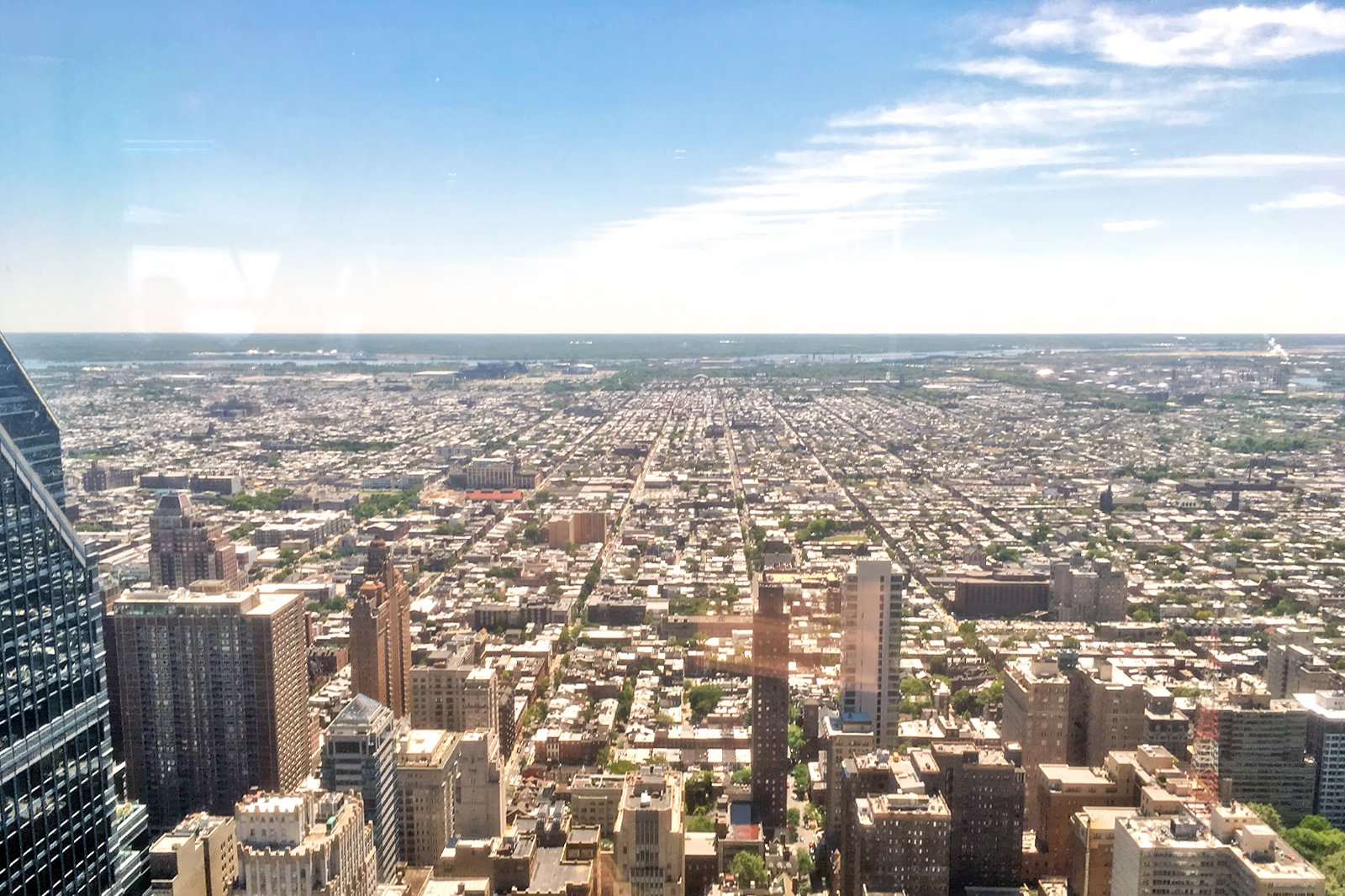 Travel up 57 floors to the observation deck for a spectacular view across Philadelphia. Many of the city's iconic sights like City Hall and the Ben Franklin Bridge can be seen in the 360-degree panorama. You'll also find info and interactive displays on the city's architecture, history and culture including its distinctive street murals and famous former resident, Benjamin Franklin.
Entry to the deck costs about $15, with discounts available for kids and families. Tours discussing the city's sights and history are free to join with admission and offered every hour.
Location: 1650 Market Street, Philadelphia, Pennsylvania, USA
Open: Daily from 10 am to 8 pm (Open till 9 pm from May 1 to September 30)
Phone: +1 215 561 3325
photo by Dough4872 (CC BY-SA 3.0) modified
7
African American Museum
Don't miss the 'Audacious Freedom' exhibit
Get an inside look at the African American experience in Philadelphia and beyond from the days of slavery centuries ago through decades of civil rights movements to modern-day art and culture. The museum has a fascinating permanent collection of art and interactive displays plus special exhibits.
You'll find photographs documenting important moments in American history including the 1963 March on Washington and rallies led by Martin Luther King Jr. Expect to spend about an hour here to see it all. Entry tickets are about $14 for adults, or you could visit with a Philadelphia sightseeing pass for no extra charge.
Location: 701 Arch Street, Philadelphia, Pennsylvania, USA
Open: Wednesday–Saturday from 10 am to 5 pm, Sunday from 12 noon to 5 pm
Phone: +1 215 574 0380
photo by Beyond My Ken (CC BY-SA 4.0) modified
8
Reading Terminal Market
One of the oldest and largest markets in America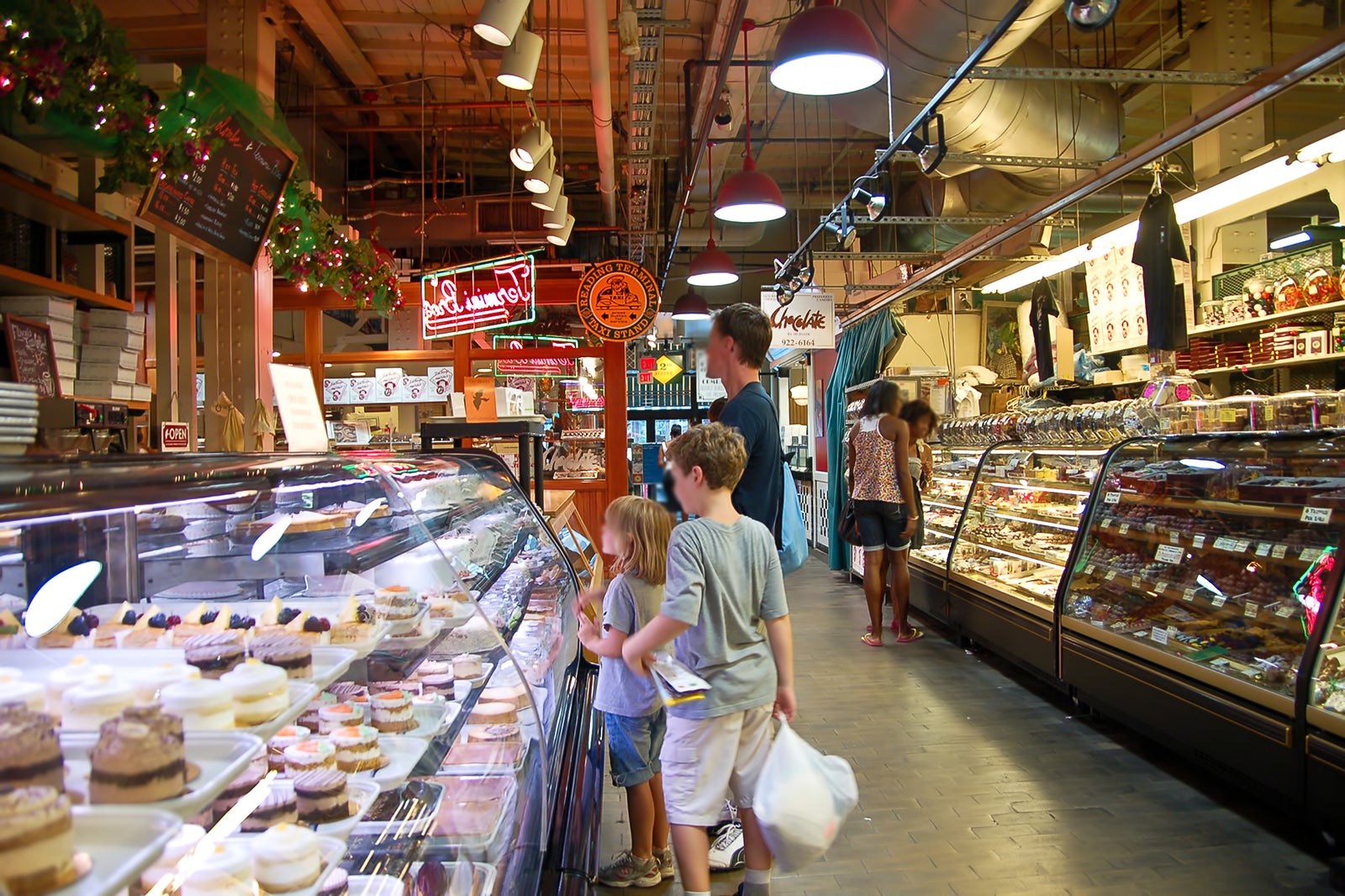 Families
Shoppers
History
Budget
This thriving farmer's market next to the Pennsylvania Convention Center has been running since 1893. Whet your appetite browsing the stands for seafood, cheddar cheeses, deli meats and baked goods.
There's a big selection of local foods to try like Pennsylvania Dutch hard pretzels with mustard, chicken pot pie and scrapple. Grab a takeaway snack or linger on for a sit-down meal at one of the restaurants with Thai, Chinese and Italian among the cuisines on offer. If you've still got room after eating all those cheesesteaks, pancakes and cheesecakes then stop by Bassetts, which has been scooping up ice-cream at the market since it opened.
Location: 51 N 12th Street, Philadelphia, Pennsylvania, USA
Open: Daily from 8 am to 6 pm
Phone: +1 215 925 4315
photo by Britt Reints (CC BY 2.0) modified
9
Philly Cheesesteak
Messy but oh-so good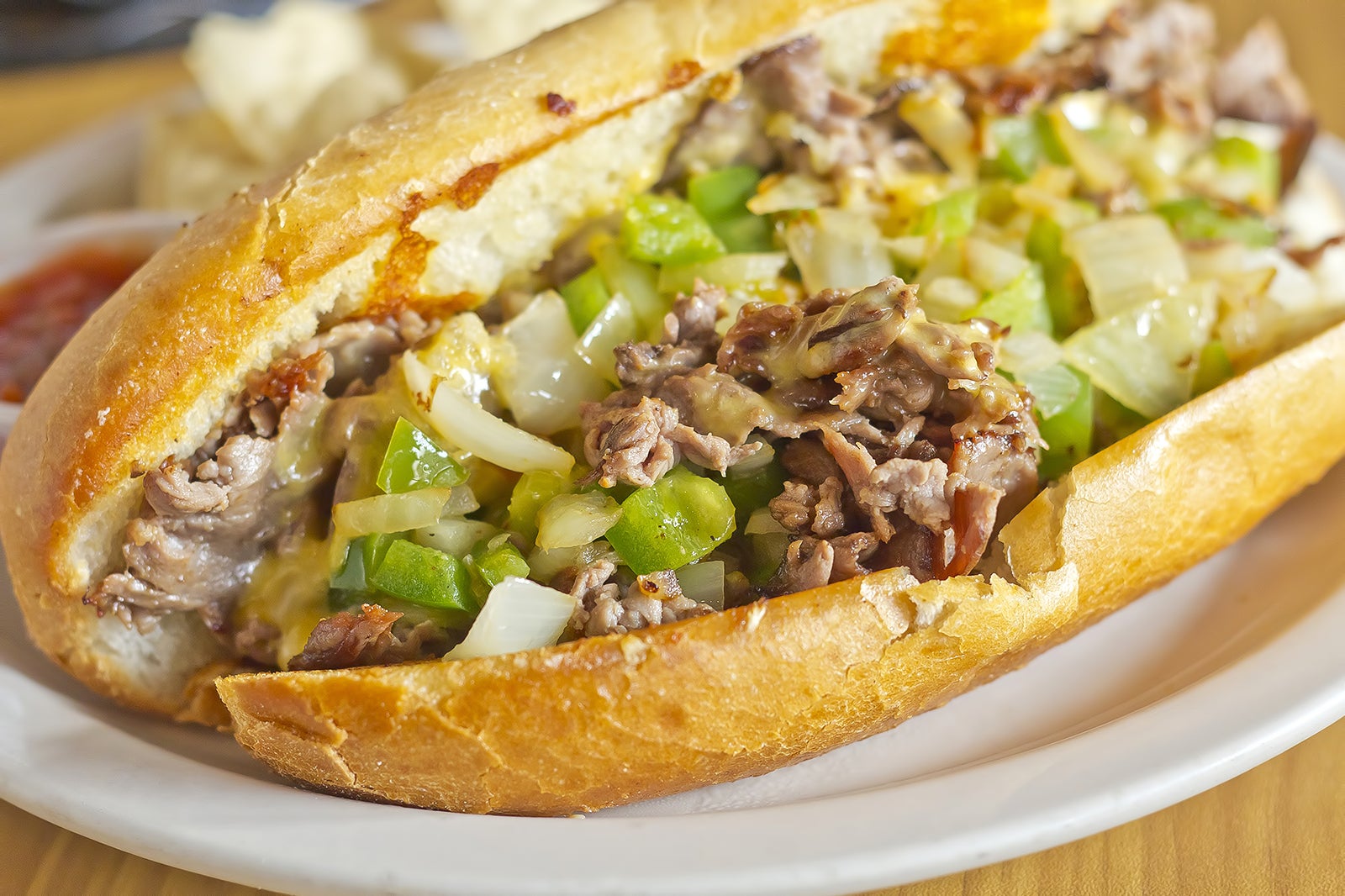 There are a lot of great food choices in Philadelphia, but you shouldn't leave the city before getting a taste of its famous Philly cheesesteak. Local residents will offer strong opinions on where to find the best version of this hearty sandwich loaded with sliced beef and melted cheese, so be sure to ask around.
You're unlikely to go wrong, however, if you try either Pat's King of Steaks or Geno's, rival restaurants in South Philly. Other spots known as cheesesteak champions include Shanks Original, which has been serving sandwiches for 50-plus years at S. Columbus Boulevard, and the original, Tony Luke's, on Oregon Avenue in South Philly.
10
Delaware River sunset cruises
A romantic evening on the river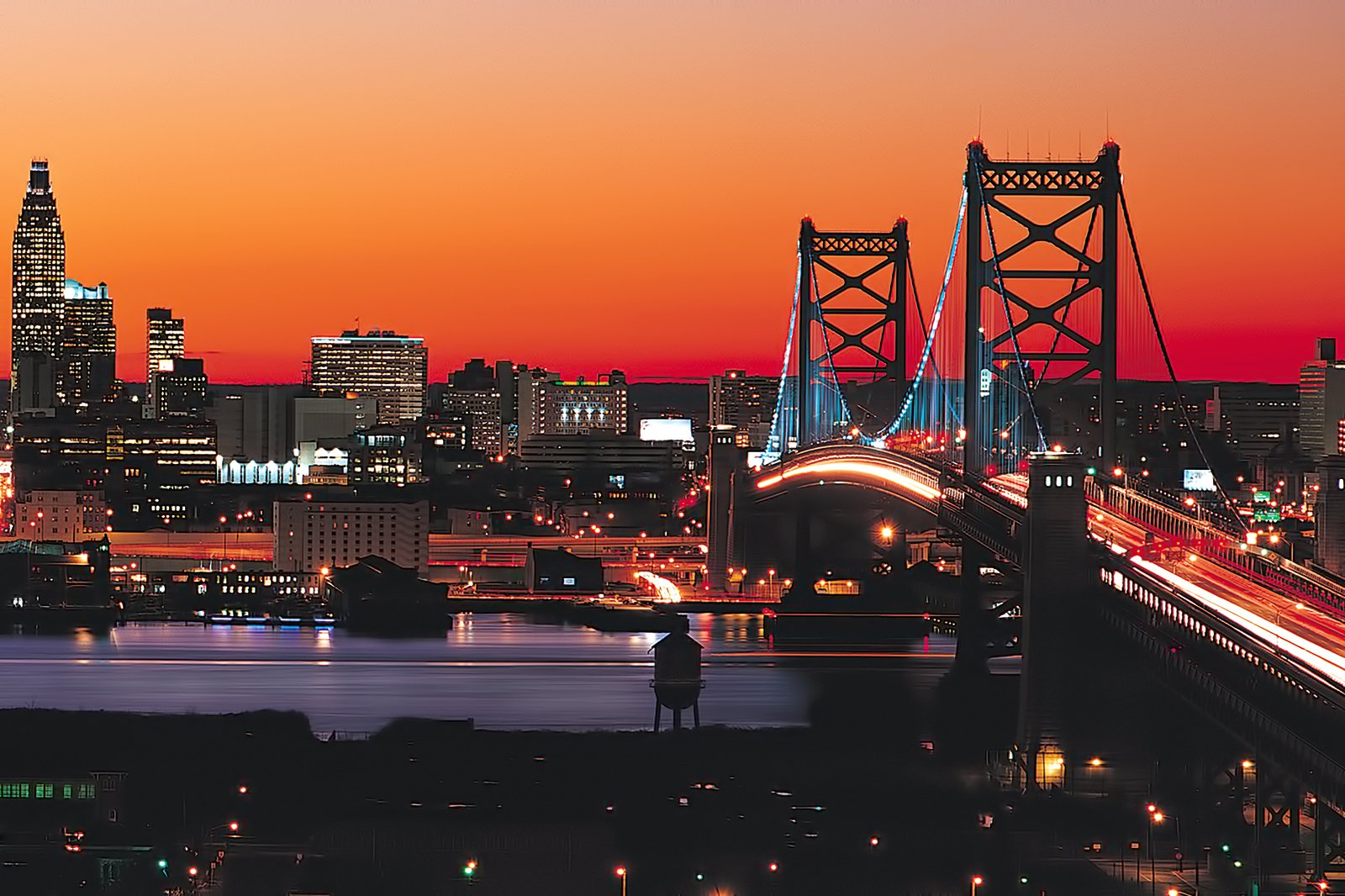 See Philadelphia's glittering skyline while gliding down the Delaware River on a sunset cruise. Cruises vary depending on the operator but it's typically a 1-hour trip that takes you past the Ben Franklin Bridge, Camden Waterfront, the Port of Philadelphia and other local landmarks.
You could join a dinner cruise for a longer trip to enjoy a night of dining, live music and dancing under the stars. If visiting in early July, you'll get to see the bridges and skyline dramatically lit up in red, white and blue for Independence Day celebrations.
Back to top