10 Best Things to Do in Daytona Beach
What is Daytona Beach Most Famous For?
Daytona Beach has a fast-paced and vibrant atmosphere that families, couples and motorsports enthusiasts alike will love. Home of the NASCAR Daytona 500 and its namesake – the 23 miles of hard-packed sand that make up Daytona Beach – it's no wonder that the city is so famous around the world for its motor racing and testing.
Cars aside, there are amusements, museums, markets and music venues galore. There's so much to see and do here, it's almost impossible to know where to start. Luckily, we've done the hard work for you by compiling a list of the best things to do in Daytona Beach in a day.
What are the best things to do in Daytona Beach?
1
Daytona Beach Boardwalk and Pier
Non-stop entertainment and amusements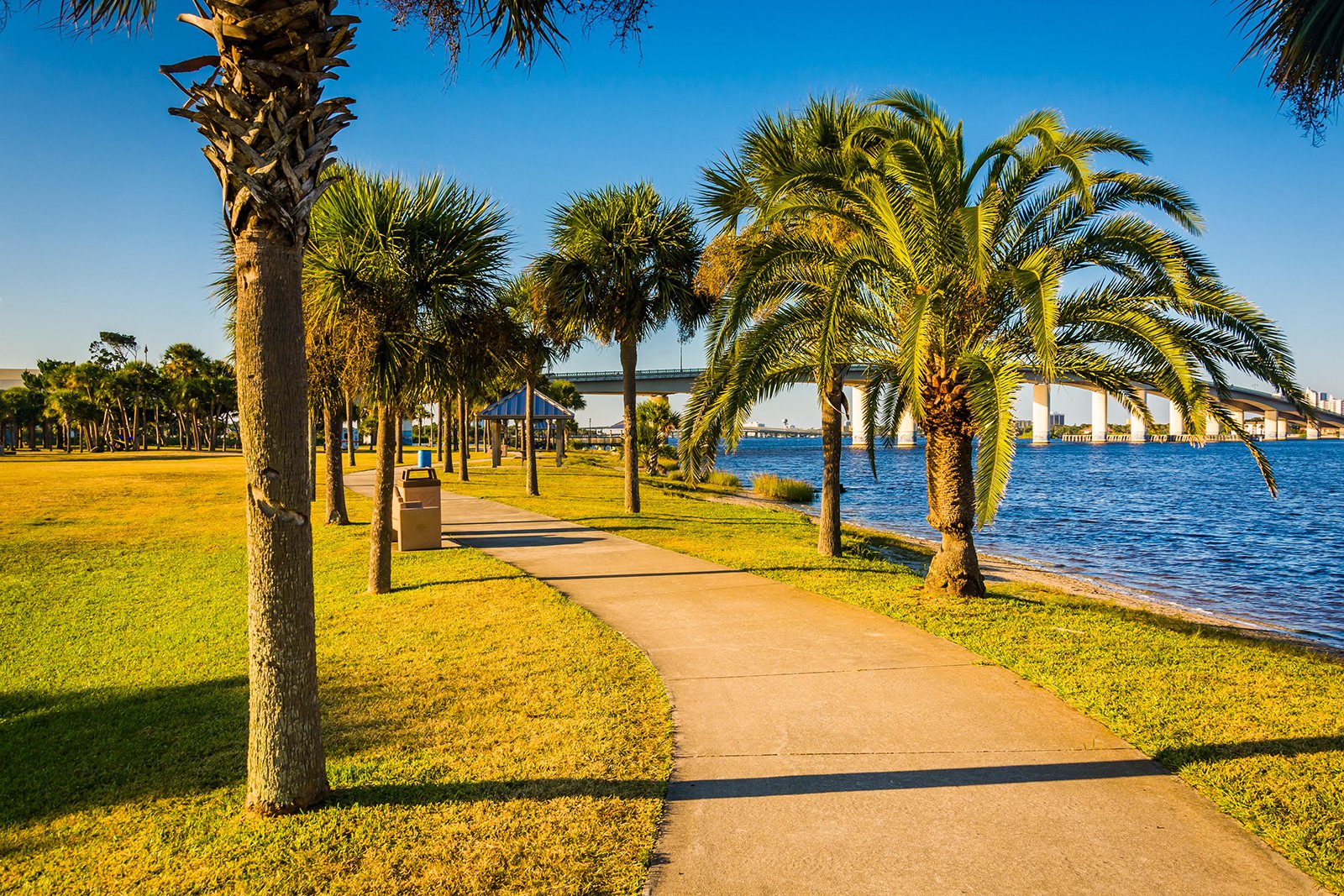 All the fun starts at Daytona Beach Boardwalk and Pier; an area packed full of amusements, thrills and non-stop entertainment. Stroll along the colourful and bustling boardwalk, spending a quarter or two in the arcades and trying your hand at Skee-Ball. Browse all the unique souvenirs in the gift shops and get a view from high on one of the two Ferris wheels.
After all the excitement, you'll have no doubt worked up a bit of an appetite, so grab yourself a quick bite to eat at the Joyland Amusement Center & Snackbar.
2
Ponce de Leon Inlet Lighthouse
The tallest lighthouse in Florida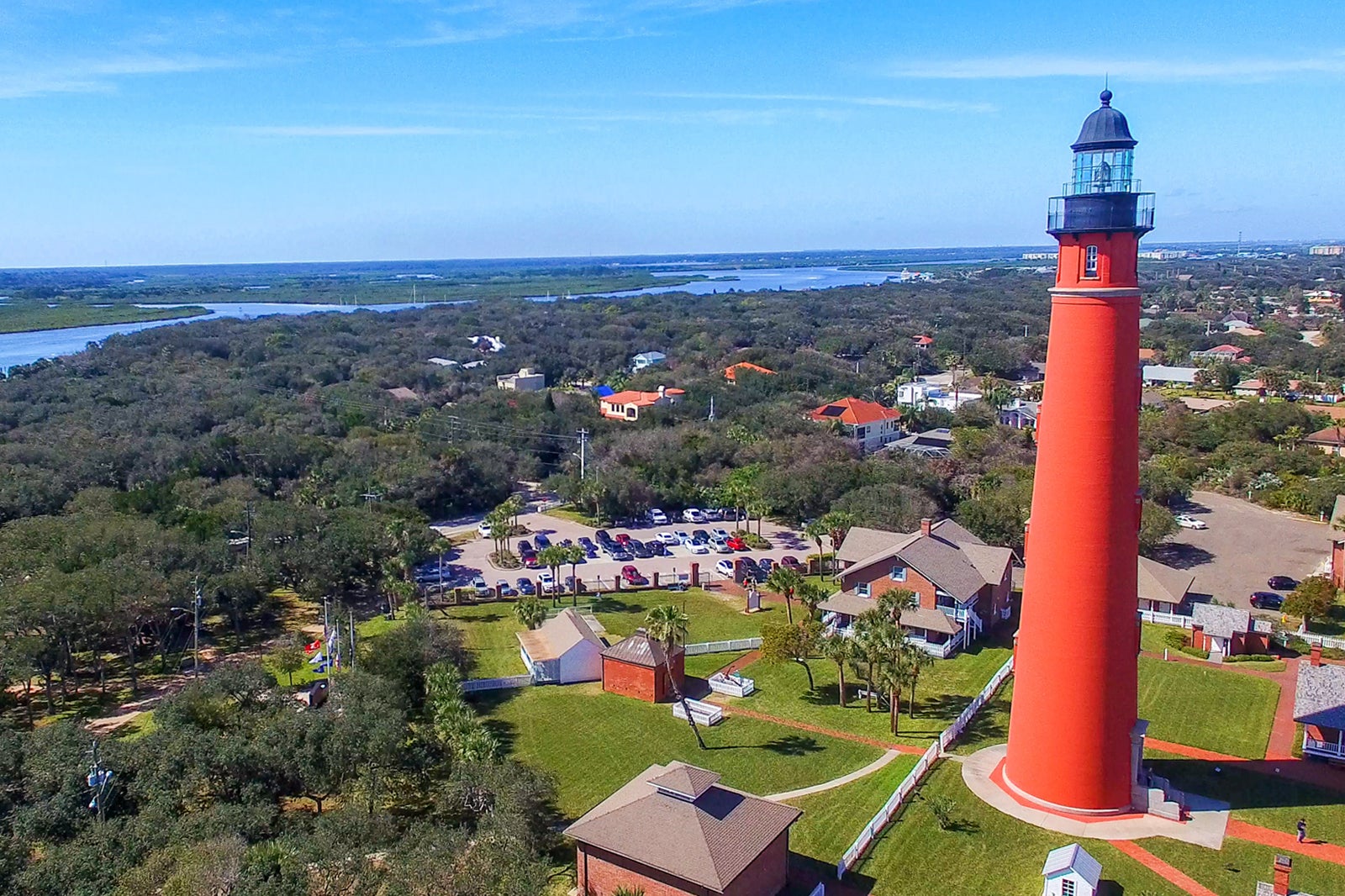 Head to the southernmost point of the peninsula and climb to the top of the Ponce De Leon Inlet Lighthouse – the tallest lighthouse in Florida. At 175 feet high, it gives you fantastic views of Daytona Beach and the surrounding area. It's certainly worth the climb up the lighthouse, but be warned – there are 203 steps to the top and no lift!
Once you've taken in the views from the top, you can visit the on-site museum and find out all about the lighthouse's history since it was built in 1887. There's a Marine Science Center on the museum grounds too, with rescued birds, a sea turtle rehabilitation facility and even a teaching lab.
Location: Ponce de Leon Inlet Lighthouse & Museum, 4931 S Peninsula Dr, Ponce Inlet, FL 32127, USA
Open: June–September: daily from 10 am to 9 pm. September–June: daily from 10 am to 6 pm
3
Daytona Lagoon
The premier water park and family entertainment centre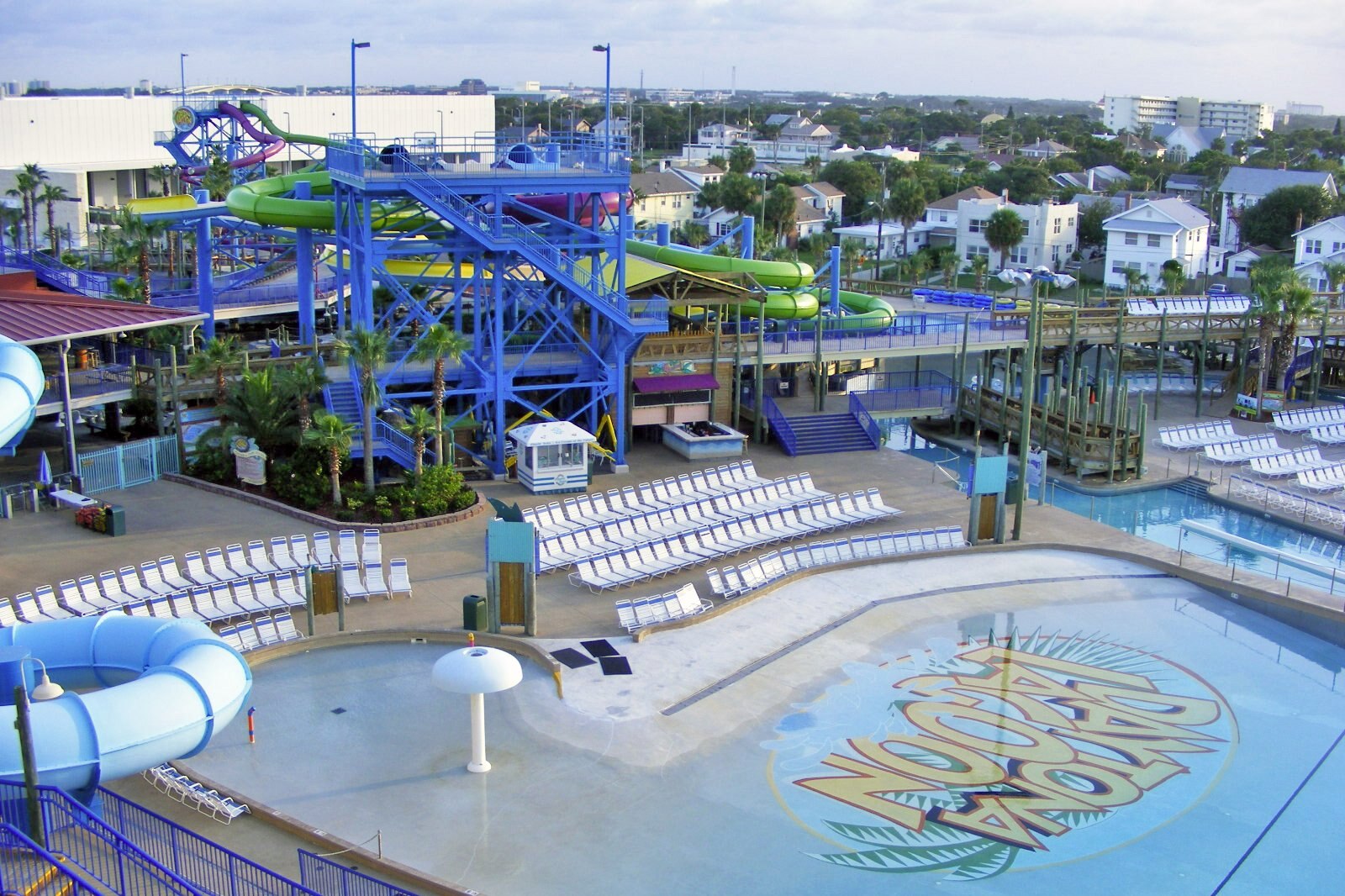 Daytona Lagoon is the ultimate adrenaline-fuelled experience, with fast-paced water slides and exciting thrill rides. On the one hand, you've got the incredible water park, with its 12 wild rides, its wave pool and its somewhat more relaxing lazy river. But who wants to relax when you can be racing down Kraken's Conquest at knuckle-clenching speeds?
On the other hand, however, if you prefer to stay a little drier, there's the action-packed family entertainment centre. Try go-kart racing, laser tag or the challenging Sky Maze, with its rope course, obstacles and zipline.
Location: Daytona Lagoon, 601 Earl St, Daytona Beach, FL 32118, USA
Open: Hours vary by season
Phone: +1 386-254-5020
photo by Gamweb (CC BY-SA 3.0) modified
4
Daytona Beach
"The World's Most Famous Beach"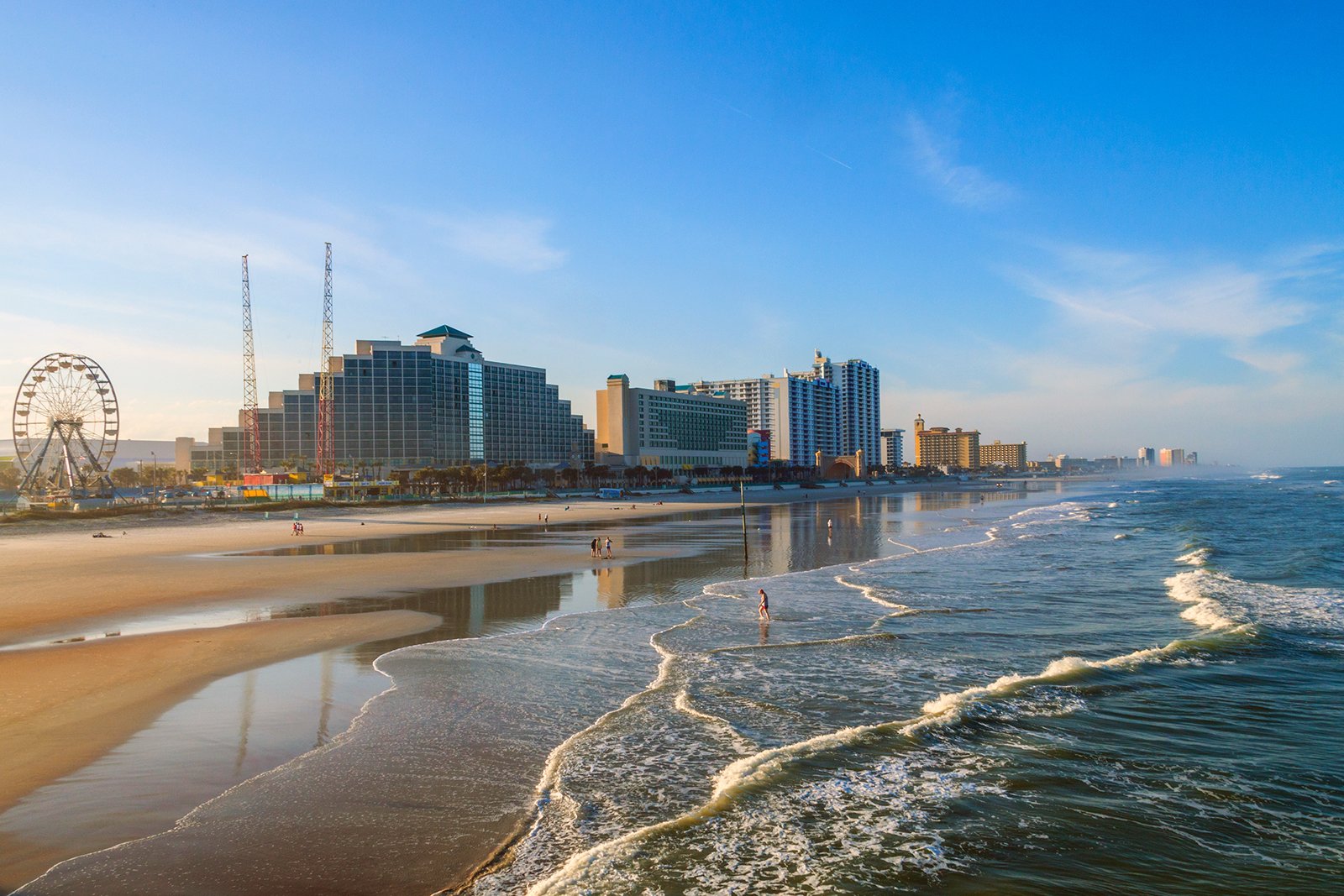 Families
Couples
Photo
Budget
You can't possibly visit Daytona Beach without spending time on the 23 miles of white, hard-packed sand that gives the city its name. Daytona Beach's nickname, the 'World's Most Famous Beach', was first given to it back in the 1920s, when it became world-renowned for its high-speed automobile testing and racing. Nowadays, there are still designated parts of the beach where you can drive on the sand for yourself or just make the most of the fun and vibrant atmosphere on foot.
Visit a beachfront restaurant, try your hand at volleyball or simply pick a spot on the vast shoreline and soak up the warm Florida sun.
5
Daytona International Speedway
Home of the Daytona 500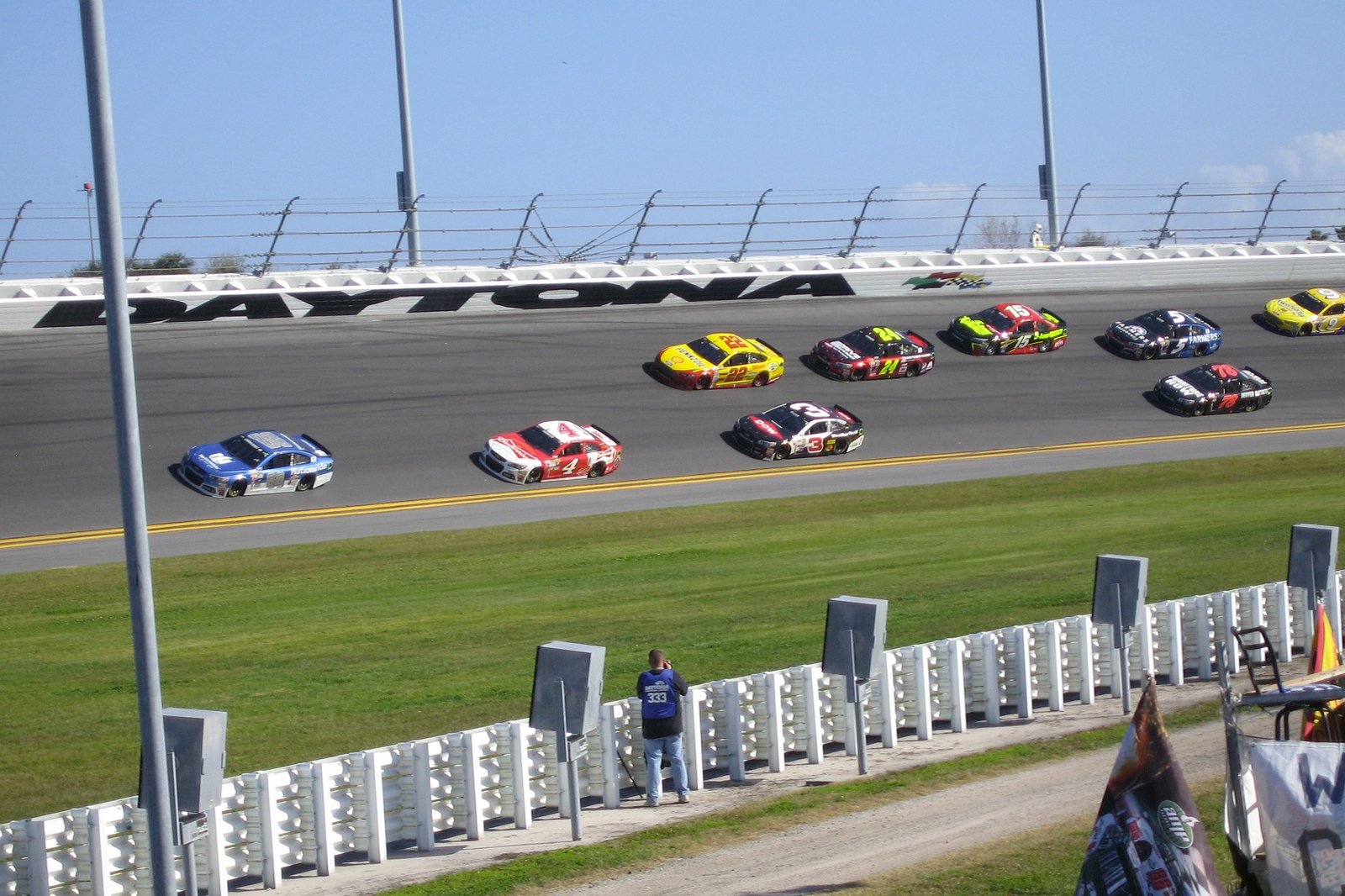 If you know anything about Daytona Beach, you'll know that it's home to the almost 500-acre Daytona International Speedway. Considered to be the world's mecca for motor racing, it's here that the annual Daytona 500 takes place; the most prestigious race in NASCAR. It draws hundreds of thousands of spectators and enthusiasts to the city each year, but even if your visit doesn't coincide with the big race, there are plenty of other events taking place at the grounds each week.
Take the time to visit and join one of the daily tours, giving you the chance to experience the 31-degree banks and step onto the podium for the ultimate photo opportunity.
Location: Daytona International Speedway, 1801 W International Speedway Blvd, Daytona Beach, FL 32114, USA
Open: Hours vary according to season and events
Phone: +1 800-748-7467
6
Museum of Arts & Sciences
The biggest and best of its kind in Central Florida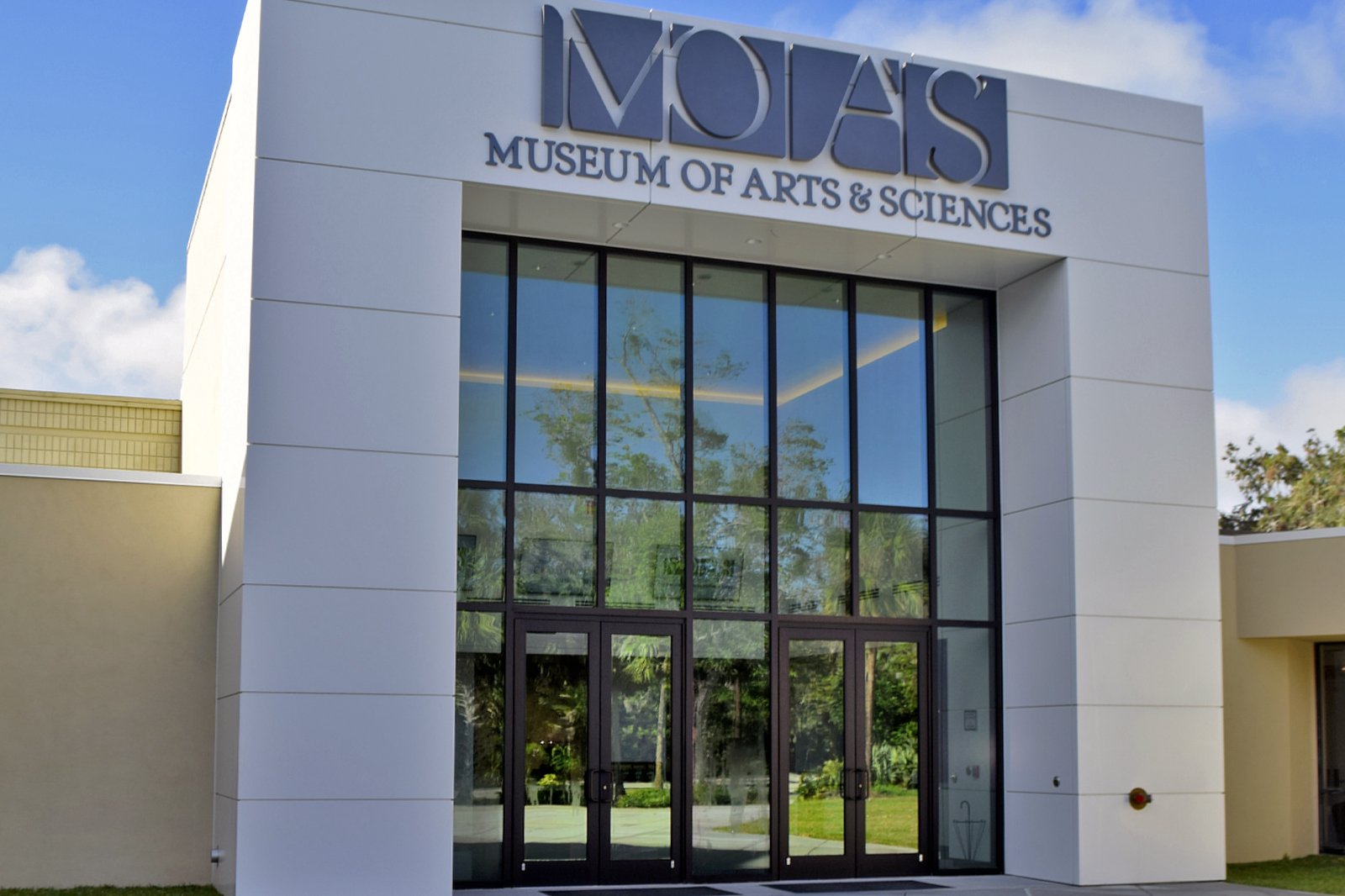 The biggest museum in the area, the Museum of Arts & Sciences (or MOAS) is a firm favourite with adults and children alike. There's a whole host of permanent collections, temporary exhibitions, restored railroad cars and art displays from the likes of Cuba and Africa. Plus, there's a brand-new state-of-the-art planetarium to explore, too.
Check out the hands-on science centre for the kids at the on-site Charles and Linda Williams Children's Museum, and did we mention that you'll find one of the largest collections of Coca Cola memorabilia here? For something a little different, head to MOAS on a Wednesday evening and enjoy some 'Yoga in the Gallery'.
Location: Museum of Arts & Sciences, 352 S Nova Rd, Daytona Beach, FL 32114, USA
Open: Daily from 10 am to 5 pm (Sundays from 11 am)
Phone: +1 386-255-0285
photo by Sloth1979 (CC BY-SA 4.0) modified
7
Daytona Flea and Farmers' Market
One of the best markets in the country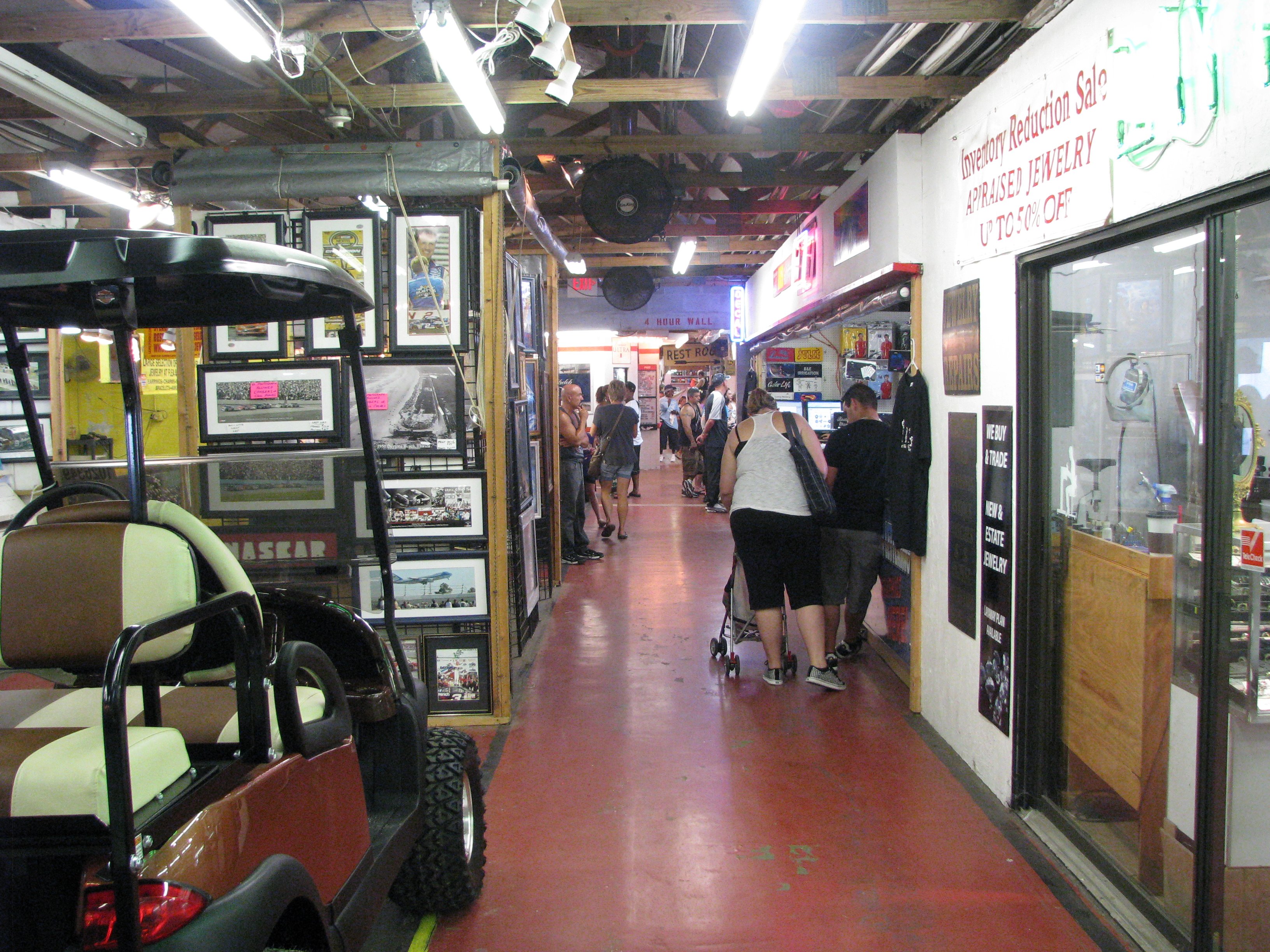 Making a regular appearance in lists of the best US flea markets, Daytona Flea and Farmers' Market is a treasure trove of souvenirs, memorabilia and fresh local produce. Held in a 30-acre complex, there are a staggering 1,000 vendor booths, meaning you're bound to find at least a few bargains as you browse.
Be sure to pick up some of the local pickles, jams or honey while you're there, and maybe you could even pay a visit to the barber's stall or the tattoo parlour. Visit on the first Saturday of the month and you'll be treated to a car show featuring rare antique and race cars.
Location: Daytona Flea and Farmers' Market, 1425 Tomoka Farms Rd, Daytona Beach, FL 32124, USA
Open: Friday–Sunday from 9 am to 5 pm
photo by binkle_28 (CC BY-SA 2.0) modified
8
Daytona Beach Bandshell
Endless entertainment at the iconic oceanfront amphitheatre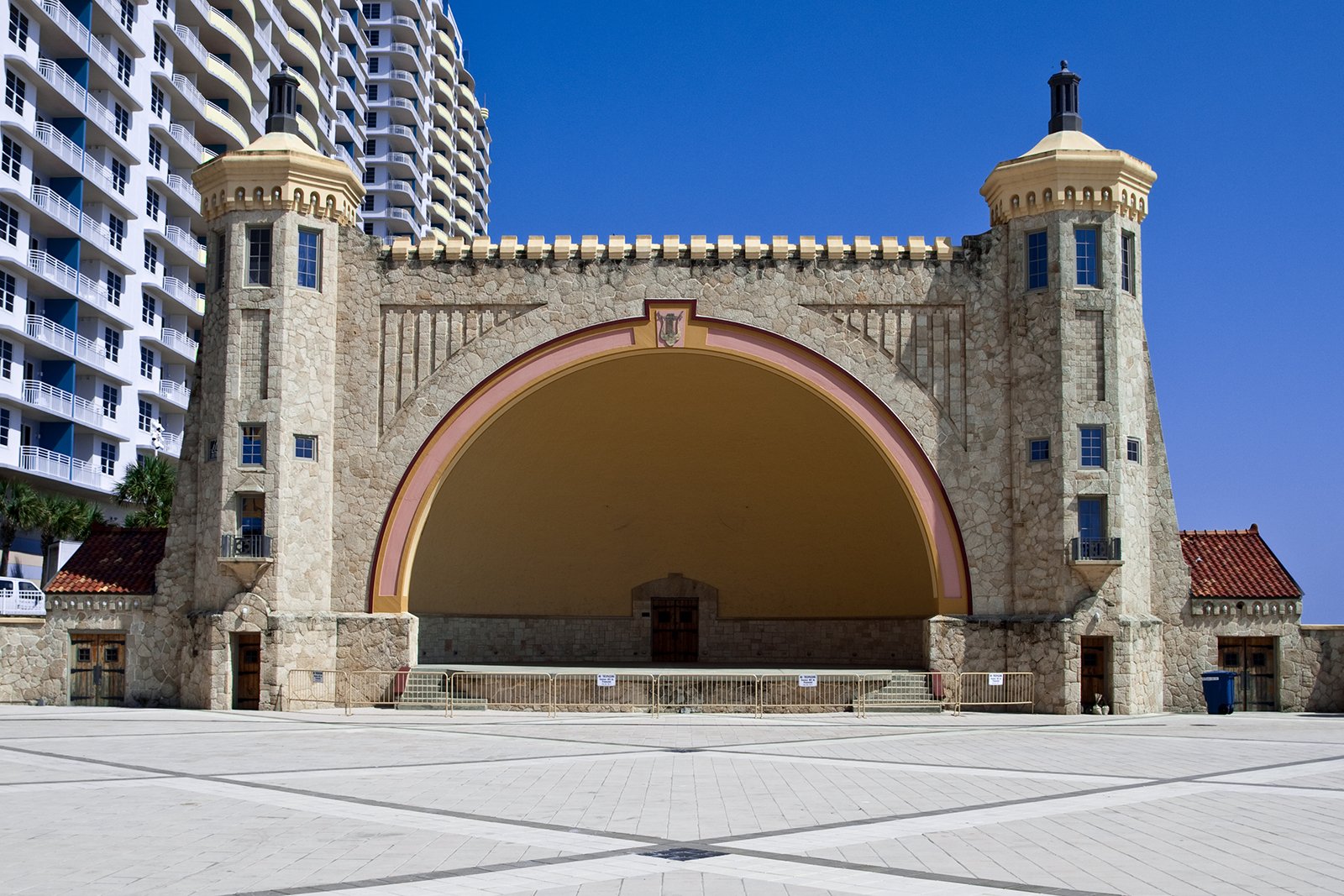 Families
Nightlife
Couples
Photo
Experience an unforgettable evening of live music at the historical Daytona Beach Bandshell built from coquina. If you're planning on visiting Daytona Beach during the summer months, be sure to attend one of the Friday night or Saturday night shows as part of the amphitheatre's Summer Concert Series.
There's music for everyone to enjoy, from classic rock and country to Dixieland, contemporary and everything else in between. Opt for one of the Saturday night shows if you want to see a superb firework display at the end.
Location: Daytona Beach Bandshell, 70 Boardwalk, Daytona Beach, FL 32118, USA
Open: May–September: Friday and Saturday from 7 pm
Phone: +1 386-239-6625
9
Eat oysters along the seafront
Freshly caught and prepared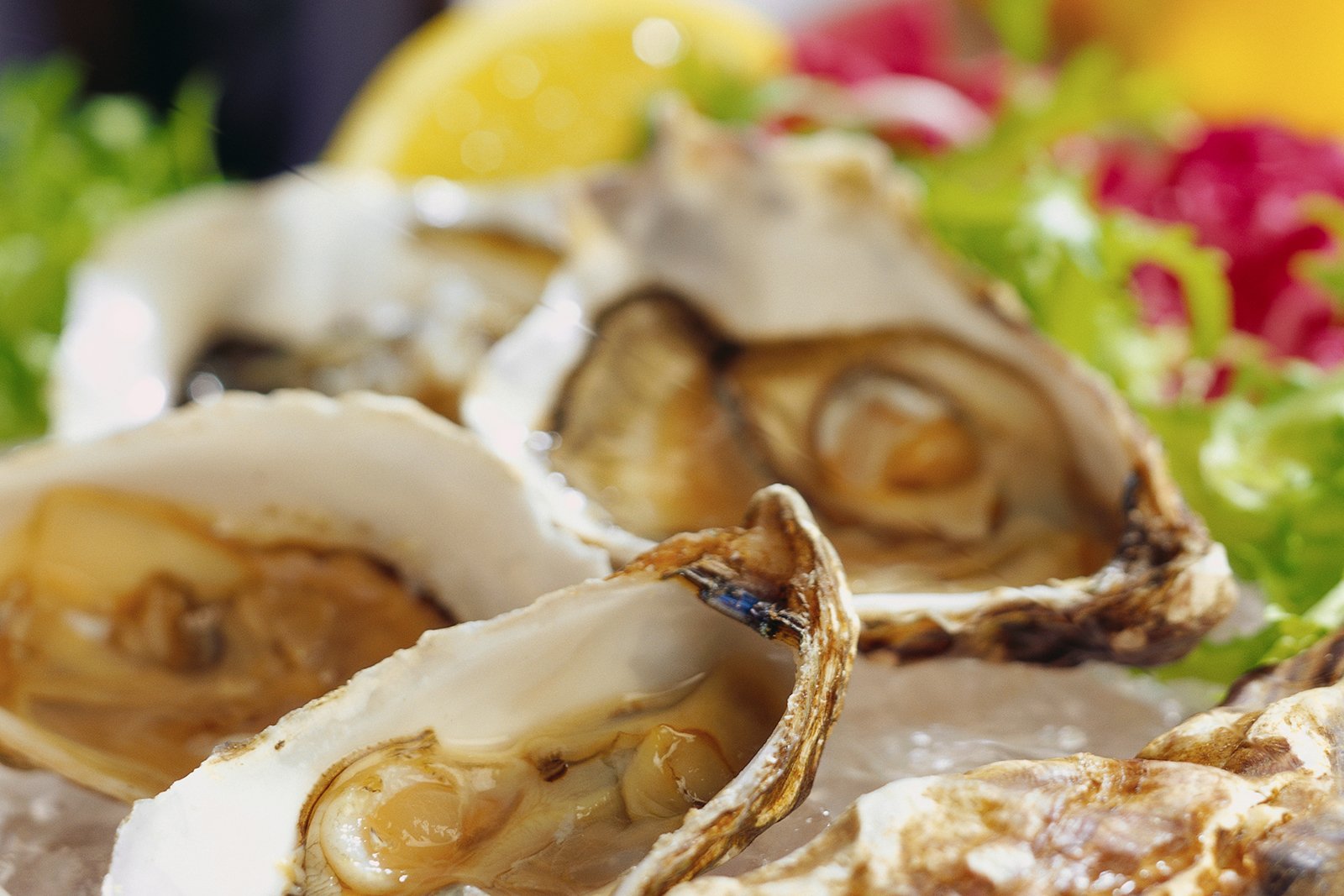 When visiting somewhere like Daytona Beach, it's only right that you should sample some of the fresh local delicacies – and there's nothing fresher than a bowl of succulent oysters. Considered by many as an acquired taste, the restaurants along the seafront know just how to marinate and serve this salty seafood speciality while going from ocean to plate in next to no time. Head to The Oyster Pub on Seabreeze Boulevard, where you'll find a huge variety of oysters on the menu that are shucked to order.
Location: 555 Seabreeze Blvd, Daytona Beach, FL 32118, USA
Open: Daily from 11.30 am to late
Phone: +1 386-255-6348
10
End the day sampling beers along the Daytona Beach Ale Trail
A tour of independent craft breweries, wineries and distilleries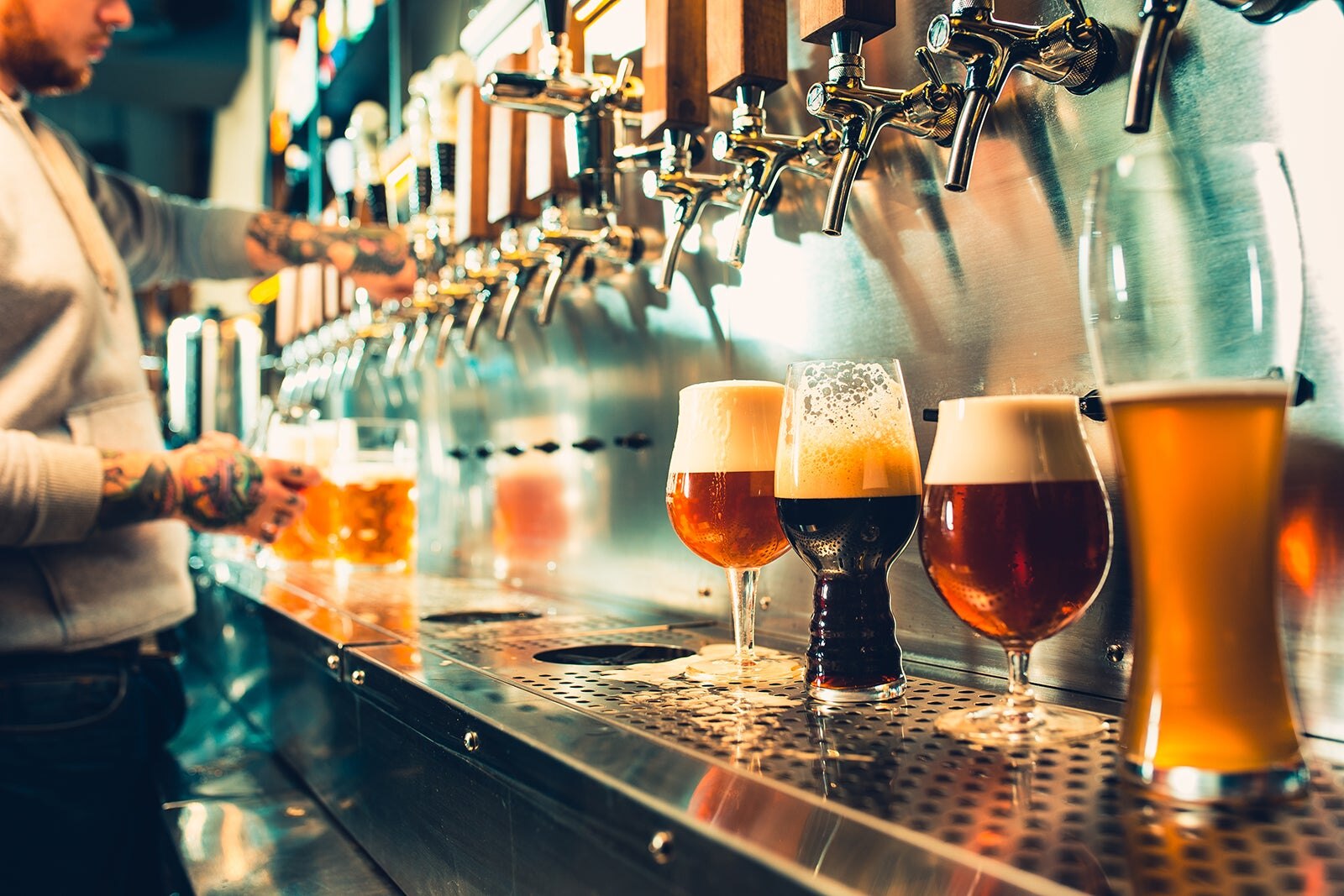 The breweries might be independent, but the atmosphere is far from exclusive on the ever-popular Daytona Beach Ale Trail. Savour the essence of the city as you visit 1…2 or maybe more of the local craft beer breweries, wine bars and distilleries that Daytona Beach has become so famous for.
Grab a beer and a burger at the Daytona Taproom, sip a smooth red at Wine-Me, then make your way to the Copper Bottom Craft Distillery, where you can sample award-winning spirits and maybe even take a free tour.
Back to top