10 Reasons Why Philadelphia Is Underrated
There's More to the City of Brotherly Love Than Bells and Sandwiches
Philadelphia is a city with a rich and unique history, a lot of heart and more street art than you can shake a perfectly created cheesesteak at, yet it's often overlooked as a destination. Despite housing historic, cultural, artistic and culinary treasures in quirky neighbourhoods full of hand-painted murals, Philly remains unfairly underrated.
At first glance, you may be wondering what all the fuss of the 5th most populous city in the United States is about, but this is precisely where the magic of Philly lies. Look within the free art sitting on street corners, uncover otherwise unknown historic spots with a little exploratory nudge and, most importantly, bring your own bottle to eclectic eateries. From craft beers to comfort food, and Rocky to tax-free riches, check out some of the reasons why you need to see these Pennsylvanian streets.
1
It's the birthplace of America
And the first World Heritage City in the country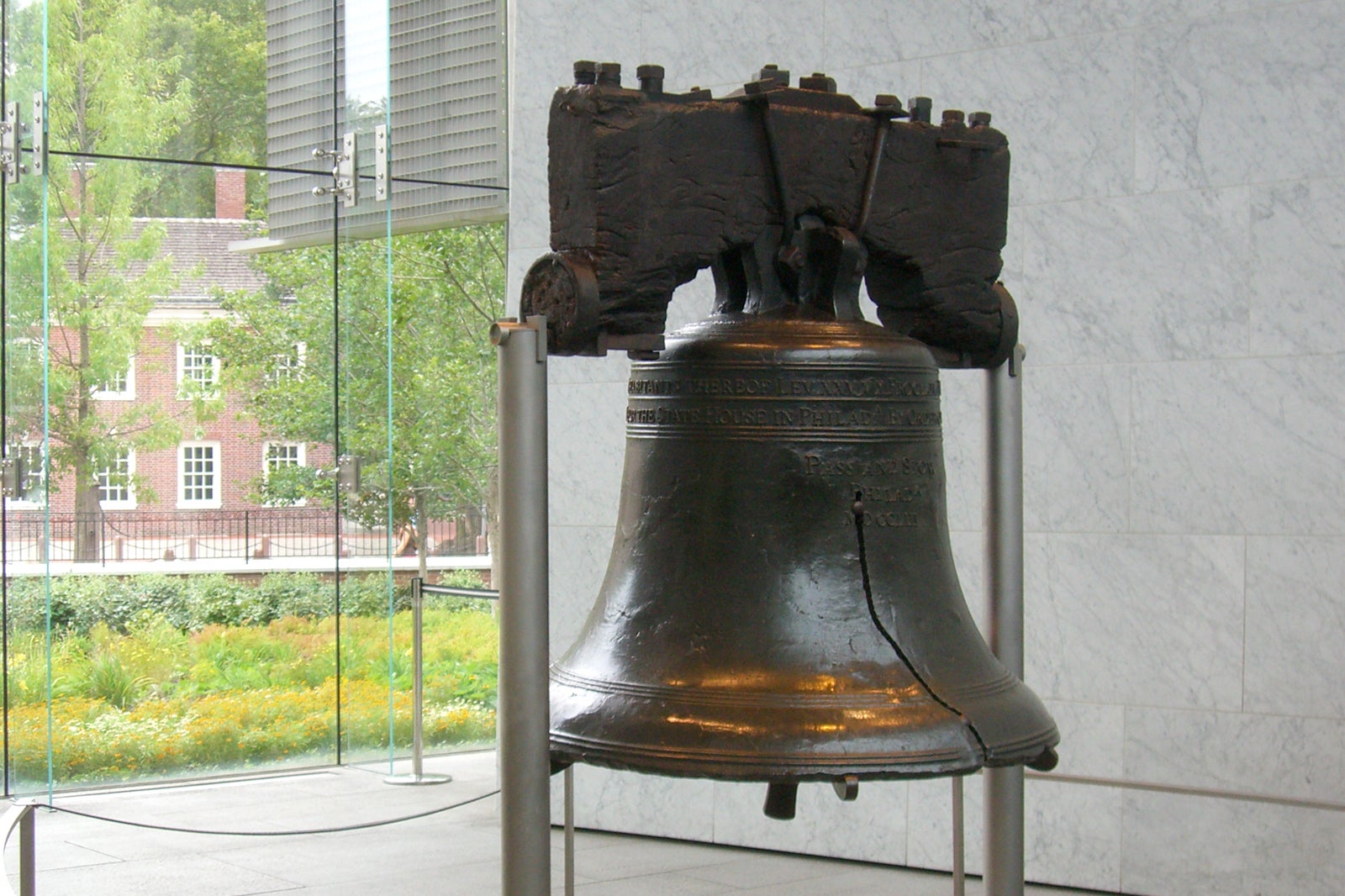 Making itself (and the first public reading of the Declaration of Independence) heard on 8th July 1776, The Liberty Bell is one of the most iconic sights in all of American history. Located in the Liberty Bell Center, just across from Independence Hall, and free to admire, this glorious 2,080-pound bell is truly something to see. And where else are you going to get such a perfect #belfie?
With 67 National Historic Landmarks within its city walls, Philly gained a hot new status as the country's first World Heritage City in 2015. So there's no excuse not to continue your history lesson with a walk through the city. Keep your eyes peeled for the blue signs dotted all around – they highlight the uniquely historical reasons that make Philly so special.
Location: 526 Market St, Philadelphia, PA 19106, USA
Open: Daily from 9 am to 5 pm
Phone: +1 215-965-2305
photo by Diego Delso (CC BY-SA 4.0) modified
2
You can run up the Rocky Steps
And get a selfie with the man himself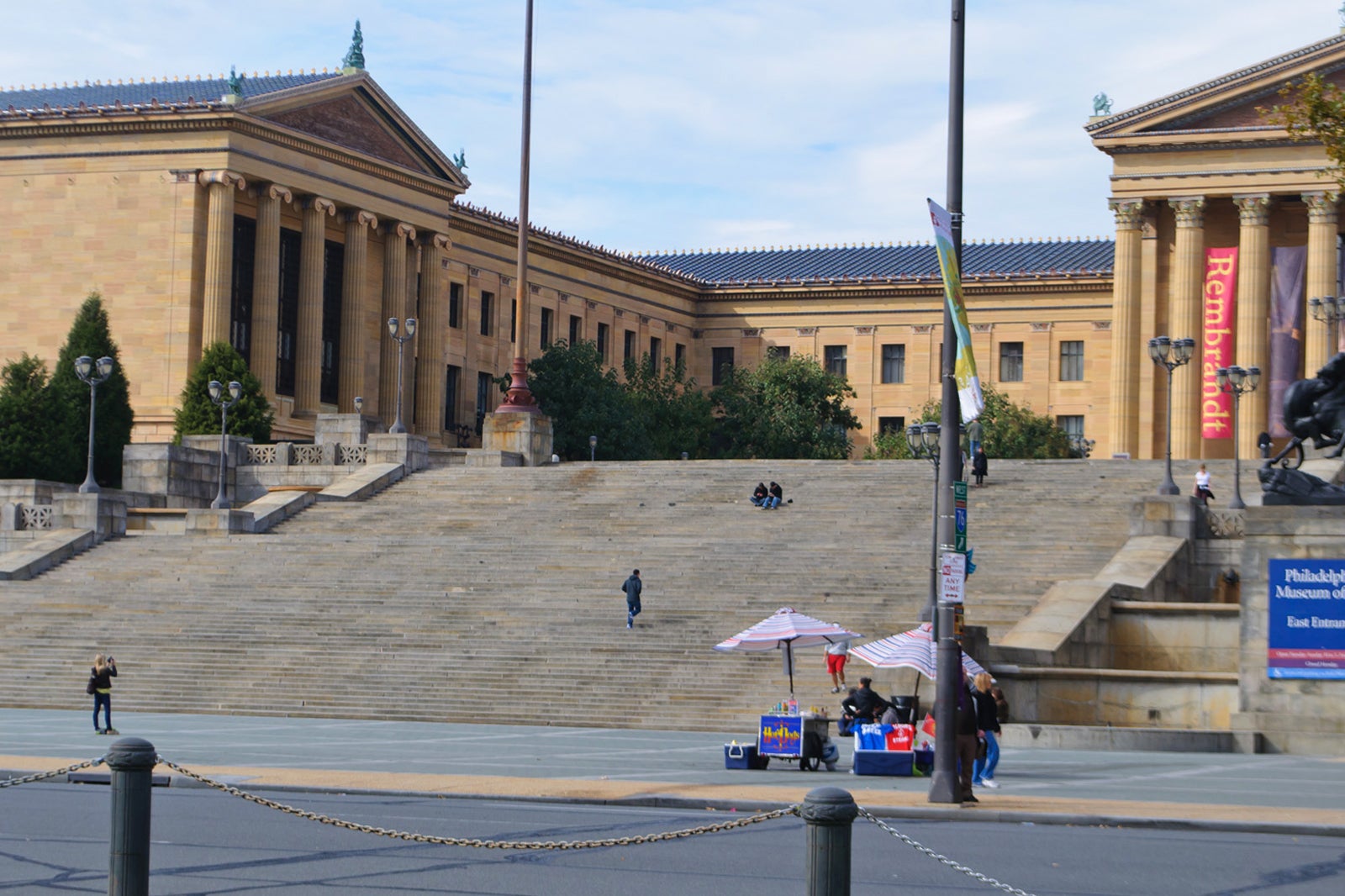 You can hear the theme music running through your head as those concrete stairs move within closer and closer reach of your eager footsteps. Yes, it can only be the iconic steps of the Philadelphia Museum of Art – more commonly known as the Rocky Steps. You may have to wait in line to gear yourself up for that oh-so-famous run, but boy, it'll be worth it.
Definitely one for movie fans, embrace your inner-Balboa as you snap a couple of sly selfies with the main man himself (or, at least, his statue) and relive the intoxicating moment you've been waiting so long for. Be sure to visit the art museum afterwards and check out the surrounding grounds. Take a stroll around behind the museum for beautiful river views.
Location: Art Museum Steps, Spring Garden St, Philadelphia, PA 19130, USA
Phone: +1 215-763-8100
photo by InSapphoWeTrust (CC BY-SA 2.0) modified
3
There's plenty of cheap craft beer
And don't miss out on the local spirits, too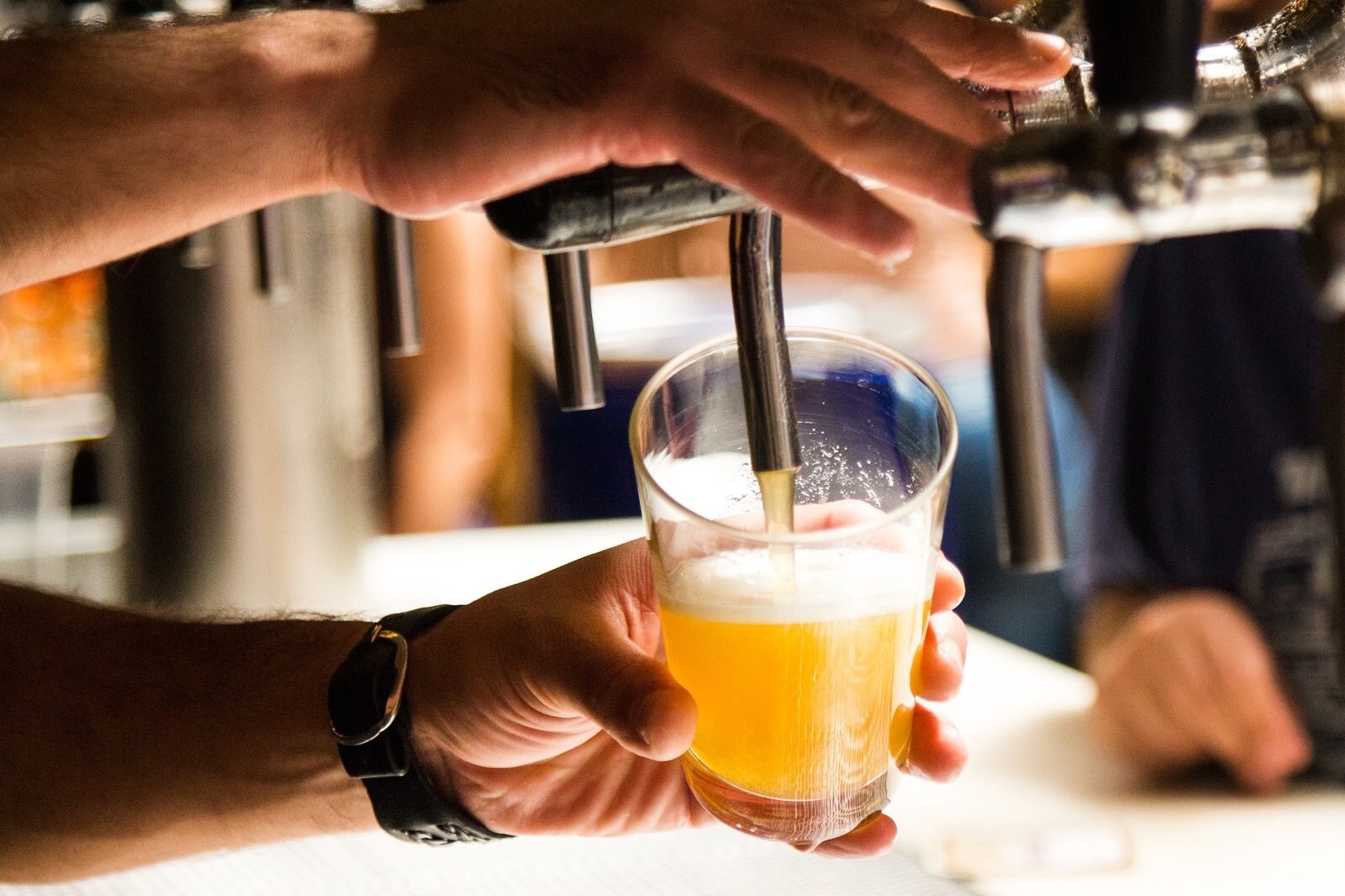 For those who enjoy nothing more than pulling up a pew, kicking back and lifting the lid on a good drink, Philly really is the perfect spot. Craft beers have been rising through the popularity ranks in recent years, becoming a firm favourite in the city. Join the Philadelphia Craft Beer Trail to experience major craft breweries such as Sly Fox and Victory before visiting the more mainstay brewpubs from Dock Street to Manayunk Brewing.
And when you're not knocking back the easily accessible craft beer, you can sip on creative cocktails courtesy of spirits from local distilleries like Federal Distilling and Red Brick Craft Distillery. Head to the New Liberty Distillery on Cadwallader Street for a tasting tour or take a seat in the bar for happy hour cocktails between 4pm to 8pm. All walk-ins are welcome – as long as you're over 21, of course.
4
You can bring your own bottle
A creative solution to tough local liquor restrictions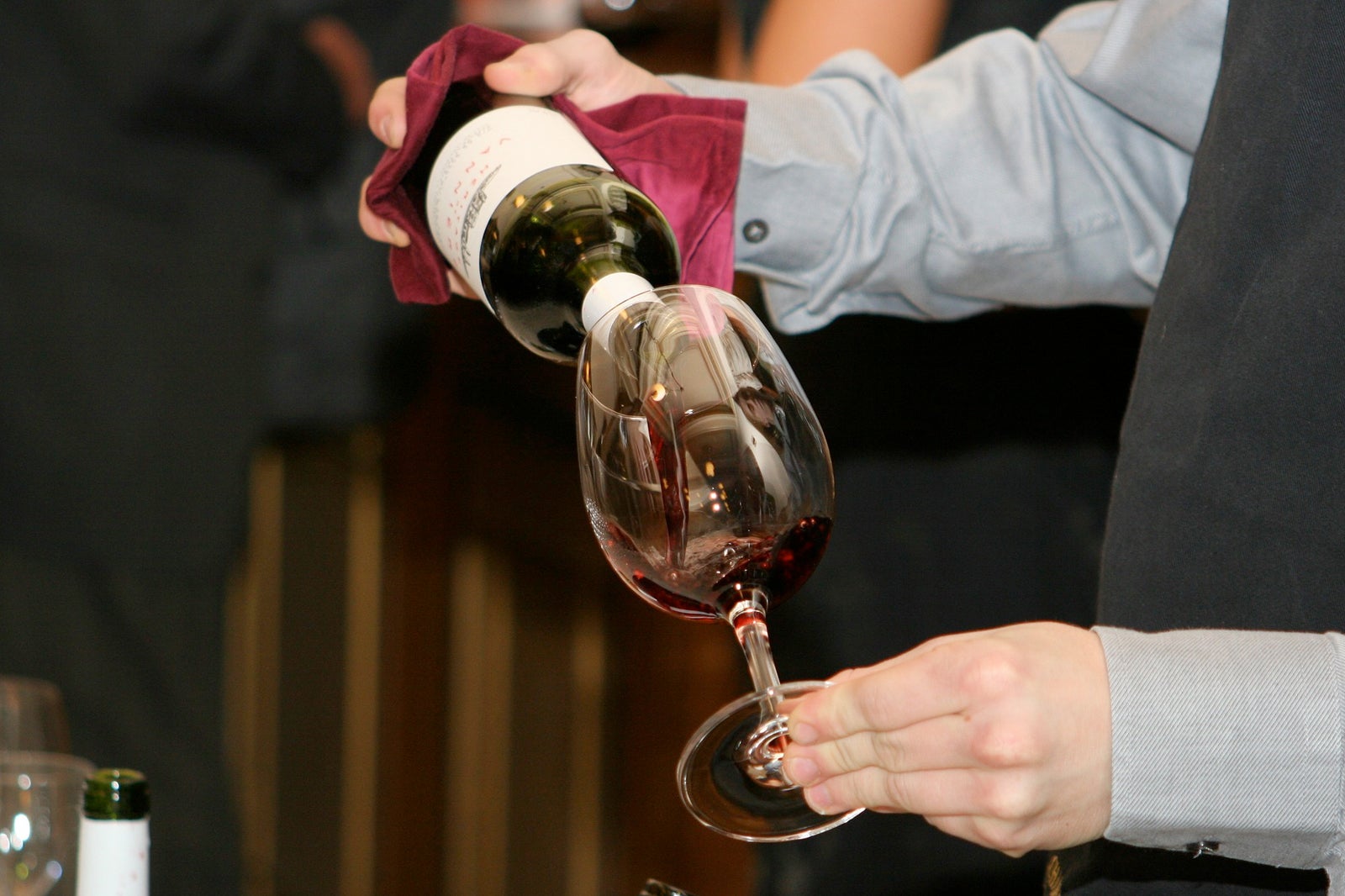 As you take a seat in a restaurant in the coolest of Philly neighbourhoods, you'll be thankful for mouth-watering flavours – and those hard-to-get Pennsylvania liquor licences – as you pop the cork on your very own bottle of fizz. From the French flavours of Russet on Spruce Street to the Italian dishes of A Mano on Fairmount Avenue, over 300 restaurants in Philly have embraced the challenging times with the introduction of a Bring Your Own Bottle (BYOB) policy.
This approach is very good if you're hitting the Philly streets on a budget. Even if you just like good food, you couldn't be in better hands as chefs are free to focus on serving up only the finest of food while you put your own spin on boozy brunches, long lunches and enjoyable evening meals. For the ultimate in sidewalk seating and people-watching, BYOB to the bustling neighbourhood restaurant of Audrey Claire on South 20th Street… And relax.
5
Tax-free shopping
Need we say more?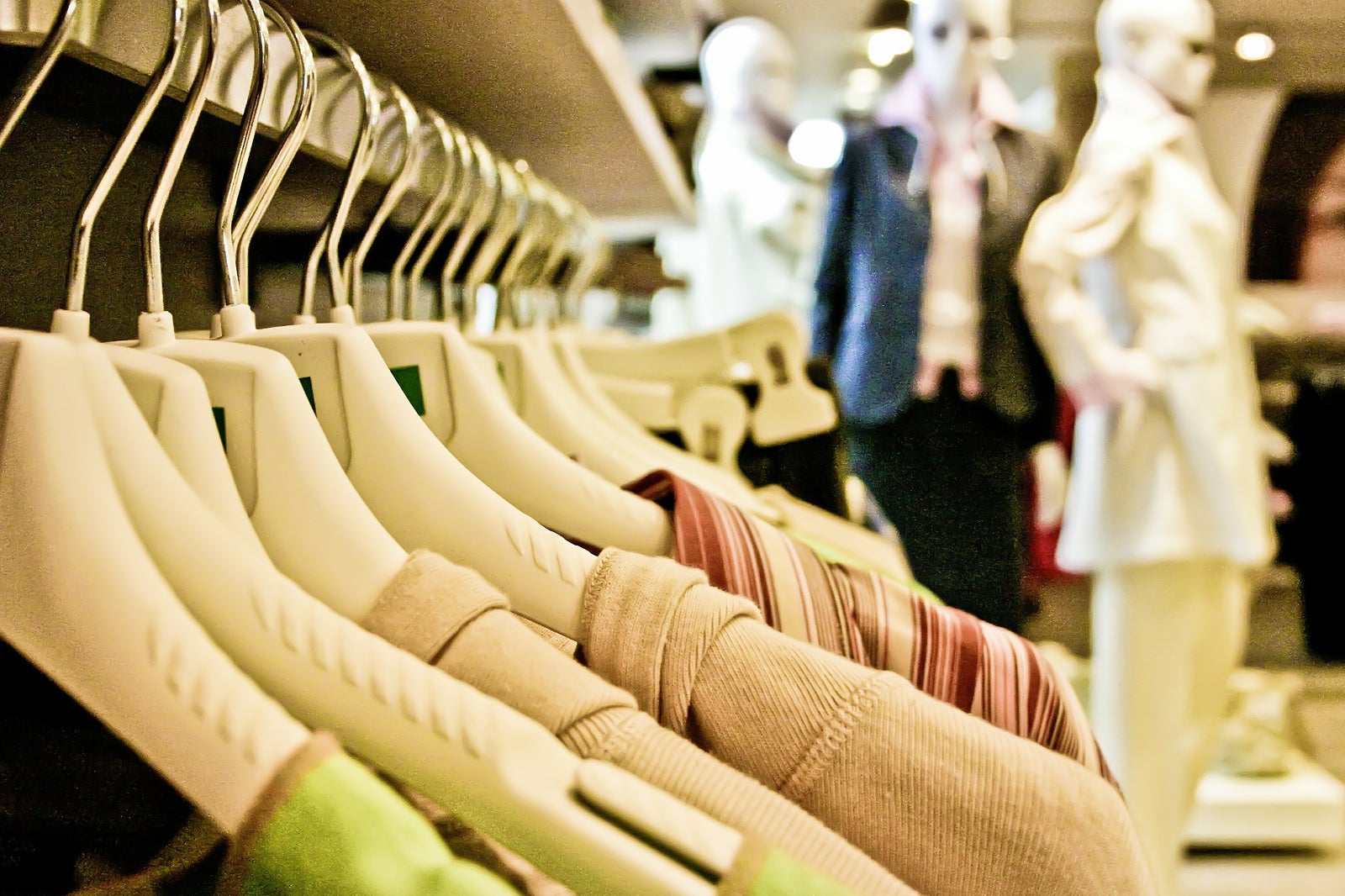 Looking for a new pair of shoes to walk through the streets of Philly? How about a brand new outfit? Even if you're not looking to bag those bargains, you can still stretch those exploratory legs and bask in the glow of tax-free clothing and footwear options to take back home. Where to head for such a shopping extravaganza is another question.
Firstly, make your way to the boutiques of Liberty Place for brand names and quality threads before heading to Reading Terminal Market in the city's beating commercial heart to browse through a whole range of tax-free apparel. For shopping treats of a more bohemian vibe, discover The Northern Liberties neighbourhood, located north of Old City between Girard Avenue and Callowhill Street, and enjoy a shopping workout that's anything but taxing.
6
You can walk through a human heart
The Franklin Institute is a must-visit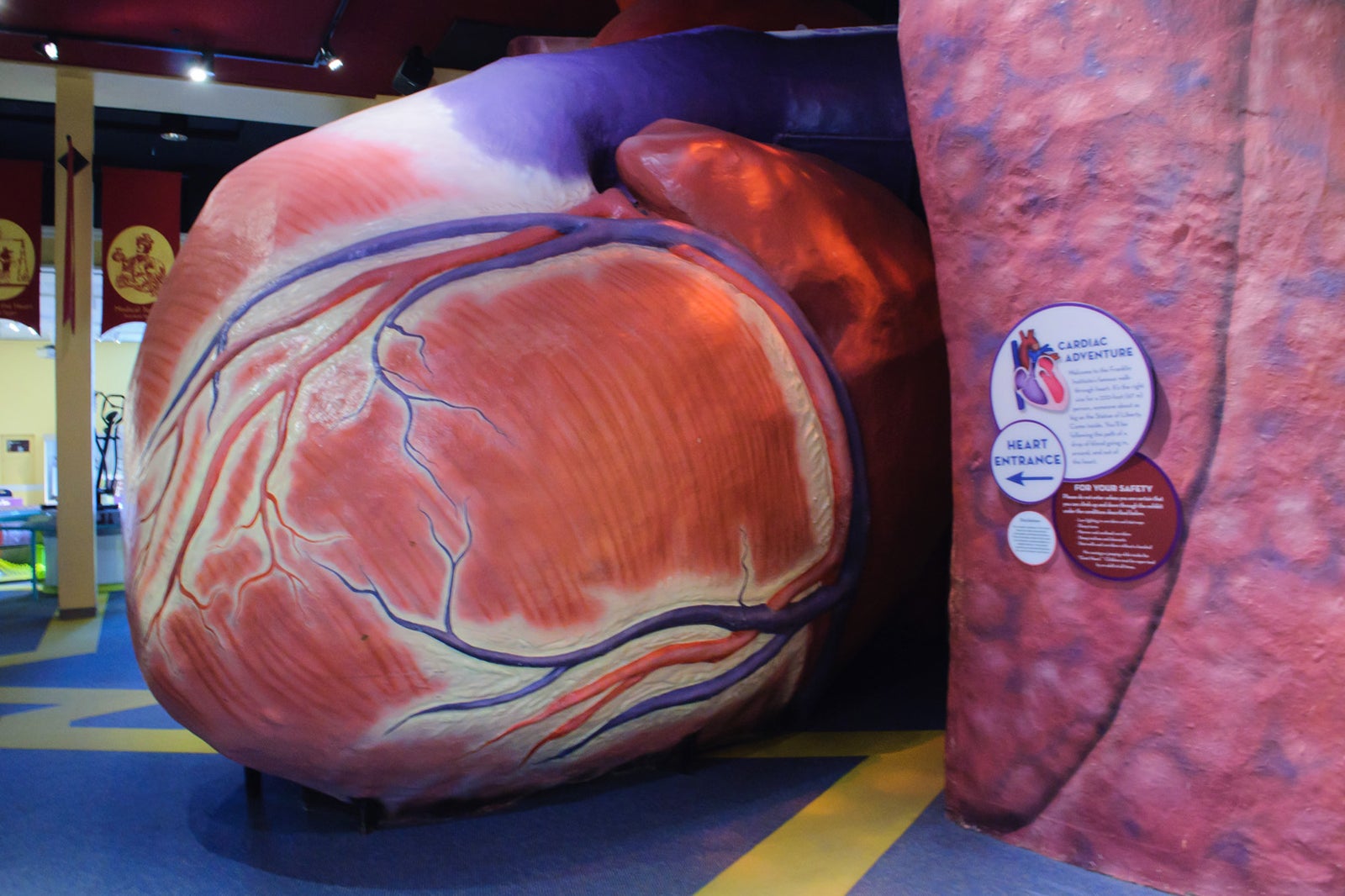 Open up your heart – and your mind – as you take a trip through the Giant Heart of The Franklin Institute in the Greater Philadelphia area. As well as being an education staple on the Philadelphia school kids field trip list, this particular exhibit and unique world of learning is a "must do" for new city explorers.
At just $23 for an adult ticket, you can crawl through a giant artery, watch open heart surgery and truly celebrate the wonder of the human heart. You can also indulge in science stories, escape rooms, and even try out a flight simulator, which takes visitors of all ages to dizzying new heights. The human heart might be the star attraction of this educational gem, but after going through this rite of passage, there's so much more to be discovered.
Location: 222 North 20th Street, Philadelphia, PA 19103
Open: Daily from 9.30 am to 5 pm
Phone: +1 215-448-1200
photo by InSapphoWeTrust (CC BY-SA 2.0) modified
7
There's vibrant street art on every corner
The messages will make you smile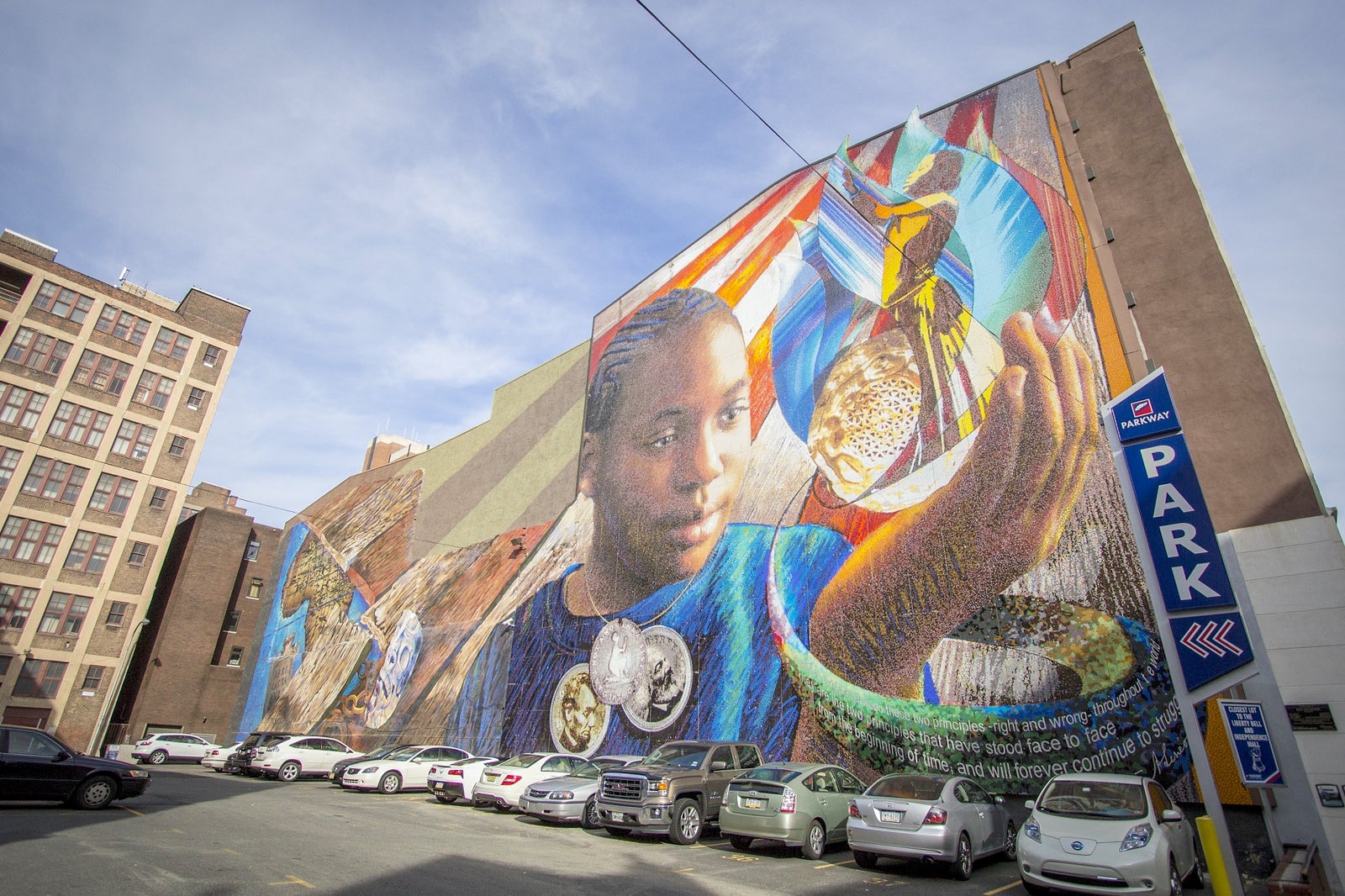 Philadelphia has become a hotspot for street art, with vibrant pieces lurking on streets around the entire city. In fact, in 1984, locally-based arts organisation Mural Arts began reaching out to graffiti writers in order to "redirect their energies into constructive public art projects." In other words, they got a free pass to spread their art around the city. Pretty cool, huh?
While some works of art are situated in slightly more downtown areas, you don't necessarily need to delve into its graffitied depths. Walk the streets of Chinatown and City Hall or jump onto a Segway art tour to uncover these powerfully crafted murals. Be sure to admire the Transformations mural of B Street Bridge and West Philly's mural, Dreams, Diaspora, Destiny at 5300 Lansdowne Avenue.
8
Cheesesteaks and soft pretzels
Give the diet a day off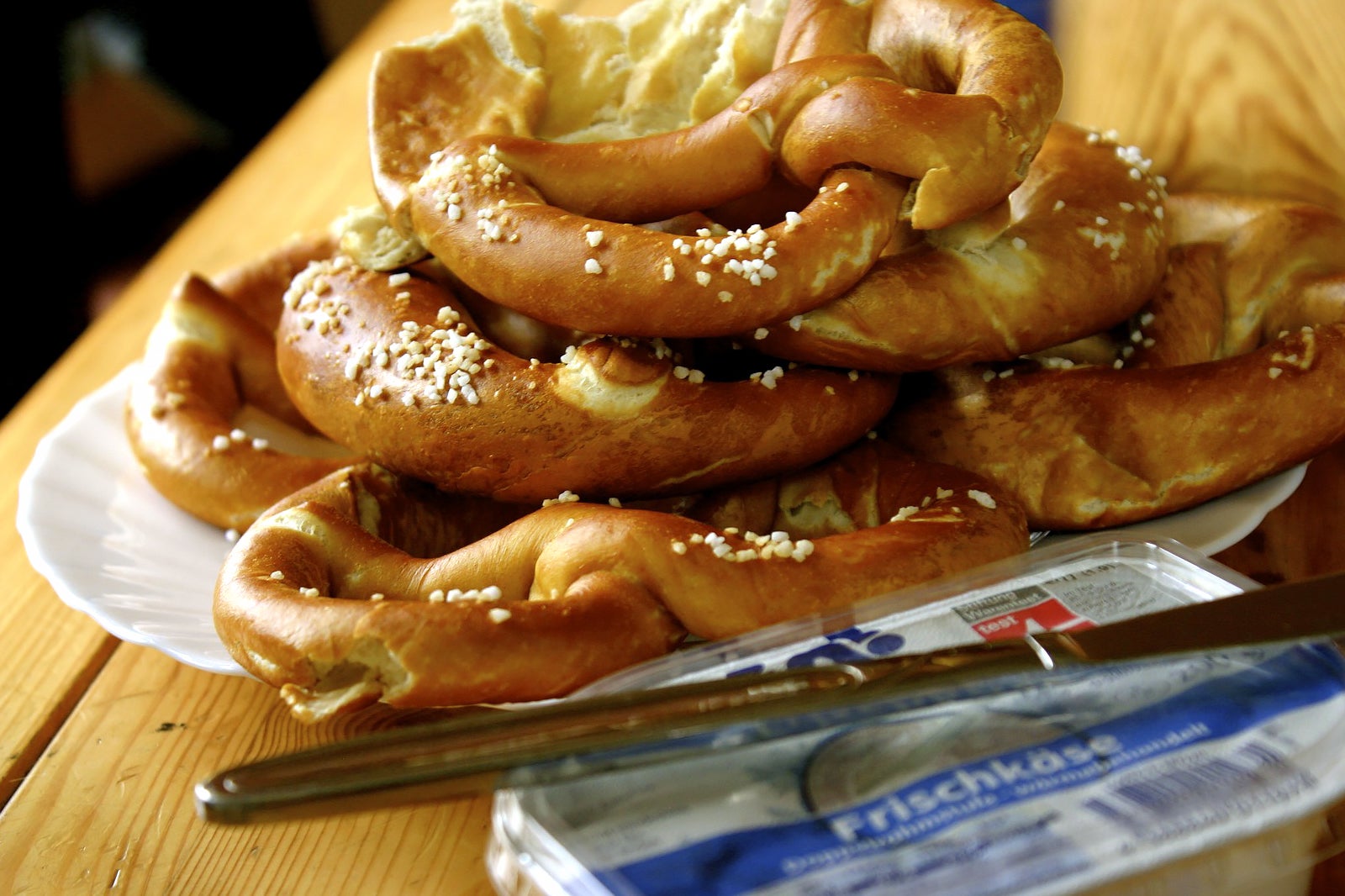 You can't go to Philly without trying the insanely delicious and iconic cheesesteak. While eateries dish out this indulgent delicacy all over the city, authenticity here is key. Head to comfort food favourites such as Jim's South Street and Pat's King of Steaks – the original inventor of this moreish sandwich snack – for a true Philly cheesesteak, complete with thinly sliced beef and melted Cheez Wizz cheese, served up in a hoagie roll – dill pickle optional.
And the indulgence doesn't stop there. Whichever street corner you turn down, you'll be greeted by pretzel vendors filling the Philly air with the intoxicating sweet smell of these super-soft snacks. Try the famous Philly Pretzel Factory for pretzel twists and dogs and the ultimate foodie combo – the pretzel cheesesteak (yes, really). You can even take a ride on the midnight pretzel ride. All aboard? Absolutely!
9
There are many vibrant neighbourhoods to explore
From Fish Town and Queen Village to Passyunk Square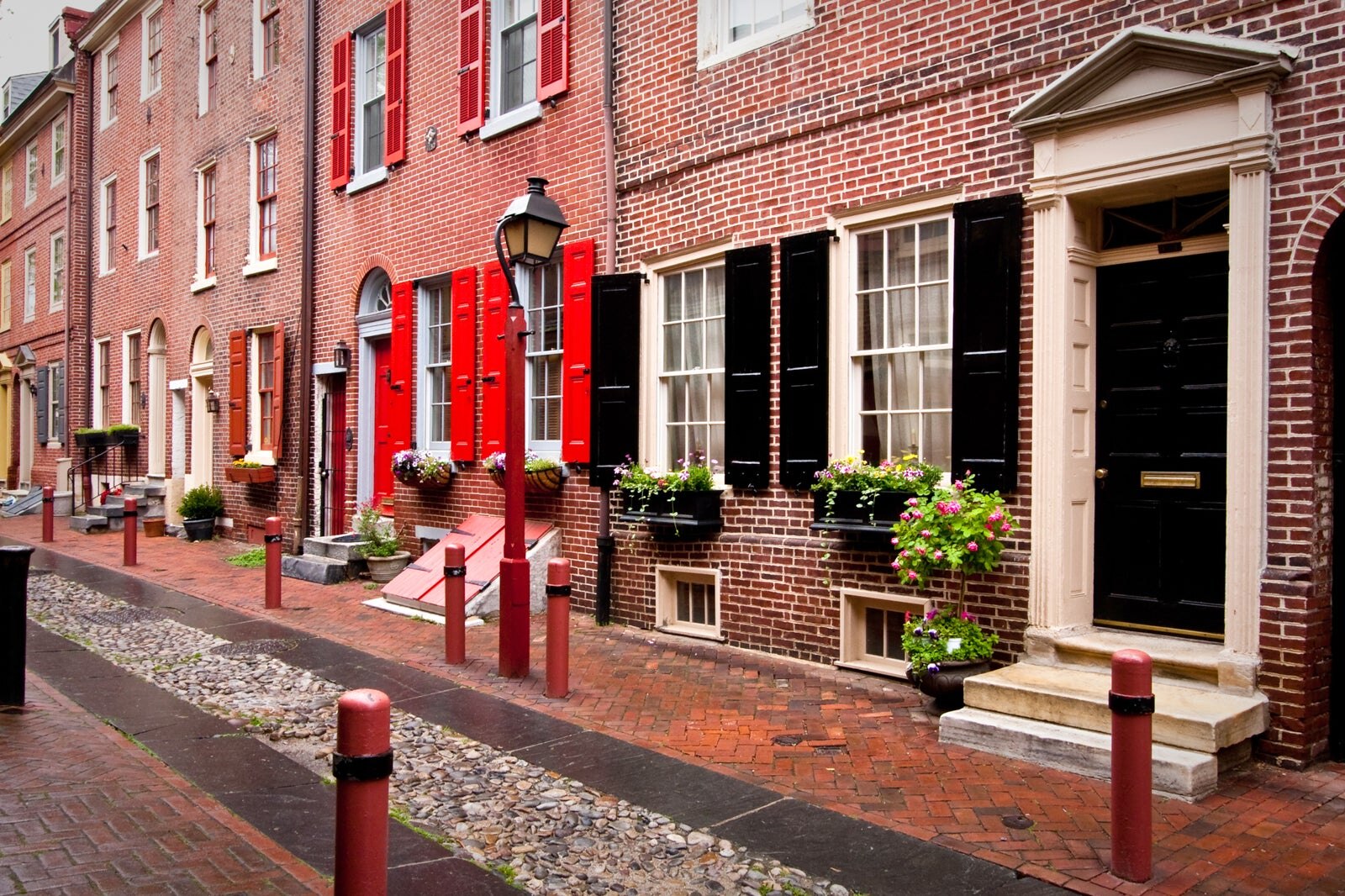 Get your tax-free walking shoes on and get ready to uncover some authentic Philly streets. As a city of neighbourhoods, the beauty of Philadelphia lies within the local residents, thriving businesses and mix of urban and rural, offerings. Start with downtown Center City, where you'll find a real mix of city culture and historical neighbourhoods from Rittenhouse Square to Chinatown.
Then it's north, south or west out of Philly's downtown core. If you take your city blinkers off just for a second, you can truly embrace all that Greater Philadelphia has to offer. Take to the leafy stretch of Queen Village and stroll around hip art galleries before admiring the street art, vegan treats and pizza museum (yes, really) in trendy Fishtown. Breathe in the fresh air of lush green spaces in Passyunk Square before taking a seat in any one of the eclectic dining spots of East Passyunk's award-winning foodie streets.
10
Sporting events are happening all over the city
Feel the exhilarating highs and lows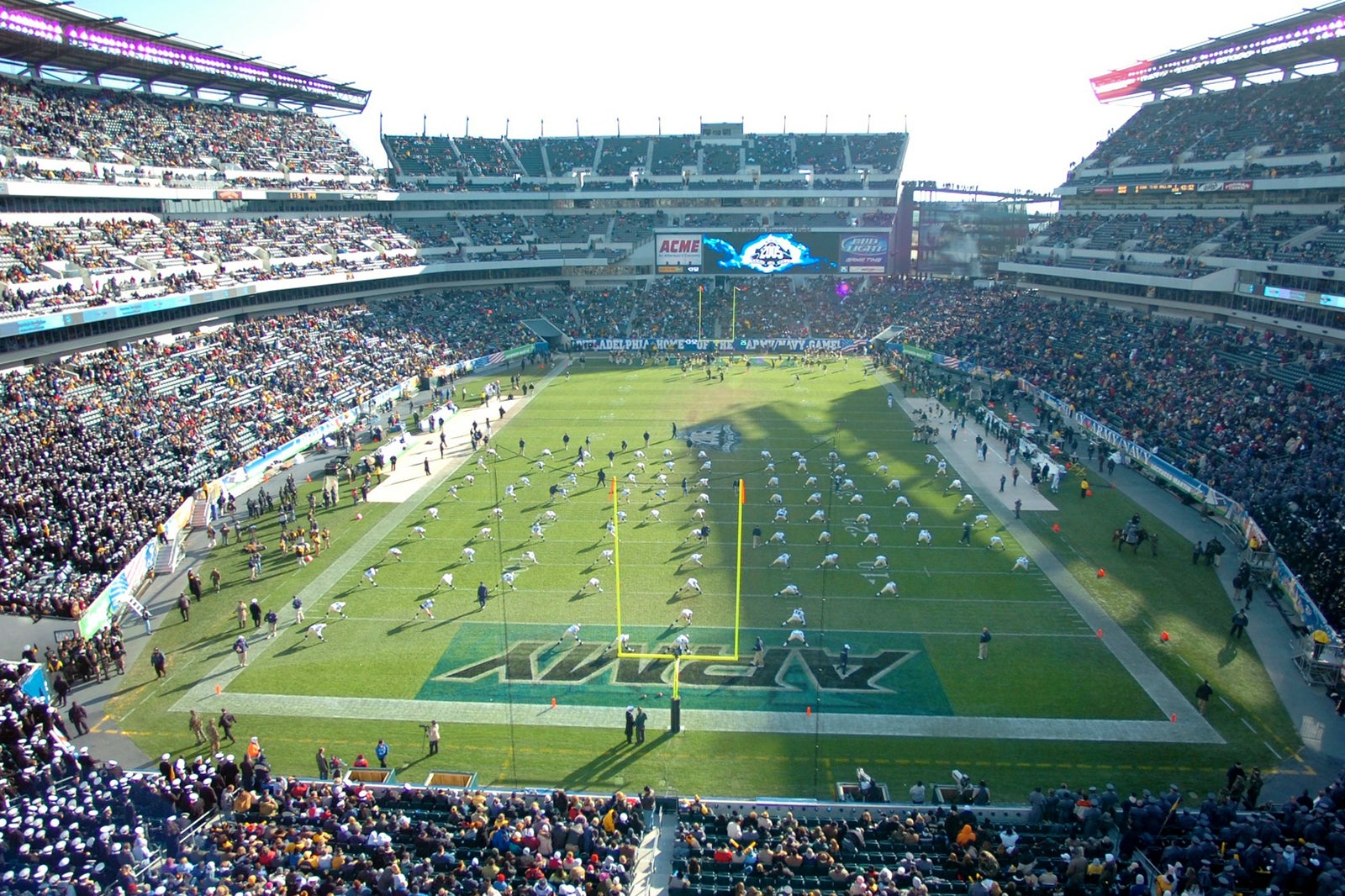 Philadelphia is one very few cities which can proudly say that it has a professional franchise in 5 major league sports, from baseball to football. It also hosts some of the best sporting events around, including famous marathons, top-tier regattas like the annual Schuylkill Regatta in October, and the world's oldest relay meet – the Penn Relays, which takes place in the spring.
It also boasts some of the most hardcore fans in the sporting world. From those supporting The Philadelphia Phillies – who have more losses than any other franchise in any other sport – to The Philadelphia Flyers, these loyal sports fans show dedication like no other city. Embrace the rush, feel those high-5s or shake a fist as you absorb all the sporting highs and lows of this ultra-supportive city.
Back to top