15 Most Instagrammable Spots on Hawaii Big Island
Photos of Hawaii Island You Can Brag to Your Friends About
Our list of Instagrammable spots in Hawaii's Big Island includes some of its most scenic lookouts, most of which overlook the pristine and rugged coastlines. The Island of Hawaii is best known for its collection of active volcanoes, and some of its natural beauty owes a lot to the thousands of centuries of persistent volcanic activity.
Beautiful spots of Hawaii Island you can brag to your friends not only consist of volcanoes, but also majestic waterfalls and lush valleys, scenic countryside routes, remote beaches, and crescent bays with pristine reefs teeming with marine life. To take in most of the amazing views, why not take to the air with a thrilling helicopter ride? For the best places to bring your camera to, check out Big Island's photogenic spots, below.
1
Volcanoes National Park
Enjoy a mesmerising real-life lava show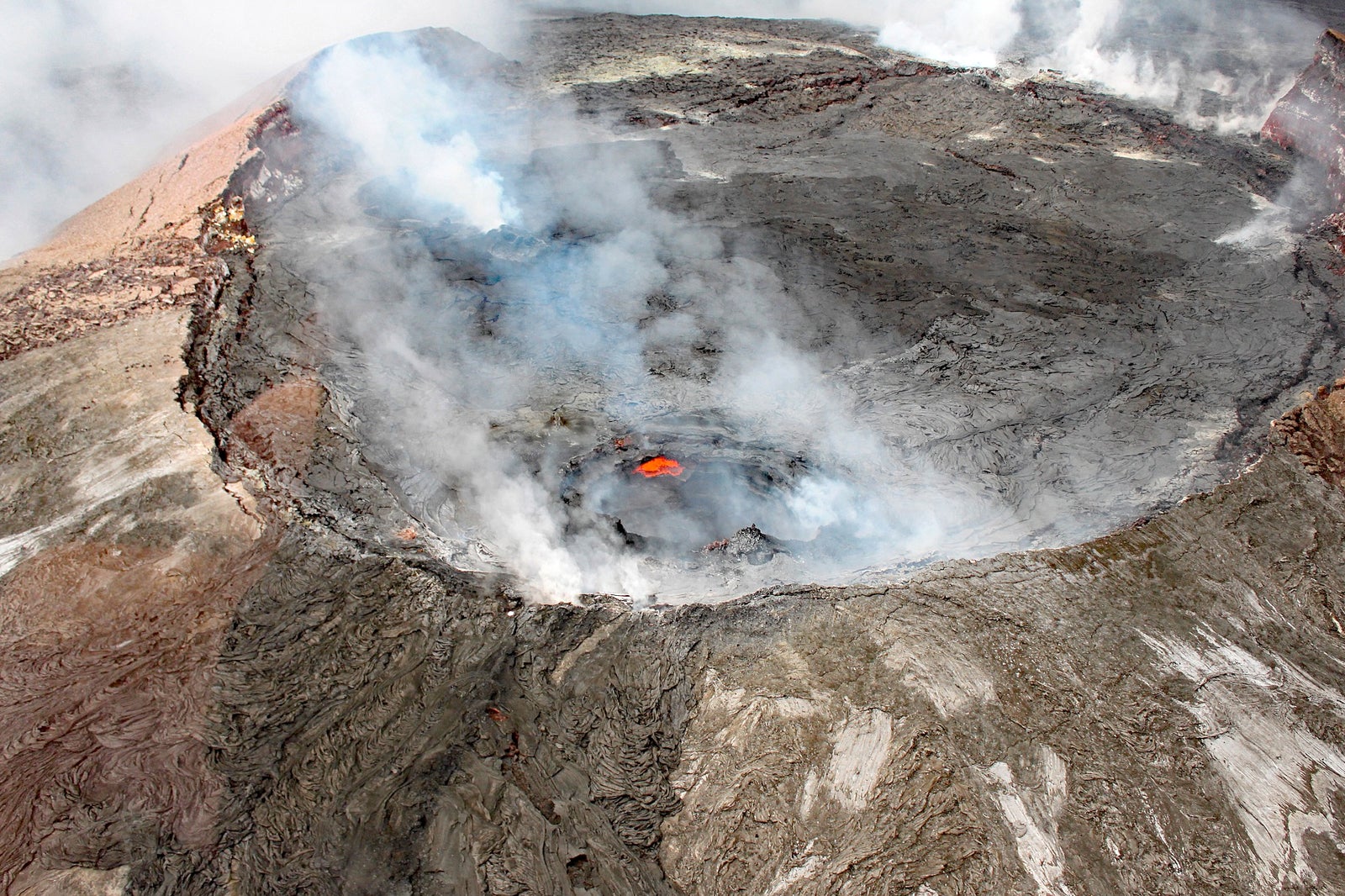 Hawaii Volcanoes National Park is a must-see for travellers visiting the Big Island. Although the enormous Mauna Loa is the largest subaerial volcano on earth, it's her little sister, Kilauea, who's the real star of the show. Kilauea has been spewing out hot liquid magma non-stop since 1983, earning the enviable moniker of "the most active volcano on earth." Although there's never any guarantee, travellers are in with a pretty good chance to glimpse liquid lava as it flows its way down the volcano.
Stop by the Kilauea Visitor Center to inquire about current conditions. The park is about a 2-hour drive from Kailua-Kona.
Location: 1 Crater Rim Drive, Volcano, HI 96785, USA
Open: Daily from 9 am to 5 pm
2
Waipi'o Valley Lookout
A Garden of Eden experience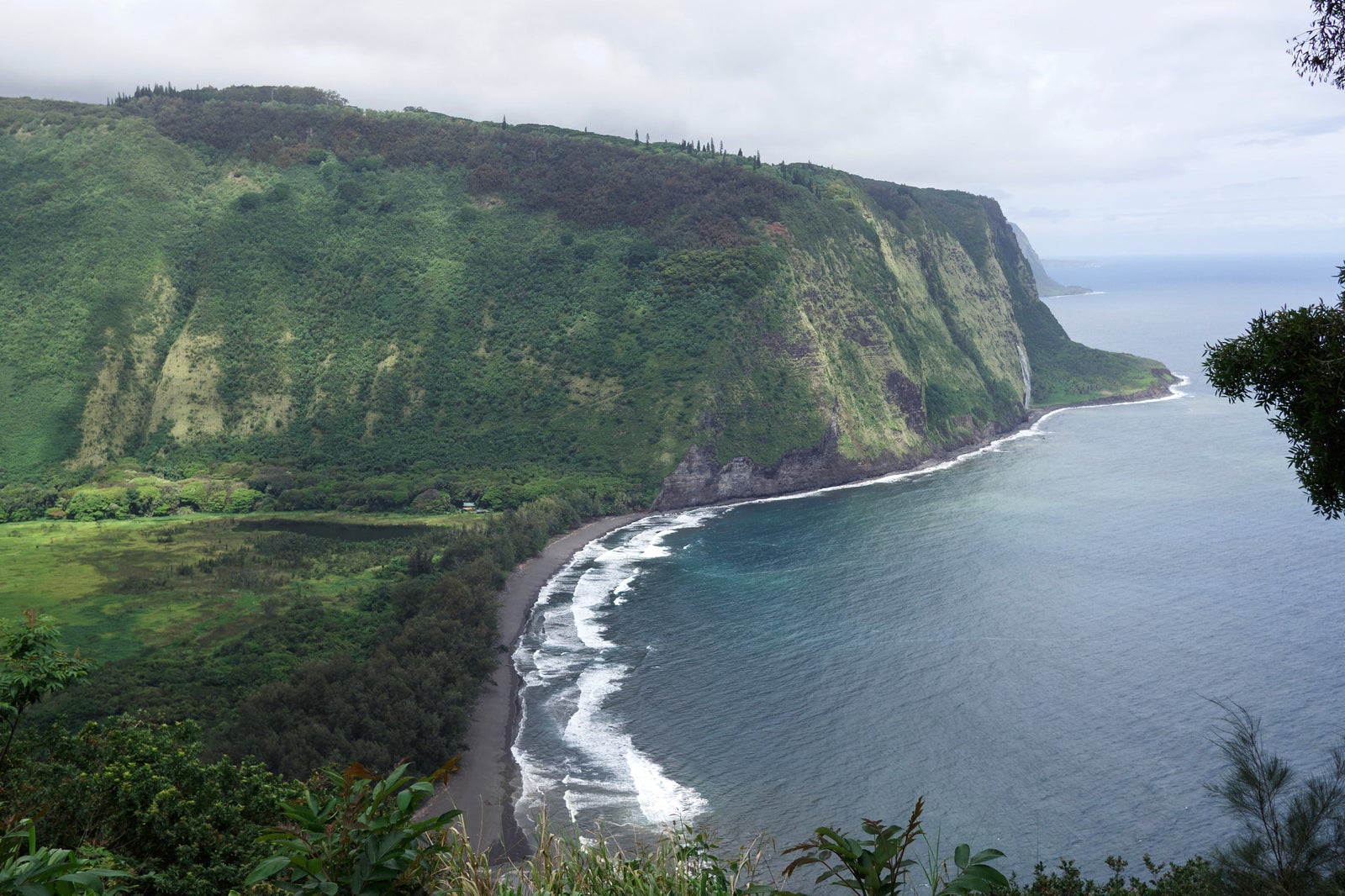 Waipi'o Valley is the cream of the crop for nature lovers: a lush mile-wide valley whose fertile soil once supported some 10,000 indigenous inhabitants. Although Hawaii may be famous for its picture-perfect coastlines, the Big Island has inland natural splendours like this valley to explore.
Flanked by dramatic limestone cliffs on either side, the verdant valley's lush vegetation is ripe for exploration. Keen hikers enjoy embarking on a strenuous hike, while horseback rides and minibus tours afford a more leisurely day out. Either way, you'll pass panoramic lookouts, a beautiful black-sand beach, and a string of cascading waterfalls, the best of which is the thunderous Hi'ilawe.
Location: 48-5561A Waipio Valley Rd, Honokaa, HI 96727, USA
photo by calamity_sal (CC BY 2.0) modified
3
Kauna'oa (Mauna Kea) Beach
For some of the best stargazing in the world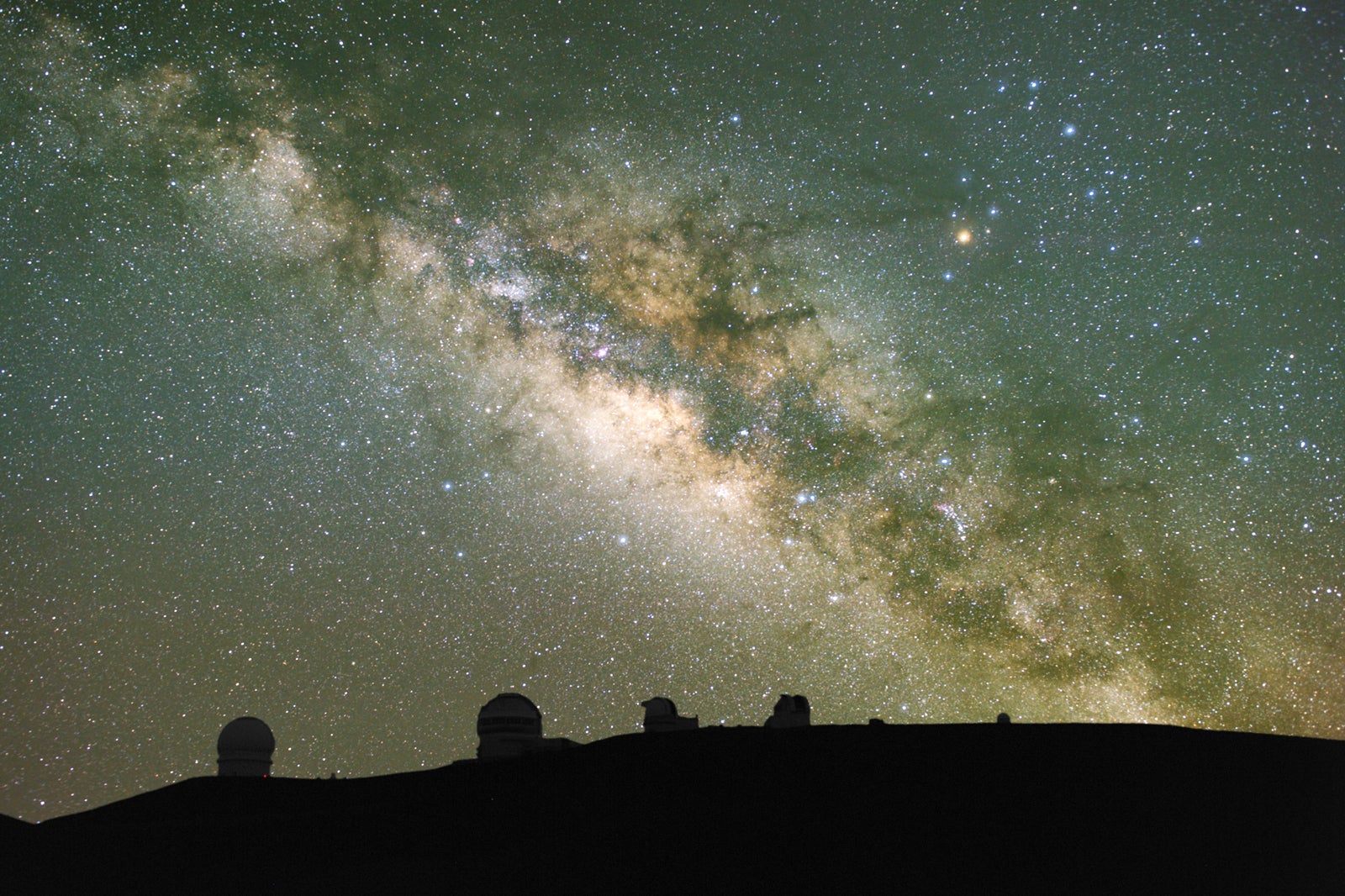 At Mauna Kea, you need only look up at night to see Hawaii's other great natural attraction: a dazzling display of twinkling stars. Favourable atmospheric conditions and a lack of light pollution make the Big Island one of the top stargazing destinations on Earth, and the tip of its tallest mountain is the top spot to marvel at this heavenly display.
Stargazers can either jump on an organised tour to the snow-capped summit of Mauna Kea or drive up themselves (you'll need a 4x4 with a full tank). At the peak, the Visitor Information Station welcomes you with a free stargazing session given by a group of knowledgeable and enthusiastic volunteers. Be sure to arrive in time to watch the sunset over the clouds.
Location: Mauna Kea Access Rd, Hilo, HI, USA
Open: Daily from 8 am to 3.30 pm. Stargazing every Tuesday, Wednesday, Friday, and Saturday from 6 pm to 10 pm
4
Pololu Valley Overlook
Take in dramatic views over the Kohala coast
Pololu Valley opens to one of the Big Island's most spectacular seascapes, overlooking the beautiful Kohala coastline where part of a volcano slid into the sea thousands of centuries ago. And the best way to take in the views is from its namesake lookout in the Kohala Forest Reserve, on the island's north-eastern point.
A shot of the coastal panorama from the outlook itself should have most ticking it off their bucket lists, but adventurous travellers who want to add more exotic angles to their album can take the half-hour quiet trek down to a black sand beach, located at the base of the valley.
Location: 52-5100 Akoni Pule Hwy, Kapaau, HI 96755, USA
5
Rainbow Falls
Catch the rainforest's colourful show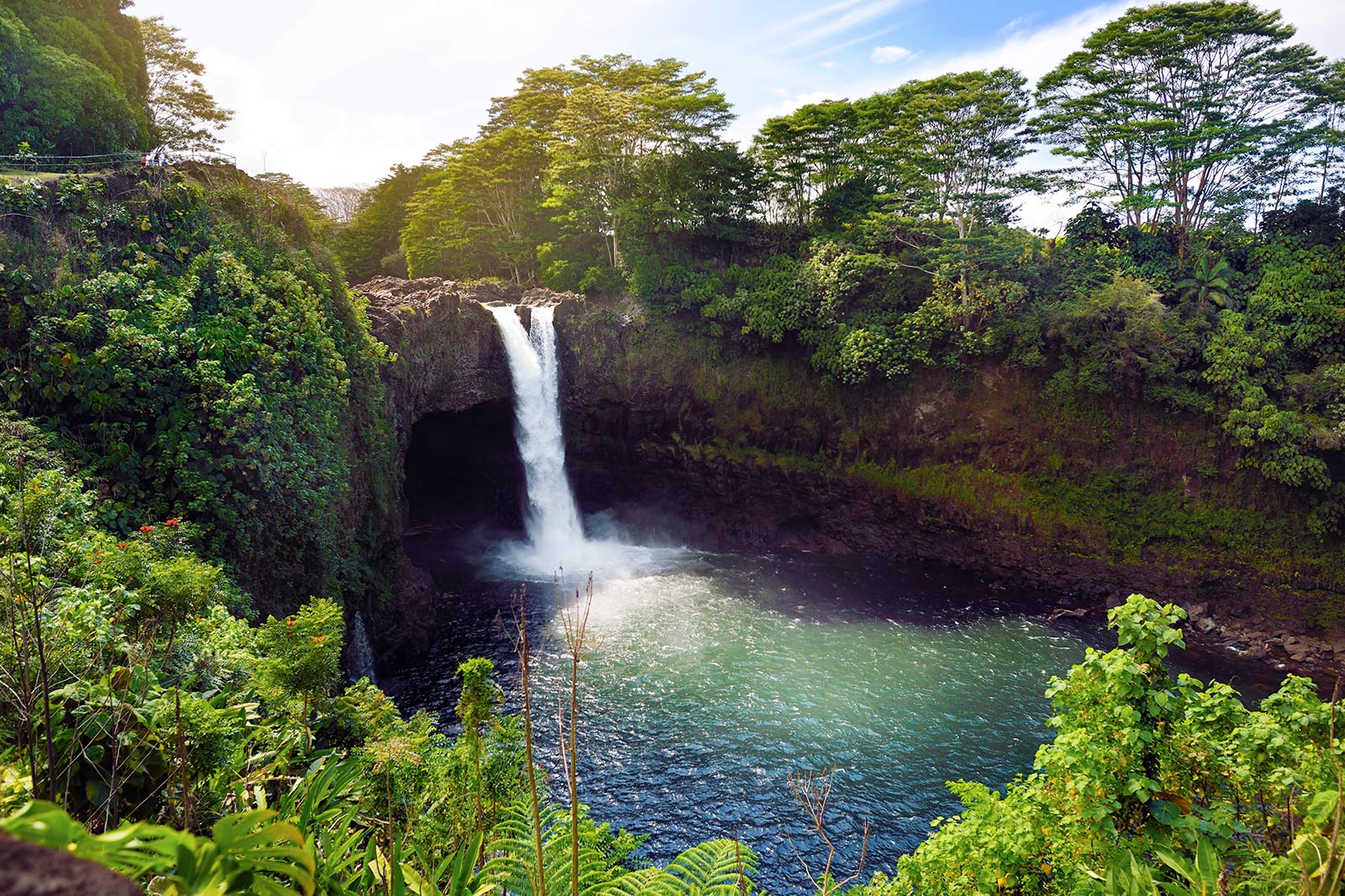 Rainbow Falls is one of the most gorgeous waterfalls on Big Island, named after a rainbow that is usually formed over the gushing cascade on bright early mornings. The wide falls cascade from 80 ft high into a lava cave below, all set within a leafy forest. The magical view draws photographers and makes it one of the most Instagrammable spots on the island.
You can easily reach the falls within a 5-minute drive southwest of Hilo, towards the Wailuku River State Park. The water volume increases during the rainy season, adding to its dramatic effect – both in photos and in person, with the rushing sound from the viewing platform.
Location: Hilo, HI 96720, USA
6
Kailua Bay
The picturesque bay of Kailua-Kona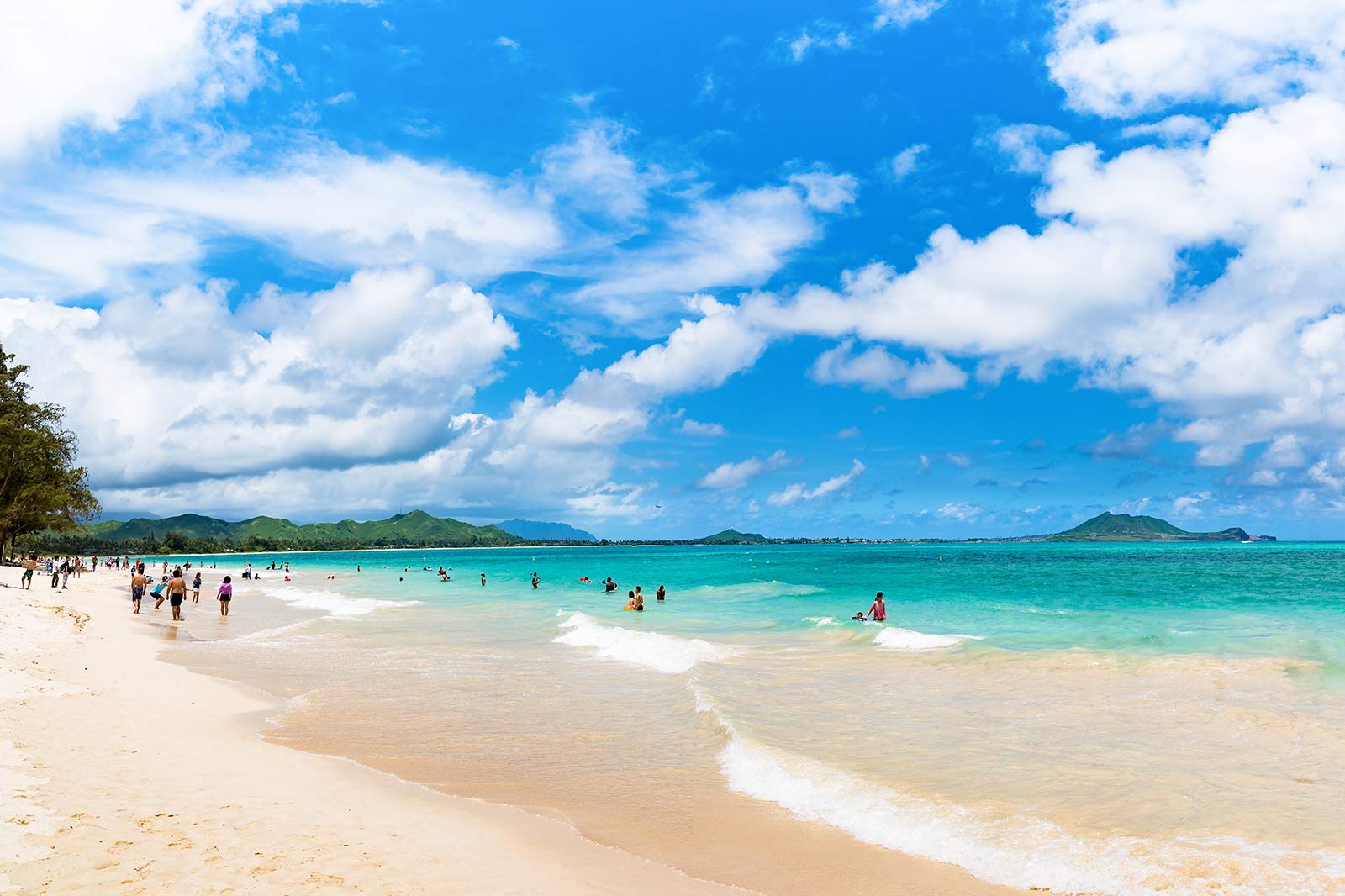 Families
Photo
Budget
Adventure
Kailua Bay is among the prettiest places on the leeward side of Big Island, from where you can catch charming sunsets. This small bay in the Kailua-Kona area has only tiny stretches of golden sand with most of its coastline covered in dark lava rocks giving it an exotic, photogenic appeal. There are a great number of venues around the pier where you can sit and crack a cold one as you wait for the 'blue hour' – the best time for taking pictures.
In the calm waters and on the horizon, boats take eager passengers on diving, sportfishing or whale watching tours by day. The thatch-roofed hut of the reconstructed traditional residence of King Kamehameha I, together with the palm groves behind it, adds to the bay's scenic quality.
Location: Kailua, HI 96734, USA
7
Akaka Falls
Follow lush forest trails to the cascade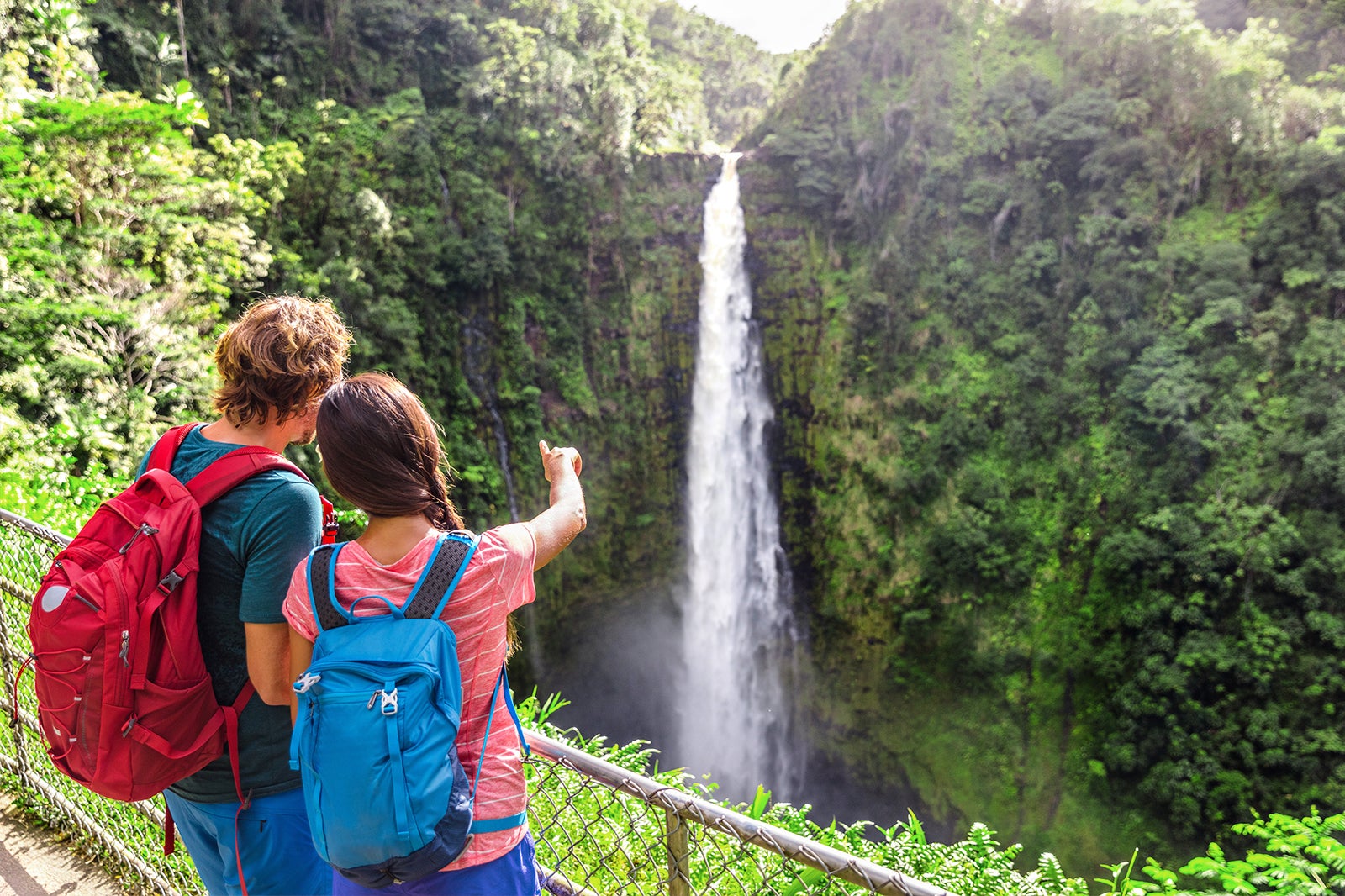 A visit to Akaka Falls in Hilo involves a pleasant hike through verdant forest trails on the north-eastern side of Big Island. Visitors combine Akaka Falls and Kahuna Falls in a single trip thanks to their proximity and ease of access.
This 2-in-1 nature combo treats you to a moderate uphill trek through lush rainforest, along a hand-railed trail that's good for families. Early on the walk, you'll reach the 100-ft-tall Kahuna Falls, while further along the paved and winding trail, you'll have the sight and sounds of the 442-ft-tall Akaka Falls' cascade pouring in the distant valley. The slightly inclining route makes it a great setting for selfies or wefies with the falls as a backdrop.
Location: State Hwy 220, Honomu, HI 96728, USA
Open: Daily from 8.30 am to 6 pm
8
Puna Coast Trail
Take a beautiful, history-filled hike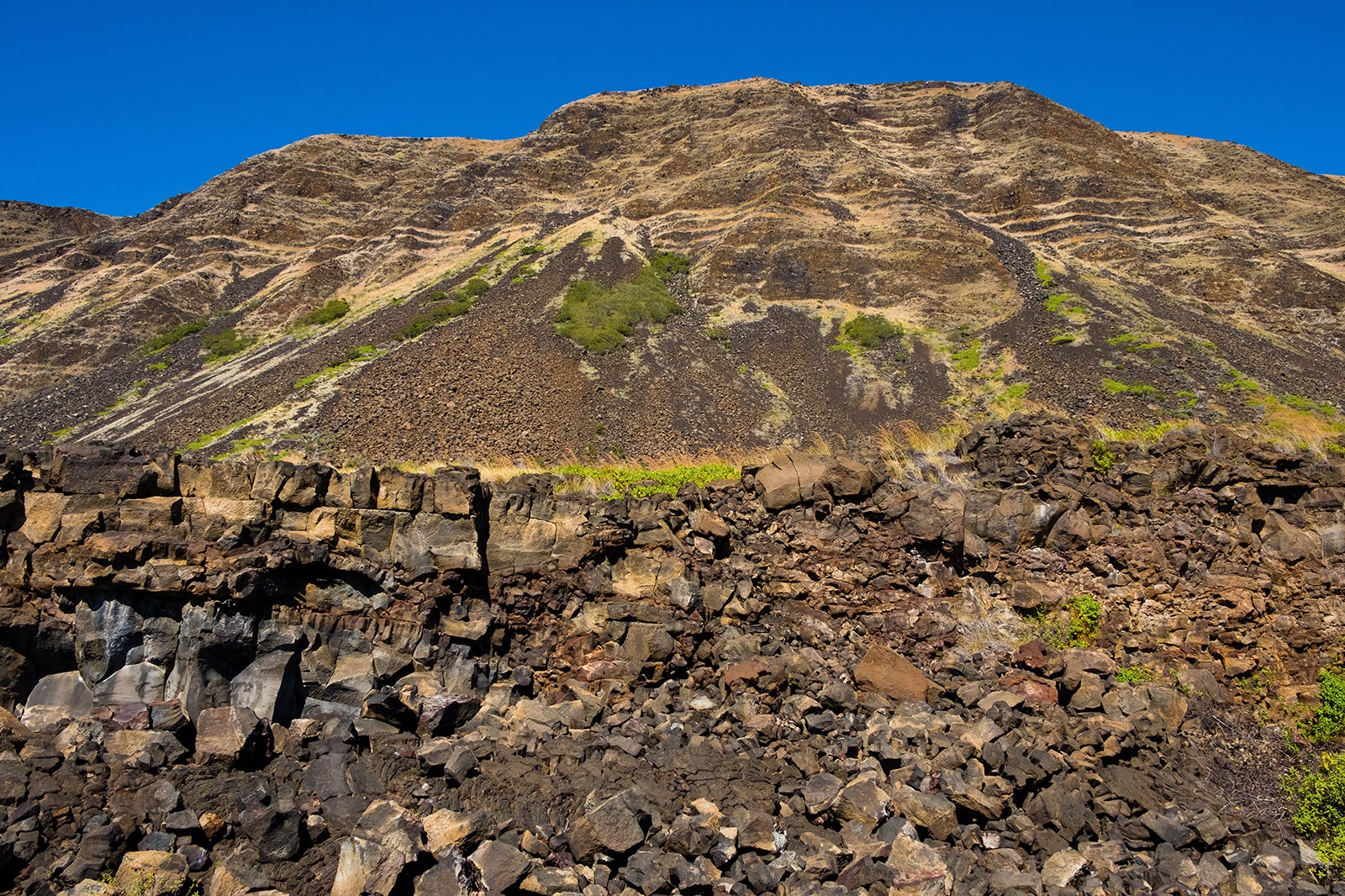 Puna Coast Trail is just one of the many beautiful hiking routes you can take on the Big Island, which offers beautiful scenery as well as history. The whole Puna Coast Trail stretches for about 9.6 miles from the Pu'u Loa Petroglyphs site off Chain of Craters Road and west to the Halape campgrounds on the southern edge of the Hawaii Volcanoes National Park.
Most hikers take the 1.4-mile roundtrip from the petroglyphs to ʻĀpua Point, passing a series of ethereal lava flows (some colourful!) from half a century ago, dramatic sea cliffs, and protected ancient sites – all with the occasional backdrop of the blue Pacific.
Location: Chain of Craters Rd, Pāhoa, HI 96778, USA
9
Pu'uhonua O Honaunau National Historical Park
Exciting ancient monuments amid gorgeous tropical surrounds
Families
Photo
History
Adventure
For a quick history fix, make your way to Pu'uhonua o Honaunau on the west coast of the island, about 40 minutes from Kailua-Kona. Upon breaking the sacred laws of the Gods, indigenous Hawaiians would flee to this "refuge place" to seek forgiveness from a priest, thus avoiding the death penalty in their home village.
The site features a collection of solid stone and wood carved sculptures that look spectacular upon a backdrop of powdery white sand. Throngs of swaying palm trees and rows of traditional thatched huts enhance the exotic aesthetics, while a contingent of cute green sea turtles adds extra appeal.
Location: State Hwy 160, Hōnaunau, HI 96726, USA
Open: Daily from 8.30 am to 4.30 pm
Phone: +1 808-328-2326
photo by Chris Favero (CC BY-SA 2.0) modified
10
Kealakekua Bay
Capture Captain Cook Cove's beauty, underwater and above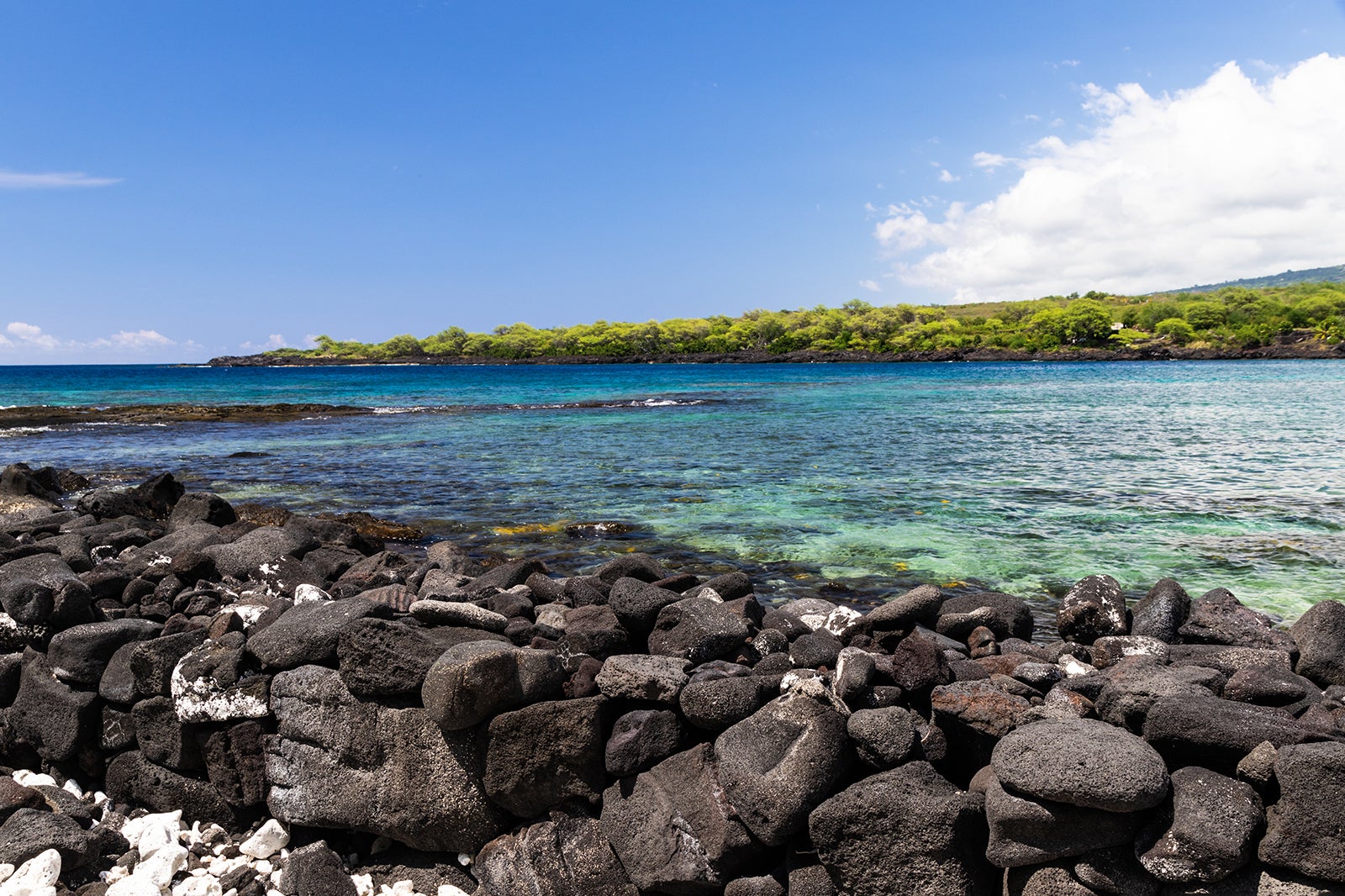 Kealakekua Bay, otherwise known as Captain Cook Cove, is scenic both above and below the waves. Even so, many who have snorkelled around the shore would admit that, for the most memorable shots of the bay, you have to take your GoPro, underwater camera, or waterproof housing. This Marine Life Conservation District is ringed by a rich reef teeming with colourful marine life.
Most visitors access the bay via Napo'opo'o Park, at the southeast end of the bay, which alone is exotically pebbly and scenic. At the northwest end stands the iconic obelisk of Captain James Cook Monument honouring the British explorer, which also serves as a frequent Instagram photo op.
Location: 82-6099 Puuhonua Rd, Captain Cook, HI 96704, USA
11
Papakōlea Green Sand Beach
Among only a few beaches of its kind in the world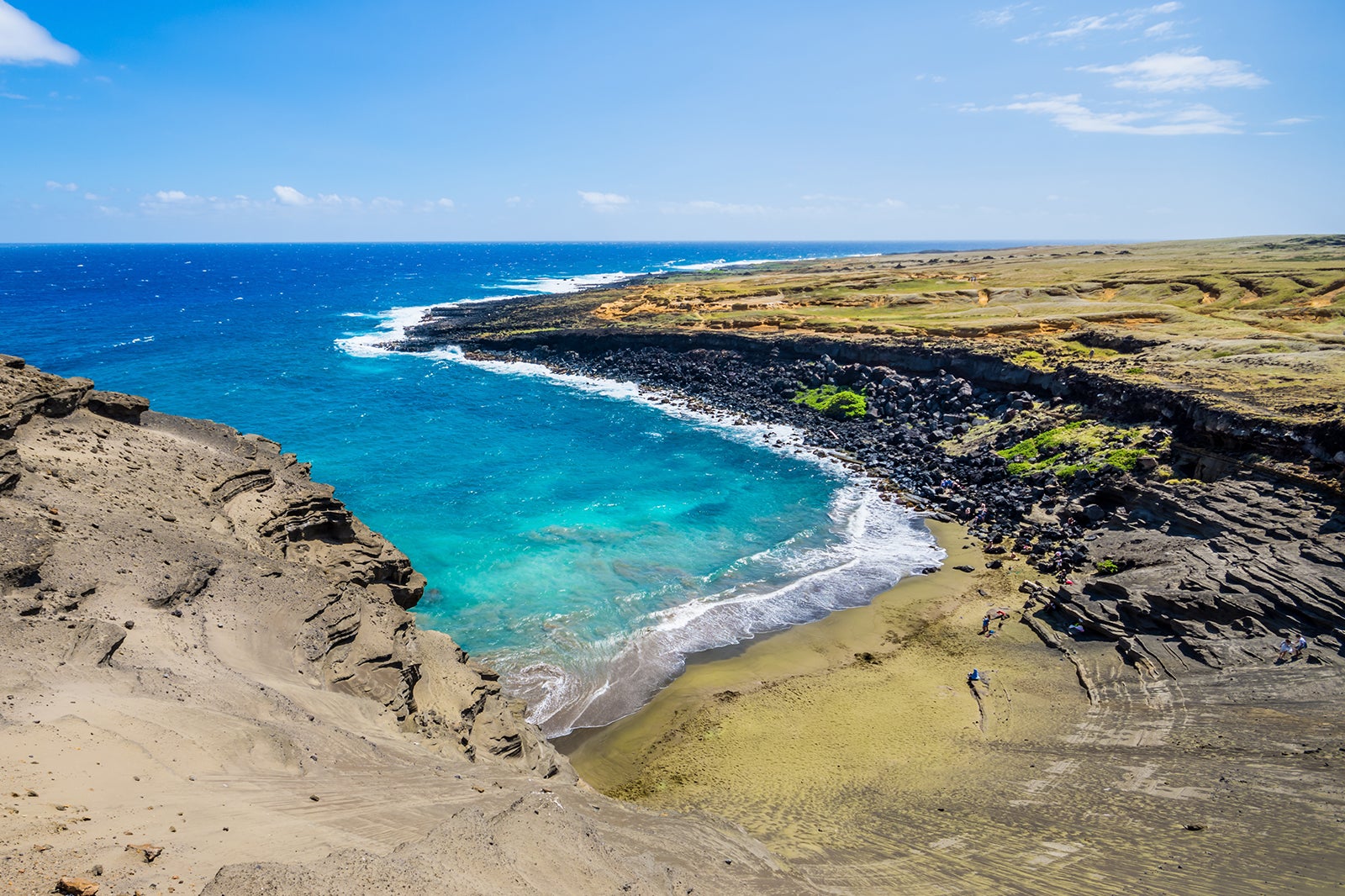 Families
Photo
Budget
Adventure
Papakōlea, or simply Green Sand Beach or Mahana Bay, is one of the most intriguing natural features of the Big Island, aside from the lava flows and majestic volcanoes. Actually, we have the high volcanic activity to thank for its iconic green hue comes, which from the fine olivine crystals embedded in the sand and lava stone, all spewed from the Earth's upper mantle.
The coast stretches for 5.6 miles, with the small bay walled by sedimentary cliffs being the main spot for strolls and taking in the gorgeous seascape. The green sand, however, extends further over the grounds above the beach. It's always best to go early to beat the crowds.
Location: Naalehu, HI 96772, USA
12
Pepeekeo Maikai Scenic Route
Take the Big Island's picturesque 4-mile journey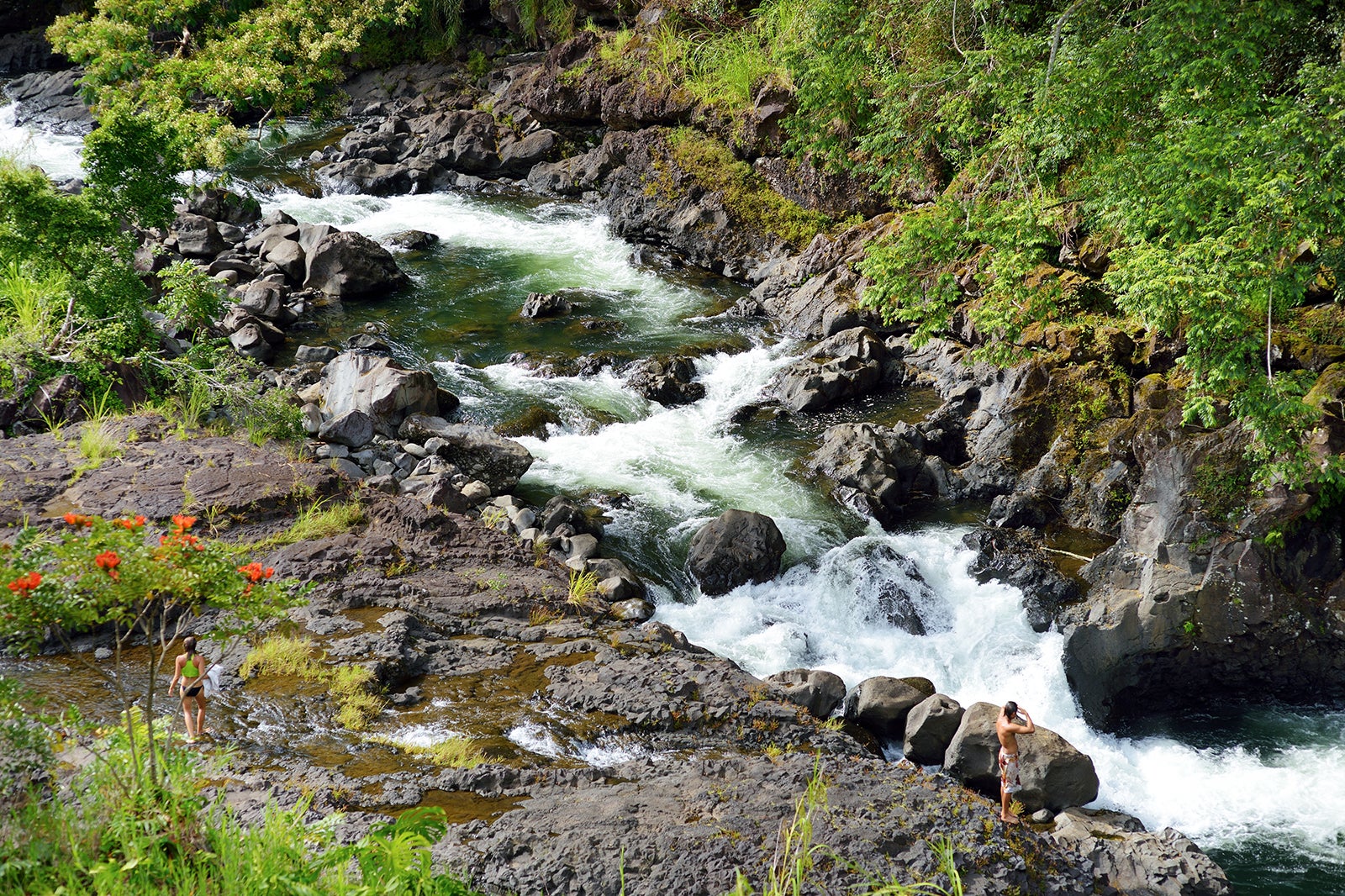 A road trip along the Pepeekeo Maikai Scenic Route takes you on a journey through the Big Island's lush backcountry, with a variety of highlight stops along the way. Most of the scenic route is along Highway 19 and includes wonderful views like Onomea Bay, a few rustic bridges crossing different jungles lined with giant ferns and flowering bushes, as well as the Hawaii Tropical Botanical Garden.
Also included along the route is the small town of Pepeekeo itself, which the scenic route is named after, together with the lush surrounding countryside. You may consider including a visit to Akaka Falls as part of the road trip, due to its proximity.
Location: 28481 Sugar Mill Rd, Pepeekeo, HI 96783, USA
13
Laupahoehoe Point
Get your Insta-worthy shots with tide pools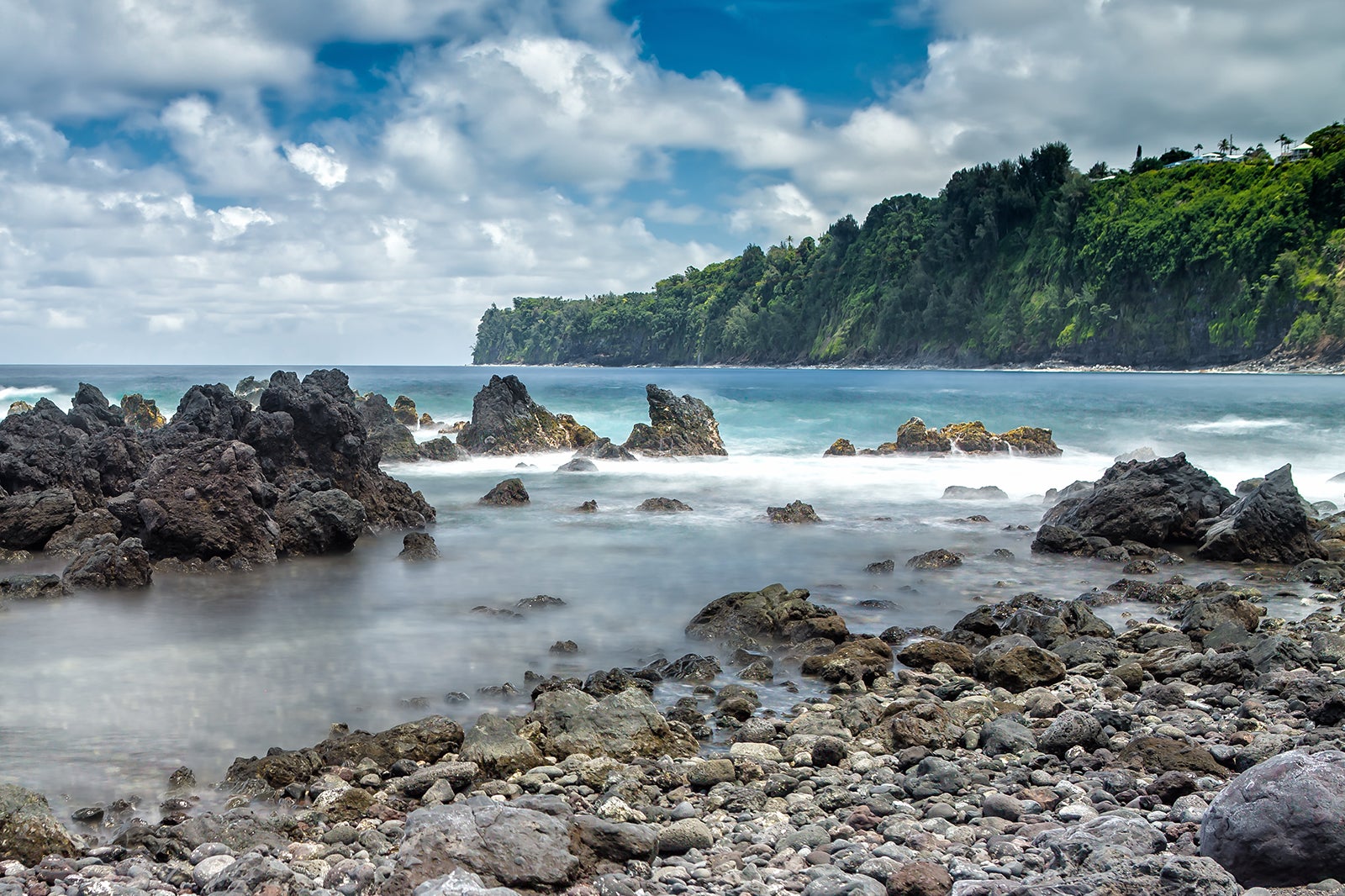 Laupahoehoe Point is one of the best spots for taking in or capturing the rugged beauty of the Big Island's north-eastern coast. The coastline features a foreground of jagged lava rocks jutting up from the water with the regular crashing of waves and sprays displaying the relentless forces of nature. Meanwhile, the cliffs stretch into the distance, complementing the backdrop.
You wouldn't want to swim in the treacherous waves, but the tide pools are great for a quick dip. If you're an early riser, Laupahoehoe Point is the perfect spot to capture a magical Hawaiian sunrise. Around dusk, however, sea mists often descend and create an otherworldly vibe. The manicured palm-fringed park grounds near the viewpoint feature picnic tables and green lawns – great for a family outing.
Location: Laupahoehoe Point Rd, Laupahoehoe, HI 96764, USA
14
Big Island helicopter tours
Take to the skies for breathtaking shots and bragging rights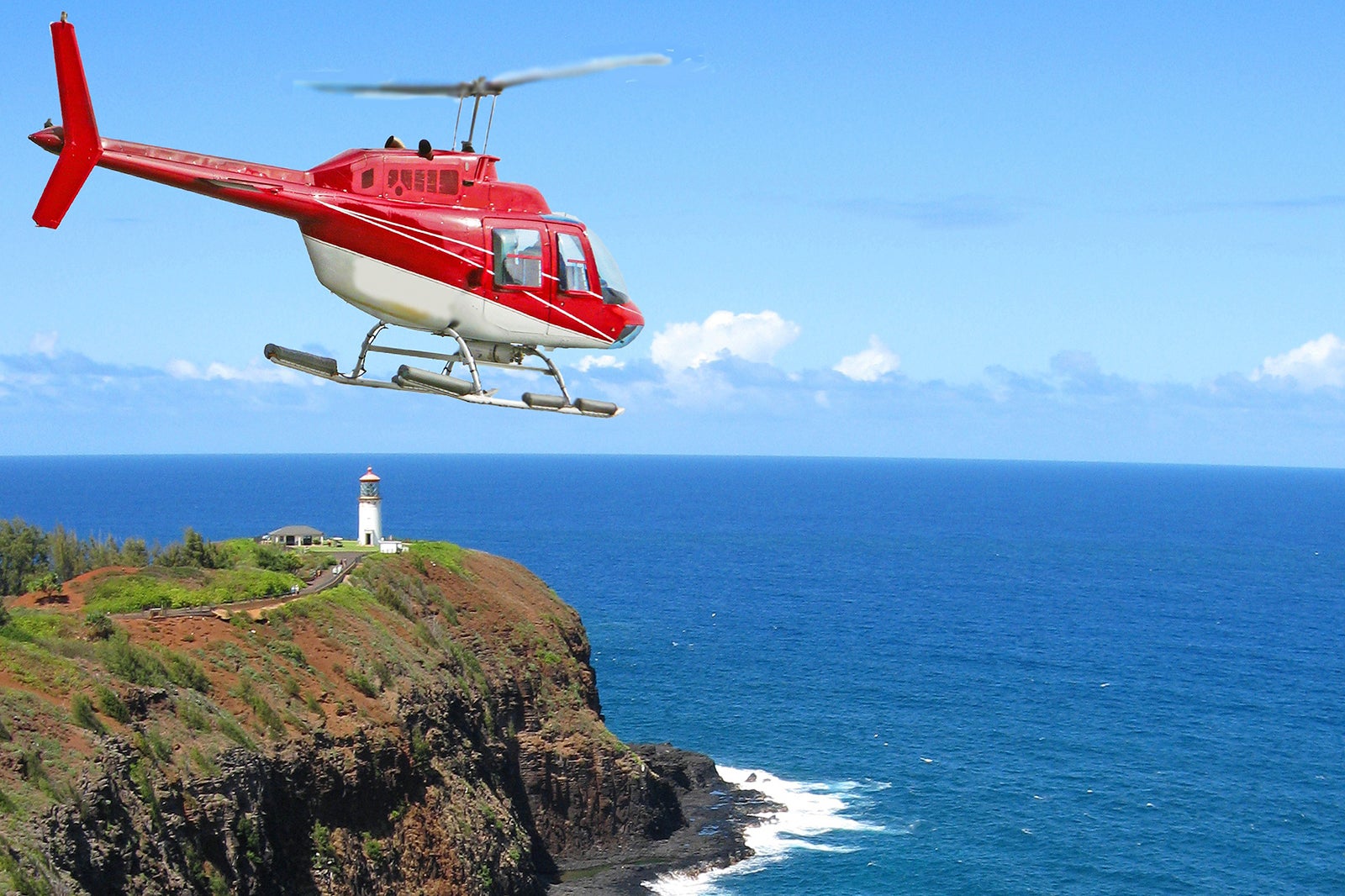 Couples
Families
Photo
Luxury
Hawaii Island Instagram shots are most dramatic from the air, and there's no more thrilling way to capture those envious Big Island pics than by chopper. There are around 9 notable helicopter tour operators based around the east and west coasts of the island, each offering rides averaging 2 hours. Among the most popular are Blue Hawaiian Helicopters, Safari Helicopters, and Big Island Helicopter Tours.
As you soar across the island, the pilot keeps you entertained and well informed of the views. Over Big Island's dynamic landscapes and volcanic craters, you'll often be able to capture amazing shots of glowing lava streams and steam. The view changes dramatically as you circle the coastline alongside the green valleys and waterfalls.
15
Big Island lava boat tours
Witness breathtaking forces of nature up close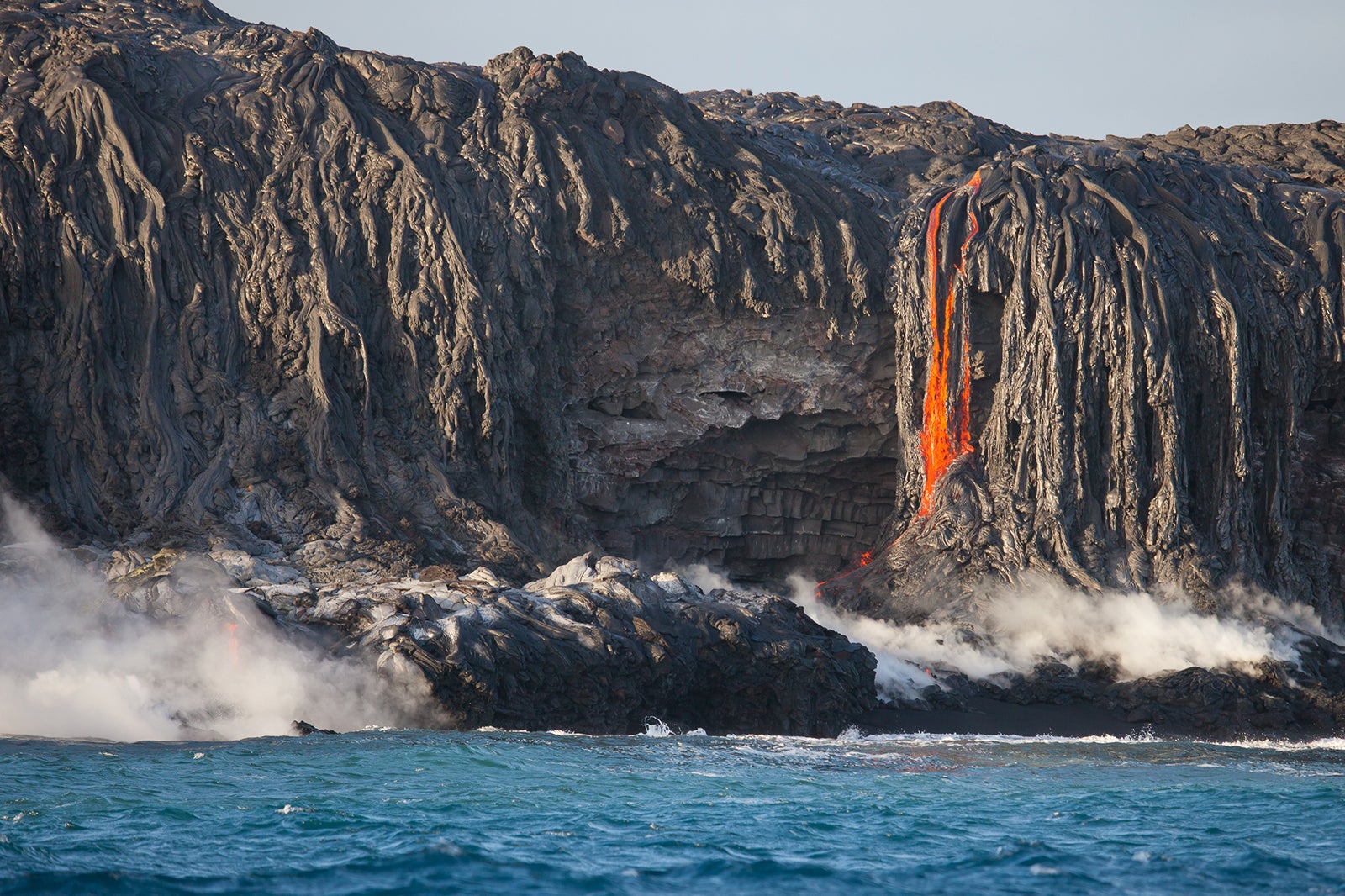 Families
Photo
Adventure
Group
Hawaii's Big Island is well-known for its volcanic activity, with 5 of its 6 volcanoes being active, so a visit here would be incomplete without witnessing flowing lava. Molten-hot lava meeting the cool waters of the Pacific is even more awesome, and that's best done by joining a lava boat tour.
Such boat tours allow you to view the events from relatively close, though they still maintain a safe distance of about 1,000 ft. A few tour providers have permits to approach even closer to the sizzling show of nature, allowing you to capture better angles. Among Big Island's lava boat tour operators are Lava Ocean Tours, Kalapana Lava Boat, Hang Loose Boat Tours, and Moku Nui Lava Tours.
Back to top