The Hollywood Wax Museum is here to help you meet all of your favourite celebrities in Los Angeles. Well, sort of. Since 1965, the Hollywood Wax Museum has attracted visitors from all over the world who want a taste of red carpet glamour. With vintage heartthrobs and modern-day divas, there are recognisable stars for the whole family to appreciate.
The museum boasts a wide variety of vignettes that allow guests to imagine themselves in different scenes with a renowned cast of stars. Maybe you'll take a selfie with Leonardo DiCaprio, or perhaps you'll dance with Michael Jackson; you may be surprised at how lifelike the wax figures are. Additionally, there are facts scattered throughout the museum, such as stars' pet hates, charity work, and side businesses. You'll probably want to allocate 1 to 2 hours to enjoy the museum, but you could make a day trip out of it if you'd like to visit nearby sights and attractions.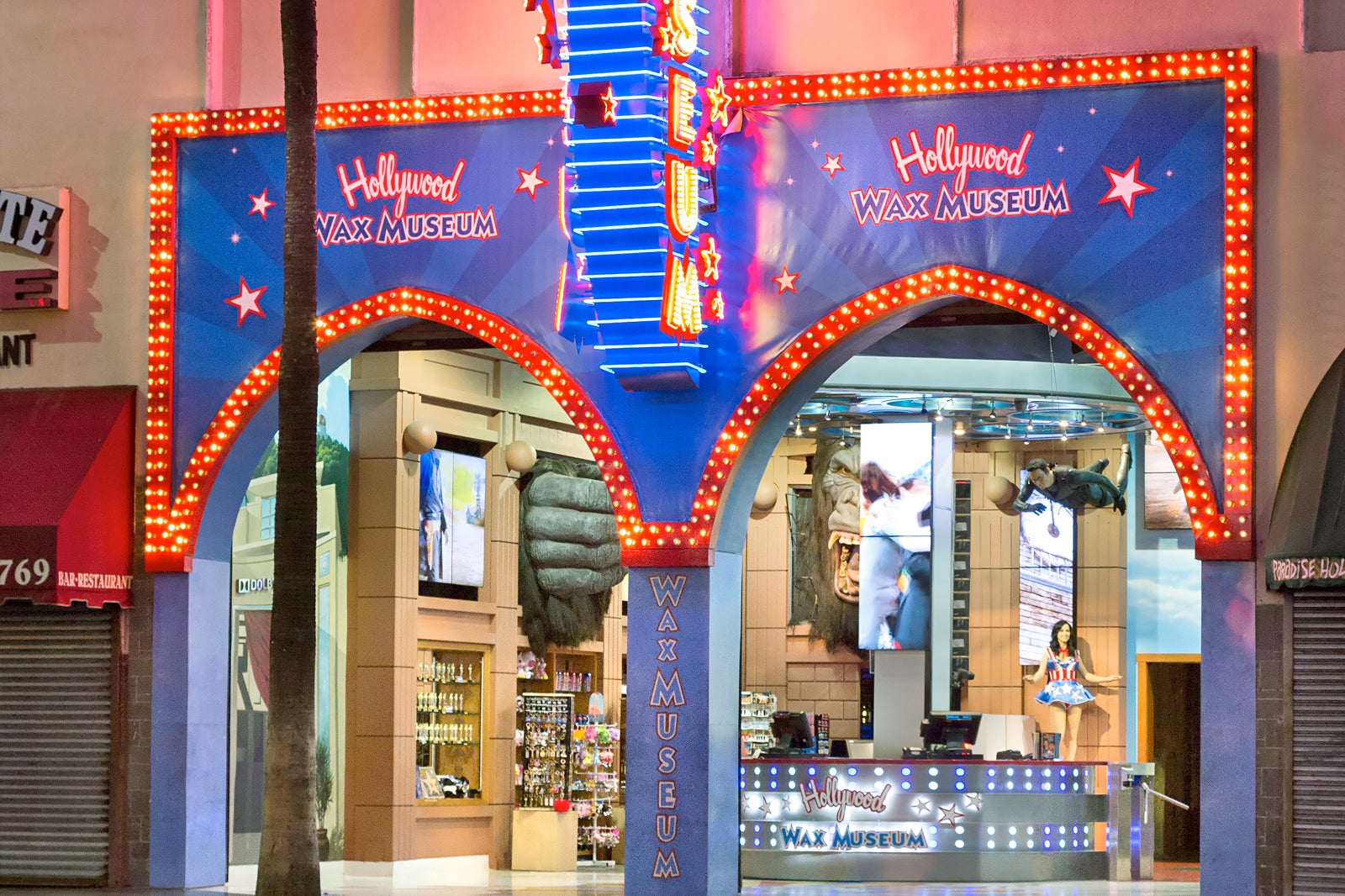 Hollywood Wax Museum highlights
For other nearby museums, check out spots like the Museum of Illusions, with 3D illusions that produce images inspired by cartoon art, current events, films, and pop culture. The museum also has 7 different upside-down rooms with all sorts of amusing arrangements. The Guinness World Records Museum is only a few minutes away and features curious exhibits that spotlight record-breaking facts and feats. The museum has interactive exhibits too, such as being able to measure your weight against the world's heaviest person or giving your best shot at the world's long jump record.
The Hollywood Museum is also nearby and is housed within the Historic Max Factor Building and boasts one of the largest collections of authentic Hollywood memorabilia in the world. The museum has 4 floors of exhibits, with over 10,000 "Showbiz Treasures," such as costumes, props, photographs, scripts, and more.
Things to see and do near the Hollywood Wax Museum
If you've come all the way to Los Angeles, there's no way you can miss out on the infamous Hollywood sign. Bring your camera and don your walking shoes to make it to the top of the sign. Not to mention, the Hollywood Wax Museum is on Hollywood Boulevard, only mere minutes from the Hollywood Walk of Fame.
The TCL Chinese Theatre is another must-see, where you can take in all the history of one of Hollywood's hottest spots. Walk through the theater's forecourt and spot your most beloved celebrities' footprints, autographs, and handprints, all iconically laid in cement. For souvenirs to commemorate your trip, stop by La La Land, which features a collection of tourist favourites. While you're there, be sure to check out the infamous car displayed right next to the figure of a blue-suede Elvis.
Good to know when visiting the Hollywood Wax Museum
Alongside the attractions, there are plenty of dining options right around the Hollywood Wax Museum. Johnny Rockets is a fan favourite nearby, with classic American fare for lunch, dinner, late nights, or even brunch. For a more upscale experience, STK Steakhouse has a relaxing ambience and serves prime rib and classy cocktails. Save room for dessert at the Ghirardelli Soft drink Fountain and Chocolate Shop, with offerings such as hot fudge sundaes, ice cream, and thick milkshakes.
If you want to save on your trip, there are a variety of museum packages that you can check out online, particularly if you plan on visiting quite a few museums. For example, the Hollywood Wax Museum has a discounted ticket package on their site for a combo with the Guinness World Record Museum, along with discounted rates for groups of 15 or more.
Hollywood Wax Museum in Los Angeles
Location: 6767 Hollywood Blvd, Los Angeles, CA 90028, USA
Open: Sunday–Saturday from 9 am to midnight
Phone: +1 323-462-5991
Back to top