10 Best Street Food Cities in the USA
Where to Eat Like a Local in America
Street food in the USA has come a long way from greasy burritos and pizza for blue-collar workers on the go. You can now find innovative and delicious dishes that are worth travelling for and look great on your social media feed.
Food trucks are popular in fast-paced cities like Portland and New York, but it can be hard to find the real quality among the dizzying amount of options. The balance of portions and price can be hit or miss at times, leaving you either satisfied or mystified. Check out our guide to the best street food cities in the US and where to find the meals worth lining up for.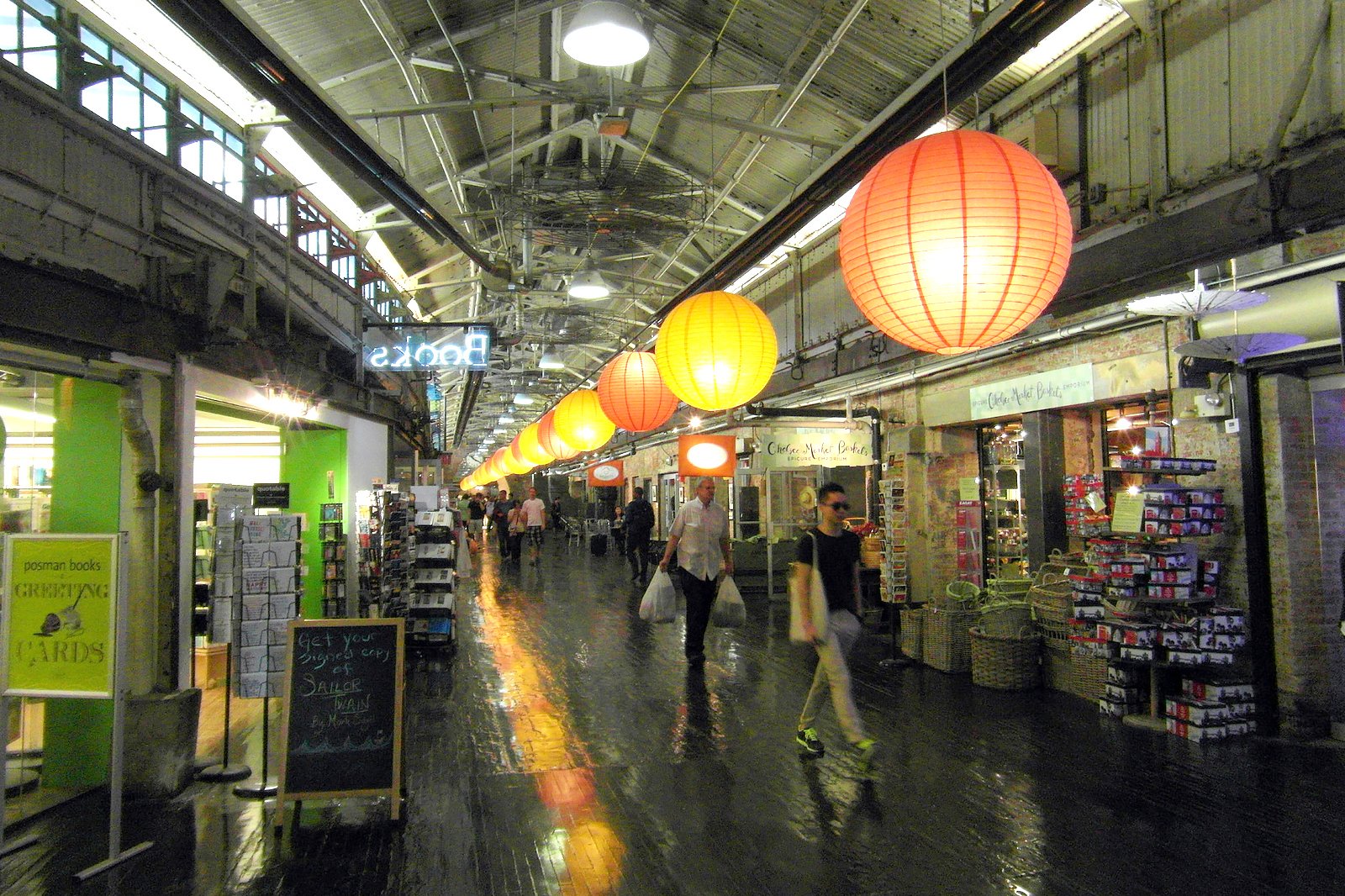 Manhattan, New York
Upscale street food and exotic eats
Walking through the halls of Chelsea Market is like a stroll through an arts and craft exhibition. Chelsea Market is an indoor venue offering fresh feasts year-round. This place has cool storefront displays to lure you, ranging from exotic sea urchins to photogenic latte art. Some of its most popular street food kiosks include the spicy bratwursts at Berlin Currywurst, boozy frappes at Creamline, and cherry tarts at Sarabeth's.
On weekdays, you can stroll around the Midtown office area, between 6th Avenue and 50th Street. This area is known for hosting lunch trucks that cater to the corporate crowd.
photo by Reading Tom (CC BY 2.0) modified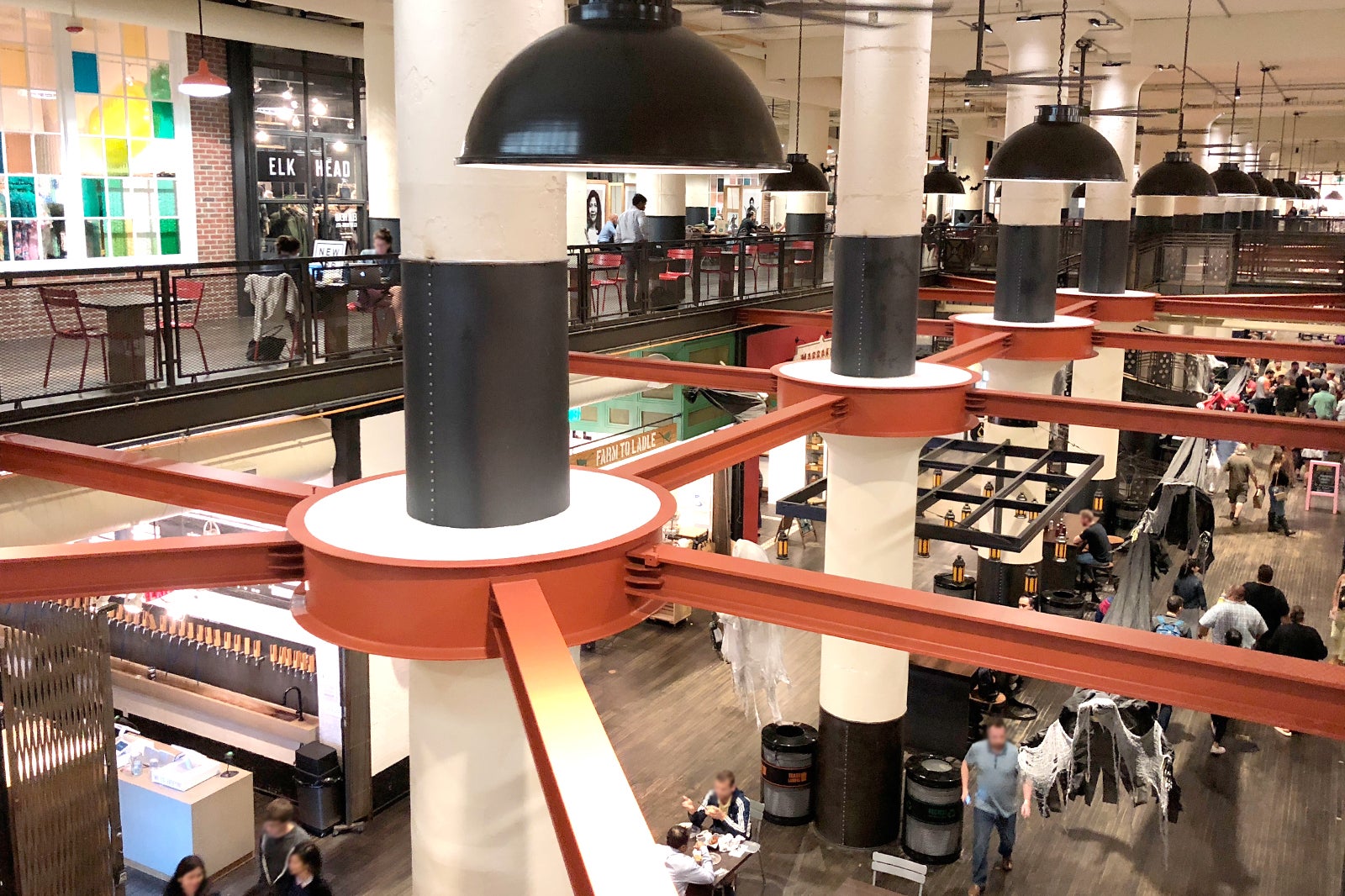 Atlanta, Georgia
Deep-fried delights
Atlanta has attracted foodies from all over the country and is now a street food hotspot in the US. A 5-minute drive from the Georgia Aquarium, Atlanta's street food park on Howell Mill Road has a great selection of dishes, along with craft beer and plenty of seating. You'll find Jamaican food, like the spicy jerk burger and the pile sandwich – a deliciously hot mess of beef and cheese.
A lot of these vendors have proper sit-down restaurants, many of which are found along Peachtree Road. The Busy Bee is a restaurant that serves great fried chicken, and country ham with red-eye gravy that's made from strong black coffee. You can also check out the Ponce City Market, a food hall with gourmet pop-up stalls and wine bars.
photo by Tim Farley (CC BY-SA 4.0) modified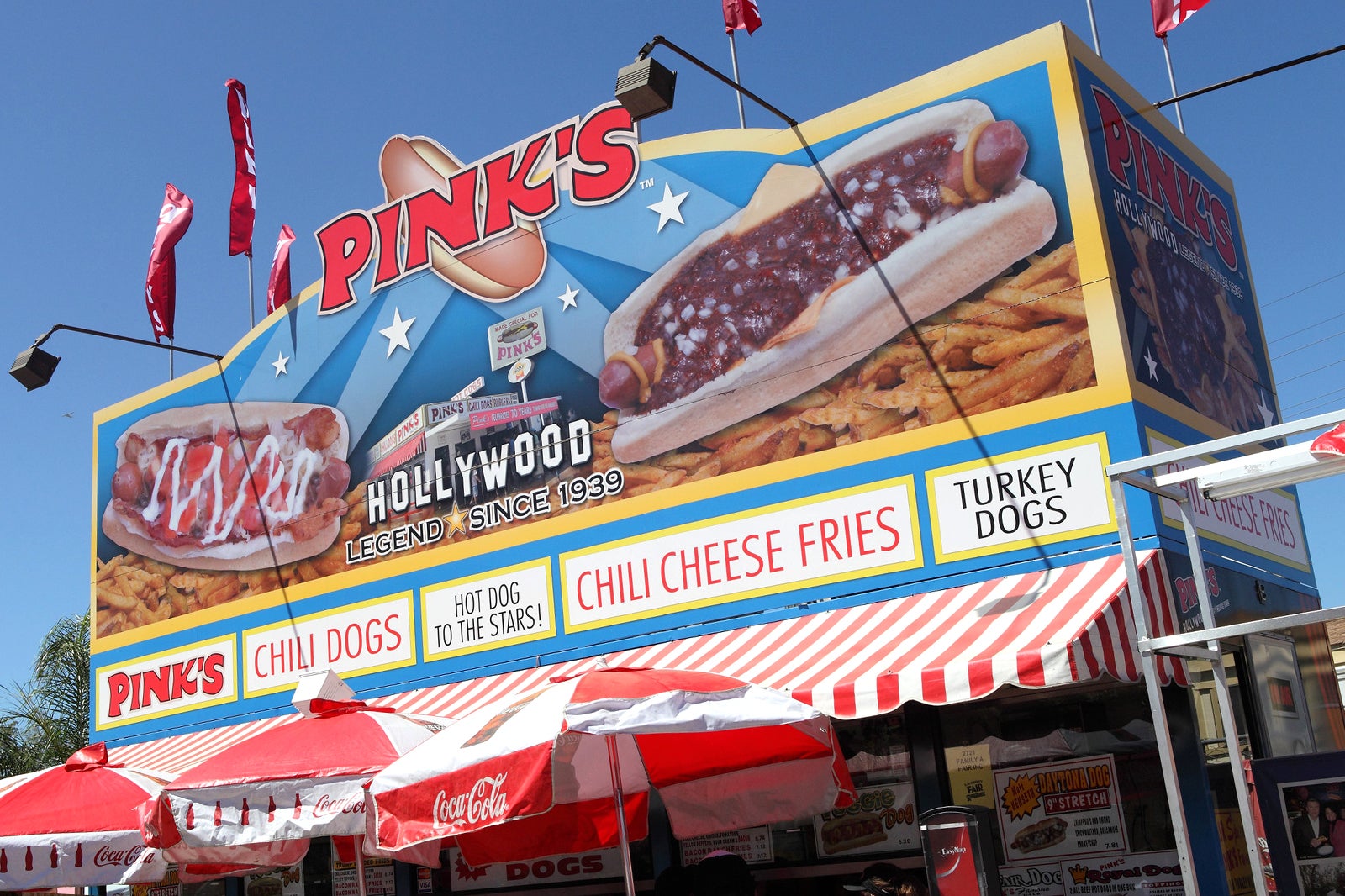 Los Angeles, California
"Mas tacos por favor"
Aside from the famous In-N-Out Burger, most Angelenos grew up with homemade Mexican cuisine. To enjoy an LA-style local food experience, foodies should have some time to spare because LA's great street eats are scattered throughout this mammoth city.
In West Covina, Guilberto's Taquiza is a local favourite – try the dynamite sticks made with tender lamb, wrapped in fried tacos that pair perfectly with a bowl of consommé beef broth. Mariscos Jalisco in downtown Los Angeles is a seafood truck serving Poseidon. This signature tostada is piled high with shrimp, octopus and ceviche. A local novelty, Pink's hot dog stand has been a landmark since 1939 – but be prepared to wait in line for at least 20 minutes.
photo by Sam Howzit (CC BY 2.0) modified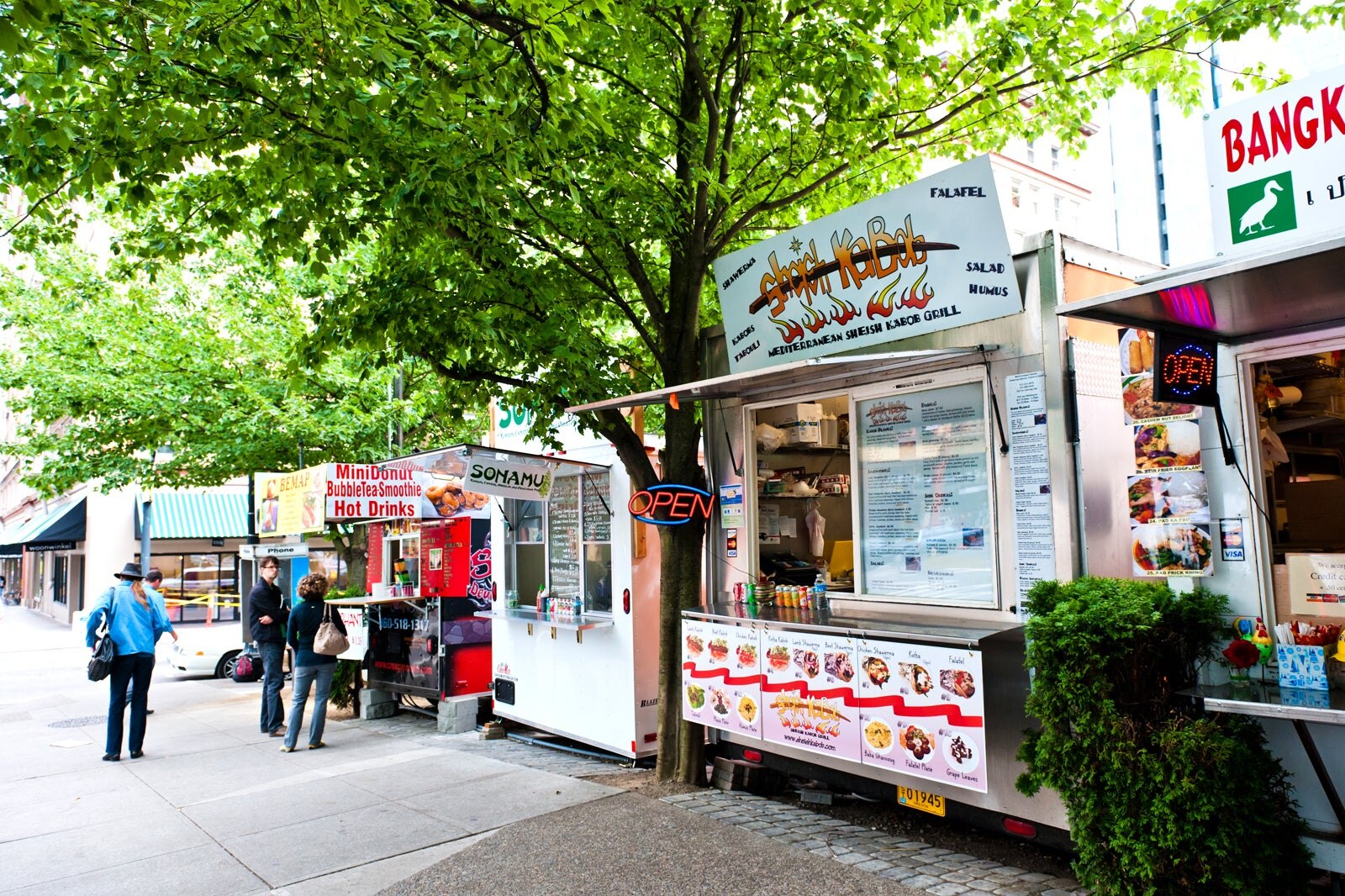 Portland, Oregon
Authentic eats with a global flair
Portland is home to young and hip out-of-state newcomers who have played an important role in America's evolving food truck culture. Portlanders enjoy a lot of Asian cuisines, from Vietnamese pho to Indian curries, as well noodle stalls from every regional niche.
On Adler Street, Viking Soul Food serves Norwegian lefse (potato flatbread) paired with smoked salmon and seafood chowder. LoveVerona serves lesser known but authentic Italian dishes like cavatini, a beef pasta with 3 cheeses with basil sauce and garlic bread. Don't miss the famous chicken and rice by Nong's Khao Mun Gai, which locals claim to have started the whole food truck craze. In fact, the trend doesn't seem to be slowing down in Portland, with an estimated 500 vendors moving about in this city alone.
photo by star5112 (CC BY-SA 2.0) modified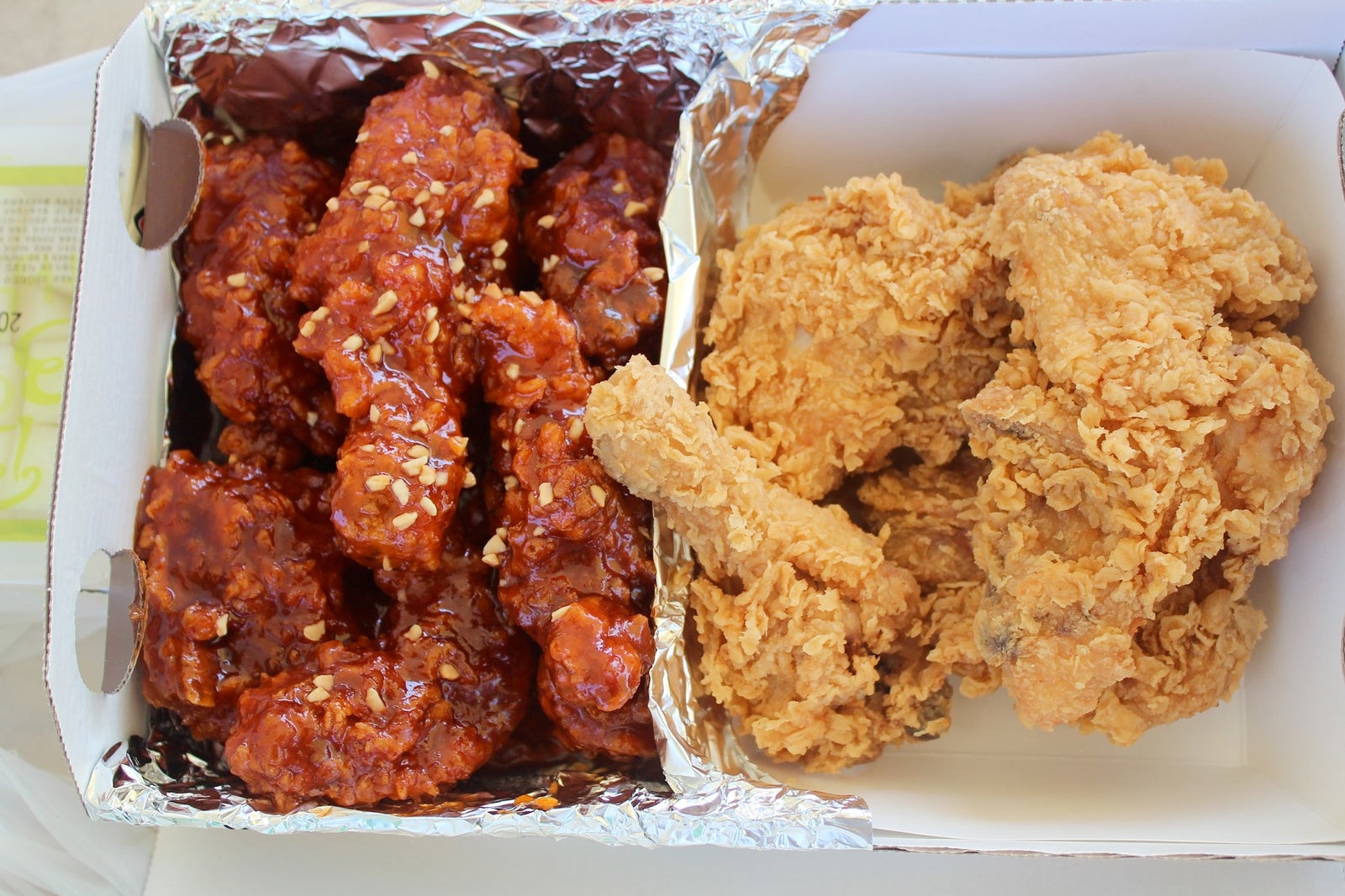 Nashville, Tennessee
Southern-style cooking
Street food in Nashville is usually prepared by trained chefs looking to bring gourmet food to the people. Julia's Pastry is a large patisserie on wheels, with beautiful baked goods like cheesecakes and pies that have earned many blue ribbons. Red's 615 Kitchen has garnered a long line of patrons for its famous southern-style fried chicken. Funk Seoul Brother serves crispy, honey-glazed Korean fried chicken that is a real crowd favourite.
Et Voila Bistro offers upscale French food from a truck, like their beef bourguignon sub, deep-dish quiches, and beignets with sea salt caramel. Nashville has about 150 rotating vendors throughout downtown with most food trucks congregating near the hotel district.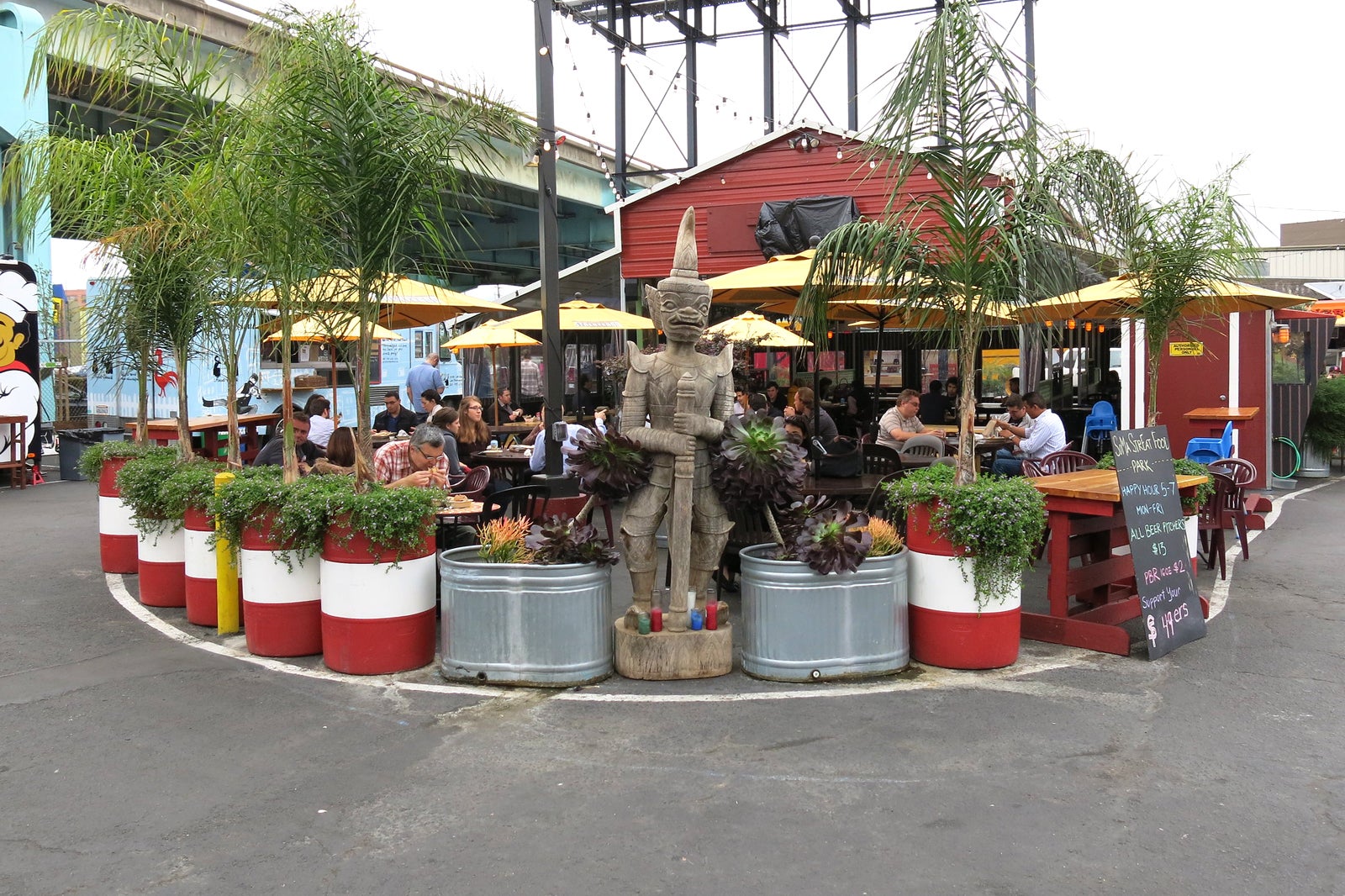 San Francisco, California
Indulge in The City's guilty pleasures
San Francisco's street food trucks can be found in areas such as the Soma Street Food Park, where you can find Peruvian stir-fry, curry ramen, spicy veggie miso, Filipino sausage wrap, and sushi burritos.
San Francisco's Chinatown – the oldest in the USA – is where you'll find authentic dim sum and egg tarts served on the streets. On a rainy day, which happens a lot in San Fran, head to a sheltered eatery like the Ferry Building Marketplace on the pier to find all things Californian.
photo by Gary Stevens (CC BY 2.0) modified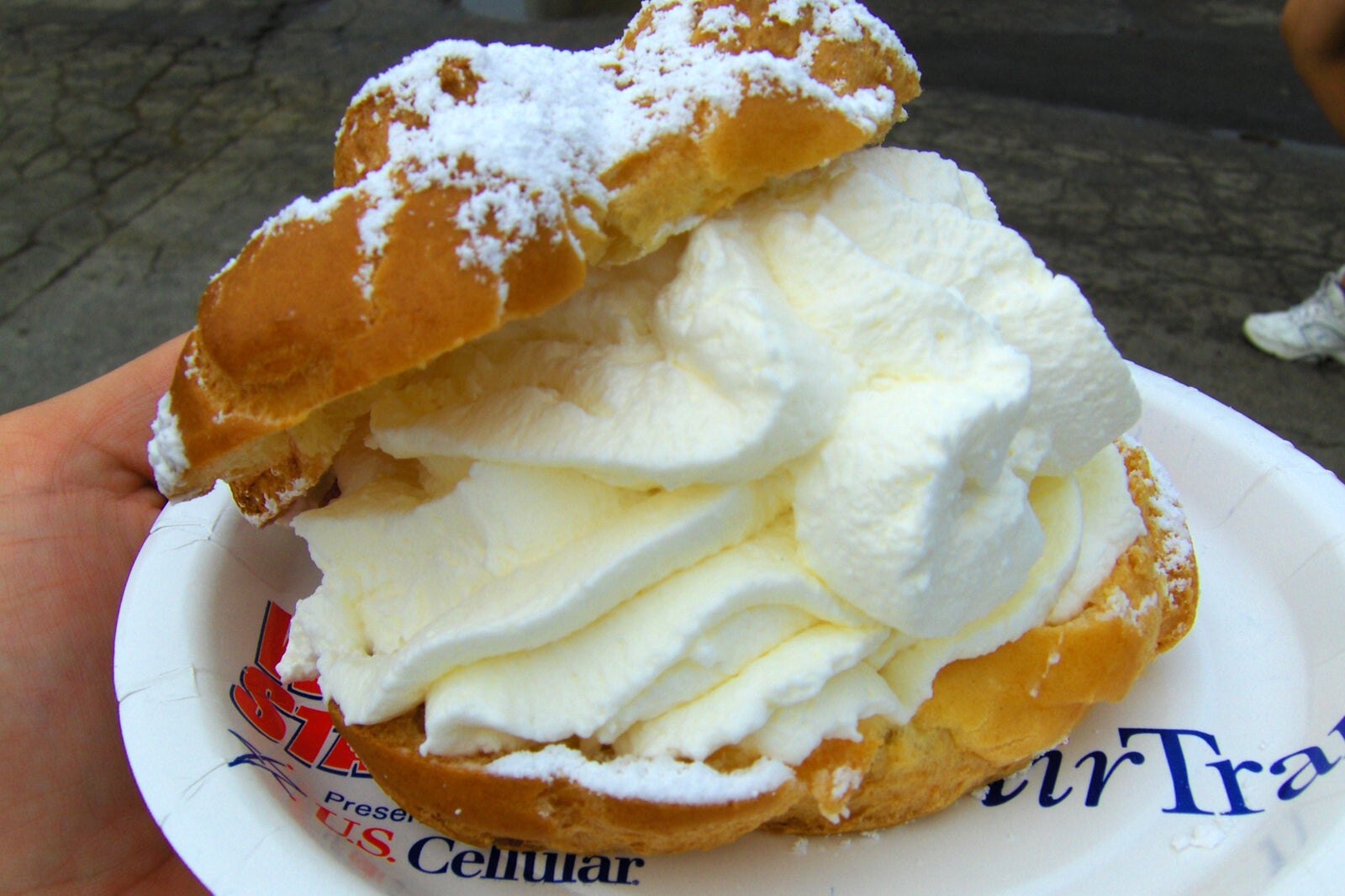 Milwaukee, Wisconsin
Savoury sandwiches in America's cheese capital
Wisconsin is known as America's dairy state, where they put milk and cheese in just about everything. This US state also has a large German population, so street food vendors selling bratwursts and giant pretzels dipped in cheese sauce are found along Milwaukee's North Water Street and State Street. Do check online for updates, as these vendors tend to change locations on a weekly basis.
The Old Oriental Drugs is Milwaukee's most famous food hall, serving local Wisconsin food and great craft beer. For cheese lovers, you'll be spoiled with their grilled cheese varieties such as mac'n cheese, fried cheese curds, beer cheese soup, and Wisconsin's aged cheddar. For more creamy goodness, the Wisconsin State Fair in West Allis, located on the outskirts of Milwaukee, serves state fair foods like giant cream puffs and deep-fried Twinkies that are worth the fat coma.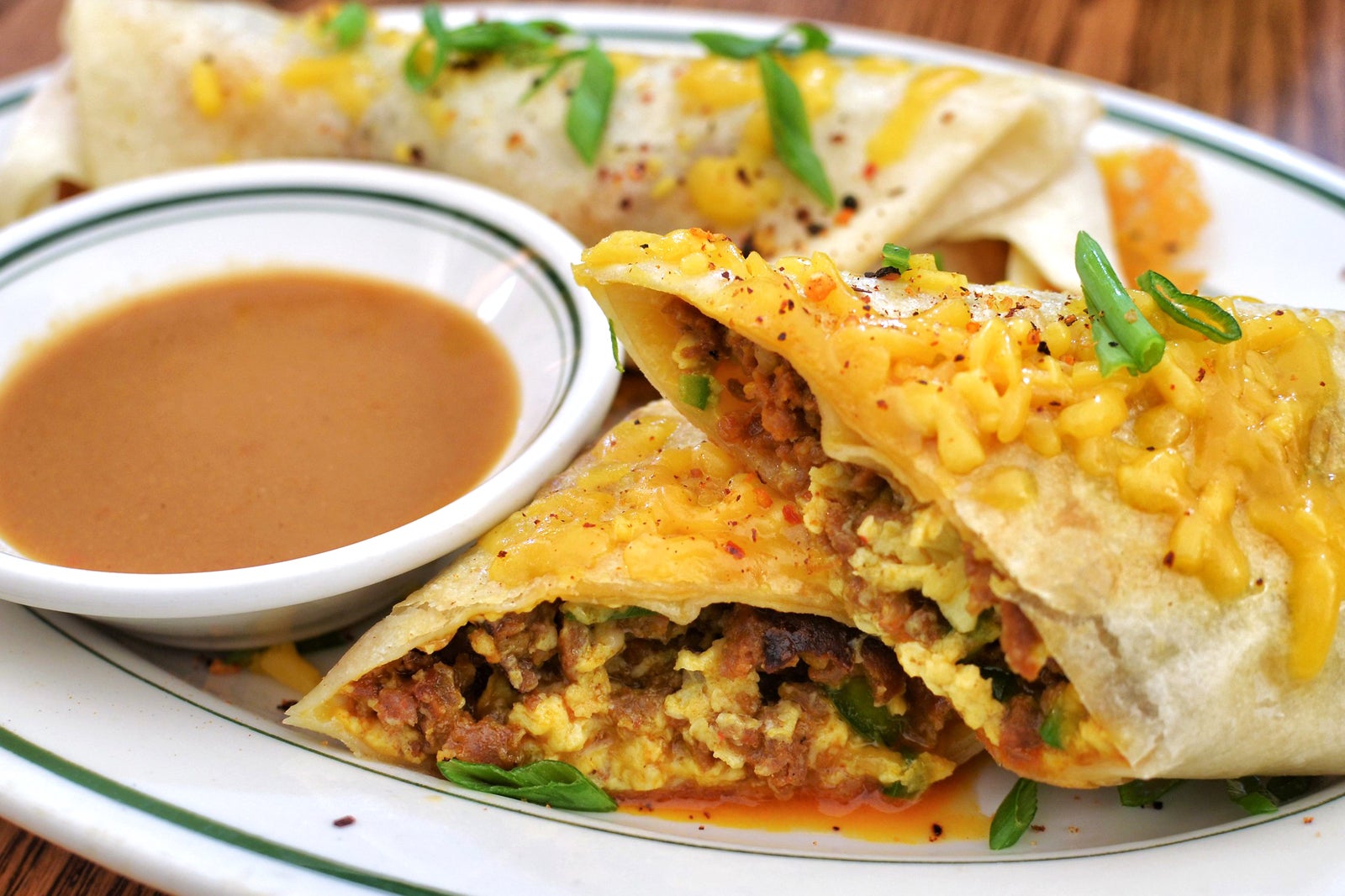 Denver, Colorado
Hot bowls on cold days
Colarado's diverse food scene is mostly dominated by a creative hipster culture. The Pink Tank food truck is known for experimental dishes like caramel waffles and chicken, served with hot sauce ice cream and crunchy bacon bits. This dish may look confusing at first, but it's a nice combination of sweet and savoury.
Biker Jim's hotdogs originated in downtown Denver, but has since branched off into a few permanent locations, with unique meat combos like the Elk Jalapeno Cheddar and Jack-A-Lope (cherry- and habanero-infused beef dog with jack cheese).
Part of the Midwestern quirk is that locals enjoy breakfast food at any time of the day, so you'll find a lot of breakfast burritos, pancakes, and comforting beef Pho soup on a snowy day. During the cold months, many of the city's popular food trucks relocate to the indoor Denver Central Market, so check in advance for their whereabouts.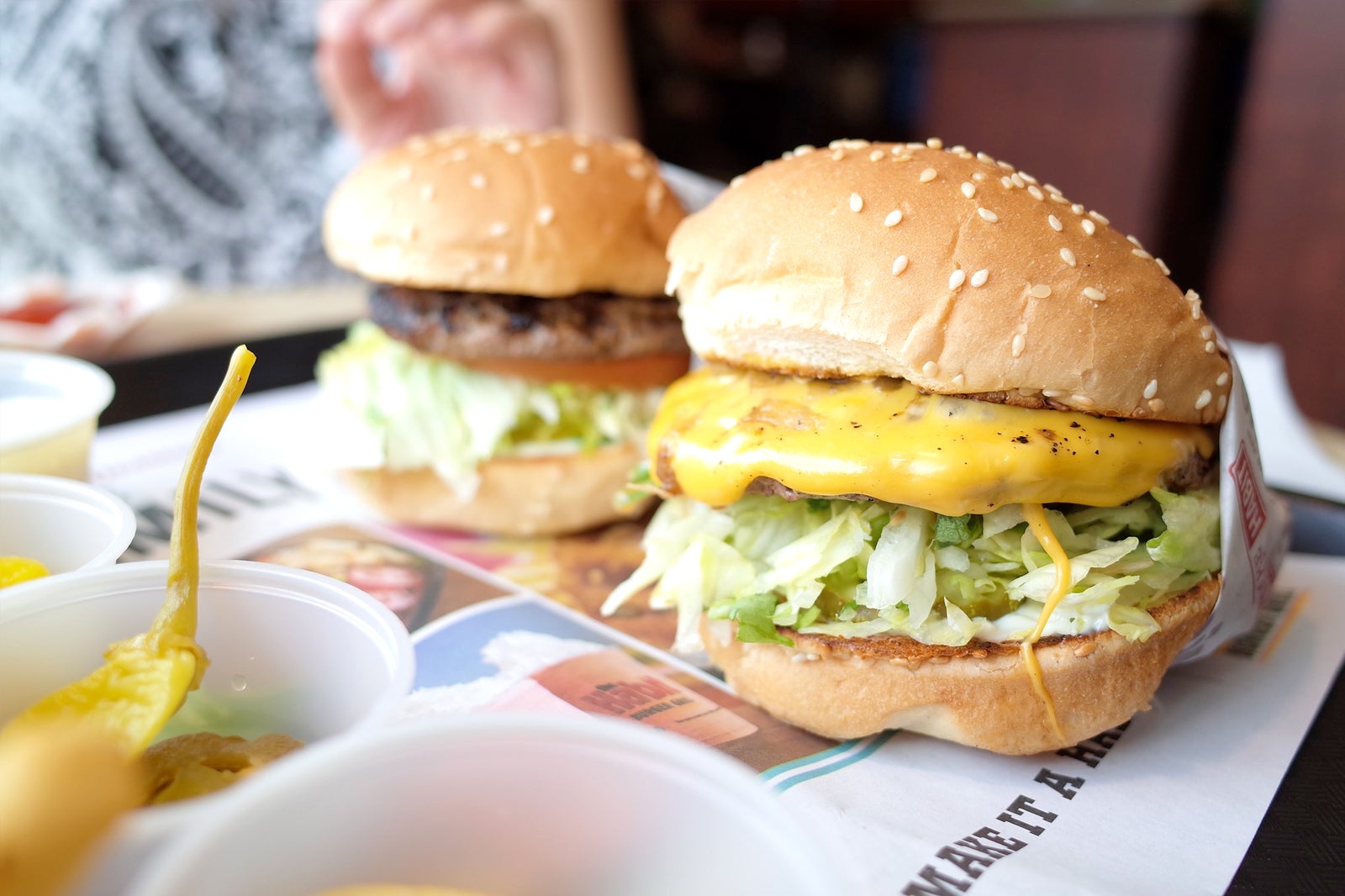 Austin, Texas
Cooking in the pits, Texas-style
Austin is a hip grub hub where barbeque has been replaced by global cuisines and vegetarian options. Try planning your visit to Austin around South by Southwest Festival (SXSW), which usually takes place in late March. This week-long celebration of film and music also hosts hundreds of food vendors selling imaginative dishes that are worth the extra calories.
Barton Springs is where you can canoe along the river and stop for some greasy Tex-Mex goodness. Luke's Inside Out has gained a loyal following with its sirloin cheeseburger and Brick Fist taco. Paperboy is a food trailer in downtown Austin that serves poached egg sandwiches and pork tenders. Designated food parks can be found at the Domain shopping centre and the Picnic Food Truck Park.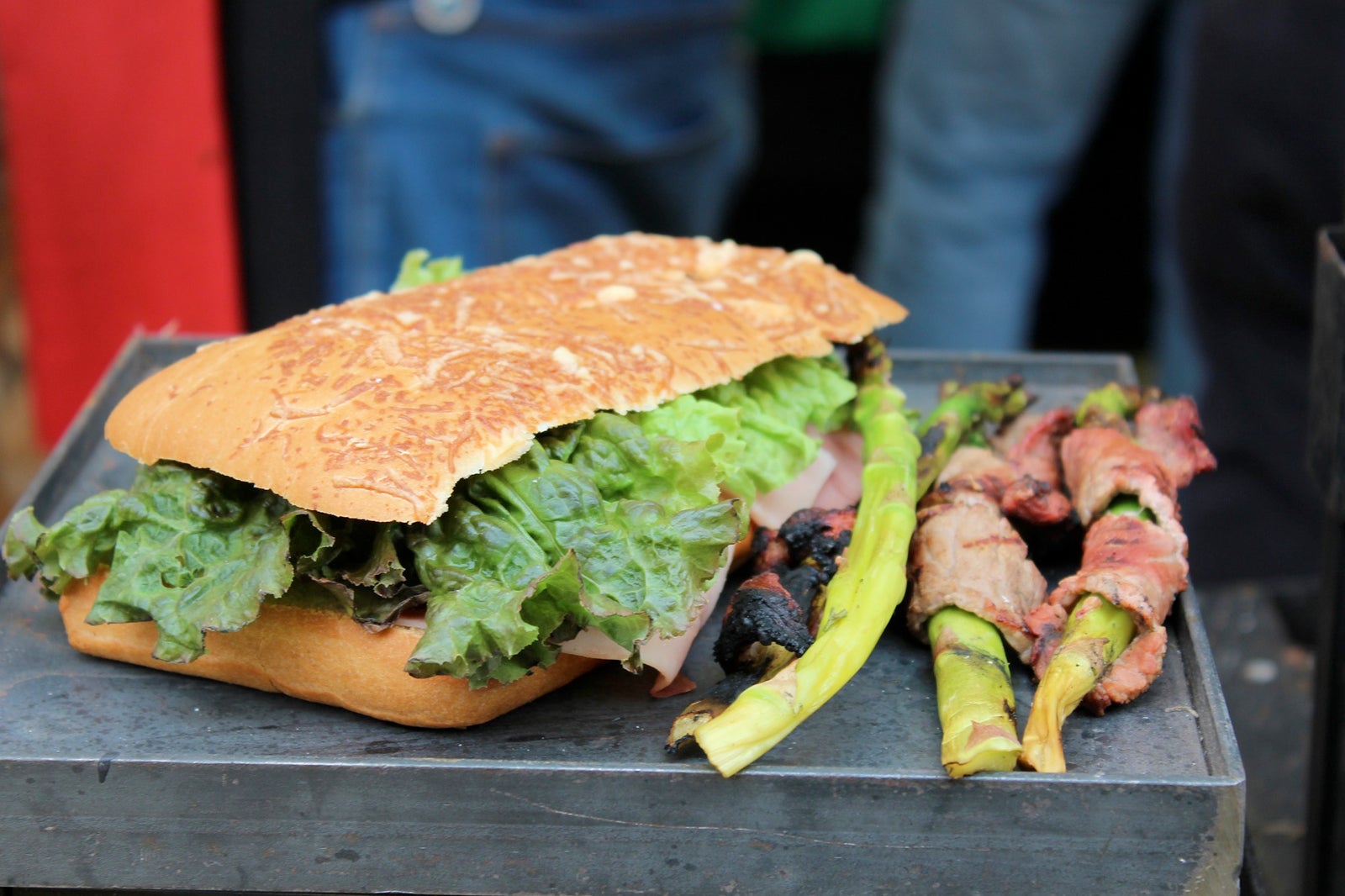 Miami, Florida
South American food done right
When you're hungry in Florida, always try and seek out the city's famous Latin and South American cuisine. The Wynwood district, right above downtown Miami, is a busy scene for food trucks like the World Famous House of Mac that has great lobster mac'n cheese. Zona Grill serves Venezuelan dishes like the Pepito sandwich made with French baguette, grilled beef, sweet corn, and Gouda cheese.
Miami's street food rival is Kissimmee, located 215 miles north of downtown. This town has the World Food Trucks district, which caters to the late-night crowd. Chimi King serves Caribbean street eats like mofongo, a mashed plantain dish with garlic, chicken and shrimp. As Florida enjoys nice, warm weather throughout the year, outdoor markets rarely close.