10 Best Things to Do in Estes Park
What is Estes Park Most Famous For?
Estes Park offers a plethora of things to do as it's an idyllic mountain getaway teeming with sprawling forests and alpine adventures galore. As the southern gateway to the Rocky Mountain National Park, you have more than 250,000 acres of pristine wilderness on your doorstep. You can hike, mountain bike or enjoy the rugged landscapes in the comfort of your car.
Besides outdoor activities, the town offers several historical attractions, including the haunted Stanley Hotel made famous in Stephen King's The Shining. The charming Downtown with a river running through is an ideal spot for a lazy afternoon coffee or a cold beer from one of the microbreweries. No matter the season, these picks of fantastic things to do in Estes Park should help you relax, re-energise, and get back into nature.
What are the best things to do Estes Park?
1
The Stanley Hotel
One of USA's most haunted hotels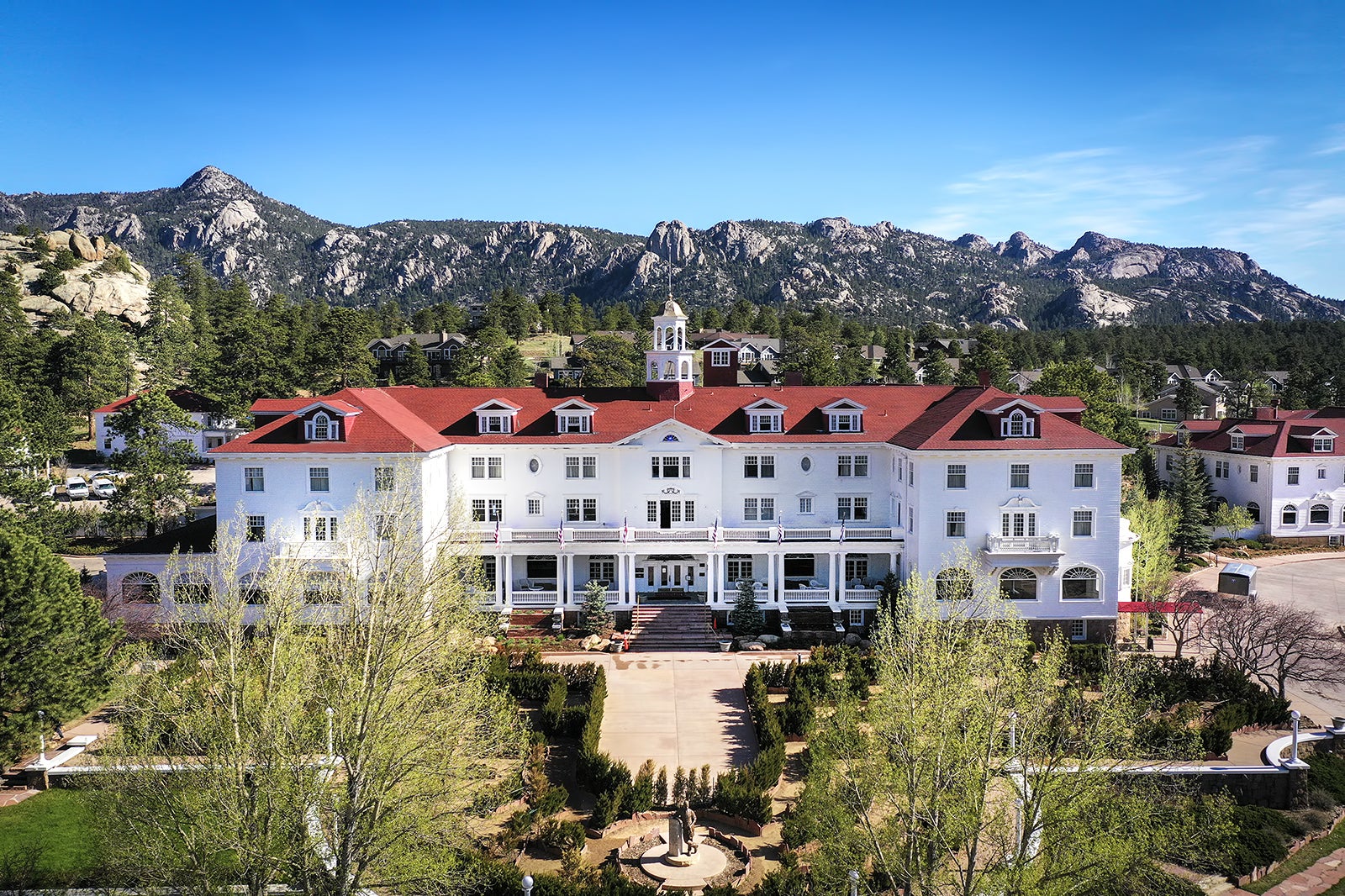 History
Budget
Unusual
Group
The Stanley Hotel is an iconic spot in Estes Park that dates back to 1909. Besides its impressive Colonial Revival architecture and fabulous grounds overlooking the Rockies, rumours abound that it's haunted. Guests have reported untraceable piano music and children laughing. Its spooky reputation is mostly thanks to Stephan King who, after a visit in 1974, used the property as inspiration for his book, The Shining.
Even if you aren't a guest, you can still visit the hotel for free. For a unique experience, book the night tour to hear some ghost stories after dark. You'll learn about the hotel's fascinating history and explore the eerie phenomena and spirit folklore surrounding the 100-year-old building and grounds. Go on, if you dare.
Location: 333 E Wonderview Ave, Estes Park, CO 80517, USA
2
Rocky Mountain National Park
Head out into pure, unspoiled nature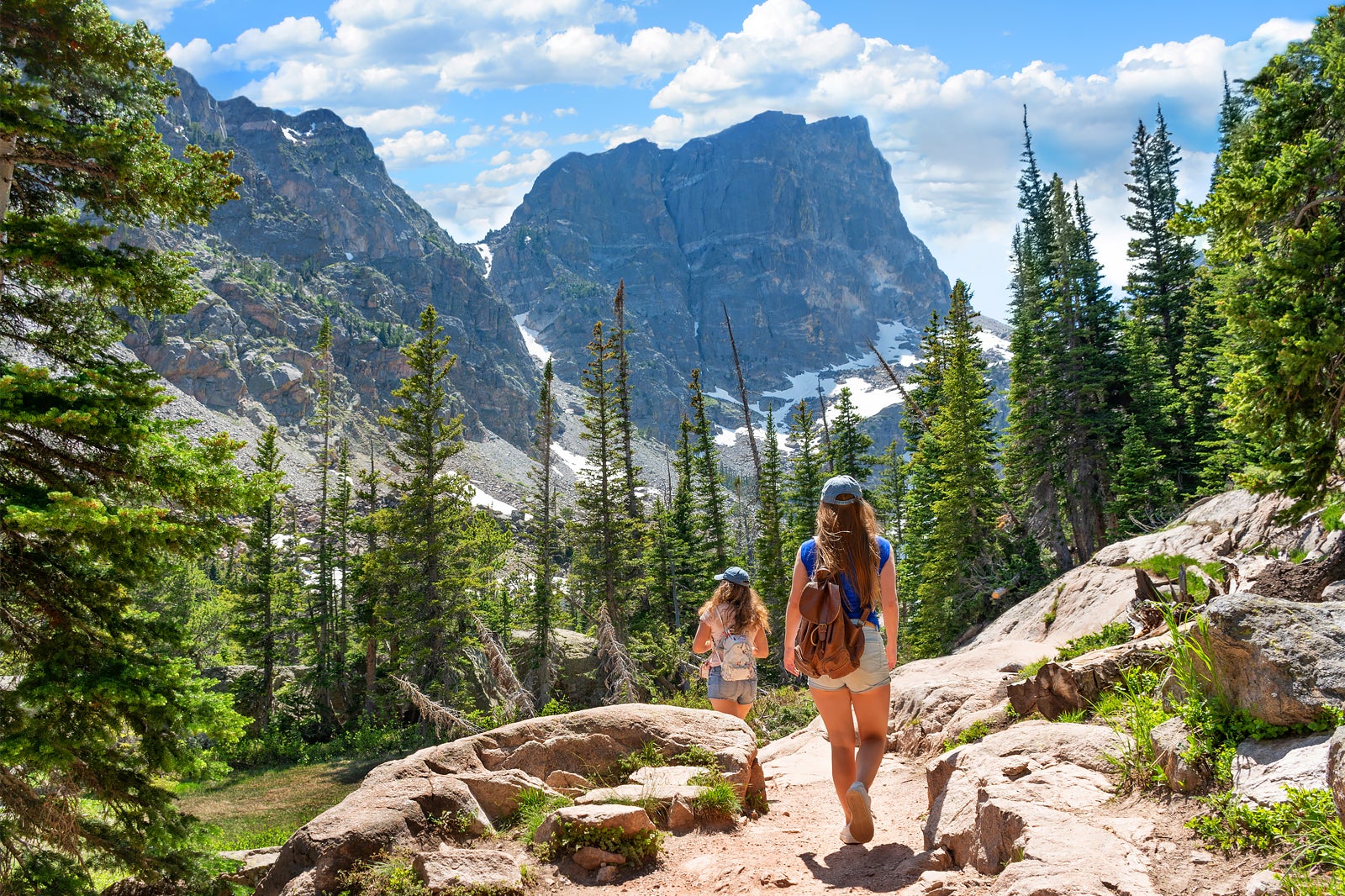 You should certainly spend a day exploring Rocky Mountain National Park from Estes Park, especially if you like nature. The 415-square-mile park is a magical place that's home to gorgeous alpine scenery, meandering rivers, fresh lakes, and rich wildlife diversity. Watch out for bighorn sheep, elk, mule deer and spot over 280 bird species.
You can discover the park on over 300 miles of hiking trails, on horseback riding and fishing trips, or via the Trail Ridge Road. The scenic road is so high you'll climb 4,000 ft in a matter of minutes! The park is open year-round. And while most visitors come in late spring and summer, winter holds its own allure – the forest is full of fresh white snow and you can go cross-country skiing and snowboarding.
3
Downtown Estes Park
Stroll and shop along a pretty avenue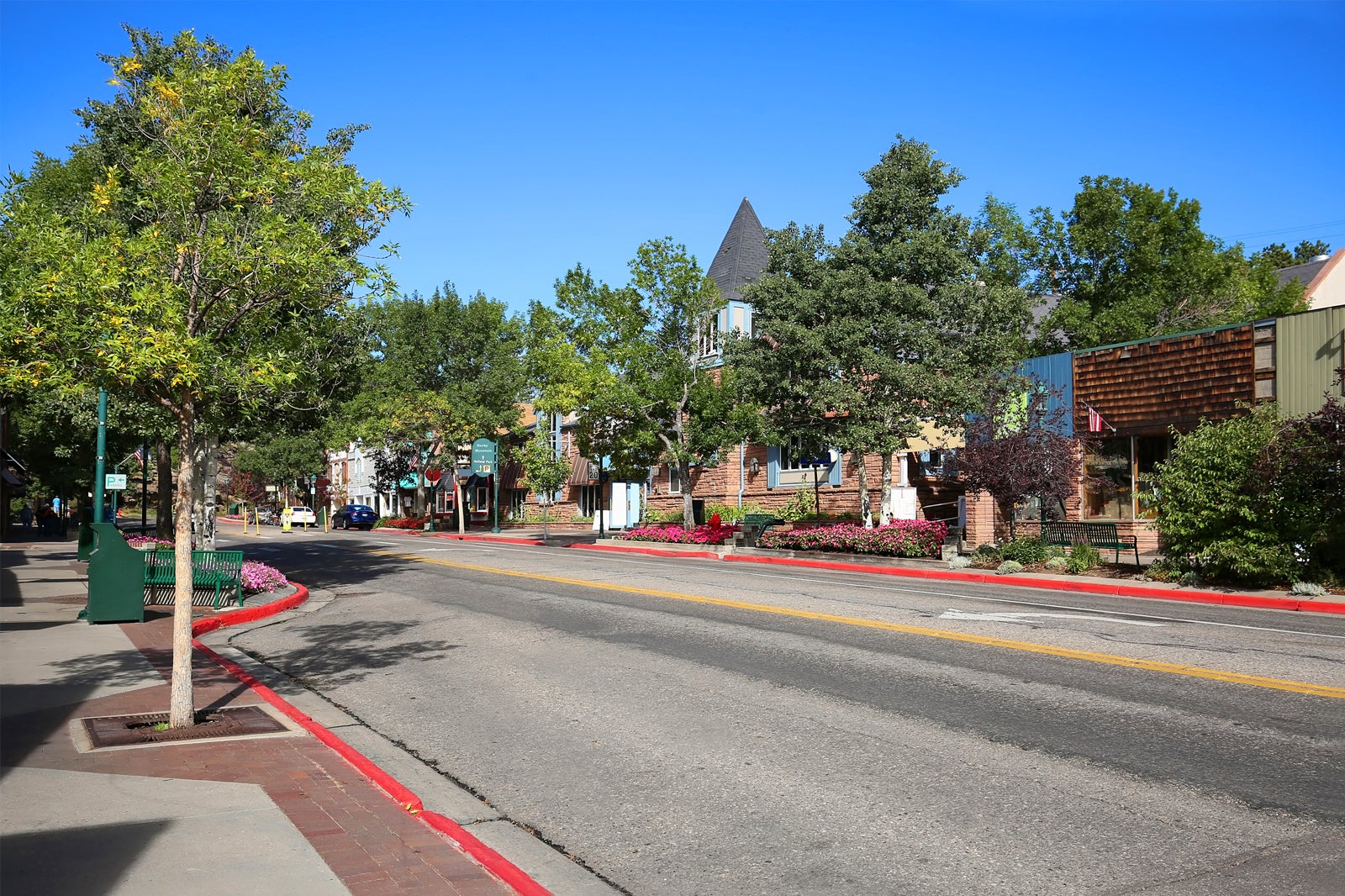 Downtown Estes Park is a shopper's paradise, with hundreds of stores selling souvenirs, handcrafted goods, outdoor gear, home decor and clothing. Browse the cute shops or pop into any of the cafés, bars and restaurants that line the avenue as well. Be sure to taste some of the famous salt-water taffy at The Taffy Shop.
If you want to escape the crowds, the Riverwalk is Estes Park's best-kept secret. The gentle trail cuts through downtown and runs right along the Falls River and Elkhorn Avenue, all the way to Lake Estes. You'll find plenty of places to sit and relax and enjoy the scenery and sound of crystal-clear water flowing over river rocks.
Location: Elkhorn Ave, Estes Park, Colorado 80517, USA
4
Lake Estes
Go on a relaxed stroll or kayak surrounded by beautiful views
Lake Estes is a large picturesque reservoir on the Big Thompson River to the east of downtown Estes Park. Surrounding the entire 185-acre lake is a gentle 4-mile loop trail that's perfect for a morning jog, afternoon stroll or invigorating bike ride.
Be on the lookout for wildlife, including birds and elk. If you love on-the-water adventures, Lake Estes Marina rents kayaks, stand-up paddleboards and canoes from May until October. You can hire fishing gear as well and go on a scenic trip with salmon and trout as your bounty.
5
Estes Park Memorial Observatory
Observe a brilliant display of stars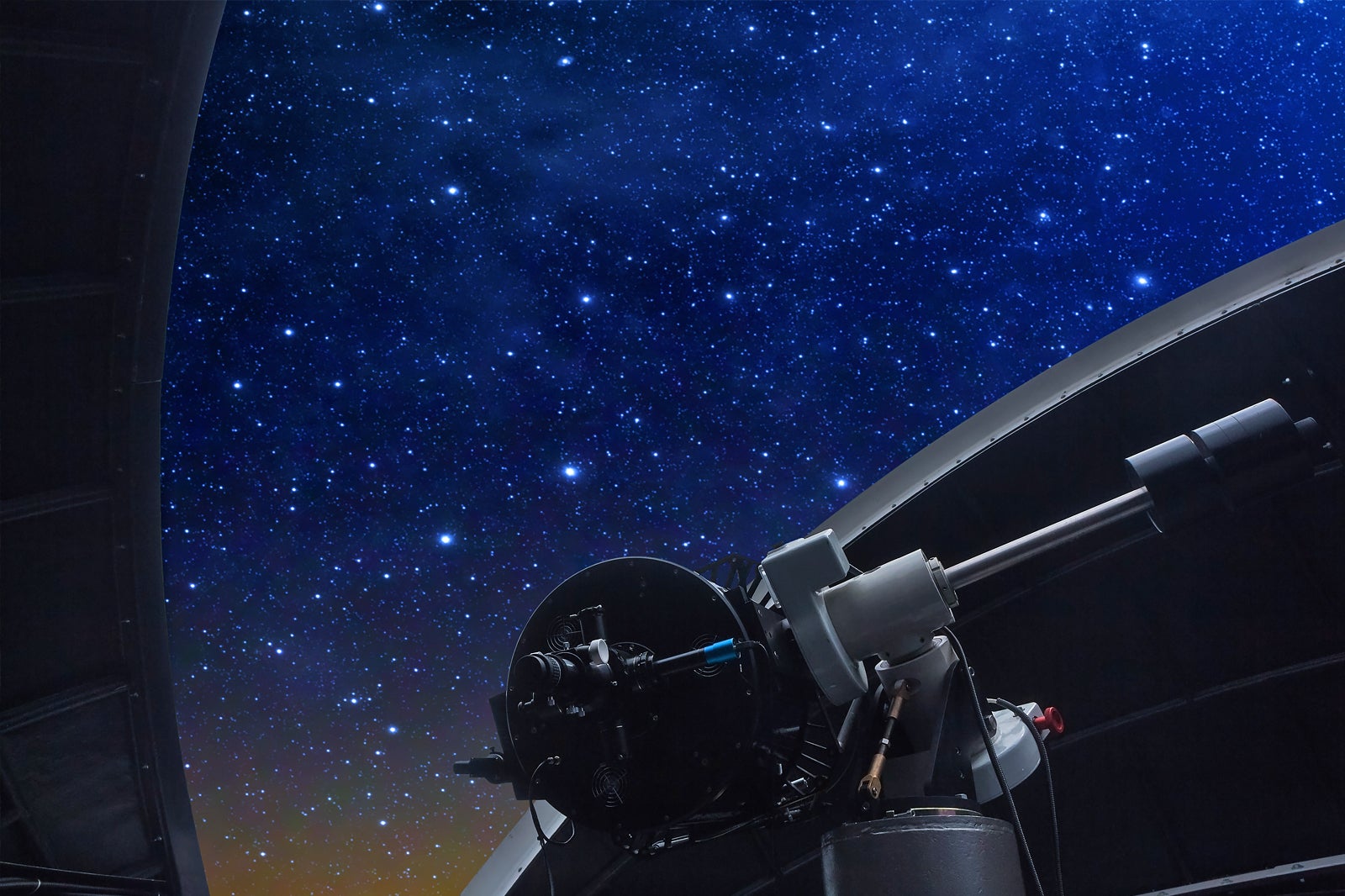 Estes Park Memorial Observatory is a top-notch place to appreciate the enormity and beauty of our galaxy, whether you're a beginner or experienced astronomer. With vast mountain ranges and rural landscapes, Colorado's skies are much darker than many other states and this is one of the best places to observe the heavens.
Tours of the night sky take place from the observatory's 16-ft dome. The experience includes educational videos, informative lectures by knowledgable volunteers, plus stellar up-close views of the cosmo through the telescope. Reserve your spot well in advance as space is limited. Admission is free but donations are welcomed.
Location: 1600 Manford Ave, Estes Park, CO 80517, USA
Phone: +1 970-586-5668
6
Peak To Peak Scenic Byway
Colorado's oldest scenic road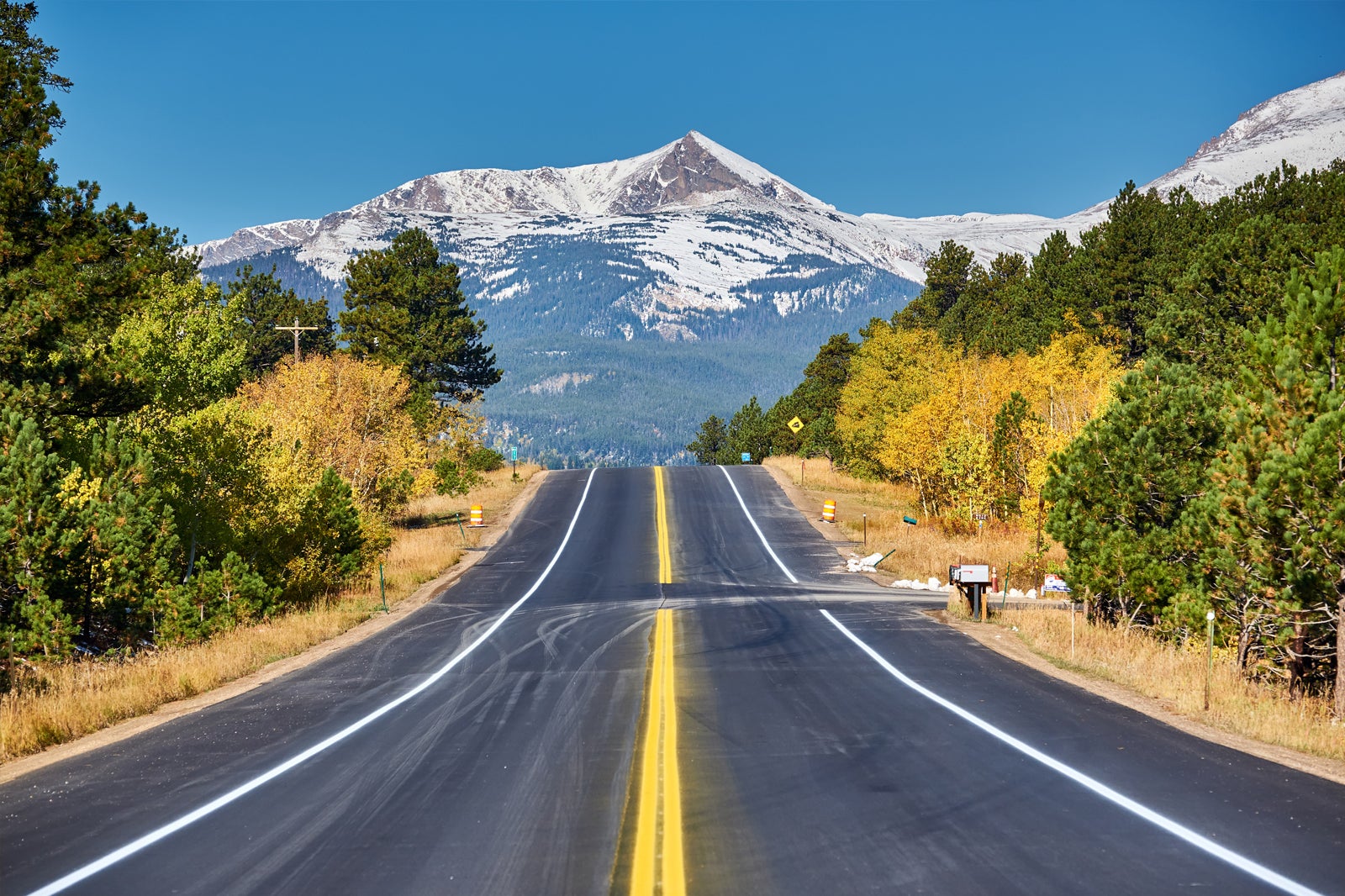 Drive the Peak to Peak Scenic Byway and enjoy a 55-mile stretch of road that offers spectacular vistas of the Continental Divide, plus the Arapaho and Roosevelt National Forests. The route starts in Estes Park and winds its way to Central City, passing several quirky historic small towns and great hiking spots to stop and visit along the way.
The Byway is fabulous year-round. Even so, it's incredibly stunning in autumn when you get a front-row seat to mountains covered with a thick forest of shimmering golden aspen trees.
7
Estes Park Aerial Tramway
Enjoy breathtaking mountain views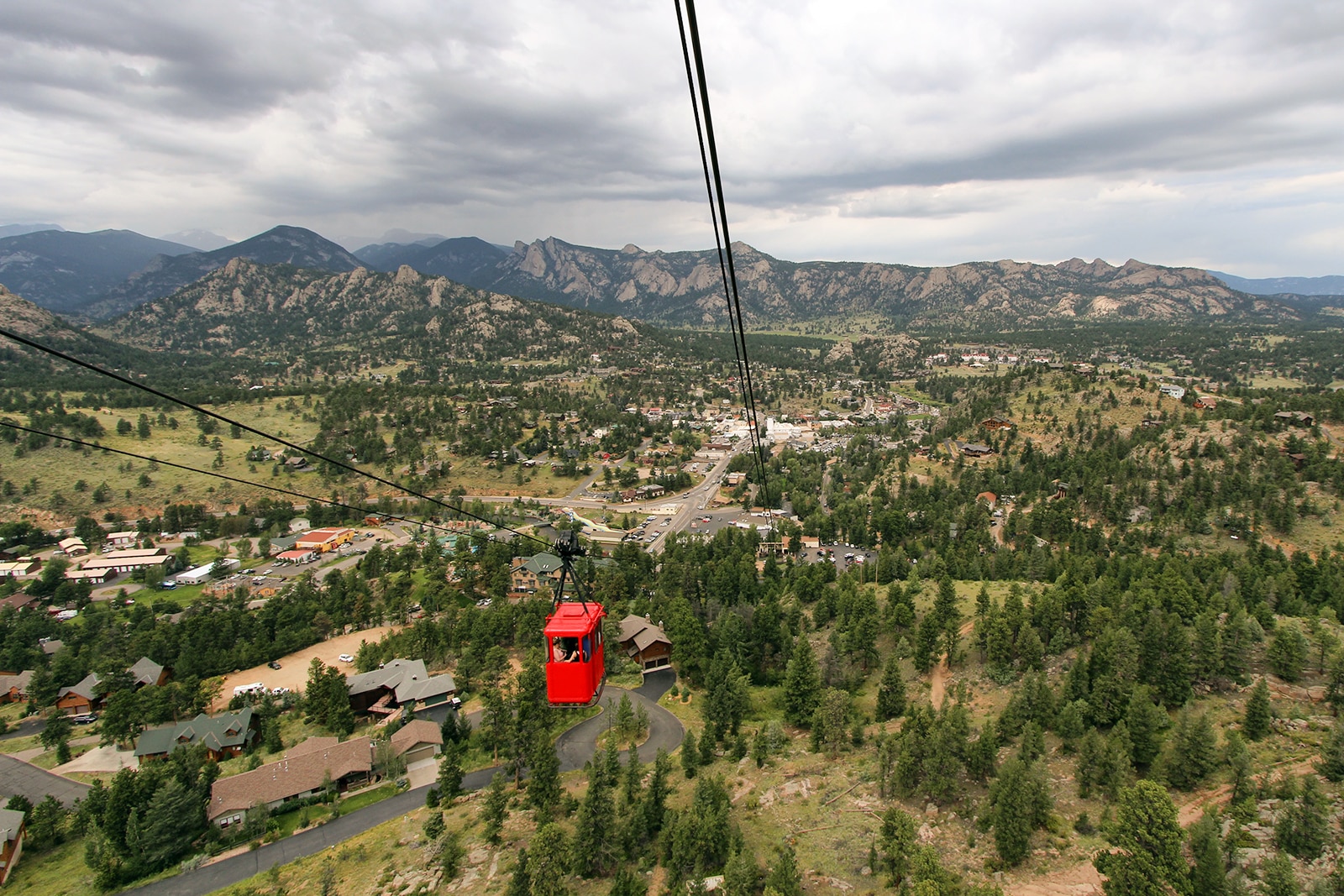 Riding the Estes Park Aerial Tramway, you'll take in awe-inspiring views of Longs Peak, Rocky Mountain National Park, and the Continental Divide. The cable car flies you 1,100 vertical feet up to the top of Prospect Mountain where you can walk around and enjoy the incredible scenery from every angle.
At the top, you can visit the gift shop and café or look through the binoculars at the observation deck. Handy tip: For shorter queues and better light for photos, go early in the morning or late in the afternoon.
Location: 420 E Riverside Dr, Estes Park, CO 80517, USA
Open: Daily from 9 am to 6 pm
Phone: +1 970-475-4094
photo by Kyla Duhamel (CC BY 2.0) modified
8
Rock Cut Brewing Company
Taste local brews in a welcoming spot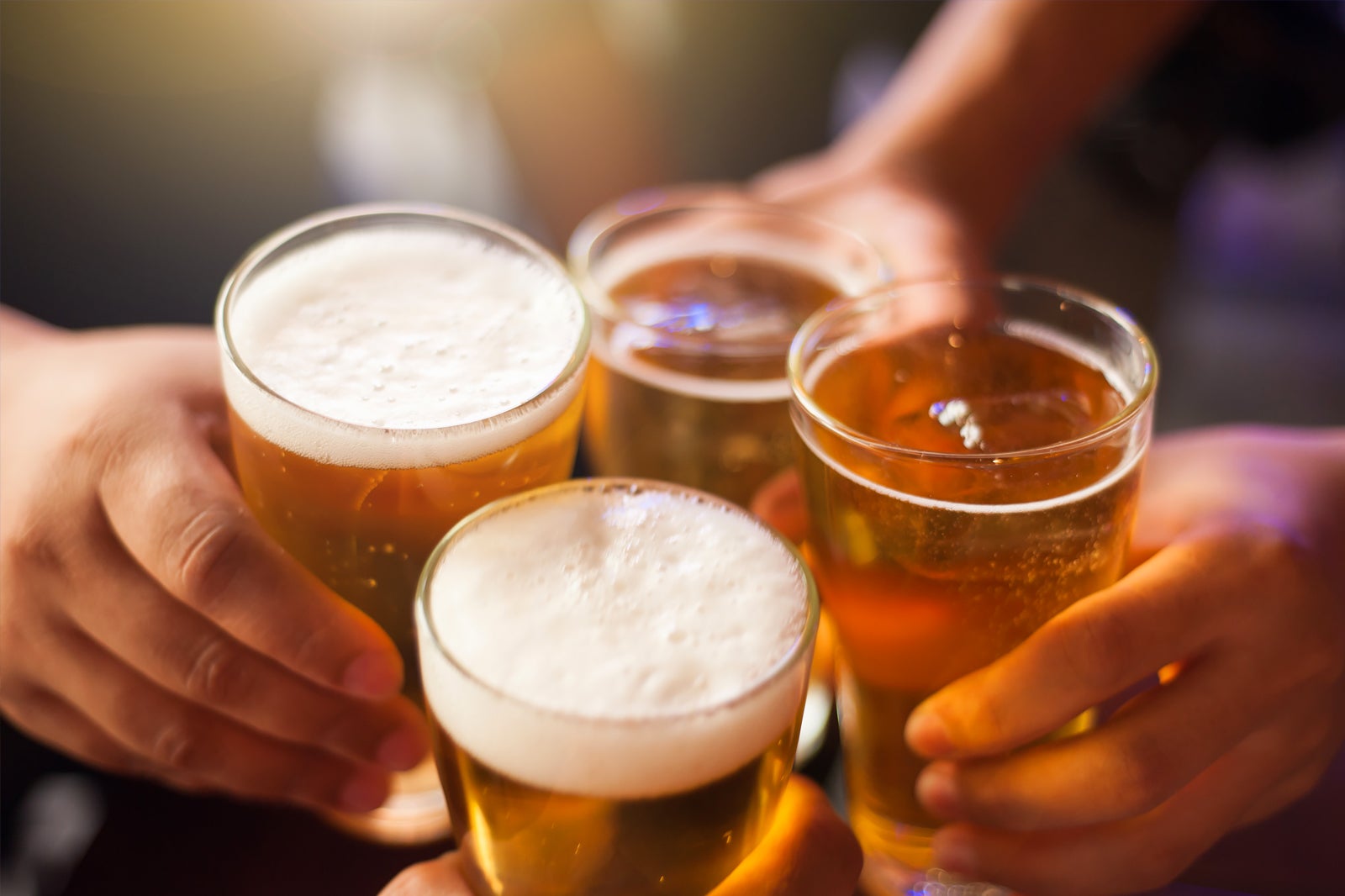 Rock Cut Brewing Company is where you can enjoy an ice-cold beer in a relaxing setting – a lovely way to cap off a day of outdoor adventures in Estes Park. If you're thirsty for local suds, take a seat at the bar where you can choose from a full beer menu of ales, lagers, IPAs, and more.
The microbrewery's location in downtown Estes Park, right next to the aerial tramway entrance and alongside the river, means you can sip your drink while observing elk and the changing colours of a Colorado sunset.
Location: 390 W Riverside Dr, Estes Park, CO 80517, USA
Open: Monday–Thursday from noon to 8 pm, Friday from noon to 9 pm, Satur-day from 11 am to 9 pm, Sunday from 11 am to 8 pm
Phone: +1 970-586-7300
9
Historic Park Theatre
Catch a film at a vintage theatre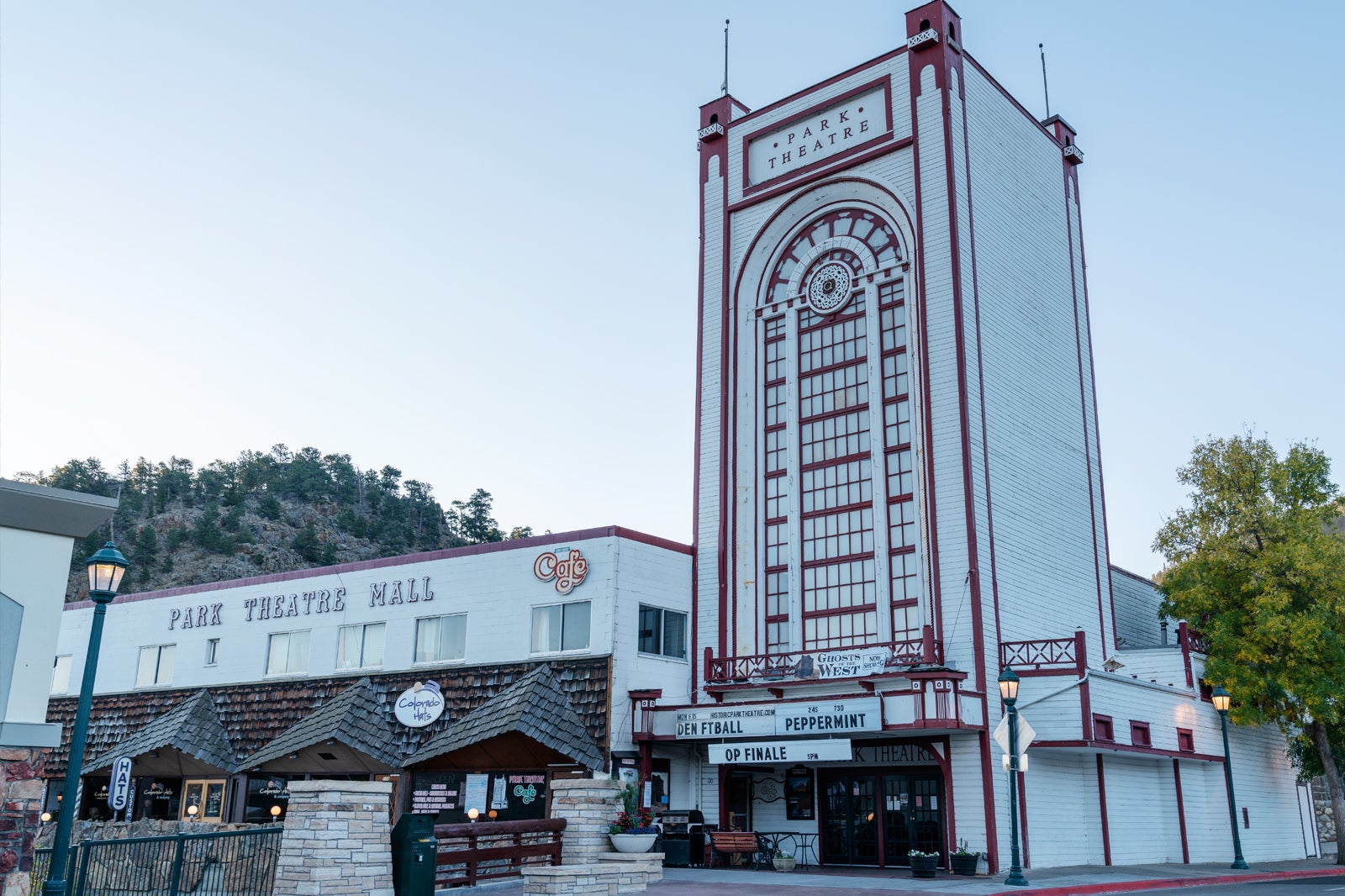 Historic Park Theatre in Estes Park was built in 1913 and is the oldest operating cinema in the western United States. At this renovated historical attraction, you can watch film classics, independent films, documentaries, as well as first-run blockbusters.
Fortunately, the sound system is modern and features Dolby-3D surround systems. You can grab snacks and drinks from the on-site café. At certain times of the year, the theatre hosts performances from local bands and artists. Be sure to plan accordingly because tickets to popular shows often sell out quickly.
Location: 130 Moraine Ave, Estes Park, CO 80517, USA
Phone: +1 970-586-8904
photo by Tony Webster (CC BY-SA 2.0) modified
10
Estes Park Museum
Home to a collection of over 25,000 historical objects
Estes Park Museum is where you can discover the history of Estes Park and the surrounding area, just 5-minutes drive from downtown. The comprehensive community museum features interesting exhibits about the first Native American inhabitants, the founding of the town, pioneer artefacts, the formation of the mountains, historic natural disasters and local wildlife.
In the main galley, you can sit under the stars and listen to recorded tales, or step outside and visit the historical 1908 Cobb-Macdonald cabin. Admission to the museum is free.
Location: 200 4th St, Estes Park, CO 80517, USA
Open: Wednesday–Saturday from 10 am to 4 pm
Phone: +1 970-586-6256
Back to top