10 Best Things to Do in Istanbul
What is Istanbul Most Famous For?
Istanbul has a timeless charm that owes much to its rich history. The city was historically referred to as Byzantium and Constantinople. It served as a focal point of several ancient empires. Numerous architectural wonders, remnants of these empires, still stand tall in the heart of the city. These include the Hagia Sophia, which stood the tests of time and continues to invite awe with its display of dazzling mosaics.
Besides Istanbul's historical sites, you can find modern skyscrapers and malls. There are cool spots in and around the city to escape to, some of which offer breathtaking views over the city and the Bosporus Strait. Read on for more ideas on things to do in Istanbul, to help you discover the best of this alluring Turkish city and cultural melting pot.
What are the best things to do in Istanbul?
1
Start the day at Sultanahmet Square
The heart of Istanbul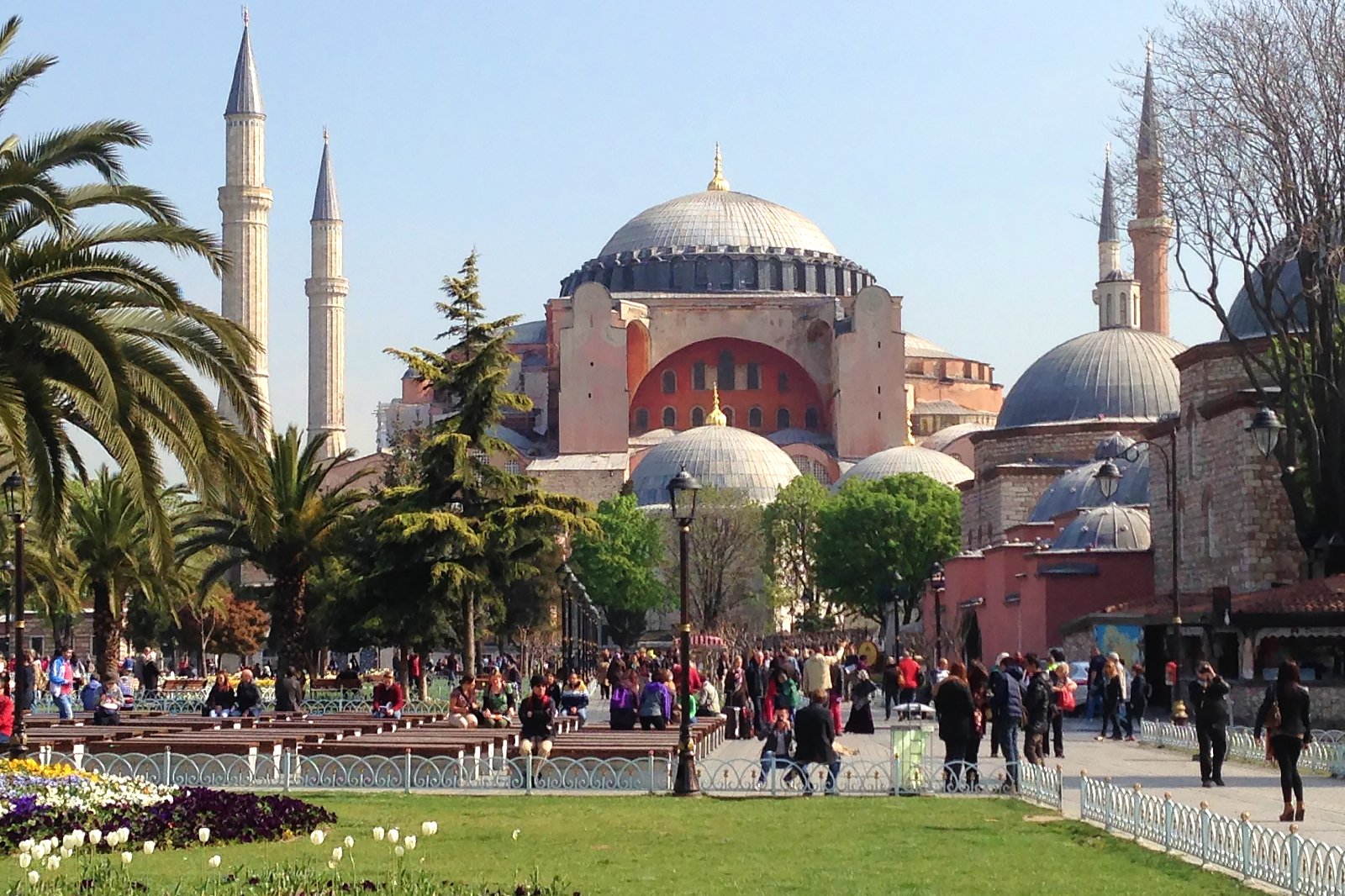 As Istanbul's historical hub, the Sultanahmet Square puts you right in the centre of the city's most prominent and historical attractions. To be at the centre of it all, it is recommended you book your accommodation in the Sultanahmet neighbourhood. Obelisks and fountains adorn the park, and the square has remnants of an ancient hippodrome. From here you can easily view 2 of the city's grandest landmarks to its north and south. These are the Hagia Sophia, a famous 6th-century mosque that is now a museum, and the namesake Sultanahmet Mosque, which is also fondly referred to as the Blue Mosque.
Location: Binbirdirek Mh., Sultan Ahmet Parkı No:2, 34122 Fatih/Istanbul, Turkey
2
Shop at the Grand Bazaar
Istanbul's main marketplace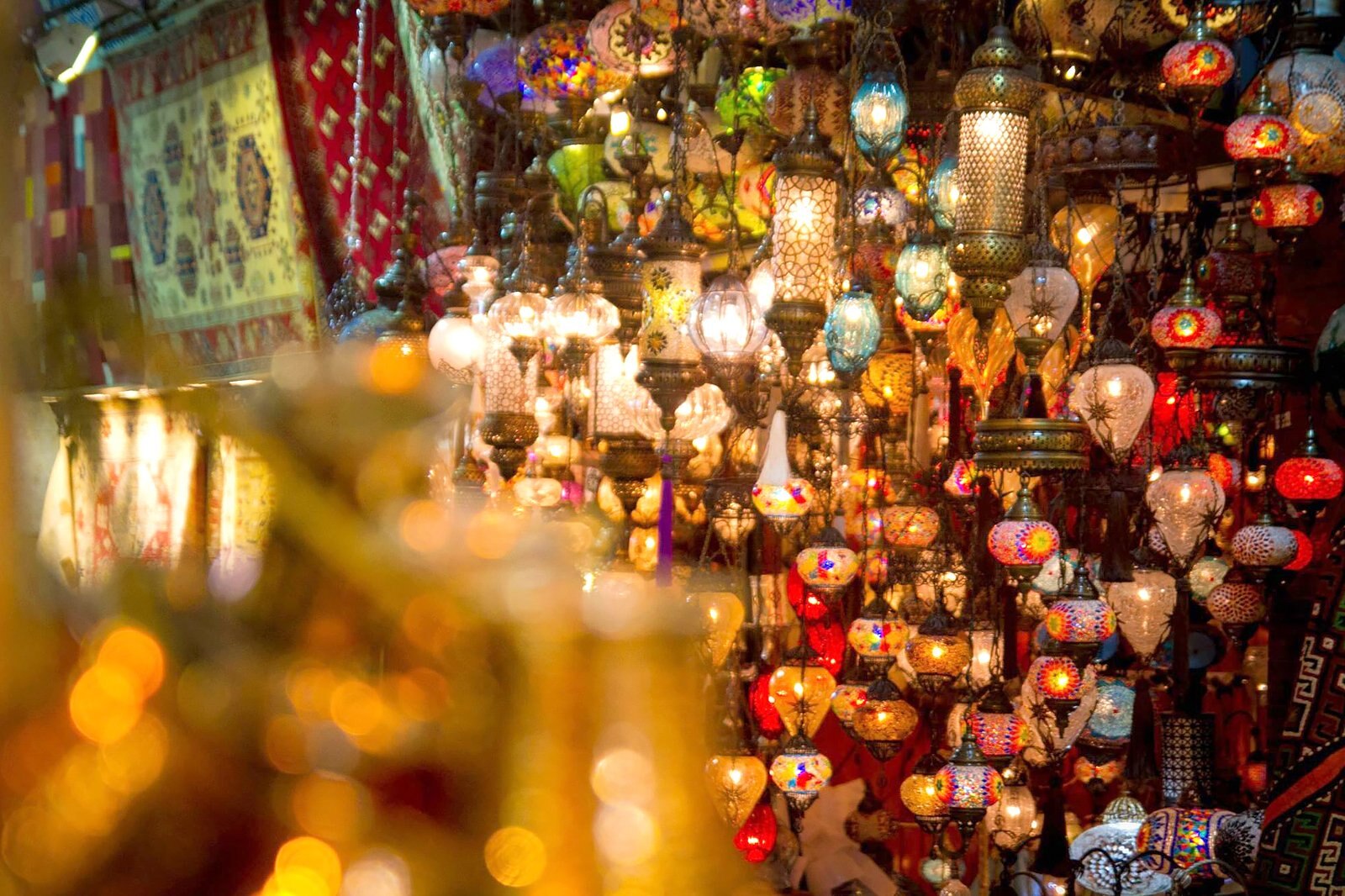 Istanbul borders the narrow Bosporus Strait where the waters of the Black Sea meet the inland Sea of Marmara. It was historically a main point of arrival for trade ships. You can wander the cramped alleys of the covered Grand Bazaar to see the city's colourful commercial activities alive and kicking. This huge market comprises a network of indoor souks (smaller marketplaces) and lanes lined with peddlers. They sell everything from carpets and leather items to jewellery and trinkets, including the typically sought-after nazar evil eye ornaments.
Location: Beyazıt Mh., 34126 Fatih/Istanbul, Turkey
Open: Monday – Saturday from 9 am to 7 pm, closed on Sundays
Phone: +90 (0)212 519 12 48
3
Take in panoramas from Çamlıca Hill
It's one of Istanbul's best viewpoints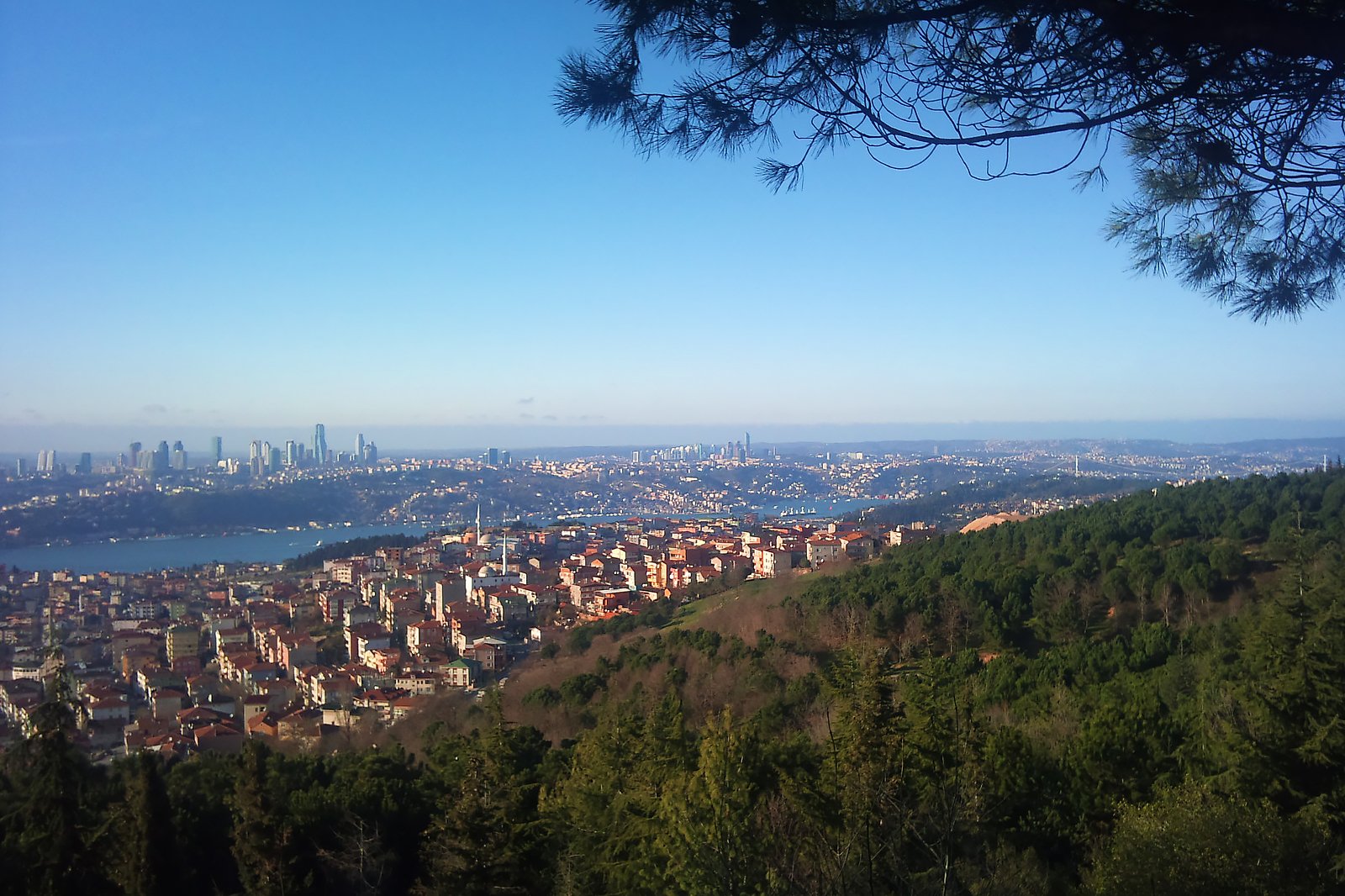 If you're looking for a great view of Istanbul, head up to Çamlıca Hill. It's one of Istanbul's highest hills and offers breathtaking skylines over the city. You can find a café at the peak as well as a park that makes for a cool resting spot to take in the memorable sights. You can view both the Asian and European sides of Istanbul with its tall buildings, and the outlines of the Bosporus strait and its bridge. From the city centre, it's around a half-hour drive across the bridge and up the hill. But you can also book a hotel in the Uskudar district to be near.
Location: Kısıklı Mahallesi, Çamlıca Tepesi, 34692 Üsküdar/İstanbul, Turkey
photo by toyancyazgan (CC BY 2.0) modified
4
Walk the Theodosian Walls
Stroll along ancient fortifications surrounding Istanbul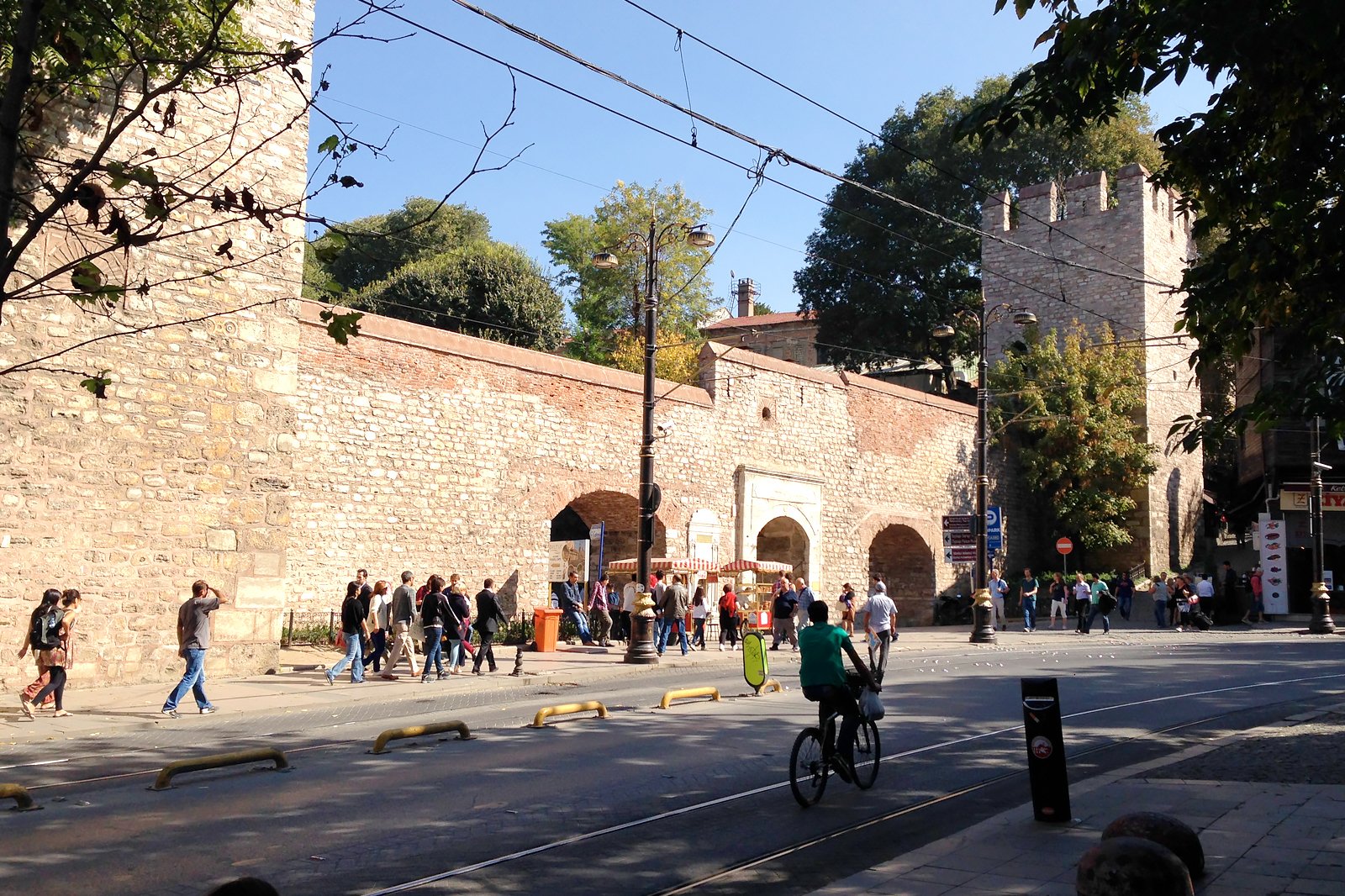 The Walls of Constantinople is a historical landmark in Istanbul that also goes by different names, such as the Theodosian Walls, the Istanbul City Walls, and the Historic walls of Topkapi. These are a series of stonewalled fortifications that have surrounded Istanbul since its founding as Constantinople by Constantine the Great. You can still see pretty much of these medieval borders with most of its sections and towers intact. The walls are surrounded by parks with spaces where your kids can play.
Location: Topkapı, 34093 Fatih/Istanbul, Turkey
Phone: +90 (0)212 512 04 80
photo by Freedom's Falcon (CC BY-SA 3.0) modified
5
Try different kebabs
Meaty Turkish treats to savour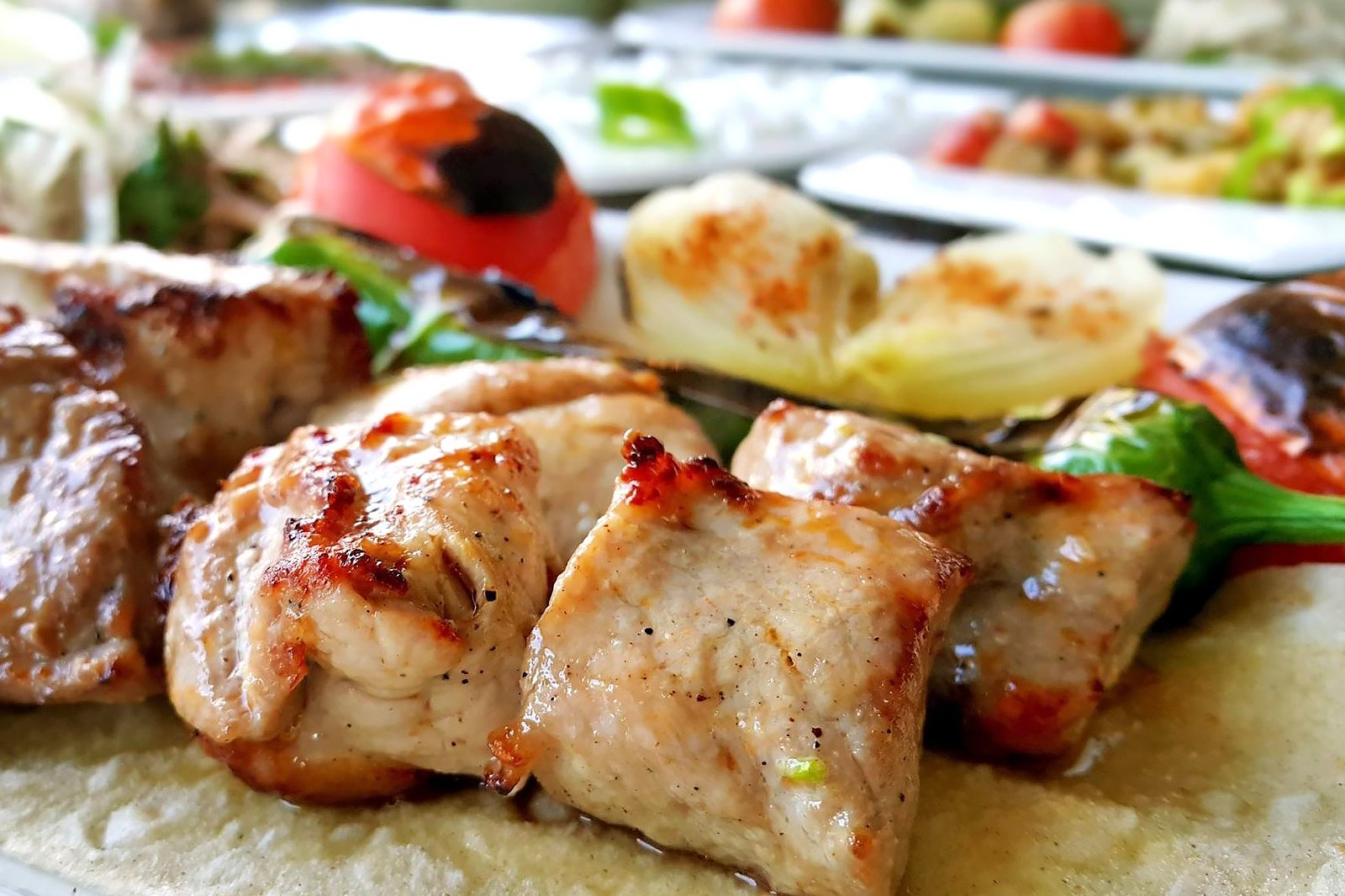 If you're a meat lover, Istanbul has great traditional treats to offer, especially its world-famous traditional kebabs. This typical Turkish dish comes in a huge variety of styles and flavours. These can range from hand-minced, ground and sautéed, tomato and onion-flavoured, or kebabs marinated in a rich blend of spices. Most kebabs are typically cooked on a giant skewer then sliced to portion, but others aren't. There are plenty of kebab restaurants around the city – simply follow your nose to those with smoking grills along the city's backstreets and choose your spot.
6
Must-See: the Hagia Sophia
An architectural wonder with mesmerising mosaics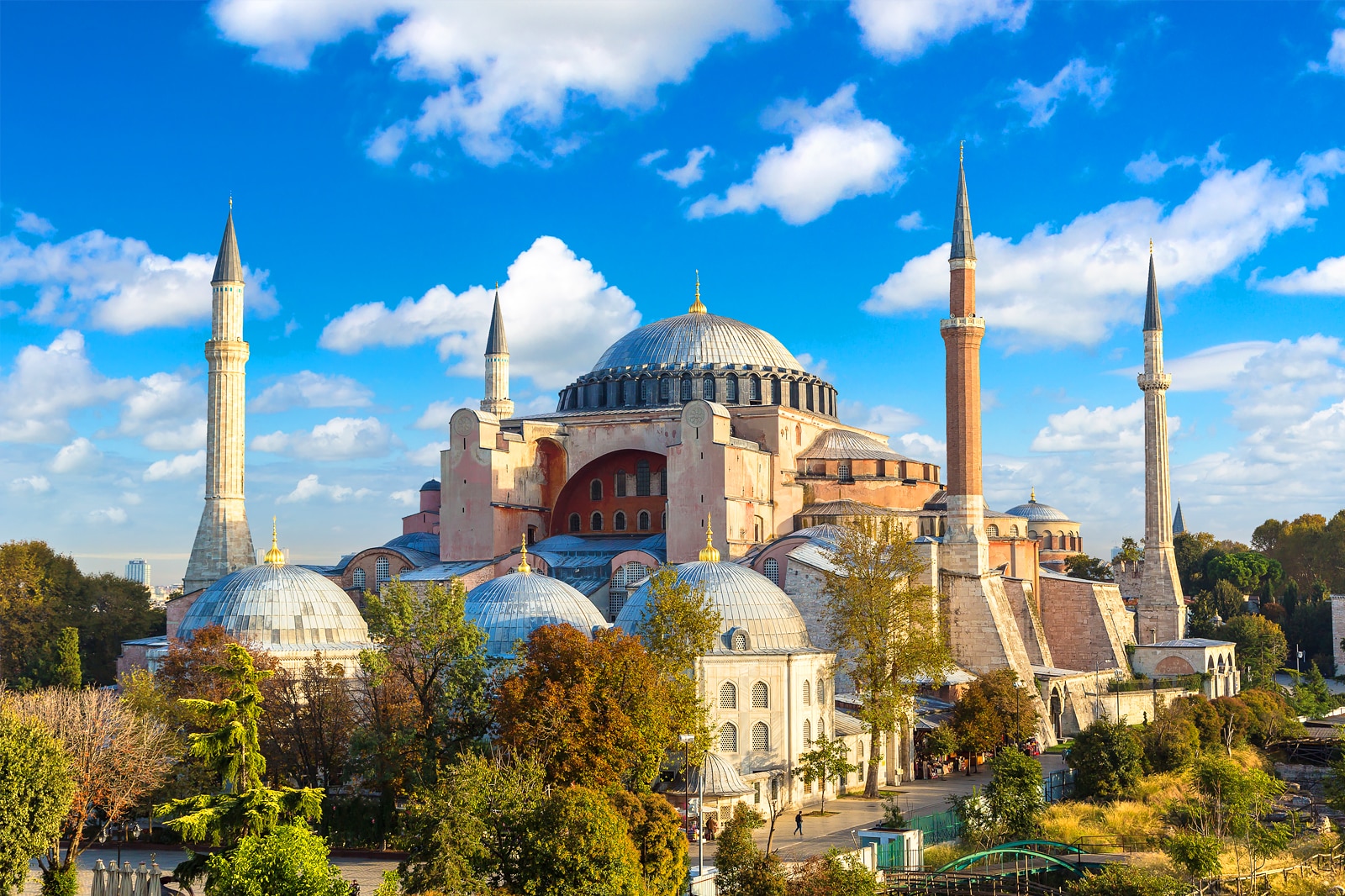 This is one of the magnificent landmarks in Istanbul's historical centre. The Hagia Sophia, whose name translates to "holy wisdom", was built by the East Roman Empire in the 6th century. It was then converted into a mosque and fortified following Mehmed the Conqueror's rule in 1453. You can admire this architectural wonder's marbled structure, as well as its dreamy interiors. It features calligraphic panels and bronze lamps, and most of its walls are covered in beautiful mosaics made of gold, silver, and colourful stones.
Location: Sultan Ahmet Mahallesi, Ayasofya Meydanı, 34122 Fatih/Istanbul, Turkey
Open: Daily from 9 am to 5 pm (until 7 pm in summer)
Phone: +90 (0)212 522 17 50
7
Go for a hammam
Pampering, Turkish style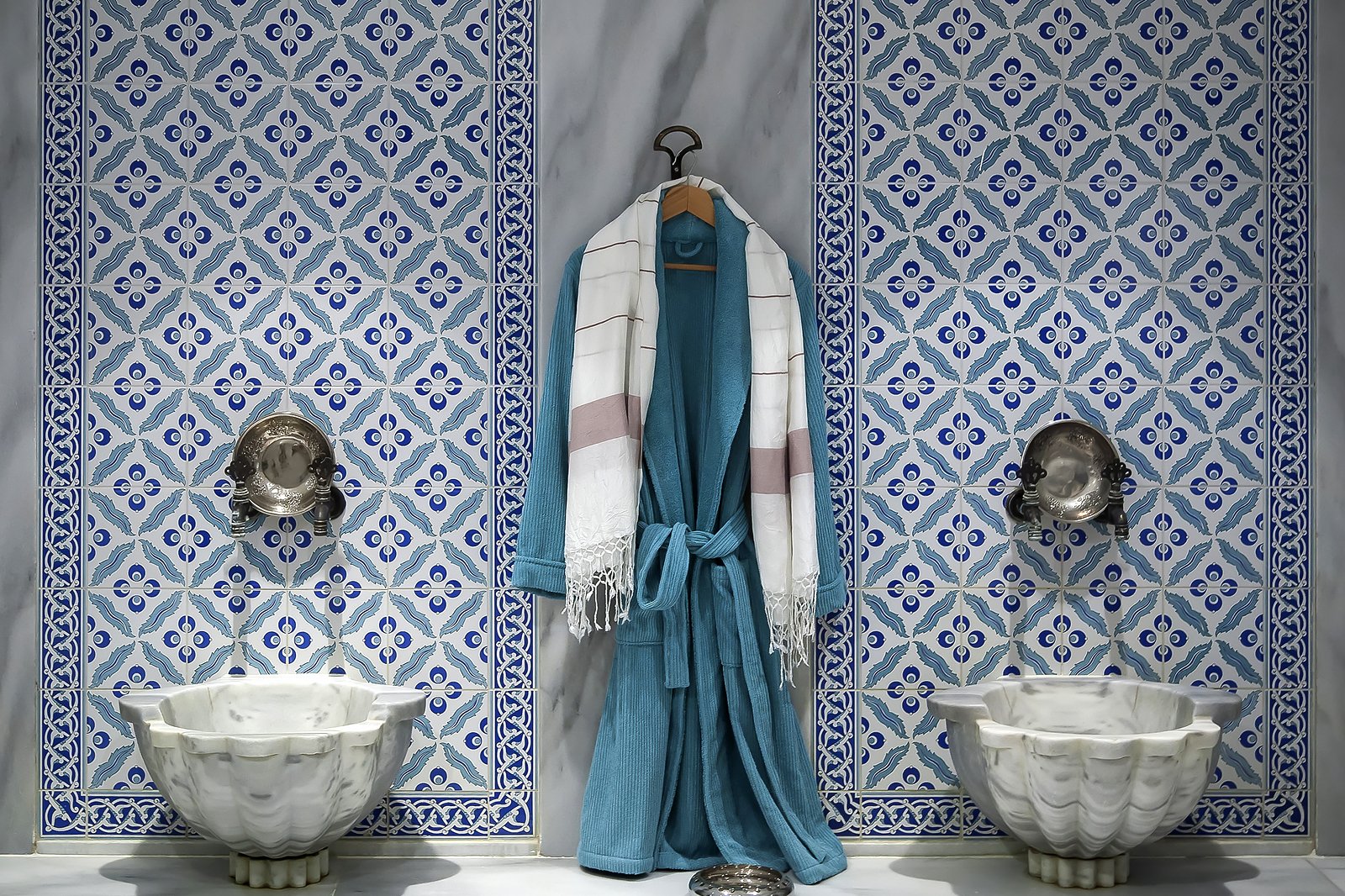 This is often a must-do on travellers' lists to Turkey. Hammams in Istanbul come in various price ranges, but all typically feature a sauna, a steam, a full body wash, and massage. Istanbul has lots of hammams around the city, each offering the traditional Turkish bath and centuries-old spa experience. More modern hammams incorporate contemporary spa elements such as aromatherapy and use of essential oils. Prominent hammams include the Beyazit and Sulemaniye baths, and the Kilic Ali Pasha Hamam in Beyoğlu.
Location: Kılıç Ali Paşa Hamam, Kemankeş Karamustafa Paşa Mahallesi, Hamam Sk. No:1, 34425 Beyoğlu/Istanbul, Turkey
Open: Daily from 8 am to 11.30 pm
Phone: +90 (0)212 393 80 10
8
Boat out to the Maiden's Tower
A scenic lighthouse in the Bosporus Strait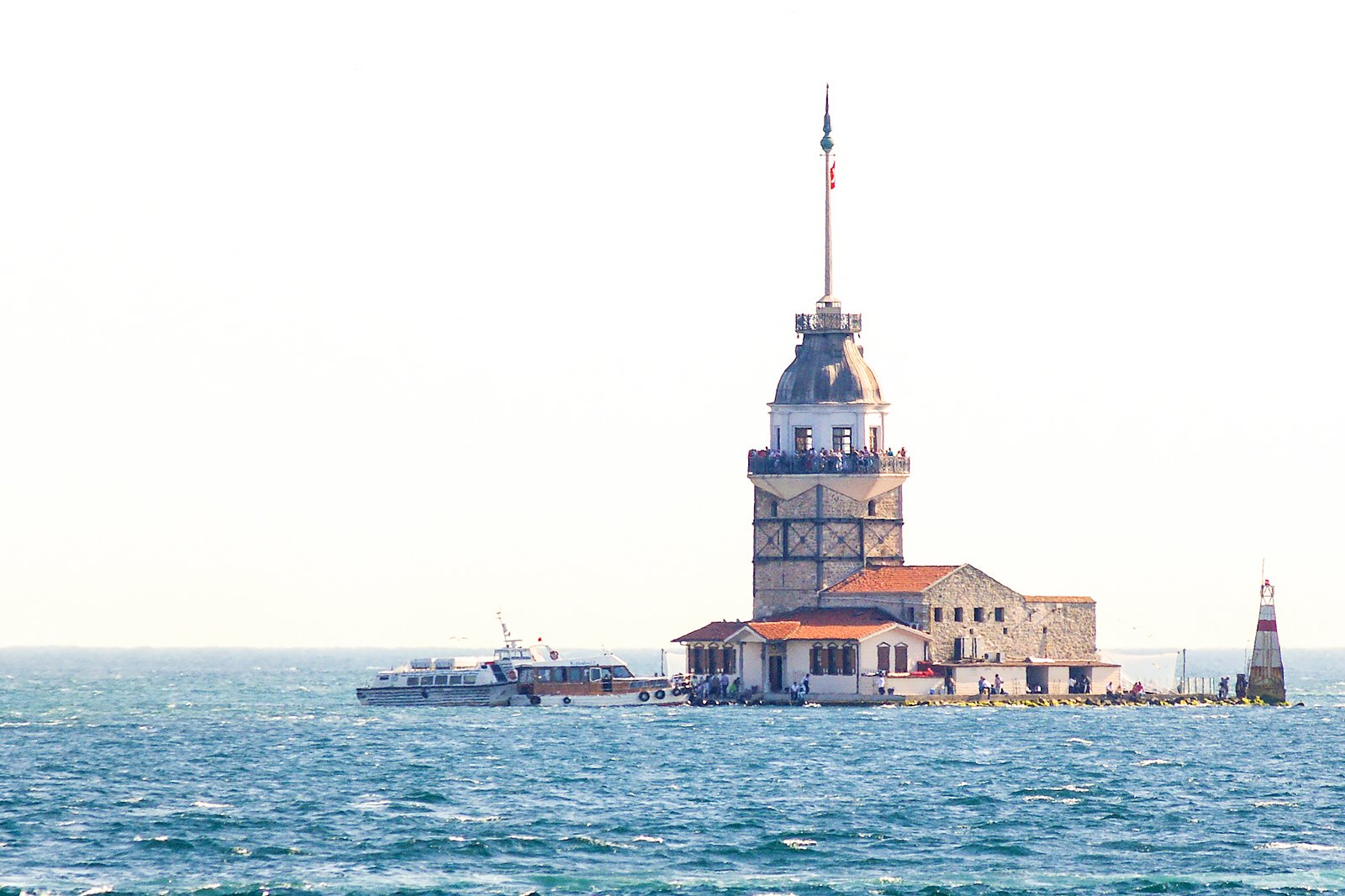 This lighthouse sits on top of a tiny islet in the Bosporus Strait, which you can reach on a 15-minute boat ride from the docks in Üsküdar. It dates to the 12th century and is steeped in a mix of legends, particularly of a princess who met her tragic fate, hence its moniker. Climb up to the top floor of the lighthouse, and you can enjoy a hot cup of coffee or tea at the rooftop café with amazing views of both the European and Asian sides of Istanbul.
Location: Salacak Mahallesi, Üsküdar Salacak Mevkii, 34668 Üsküdar/Istanbul, Turkey
Open: Daily from 9.15 am to 6.45 pm (Saturdays and Sundays also from 8.15 pm to 12.30 am)
Phone: +90 (0)216 342 47 47
photo by CherryX (CC BY-SA 3.0) modified
9
Watch dances at Hodjapasha Cultural Center
See whirling dervishes in a 15th-century bath house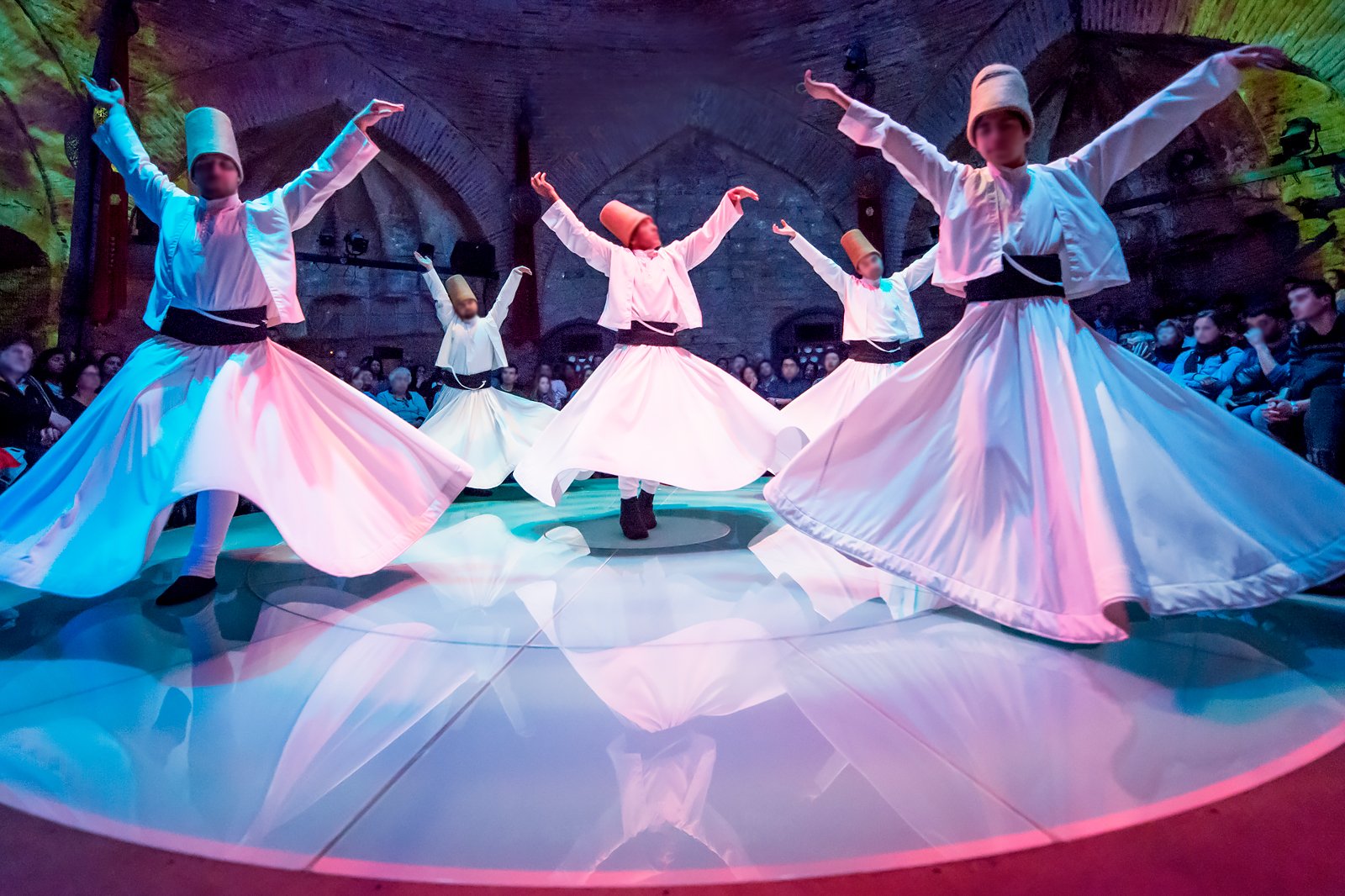 For a taste of Turkey's tradition in performing arts, you can head down to this cultural centre that's near Istanbul's magnificent central landmarks, such as the Hagia Sophia and the Topkapi Palace. The Hodjapasha Cultural Center is housed in a former 15th-century hammam, yet now features strikingly decorated interiors under its high dome ceiling, where vibrant dance performances regularly take place. Among the mystifying dances are the famous whirling dervishes, which is a mystical ritual of the Mevlevi Order, usually accompanied by Rumi poems.
Location: Hoca Paşa Mahallesi, Ankara Caddesi, Hocapaşa Hamamı Sokak 3/B, 34110 Sirkeci/Fatih/Istanbul, Turkey
Open: Whirling dervishes usually start at 7 pm
Phone: +90 (0)212 511 46 26
photo by Kemal.kubbe (CC BY-SA 4.0) modified
10
End the day on a pub crawl in Galata
Discover Istanbul's cool bar scenes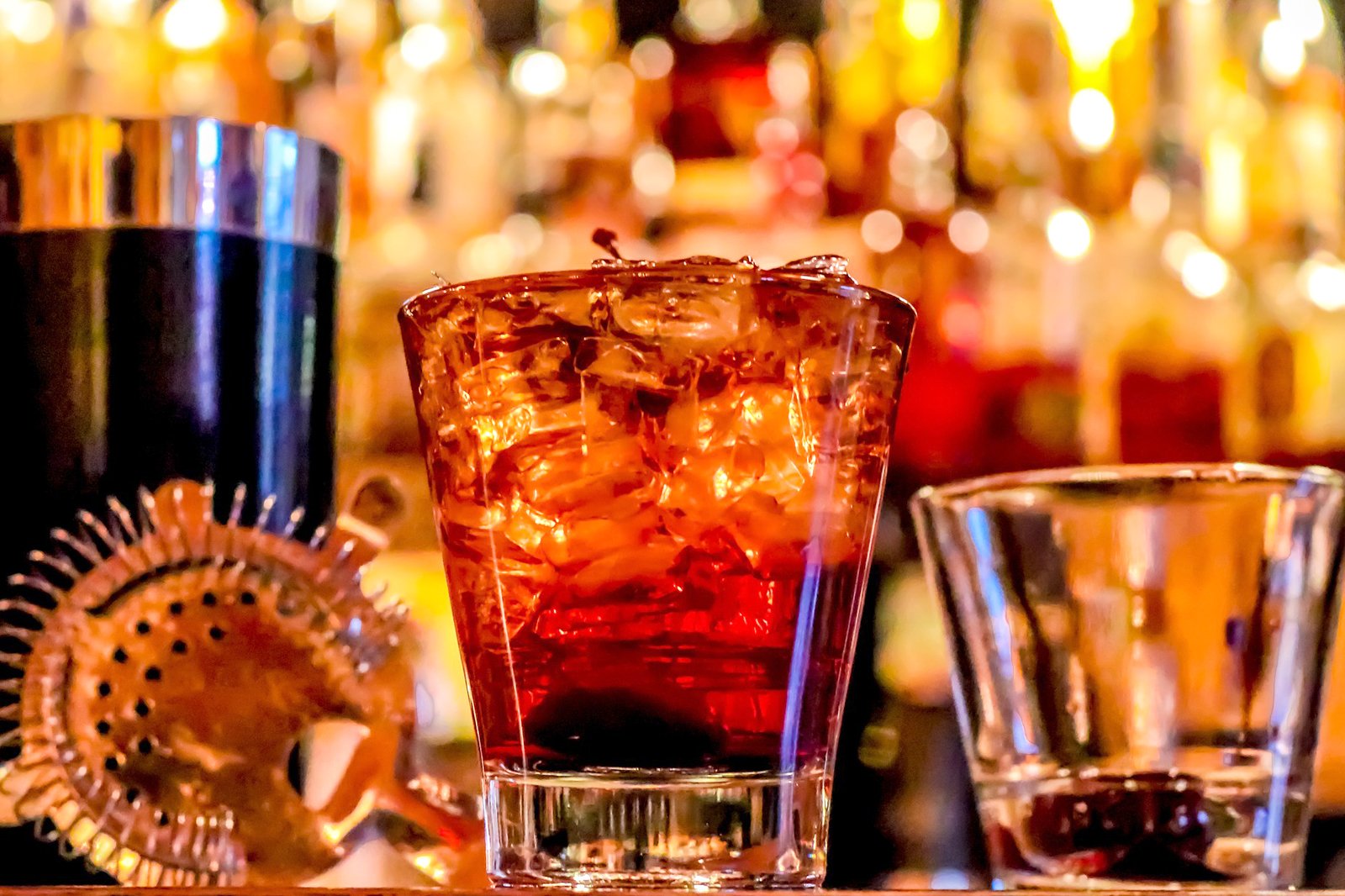 There are a few fun ways to enjoy Istanbul by night, and one of them is by joining a pub crawl. Istanbul's popular pub crawl regularly kicks off from The Tower Pub, where you can gather with new friends and hop from one bar to another, ending up at a club where you can party into the wee hours. Besides flowing drinks and cocktails, you'll also enjoy games as well as fun challenges to complete. It's just across the river from the city centre, so you may want to choose a hotel in the neighbourhood of Galata.
Location: The Tower Pub, Bereketzade Mahallesi, Galata Kulesi Sk. 4/1, 34000 Beyoğlu/Istanbul, Turkey
Open: Friday – Saturday from 9.30 pm to 5 am
Phone: +90 (0)554 805 96 05
Back to top