8 Family Things to Do in Antalya
Fun Places in Antalya to Take Your Kids
Family holidays to Antalya are all about lazy days by the pool, action-packed fun at the theme parks and seeking awesome adventures in the great outdoors. With its year-round sunshine, award-winning beaches and world-class hotels, it's no wonder that families return to this stunning resort on Turkey's Mediterranean Coast time and time again.
If you're a first-timer to Antalya and you're starting to plan the ultimate getaway, we'll help you get the ball rolling. Here's our pick of the best family things to do in Antalya, for little kids and big kids alike (we're looking at you, dad!).
1
Sandland
The ultimate sand-sculpting festival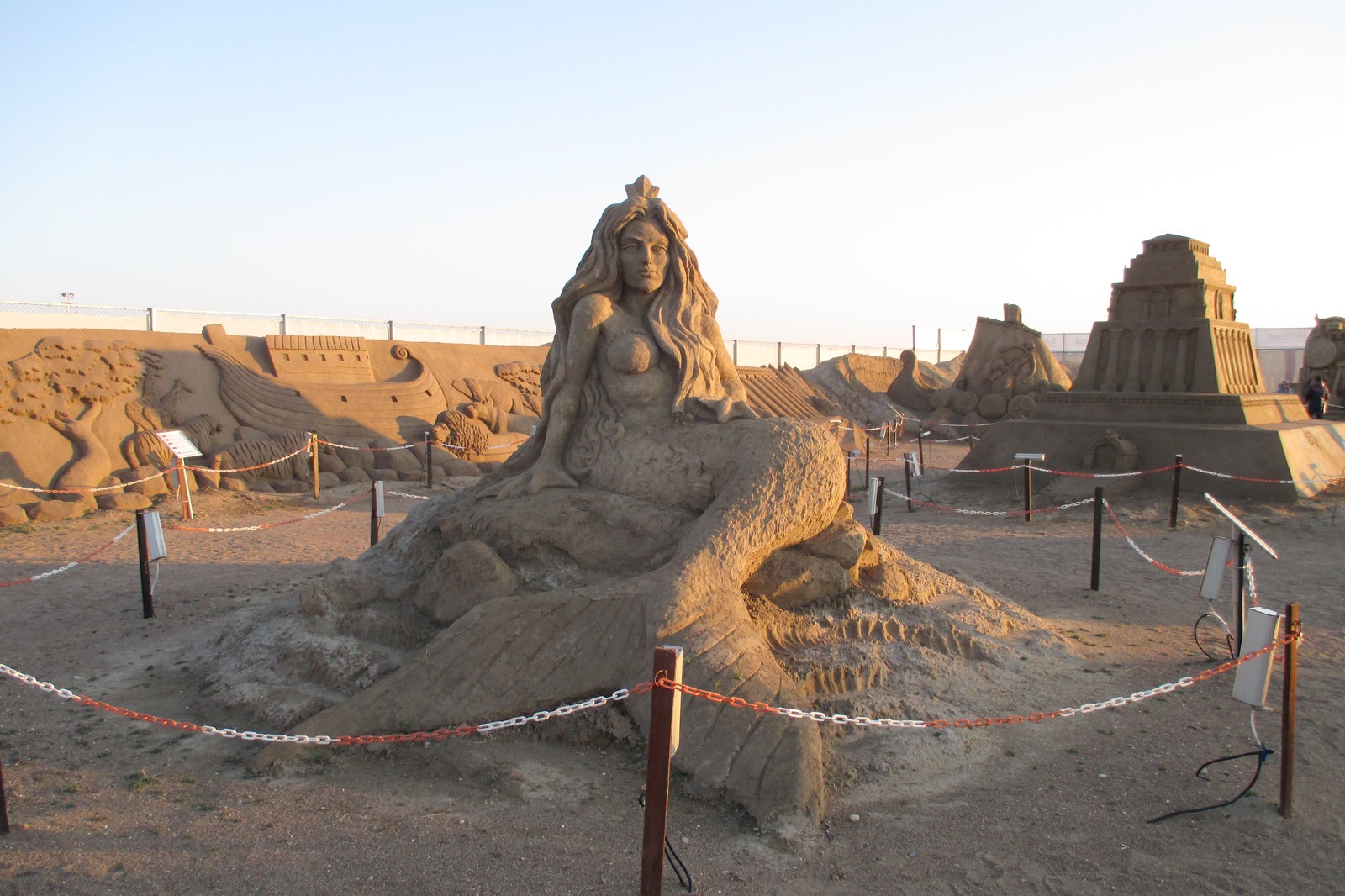 For an experience that's truly unique, take the whole family along for an unforgettable visit to Sandland, one of the leading sand sculpture events in the world. Sandland (or the Antalya Sand Sculpture Museum) sees specialist sand sculptors from all over the world gather to build the most magnificent, intricate and mind-blowingly creative sculptures, using only water and sand. And tonnes of it, for that matter.
What takes the creators 3 weeks of intense labour, stands the test of time and will remain for visitors to enjoy for months to come. There's a different theme each year, such as 'Legends' or 'Empires', so it can end up being just as educational as it is fun.
Location: Sandland, Guzeloba Mahallesi Lara Caddesi Lara Birlik Halk Plajı, 07230 Muratpaşa/Antalya, Turkey
Open: Daily from 9 am to 7 pm (open until 11 pm from May–October)
Phone: +90 (0)242 349 11 55
photo by Dat doris (CC BY-SA 4.0) modified
2
Antalya Toy Museum
Take a trip down memory lane
Step back in time and see how children's toys have changed over the centuries at the fascinating Antalya Toy Museum. It opened in 2011, but the museum already houses about 3,000 antique toys, some of which you can hold for yourself. The toys on display date as far back as the 1800s, right up to more modern times, with plenty of familiar characters that your little ones will recognise.
This isn't an attraction just for the kids to enjoy. Grown-ups will love it just as much as it'll take you on a trip down memory lane. How many of the toys will you remember from your childhood? Pop into the museum while exploring the Kaleiçi marina.
Location: Antalya Toy Museum, Selçuk Mahallesi, Yat Limanı Sok No:112, 07000 Muratpaşa/Antalya, Turkey
Open: Tuesday–Sunday from 9 am to 6 pm
Phone: +90 (0)242 248 49 33
3
Aktur Park
A funfair for all the family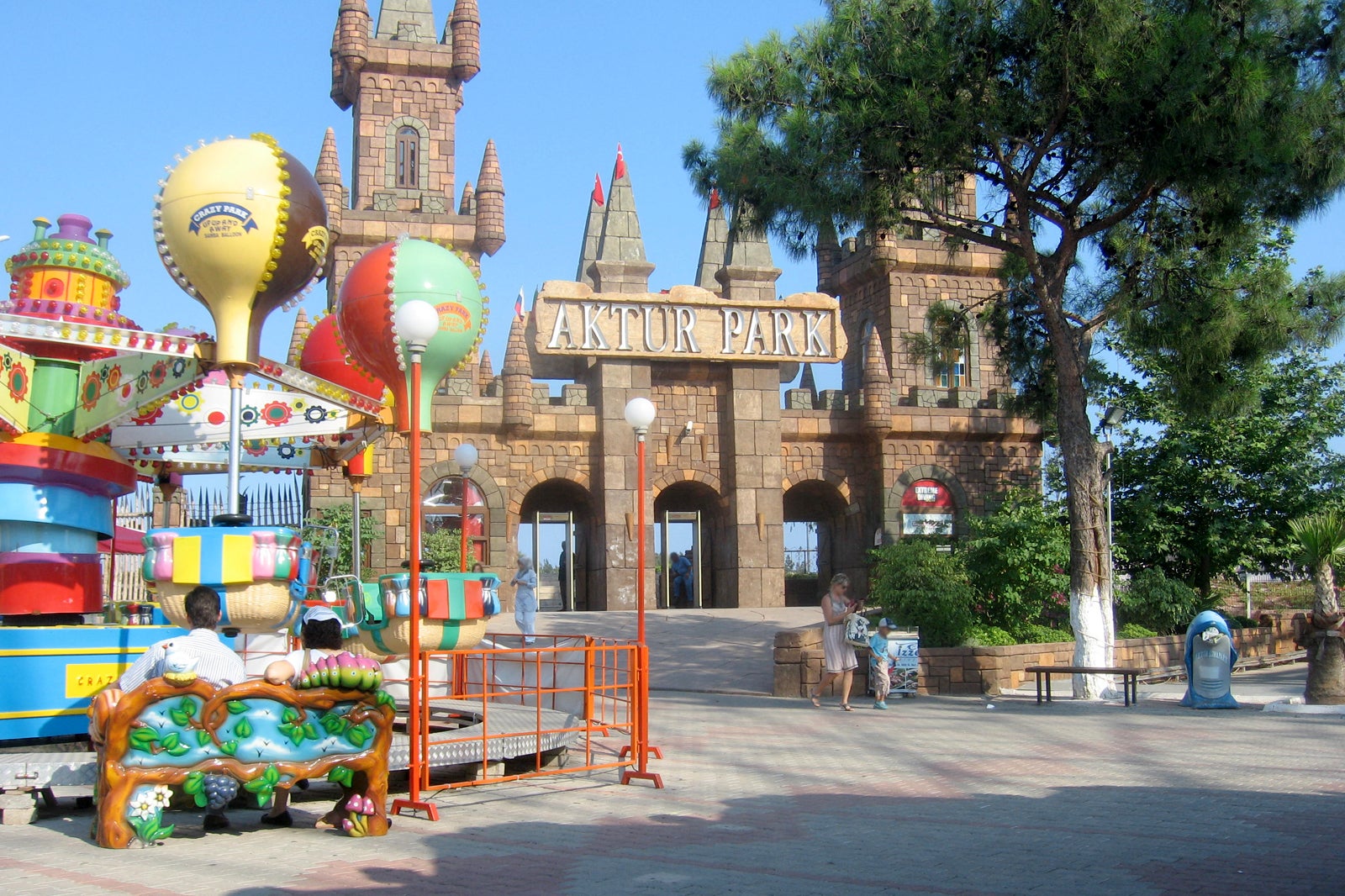 Experience the fun of the fair at Antalya's Aktur Park, a classic amusement park in the very heart of the city. The rides operate using a pre-paid card system, so once you arrive, load it up and away you go! There are a couple of high-adrenaline, twisting coasters and spinning rides that teenagers and adults will love, then plenty of smaller attractions for the whole family to enjoy, such as smaller coasters, bumper cars and the soaring Ferris wheel.
The park is located just across the road from the huge 5M Migros shopping mall, connected by a footbridge, so you can tie both places into one visit. The park isn't open during the day as it gets too hot, but it lights up and comes to life in the evenings.
Location: Aktur Park, Pınarbaşı Mahallesi, 07070 Konyaaltı/Antalya, Turkey
Open: Monday–Friday from 5 pm to midnight, Saturday–Sunday from 3 pm to midnight
Phone: +90 (0)242 229 19 84
photo by baloun (CC BY-SA 3.0) modified
4
Kursunlu Waterfalls
An area of stunning natural beauty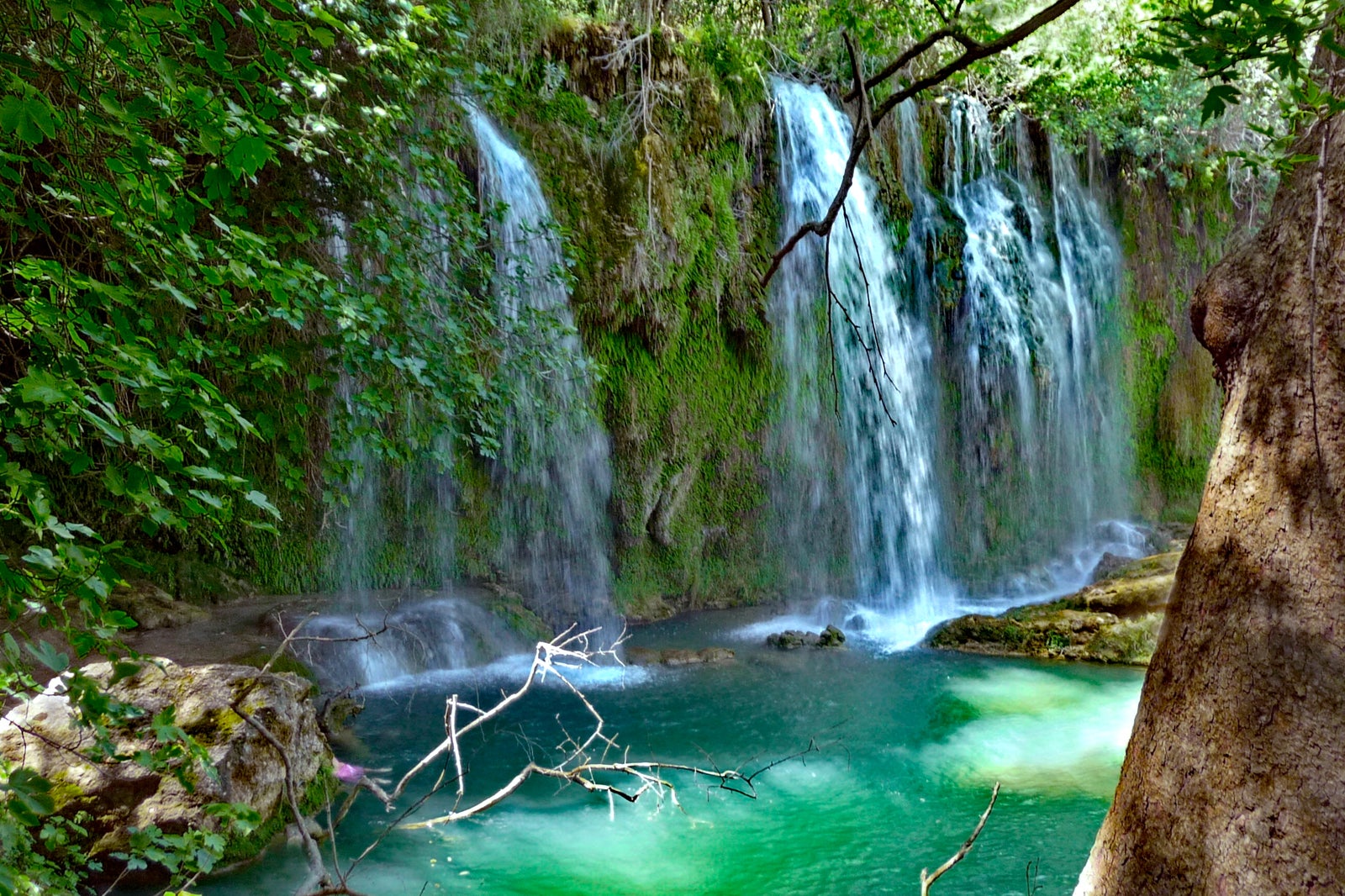 Let your kids' imaginations run wild as you discover the stunning natural wonder that is Kursunlu Waterfalls. Located just a short drive from the centre of Antalya, these idyllic falls are like something out of a fantasy world and showcase the breathtaking beauty of Turkey's varying landscapes.
Follow the trails through lush pine forests and along flowing rivers until you emerge at the waterfall, cascading from 18 metres high into various connecting pools. Here, you can find a tranquil place to enjoy a picnic and spot tortoises, crabs and fish in the water. You can hire a car and make your own way to the falls and a number of companies run day trips there to save you the hassle.
Location: Kursunlu Waterfall, Kursunlu Şelalesi, 07119 Aksu/Antalya, Turkey
Open: Daily from 8 am to 6.30 pm
Phone: +90 (0)242 433 22 18
photo by patano (CC BY-SA 3.0) modified
5
Lara Beach
A family-friendly Blue Flag beach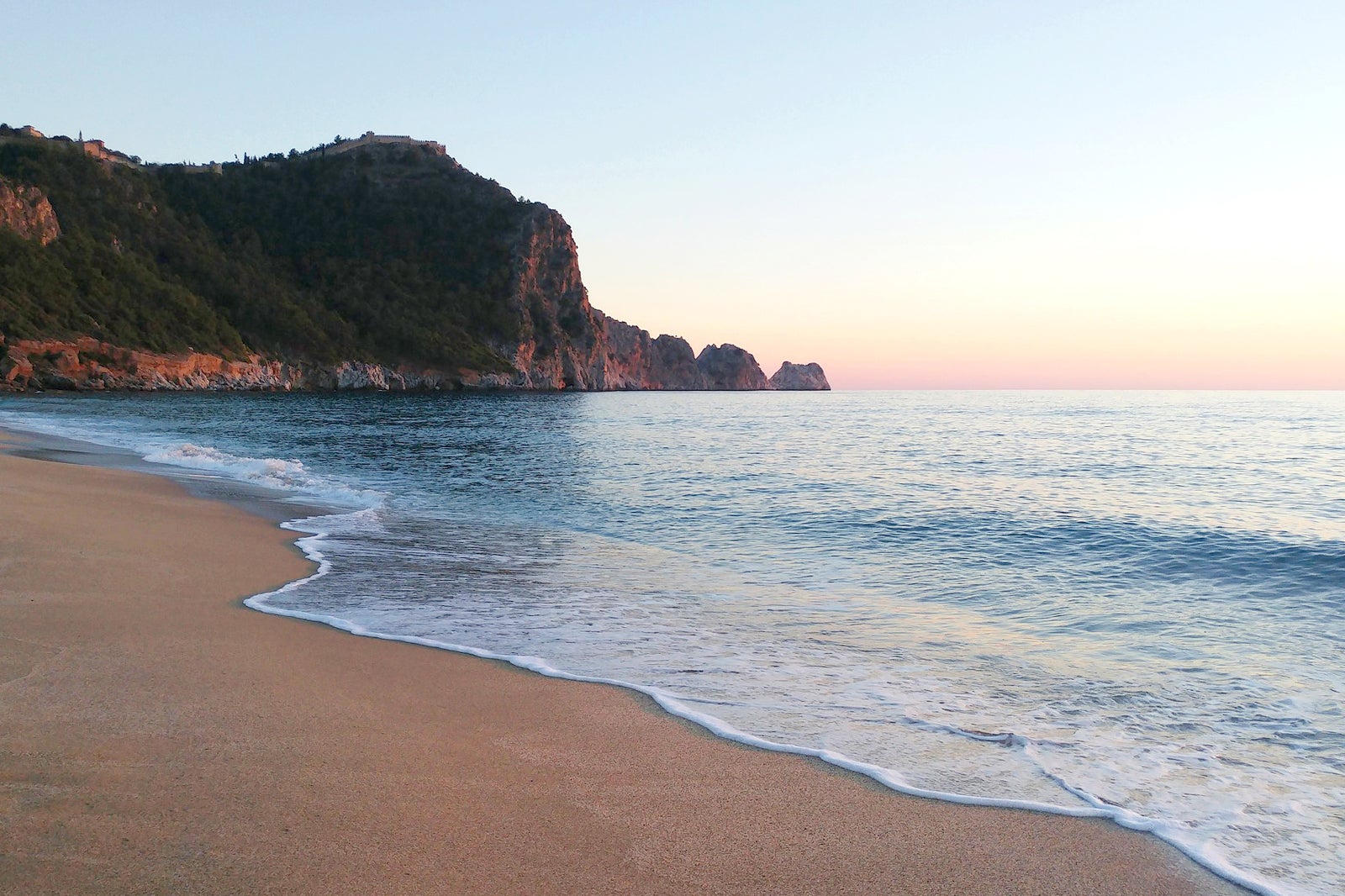 Located just to the east of Antalya is the bustling resort of Lara Beach, with its hugely popular beach that goes by the same name. Stretching along the coast for an impressive 12 km, the golden sands of Lara Beach provide the ideal setting to enjoy some quality time together on your family holiday.
Those with bigger kids might want to check out the variety of water sports available to try, while the younger ones can build sandcastles in the soft sand or paddle in the crystalline waters. The award-winning beach boasts Blue Flag status, so parents can rest assured that their little ones can enjoy playing in a clean and safe environment, with all the essential amenities close by.
6
Lycian Way
Where kids can get a taste for adventure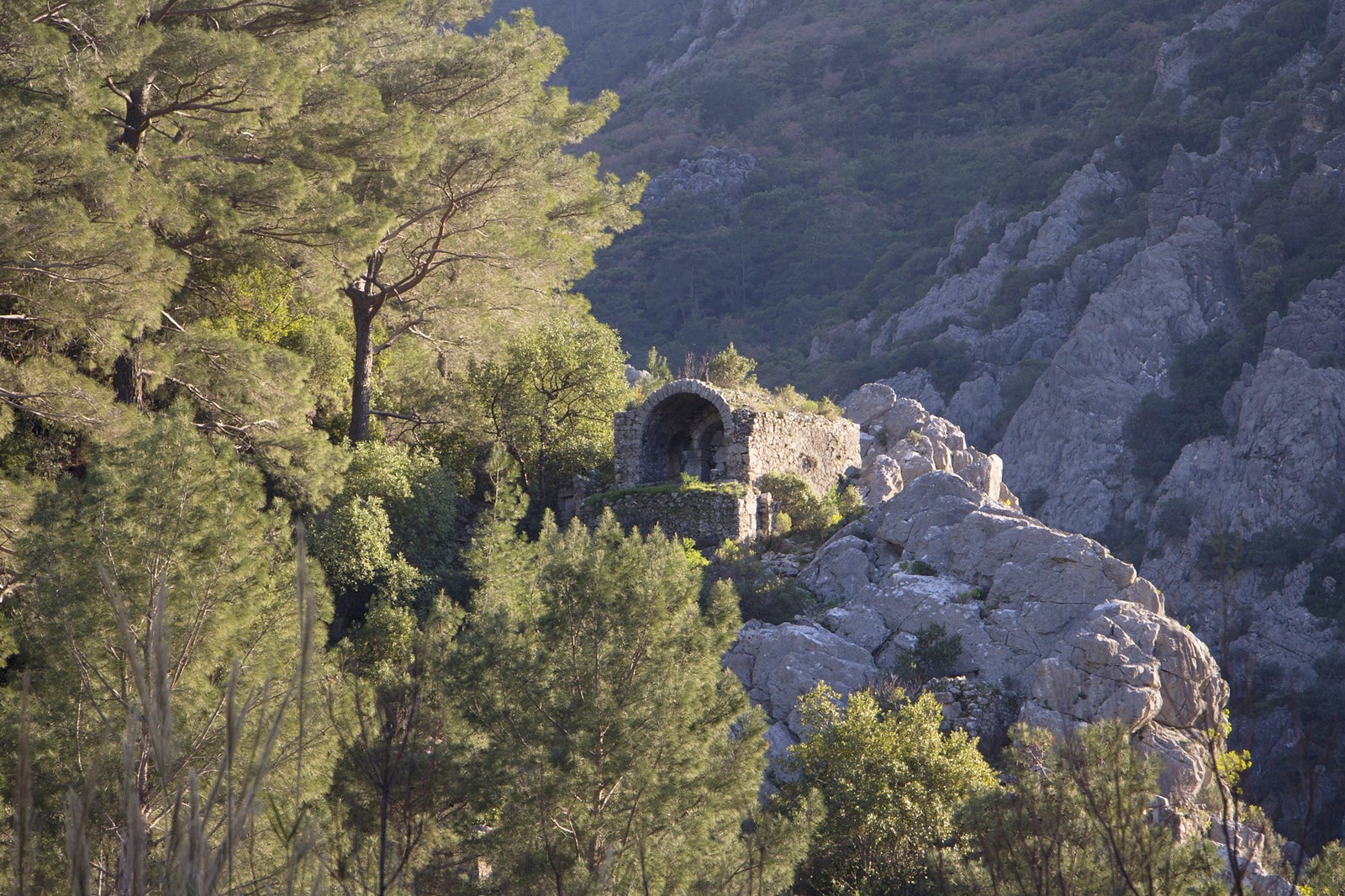 Famous for being one of the world's greatest long-distance trails, the Lycian Way runs for 540 km along the coast, from Antalya to Ölü Deniz. Of course, we don't expect you to take the kids – or even yourselves – the full distance, but you can certainly hire bikes for a few hours and enjoy an outdoor adventure together.
More suited to families with older or particularly active children, you'll need to pack plenty of water and sun cream before setting off to discover the magnificent scenery that the trail is known for. If you're keen to experience the Lycian Way but you aren't seasoned adventurers, there are plenty of mountain bike companies that offer guided tours along the coast.
7
Dondurma Dukkani
Fresh, natural and mouth-wateringly good ice cream
Dondurma Dukkani is a chain of Antalya ice cream parlours serving mouth-watering treats to children and adults of all ages. We all know how much kids crave ice cream when they're surrounded by sun, sea and sand. But surely they can't have it every day? Perhaps you can make an exception to the rule on this holiday, as all their ice cream is made using only fresh, seasonal fruits, natural flavours and locally sourced milk. It helps that it's super cheap, too.
Don't be put off if you see a queue forming out the door as the friendly staff are fast and efficient. Plus, queues can only be a sign of a great ice cream, right?
8
Stay at one of the best family-friendly hotels
Where family entertainment is at the forefront of everything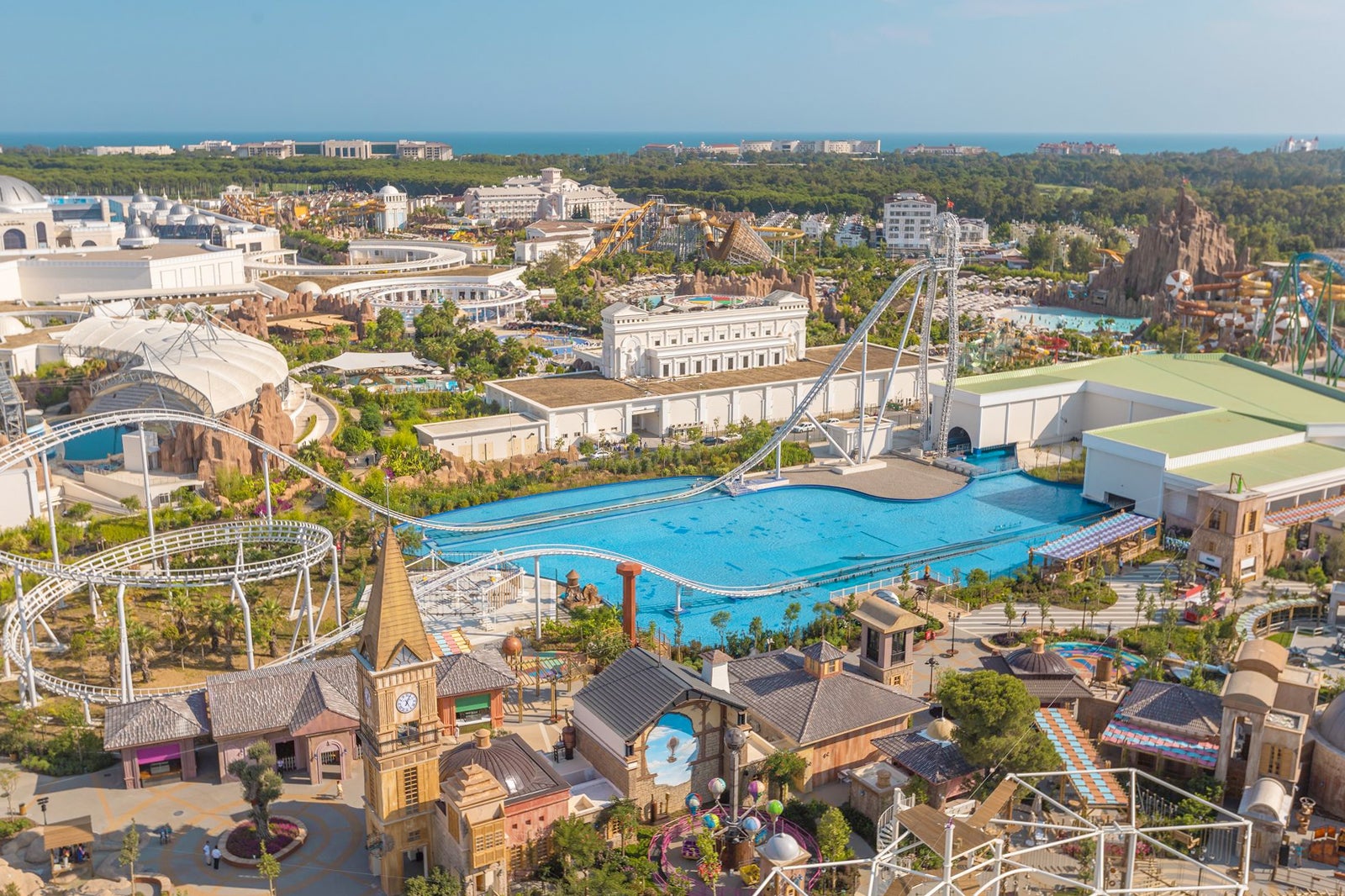 For a truly unforgettable holiday for you and the kids, you should be sure to stay in one of Antalya's fantastic family-friendly hotels. There's so much to see and do around Antalya, but staying somewhere that caters so well for children when you're not out and about can make all the difference to your overall enjoyment.
There are hotels close to the beach, some featuring pools and waterparks, and some with kids' clubs, mini-discos and childcare, too. Somewhere like the Land of Legends Kingdom Hotel, with its own on-site theme park, might be good for teenagers in need of non-stop entertainment. Those with younger kids might prefer beachfront hotels like Liberty Hotels Lara, with its on-site waterpark, or the luxurious Titanic Beach Lara Resort, where you can relax while the little ones are at the kids' club.
Back to top