9 Best Dining Experiences in Bodrum
Where to Eat Around the Bodrum Peninsula
Bodrum may be a coastal city, but seafood makes up just a small aspect of the local cuisine. From street food like kebabs and flatbreads to glistening grilled meats in rustic taverns, there's so much more Ottoman cuisine to explore. Though Turkish food is heavily meat-based, the various plant-based meze platters, soups and fresh salads available everywhere will satiate any vegetarian's hunger.
Tuck into traditional Turkish food in a modern restaurant, home-style food on an idyllic lemon farm, or exquisite dishes in an upscale establishment. Not to be missed are the humble but classic Turkish Mediterranean dishes like stuffed phyllo pastries and stuffed vegetables. Looking for a culinary adventure? Sink your teeth into this city with our list of best dining experiences in Bodrum.
1
Dine like a local in a meyhane
Experience traditional Turkish cuisine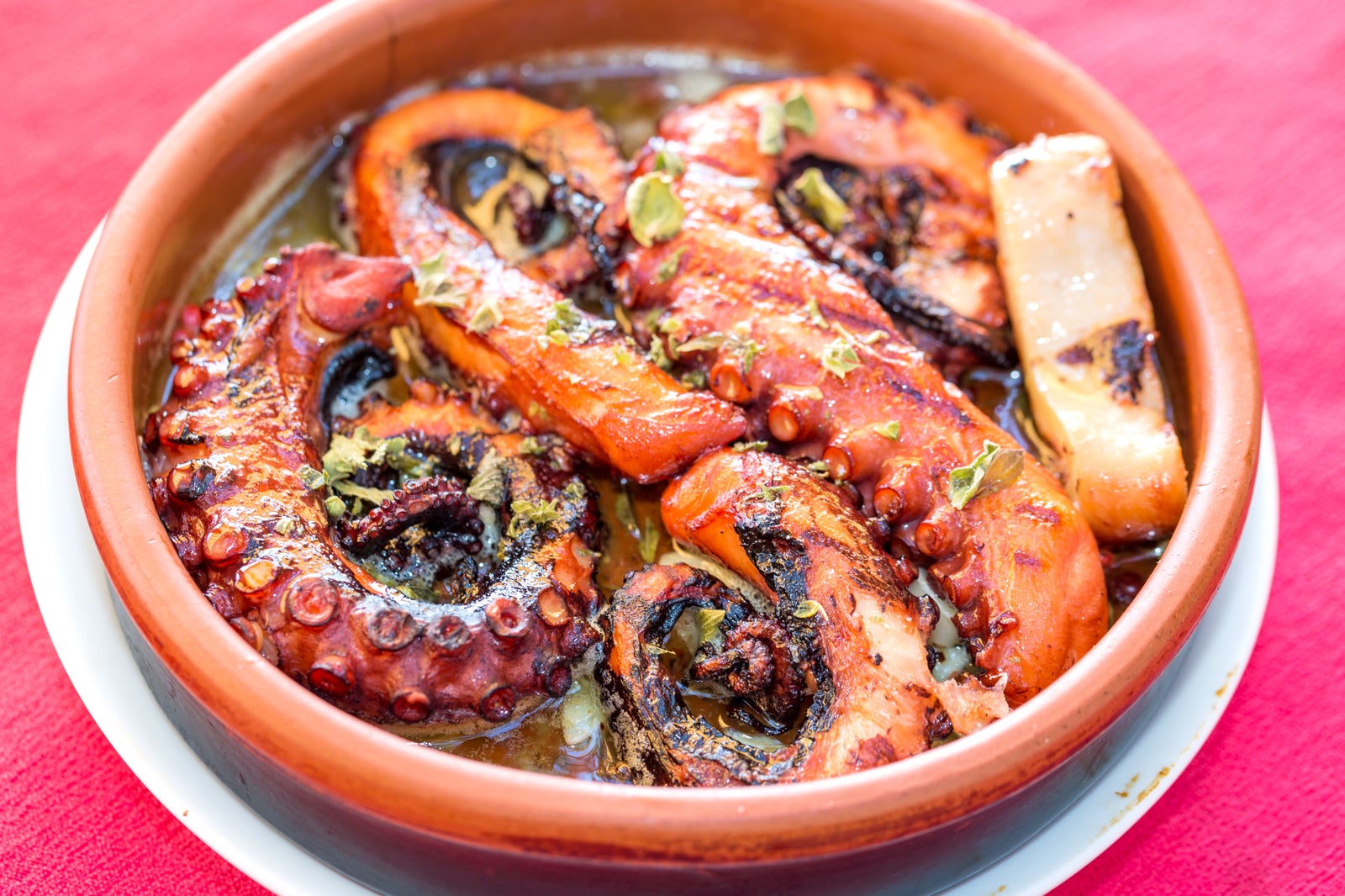 A meyhane is a traditional Turkish bar or restaurant. The experience of a meyhane is not to be missed as it involves picking from a large selection of hot and cold mezes and then popping to the fish market or butchers next door to select and buy your main course, which will then be taken to your chosen restaurant and cooked on the spot for you.
You'll find some mehyanes serving delicious grilled octopus, while other busy ones may offer a wider choice plus a lively and buzzing atmosphere with dance and live music on most days of the week.
2
Try börek and dolma
Important elements of Ottoman cuisine you can't miss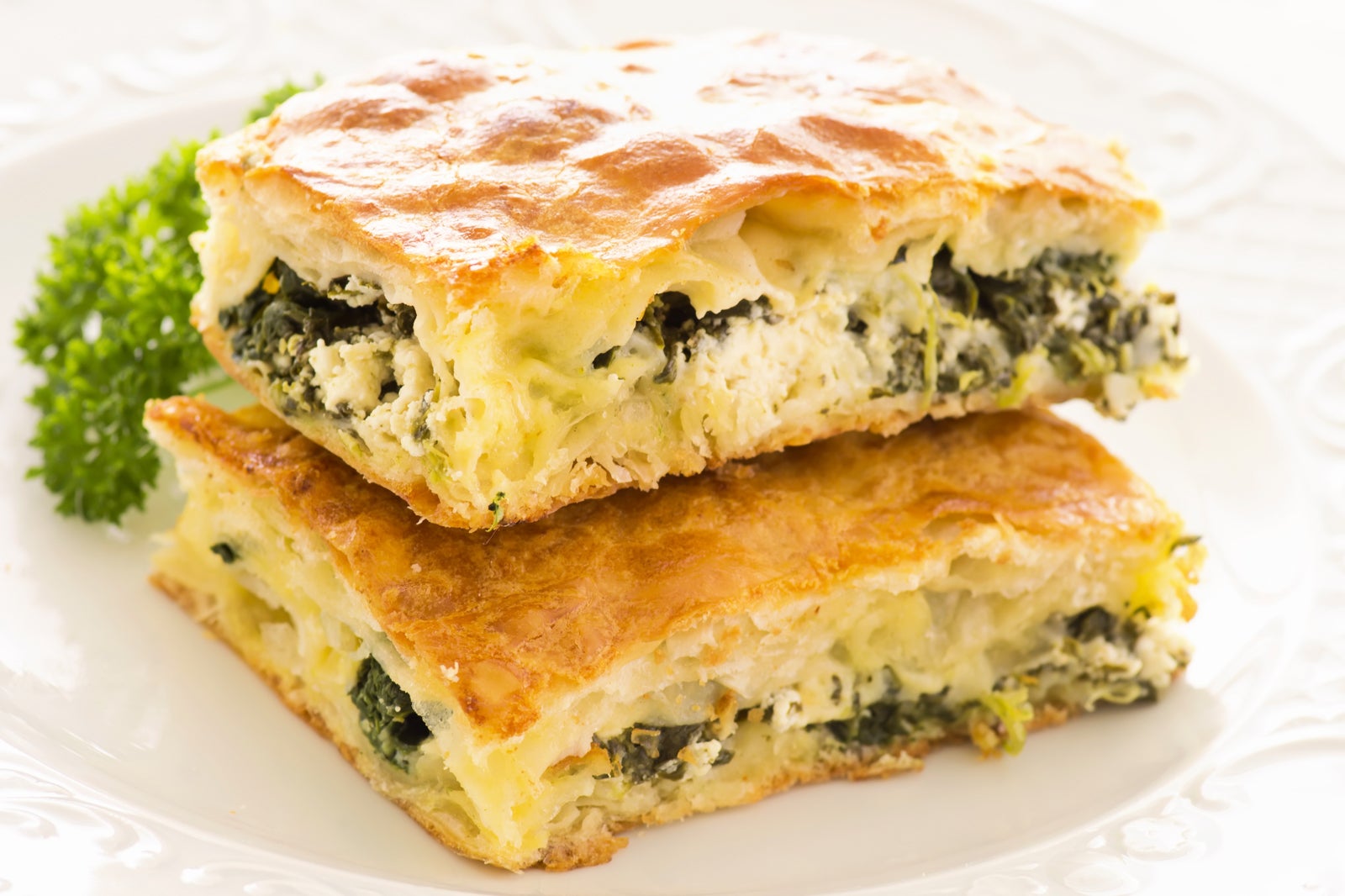 When in Bodrum, you ought to try some Turkish Med food. Had enough of seafood and grilled meats? Try börek and dolma. Börek is a family of baked phyllo pastries filled with spinach, cheese or meat. There's a wide variety of börek in Turkey, the most common being su böreği and sigara böreği. The first is similar to lasagna while the other is a cylindrical-shaped puff pastry filled with feta cheese, potato, and parsley.
Dolma is a family of stuffed vegetable dishes common in Mediterranean cuisine. The most common variants are vine leaves or cabbage stuffed with a flavourful mixture of herbed rice and meat, boiled or steamed to juicy perfection and served with a garlic-yoghurt sauce. Stuffed mussels, known as midye dolma, are also popular Turkish treats you should try.
3
Bodrum town
A central dining destination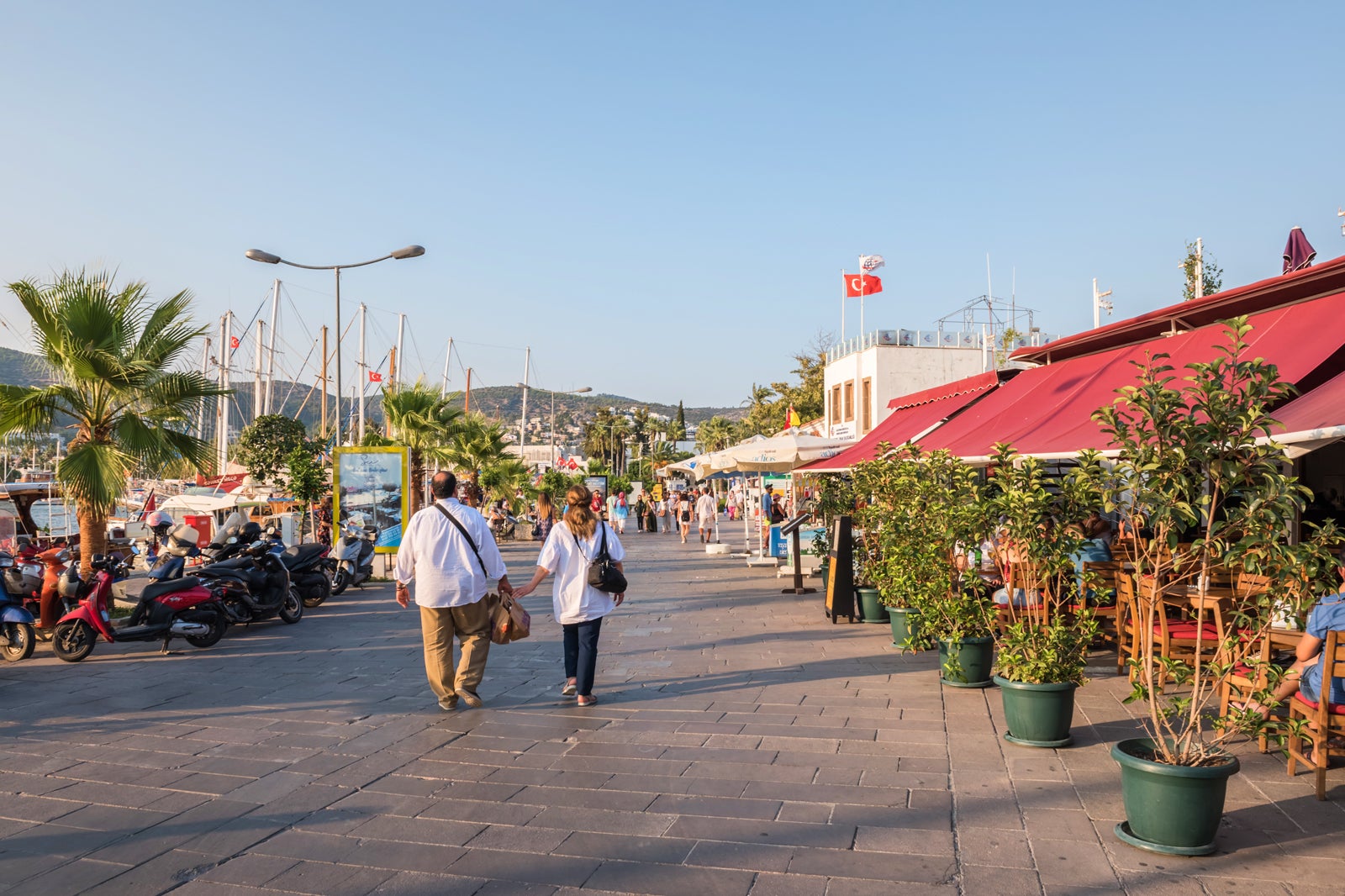 Bodrum is a unique town with much appeal as a place where visitors will find themselves entertained 24/7 by its activity and vibrancy. Cafés and restaurants serve a large variety of cosmopolitan 'international' fare as well as tasty Turkish kebabs and Chinese, Mexican, Indian or Thai specialities.
Many of the restaurants offer tavern-style entertainment with live music and belly dancers, but there are equally many spots to just sit back, sip your drink and enjoy the breathtaking views of Bodrum Marina.
Location: Cumhuryeti Cd., 48420 Bodrum, Muğla, Turkey
4
Goltürkbükü
For luxurious dining options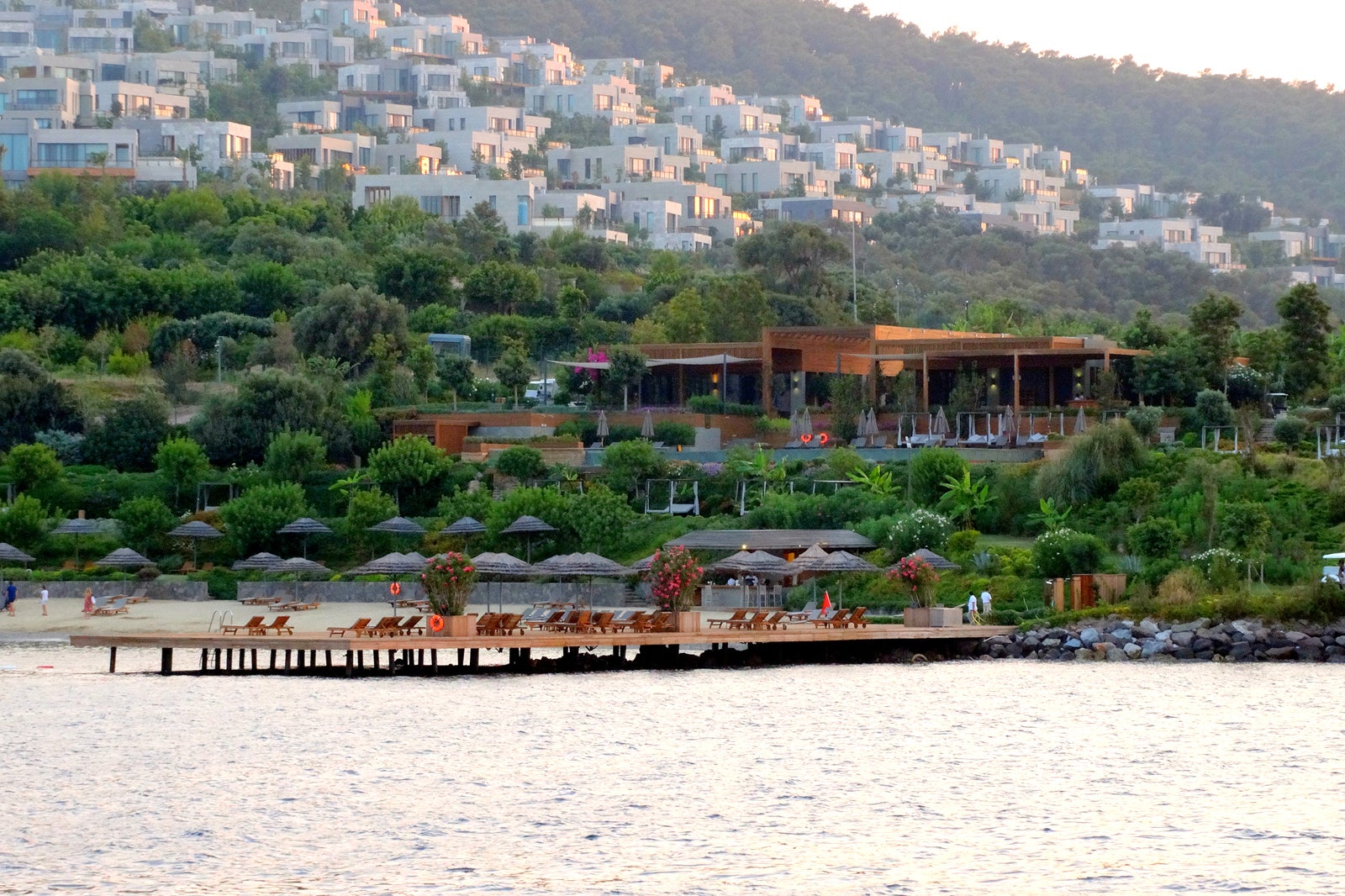 Goltürkbükü is a lovely village that falls into a small group of quieter resorts, favoured by wealthy visitors from Istanbul. Restaurants can be found nestled along the side of the Aegean and this experience is only further enhanced by some of the restaurants actually spilling out onto the water.
To accompany your meal, try the light aniseed-flavoured national drink raki, or locally produced wine. Some of the popular spots here such as Miam Restaurant offer a wide choice of meat and fish. Even so, bear in mind that this is a more expensive area on the Bodrum peninsula.
Location: Göltürkbükü, 48420 Bodrum, Muğla, Turkey
photo by BoRa KiLiC (CC BY 3.0) modified
5
Gümüşlük
A small town that's big on seafood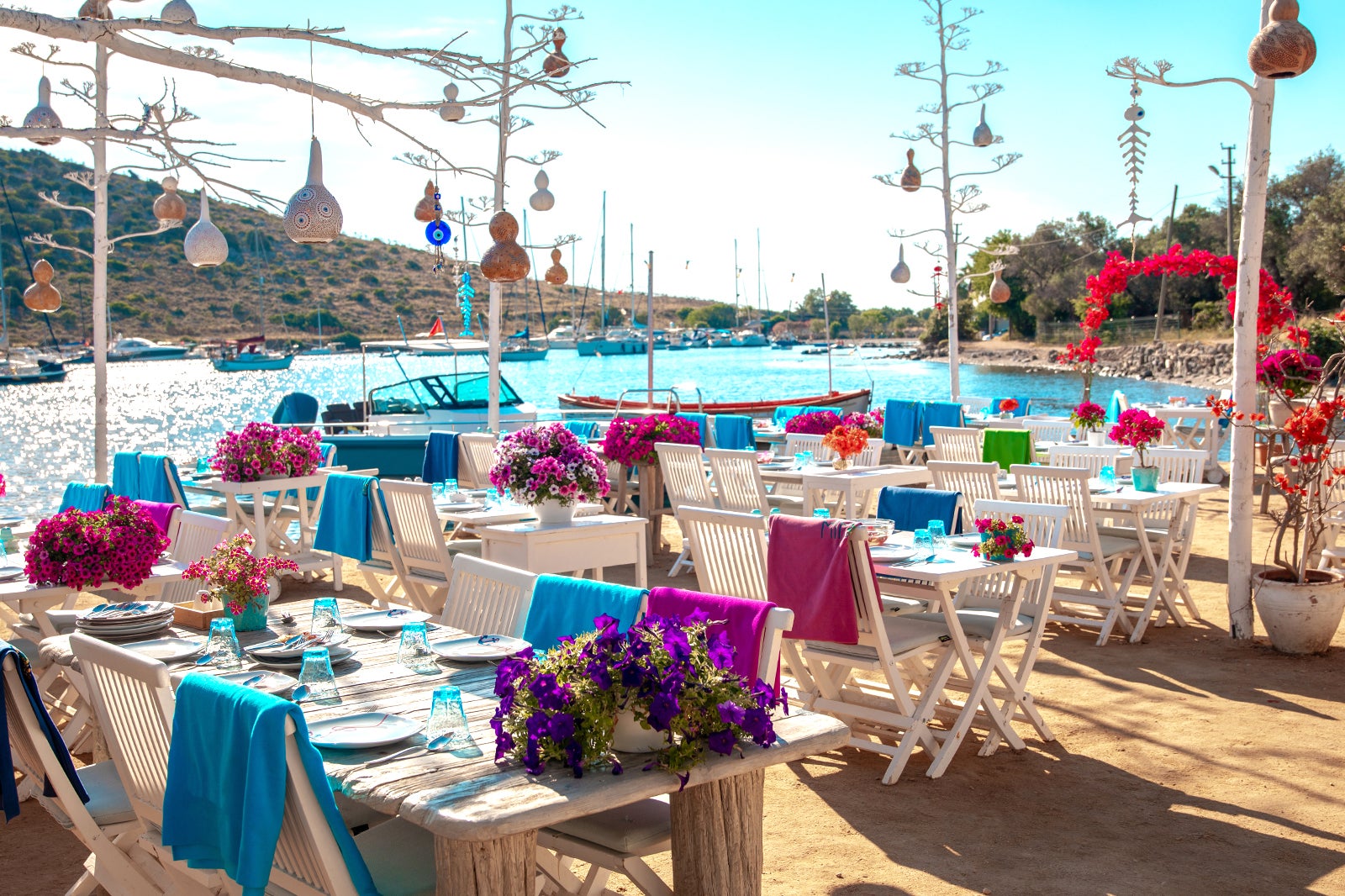 Gümüşlük is a small seaside village and fishing port located at the tip of the Bodrum Peninsula, about 30 minutes drive from the Bodrum city centre. A visit to Bodrum wouldn't be complete without a delicious seafood meal and arguably, the best place for this is in Gümüşlük.
This peaceful village feels worlds away from the hustle and bustle of the well-trodden tourist track in the west of the peninsula. Famed for its seafood, Gümüşlük provides a great opportunity to dine right by the water's edge, sampling fish that you can often choose straight from the fisherman's crate.
Location: Gümüşlük, 48970 Bodrum, Muğla, Turkey
6
Eski Köy Restaurant
Classic Turkish cuisine in the heart of Bodrum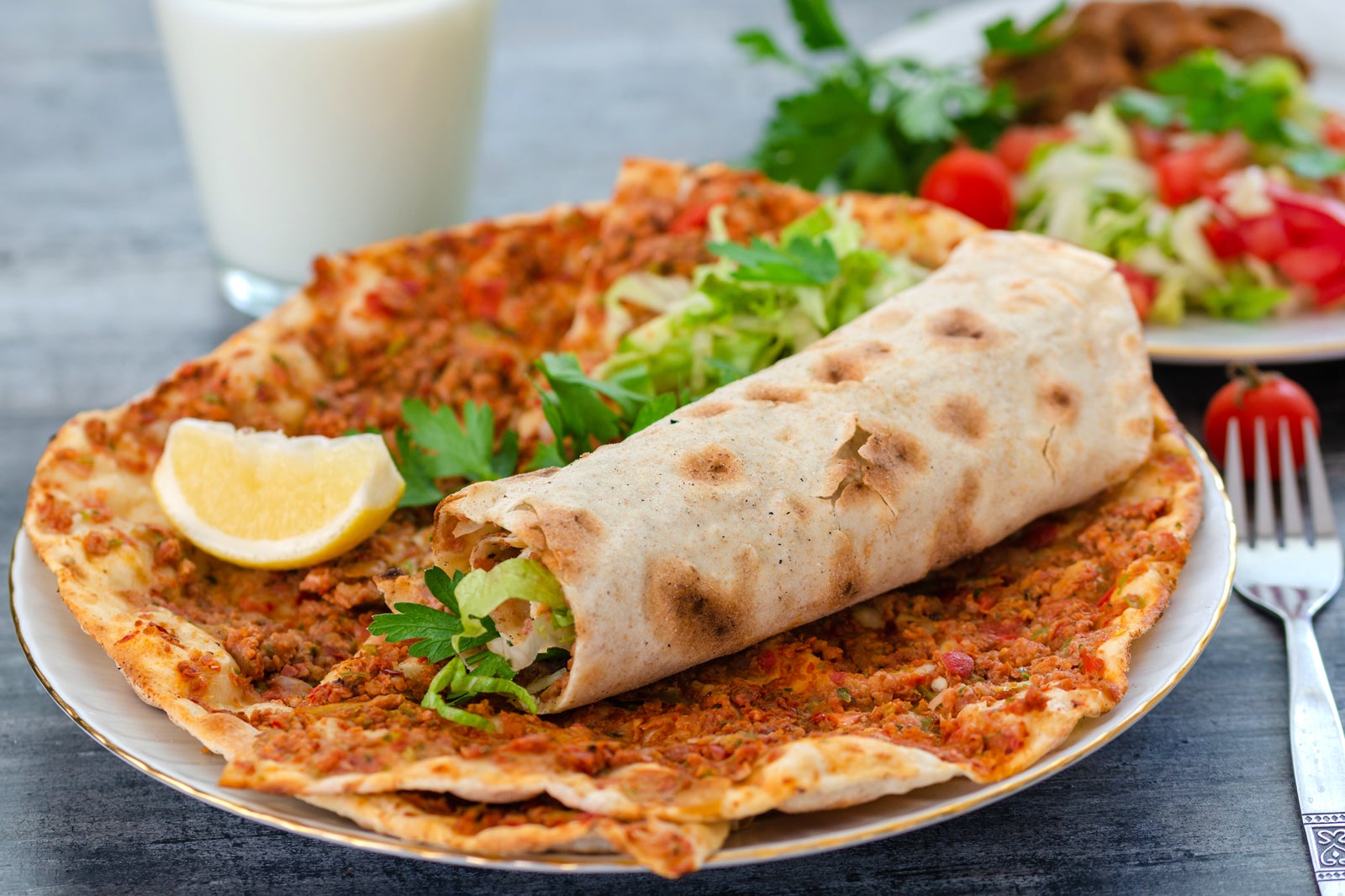 Eski Köy Restaurant is situated along the main motorway of Bodrum and serves up traditional Turkish food in a modern setting. Eski Köy has garnered rave reviews from locals and visitors, who love the restaurant for its variety of tasty soups, salads, and grilled meat at reasonable prices.
Besides the classic durum and doner, some of the must-try dishes include juicy kebabs served with flatbread; pide, a pizza-like boat-shaped flatbread with various toppings; lahmacun, a flat piece of dough topped with minced meat, herbs and vegetables, as well as a mixed grill. For a deliciously sweet ending to your meal, order Künefe, a cheese-filled dessert made of baked, finely shredded dough.
Location: Yeniköy, Severcan Cd. No.2, 48400 Bodrum, Muğla, Turkey
Open: Daily from 10 am to 9 pm
Phone: +90 (0)252 317 13 93
7
Limon Gümüşlük
Cocktails and a romantic dinner with a sunset view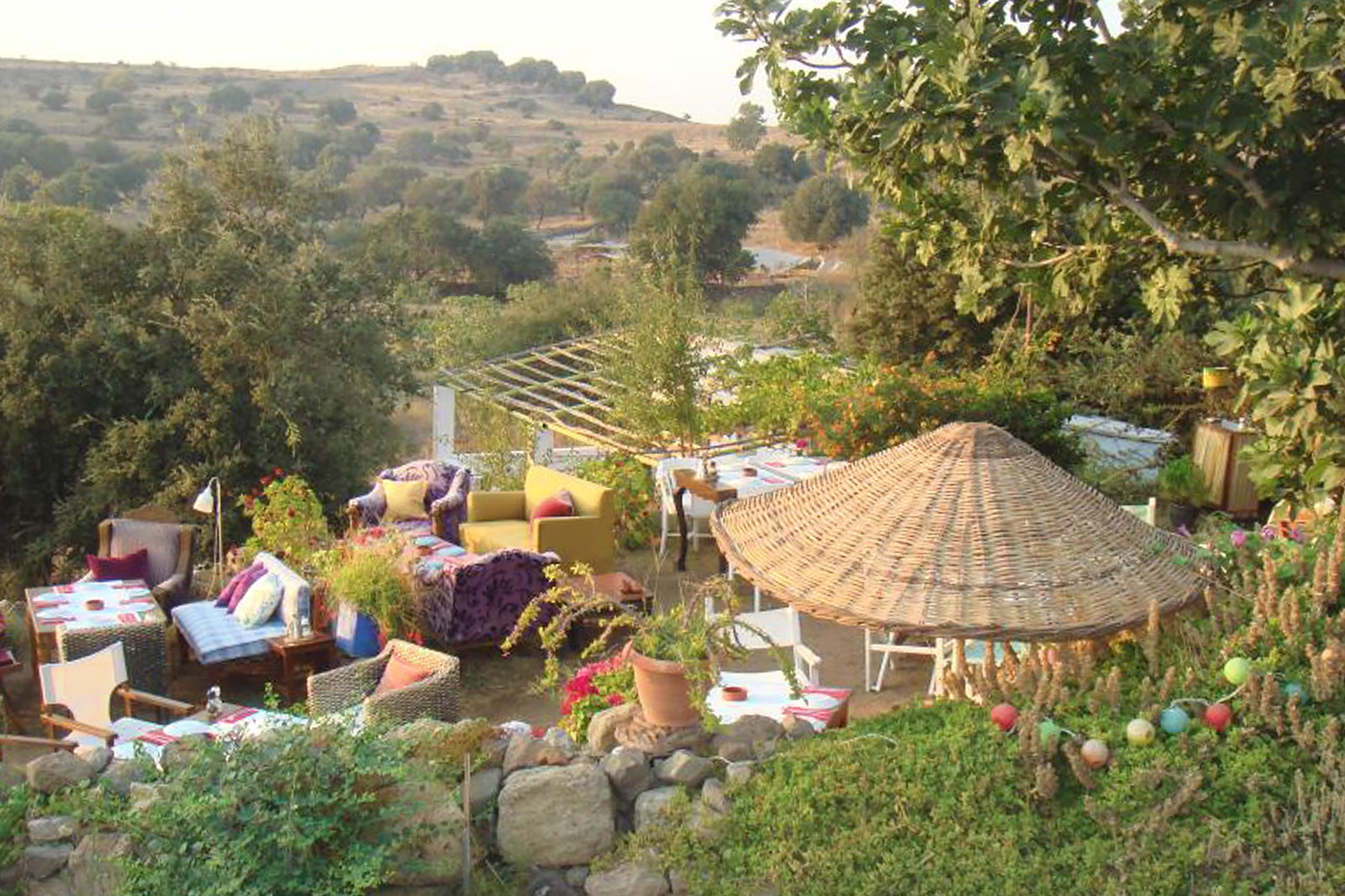 Limon Gümüşlük is a tranquil alfresco restaurant on a lemon farm where you can spend a relaxing afternoon with a view of rolling hills. On the eclectic furniture set up on the lawn, kick back and enjoy cocktails and lemonade made from farm-fresh lemons. Limon Gümüşlük dishes out home-style Turkish food and desserts.
For sharing, we recommend the meze platter, a Mediterranean spread of small plates and appetisers consisting of salads, yoghurt and stuffed vegetables. Other noteworthy dishes include fried cheese, as well as the lamb shank, served on a bed of eggplant puree and a side of golden pilaf. To catch the glorious sunset over the Aegean Sea, be sure to make a reservation for dinner and get here before sundown.
Location: Gümüşlük, 10. Yıl Sk., 48970 Bodrum, Muğla, Turkey
Open: Daily from 9.30am to 12.30am
Phone: +90 (0)554 740 62 60
photo by muammerokumus (CC BY-SA 2.0) modified
8
Miam Restoran
An upscale seaside dining experience in an atmospheric setting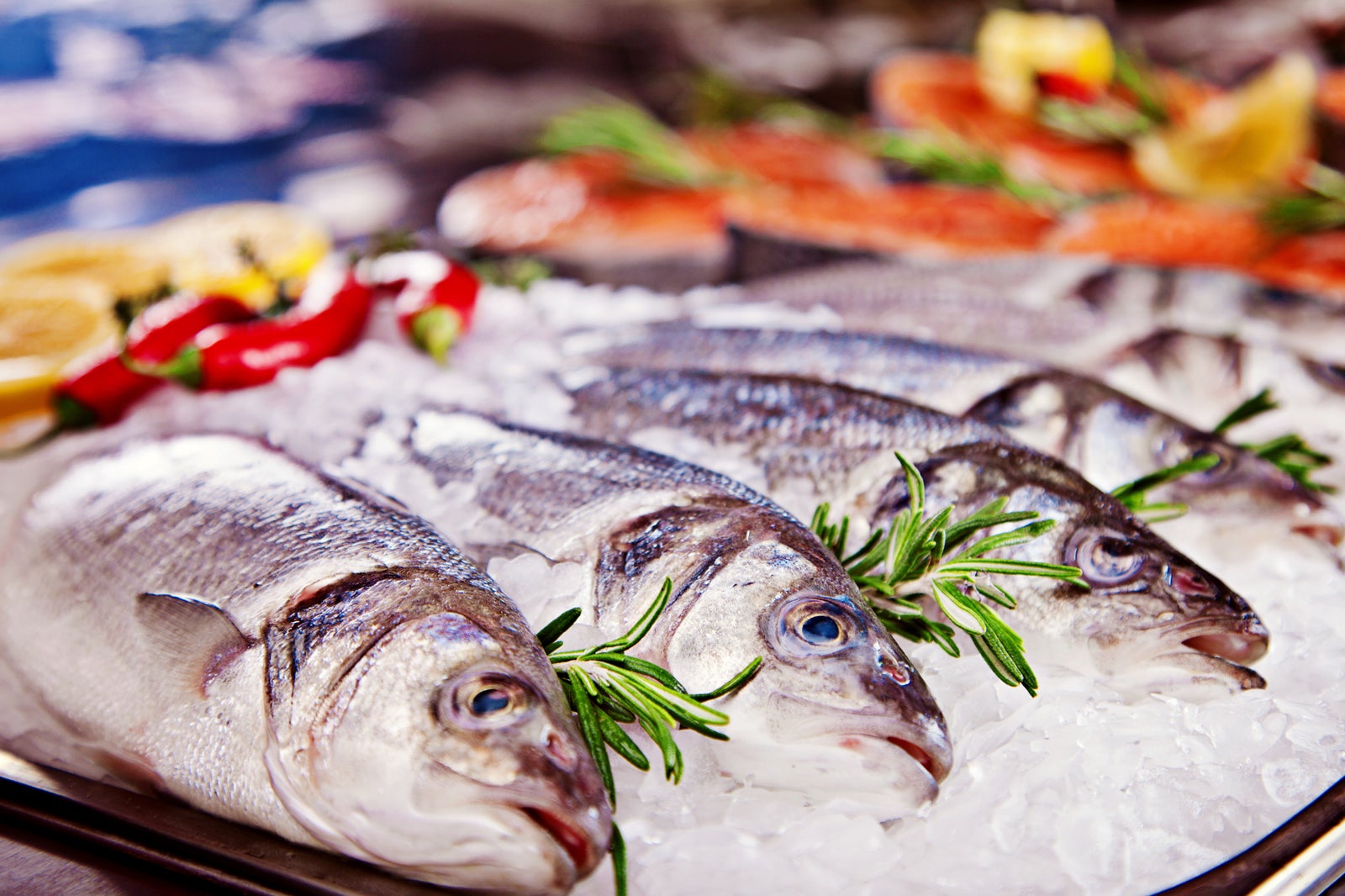 Miam Restoran attracts the affluent visitors of Bodrum, being set on the seafront of Turkbuku, with a view of the marina. Besides the dining tables by the sea, you can also take a seat on the bar counter built around a tree – a unique feature of this restaurant.
To start with, there's a selection of ready-made mezze on the restaurant counter to choose from. For your main course, you can pick a fresh fish from the fish bar, which will be cooked to order. Other seafood dishes, salads, and wine are also on the menu. Make a reservation and dress well for a meal here. As Turkbuku is known for its nightlife, Miam Restoran operates as a nightclub after 11pm, so you can stay after dinner to see a different side of Bodrum's nightlife.
Location: Menemene, A, Atatürk Cd. No:51, 48400 Bodrum/Muğla, Turkey
Open: Daily from 9.30am to 11pm
Phone: +90 (0)252 377 56 12
9
Otantik Ocakbaşı
Feast on juicy grilled meat in generous portions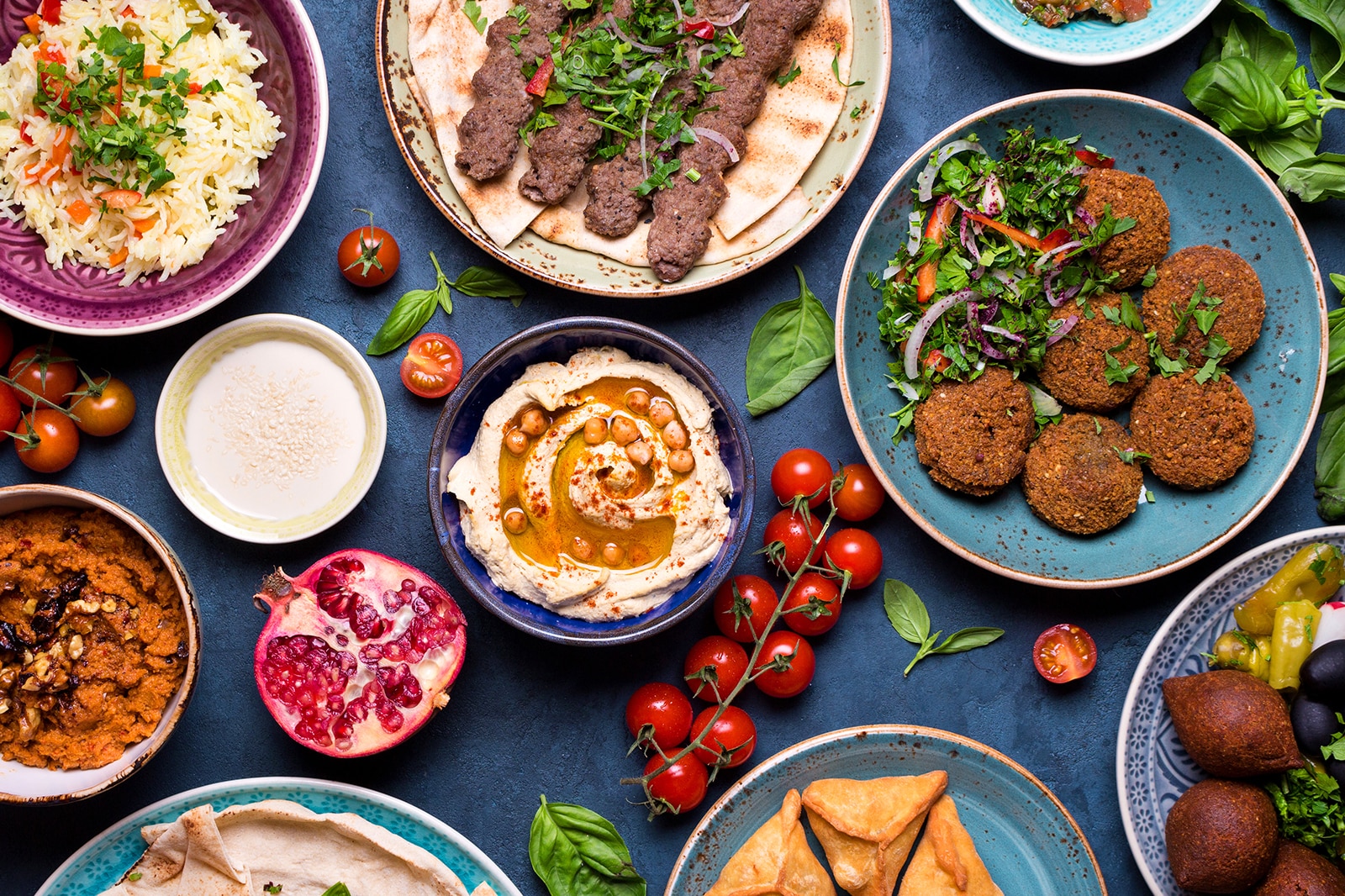 Otantik Ocakbaşı is known for its grilled meats and excellent customer service and keeps diners coming back for more. From steaks to lamb shanks to kebabs, every dish comes with sides of flatbread, grilled vegetables and rice in portions big enough for 2 people. Your meal comes with a complimentary starter of freshly toasted sesame seed pita bread with a yoghurt dip.
Though known for its meat dishes, herbivores can also tuck into a vegetarian mezze platter and other appetisers like pan-fried potatoes and mushroom in garlic sauce. If you're coming in a group, order a customised mixed grill of different types of meat to share, and leave the restaurant fully satisfied.
Location: Çarşı, Atatürk Cd. No:46, 48400 Bodrum/Muğla, Turkey
Open: Daily from 11am to 12am
Phone: +90 (0)252 313 00 58
Back to top