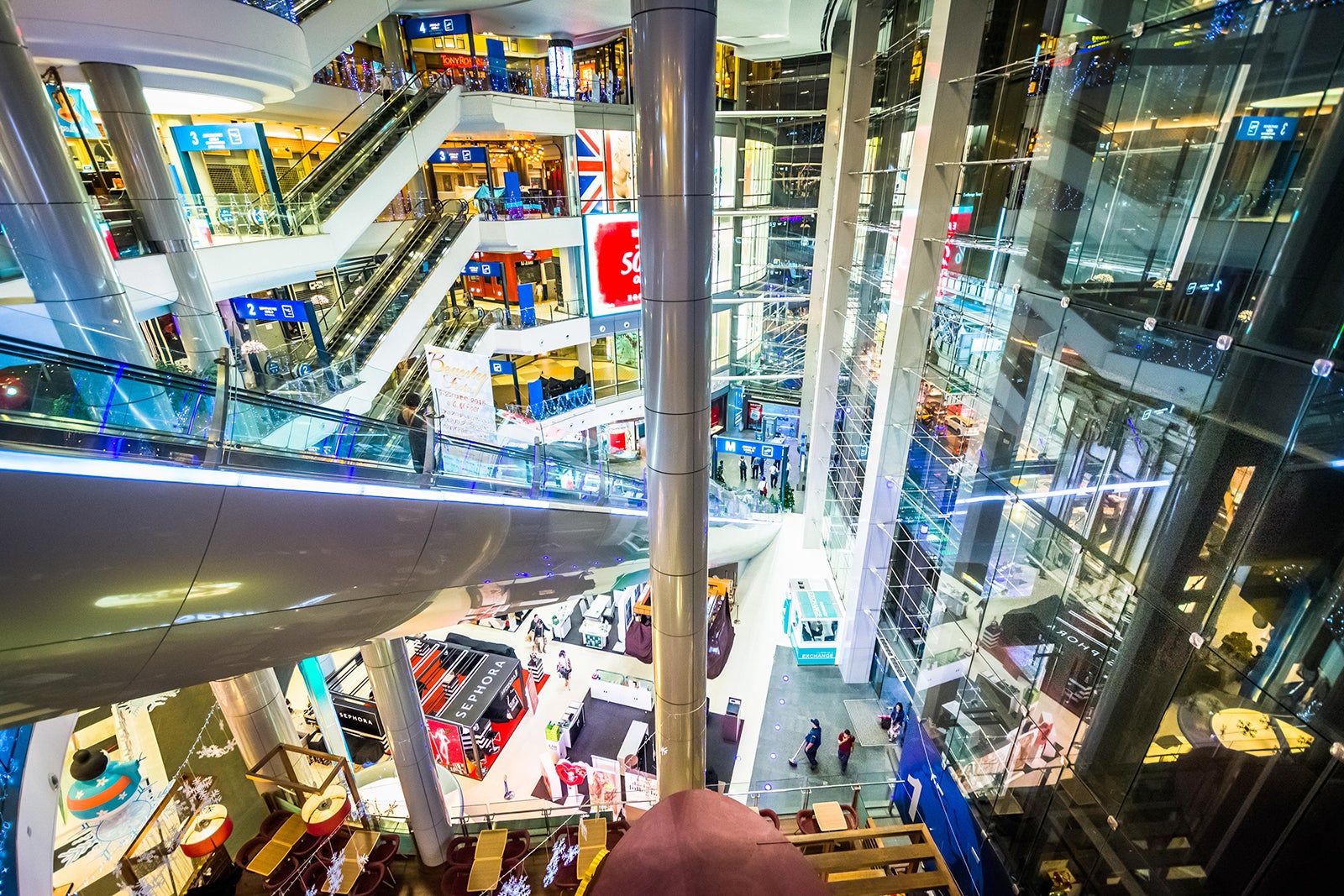 Terminal 21 brings the dream of travelling the world to downtown Bangkok, with its unique concept that places several world-famous cities under one roof. Find yourself wandering around a maze of shops in Tokyo City, sauntering down London's Carnaby Street, bagging a bargain in an Istanbul souk, or shopping for something to fill your growling stomach at the Fisherman's Wharf in San Francisco.
Part of the same building as Grande Centre Point Sukhumvit, Terminal 21's curvilinear glass-and-steel façade resembles a 21st-century airport, and the theme continues once you step inside. Floor signs signal the arrivals in particular cities, electronic display boards bring to mind flight information displays at an airport terminal, and the information desk receptionists wear flight attendant uniforms.
Terminal 21 Bangkok - one of the highlights of 11 Best Things to Do in Sukhumvit and 17 Best Places to Go Shopping in Sukhumvit (Read all about Bangkok here)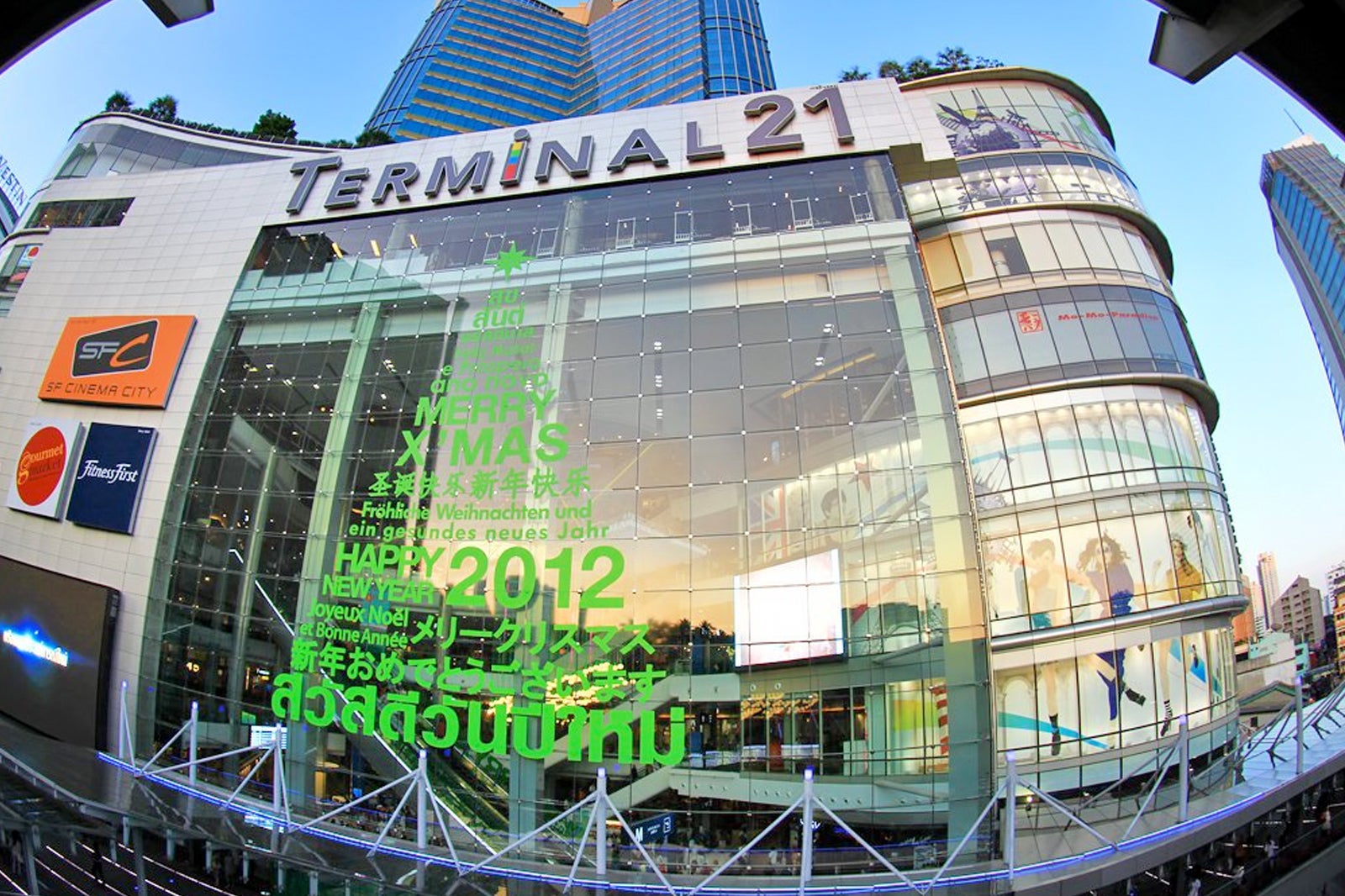 Terminal 21 highlights
The 9 floors at Terminal 21 house some 600 shops, a Cineplex, Gourmet Market (supermarket) and a food court with all kinds of mouthwatering Thai and international fare. The basement level (LG) has a Caribbean theme and is where you can find the Gourmet Market, takeaway food outlets, market-style food vendors as well as banks and bookstores. Take an escalator up a level and the ground floor (G) brings you to Rome, with all kinds of international and local fashion labels such as Kipling, CC:OO, Mango, Lacoste, Camel Active, Levi's, and more.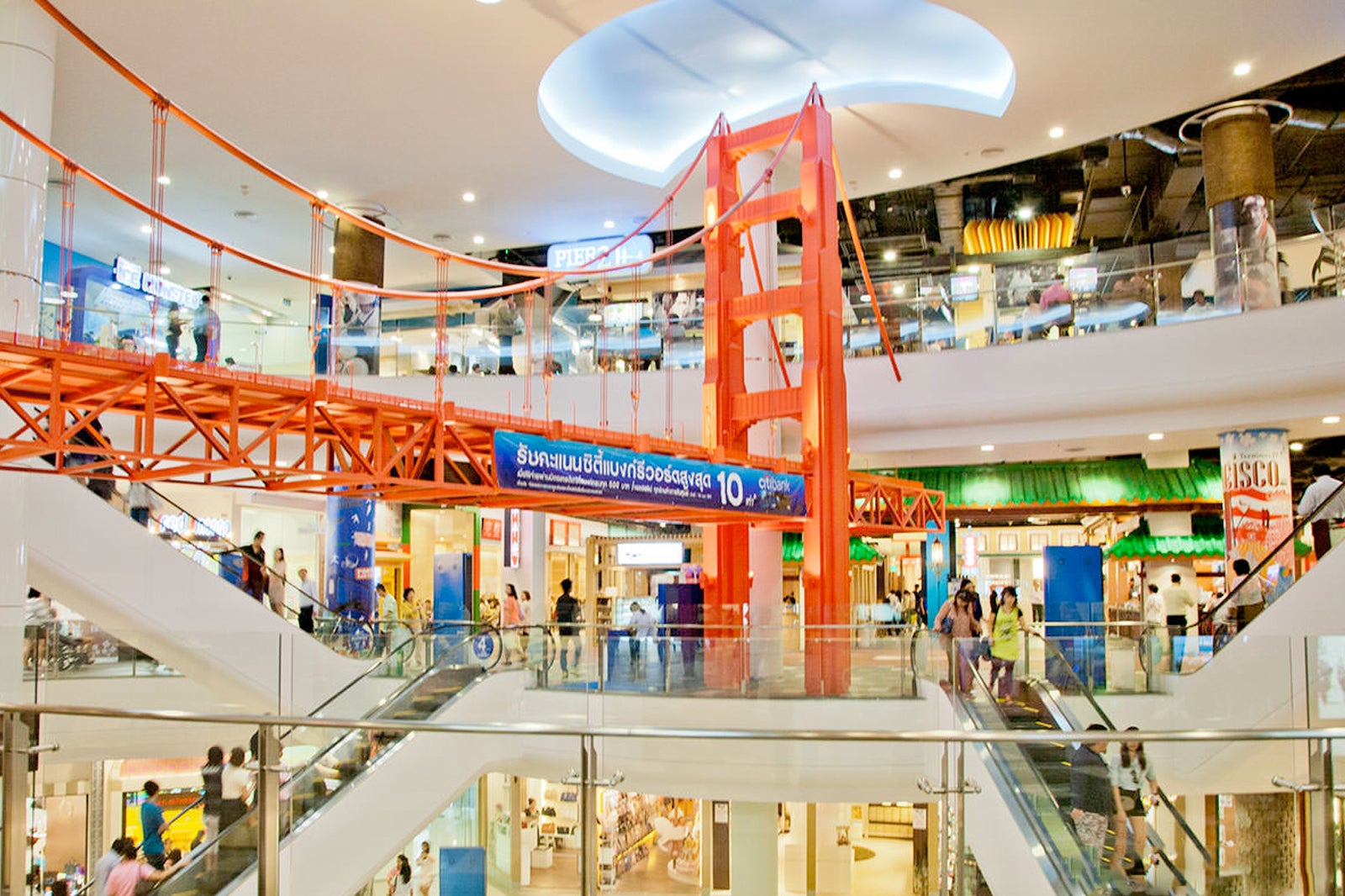 Paris, located on M floor, takes you to the Champs-Élysées, where more fashion brands await your discovery. The 1st to 3rd floors are home to smaller shops by local independent labels. Women's fashion is on the 1st floor (Tokyo) and men's on the 2nd floor (London). The 3rd floor (Istanbul) is for gifts, jewellery, fashion accessories, toys, beauty products and home décor. With an eclectic collection of shops, this floor has a look and feel of a Middle Eastern souk but with a modern twist.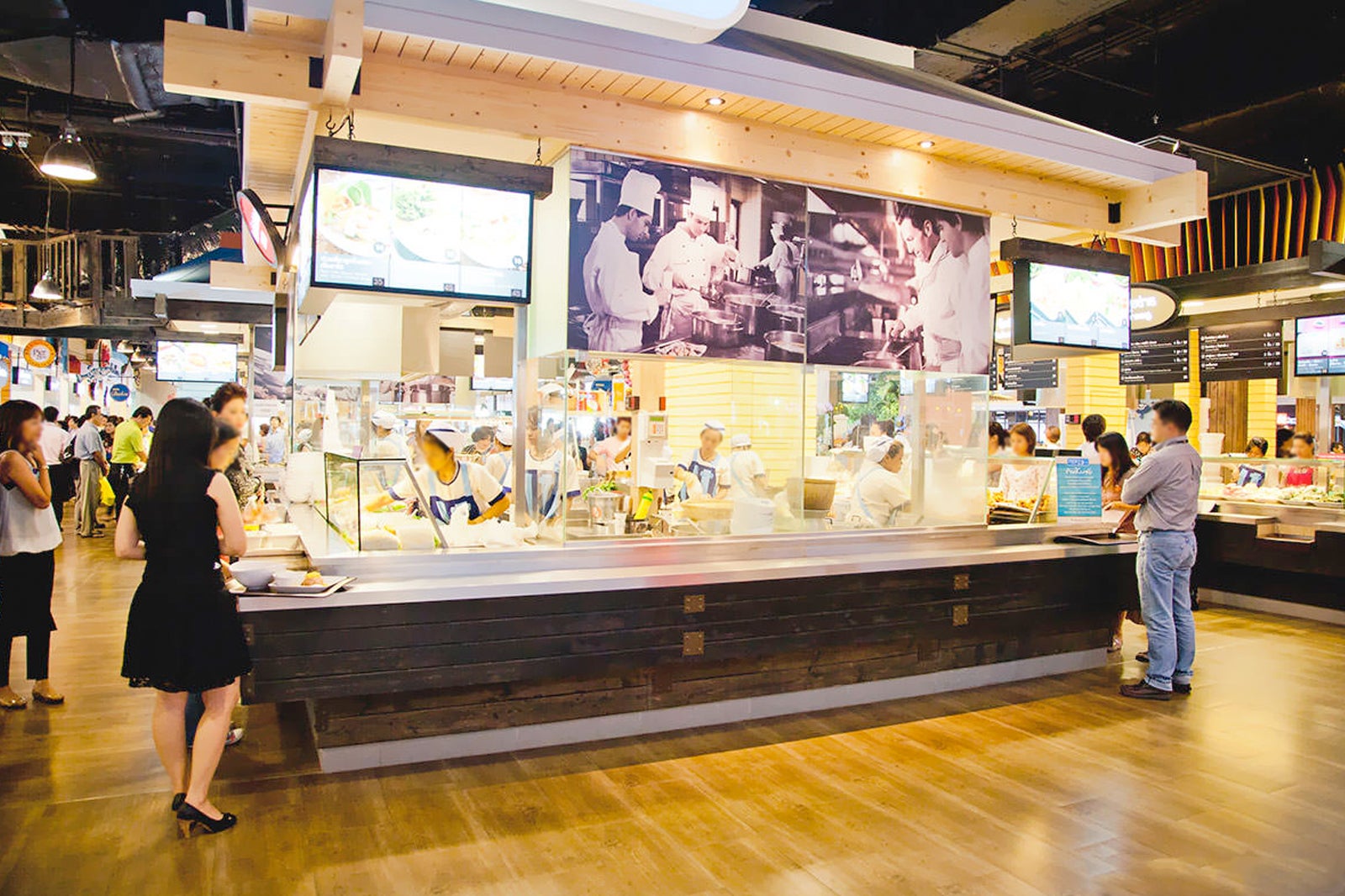 What to eat at Terminal 21
San Francisco on the 4th and 5th floors of Terminal 21 offers over 50 restaurants and cafés. Both restaurant chains and independent outlets are represented here, including Pepper Lunch, MK, Chabuton, Dory Seafood Bistro, Secret Recipe, Tohkai Yakiniku, Tony Roma's, Fuji, Ootoya, The Canton House, Baanying Café, and Swensen's.
If you like a food court experience, head up to Pier 21 on the 5th floor. This is perhaps the best food court in town in terms of price, taste and variety. You can find just about everything here, from dim sum, grilled seafood (fast-food style) and Hainanese chicken rice to delicious pad thai (stir-fried rice noodles), roast duck noodles, and vegetarian ready-to-eats. Don't forget to leave some room for desserts, as there are kiosks serving mango sticky rice, shaved ice dessert, and ice cream.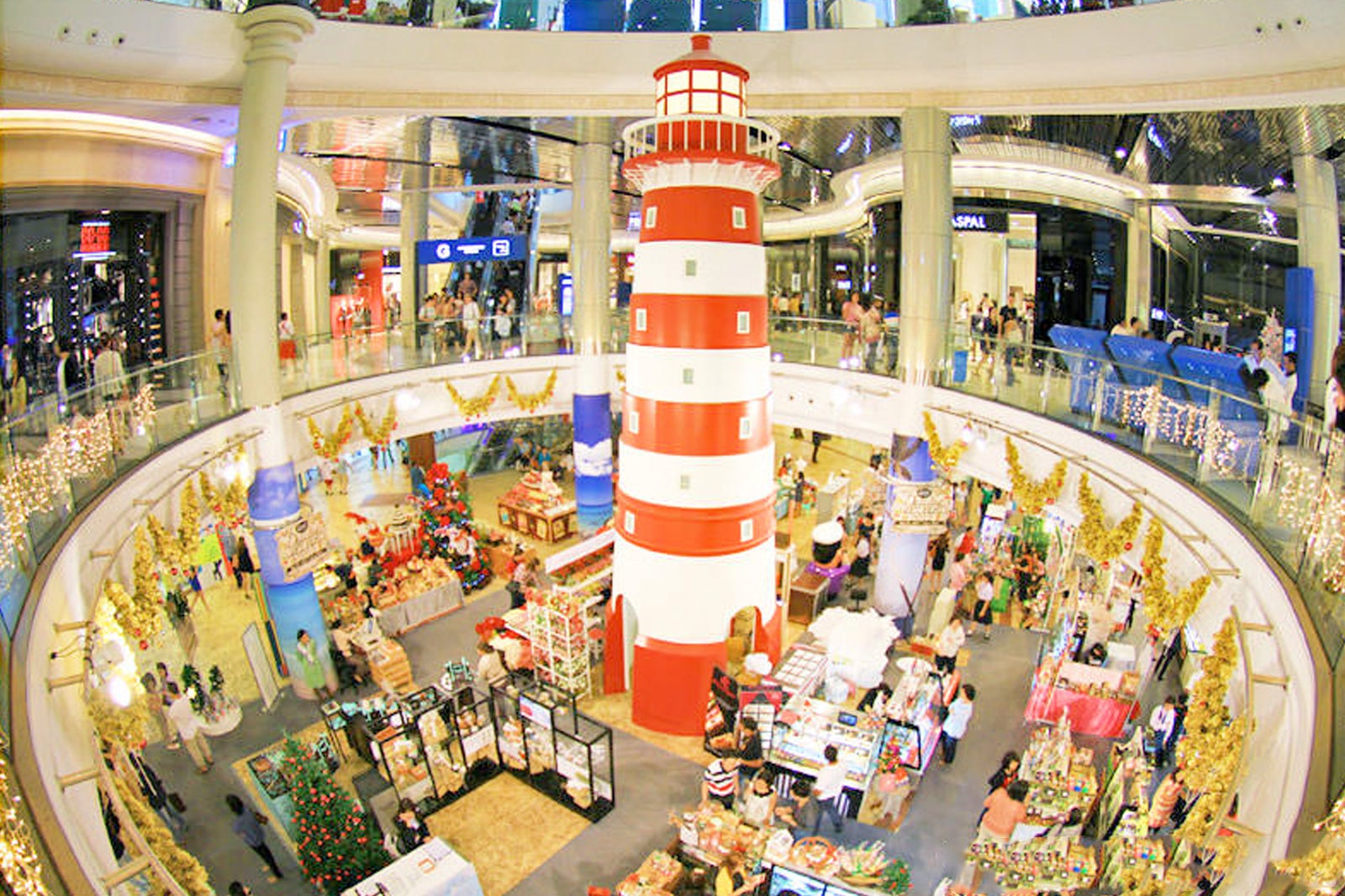 Good to know about Terminal 21
To complete the lifestyle experience, Terminal 21 has an 8-screen cineplex on the 6th floor operated by SF Cinema City. You can also find a Fitness First Gym on the same floor.
Terminal 21 is a delightful shopping and dining experience in Bangkok. It has particular appeal for the younger generation of shoppers, specifically university students and young executives. The diversity is good and price tag even better.
You can alight at the Asok BTS Skytrain Station and use the skywalk to reach Terminal 21.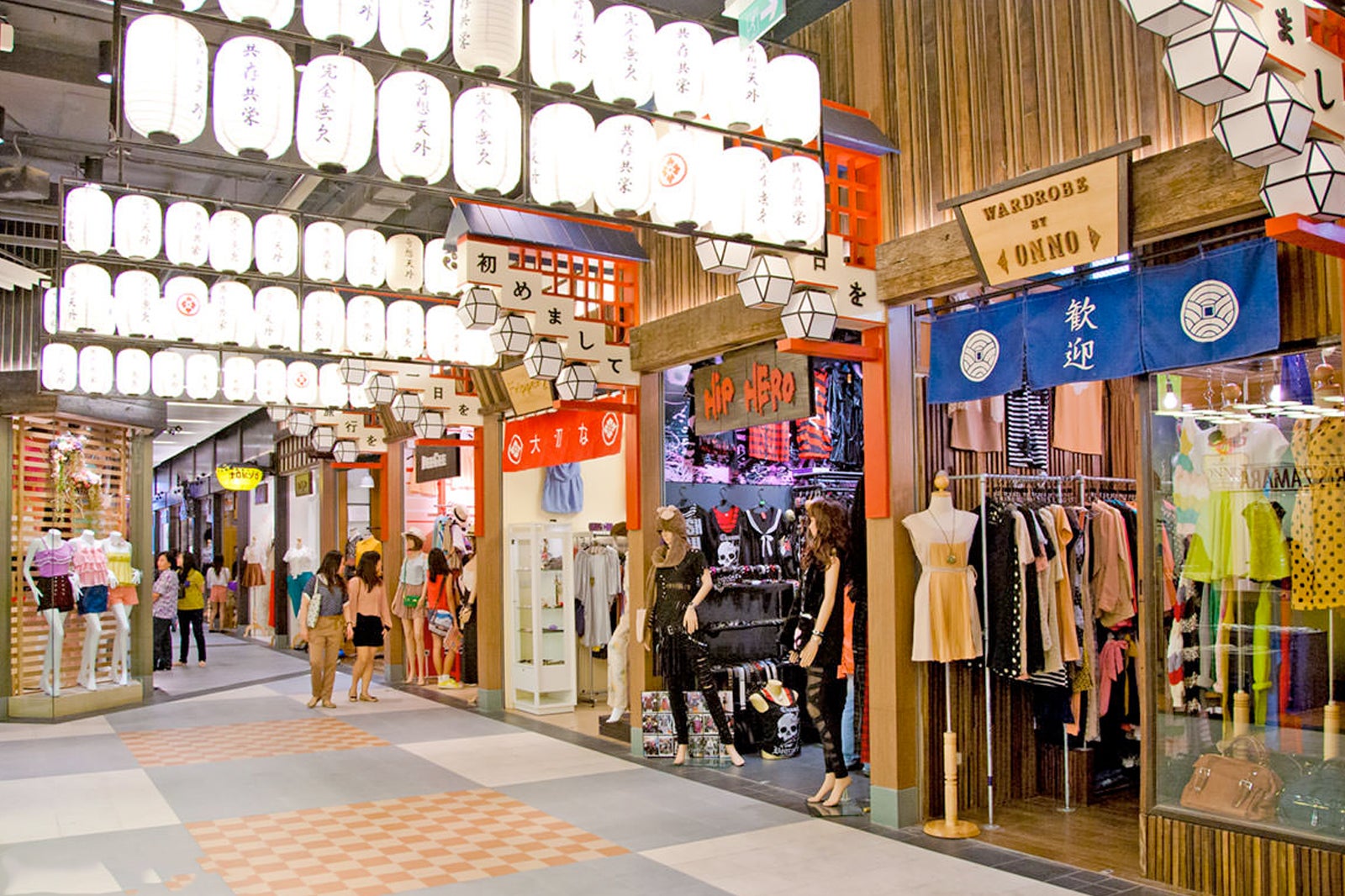 Terminal 21 Bangkok
Location: Sukhumvit Road, Khlong Toei, Watthana, Bangkok 10110, Thailand
Open: Daily from 10am to 10pm
Phone: +66 (0)2 108 0888
Back to top