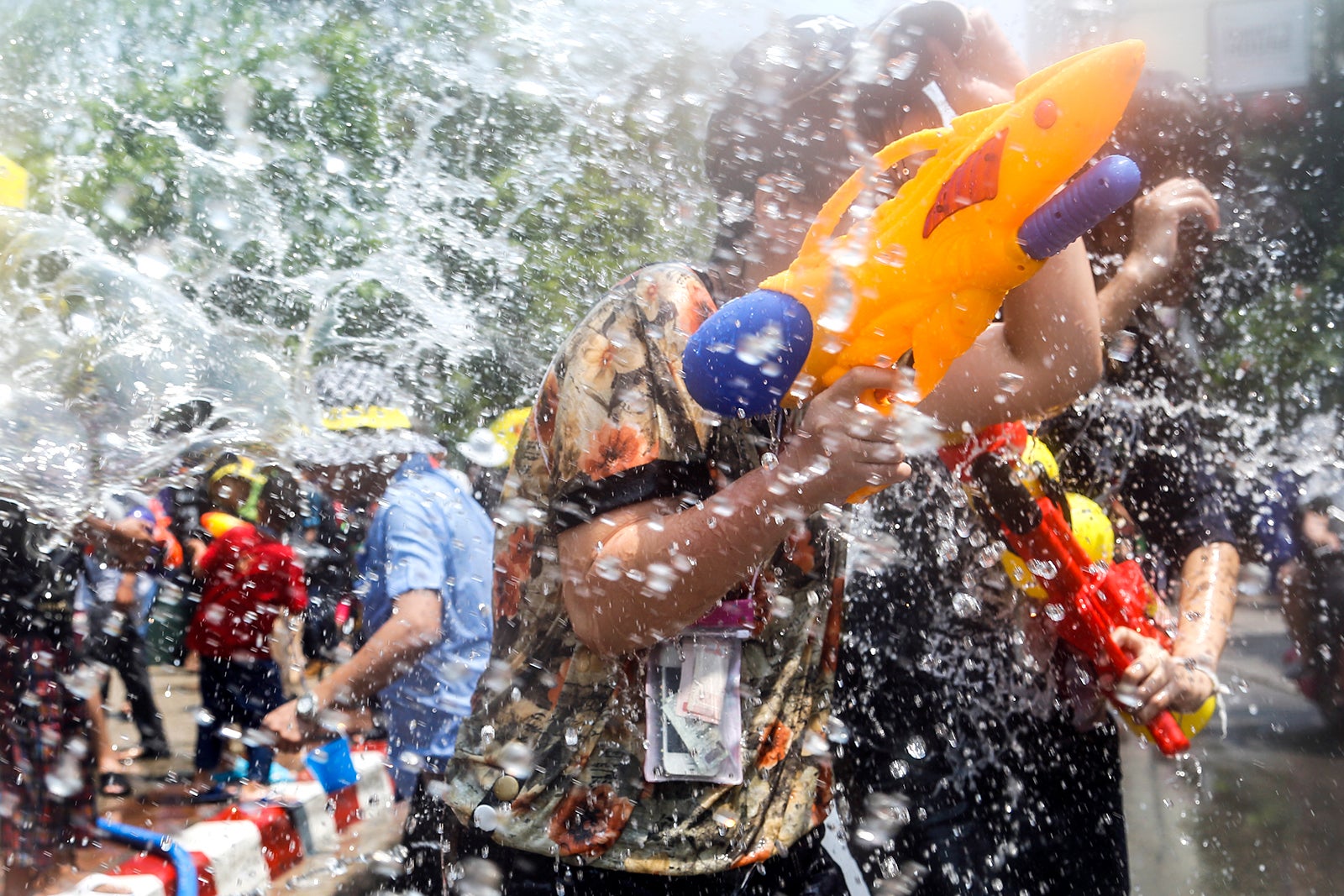 The Ultimate Guide to Songkran
Where to Celebrate Thailand's Annual Water Festival on April 13th-15th
Songkran is an annual festival which takes place over 3 days during the traditional Thai New Year, April 13th-15th (in almost all provinces). The official Songkran festival lasts 3 days but, in reality, the whole week is taken over by a mass celebration as the whole country shuts down for a momentous water fight. Wild scenes of exuberance can be seen throughout the Kingdom with music, dancing, drinking and people drenched from head to toe. Water guns, hose pipes, buckets, in fact, anything you can get your hands on can be used to splash people, and one thing is for certain: you will get wet!
As April is the hottest month of the year in Thailand, everyone gets involved with this country-wide water fight and it brings great relief from the soaring temperatures. Songkran started as a Buddhist tradition, using a light sprinkling of water to symbolise purification but, as time went by, people began splashing each other in a more playful manner until recent years, when the entire country becomes one almighty water fight celebrated by millions!
This is the ultimate guide to Songkran, detailing where to go, what to know and where to party in all the main areas of Thailand.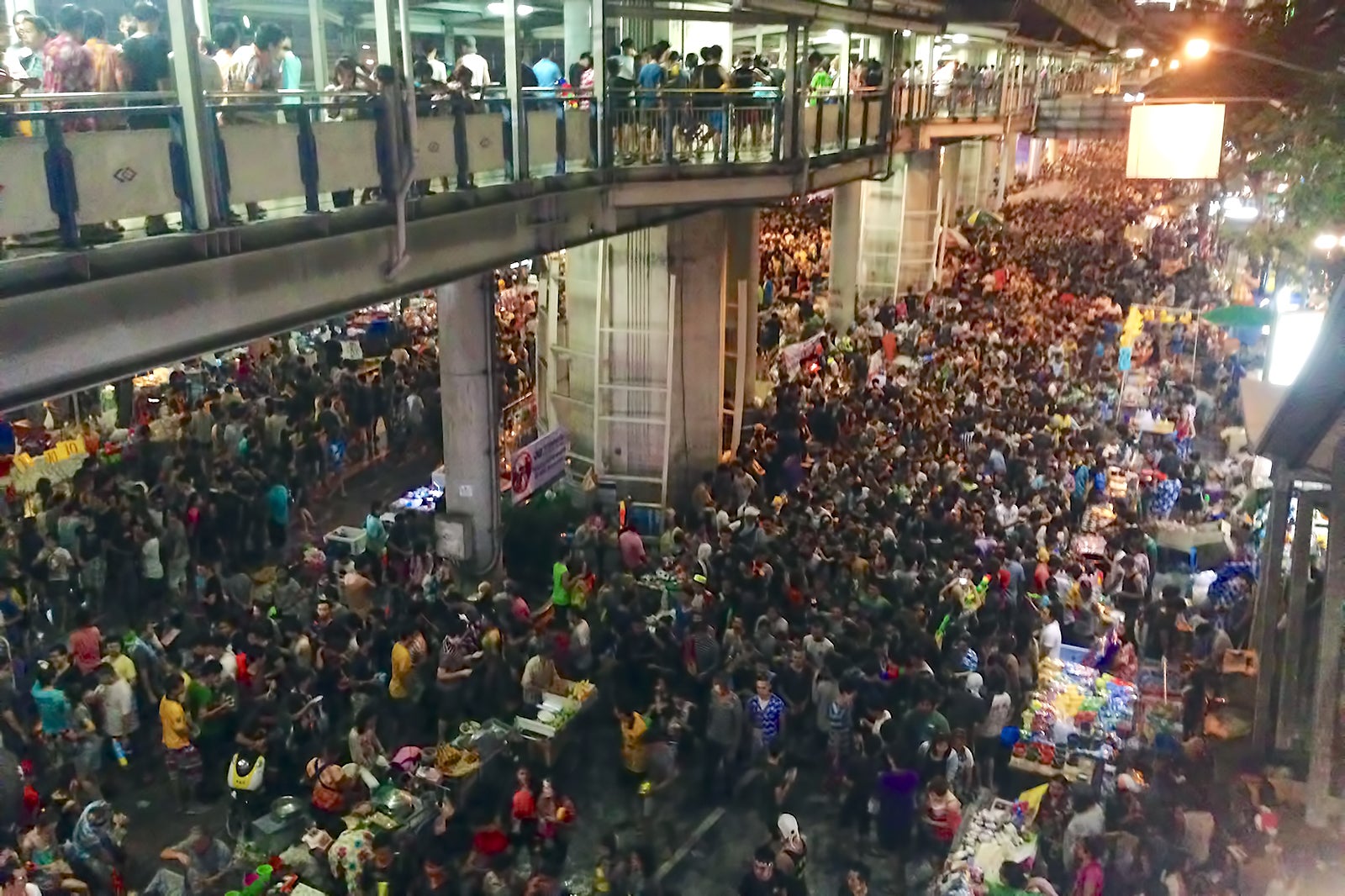 When: April 13-15
During Songkran, Bangkok experiences a mass exodus as at least half of its residents travel back to their hometowns for family reunions. In their place are tourists, who fly into Bangkok particularly to enjoy one of the most colourful and festive times of the year. During Songkran, most office buildings, banks and even family-run shops and restaurants shut down completely, while big shopping malls usually remain open.
Where to party?
As the capital city of Thailand, Bangkok has more places to party than anywhere else. The biggest, brashest parties are found in 2 places in particular:
- Khao San Road (the backpacking heartland of Bangkok)
- Silom Road (the entire road closed off to traffic)
Many hotels will have ticket-only pool parties which are more sophisticated affairs, while RCA also has huge dance-party extravaganzas with water cannons, pumping music and thousands of people.
Read more
photo by James Antrobus (CC BY 2.0) modified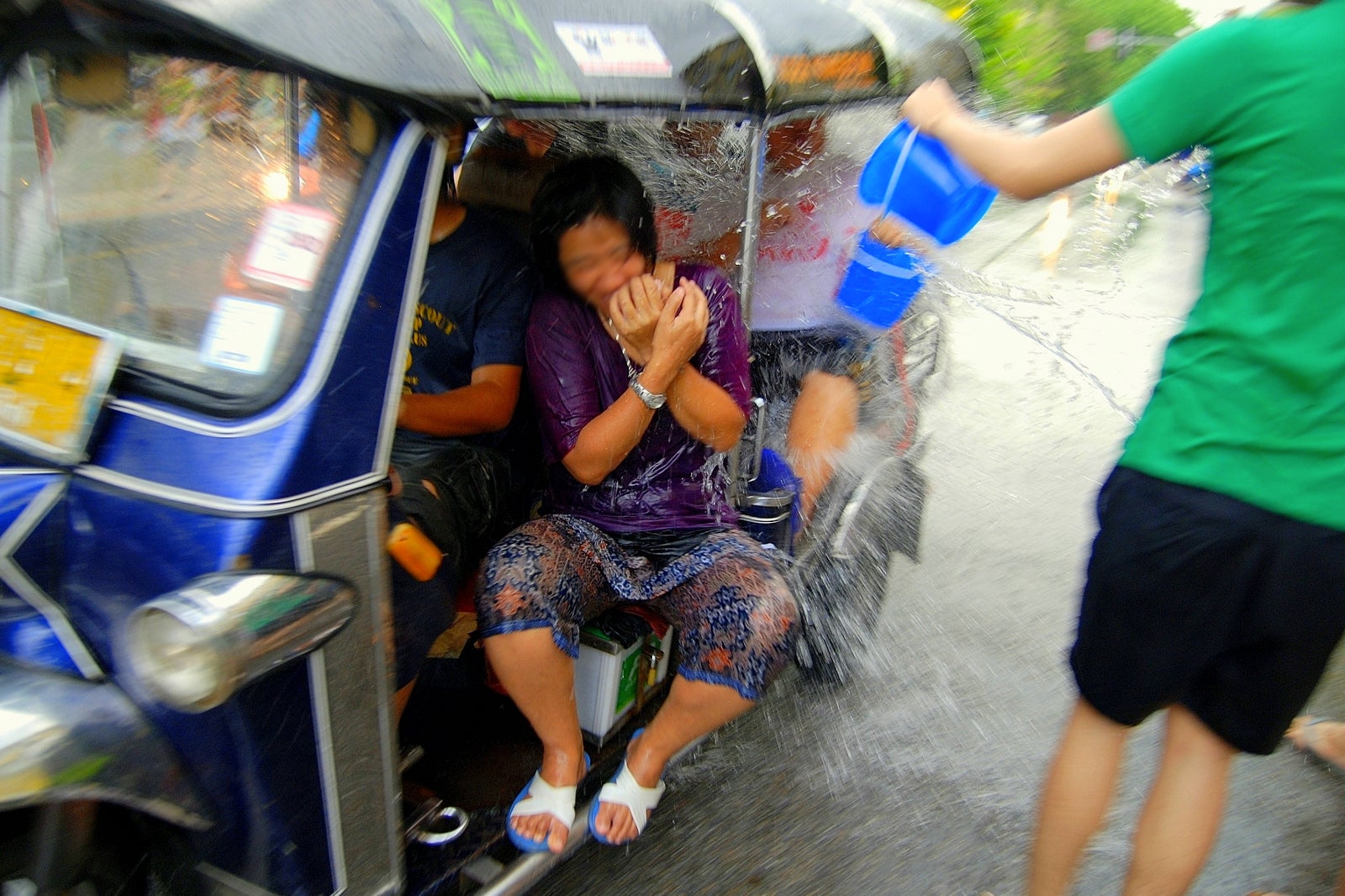 When: April 13-15
Songkran in Chiang Mai is easily the wettest – and probably the most fun – of any of the nationwide celebrations of the Thai Buddhist New Year. Bangkok's parties may be the biggest and Pattaya's are the longest, but nowhere sees as much water flying as Chiang Mai, which makes it one of the most popular places in the whole of Southeast Asia to visit in mid-April, particularly with overseas tourists and backpackers.
Where to party?
That's easy – head to Tha Pae Gate in the Old City and enjoy a full 4 km of water fighting along the old moat that once protected the city and its inhabitants. Street stalls sell all you might need and large sound systems are set up to entertain you along the route. There are parties taking place along the entirety of the moat, with a more chilled and local experience available at the many temples within the Old City.
photo by Takeaway (CC BY-SA 3.0) modified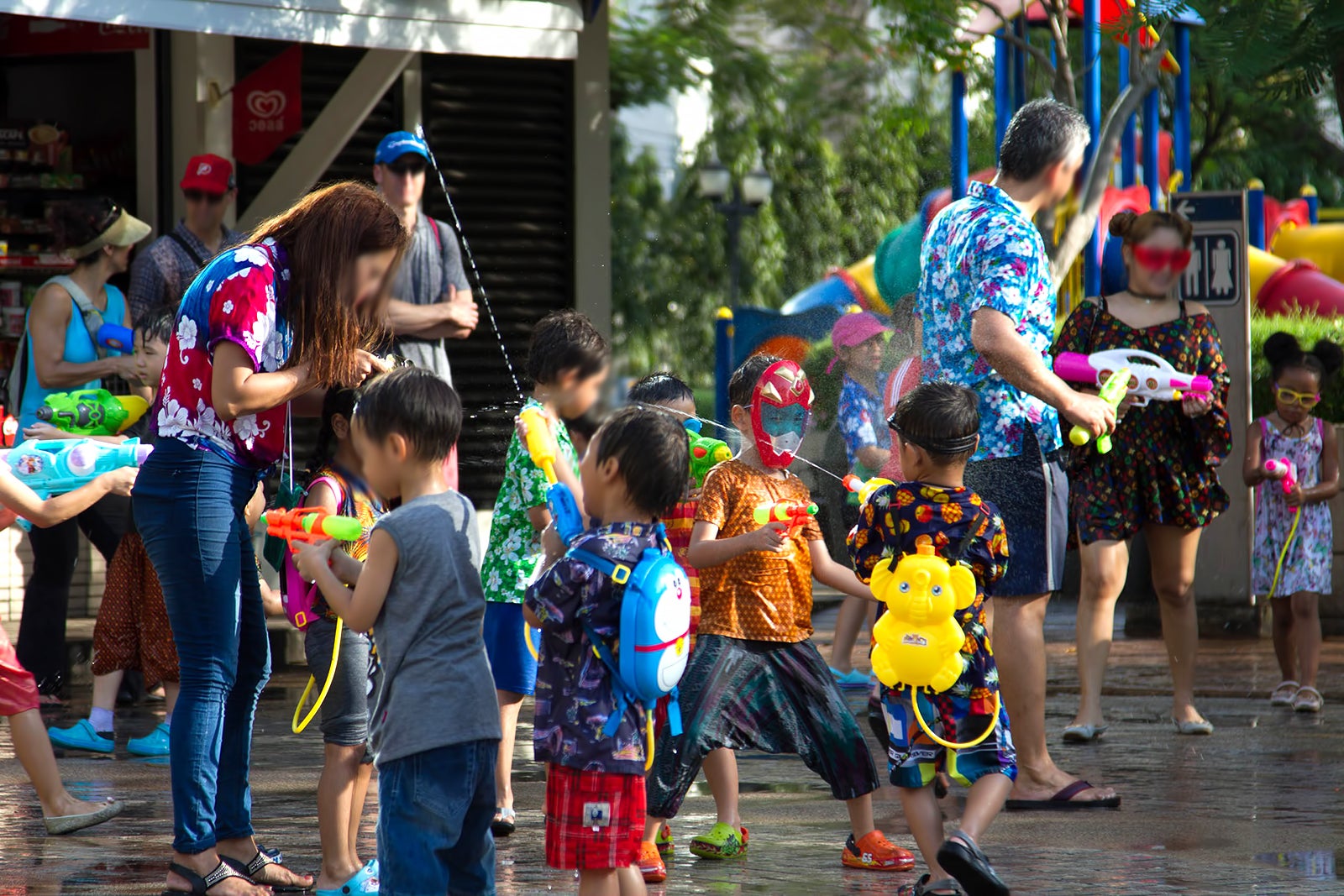 When: April 13-15
As Thailand's most popular beach destination, Phuket sees wild celebrations during Songkran. All 3 days of the New Year break has developed into an orgy of water throwing using buckets and water guns. Even the police in Phuket will get involved, swapping their firearm for a water pistol for a few days. In the past, Songkran in Phuket was celebrated mainly on the first day but in recent years you will find a morning till night party consume the island for a solid 3 days.
Where to party?
Patong Beach is home to the most raucous scenes during Songkran, unsurprisingly when you consider this is where you will find the most bars and the best nightlife. There is a parade, a Miss Songkran beauty pageant and an intense water fight along Soi Bangla.
photo by Johan Fantenberg (CC BY 2.0) modified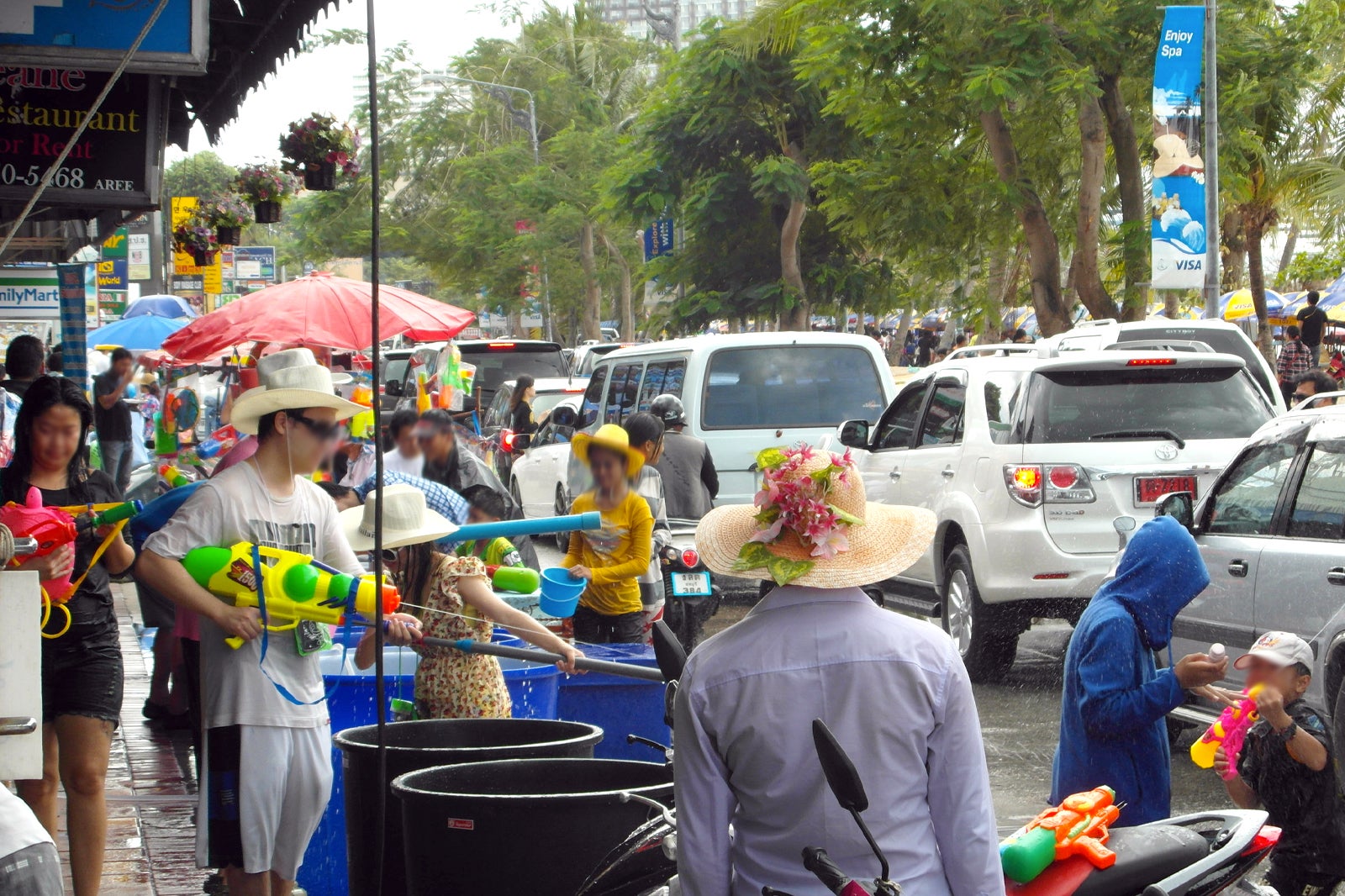 When: April 13-19
Pattaya is known as a party city so it should come as no surprise that Songkran festivities last longer here than anywhere else in Thailand. There will be water fights going on during the regular Songkran days (13th-15th April) but, uniquely, Pattaya celebrates into the following week too. Known in Thai as the Wan Lai Festival, the biggest day of revelry is usually on April 19th so if you arrive in Thailand a little late, this is your last chance to party.
Where to party?
Everybody is armed with a water dispenser of some description. Some favour the semi-traditional bucket, many go for a water gun and some use high-pressure hoses made from a length of plastic plumbing pipe with a small hole at one and a plunger at the other. Beach Road is cut off to traffic and stages are set up for live music and foam machines. The fire department parks their engines here, filling numerous water butts for revellers to reload their soakers. On the roads that do allow vehicles, the main ones become a slow-moving traffic jam. Pick-up trucks are turned into mobile parties, the radio on full volume and many young Thais strafing pedestrians and other vehicles from the back.
photo by MohithAgadi (CC BY-SA 3.0) modified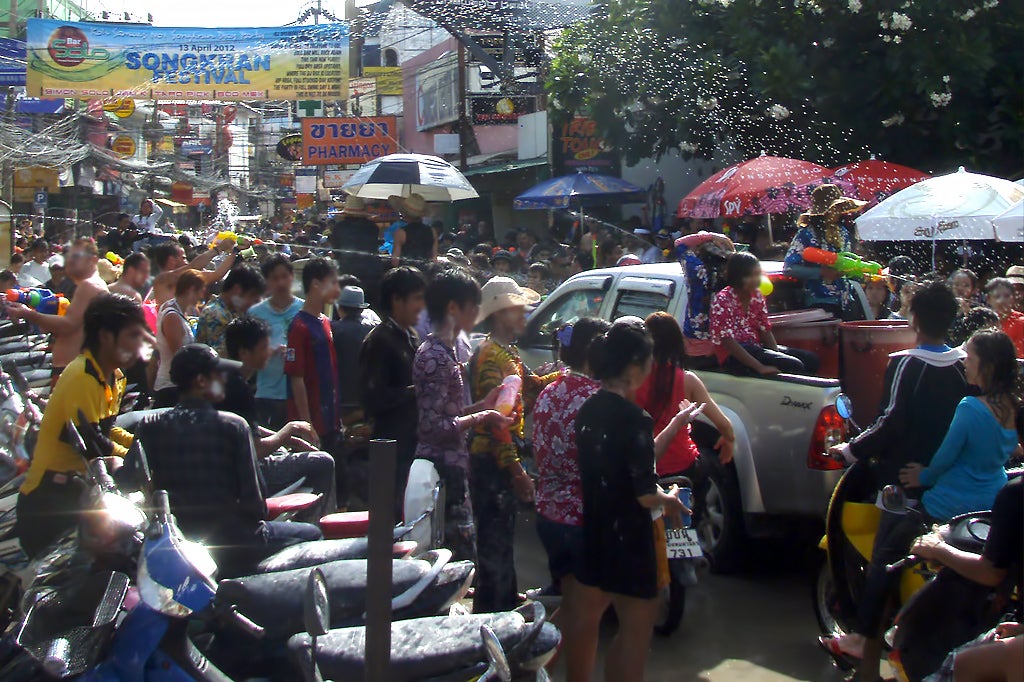 When: April 13-15
Songkran in Samui is not as intense as Pattaya or Phuket, but it's still one of Thailand's most fun celebrations with events taking place in all major beach towns. You will find makeshift parties throughout Samui and anyone is welcome to turn up and join in the fun! Local children are driven around the island in the back of pick-up trucks and will stop to have skirmishes with you which is always fun – just be aware they use melted ice water which is a shock to the senses.
Where to party?
If you're looking for a no-holds-barred party, head to Chaweng Beach as there are parties on the beach and in all of the bars and clubs around Soi Green Mango. For a more traditional side of Samui, head to the west coast, especially around Na Thorn, as the local fishermen and their families also love to celebrate Thai New Year and you will be more than welcome to join in.
6
Good to know about Songkran in Thailand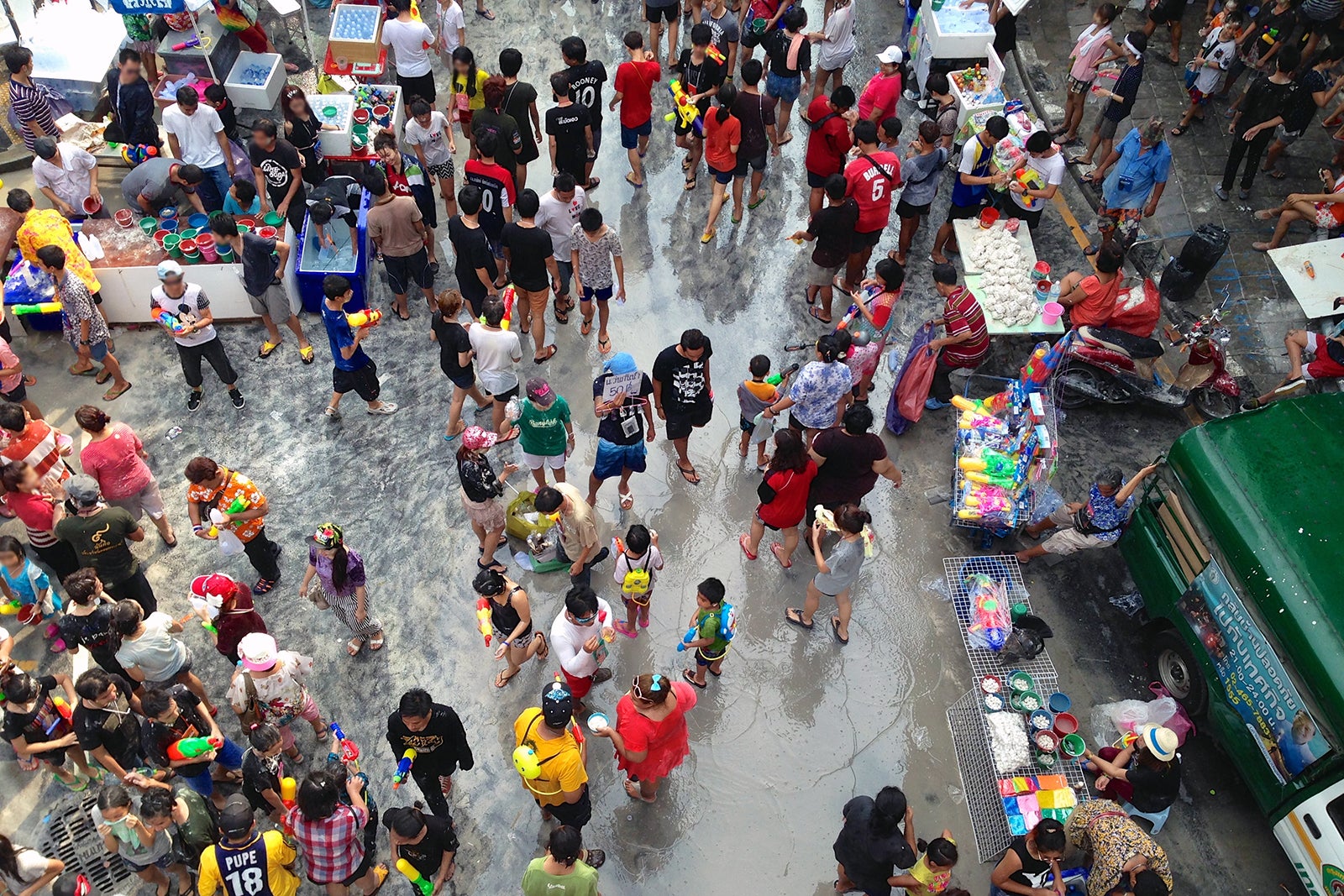 If you find yourself anywhere in Thailand during mid-April, there's no getting away from being splashed (the only exceptions to this would be monks, newborn babies and the elderly), even if you are dressed in your nicest clothes, so leave your best suit and suede shoes at home. Also, take good care of cameras, passports, and other valuables – keep them in your hotel safe or, if you have to bring them out, waterproof bags are widely available and should be used.
One phrase you will hear all over Thailand during Songkran is "Sawadee Bee Mai" which means 'Happy New Year', it's sure to be greeted with smiles and is the best way to make new friends. Every provincial town will have some form of celebration and often the local exuberance in small towns can be as much fun as in any of the most popular towns and beach resorts listed above. Just remember to take a splashing with the good humour in which it is intended, and if you don't like being splashed, stay indoors or in the confines of your hotel.
photo by James Antrobus (CC BY 2.0) modified
7
15 tips for enjoying Songkran in Thailand
It's all just fun, so don't get angry.
You're going to get soaked. Just accept it.
If you want to stay dry, stay inside.
You might get daubed in a grey-white paste made of scented powder and water. It's harmless but stings if it gets in your eyes.
Say: "sawadee bee mai". It means "Happy New Year"
Sunglasses will protect your eyes from water and the mysterious paste.
Use a waterproof pouch (cheap and widely available) to protect valuables.
Don't wear white – it goes see-through when wet!
Monks are highly respected in Thailand, so never throw water at them.
People riding a motorbike could have an accident if suddenly soaked.
People riding tuk-tuks or songthaews are sitting ducks – lock and load!
Avoid driving motorbikes during Songkran. Use four-wheeled public transport or walk.
Secure your valuables in your room and be mindful of any you do take with you.
Avoid swallowing the water being sprayed at you – you don't know where it came from!
Wet tiled floors will be slippery, so be careful of your footing.
Back to top